There is a difference between a well-dressed man and an average. Suit accessories are the details that make you handsome, classy, and well-dressed.
Table of Contents
The average read time is 8 minutes
Suit accessories are all the items that go with your suit. All the small details make you look classy and unique.
The most common suit accessories are ties, bow ties, pocket squares, tie clips, and cuff links.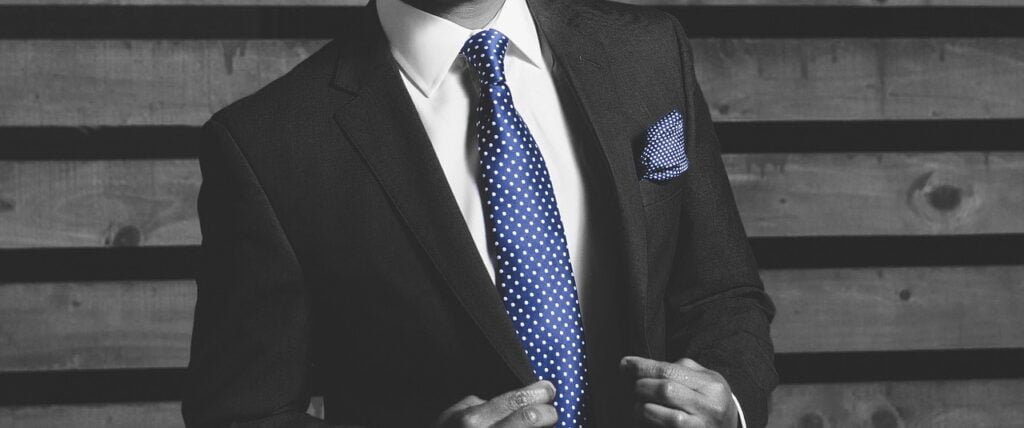 Suits for men
If you want to wear accessories with your suit, first you have to choose what type of suit you need to have.
Blue suit with 2 buttons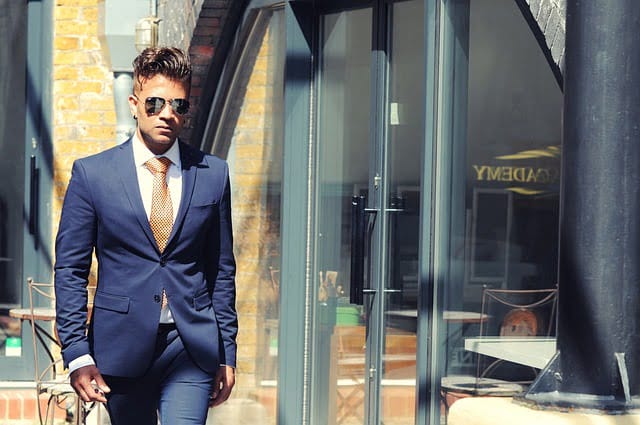 Choose a navy or dark blue suit that you can wear everywhere. Those colors are classic and will never be out of trend.
You can wear them at work or go out at night. If you want to wear it all year choose a fabric that is not only in winter.
Those suits can be worn with brown or black shoes and belts.
Grey suit with 2 buttons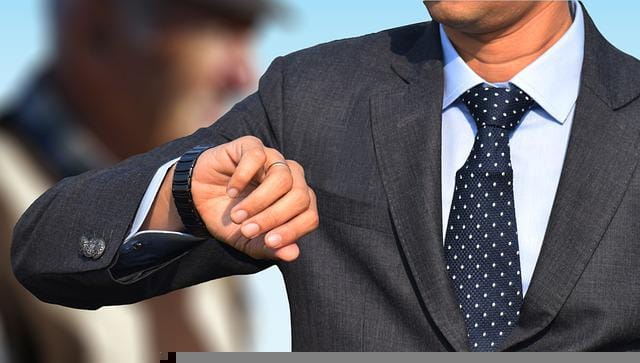 The classic business suit is grey. It is a great alternative to the black suit.
Grey is a color that you can match your ties and shirts with almost everything.
Our advice is not you wear a black suit. Use a blue or grey color suit instead. The black suit is good for tuxedos.
Of course, the black suit is a necessity in some countries and you have to wear it at funerals.
Casual suit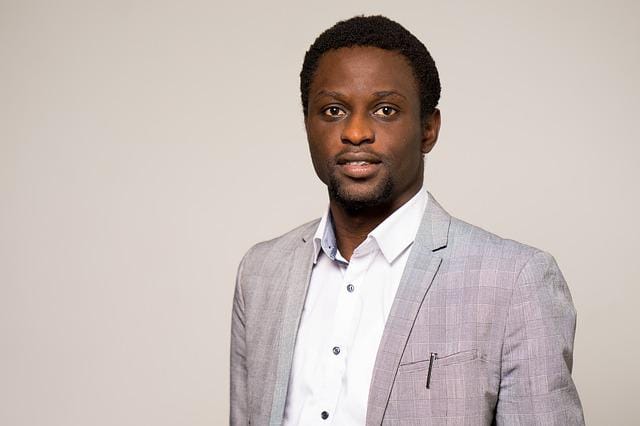 A casual suit is also a good classic alternative. Play with the different colors of trousers and make a nice everyday outfit.
A patterned suit is not only timeless but it will give you more character. Famous leaders around the world wearing patterned suits for many decades now.
As for the fabric, choose something light like wool or linen.
Read our article on why you should avoid fast fashion. It is bad for you and the environment.
Tuxedo suit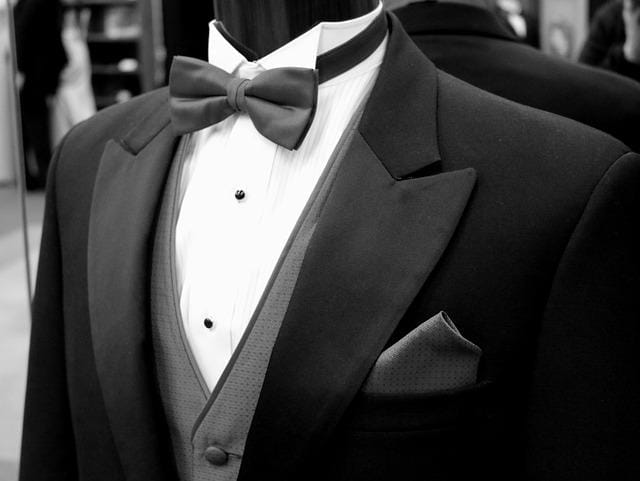 Sometimes the dress code is a black tuxedo suit.
It is not so often, maybe 1-2 times per year. Do not make the mistake of wearing a black tie with a classic suit.
If you don't have a tuxedo go buy or rent one. You don't want to be the different man and get discussed after the event.
Keep in mind that the difference between a suit and a tuxedo is that the tux has satin details.
You can also read our article about 15 stylish money clips for men.
Suit accessories
We did not include hats in the suit accessories. Check out our article about different types of hats.
Ties.
A tie or necktie is the most necessary accessory for your suit. With a tie, you look and feel complete. Lately, we see many people – actors, and politicians- wearing a suit without a tie. That is because they want to feel free, but they are not classy.
Depending on the suit, you could choose a monochrome tie or 2 colors. This will make you feel complete and high-class.
Read our complete guide about ties for men. Are ties still relevant in 2023?
Classic silk ties are the best material you can wear. You can play with other fabrics, depending on the season. In summer, you can choose satin or linen. In winter, choose wool or velvet.
How to tie a tie. There are many ways to do it, but we will show you only one. The easy way. You can learn it in 5 minutes and never forget it.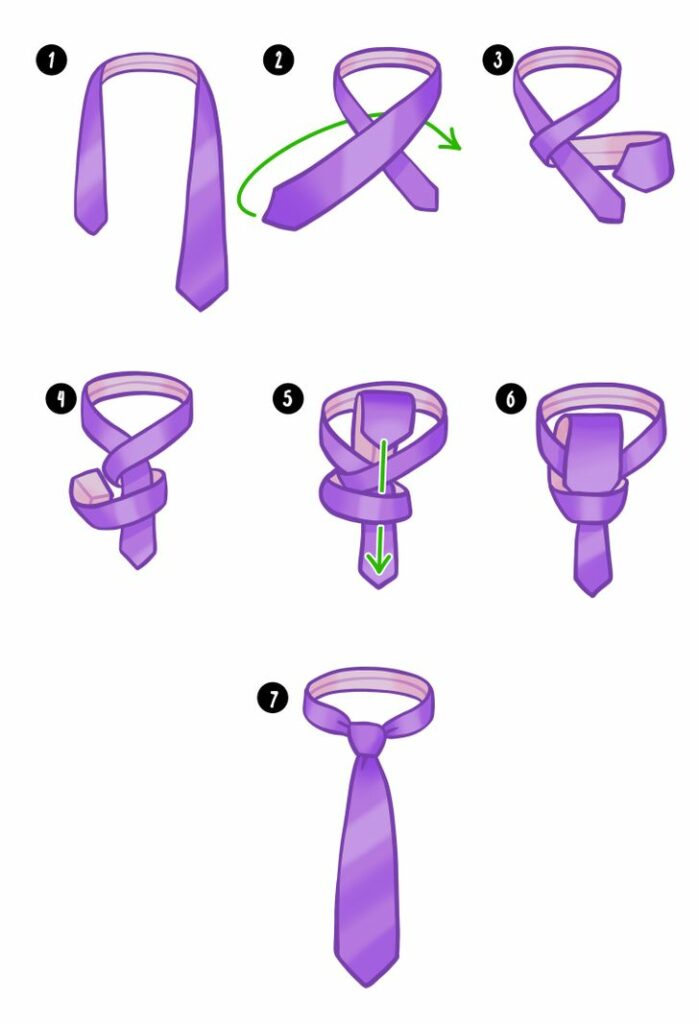 Bow Ties.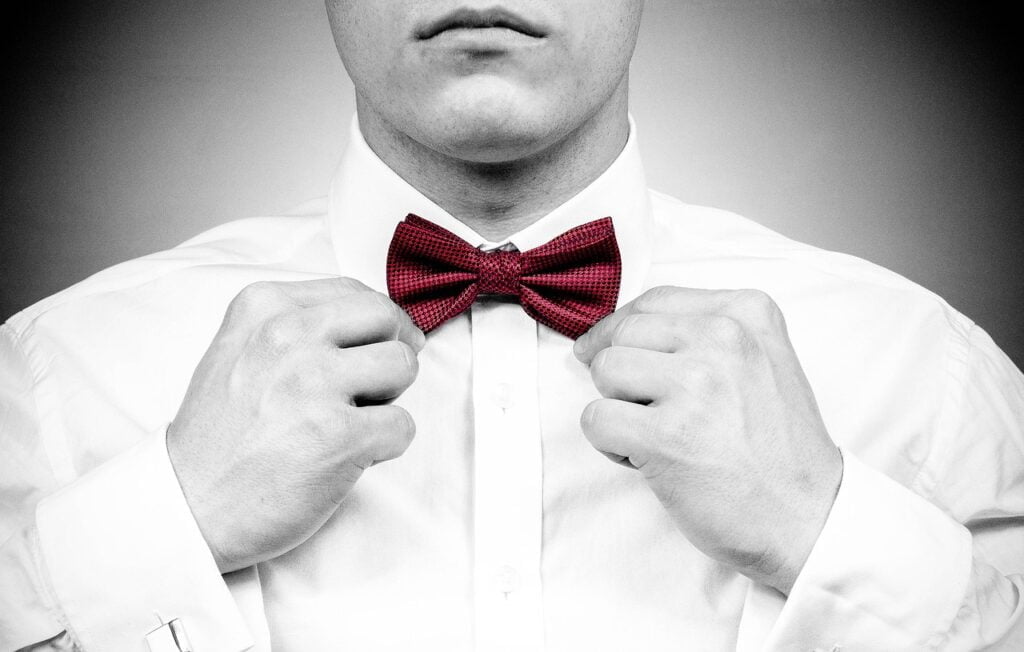 An alternative to a tie is a bow tie. They are not as common as ties, but they can change your look for sure.
With a tuxedo, you can wear a black or white bow Use a monochrome black, gray, white, or blue bow for formal events tie. For funerals, black is a must and for weddings, you must wear a white bow tie.
Check our complete article about bow ties here
They are wooden, silk, and knitted bow ties. We recommend using pre-tied bow ties because it is not easy to learn how to tie them.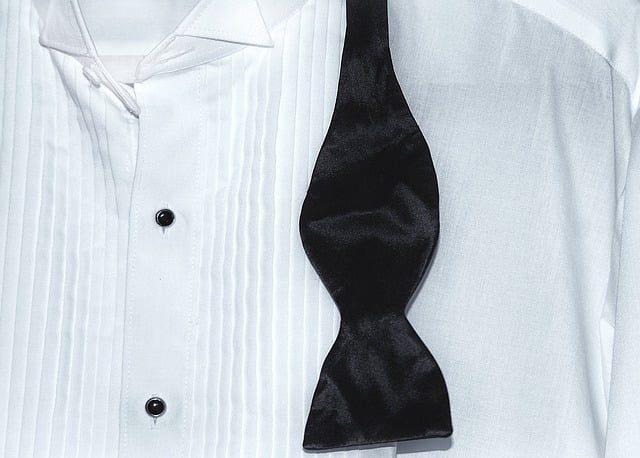 Pocket squares
Pocket squares, also known as handkerchiefs, are the second most important accessory for a complete suit look.
The best way to match a tie and a pocket square is to use the same color and material. You can also use the same color and a different pattern to make a nice combo.
Some nice sets on Amazon include a silky bow tie, pocket square, tie clips, and cuff links.
Do you like a luxury pen in your suit pocket? Check out our article about the Best Luxury Pens.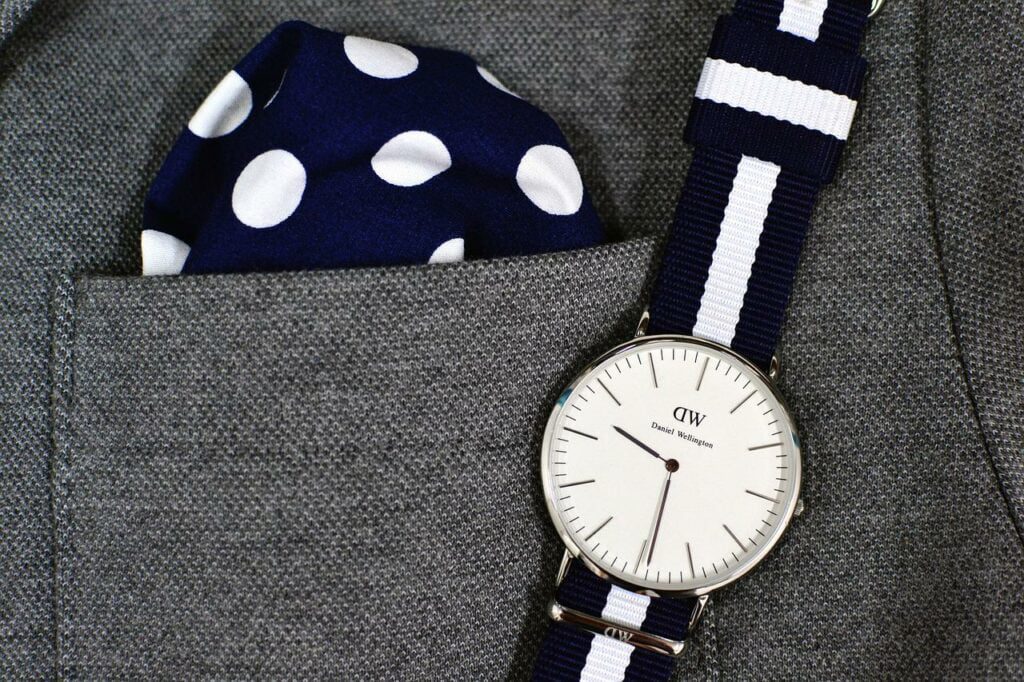 Check to see our article about men's bracelets
Tie clips
Tie clips were invented to keep the tie in place. Our advice is, whenever you wear a tie, you wear a tie clip too. This way you are looking fulfilled. Suit accessories need to be worn completely.
Be careful of the position. The tie clip must be between the 3rd and 4th buttons of your dress shirt. Also, always make sure it is as horizontal as possible, or else you will look messy.
Check out our article about tie bars for men
The most common color is black. gold and silver. Use one that doesn't look cheap because you will destroy all your efforts to look classy.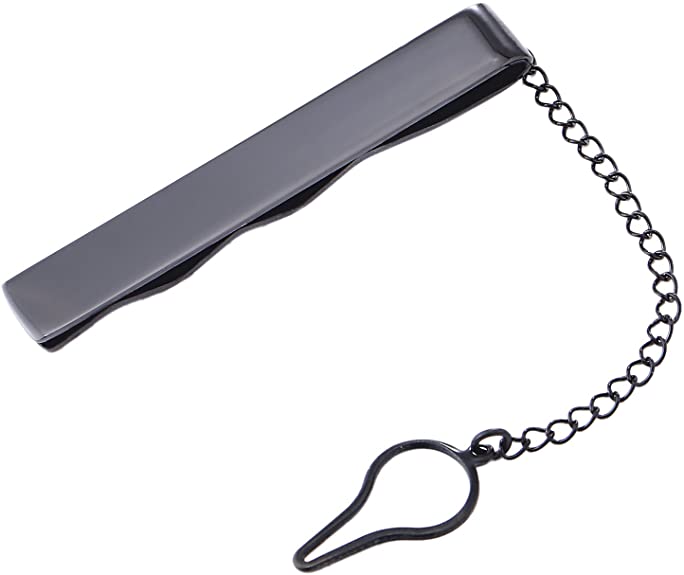 Cuff links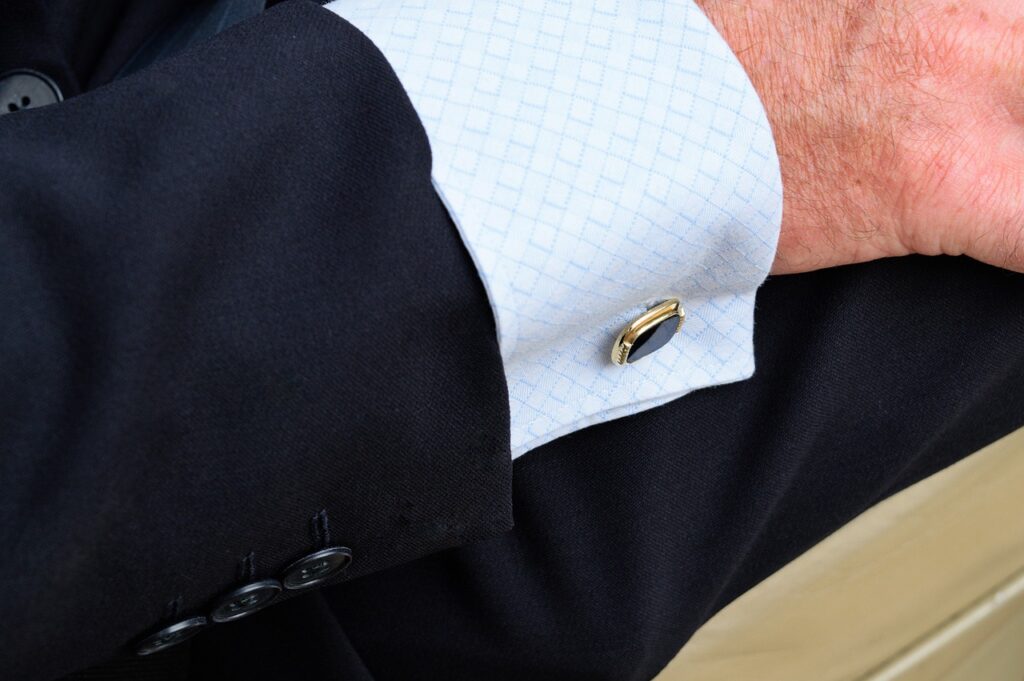 Cuff links were invented to keep your shirt cuffs attached. It is a very nice alternative to shirt buttons being fastened.
Keep at least one pair of cuff links in your wardrobe. It will add more points to your overall dress code.
Tip. Tie clips and cuff links can match for an optimal set. They can be the same color but can have a different pattern or shape.
Check to see some sets on Amazon like this.
Check our article about men's rings. This way your style will be completed.
Watch
When wearing a nice suit, you need to complete your look with a nice watch.
A watch is not only practical, but it also makes a better impression. Don't use smartwatches, use a classic watch that will give you many points for your overall style. A cheap watch is a bad choice. Look at the watch as an investment and not as an accessory.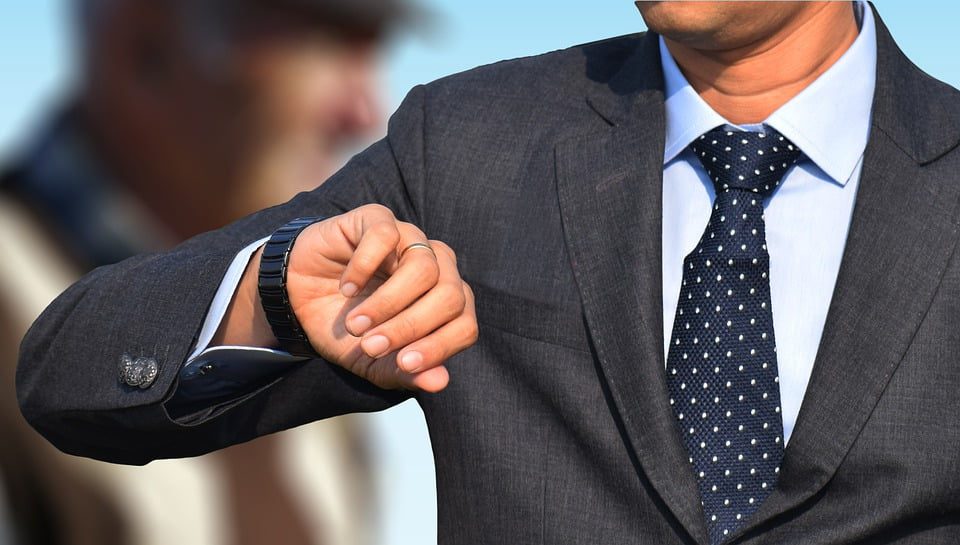 What about rings for men? Read our article here to learn more.
Belt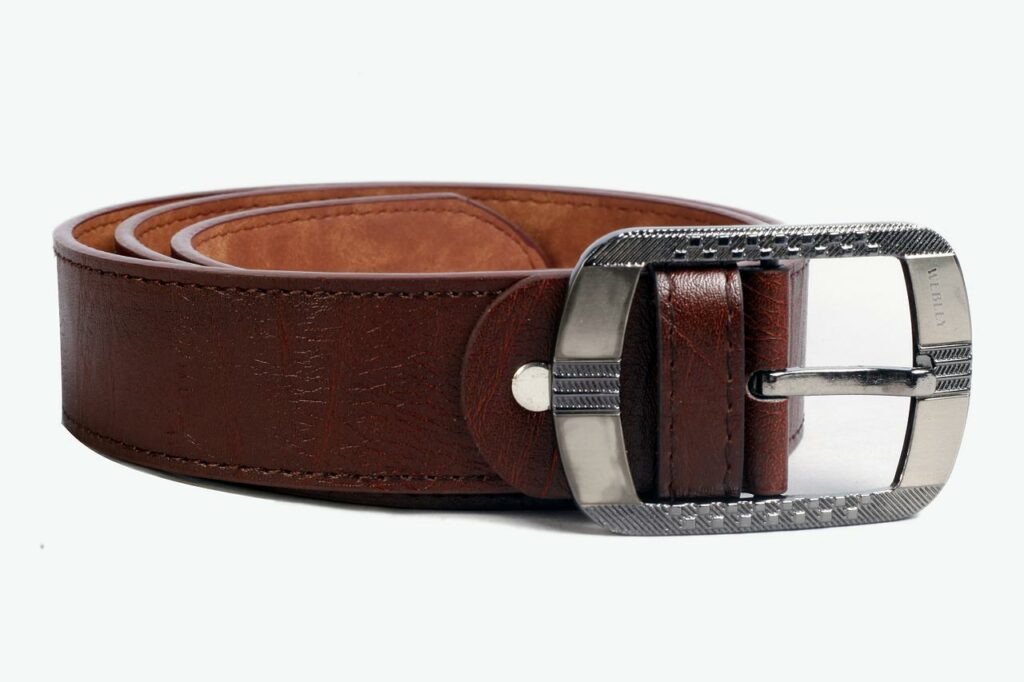 If your pants are falling, you need to wear a leather belt. There is no excuse for that. If you don't wear a belt, your trousers will fall, and you will lose the style you are looking for.
Read our article about suspenders for men. Find out what to use: suspenders or belts.
You can choose a black or brown color. The belt buckle can be silver or gold. Do not use anything else except leather, all the other cheap belts don't last long and will give a negative impression.
One last tip. Match your shoe color with your belt.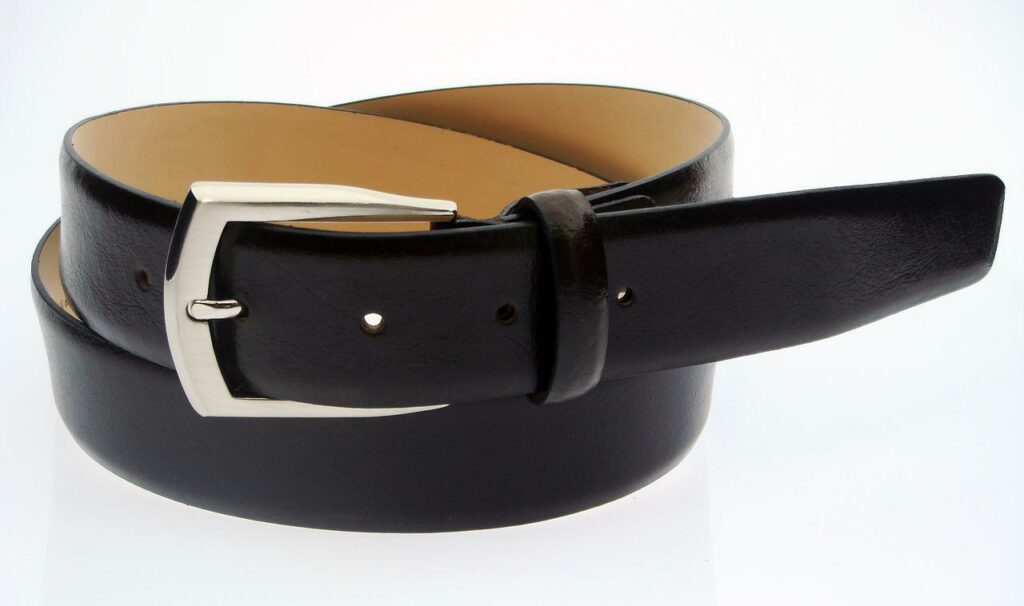 Do not forget a nice pair of shoes. Check out our article about footwear for men.
Lapel pin
A lapel pin was used to symbolize a group or an organization. They are getting more popular now.
The lapel pin must be worn on the same side as the pocket square.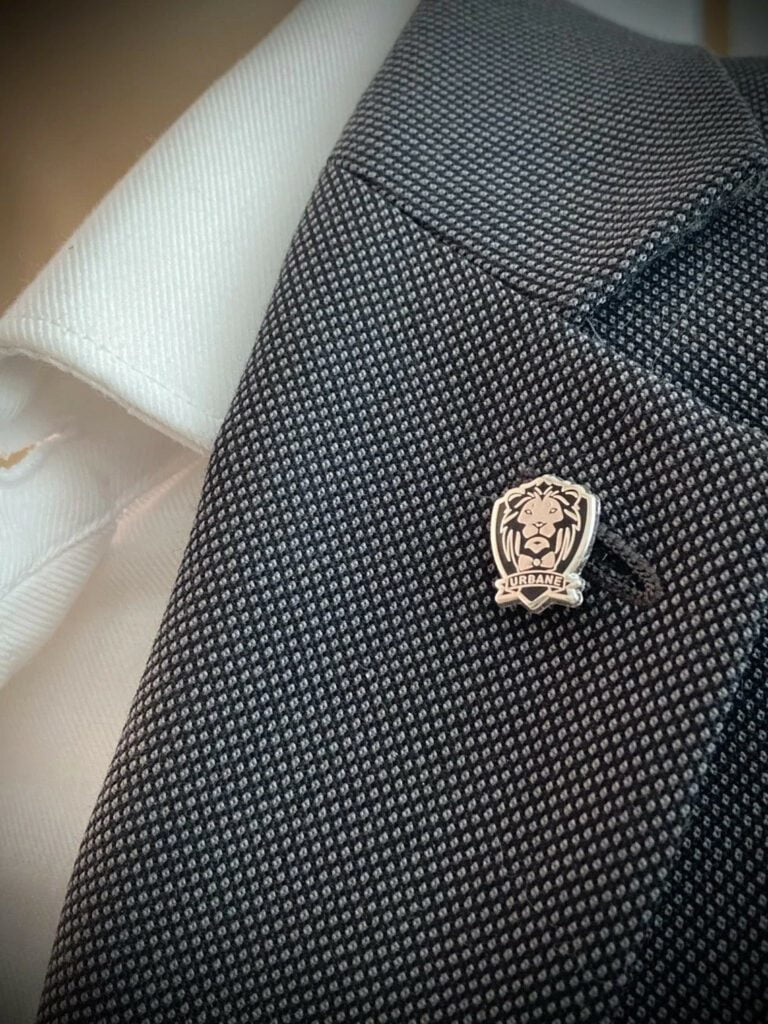 They are lapel pins that go on both sides, don't use them, simple is always elegant.
How to complete your look with style? Check out our article about gloves for men here.
Overall don't put everything you can find. These are only ideas. Each person has his style, and you can find it with accessories. Don't overdo it, plain design is better than too complex.
Do not forget men's sunglasses.
Find out what sunglasses to choose from, in our article about 15 Trendy Men's Sunglasses Available Today
Frequently Asked Questions
How many accessories should you wear with a suit?
Try to wear 3 accessories each time. For example a colorful tie and a pocket square with some fancy shoes. Another example is a shirt with a bright color, a nice watch, and some extreme socks. The trick is 2 accessories for the upper body and one for the lower part.
What suits should every man have?
Each man needs to have at least 3 different suits. One is the classy navy or midnight blue. The second should be a grey suit with 2 buttons. The third one can be a casual suit or a tuxedo. That depends if you ever get invited to an event with a dress code or not.
Does every man need a black suit?
Many men today believe that a black suit is the best option. It is better to wear a navy or midnight blue suit. Another alternative is the grey suit with 2 buttons. Black suits are needed for funerals or when the dress code of the event requires it.
Should you own a black suit?
We did not include a black suit in the suits that you need to own. For most people, it is not needed because it is too formal. A black suit is required for funerals and galas. For weddings, you can wear a dark blue suit or just anything else. That is totally on you. Do not ignore it, but each man has different priorities so we can not add one rule only.
Conclusion
Here are all the suit accessories you can wear. Look at our articles for more information and product comparisons.
Do you have more ideas or any questions? Leave a comment below and we will answer as soon as possible.
Our Latest Articles
Laoutaris Recommends