Best Bracelets For Men, find everything you need. From sophisticated leather to beautiful metal cuffs. Even if it is not natural for most men, you can wear them and have a unique style.
Table of Contents
The average read time is 14 minutes. The article was last updated on 07/09/2023
Leather bracelets for men
There are many types of bracelets for men. If you want something in leather, choose leather cuff bracelets, braided leather bracelets, or leather wrap bracelets. These are nice for casual to high-end outfits.
Metal bracelets for men
For metal bracelets, the options are metal cuff bracelets, metal chain bracelets, or precious metal bracelets. These are the most common bracelets. If you want a good style, you can never go wrong with the metal option.
Rope bracelets for men
The rope-style bracelets are for a minimalistic style and offer a different option from the leather bracelets. There are also 3 types. Natural fiber, paracord, and nautical rope.
Beaded bracelets for men
If you want something more colorful and with many textures, use beaded bracelets. You can choose stone, metal, or wooden bracelets. All these will add a different and unique style to your outfit.
Check below for our top picks and bestsellers.
Tennis bracelets
Chris Evert, the professional tennis player is responsible for the term tennis bracelet.
A tennis bracelet is made with a symmetrical pattern of diamonds or gemstones, connected by a thin precious metal chain.
There can be from one row of diamonds up to four rows.
In 1987 while Evert was playing in the US Open, her string diamonds fell off her wrist, so she requested a pause to look for the jewels. From then, the term tennis bracelet was tied to Evert.
Extra Tips. Do not wear too many metal bracelets on one wrist. Keep it simple and clean. Wear them only on one arm, rather than having one bracelet on each arm. Bracelets are also a good option for birthday or anniversary gifts.
Different types of best bracelets for men
Types of charms used in bracelets.
buddha bracelet
anchor bracelet
skull bracelet
snake bracelet
dragon bracelet
heart bracelet
compass bracelet
evil eye bracelet
zodiac sign bracelet
bracelet with initials, and many more
Types of material for men's bracelets.
Gold, stainless, steel, titanium, copper, tungsten, and sterling silver.
More materials such as rope, leather, wood, fabric, rubber, cable, and others.
Type of stones used in men's bracelets
Diamonds, cubic zirconia, tiger eye, lava stone, onyx, pearl, jade, emerald, and others.
Check to see our article about suit accessories
Evil Eye bracelet.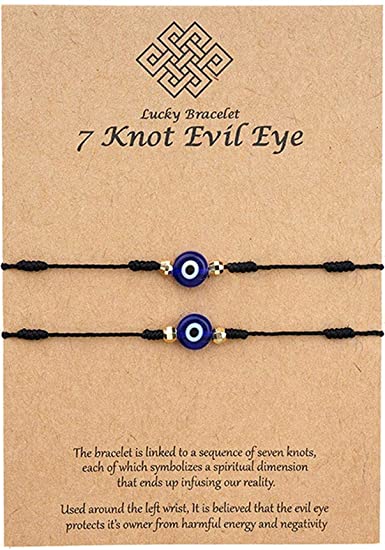 This is something to wear every day. It is supposed to protect you from the devil's eye – it is believed in many countries. You can wear it on your left wrist, and it will protect you from bad energy and negativity.
Find it on Amazon.
Pros
Protects from bad energy and negativity
It can be a discussion opener
It is not expensive
Cons
Many people will misunderstand it.
Leather bracelets for men. Tree of life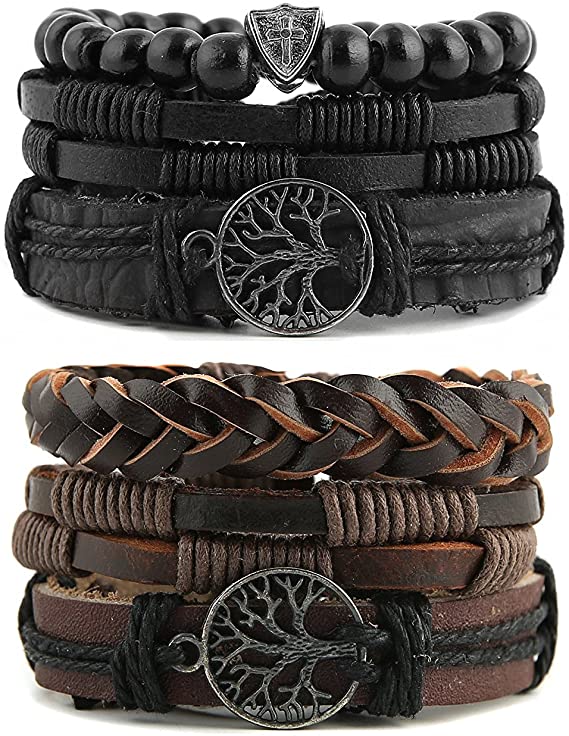 From soft braided leather to unisex, a perfect gift. You will have the Tree of Life, the tiger eye, and natural lava rock beads.
They are comfortable, and you can wear them at any time, never be out of style with them. One of the best choices of bracelets men can wear.
Find them on Amazon.
Pros
Leather bracelets combine very well with the casual look
Black and brown leather
Genuine leather with magnetic strap
Cons
The look is casual and only for everyday use
You will need to add a ring or two to complete your style. Read our article about rings for men.
Lava Rock Men's bracelet.


Another unique bracelet from black lava rock helps with anxiety and stress relief. It has an adjustable cord.
Lava rock stone can absorb your favorite essential oils.
Just drop a little of your favorite essential oils on the lava rock stone bracelet, the scent will last all day on the volcanic stone.
Find it on Amazon.
Pros
Many selections for 1 to 4 bracelets
Lava stones can diffuse essential oil
Designate for stress relief
Cons
Stones are not real
Degs & Sal Gold Figaro Chain Bracelet.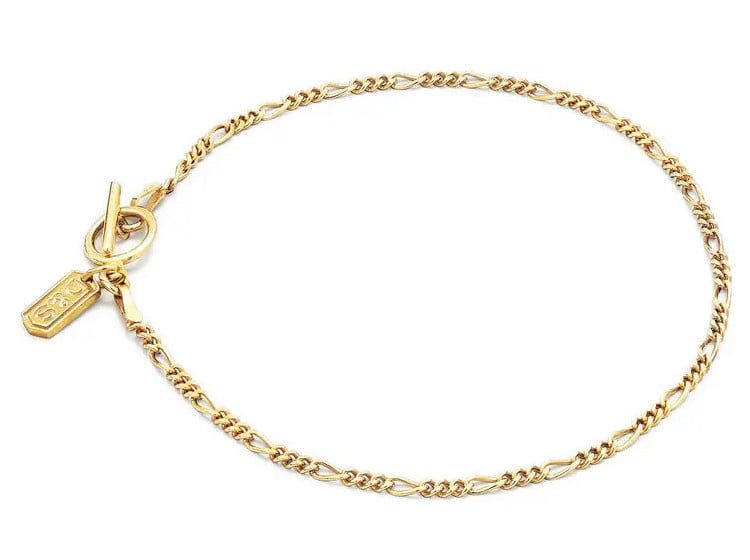 This is a simple but nice gold chain bracelet. It is very cheap because it is fine sterling silver plated with gleaming 14-karat gold. The length is 7 1/2″. Made in Italy.
Check out the item at Nordstrom.
Pros
Figaro style bracelet is very classic
Will last for a lifetime
You can wear the bracelet on every occasion
Cons
The bracelet is made of sterling silver and 14K gold plated
Titanium metal magnet bracelet.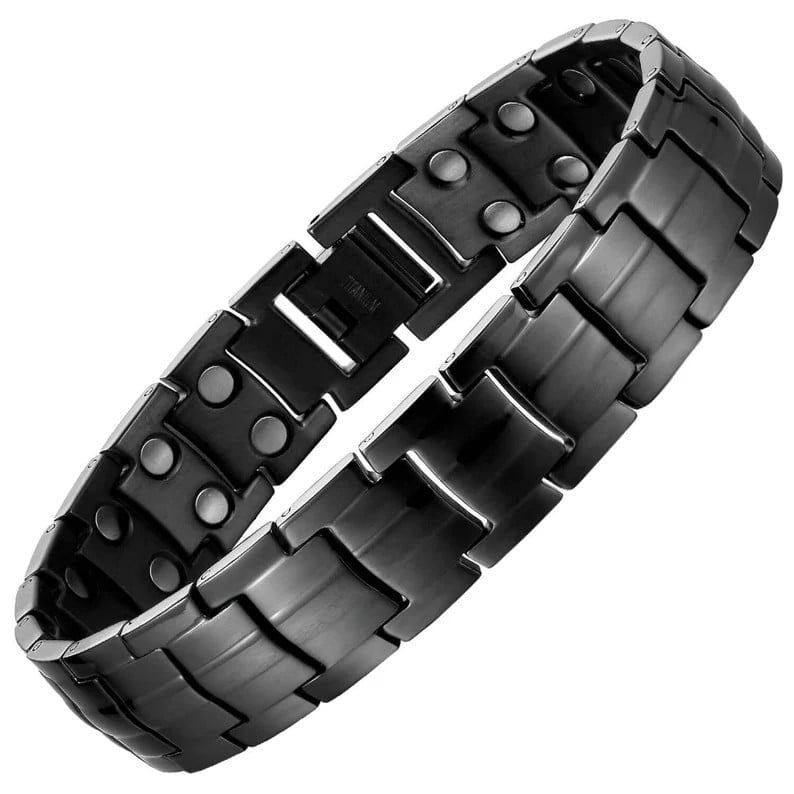 Gunmetal is gray titanium with magnets. For maximum power, performance, and results. Something for younger ages, but also everyone. Something modern, and stylish, and helps with pain because of the magnets.
Check it out at ETSY.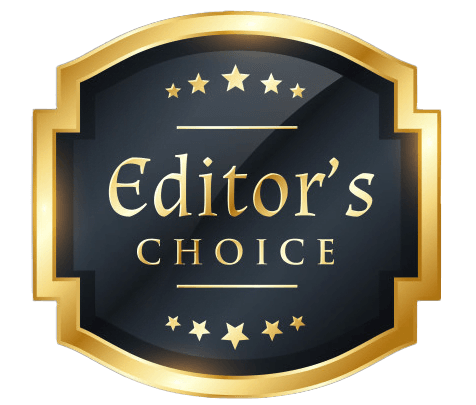 Pros
100% Titanium
Magnets are Neodymium 3500 gauss
Hypoallergenic
Magnets are helping with pain and stress. Improve circulation
Cons
Find it with a discount, fair price
The antique silver-tone bracelet is made of stainless steel.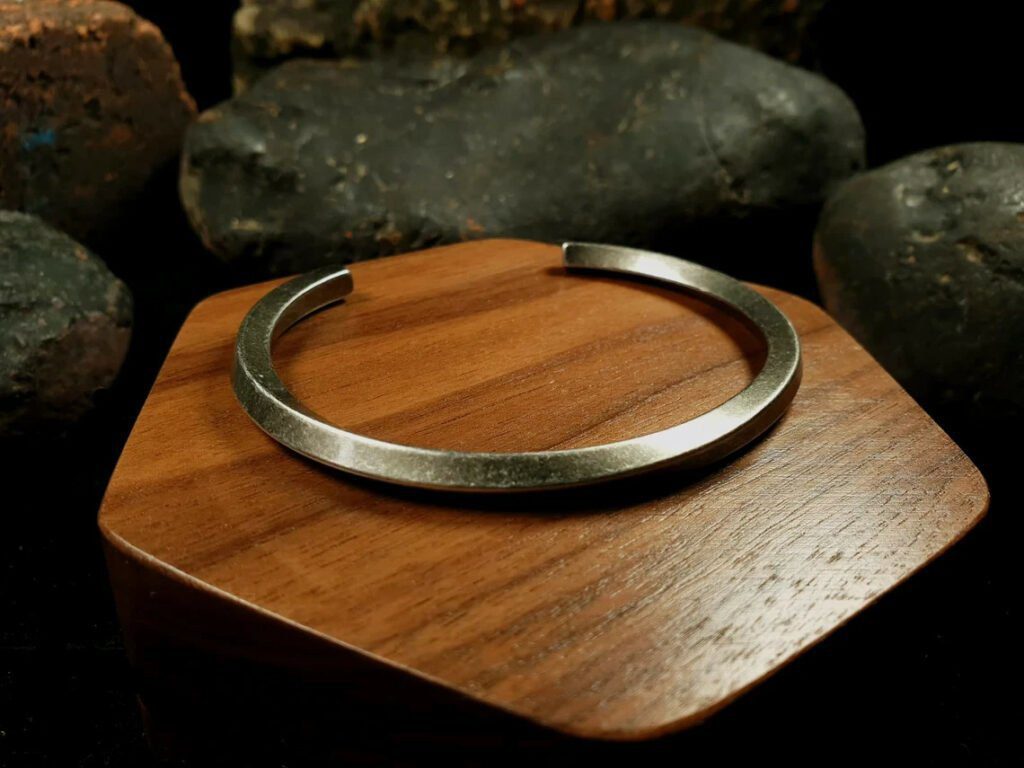 A very nice, simple, and manly bracelet. You can wear blue jeans and a T-shirt.
Handmade and stainless steel at a good price.
Check it out at ETSY.
Pros
Made of stainless steel
Antique silver-tone look
Good price
Cons
Only good with a casual suit
Rope Link Chain Bracelet in 14k Gold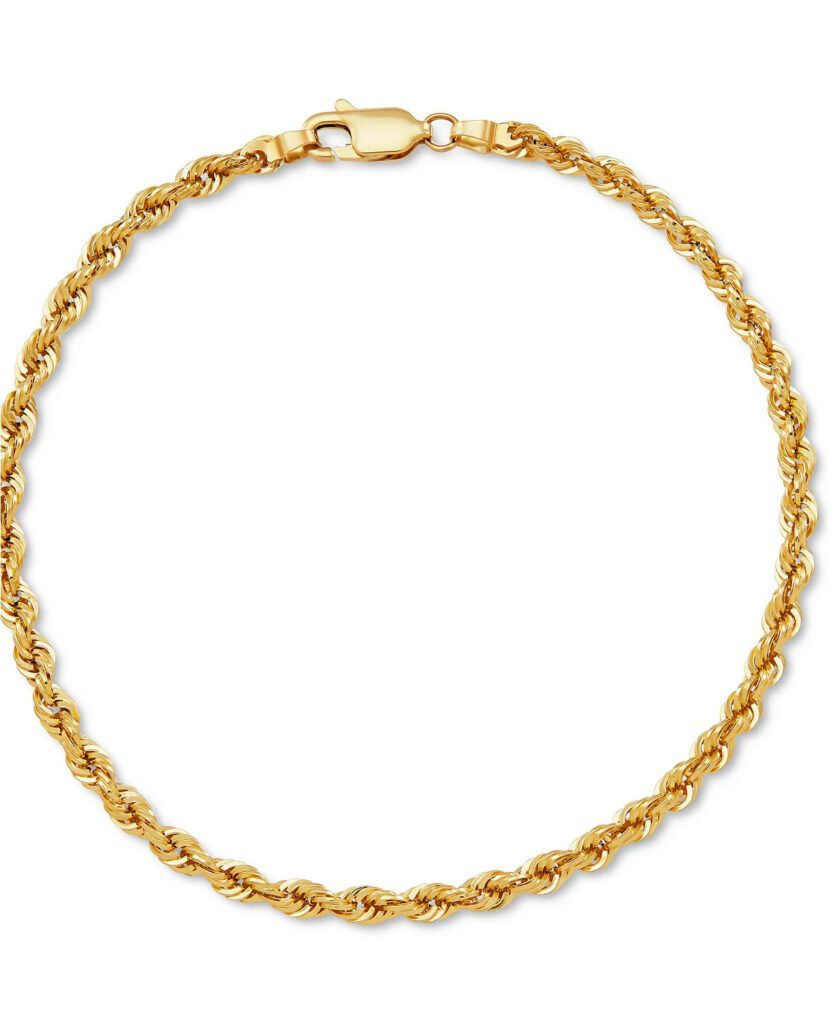 The timeless rope bracelet, nothing more to say. At 14ld the length is 8-1/2″.
Check it out at Macy's. Use code: FRIEND for a discount.
Pros
14K gold
The rope design is very beautiful
Cons
Do not buy it without a 14K stamp
Watch for price changes, they usually have great discounts
The bracelet is not thick, but it can break easily. Buy it with a coverage plan
Classic silver ID bracelet.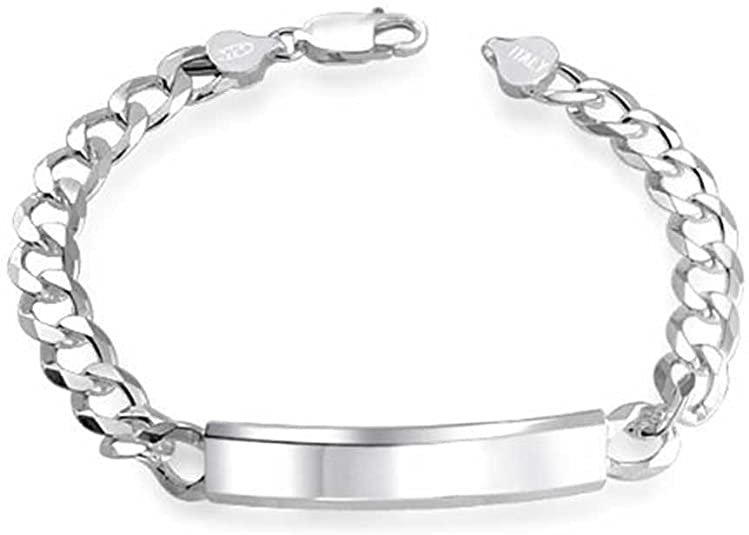 An all-time classic and you can write your name or a message. From .925 silver, the length varies from 8 to 9″ depending on your arm. An Italian made with a velvet pouch included. An old-time classic gift for everyone.
Check it out at Amazon.
Pros
Made of sterling silver
A classic bracelet, You can engage your name, favorite line, or anything
Made in Italy
Cons
The dimension of the ID plate is not large.
Stainless Steel ID metal bracelets for men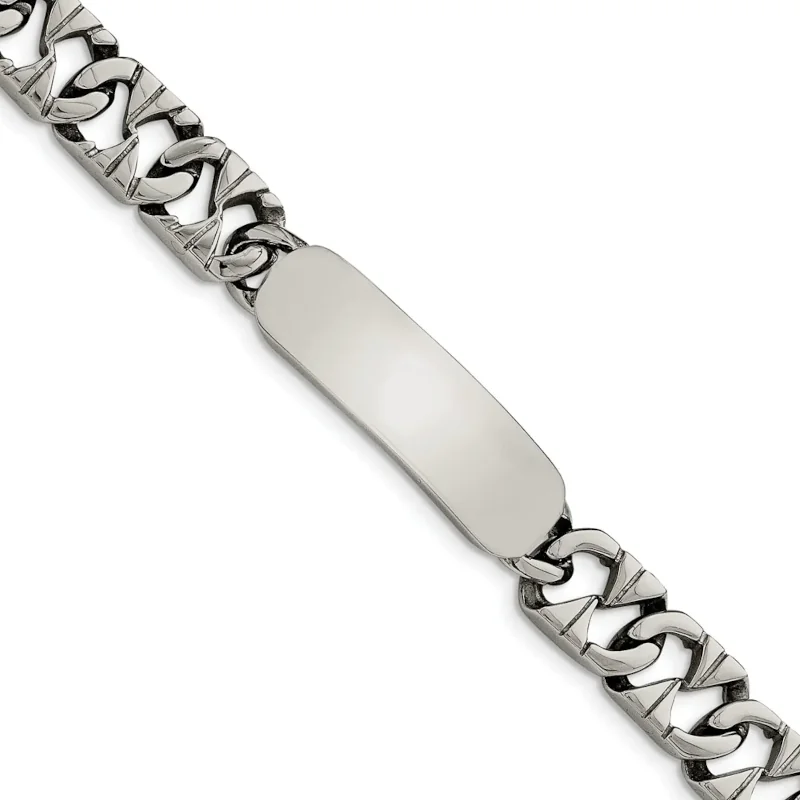 Instead of the classic ID bracelet, you can choose this one. Made of stainless steel and can be easily engraved.
One of the best bracelets for men, not too small or too big, depending on the hand size.
Check it out at theblackbow.com
Pros
Made of stainless steel
Very unique design
Cons
Check well the engraving, some times it is faint
The clasp can be not closed securely
Gold Braided Bracelet


From Emanuele Bicocchi. Handcrafted braided foxtail chain bracelet in 24k gold-plated sterling silver.
Logo hardware and hallmarking are engraved with lobster-clasp fastening. Something truly remarkable. Don't wear anything else in your hand. This is our best option for bracelets men can wear.
Check it out at SSENSE.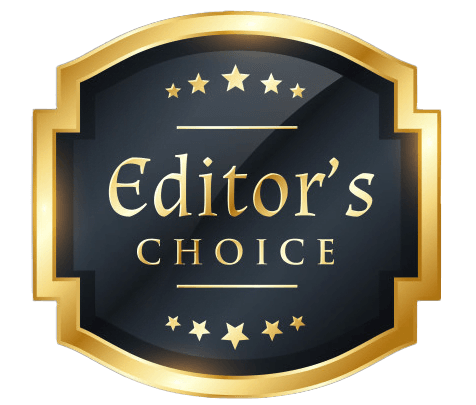 Pros
24k gold plated
20 cm length (7.75 In)
Handcrafted with hallmark engraved
Cons
But when at a discount, you can save up to 50%
Silver rope bracelet.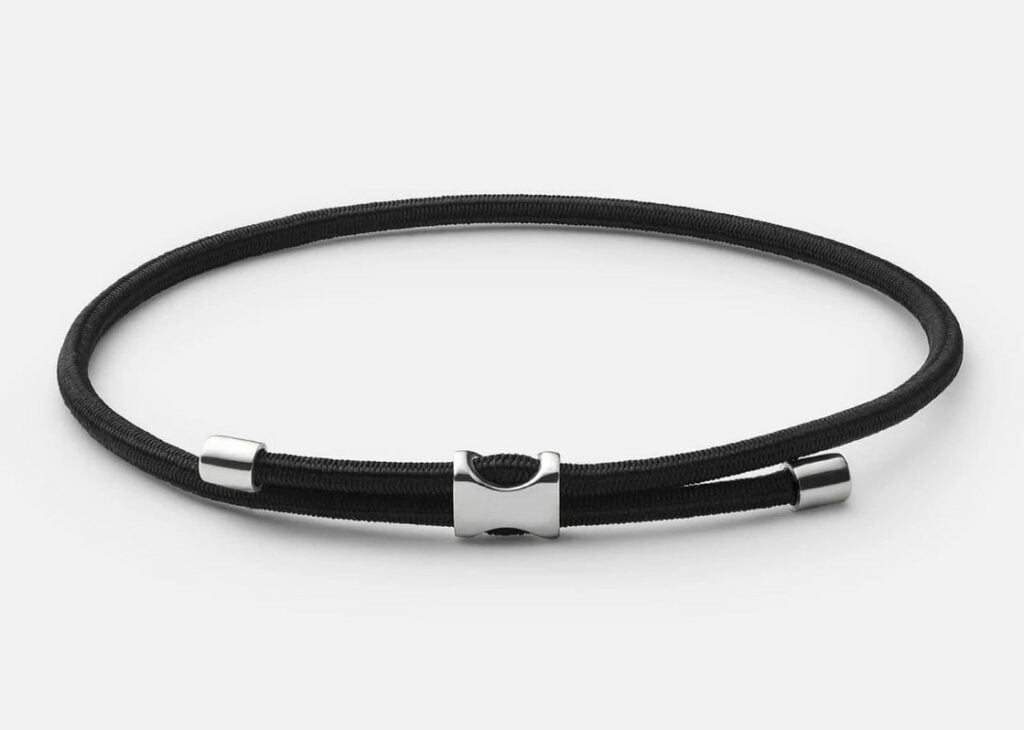 The hardware-inspired men's Orson Pull Rope Bracelet features a hand-casted sterling silver flat bead strung onto a bungee cord. Adjustable for an easy-to-wear staple piece.
Check it out at Miansai.
Extra tip: Use honey for your online purchases and get decent savings.
Pros
Comes in many colors
Adjustable in size
Sterling silver bead
Cons
The price is expensive for rope
Men's bracelet set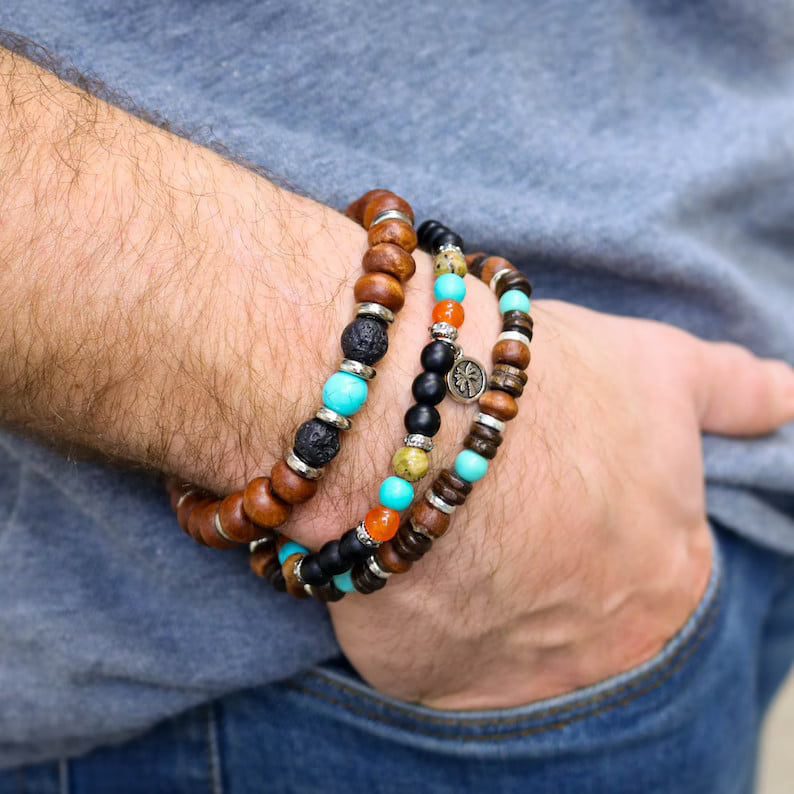 They are made of wood and nuts, and they are adjustable.
They look fantastic with the right outfit but take them off while in a shower. Hippie style and cheap.
Check it out at ETSY.
Pros
Beaded bracelets for men look very cool, especially if you wear 3 of them
Fancy colors
Good price
Cons
Take them out while showering
Unique silver sword bracelet.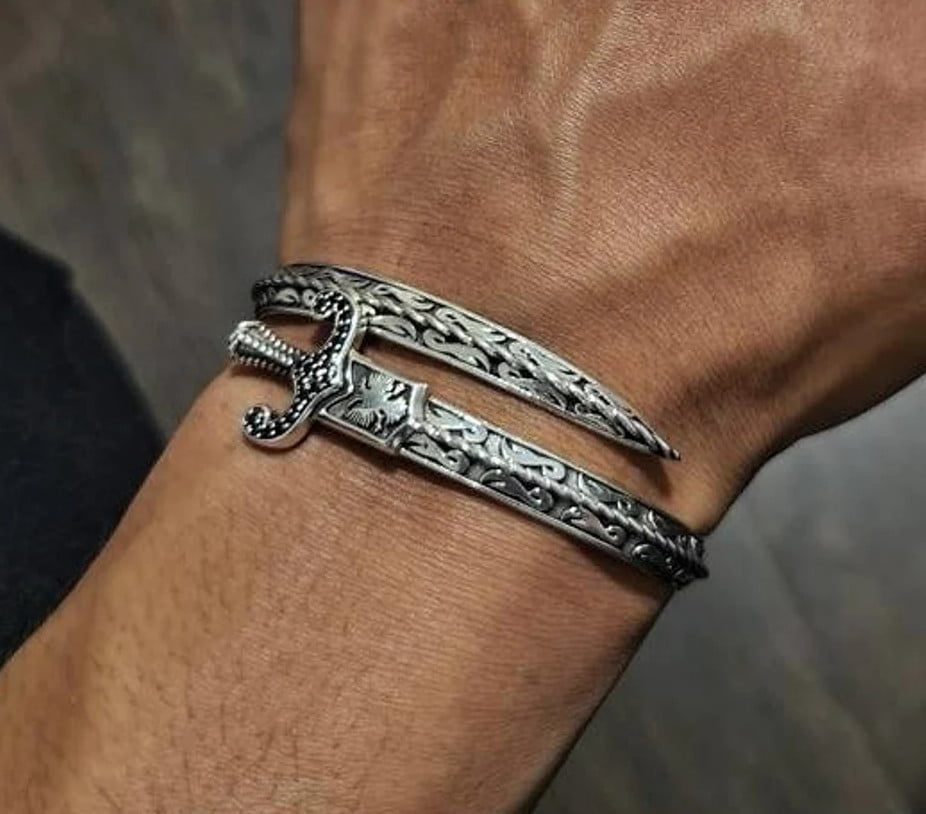 Something unique and beautiful. From .925 silver, hand-made, with a length of 25 centimeters to give you a brutal style.
Check it out at ETSY.
Pros
When we are talking about metal bracelets for men, nothing else is better
925 Sterling silver
Very detailed, oxide-coated
Bracelet adjustable
Cons
The price is high without a discount
Read also our 10 popular chain necklaces for men
Some special types of best bracelets for men
Medical bracelets for men
Some people have a medical condition that needs to be known by paramedics or doctors. Those bracelets are not decorative but are essential for your health.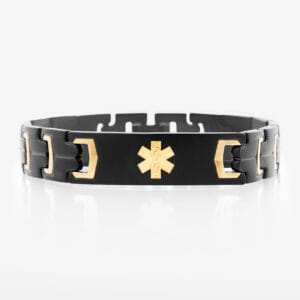 Check out this medical bracelet from stainless steel at laurenshope.com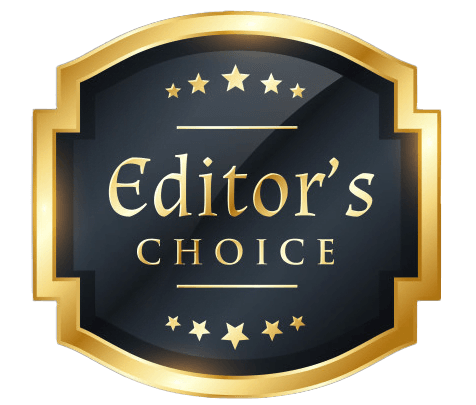 Pros
Stainless steel in black and yellow tone
Water-resistant
Metal bracelets for men are trendy and this one is no exception.
Custom engraving
Cons
Nothing. It is something necessary when you have a medical condition.
Paracord bracelets for men
If you are an outdoor adventurer, a soldier, or a firefighter you can wear a paracord bracelet.
Paracord bracelets can be useful for tuning up a gear, making shelter, fishing, trapping a small animal, stopping blood flow, or even making shoelaces.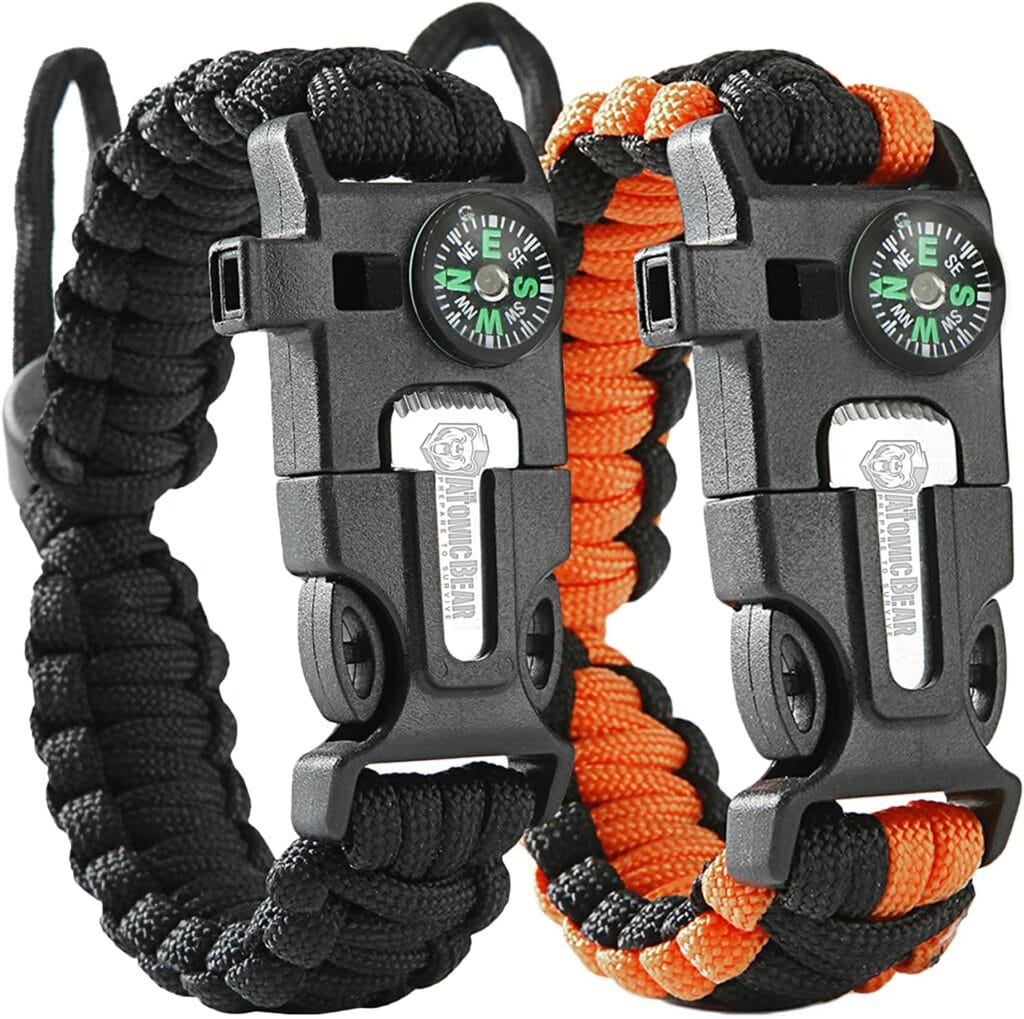 Check out this survival paracord bracelet at Amazon.com
Pros
When you want rope bracelets for useful men don't look further
5 in 1
Very good price
Cons
Only if you are an adventurer
Morse code metal bracelets for men
Another special bracelet man can wear. Morse code is more than 200 years old, but many people in the world understand it even now. You can make your own or buy it from a shop with your message. It is a great discussion starter and it looks different and unique.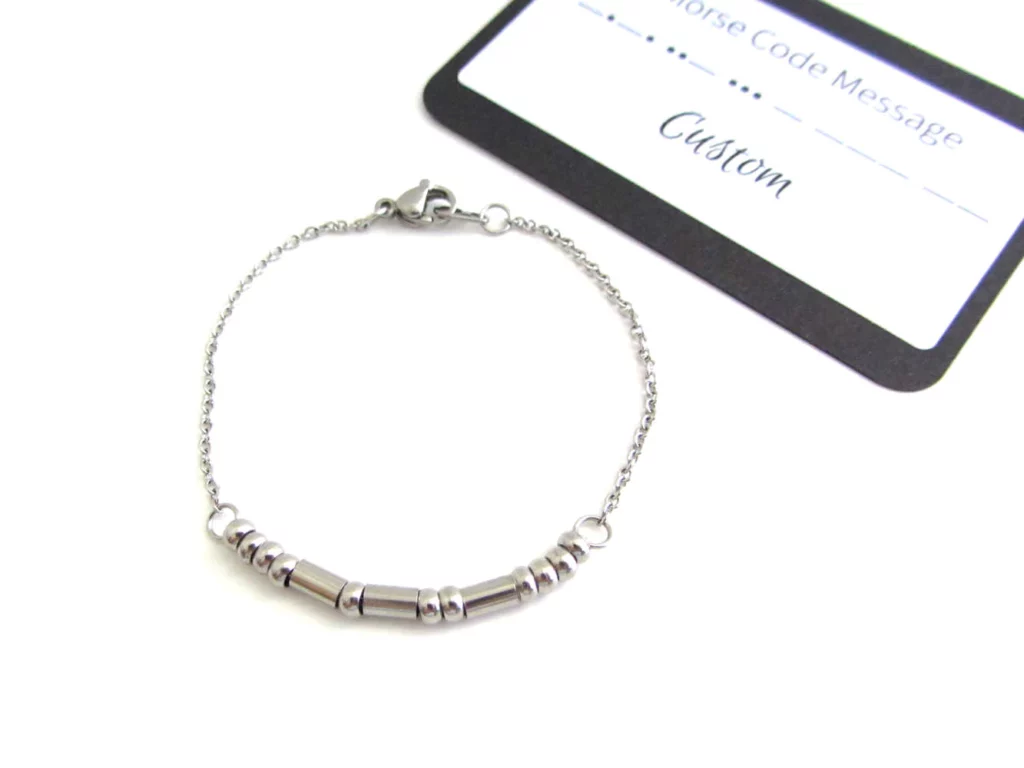 Check out this personalized Morse code stainless steel bracelet from puprlewyvenjewelry.com
Pros
A unique bracelet that will tell a story
Stainless steel
Message can be up to 15 characters long
Cons
Young people do not know about Morse code.
Rubber bands
We left it at the end because the rubber – silicone- bands are a fun way to style. But they are cheap and most of the time brightly colored. They are good conversation starters in a casual meeting with your friends. Do not wear them every day, and never the same one.
They can have motivational, inspirational, and cause sayings. Live strong, dream big, your only limit is you, and many more.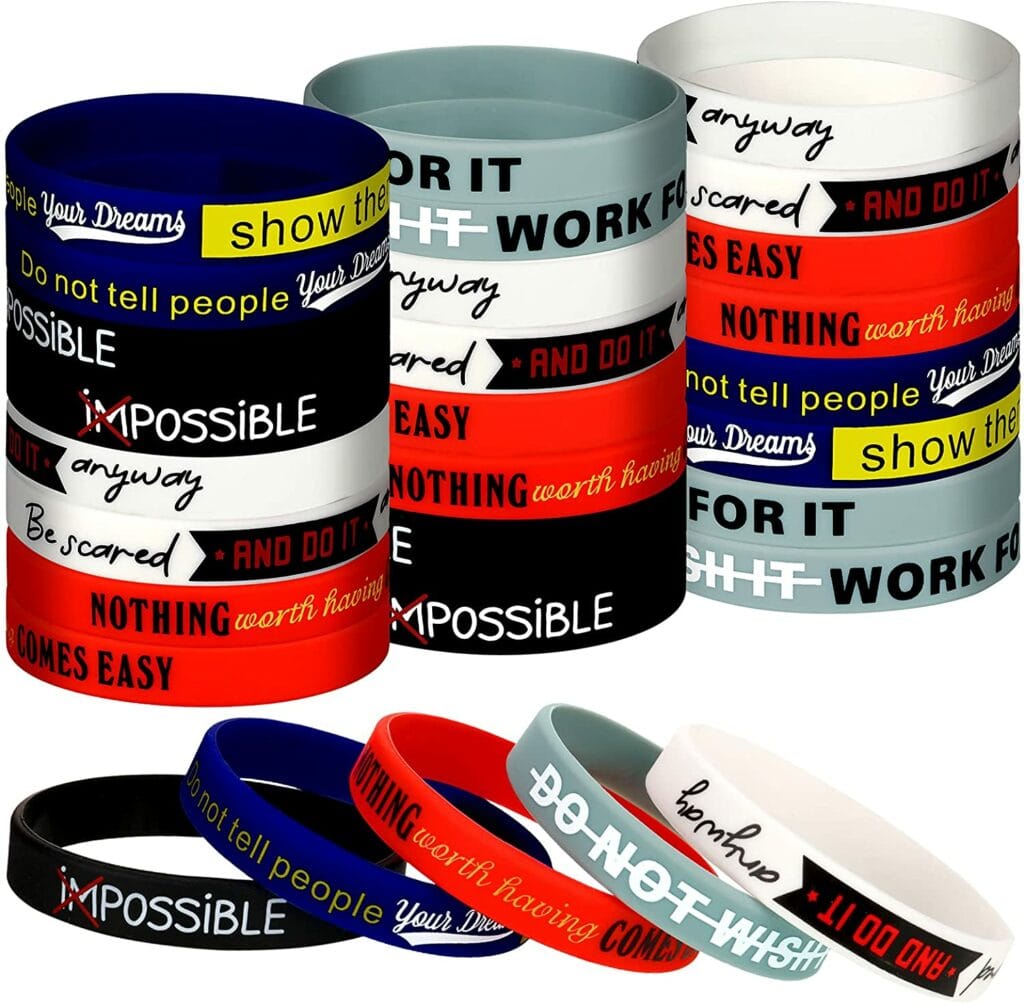 Check them out at Amazon.com
Pros
Perfect for teens or young ages
Gives a message
Cons
Not something to wear if you are over 25.
Something to wear only in the gym, or on a casual workday
What is the meaning of each color of the wristband
Red: Energy, passion, ambition
Maroon: Face cancer awareness
Pink: Brest cancer
Orange: Social communication and human rights
Yellow: Optimistic and suicide prevention
Black and yellow: Save the bees
Green: Balance and growth
Blue: Truth, grace, and spirituality
Purple: Creativity and imagination
Rainbow: LBGTQ
White: pure and innocence
Gray: Compromise or indecision
Black: Mystery and secrets
Brown: Comfort and protection
Red, white, and blue: Patriotism
Frequently Asked Questions about Best Bracelets for Men
Do straight guys wear bracelets?

The answer is definitely yes. Look at some celebrities and sports figures.
They wear one or two bracelets and sometimes earrings.

What does a bracelet mean to a man?

They used to provide good luck, but now they are modern accessories.
They can symbolize wealth, power, and status. But overall it is a modern style.

Feng shui and bracelets. Do they work?

Feng shui bracelets can provide fortune, wealth, and abundance in life.
Choose beaded bracelets for men.

Do bracelets make men more attractive?

If you like it, then others feel the same.
Keep in mind that not in all parts of the world wearing bracelets as a man is something ordinary.

How do men wear bracelets and watches?

You want to wear them below your watch, closer to your hands. Try metal bracelets for men. When stacking multiple bracelets with your watch, try to use thinner bracelets to create a more stylish and sophisticated look. If you wear a metallic watch try to use the same metal bracelet. Another option is to use leather or beaded bracelets.

Should men wear bracelets on their left or right hand?

If you wear a wrist in your left hand, you can wear a bracelet in your right hand. Or if you are lefty, you can wear it the other way.

Do men wear bracelets on both hands?

It is ok to wear them on both hands, keep in mind that you need to match the different sizes, types, and colors as well to balance the visual look on your hands. It is better to wear 2-3 bracelets in one hand and one or none on the other.

What is the 7-knot red lucky bracelet?

The bracelet is linked to a sequence of 7 knots, each of which symbolizes s spiritual dimension that ends up infusing our reality. Use it around your left wrist, it will function as a spiritual immunization against the destructive forces of the evil eye.

What does a black bead men's bracelet mean?

Black was always the masculine color. It symbolizes strength, hope, and good health, and matches your skin tone. They are very popular beaded bracelets for men.

Why do men wear black thread on their wrists?

It is believed that the black color of the thread protects from evil powers. In many countries, like India, it is very common. You should twist the thread from 2 to 8 times.

What are RFID bracelets?

RFID (Radio Frequency Identification) are chips integrated into a wristband and can be used for secure access control, payments, instead of keys in hotels, and many other applications.

What are Lokai bracelets and what are they symbolizing?

Lokai bracelets consist of clear beads that contain water, one white bead full of water from Mount Everest, and one black bead that consists of mud from the Dead Sea. The white bead symbolizes staying humble if you are on top of the world. The black bead symbolizes staying hopeful even if you are in the lowest moment in your life. The good thing is when you buy a Lokai bracelet 10% of the cost goes to charity.

Should I wear anchor bracelets?

If you have nautical roots sure. You can wear them with jeans or some linen or cotton summer suit. Keep in mind that anchor bracelets consist of a leather cord that is doubled and knotted.
Conclusion
Buy the best bracelets for men with confidence. It is all about style and personal taste.
Read about jelly bracelets and why they are banned. Check out ranked.com
Leave a comment below. What is your favorite bracelet? What would you like us to add?
Share this article
Our Latest Articles
Laoutaris Recommends