Popular classic watches. Should you still wear them? Do you have your phone or even a smartwatch?
Table of Contents
The average reading time is 17 minutes. The article was last updated on 27/11/2023.
Luxury watches are never out of fashion. No other digital clock can beat the rich history and the exceptional elegance. A proper mechanical look does not tell you only the time. It is an emotional and financial investment.
Our list below focuses on each brand. We take the best and most popular from the top watchmakers in the world.
Omega S.A.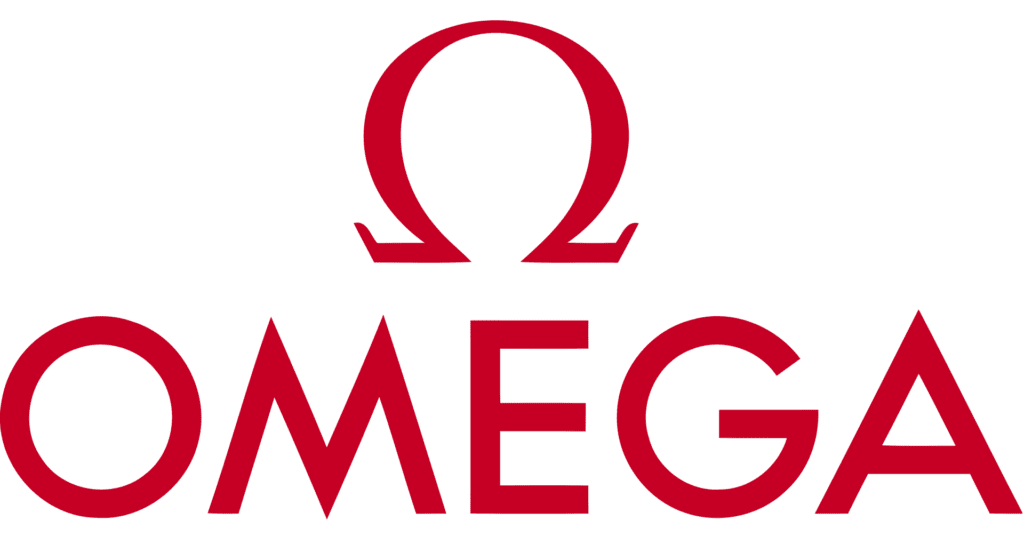 Omega SA is a Swiss luxury watchmaker. We were founded by Louis Brandt in La Chaux-de-Fonds in 1848.
In 1984, the company officially changed its name to Omega S.A., a subsidiary of the Swiss Swatch Group. Omega opened its museum in Biel/Bienne in January 1984.
Britain's Royal Flying Corps used Omega watches in 1917 for its combat units, as did the U.S. Army in 1918. Omega watches were the choice of NASA in 1969 for the Apollo 11 mission.
In addition, Omega has been the official timekeeper of the Olympic Games since 1932. Omega is currently the timekeeper of the America's Cup yacht race and a leading partner of the 2022 Winter Olympics.
Our pick: Omega Speedmaster Professional Moonwatch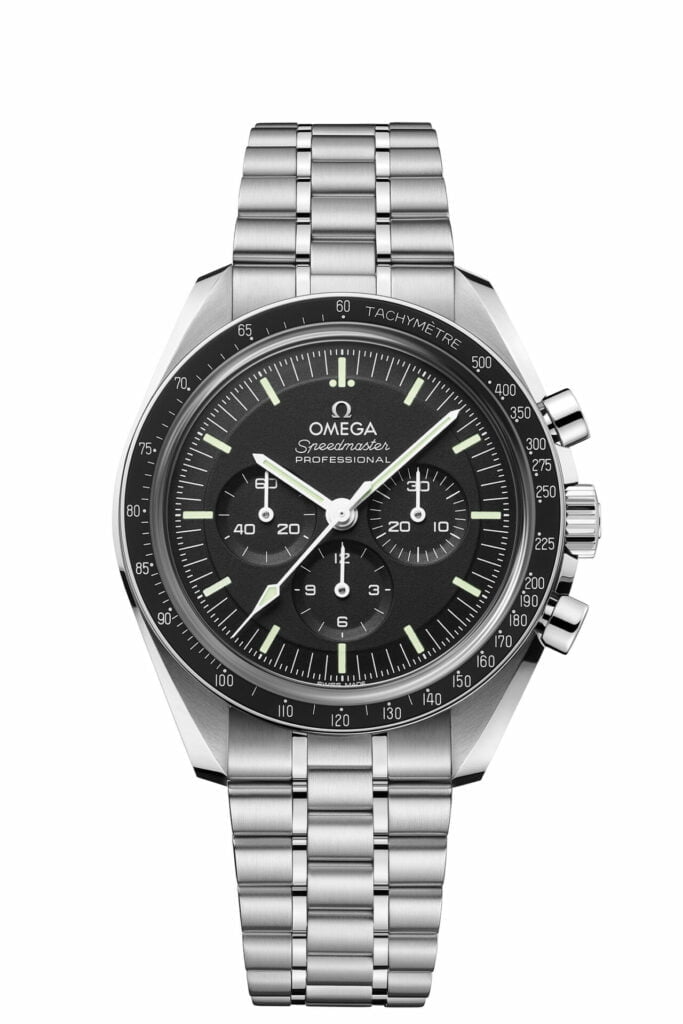 The Speedmaster Moonwatch is one of the world's most iconic timepieces. Having been a part of all six moon landings, the legendary chronograph is an impressive representation of the brand's adventurous pioneering spirit.
The Omega Speedmaster Professional Moonwatch is popular among watch enthusiasts for several reasons. Firstly, it has a classic and timeless design that has remained unchanged since its inception. Secondly, it is a reliable and accurate timepiece tested under extreme conditions. Finally, it has a rich history and a connection to space exploration that appeals to many people.
The Omega Speedmaster Professional Moonwatch has several features that distinguish it from other watches. Firstly, it has a manual-winding movement known for its accuracy and reliability. Secondly, it has a chronograph function measuring elapsed time up to 12 hours. Finally, it has a tachymeter scale measuring speed based on time and distance.
The Omega Speedmaster Professional Moonwatch has several additional features that make it a practical and convenient watch. Firstly, it has luminescent hands and indexes, making it easy to read in low-light conditions. Secondly, it has a scratch-resistant Hesalite crystal that is durable and long-lasting. Finally, it has a water resistance of up to 50 meters, making it suitable for swimming and snorkeling.
Presented on a polished-brushed five-arched-links-per-row bracelet, this 42 mm Moonwatch in stainless steel features sapphire crystal glass on the front and on the case back.
It includes an asymmetrical case, a black step dial with an applied OMEGA logo, and the famous dot over 90 on the anodized aluminum bezel ring.
The watch is driven by the OMEGA Co-Axial Master Chronometer Calibre 3861, along with the central chronograph function.
Pros
Great history
Antimagnetic
Chronograph, Tachymeter, Chronometer
5 bar water resistance
OMEGA uses 316L stainless steel.
Cons
Manual winding
Check it out at omegawatches.com
TAG Heuer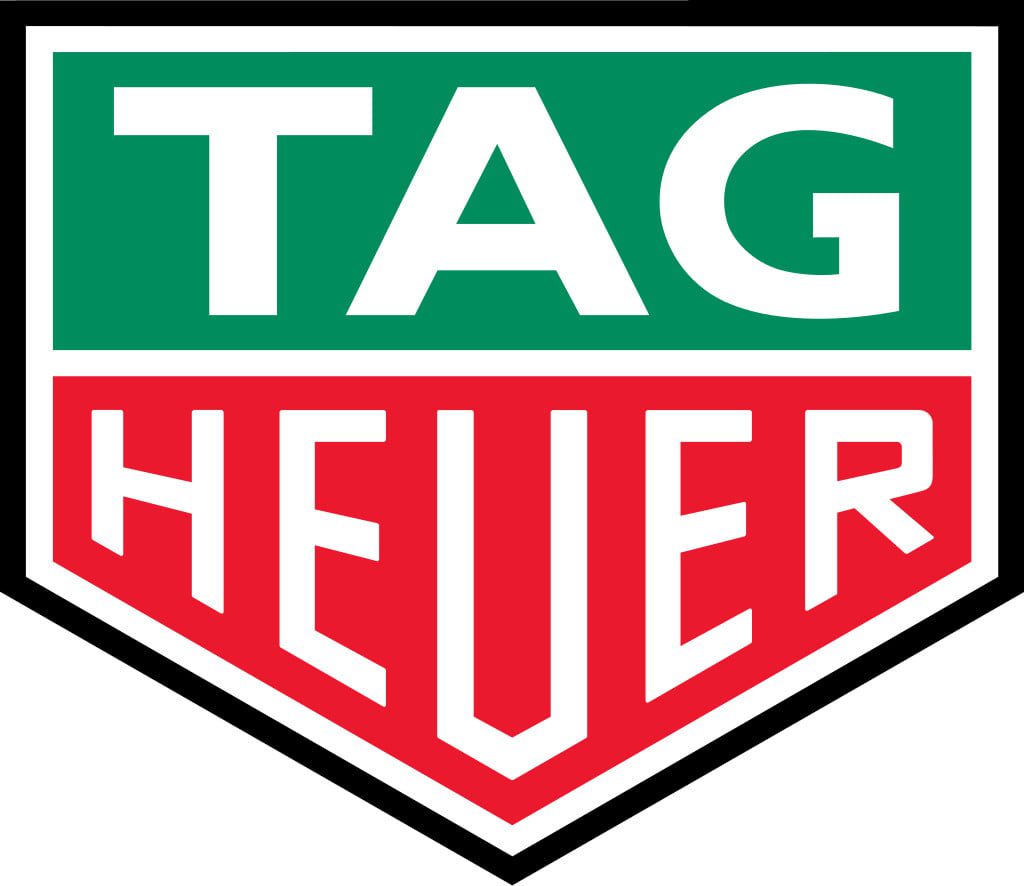 TAG Heuer S.A. is a Swiss luxury watchmaker that designs, manufactures, and markets watches and fashion accessories.
The company began as Uhrenmanufaktur Heuer AG, founded in 1860 by Edouard Heuer in St-Imier, Switzerland. In 1985, TAG Group purchased a majority stake in the company, forming TAG Heuer.
1999, French luxury goods conglomerate LVMH bought nearly 100 percent of the Swiss company.
TAG Heuer combines the initials of "Techniques d'Avant Garde" and the founder's surname.
Our pick: SPECIAL EDITION TAG HEUER FORMULA 1 X RED BULL RACING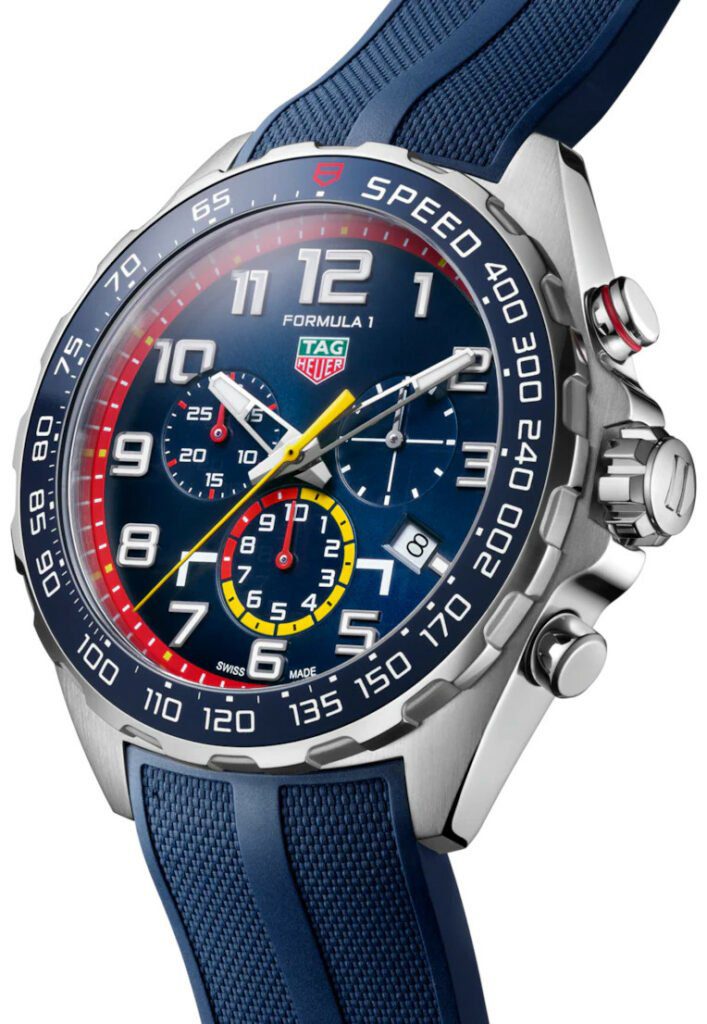 Speed into victory with the TAG Heuer Formula 1 Red Bull Racing Special Edition. This unique collection's sportive look and dynamic design made for a bold, action-packed clock that sets the pace by celebrating two great leaders.
The Tag Heuer Formula 1 x Red Bull Racing watch is a special edition timepiece that showcases the partnership between Tag Heuer and Red Bull Racing. The watch comes in a sleek and durable stainless steel case that is 43mm in diameter, making it the perfect size for both men and women. The watch features a black dial with a sunray effect that adds a touch of elegance to the overall design. The red accents on the dial and the chronograph function reflect the bold and daring nature of Red Bull Racing. A quartz movement powers the watch and has a water resistance of up to 200 meters.
The Tag Heuer Formula 1 x Red Bull Racing watch boasts several features that set it apart from other eyes in the market. The look has a scratch-resistant sapphire crystal that protects the dial and ensures longevity. The watch's chronograph function allows you to track elapsed time, making it ideal for measuring speed and performance. The watch's luminescent hands and markers make it easy to read the time, even in low-light conditions. The watch's unidirectional rotating bezel adds to its sporty and adventurous look, while the stainless steel bracelet ensures its durability and comfort.
The Tag Heuer Formula, 1 x Red Bull Racing watch, has additional features that enhance its overall functionality and style. The look has a date display function, allowing you to keep track of the date and time. The watch's screw-down crown ensures its water resistance and adds to its robustness. The watch's red rubber strap and black leather strap options offer versatility in style, making it a look that can be worn for any occasion.
Pros
Water-resistance 200 meter
Movement Quartz Chronograph
Free Express delivery and returns
2-year international warranty
Cons
Blue rubber strap instead of stainless steel bracelet
The colors inside are yellow, blue, red, and white (Red Bulls colors), which may be too casual.
Check it out at tagheuer.com.
Rolex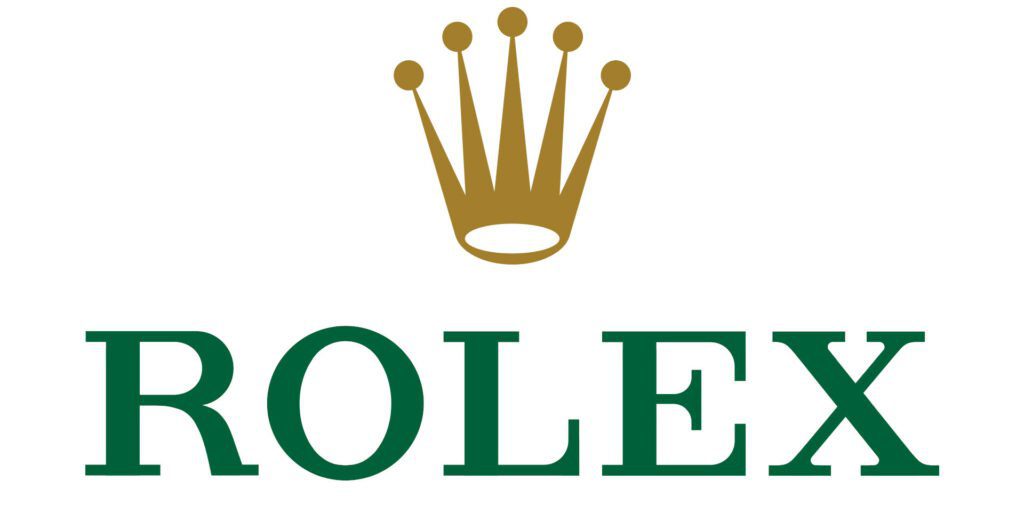 Rolex SA is a British-founded Swiss watch designer and manufacturer based in Geneva, Switzerland. Founded in 1905, the company registered the word 'Rolex' as the brand name of its watches in 1908, and it became Rolex Watch Co. Ltd. in 1915.
In 1920, Hans Wilsdorf registered Montres Rolex S.A. in Geneva as the new company name (montre is French for a watch (timepiece); it later became Rolex S.A.
Since 1960, the Hans Wilsdorf Foundation has owned the company, a private family trust.
Want to learn how Hans Wilsdorf started the company? Please read our article here.
Rolex S.A. and its subsidiary Montres TUDOR SA design, make, distribute, and service wristwatches sold under the Rolex and Tudor brands.
Rolex did not produce its watches in-house from its foundation until the early 21st century when it bought the components manufacturers that made the watches for Rolex.
Rolex's past business model consisted of purchasing all the watch components from third-party manufacturers and finishing the final assembly in the Rolex headquarters.
Check our article about famous accessories in the world. Rolex has a place in them.
Our Pick: Yacht-Master 42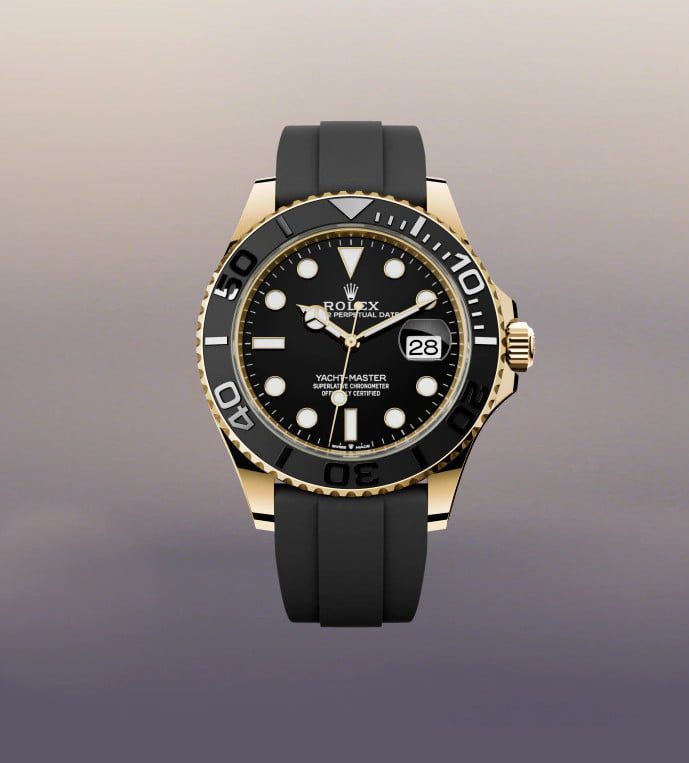 This unique gold alloy is created and cast at the brand's foundry in Geneva, Switzerland. It offers unparalleled resistance, making the new Yacht-Master 42 an unbeatable ally on the open seas.
The Rolex Yacht-Master 42 is a high-end watch designed for sailing enthusiasts. It features a 42mm case crafted from 18ct white gold, which looks beautiful and offers impressive durability. The clock is water-resistant up to 100 meters, making it suitable for water sports and swimming. The watch has a black dial with luminescent hands and hour markers, making it easy to read even in low-light conditions.
The Rolex Yacht-Master 42 has several impressive features that set it apart from other watches. One of the most notable features is the bidirectional rotatable bezel, which allows the wearer to track elapsed time. The look also has a Chromalight display, which provides excellent visibility in low-light conditions. The watch is powered by the Calibre 3235 movement, which offers exceptional precision and reliability.
The Rolex Yacht-Master 42 has several additional features that make it a must-have for sailing enthusiasts. The watch has a 60-minute graduated rotatable bezel, allowing the wearer to calculate sailing times accurately. The clock has a Triplock winding crown, ensuring the eye remains water-resistant. The watch comes with a black Oysterflex bracelet, which is comfortable to wear and durable.
Pros
18ct yellow gold
Oysterflex bracelet, durable and high-resistance
Waterproof to 100 meters
Power reserve approx 70 hours
Bidirectional self-winding
The Rolex Yacht-Master 42 comes with a five-year warranty
Cons
Prices for Rolex watches are incredibly high. You know why to buy it and what to spend.
Check it out at rolex.com
Cartier

Cartier International SNC, or simply Cartier, is a French luxury goods conglomerate that designs, manufactures, distributes, and sells jewelry, leather goods, and watches.
The company was founded by Louis-François Cartier in Paris in 1847 and remained under family control until 1964.
The company maintains its headquarters in Paris, although it is a wholly-owned subsidiary of the Swiss Richemont Group. Cartier operates more than 200 stores in 125 countries, with three Temples (Historical Maisons) in London, New York, and Paris.
Cartier is regarded as one of the most prestigious jewelry manufacturers in the world.
With a growth of 14% value over the previous year, a brand value of $12.2 B, and revenue of $6.2 B.
Cartier has a long history of sales to royalty. King Edward VII of Great Britain referred to Cartier as "the jeweler of kings and the king of jewelers."
For his coronation in 1902, Edward VII ordered 27 tiaras and issued a royal warrant to Cartier in 1904.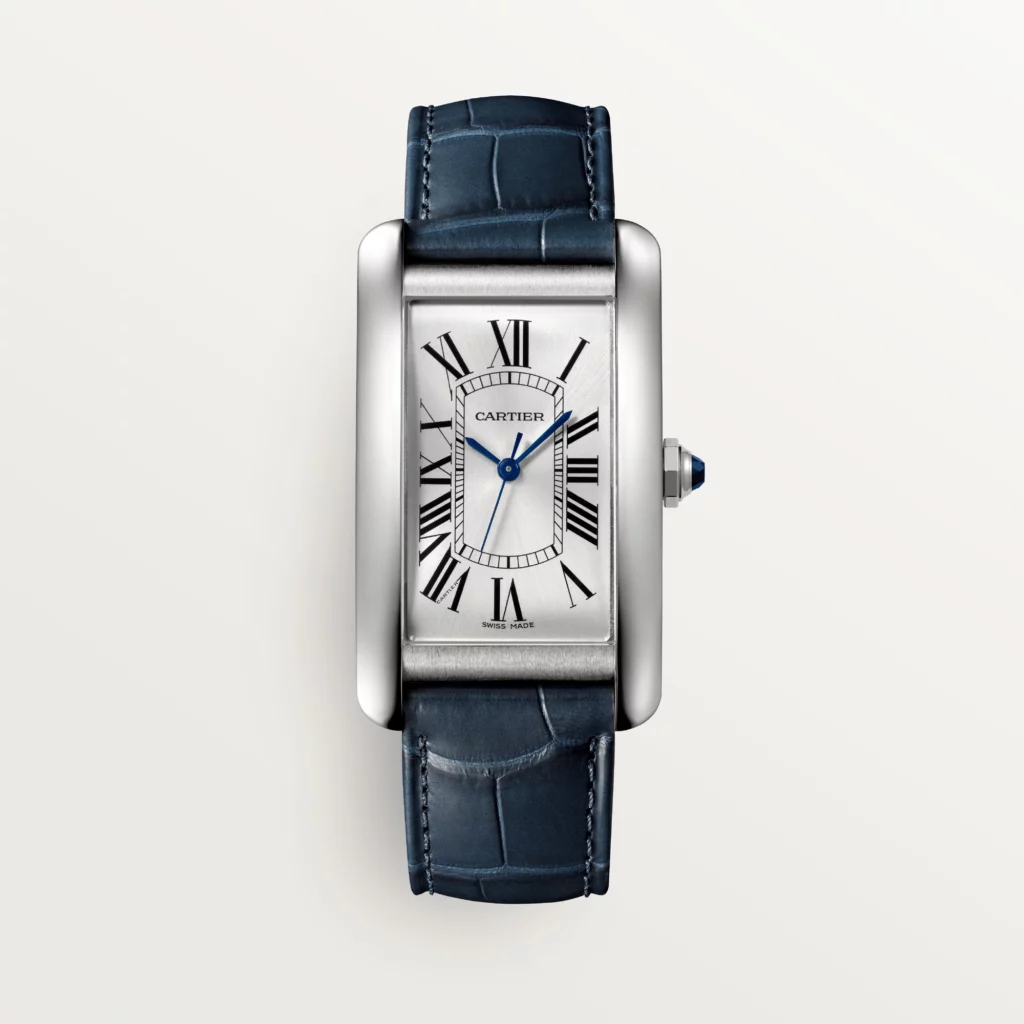 Our pick: TANK AMÉRICAINE WATCH
Tank Américaine watch, large model, mechanical movement with automatic winding, steel case, octagonal crown set with a blue synthetic spinel, silver dial, blued-steel sword-shaped hands, shiny navy blue alligator leather strap,
Case dimensions: 45.10 mm x 26.60 mm, thickness: 9.65 mm.
Water-resistant by up to 3 bars (approx. 30 meters/100 feet).
Pros
Automatic winding
Water-resistant to 3 bars
Navy blue alligator leather strap
Option for International Limited Warranty up to 8 years
Cons
Many will say that the style is old-fashioned
Check it out at cartier.com
Zenith

Zenith SA is a Swiss luxury watchmaker. The company was started in 1865 by Georges Favre-Jacot at 22. LVMH purchased Zenith in November 1999.
Julien Tornare is the current CEO after Jean-Claude Biver (Interim CEO) in 2017, replacing CEO Aldo Magada, who had replaced Jean-Frédéric Dufour in 2014.
Zenith is a Swiss watch manufacturer that still produces their movements.
Our pick: Zenith Chronomaster Open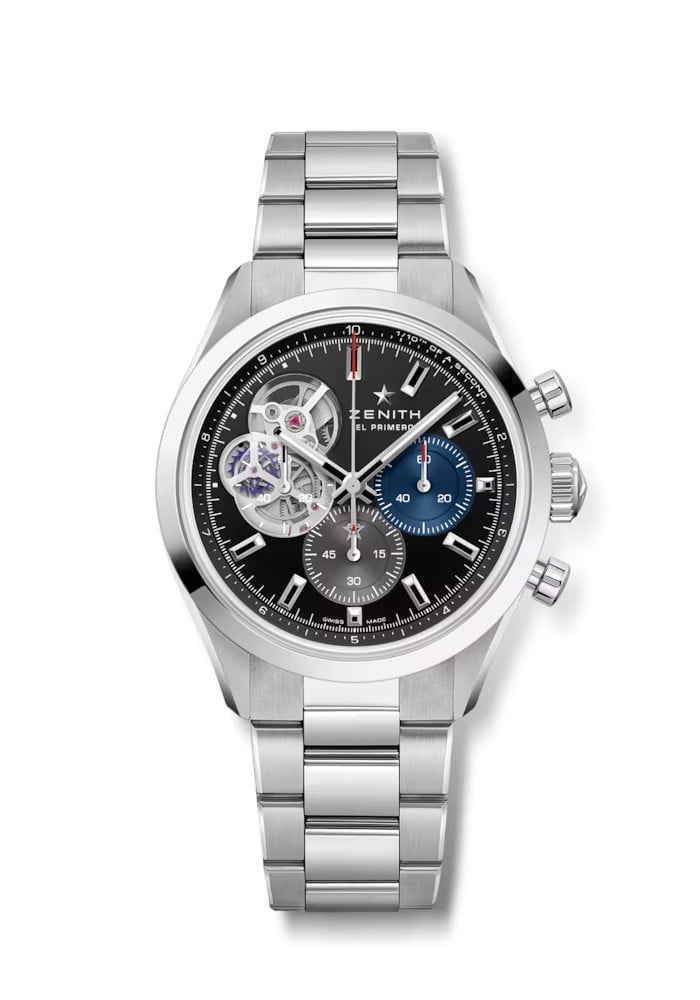 The CHRONOMASTER Open offers a view of the beating heart of the El Primero movement from the dial.
Crafted in a sleek 39.5 mm steel case, this version features a matte black dial, tricolor counters, and a transparent counter for running seconds, paired with an integrated steel bracelet.
It is powered by the El Primero 3604 1/10th of a second automatic chronograph movement.
Pros
Water resistance up to 10 atm
Power reserve 50 hours
Chronograph
Black alligator leather strap
Cons
There is nothing to complain about, and it is a lovely watch with a competitive price.
It is one step behind in terms of characteristics.
Check it out at zenith-watches
Want to know more about men's accessories? Check out our article about men's belts.
Longines

Compagnie des Montres Longines, Francillon S.A., or simply Longines, is a Swiss luxury watchmaker based in Saint-Imier, Switzerland.
Founded by Auguste Agassiz in 1832, the company has been a subsidiary of the Swiss Swatch Group and its predecessors since 1983.
Its winged hourglass logo, registered in 1889, is the oldest unchanged yet active registered trademark.
Our pick: Longines Spirit Zulu Time.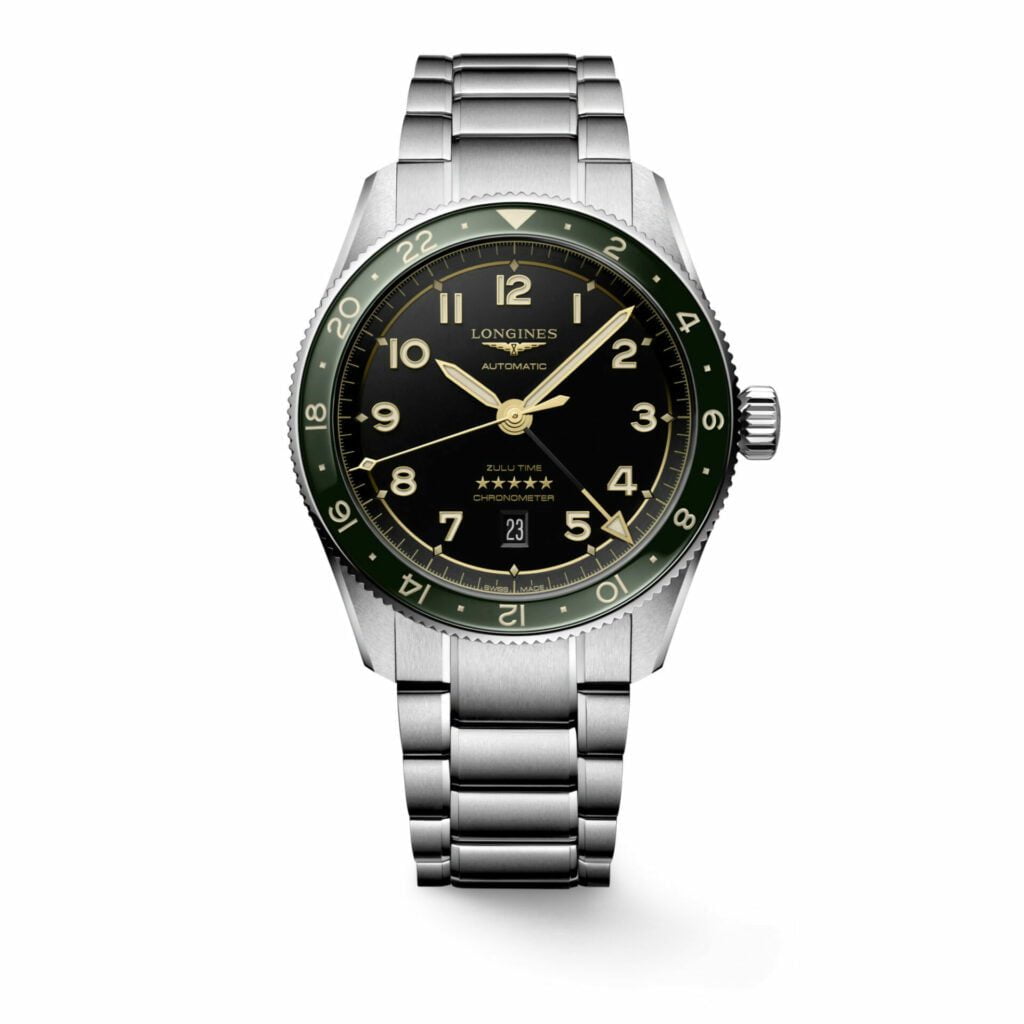 Historically, the Longines have accompanied legendary pioneers as they conquered air, land, and sea.
Today, the winged hourglass brand has drawn inspiration from this heritage to create Longines Spirit, a collection with an impeccable pedigree.
This collection links history with innovation by combining references to the glory days of aviation with present-day aesthetic and technical requirements.
These resolutely contemporary timepieces testify to the pioneering spirit that has inspired the brand since its earliest days.
A glowing tribute to these exceptional men and women who, by a record, an exploit, or a display of courage, have left their mark on history – pushing new generations to surpass themselves.
Pros
Five different color variations
5-year warranty
Water-resistant to 10 bar
Automatic movement (self-winding)
Chronometer certified by COSC
Good price overall
Cons
One of the best watches
Check it out at longines.com
Swatch

Swatch (stylized as swatch) is a Swiss watchmaker founded in 1983 by Ernst Thomke, Elmar Mock, and Jacques Müller. It is a subsidiary of The Swatch Group.
The Swatch product line was developed to respond to the "quartz crisis" of the 1970s and 1980s.
At that time, inexpensive, battery-powered, quartz-regulated watches were competing against more established European watchmakers.
They focused on artisanal craftsmanship, mainly producing mechanical watches.
"Swatch" is a contraction of "second watch," as the watches were intended as casual, disposable accessories.
Our pick: Irony DeepGrey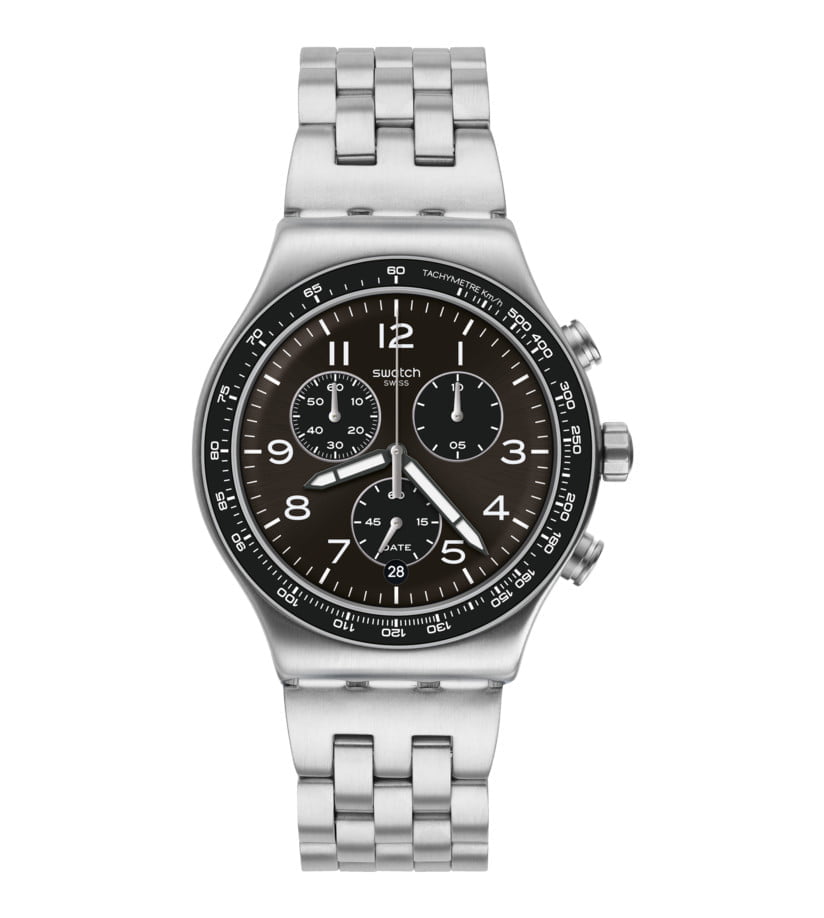 With more than 5,000 watches, finding the perfect watch for everyone is tough.
But some models are unique, beautiful, and classic at the same time, like this DeepGrey from the Irony collection.
It is water-resistant, up to 3 bar—a quartz watch with a stainless steel strap, case, and clasp.
Pros
Quartz movement
Water-resistant up to 3 bar
Very cheap
Cons
Not comparable with the big brands
Check it out at swatch.com.
Tissot

Tissot SA is a Swiss luxury watchmaker. The company was founded in Le Locle, Switzerland, by Charles-Félicien Tissot and his son, Charles-Émile Tissot, in 1853.
After several mergers and name changes, the group to which Tissot SA belonged was renamed the Swatch Group in 1998.
Tissot is not associated with Mathey-Tissot, another Swiss watchmaking firm.
Our pick: Tissot Supersport Chrono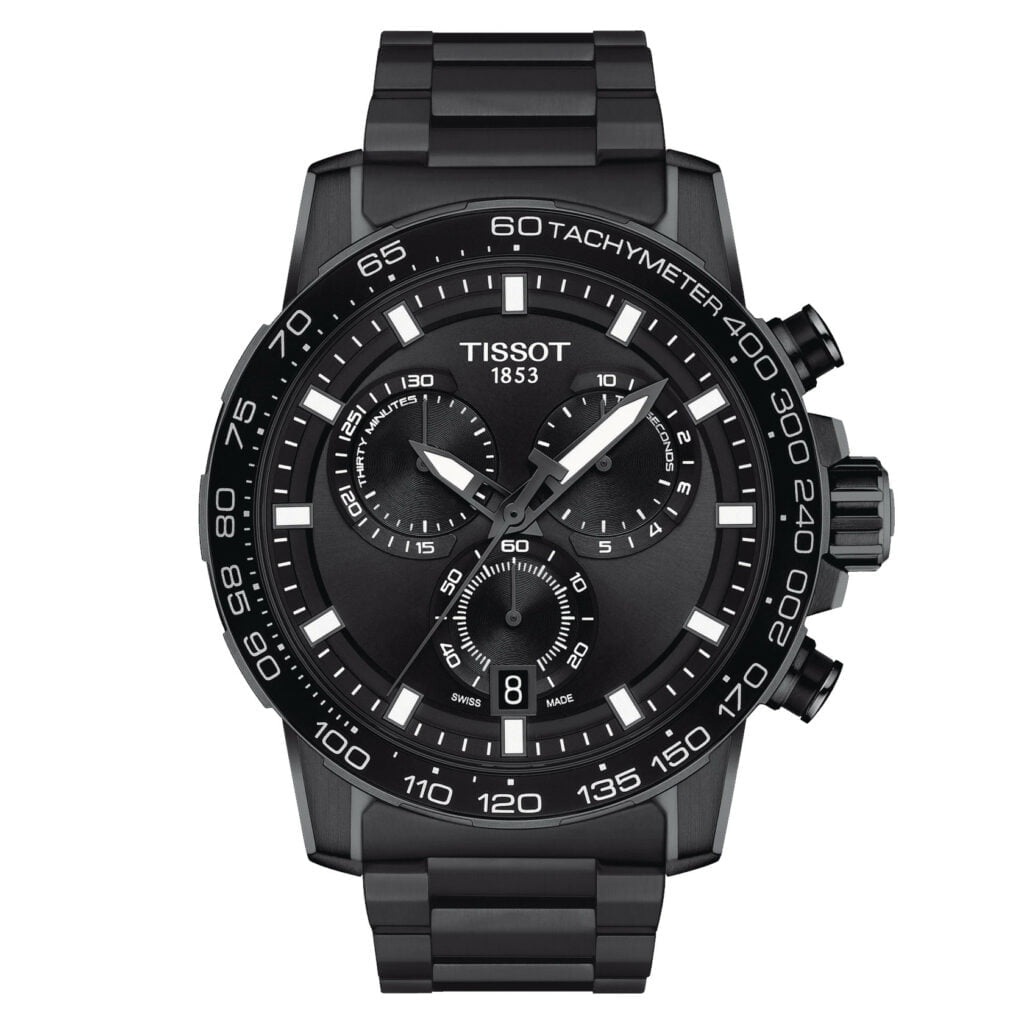 Demonstrating forthright elegance, each imposing masculine sports chronograph watch nestles perfectly against the wrist.
A 45.5 mm steel case is available in several colors, from black PVD to gold PVD, and features a fixed bezel with a tachymetric scale.
Tissot SuperSport has a great deal of character.
It is equipped with an end-of-life feature that will let you know when the battery needs to be replaced.
The indices and hands are coated with Super-LumiNova® for easy visibility at the time, making this the ideal accessory for men with an assertive style.
It will not go unnoticed! If you want to add a personal touch, you can even personalize it by combining it with another bracelet thanks to its easy interchangeable system.
Pros
316L Stainless steel
Water-resistant up to 10 bar
Two years warranty
Quartz and battery with an end-of-life feature
Many compatible strap options
The price is around $400
Cons
It is a decent option
Check it out at tissotwatches.com.
Hermès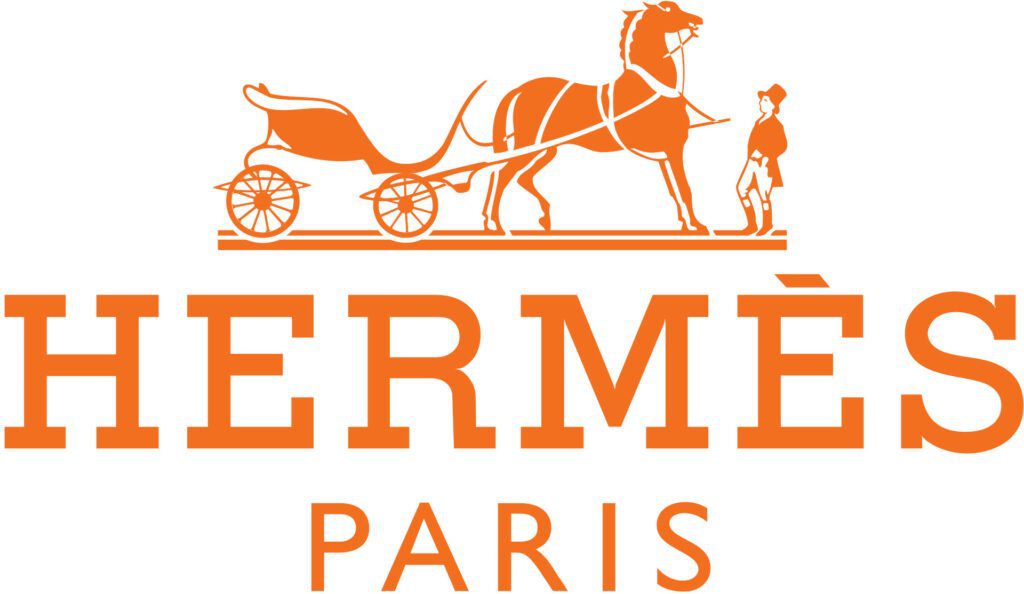 Hermès International S.A., or simply Hermès, is a French luxury design house established in 1837.
It specializes in leather goods, lifestyle accessories, home furnishings, perfumery, jewelry, watches, and ready-to-wear. Since the 1950s, its logo has been a Duc carriage with a horse. Nadège Vanhee-Cybulski is the current creative director.
Our pick: Slim d'Hermes Squelette Lune watch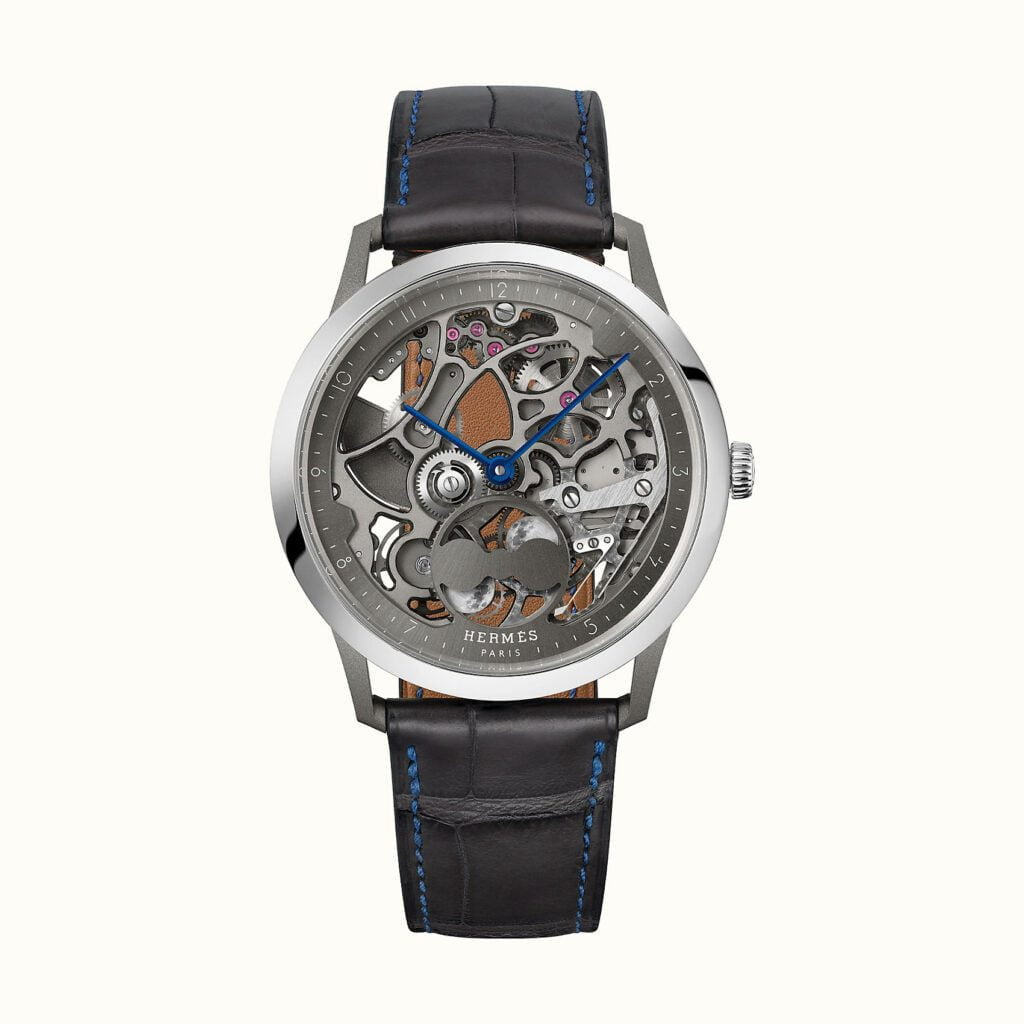 Titanium and platinum watch, skeleton dial, black gold sunburst flange, and grey-transferred minute track.
Ultra-thin mechanical Hermes Manufacture movement H1953, 39.5 mm diameter, long strap in matte graphite alligator.
Pros
Titanium and platinum watch
Water-resistant up to 3 bar
It has a lovely skeleton dial
Alligator leather strap
Cons
The price is in the high-end
Avoid contact with water when wearing the watch
Check it out at: hermes.com
Tudor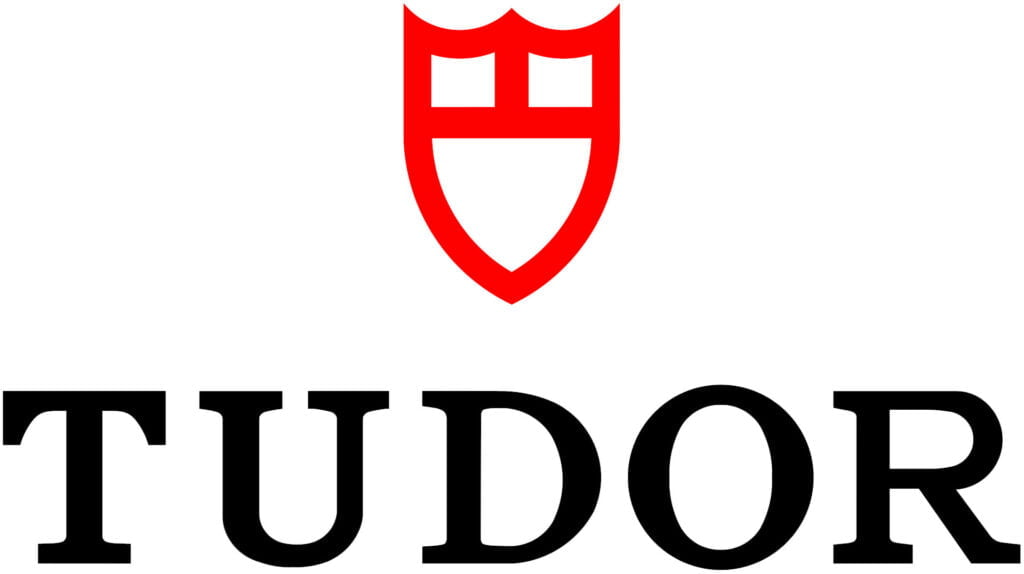 Montres TUDOR SA is a Swiss manufacturer of luxury wristwatches based in Geneva, Switzerland.
Registered in 1926 by Hans Wilsdorf, the founder of Rolex, the brand remains a sister company to Rolex, both companies owned by the Hans Wilsdorf Foundation.
Over time, Tudor became well-known for its tool watches, producing watches for professional divers and the military.
Between the 1960s and 1980s, several navies issued Tudor Submariners to their divers, including the U.S. Navy SEALs and the French Marine Nationale (French Navy).
Our pick: BLACK BAY CHRONO S&G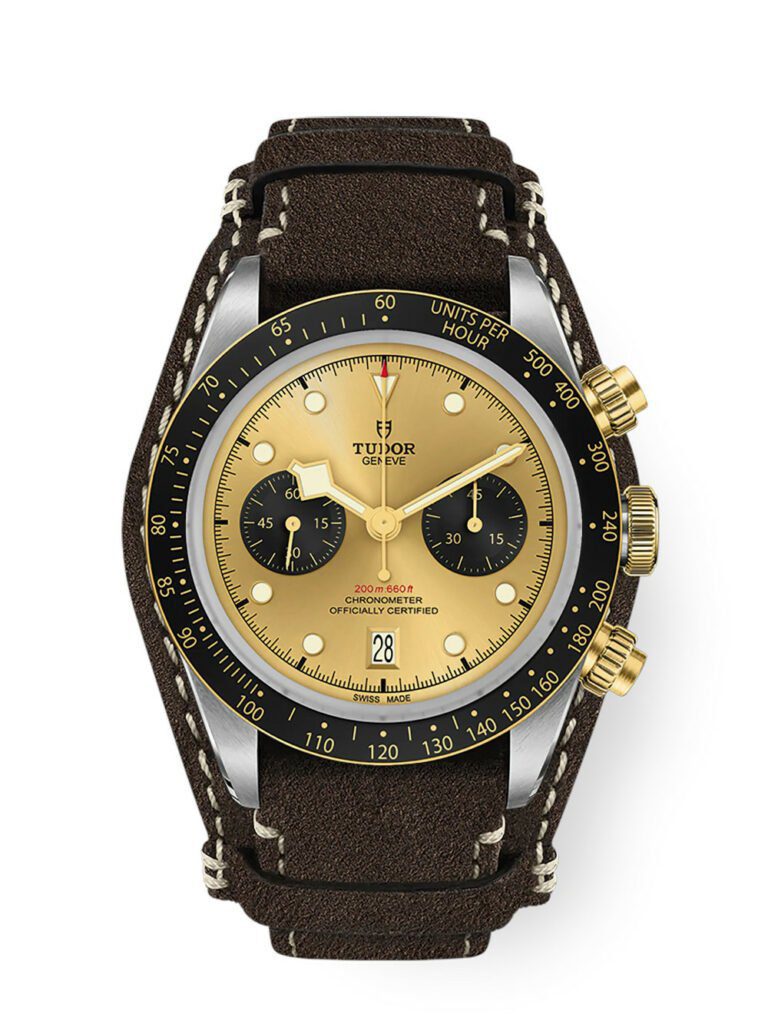 The Tudor Black Bay Chrono S&G merges their dive watch and chronograph designs.
What makes the Chrono S&G attractive is the balance of steel, black, and touches of gold.
Pros
Five-year transferable guarantee with no registration or periodic maintenance checks required
41 mm steel case with polished and satin finish
Manufacture Calibre MT5813 (COSC) Self-winding mechanical movement with a bidirectional rotor system.
Power reserve of approximately 70 hours
Yellow gold screw-down winding crown with the TUDOR rose in relief
Waterproof to 200 m (660 ft)
Fixed yellow gold bezel with Matt black anodized aluminum disc with tachymetric scale, yellow gold markings
Brown leather with removable bund, with folding clasp and safety catch
Cons
The price is above average (around $6.000)
Casual and sports look
Check it out at tudorwatch.com
Timex

Timex Group USA, Inc. is an American global watch manufacturing company founded in 1854 as the Waterbury Clock Company in Waterbury, Connecticut.
In 1944, the company became insolvent but was reformed into Timex Corporation.
In 2008, the company was acquired by Timex Group B.V. and was renamed Timex Group USA.
Thomas Olsen purchased the Waterbury Clock Company in New York in 1941 and renamed it Timex, inspired by the names Time magazine and Kleenex.
Our pick: Expedition North Field Post Mechanical Watch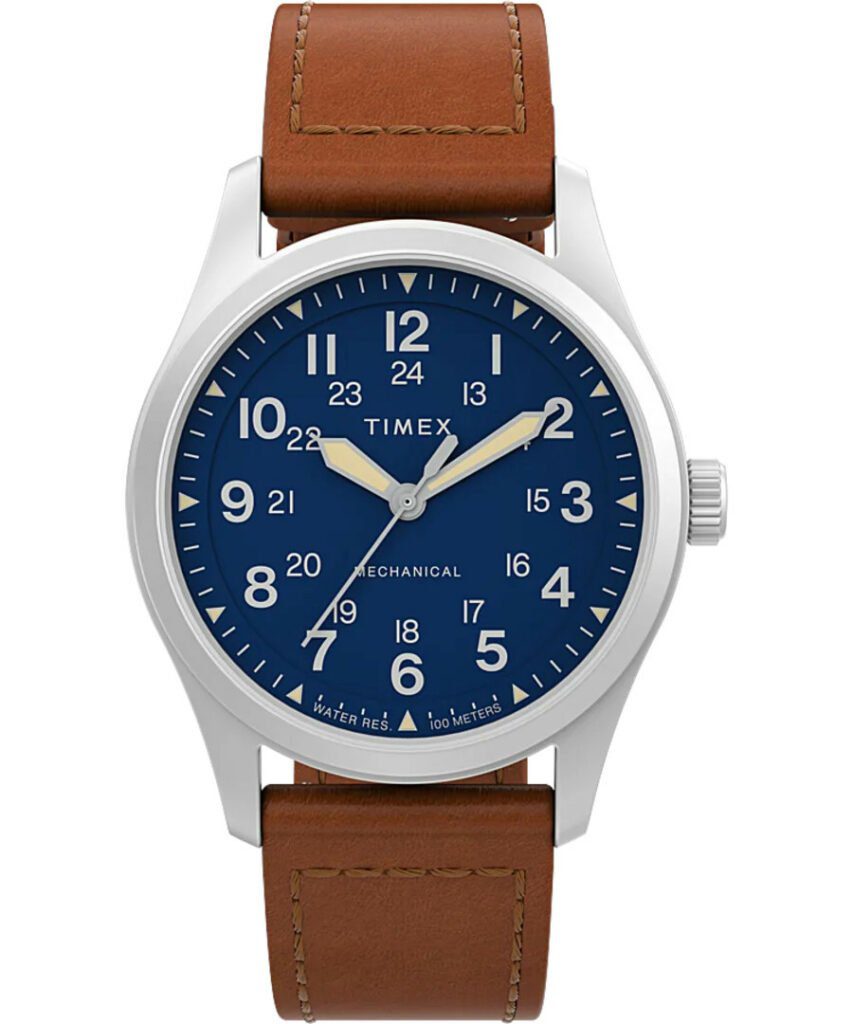 Directly inspired by military-issued designs from decades past, the Field Post 38 Mechanical watch does more than look.
Timex is not a Swiss-made company, but the fans are not as minimal as Americans.
This unique watch can not compare with luxury watches but is a reasonable alternative.
Some characteristics include a waterproof, eco-friendly stainless steel case and an anti-reflective crystal.
Pros
1-year limited warranty
Water-resistant to 100 meters
Stainless steel case material
Ecco leather strap
The price is around $230
Cons
It is a small watch, 38mm
Check it out at timex.com
Seiko
Seiko Holdings Corporation, commonly known as Seiko, is a Japanese maker of watches, clocks, electronic devices, semiconductors, jewelry, and optical products.
Founded in 1881, it is known for introducing one of the world's first quartz wristwatches and the first quartz watch with a chronograph complication.
Seiko has been active in enhancing its brand value in recent years. In 2017, Grand Seiko was transformed into an independent brand and began operating Grand Seiko's distribution network and services.
Our pick: Seiko Astron GPS Solar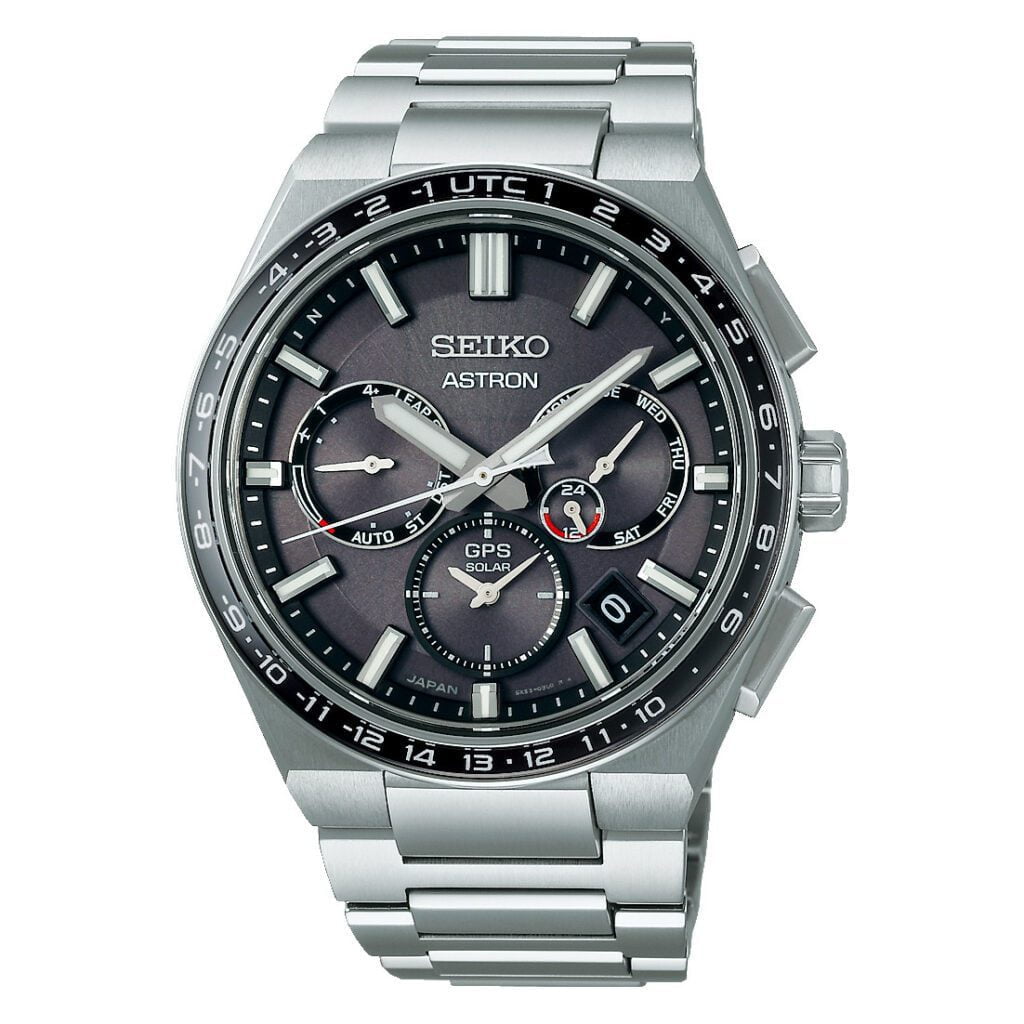 We could not exclude the Japanese giant Seiko from the popular watches category. They have original watches, and you need to read the characteristics. It is an alternative to the prominent market players.
Pros
Movement-type GPS solar
Case material titanium
Water-resistant to 10 bar
Many options for power savings
Cons
Check different prices before buying. You can save up to $1000.
Check it out at: seikowatches.com
More watches, more brands
You can find more brands that are popular and known worldwide. We will include some of them below.
Complete your look with gloves for men. Check out our article here.
Nomos Glashütte
Glashütte is a town south of Berlin famous for its tradition of producing timepieces for 175 years.
In January 1990, 2 months after the fall of the Berlin Wall, NOMOS Glashütte was founded.
Today, they are producing 13 model families with seven calibers.
NOMOS watches have won more than 150 prestigious design awards to date.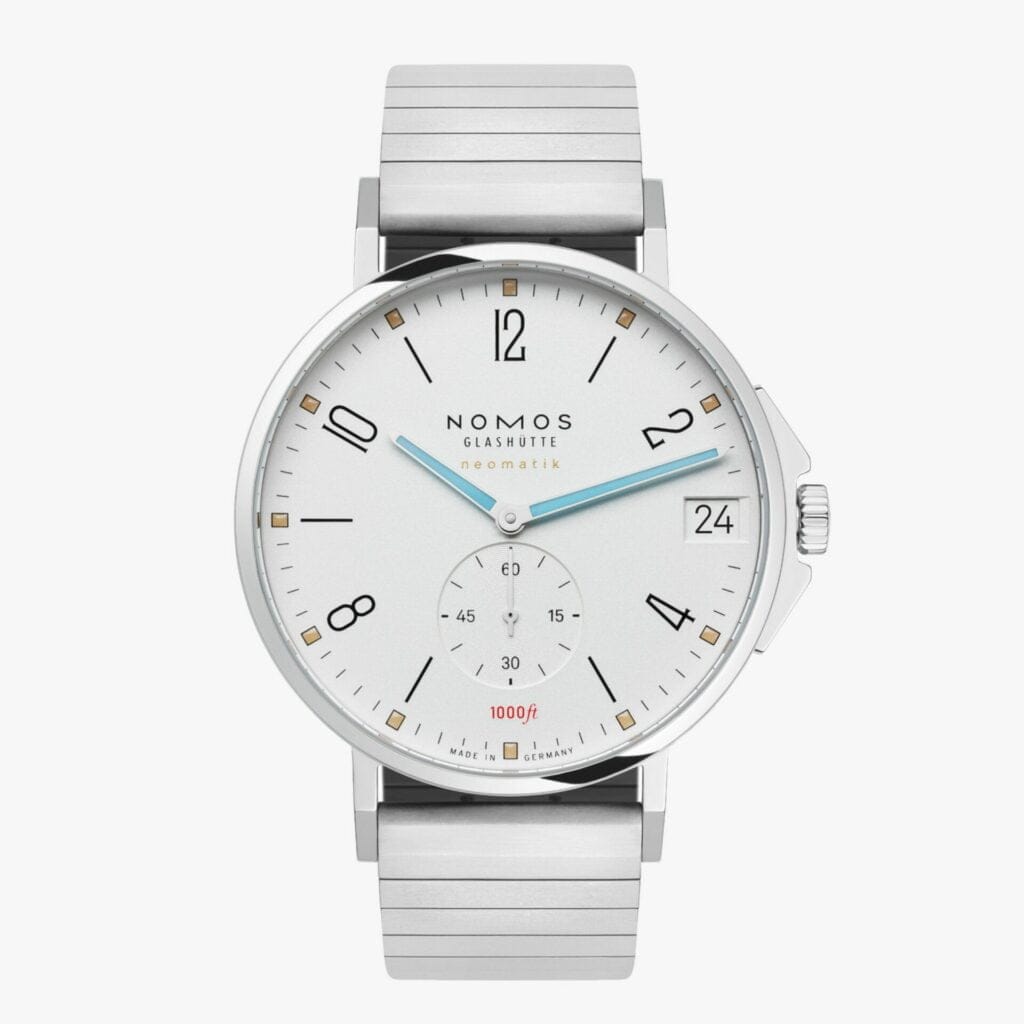 Our pick: Tangente Sport Neomatic 42 Date.
Pros
Stainless steel case
Automatic winding
Water-resistant to 30 atm
Power reserve to 42 hours
Cons
The price is around 4,000 euros. It is a good alternative if you do not care for famous brands.
Check it out at nomos-glashuette.com
Breitling
Since 1884, Breitling has been a Swiss luxury watchmaker known for precision-made chronometers designed for aviators.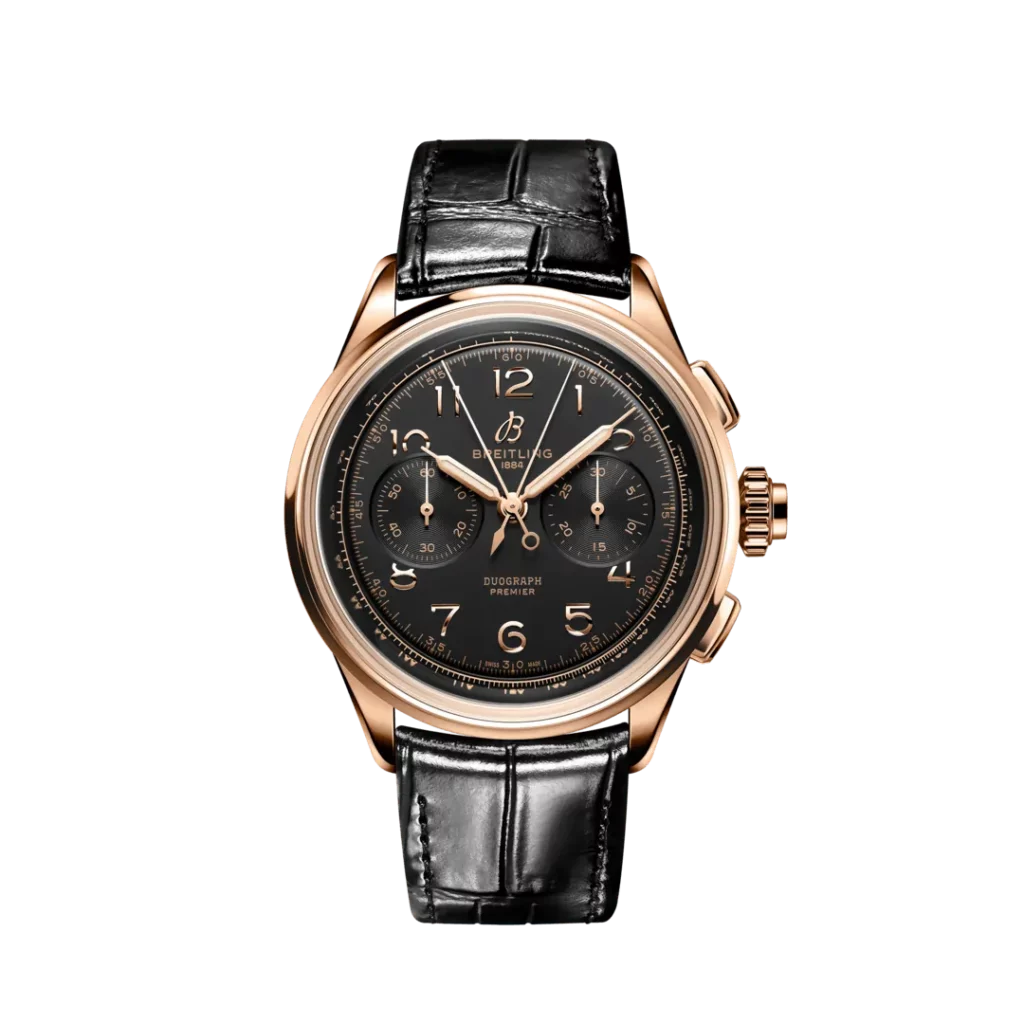 Our pick: Premier B15 Duograph 42 18K Red Gold.
Pros
Case Material 18k red gold
Water-resistant up to 100 meters
Power reserve approx 70 hours
The strap is made from alligator leather
Cons
The price is very high, around 10.000 euros
Check it out at breitling.com
Bremont Chronometers.
Bremont Watch Company is a luxury aviation-themed British watchmaker based in England. Founded in 2002, they recently opened a new manufacturing facility called "The Wing."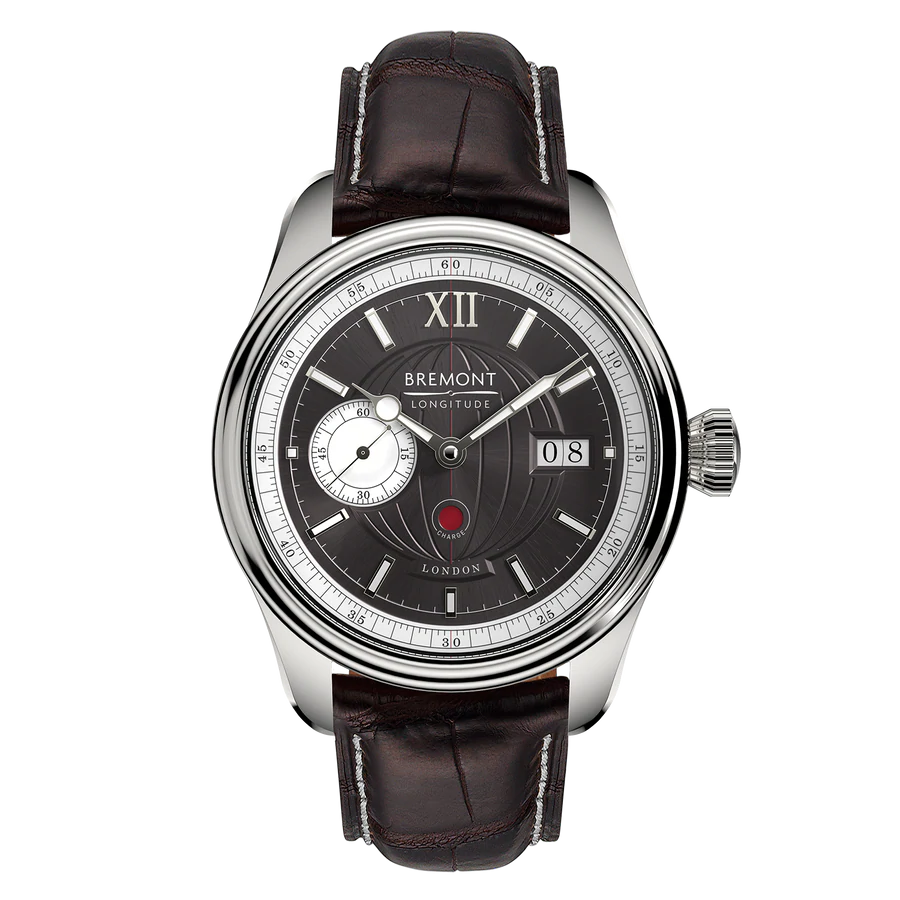 Our pick: The Limited Edition Longitude.
Pros
Automatic movement
65 hours of power reserve
Stainless steel case
Water-resistant up to 100 meters
Brown alligator strap leather
Cons
Limited Edition means expensive
Check it out at bremont.com
Gucci
A well-known brand, Gucci can not be outside of the timepieces industry. They are making the design, but the parts are Swiss-made. With so many unique designs, it is tough to choose a favorite.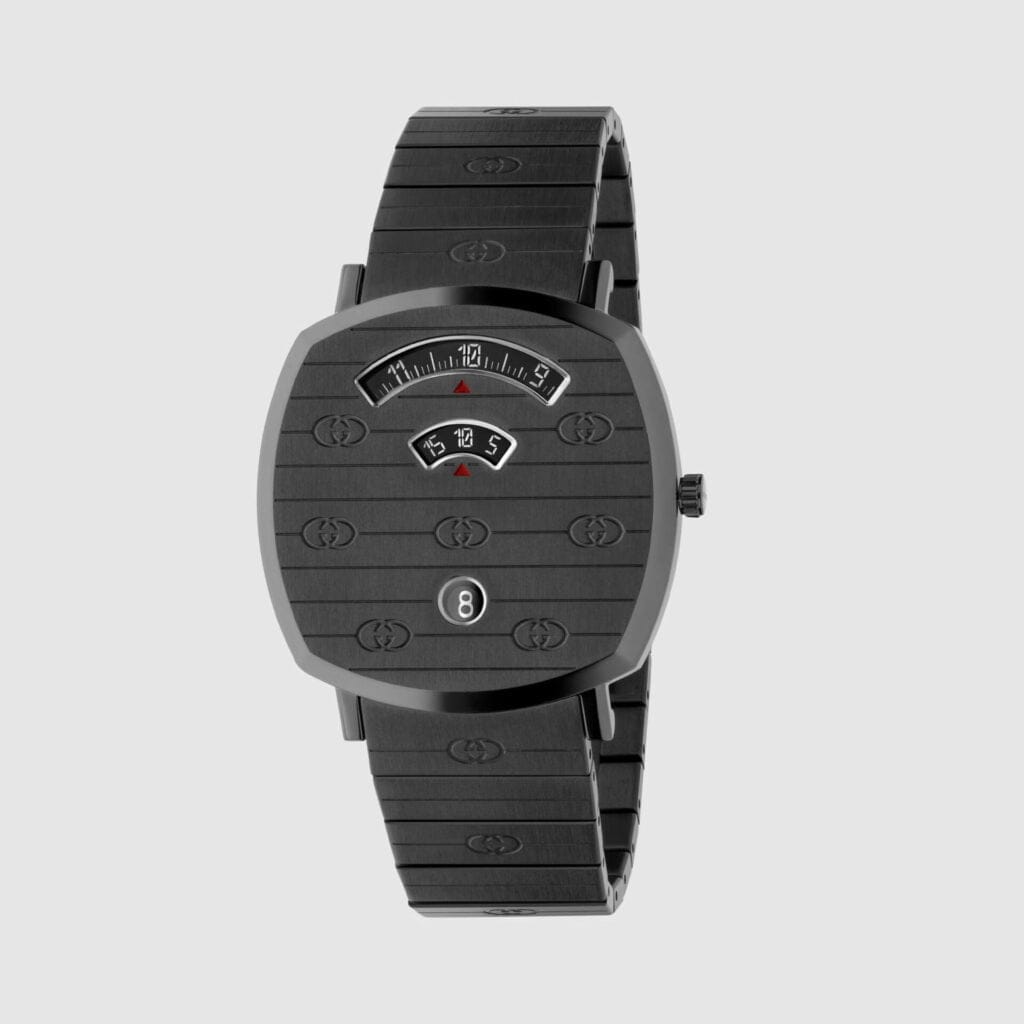 Our pick: The Grip Watch. Why? Because it is something out of this world.
Pros
Grey PVD case
Quartz movement
Water-resistant up to 100 meters
Clean design
Cons
Nothing. It's Gucci
Check it out at gucci.com
Montblanc
Montblanc International is a German manufacturing company of luxury goods based in Hamburg.
Montblanc has a wide range of products, including writing instruments, watches, leather products, jewelry, and even headphones.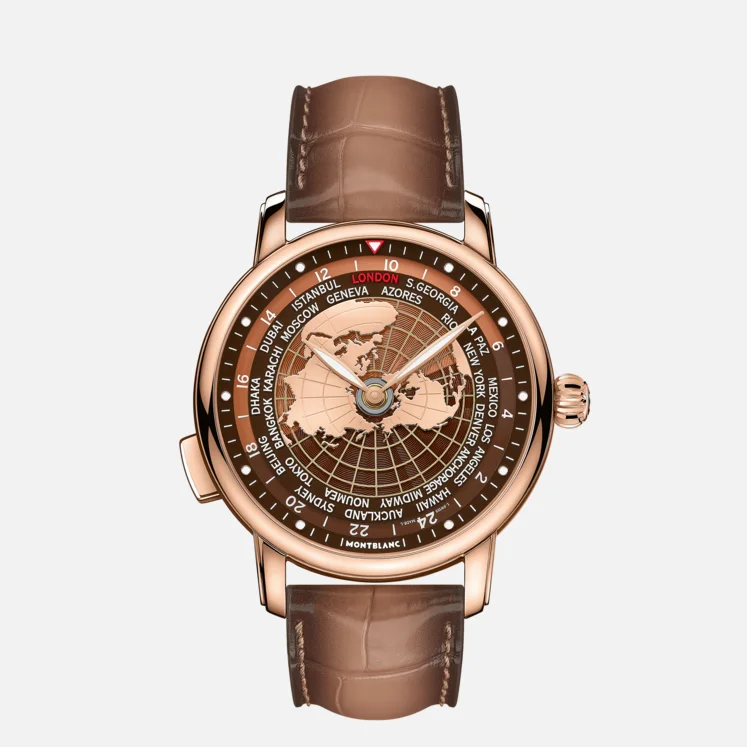 We have chosen the Montblanc Star Legacy Terrarum Limited Edition because it is unique and beautiful.
Pros
Automatic, self-winding
Power up to 42 hours
The case is made from 18K rose gold
Water-resistant up to 50 meters
Worldtime function
Cons
Limited edition to 500 pieces. A unique timepiece with a special price
Check it out at montblanc.com
Garmin
For a detailed article about the Newest smartwatches available now, read this article.
Garmin Ltd. is a Swiss-domiciled multinational technology company founded in 1989 in Kansas, United States.
The company specializes in GPS technology for automotive, aviation, marine, outdoor, and sports activities.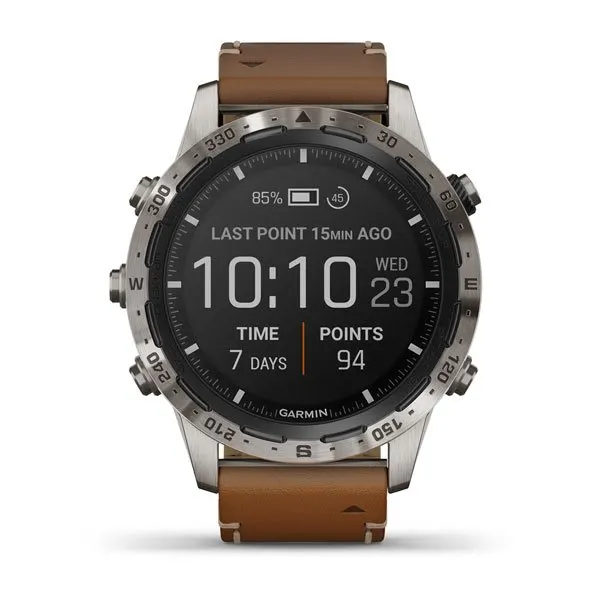 The Garmin MARQ line of Modern Tool Watches includes the driver, aviator, aviator (performance edition), captain, adventurer, athlete, and golfer models.
Pros
Titanium case and bezel material
Italian leather strap
Water rating 10 ATM
Health monitoring
GPS functions
Daily smart features
Activity tracking features
Gym and fitness equipment
Many athletic features
Cons
Many compatible devices and accessories.
The silicon wrapper strap needs to be changed
Check them out at garmin.com
Also, please read our article about tested suit accessories.
Conclusion
That was our article about the best watches for men. Do you have anything to add?
Leave a comment below or ask about more popular classic watches.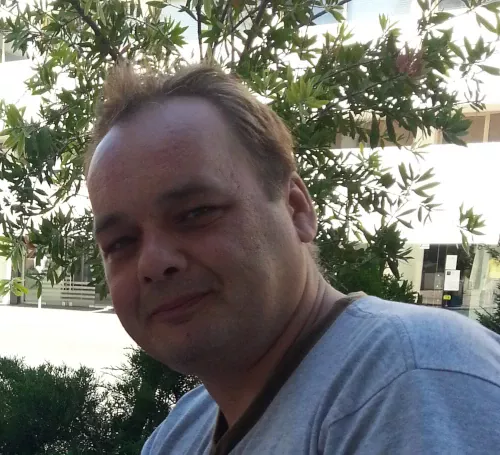 Pashalis Laoutaris
Fashion Blogger
I am a professional writer, fashion blogger, and owner of the site https://laoutaris.com. As a salesperson for more than 20 years, I have experience of 10 years in the fashion industry. I consider myself a true fashionista. I am writing daily blog articles about fashion, tools and converters, and everything you need to know about the current fashion trends.
Share this article
Our Latest Articles
Laoutaris Recommends