Tie bars for men are one way to elevate your tie game by adding a simple but stylish accessory. Also known as a tie clip or tie pin, tie bars add polish to any dress shirt and tie combination.
Key takeaways:
Choose a style that suits your taste from simple straight bars to ornate decorative bars
Look for quality materials like metals such as gold, silver, or steel
Position correctly between the 3rd and 4th shirt buttons and match the angle to tie the knot
Size the bar so it fully presses the tie fabric to the shirt
Coordinate metal finishes with other accessories you're wearing
Have fun styling bars that show your personality!
Table of Contents
A Brief History of Tie Bars
Tie bars came into fashion in the 1920s and 30s as a way to add flair to men's professional attire. The bars kept ties flat and in place, letting the silky patterns and embellishments stand out.
As necktie styles got bolder and wider through the 40s, 50s, and 60s, tie bars became even more useful for keeping ties anchored. Popular metals used during these decades were silver, gold, and platinum. Bars with decorative engraving or set gemstones added extra personality.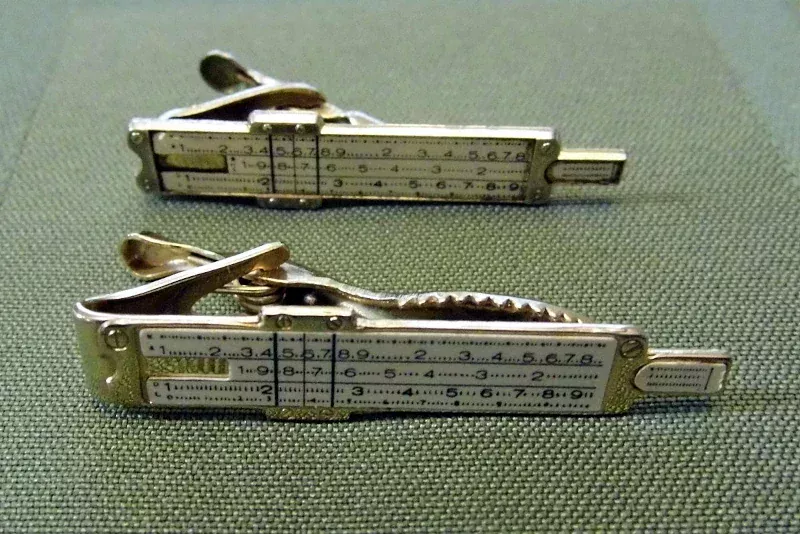 Author: Joe Haupt
Trends shifted as ties got narrower in the 70s and 80s. Smaller tie bars with minimalist designs took over. Although the 1990s saw a decline in tie bar usage, the classic accessory made a comeback in the 2000s. This revival of old-school style meant wider ties and vintage-inspired tie bars came back into fashion.
Today, tie bars remain popular as a way to add a little something extra to an outfit. With new designs and materials on the market, you have more options than ever for finding the perfect bar to upgrade your style.
Types of Tie Bars
The most common styles of tie bars are:
Classic Straight Bar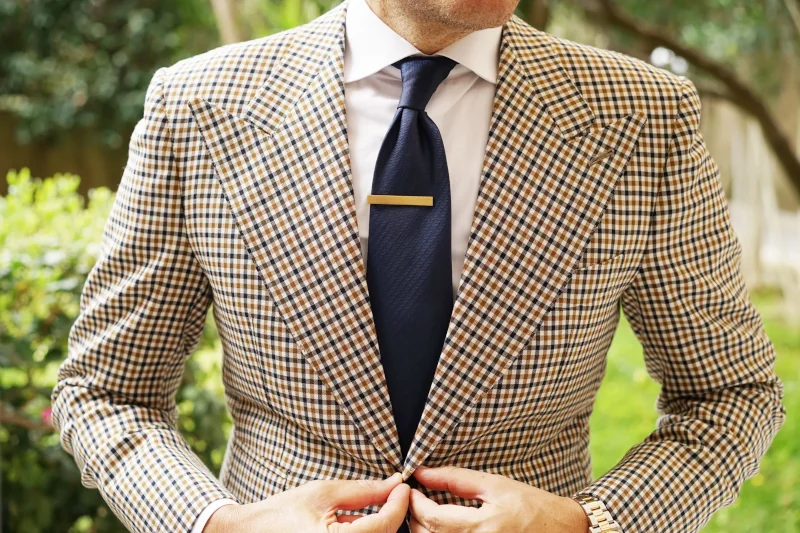 Check it out at otaa.com
This simple straight metal bar is the original style of tie bar and continues to be popular today. The straight bar sits horizontally across the front of the tie. These bars often have beveled or rounded edges for a polished look.
Curved or Arched Bar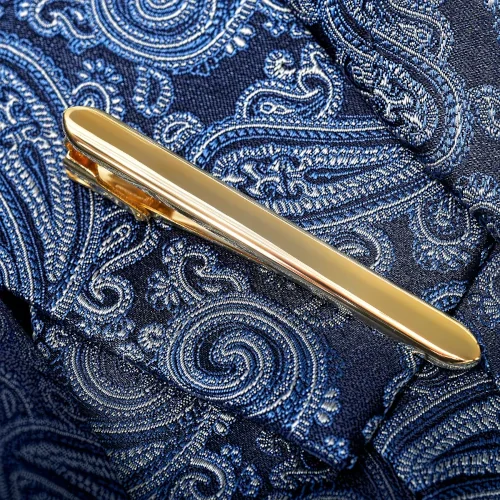 Check it out at thetiestore.co.uk
This style features a slightly curved or arched bar. The curved shape provides visual interest while still evenly weighing down a tie.
Novelty or Decorative Tie Bars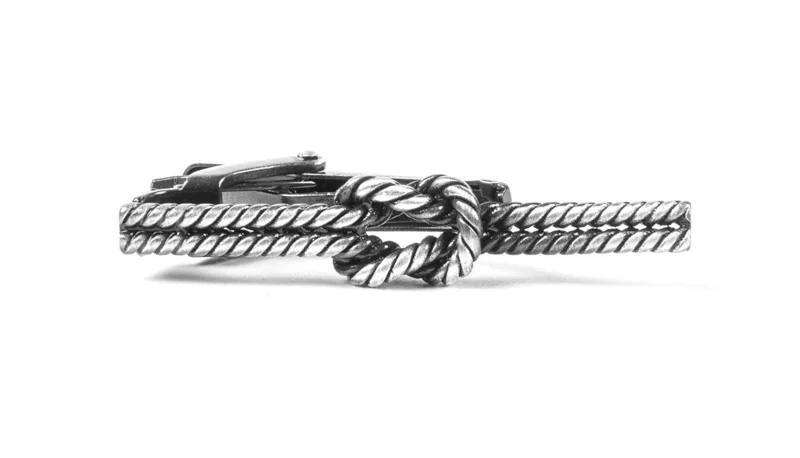 Check it out at thetiebar.com
For the man who wants a conversation-starter accessory, novelty tie bars offer humor, personalization, or just plain fun. Whimsical designs may include sports themes, animals, branded logos, or geometric shapes. Bars can also be monogrammed or engraved with initials or messages.
The limit is your imagination – but keep in mind overly flashy bars may look less sophisticated than classic bars.
Materials Used for Tie Bars
Tie bars come in a variety of metals and other materials:
Precious Metals
Bars made of precious metals like gold, silver, and platinum are classics because they pair well with dress shirts and ties. Pure gold and sterling silver are soft metals, so these bars may have a core of brass or other metals for durability.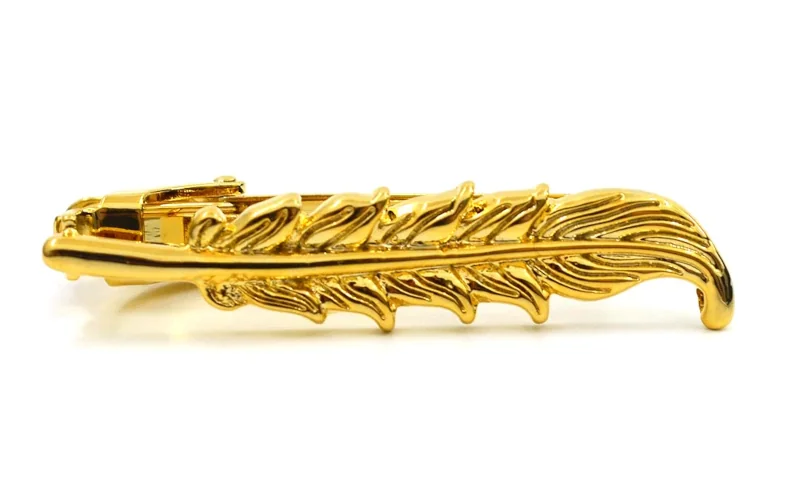 Check it out at artofthegent.com
Of the precious metals, gold tie bars offer the most versatility and can be engraved or accented with gems for a more ornamental look.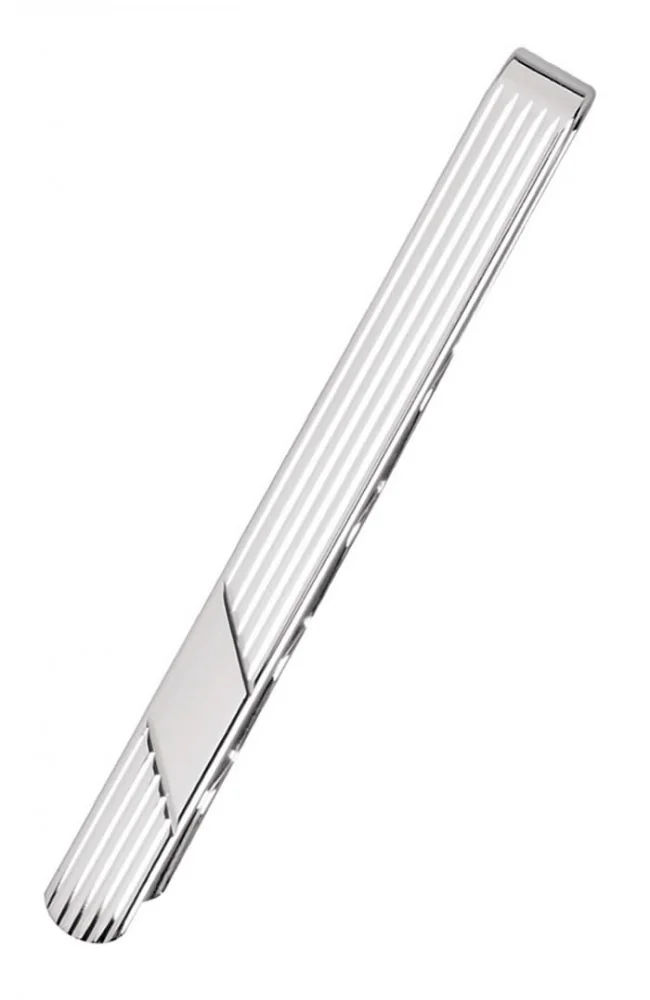 Check it out at silvergroves.co.uk
Meanwhile, silver tie bars have an understated elegance perfect for the minimalist.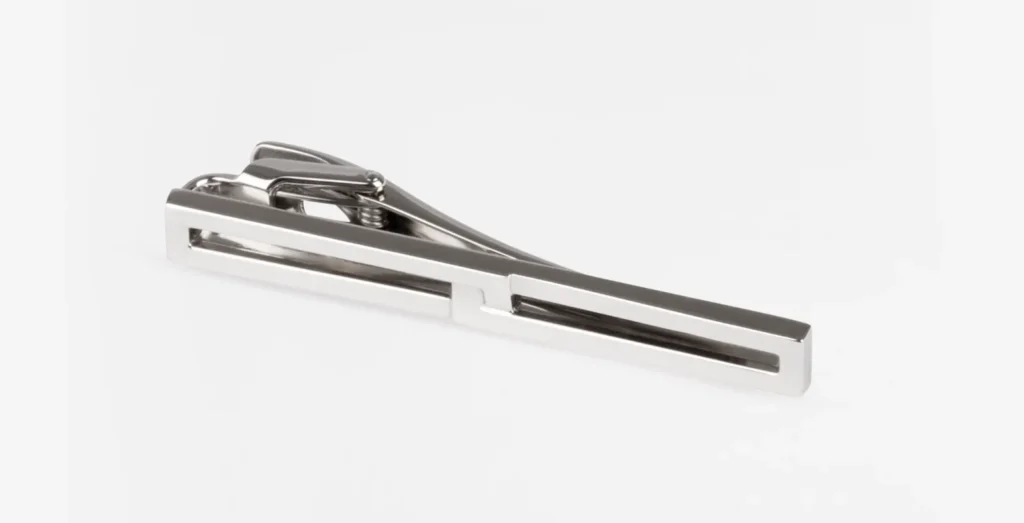 Check it out at dunhill.com
Platinum bars are the most expensive but convey status and luxury.
Base Metals
Those looking for an affordable tie bar can find quality options in base metals like stainless steel, titanium, nickel, brass, or zinc.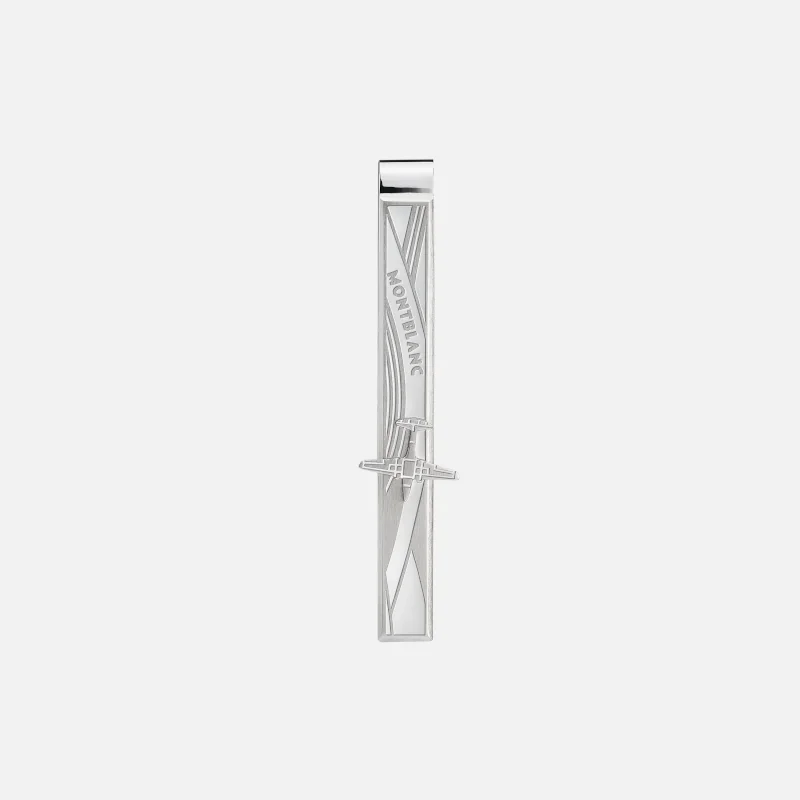 Check it out at Montblanc.com
Stainless steel is durable, affordable, and has a modern look. Black stainless steel bars in particular pair well with black and gray ties.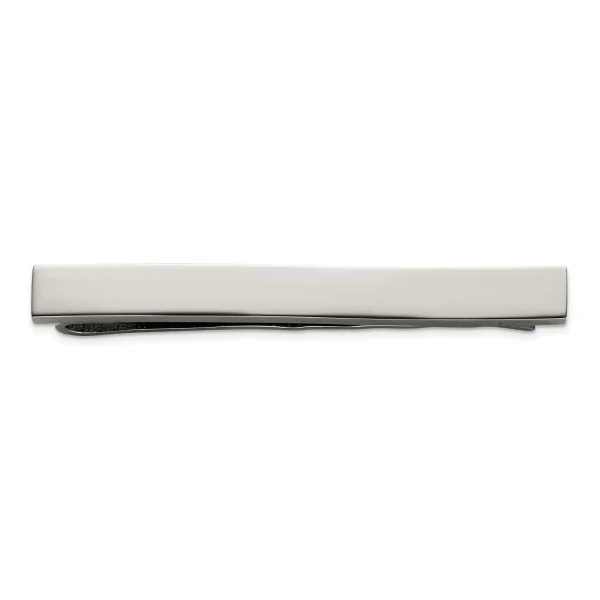 Check it out at icecarats.com
Titanium is super strong, lightweight, and has a dark gunmetal color. This contemporary metal has a cool vibe.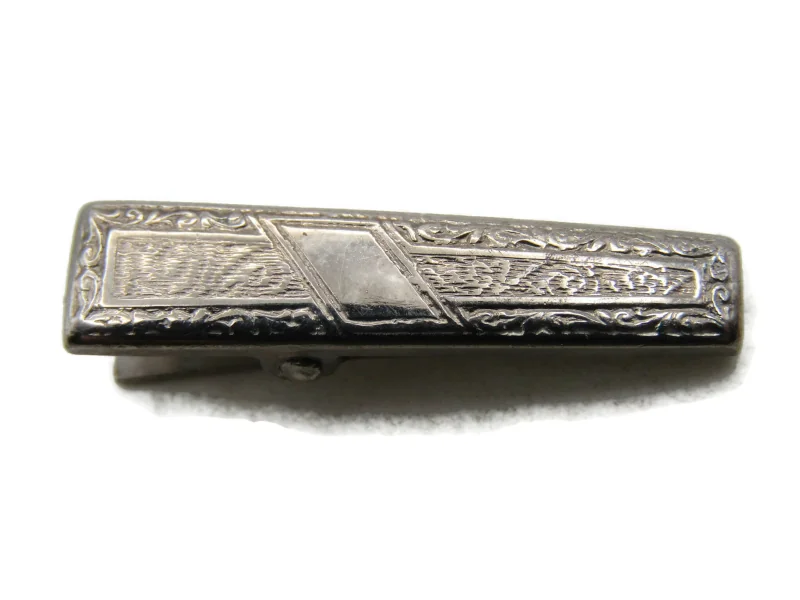 Check it out at theromanvintageshop.com
Vintage-style tie bars may use nickel or brass for a warm, old-school aesthetic.
Synthetic Materials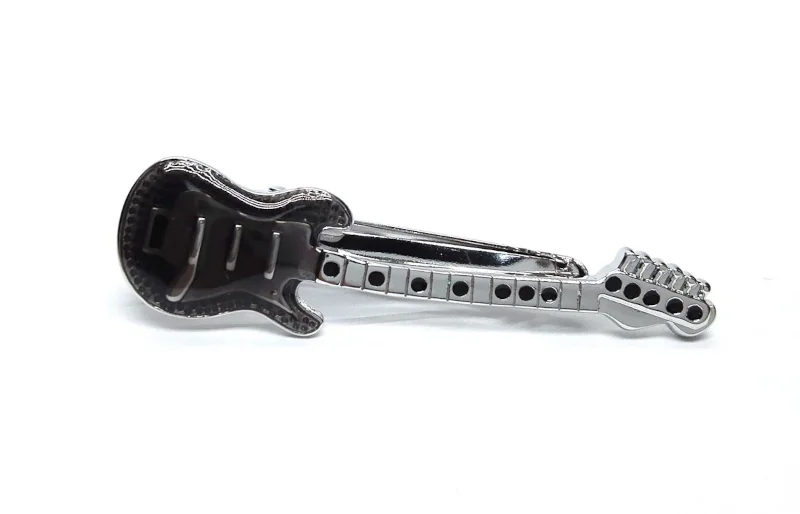 Check it out at cufflinkman.co.uk
For novelty tie bars, acrylics and plastics allow for injection molded designs featuring bright colors and unique shapes. However, note that synthetic bars tend to look and feel cheaper than metal options.
How to Properly Wear a Tie Bar
Wearing a tie bar takes only a moment more than putting on a tie alone. Follow these guidelines to properly style your tie bar:
Positioning – Place the bar horizontally between the third and fourth buttons of your shirt. This should position it near your sternum. Angle the bar to match the angle of your tie knot.
Tie Types – The bar should weigh down the full width of your tie. So wider ties call for longer bars, while narrow ties need shorter bars. Bars work well with all tie-knot styles.
Length – Size the bar so it fully presses the tie material against your shirt. Bars that are too short will slide out of place while overly long bars can damage the tie. Measure a properly fitting bar against your body when shopping.
Pairing – Match metals to other accessories you're wearing like watches, cufflinks, or belt buckles. Mixing metals works too for an eclectic look.
Knot Styles – Experiment with pairings like a sleek bar with a Windsor knot or an ornate bar on a skinny tie with a four-in-hand knot. Find combos that express your style.
With the right bar and ideal positioning, you'll have a polished, pulled-together look ready for business and formal occasions.
Choosing the Right Tie Bar
With so many designs to consider, here are some factors to help choose tie bars that work with your style:
Metal Color and Finish
The color of the metal sets the tone for your accessory. Yellow gold and rose gold make bold statements. White metals like silver and platinum are classic and versatile. Black metals like tungsten carbide add a modern edge.
Finishes like brushed, matte, or glossy also impact the look. High-polished metals have shine and reflectivity while brushed finishes have an industrial, masculine feel.
Design and Embellishments
Bars may feature engraved filigree, raised relief, or inset gemstones for extra allure. Design aspects to consider include:
Geometric patterns
Textures
Masculine motifs like animals or sports
Monogramming or initials
Vintage aesthetics like black enamel accents
For those adhering to formal dress codes, minimalist bars without flashy embellishments are best.
Matching with Other Accessories
Choose a bar made of the same metal as your watch, rings, or cufflinks. Mixing metals can work too depending on your flair.
If beads or patterns on the tie are the stars of your outfit, opt for an understated bar without competing decorative elements.
Personal Style and Taste
Most importantly, pick a tie bar that represents your taste and style. If you tend toward simple and refined looks, a plain silver or black bar hits the mark. For men who embody vintage spirit, an engraved brass bar exudes old-school elegance.
Fun printed ties call for novelty bars with complementing colors or designs. There are no hard rules – let your individual preferences guide you to the ideal tie bar to elevate your outfit.
Benefits of Wearing Tie Bars
Beyond just a stylish accessory, tie bars offer these advantages:
Keeps the Tie in Place – Stop constantly adjusting a drooping necktie with a bar that secures the tie flat against your shirt. This stays put all day long.
Finishes Your Look – For formal business or events, a tie bar provides a finishing touch to polish off your dressed-up ensemble.
Subtly Shows Personality – With diverse options available, tie bars let you express individuality while still looking sharp.
Coordinates Outfits – Matching metals and designs pull together a cohesive professional look.
Makes Ties Last Longer – Friction from a loose tie can damage the fabric. A bar reduces wear by preventing rubbing and swinging movement.
Adds Confidence – Knowing your tie is perfectly positioned provides confidence to focus on making a great impression.
Conclusion
A well-chosen tie bar upgrades any tie to a completely polished look. Following the tips in this guide will set you up for success when selecting and wearing tie bars
With the wide variety of tie bars available today, you can always find one to perfectly match your style. Keep this classic but versatile accessory in mind when getting dressed up for any formal occasion. Tie bars add subtle sophistication that pulls your look together.
So start browsing tie bars to find your new go-to style! With the right bar in place, you'll always look confidently polished and ready for whatever lies ahead.
Frequently Asked Questions About Tie Bars
What width of the tie bar should I get?

Choose a bar that matches the width of your tie. Extra wide and extra long bars can accommodate bigger tie knots. The standard tie bar length is 2 to 2.5 inches.

Where can I buy quality tie bars?

Check men's specialty stores, department store men's sections, and online retailers. Look for bars made of precious metals or quality base metals.

How much do tie bars cost?

Prices range widely from $10 for inexpensive base metal bars to $500+ for solid gold bars with gemstones. Sterling silver bars are mid-range around $30 to $75.

Should my tie bar match my belt buckle or watch?

Matching metals provides a coordinated finished look. But mixing metals like a silver watch and gold bar works too if that's your style.

Can I wear a tie bar with a button-down collar shirt?

Yes, tie bars work with both collar styles. Just be sure to position it correctly between 3rd and 4th buttons.

What's the best metal for engraving a tie bar?

Sterling silver and gold are ideal for engraving. The soft metals show detailed designs well.

How do I clean a tie bar?

Use a polishing cloth or soft toothbrush with mild soap and water to gently clean. Dry completely. Store bars in a lined jewelry box.

Should I wear a tie bar for job interviews?

Wearing one shows attention to detail. Stick to simple, conservative styles without flashy embellishments.

Can I wear a tie bar on a skinny tie?

Absolutely. Just downsize the length of the bar so it doesn't extend past the edges of the narrow tie.

What if my shirt doesn't have 4 buttons?

Place the bar where the 3rd or 4th button would be, judging spacing from the top and bottom buttons.
Our Latest Articles
Laoutaris Recommends