Are you tired of constantly pulling up your pants or adjusting your belt throughout the day? Have you ever considered wearing suspenders? Suspenders for men, also known as braces, are a practical and fashionable accessory that can help keep your pants in place while adding a touch of style to your outfit.
Table of Contents
"As an Amazon Associate, I earn from qualifying purchases."
The average reading time is 12 minutes
What are Suspenders?
Suspenders for men are an accessory worn over the shoulders that hold up pants or trousers. They are typically made of elastic, fabric, or leather and feature either clip-on or button-on attachments to secure them to the pants.
The History of Suspenders
Suspenders have a rich history dating back to the early 1800s. They were originally worn by men as a practical solution to keep their pants from sagging or falling. However, as fashion evolved, suspenders became more than just a functional accessory and were seen as a stylish addition to an outfit. In the 1920s and 1930s, suspenders became a popular accessory among gangsters and were often worn with tailored suits and fedoras.
Want to combine bow ties with suspenders? Check our article about bow ties here.
Types of Suspenders
There are two main types of suspenders for men: clip-on and button-on.
Clip-on Suspenders
Clip-on suspenders, also known as alligator suspenders, attach to the pants using metal or plastic clips. They are easy to use and do not require any alterations to the pants. However, they may not be as secure as button-on suspenders and can sometimes slip off the pants.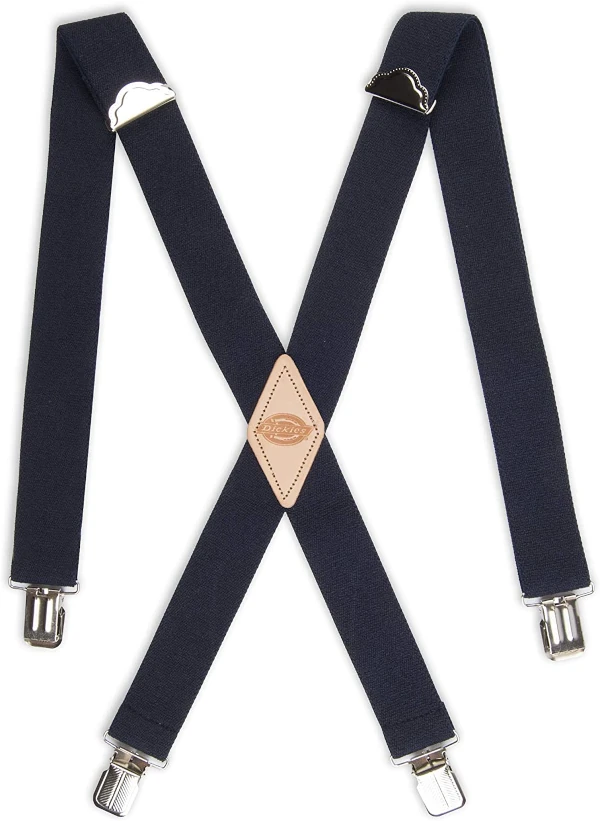 The X-back Clip Suspenders by Dickies are a perfect accessory for those who value both style and functionality. Made with a combination of 57% cotton, 27% polyester, and 16% rubber, these suspenders are not only durable but also provide a comfortable fit. The imported suspenders feature a clip closure and can be easily machine washed, making them convenient to maintain.

One of the standout features of these suspenders is their high-quality X-back shape design. The four metal clips ensure a secure grip on any type of pants, jeans, or trousers, eliminating the worry of unintentional unbuckling. This design feature adds to the overall durability and reliability of the suspenders, making them suitable for daily use.

The unique solid X-back clip suspender brace adds a touch of sophistication to any business attire. With a classic and timeless style, these suspenders elevate your wardrobe and help you make a lasting impression. The embossed leather patch with the Dickies logo adds a subtle yet stylish detail to the suspenders.

Additionally, these suspenders are fully adjustable, measuring 1 1/2″ wide. They come in a one-size-fits-all option, accommodating waist sizes up to 42 inches. For those with larger frames, Dickies also offers an extended size for Big & Tall individuals, ensuring a comfortable fit for everyone.
Button-on Suspenders
Button-on suspenders, also known as braces, attach to the pants using buttons sewn into the waistband. They are more secure than clip-on suspenders but require alterations to the pants.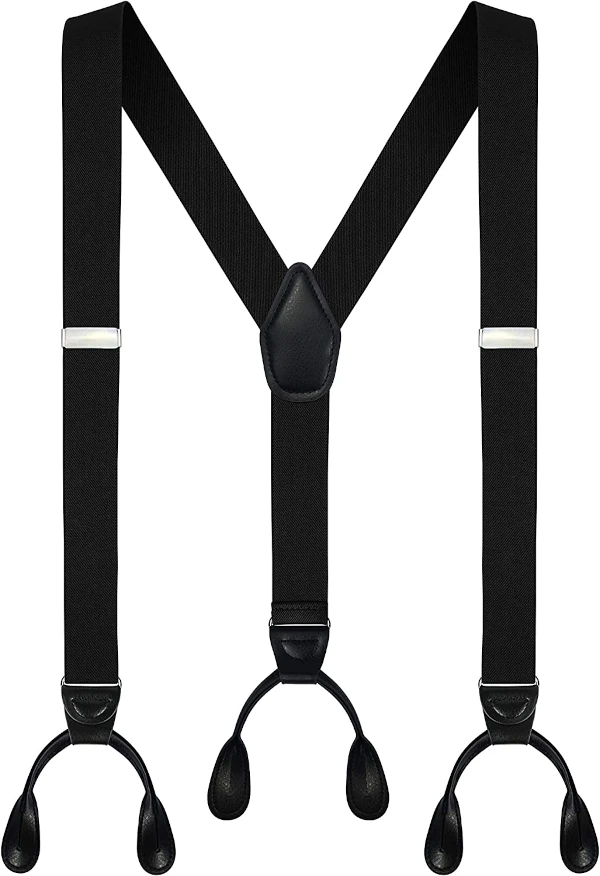 The 70% Polyester/30% Elastic Suspenders with Button Closure are a remarkable accessory that combines excellent materials, unique sizing, and adjustable length for optimal comfort and style. Crafted with a blend of comfortable and strong polyester and elastic fabric, these suspenders also feature wear-resisting synthetic leather, two heavy-duty metal adjusters, and six leather button ends, ensuring durability and longevity.

The standout feature of these suspenders is their unique 1 ¼" width, providing more support compared to thinner suspenders. This wider size enhances comfort, allowing you to wear them for extended periods without discomfort. You'll appreciate the secure fit and the added confidence they bring to your outfit.

With an adjustable length range of 30″ to 48″ (76cm to 120cm), these suspenders can be easily customized to fit individuals of varying sizes and body types. Whether you have a slender frame or a more robust build, these suspenders will accommodate you comfortably, ensuring a perfect fit every time.
Materials
Suspenders for men can be made from a variety of materials, including leather, elastic, and fabric.
Leather
Leather suspenders are a classic and sophisticated option. They are durable and can last for years with proper care. However, they can be expensive and are not as flexible as other materials.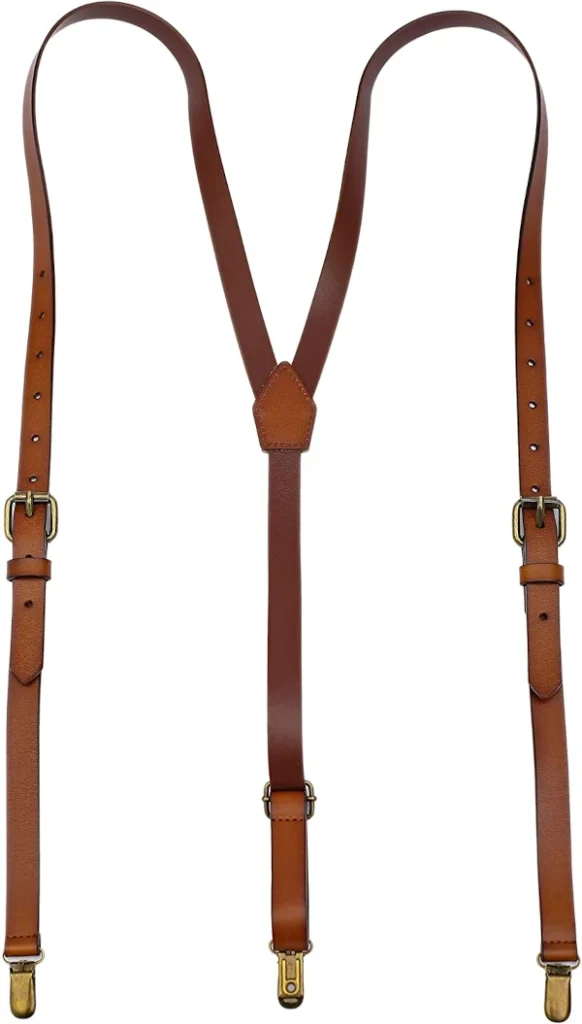 The 100% Genuine Leather Suspenders are a testament to both style and quality. Made with selected cowhide leather, these suspenders provide a comfortable and luxurious feel. The thick, solid, durable, and pliable surfaces of the leather ensure a long-lasting accessory that will impress others with its fashionable hand-painted edges.

Featuring antirust brass hardware, these suspenders are equipped with high-quality clips made of strong metal with teeth. These clips securely hold your pants, ensuring they stay in place throughout the day. The three sturdy clips provide reliable support, giving you confidence in the durability of the suspenders.

The suspenders offer adjustable sizing with double belt loops. To find your perfect fit, measure the length from your front waist to your back waist, going around your shoulders. Then choose the appropriate size from the suspenders size range of 41.3″-46″ (105-117cm). For more specific sizing options, you can customize your order.
Elastic
Elastic suspenders are the most common type of suspenders. They are affordable, comfortable, and easy to wear. They come in a variety of colors and patterns and are perfect for everyday wear.
The 100% Polyester Suspenders are a reliable and versatile accessory that combines comfort and functionality. Made with high-quality polyester, these suspenders are imported and feature a clip closure. It is recommended to hand wash them for proper care and maintenance.

These suspenders are equipped with heavy-duty 2-inch clips that securely hold onto your pants. Once closed, they provide a strong grip without causing any harm to your clothing. The durable clips ensure that the suspenders stay in place throughout the day, giving you peace of mind and a secure fit.

With their 2-inch softness elastic, these suspenders offer all-day comfort. The elastic nature of the suspenders allows for flexibility and ease of wear. Adjust the size to fit your torso's unique needs and enjoy a comfortable fit without the need for constant readjustment.
Fabric
Fabric suspenders are a stylish and comfortable option. They are made from materials such as cotton or silk and can be patterned or solid. However, they are not as durable as leather or elastic suspenders.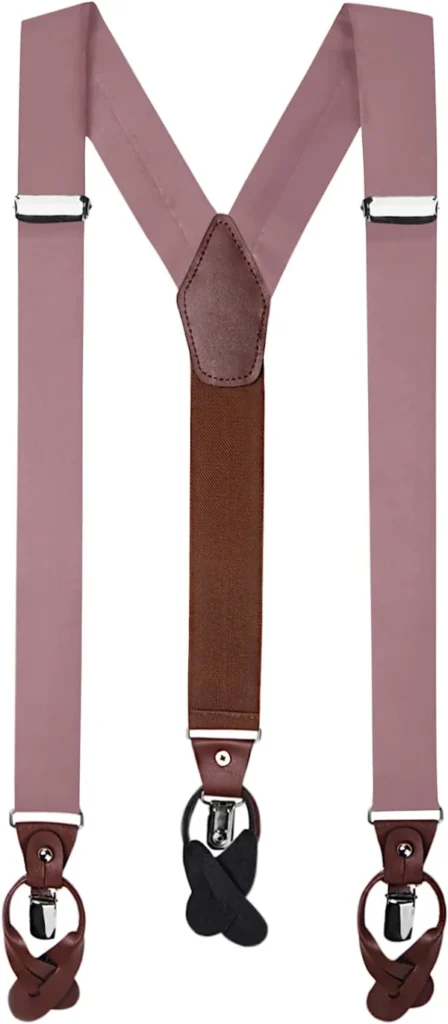 The Microfiber Suspenders with Clip Closure are an elegant and high-quality accessory that adds a touch of sophistication to any outfit. Made with microfiber fabric, these suspenders require dry cleaning for proper maintenance. They feature a Y-back design with an adjustable strap for comfort and fit, joined in the back by a leather patch.

These suspenders offer versatile options with their convertible ends. You can choose between top-quality button-on leather or metal clips for secure fastening. The easily adjustable slide hardware ensures a perfect fit, allowing you to customize the suspenders to your liking. The clips and hardware finishes are carefully chosen to complement the color of the fabric, adding to the overall aesthetic appeal.

The "drop-clip" closures of these suspenders are designed with a leather trim between the fabric and the clip, giving them a classy finish. This attention to detail enhances the overall look and feel of the suspenders, making them a high-end accessory.
Colors and Patterns
Suspenders for men come in a wide range of colors and patterns, allowing you to express your style. Neutral colors such as black, navy, and gray are versatile and can be worn with a variety of outfits. Bright colors and patterns can add a pop of color and personality to your outfit.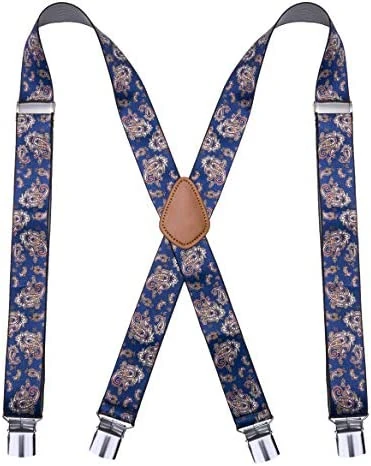 The Imported Suspenders with Clip Closure are a must-have accessory that complements any look you want to achieve. Whether you're attending an office meeting, traveling for business, or organizing a special event, these heavy-duty X-back style suspenders add a touch of class to your wardrobe. They enhance your appearance, making you look sharp, flawless, and stylish no matter what you're wearing.

One of the standout features of these suspenders is their adjustability and comfort. Made with ultra-resilient webbing and reinforced stitching, they provide a truly adjustable fit. The elastic and stretchable material ensures all-day comfort, eliminating the need for constant readjustment. With a length of 48 inches and a width of 1.4 inches, these suspenders conform to your needs and provide a secure and comfortable fit.

Explore the lovely suspenders collection offered, featuring 15 vibrant colors. Choose from options such as black, grey, coffee, blue, red, burgundy, navy, and more. Whether you prefer a classic look or want to make a bold statement, you can mix and match different colors and styles to own the fashion world and express your personal style.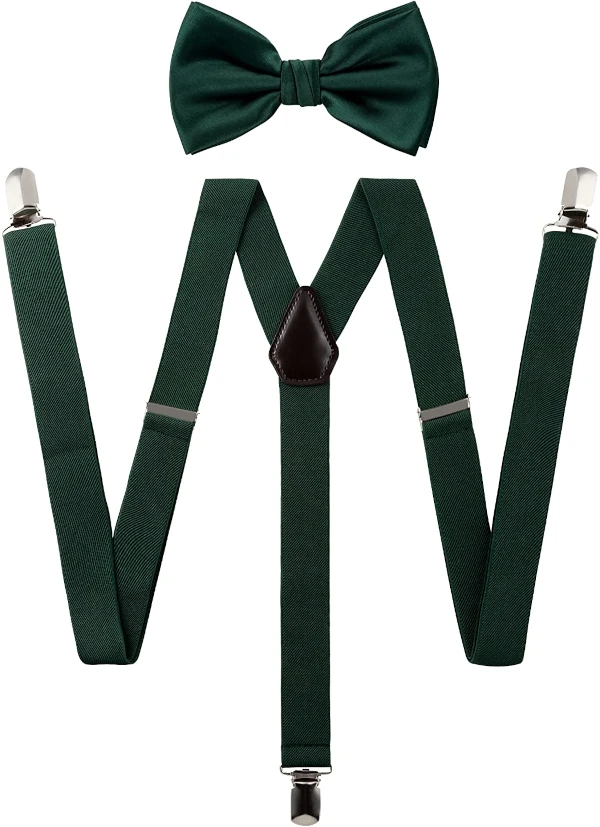 The Elastic Band Braces with Woven Satin Bow Tie are a fashionable and versatile accessory that adds a modern touch to your outfit. Made with a blend of 60% microfiber and 40% spandex, these braces offer a comfortable fit and durability. They are imported and require hand washing for proper maintenance.

This special promotion includes elastic band braces and a woven satin bow tie. The adjustable band length of 44 inches (112 cm) and width of 1 inch (2.5 cm) are designed for adults. The bow tie, measuring 4.7 inches long, features a double-layered high-density fabric that adds thickness and richness to its volume.

Durability is a key feature of these braces. The strong stainless steel clips with rubber protectors securely hold trousers in place without causing damage to your clothes. The elastic band is also resistant to stains and wrinkles, making it easy to handle and maintain.

The vivid colors of the satin yarn dyed fabric are unmatched. This allows for convenient color matching according to dress codes for various occasions, whether it's with friends, family, or loved ones. The true and vibrant colors of the braces and bow tie enhance your overall appearance.
Choosing the Right Width
Suspenders come in a range of widths, from slim to wide. The width you choose will depend on your body type, as well as the style of the suspenders. Slim suspenders are best suited for slender men or those who prefer a more modern look. Wide suspenders are better for those with a larger frame or those who want a more traditional look.
How to Wear Suspenders
When wearing suspenders, it's important to wear them correctly to avoid looking sloppy or unprofessional. The suspenders should be adjusted so that they sit comfortably on the shoulders without pulling too tightly. The length should be adjusted so that the pants sit at the correct height.
Suspenders vs. Belts
While belts are a popular way to keep pants in place, suspenders offer several advantages. Suspenders distribute the weight of the pants evenly, reducing strain on the waist and hips. They also eliminate the need to constantly adjust the pants, as they will stay in place throughout the day.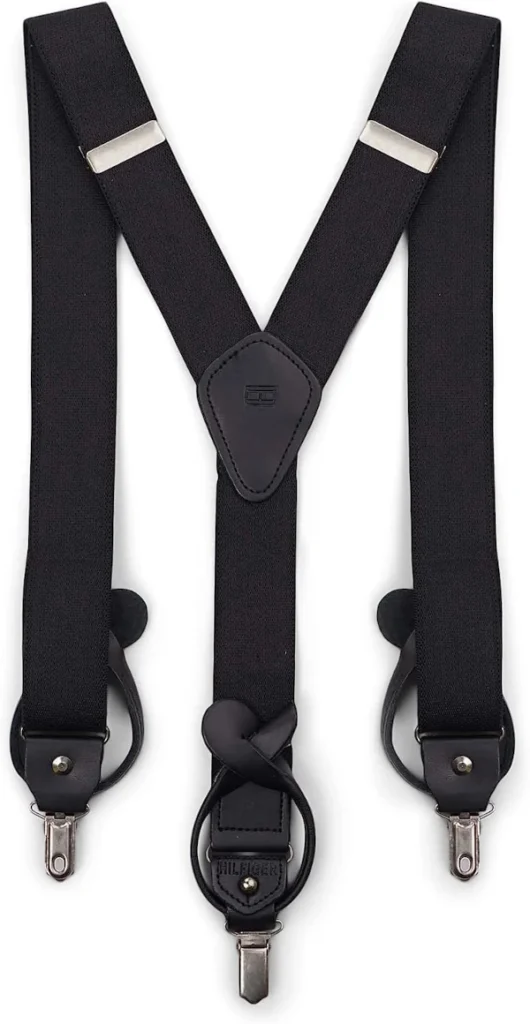 Tommy Hilfiger brings you a versatile and stylish option with these convertible suspenders. They feature a convertible closure, offering both clip-on and button-on options. If you prefer the button-on style, make sure your pants have the necessary buttons for attachment. These suspenders are made from a blend of 75% polyester and 25% rubber, ensuring durability and flexibility.

Designed to fit most men, these suspenders are labeled as "one size fits most." The adjustable strap allows you to find your perfect fit and ensures a comfortable experience every time you wear them. Simply slide the strap through the metal buckle to achieve a custom-made comfort that suits your preference.

With a timeless solid design, these suspenders effortlessly complement both formal and casual outfits. Wear them discreetly under a vest for a polished look or let them be seen as a stylish accessory. The classic appeal of these suspenders adds a touch of sophistication to any ensemble.
Suspenders with Different Outfits
Suspenders for men can be worn with a variety of outfits, from casual to formal.
Casual
For a casual look, pair suspenders with a button-up shirt and jeans. Opt for a pair of elastic suspenders in a neutral color, such as black or navy.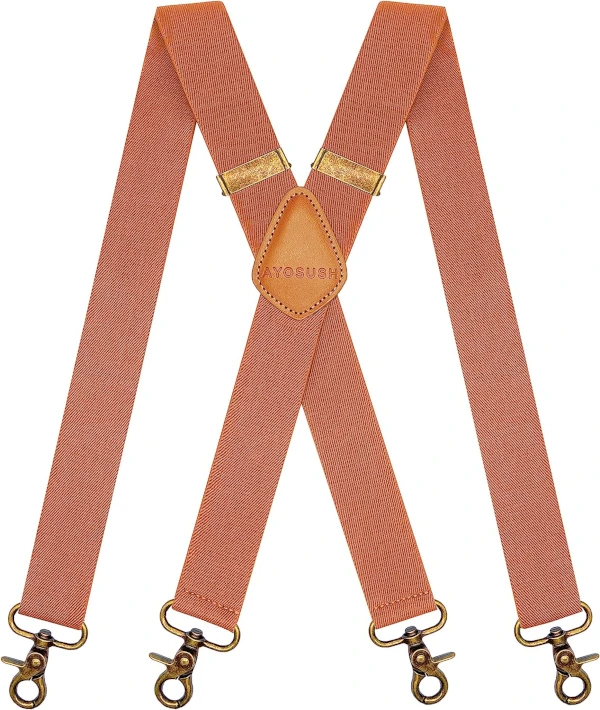 The Vintage Bronze Swivel Snap Hook Clip-Ends and Hand-Sewn PU Leather of our Classic X-Back Adult Elastic Suspenders give them an exquisite, shiny, and durable look. The 100% polyester suspenders feature 128 yarn double-woven soft webbing, ensuring a comfortable touch against your skin.

Adjusting the length of these suspenders is a breeze. With a range from 32 inches to 47 inches and a width of 1.4 inches, you can easily release the adjustment buckle on both sides of the strap and slide it up or down to achieve the perfect fit for your body size.

The 4 bronze swivel snap hook clip-ends are not only polished and sealed with a glaze treatment for a smooth and shiny appearance but are also rust-proof and wear-resistant. These snap hook clip-ends provide convenience while ensuring that your clothes stay in place.
Formal
For a formal look, pair suspenders with a tailored suit and dress shoes. Leather suspenders in a neutral color, such as brown or black, are a classic and sophisticated option.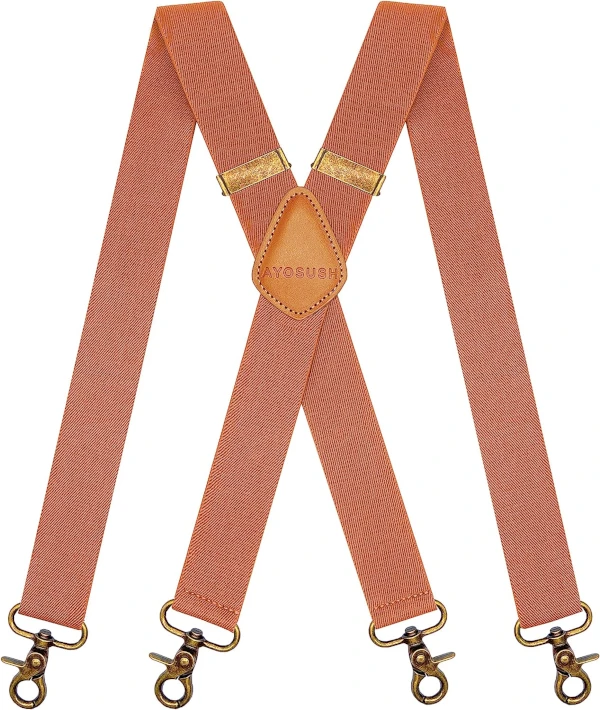 Hold'Em's Satin Y-Back Suspenders offer the ultimate combination of secure hold and enduring quality. With their button closure design, these suspenders ensure that your pants stay up without the worry of them becoming torn or damaged over time.

Crafted with meticulous attention to detail, these suspenders are made of 100% silk material, providing a luxurious feel and a touch of elegance. The genuine leather crosspatch and button tabs enhance the overall durability and add a sophisticated touch to the suspenders.

Choose from a wide variety of solid colors and pattern designs to find the perfect pair of suspenders that match your personal style, budget, and wardrobe. With such versatility, you can effortlessly pair them with different pants for various occasions.
Care and Maintenance
To keep your suspenders looking their best, it's important to care for them properly. Leather suspenders should be conditioned regularly to keep them soft and supple. Elastic suspenders should be washed in cold water and hung to dry to avoid stretching.
Frequently Asked Questions
Can suspenders be worn with shorts?

While suspenders are traditionally worn with pants or trousers, they can be worn with shorts for a unique and stylish look.

How do I choose the right size of suspenders?

Suspenders come in one-size-fits-all, with adjustable straps to fit a range of body types.

Can suspenders be worn with a T-shirt?

Suspenders can be worn with a t-shirt for a casual and trendy look.

Do suspenders need to match the color of the shoes?

While suspenders don't need to match the color of the shoes, it's important to choose a color that complements the outfit.

Can suspenders be worn by women?

Yes, suspenders can be worn by women for a stylish and edgy look.
Conclusion
Suspenders for men are a practical and stylish accessory that can add a touch of sophistication to any outfit. Whether you prefer leather, elastic, or fabric suspenders, there are a variety of styles and colors to choose from. By following our comprehensive guide, you can confidently incorporate suspenders into your wardrobe and elevate your style.
Our Latest Articles
Laoutaris Recommends