The question is simple. Are ties for men dead in 2023? This article will discover why men wear ties and on which occasion.
Table of Contents
The average reading time is 14 minutes. The article was last updated on 3/11/2023.
Types of Ties for Men
This guide will give you information on different styles of ties for men, from classic business attire to creative and fashion-forward looks. Each type of tie can bring both utility and style to your ensemble.
Classic Ties – These are the most common ties, comprising narrow widths and traditional patterns like stripes, dots, or paisley. They are a staple in business wear and come in various colors, such as navy blue or red.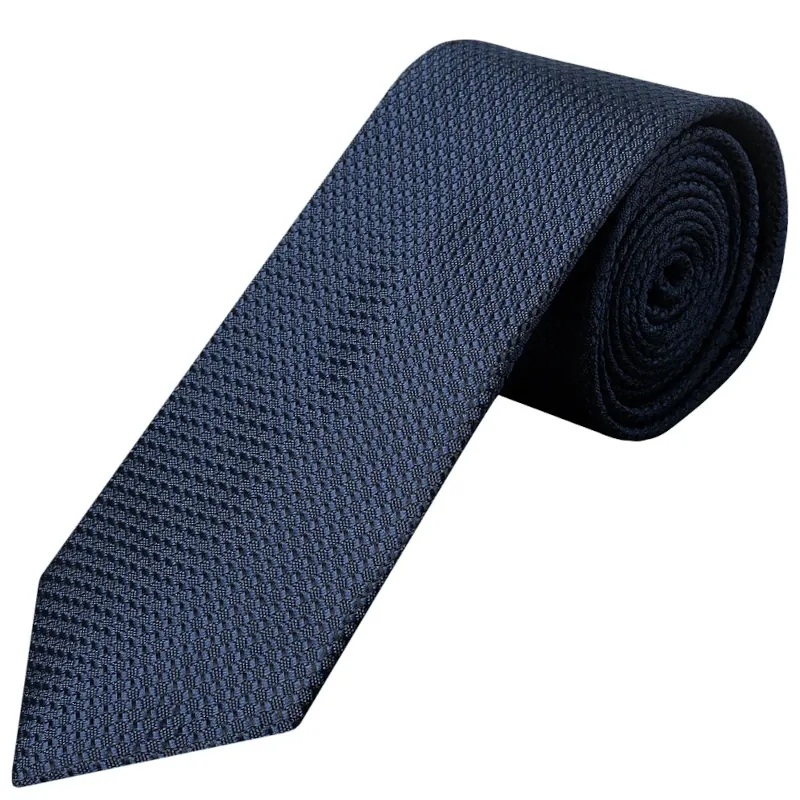 Pros
A classic navy textured tie
Made from 100% polyester
Handmade and very cheap
Cons
Dry clean only, as most of the relationship for men
Check it out at tiesrus.co.uk
Bow Ties – A bow tie is a type of necktie featuring two symmetrical loops that form a shape similar to a bow. It is typically made out of silk or satin fabrics. They can add a formal yet stylish look if adequately matched with the outfit.
Check our complete article about bow ties here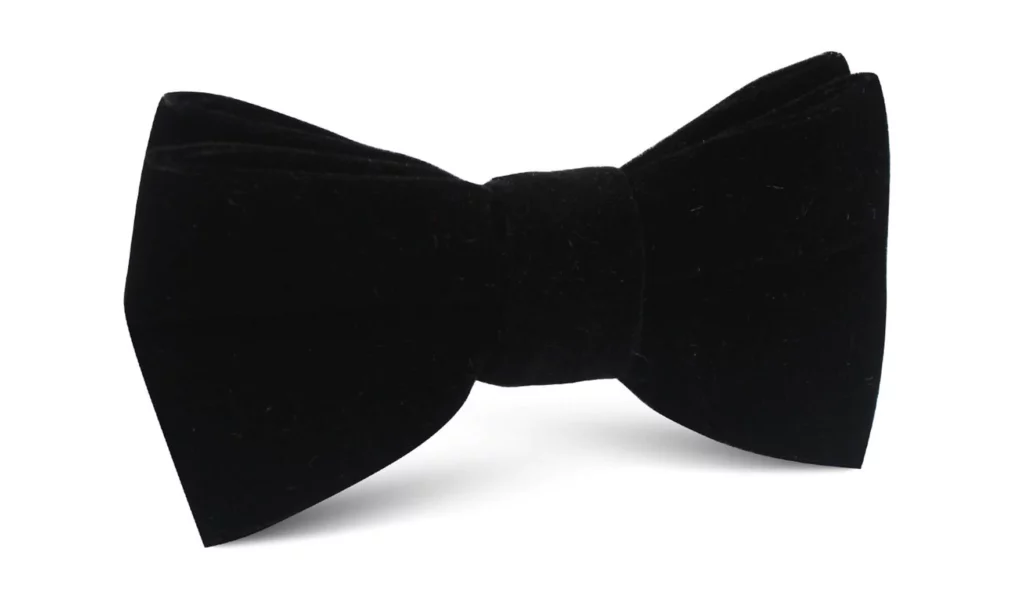 Pros
Handmade from 100% velvet
Bow Tie comes with an adjustable strap which can be adjusted to fit
Bow Tie latches on with a hooking mechanism when being worn
Cons
Above average price
Check it out at otaa.com
Knit Ties – Knit ties (or knitted) are made from knitted fabric instead of woven cloth, adding an approachable charm to formalwear. This tie works best with casual combinations such as khaki trousers and navy sports coats.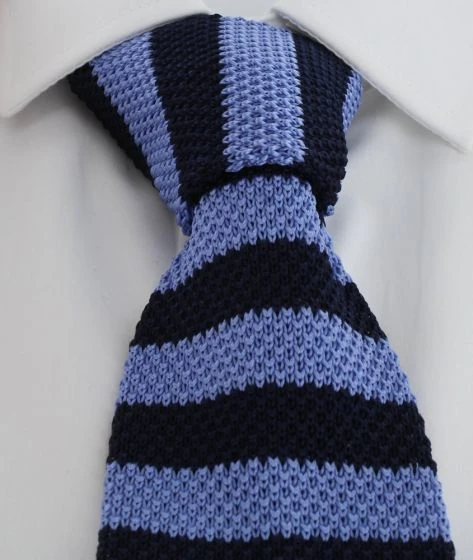 Pros
Made from 100% silk
145cm long
Good price
Cons
The 6cm ended square looks weird
Check it out at michelsons.com
Novelty Ties – Novelty ties come in fun designs, including symbols, cartoons, artworks, etc., making them perfect for special occasions or those who want to express their personalities through their wardrobe choices!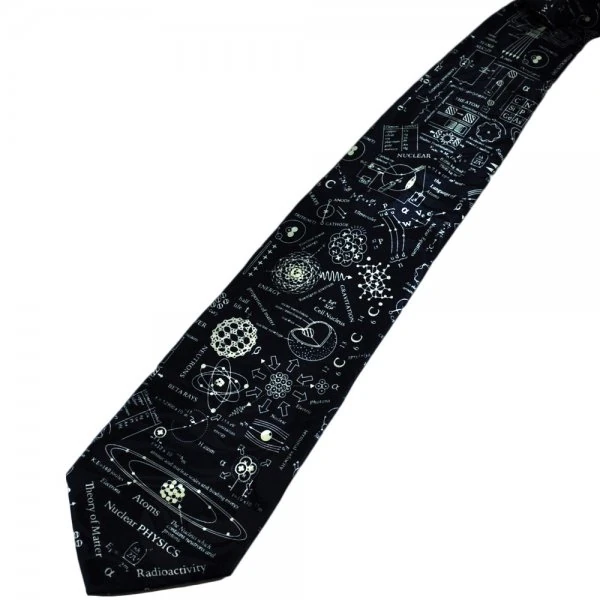 Pros
100% Polyester tie
With physics theories, equations, and images from electrons, etc
Free UK delivery
Good price
Cons
As for all novelty ties, you must be connected to the theme or want to start a conversation.
Check it out at tiesplanet.com
Check out our article about suspenders for men. Can you combine them with ties?
Printed Ties – Printed ties are highly versatile accessories that offer an opportunity to influence an outfit by adding color or texture without being too flashy. Paisley is the most classic printed pattern, but there are abstract prints, animal prints, and cultures-inspired motifs that anybody can pull off while keeping it classy!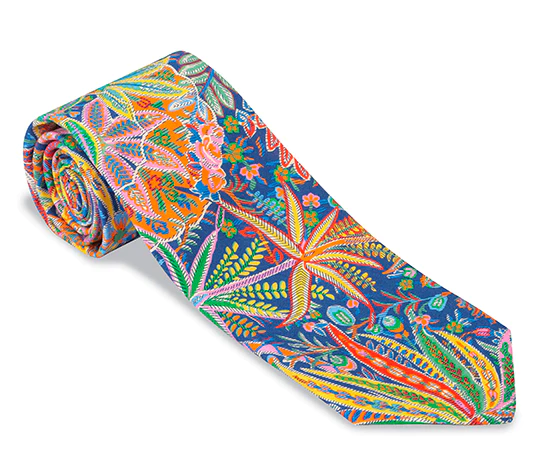 Pros
Made in the USA
Made from 100% cotton
The details are unique, with very nice colors.
Cons
The price is above average
Check it out at bowties.com
Tips for Choosing the Right Ties for Men
When picking the properties for men, there are a few things to keep in mind. Consider your body shape, as different conditions require different tie lengths and widths. It's also essential to consider the level of formality of the event; for a formal event, silk ties in solid colors may be the most suitable, but knit ties can be an excellent choice for a more casual gathering. Additionally, color is essential when selecting the right tie; aim for complementary or contrasting colors with your shirt and jacket.
Check out our article about tie bars for men.
The knot style used is also an essential element when it comes to ties for men. Generally speaking, full Windsor knots are more appropriate for formal events, and half Windsor knots can be more suitable for less formal occasions. Finally, accessorize your look with cufflinks or pocket squares as desired – this can help pull together your face and make you stand out!
Popular Tie Colors for Men
When it comes to fashion, ties for men serve as a way to express personal style. Links come in various colors and textures, making them ideal for personalizing professional looks. To dress appropriately for a formal occasion, the color of the tie should either be darker than or complementary to all other accents.
Popular neutral solid tie colors like navy, black, and gray can be worn with almost any tonal suit or shirt combination. Conservative options like these look excellent in subtler fabrics such as wool or silk. Colorful ties should not be overlooked when updating one's wardrobe either. Some popular choices include red wine, royal blue, and dark teal. The right-colored tie can significantly impact overall appearance by coordinating with outfit accessories such as pocket squares and boutonnieres.
Ultimately, the goal is to achieve a tasteful, balanced look while expressing individual style.
Here is a list of popular ties for men:
Navy
Black
Gray
Dark Teal
Red Wine
Tan
Mustard Yellow
Royal Blue
Popular Tie Patterns for Men
When choosing ties for men, it's essential to consider the environment, occasion, and dress code. For example, a more subdued pattern like a solid or gingham works best for corporate wear. However, printed designs such as paisley or stripes are often seen at formal events like weddings or proms. Below is an overview of the most popular tie patterns for men and how they can be worn.
Solid: This classic tie option is timeless and never goes out of style. Solid ties come in a variety of colors and are incredibly versatile when it comes to mixing and matching with any suit.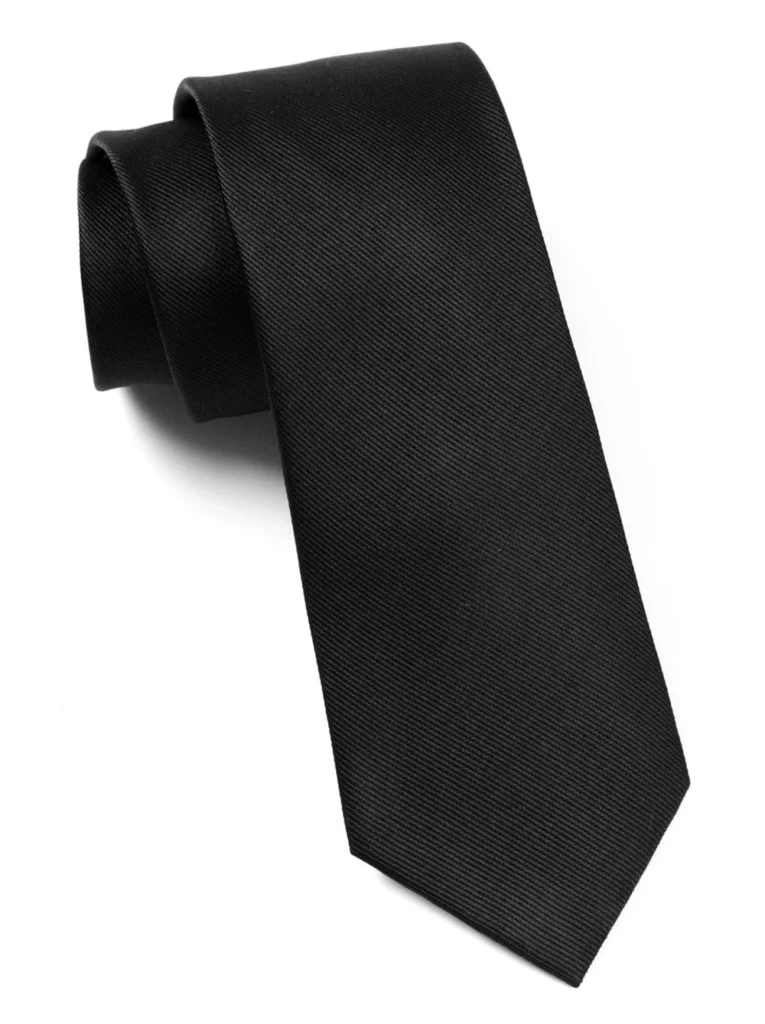 Pros
Made from 100% woven silk
With over 50 different colors
Six different sizes
Good price
Cons
When you want classic monochrome color ties for men, this is your choice
Check them out at thetiebar.com
Gingham: This traditional cross-check pattern is commonly seen on shirt fabrics and perfectly pairs with solids or stripes for a classic look.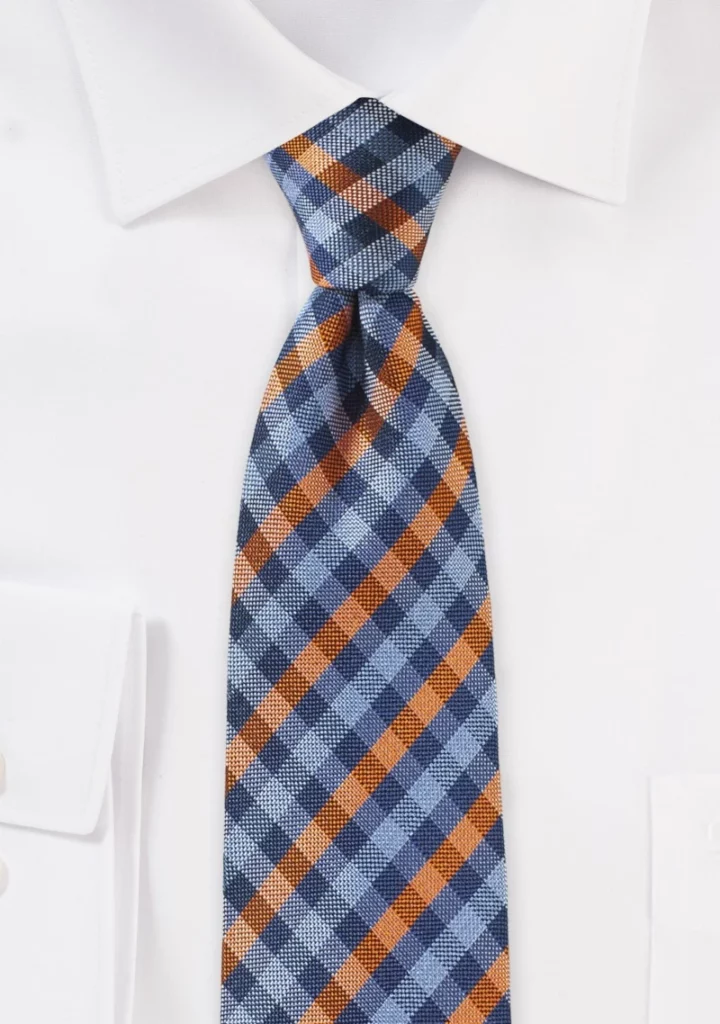 Pros
The fabric is made of silk
A summer tie with blue. orange and light blue colors
Excellent price
The width is narrow, skinny
Cons
This tie is for a casual summer outfit
Check it out at bows-n-ties.com
Stripes: Stripes provide a modern style to an outfit while keeping it timelessly appropriate. It's best not to mix multiple lines because it can create too much clutter around your neck.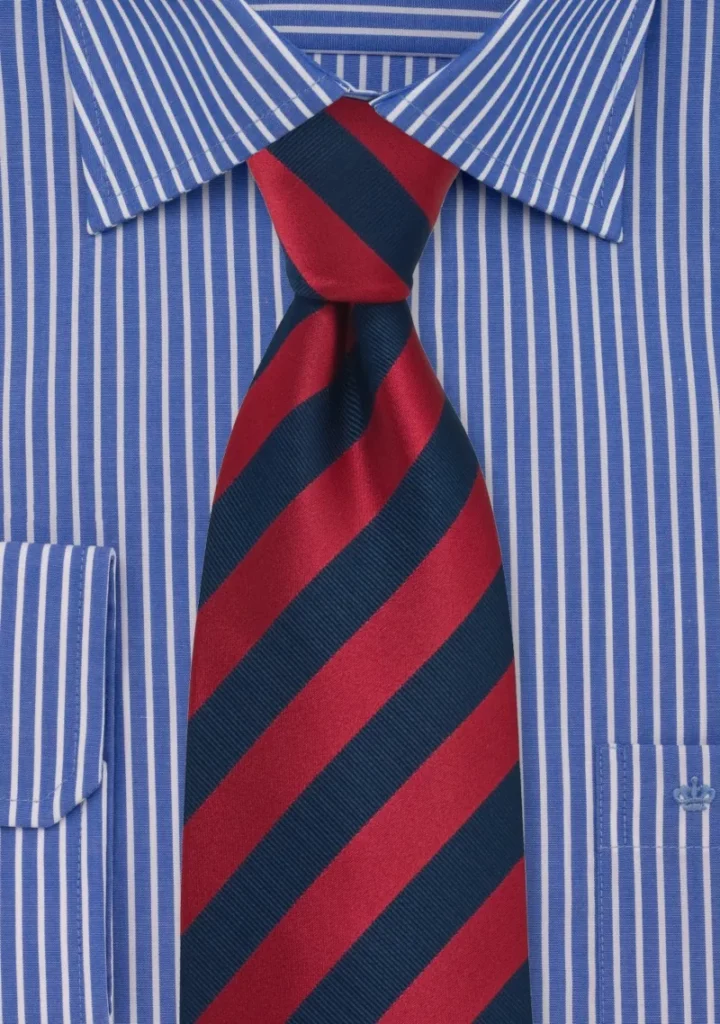 Pros
A classic necktie with dark blue and red colors
Made from microfiber
Very cheap, under 5$
Cons
Who said ties are expensive?
Check it out at cheap-neckties.com
Plaid ties come in all shapes and sizes, from subtle Scottish prints to bright tartans with vivid colors (often referred to as "novelty plaid"). Plaids add interest without overpowering an ensemble, so they're great for adding some personality without going overboard.
Pros
Made from 100% silk
For the classic plaid look
Average price
Cons
Many men still like to wear plaid ties and shirts. It is a kind of personal choice.
Check it out at gentelmanjoe.com
Polka dots: These easy-to-spot designs can range from super tiny to large spots, giving you options between bolder "look at me" styles that work well when paired with dark suits or subtle effects that work better with lighter shades of suiting fabric.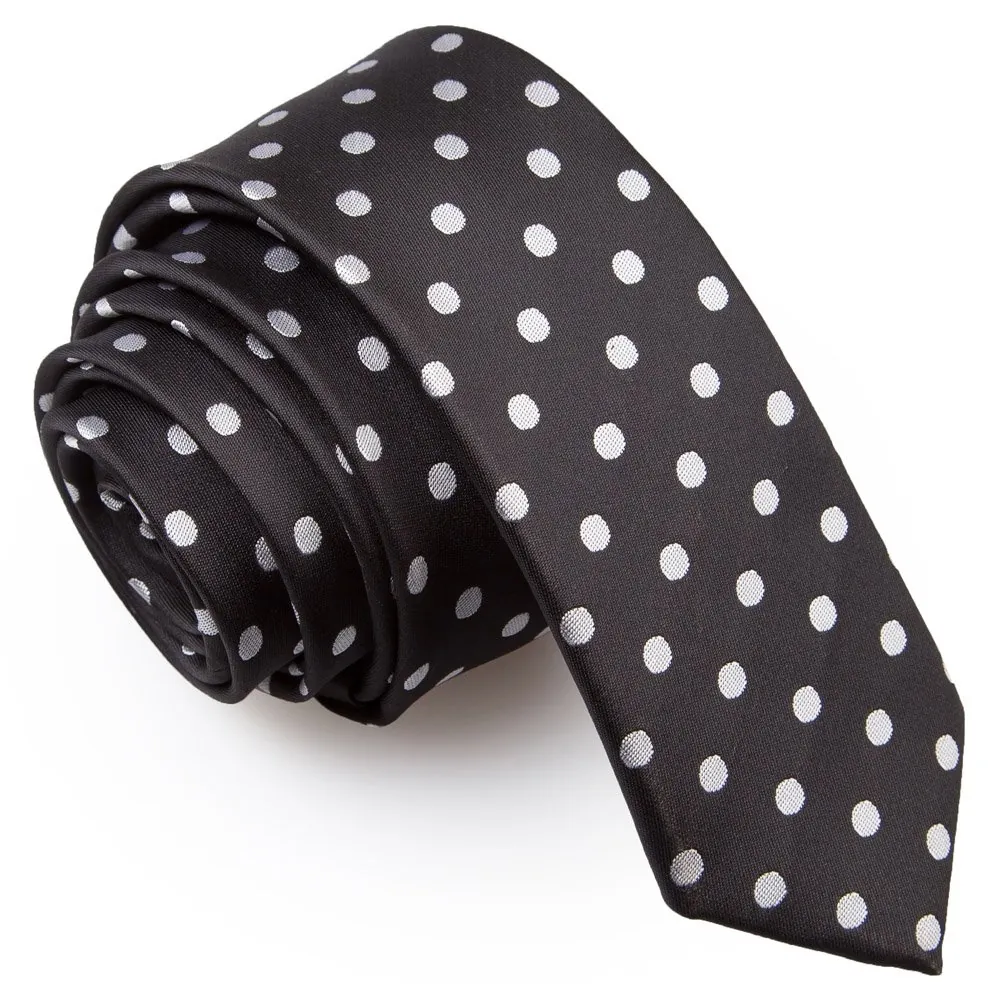 Pros
Ten different available colors
The fabric is woven microfibre
Excellent price with a discount
A skinny tie with a 5cm width
Cons
It's another classic design at a cheap price. Not many people like the dot style.
Check it out at dqt.com
Paisley / Floral: Paisley (smaller curved motifs) and Floral patterns inject playful fun into regular office attire – go easy on the size so you don't look too wild!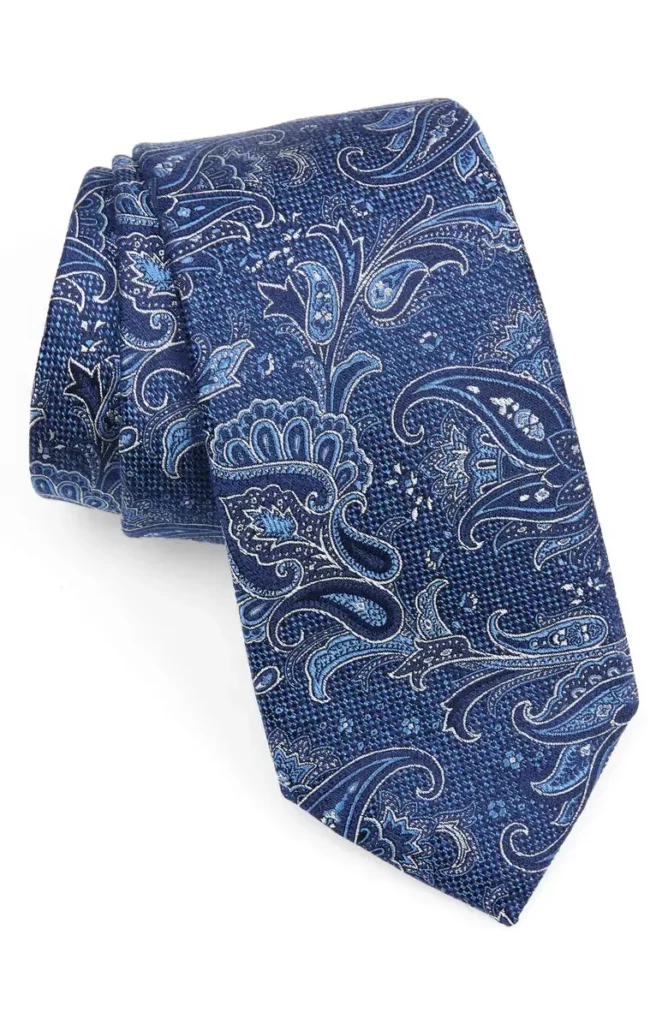 Pros
Made from 79% silk and 21% viscose
Comes in navy blue and purple colors
An oversized Paisley tie
Cons
The price is above average.
Check it out at nordstrom.com
How to Tie a Tie
Tying ties for men may seem daunting, but the process is relatively straightforward with practice and some simple instructions. Whether you're wearing a business suit or attending a formal occasion, there are several variations of how to tie a tie. The most popular types of ties for men include the traditional necktie, four-in-hand knot, half Windsor knot, and full Windsor knot.
To create an attractive look, you must ensure your tie's narrow end is tucked behind your belt buckle. Let's take a closer look at each type of tie and how to secure it properly:
Traditional or Oriental Knot: This is the most basic type of knot, and its simplicity makes it easy to remember. Begin by crossing the wide end in front of the narrow end and then cross them again under each other twice to form an X-shaped formation on your chest. Take the wide lot over the top of the X shape around the back and insert it into the neck hole while pulling tight.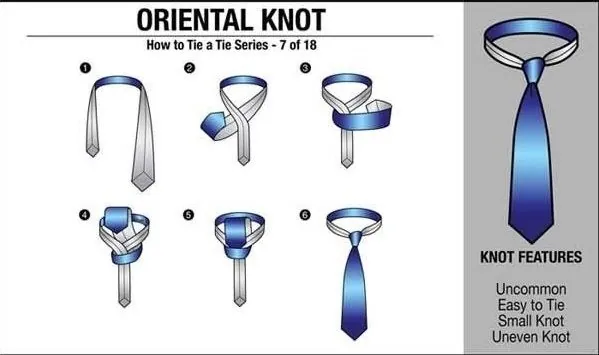 Four-In-Hand Knot: This necktie method is trusted by many due to its classic elegance, suitable for casual events and work attire. Please start with the wide end longer than the narrow one by about 12 inches, creating an inverted V formation across your chest after folding it over itself not more than two times (any more will make it too bulky). Then, cross the upper side of the V shape with the shorter side still holding tightly together before finally tying up loose ends underneath the original V weave pattern. Be sure not to pull too tight when completing this knot for desired length adjustments as needed before completion.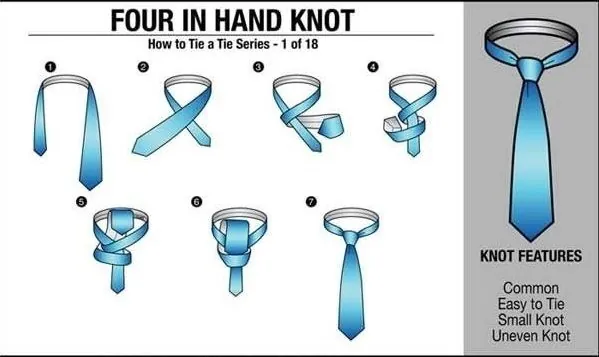 Half Windsor Knot: Ideal for dress shirts that have higher collars or stiff fabrics as this type of tie offers a balanced look that fits well with almost any appearance needs due to its sleek structure, the difference in size between its loops compared to competitors providing decent appeal when worn correctly. To begin, double the large side across the small bow, followed by taking the more extensive section behind the shorter one appearing as crossed two times, forming a triangle design touching at the neckline – then bring the bottom tip through the top opening loop, grabbing hold once more before tightening securely but gently so not outsized once complete.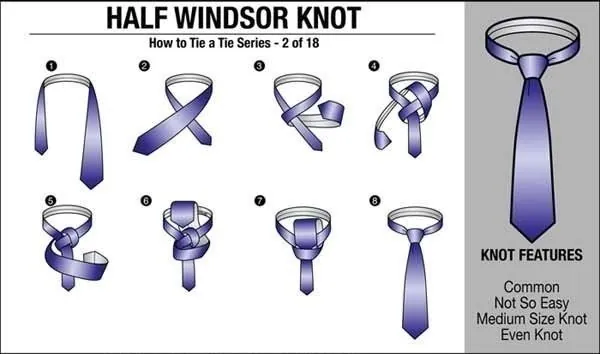 Full Windsor Knot: The classic choice! It is best known for being used professionally due to its broader thread pattern, giving wardrobe ensembles an appropriate sense of power. Whether heading office or formal gatherings, outfits typically provide plenty of confidence. Following teachings will deliver ample success, producing tighter, larger triangles reaching your collar results and increasing showing off stature.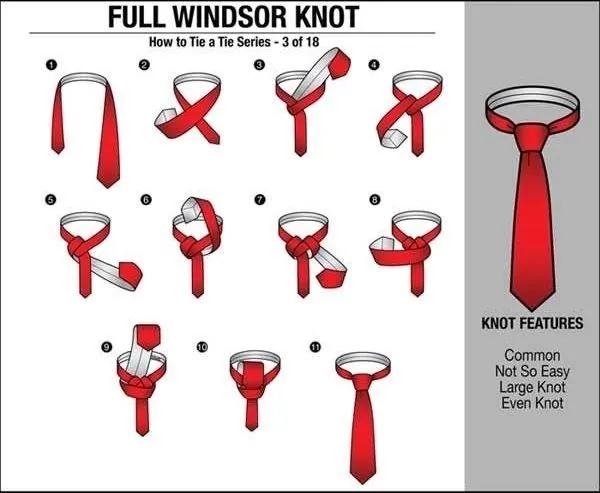 The start point entails wrapping a large end underneath the opposite direction, remaining sides twice, just like four hands knotted pulled through openings on another side before finishing motioning tightly straightening out, leaving non-bulkiness along the upper length. Every man should know these classic knots to add variety to their wardrobe and impress those around them! You could become adept at creating these masterful knots with some practice!
Read the article on realmenrealstyle.com. You can find 18 different styles to tie a tie knot.
Ties for Men: Care and Maintenance
Ties for men are a great way to show your style and make a fashion statement. Some primary care and maintenance are needed to ensure your ties look great for years. Follow these steps to keep your ties looking fresh and wrinkle-free:
Before the first wear, spray your tie with a fabric protector to guard against stains.
When cleaning a tie, only use cool or lukewarm water and mild detergent, and never use bleach or other harsh detergents, as this will cause fading or discoloration of the material over time.
After cleaning, press the tie with a warm iron to prevent any wrinkles from forming on the material.
Whenever possible, hang ties in closets with ample space so they don't get crushed from too close contact with other items.
Always store the tie correctly according to shape; traditional ties should never be rolled up because this will warp them over time.
To help retain its shape, stuff each tie into the pocket of an old button-down shirt before hanging it in the closet.
Check out our article about scarves for men. Complete your look and feel amazing.
Which professions and job titles require a tie
Many professions and job titles require ties and suits to be worn. These are known as white-collar jobs; today, they are low-paying and stressful jobs. Please check with the management team if you must wear a suit and tie. In the last years (especially during the pandemic), fewer professions have the white-collar requirement.
The following profession may require to wear a suit or ties for men:
Banking and Accounting industry
Legal and Law enforcement
Consulting and Politics
Education, Medical, and Sales
Chief Executive Officer and Entrepreneurs
The anti-necktie sentiment
At the start of the 21st century, ties for men slowly became a minority issue.
Many famous men started not to wear ties. Andrew Young (US presidential candidate), Richard Branson (founder of Virgin Group), Alexis Tsipras (former Greek Prime Minister), and many others in politics, CEOs, Entrepreneurs, etc.
Check the article on wikipedia.org for more information.
We still believe that ties add a personal style to your outfit, and you do not have to listen to what others are saying.
In fashion, the style is purely a personal choice.
When to wear ties for men
Whether you're dressing up for a formal occasion or want to look your best for a job interview, understanding when to wear ties for men is essential. You should wear a necktie whenever you need to look sharp and put together.
Check out our article about footwear for men.
Here are a few guidelines to help you decide when ties for men are a choice for you:
-If you will be in a formal setting, wear a necktie. This includes weddings, funerals, court appearances, and other similar occasions.
-If you're interviewing for a job, wear a necktie. Even if the dress code is casual, a necktie will show that you're taking the interview seriously and are willing to dress up for the occasion.
-If you're going on a first date, wear a necktie. This shows that you're interested in making a good impression and care about your appearance.
Conclusion
With so many stylish ties for men options available, it's easy to spruce up any dress shirt. Each tie choice has unique features, allowing you to find the perfect look for any event. From formal to fun and funky ties, there's something perfect for every gentleman.
Whether you are looking for an eye-catching pattern or a timeless solid color, you can find the perfect ties for men that will express your style while adding a touch of class and elegance to your attire. Take your time and find the right one; it will make all the difference in how you present yourself to the world.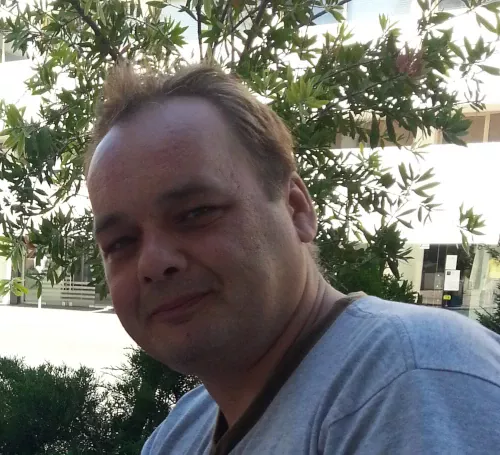 Pashalis Laoutaris
Fashion Blogger
I am a professional writer, fashion blogger, and owner of the site https://laoutaris.com. As a salesperson for more than 20 years, I have experience of 10 years in the fashion industry. I consider myself a true fashionista. I am writing daily blog articles about fashion, tools and converters, and everything you need to know about the current fashion trends.
Share this article
Our Latest Articles
Laoutaris Recommends