A complete guide for footwear for men. What to choose in 2023, all the different types of shoes, what to wear on other occasions.
Table of Contents
The average reading time is 13 minutes.
Are you trying to find the perfect pair of kicks for men? Well, you've come to the right place! In this article about Footwear For Men, we make sure to curate the best selection of footwear for men from trendy fashion shoes to timeless classics. So whether you're strolling along the boardwalk or headed to an important business meeting – we've got something for everyone. Let's take a look at our inventory and find the right shoes for your style!
Introduction to Footwear for Men
When it comes to footwear, men have a variety of options. Footwear is available in a wide range of styles and materials, so it's important to know what options are available before making your purchase. This guide will provide an overview of the different types of footwear for men, along with tips for styling them for various occasions.
From running shoes and sneakers to dress shoes and boots, there is something for every man's lifestyle.
Running shoes are designed for activities such as running, jogging, or walking and should provide support and cushioning that's appropriate for the move. Sneakers are generally more casual and stylish than running shoes.
Dress shoes come in several styles, from traditional loafers to wingtips or oxfords. Boots offer sturdy construction that protects against elements such as wet weather or snow while still being fashionable. With the right pair of shoes, you'll be sure to look sharp no matter the occasion!
Types of Footwear for Men
When it comes to choosing the proper footwear for men, there are several different types to choose from. Whether you're looking for something formal, comfortable, or stylish, there is something available for you. Below are some of the most popular types of men's footwear.
Dress Shoes: Dress shoes for men come in various styles and designs such as loafers, oxfords, monk straps, and more that can be worn with a wide array of outfits. They are designed with comfort and style in mind, so you can look great no matter the occasion.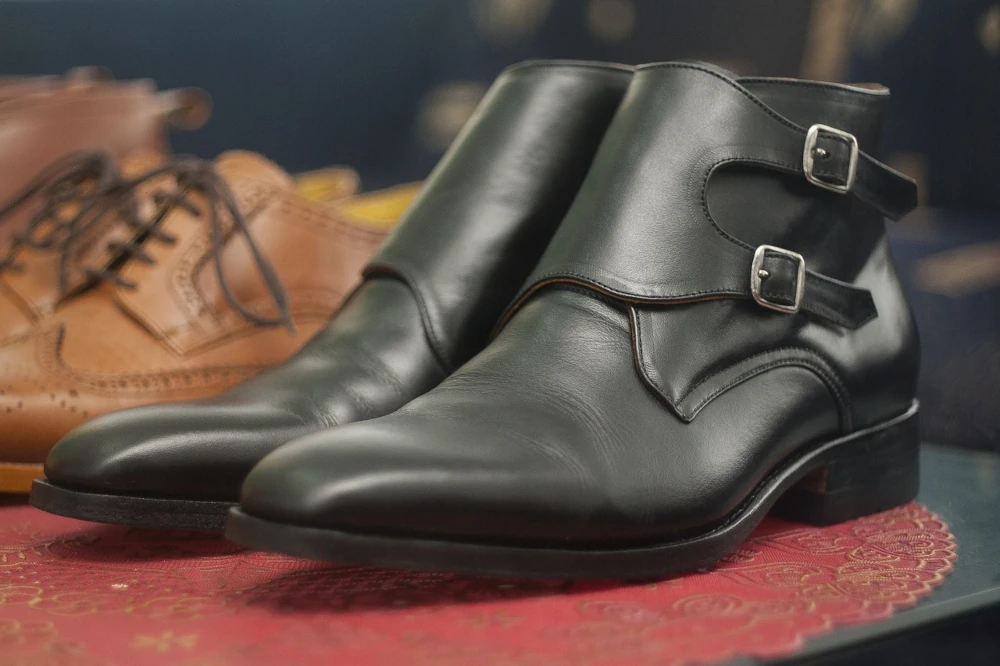 Athletic Shoes: Athletic shoes for men come in many different styles and generally include features like extra cushioning to provide maximum comfort while running or playing sports. They offer superior arch support and shock absorbency making them perfect for active lifestyles.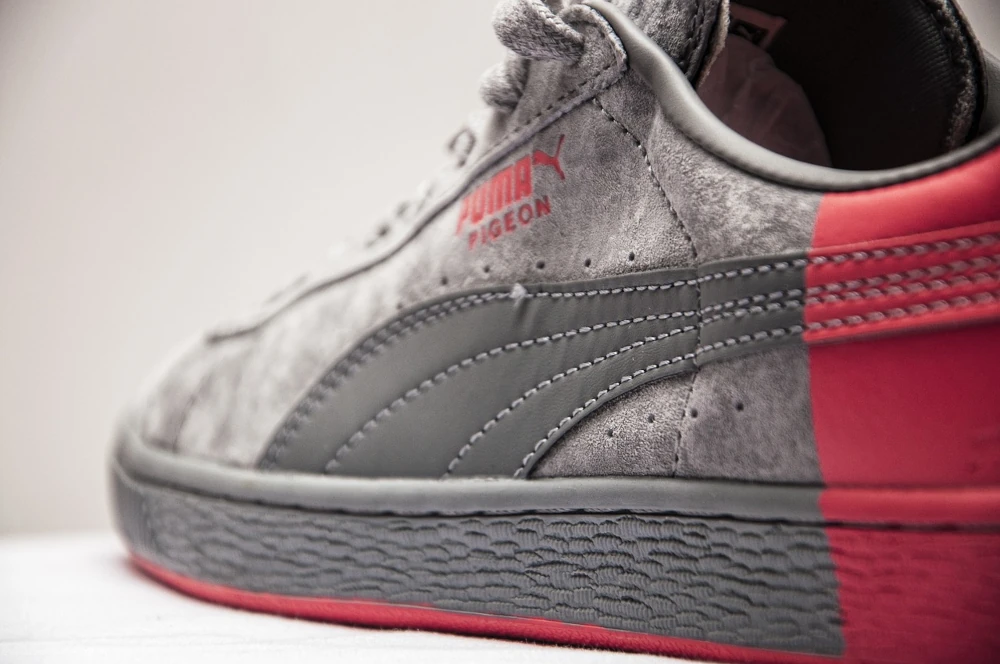 Boots: Boots for men can be helpful for more than just fashion; they also provide necessary protection against the elements like rain and snow. From casual boots to work boots that provide both comfort and durability, there is something available for any season or occasion.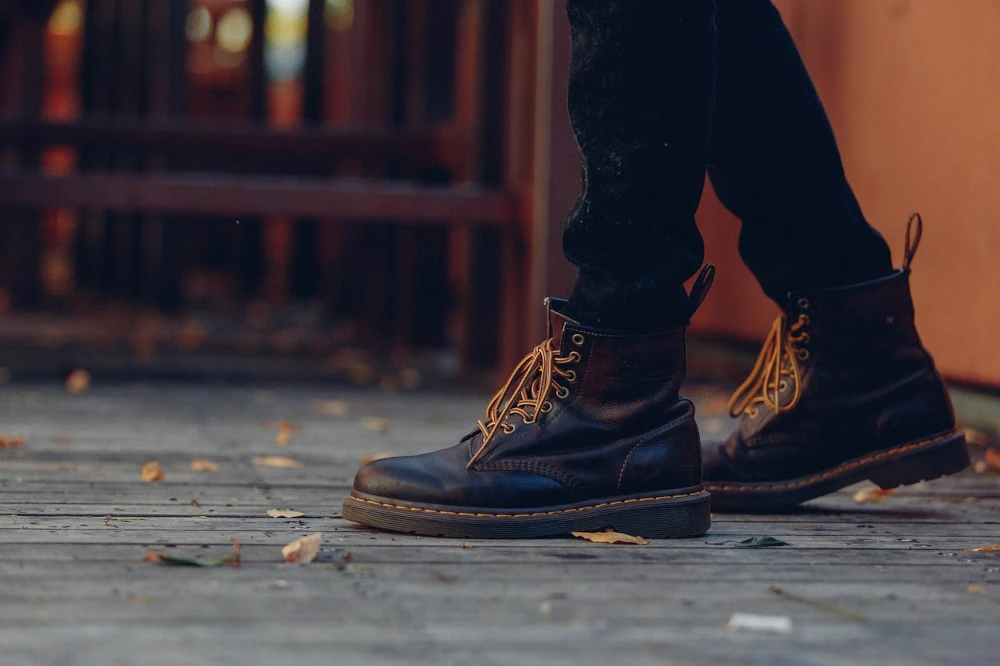 Sandals: Sandals are ideal summer footwear allowing your feet to breathe while keeping them stylishly cool in hot weather conditions. From flip flops to fashion sandals that still offer grip on slippery surfaces, sandals come in a variety of styles so you can find the perfect one for your wardrobe requirements this summer.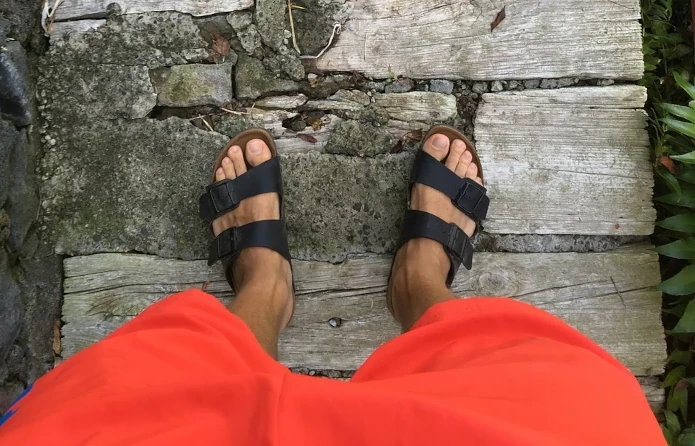 Slippers: Slippers are designed to be comfortable around the house but should not be confused with going outside footwear like clogs or sneakers. They keep your feet warm during winter months or when relaxing at home and often feature cushioned soles for added support when standing on hard floors or carpets.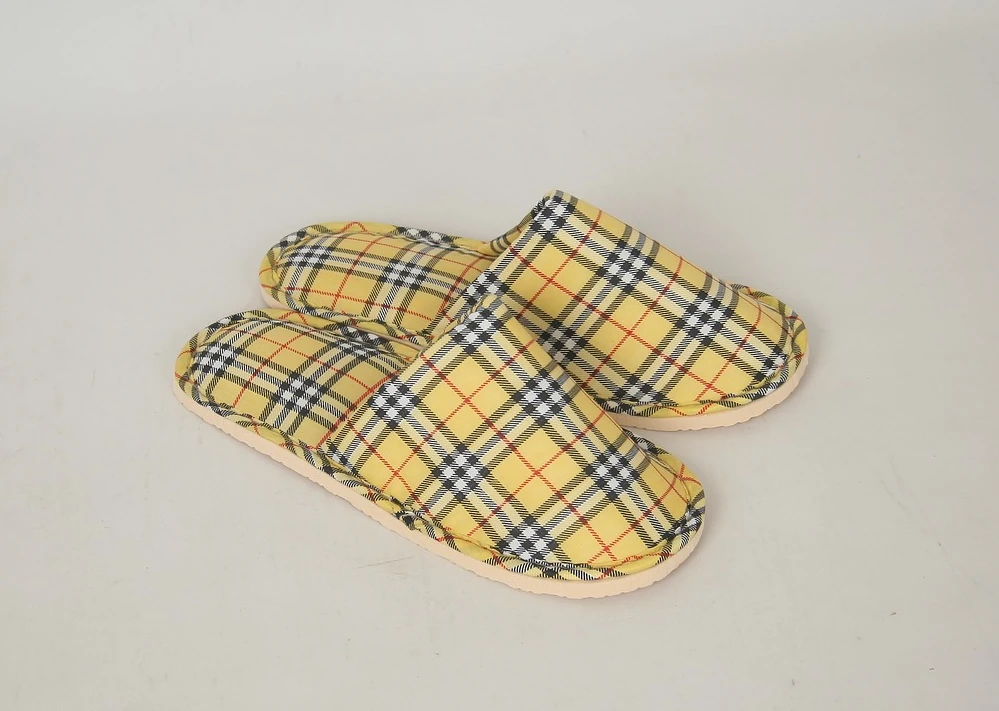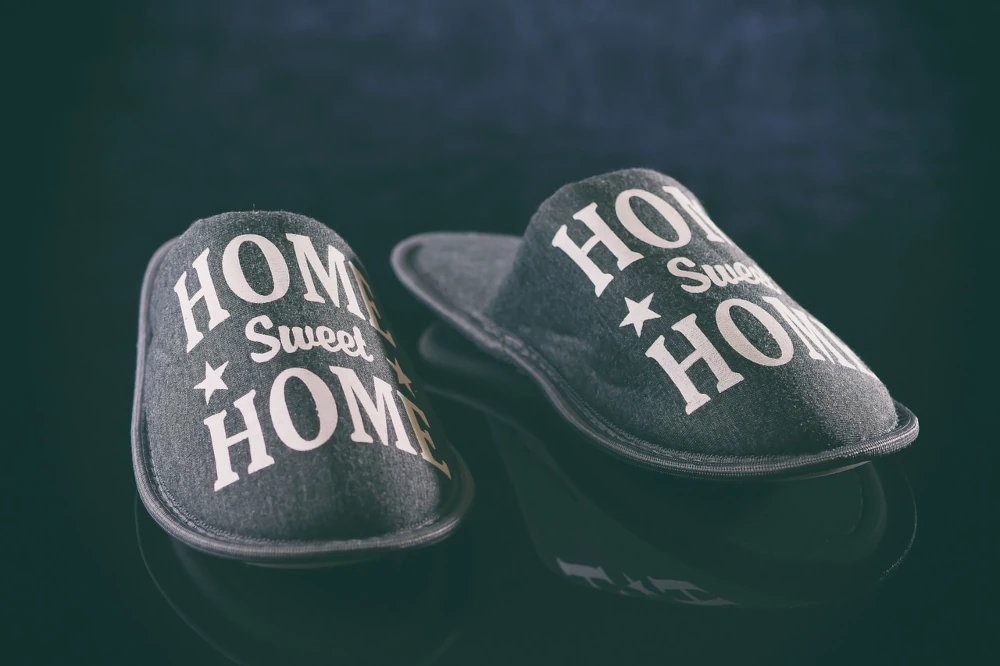 Benefits of Wearing the Right Footwear
Wearing the right kind of footwear can bring several benefits to men. Good quality footwear is essential for men's health, not just from the fashion point of view. Shoes protect us from any external elements and help us with our body posture. Wearing appropriate shoes also improves an individual's stamina, since it evenly distributes body weight to help you with your walking and running.
In addition, there are several practical reasons why wearing the right kind of shoes is important, such as:
-They provide stability and support for your feet – good quality shoes will prevent joint pains due to poor posture caused by wearing shoes that do not offer proper support;
-They protect your feet from any harsh external elements – the right kind of shoes offer additional layers that guard you against sharp objects or hazardous surroundings;
-They improve performance – well-constructed shoes help provide maximum grip while you are doing any physical activities;
-They may save you time – wearing appropriately fitting shoes requires less time compared to ones that do not have a snug fit and so reduce fatigue faster;
-They can improve one's physical appearance – having properly fitting footwear projects a façade of professionalism which allows people to be taken more seriously.
Overall, wearing the right kind of footwear can bring many physical and mental benefits to men. Not only does it allow people to look presentable but they can even ensure that they perform their tasks efficiently without compromising on comfort.
How to Choose the Right Footwear for Men
When it comes to choosing the right footwear for men, there are a few key things to keep in mind. First and foremost, you want to make sure that the shoe fits properly and provides the necessary support for your foot. Consider your foot size, shape, width, and type when picking out a pair of shoes. You also want to be sure that the shoes fit your lifestyle and fashion preferences.
Beyond comfort and practicality, there are many fashionable styles available for men when selecting footwear.
Athletic shoes for men like running or walking shoes can provide good cushioning for active lifestyles;
formal dress shoes can help make a good impression at more formal events;
sandals or flip-flops will provide more airflow and keep your feet cool in warmer temperatures;
high tops look great with casual jeans; waterproof boots protect from wet conditions;
boat shoes are perfect for taking on the beach while still looking stylish, just to which some of these options you have available.
Tips for Caring for Your Footwear
When it comes to men's footwear, proper care will not only make them last longer, but it can also improve their overall look and feel. Proper maintenance of your shoes or boots can help you look your best and keep your feet comfortable. Here are a few tips to keep your footwear in good condition:
Clean Your Shoes Regularly: Wipe away dirt, dust, and other debris on the surface of shoes at least once per week with a damp cloth or horsehair brush. If suede is involved, use a soft brush such as a toothbrush or suede brush for cleaning.
Use Shoe Trees: Place wooden shoe trees into warm leather shoes after every wearing to help maintain the integrity of the leather upper and reduce wrinkles caused by wearing.
Condition Your Shoes Regularly: Use an oil- or wax-based balm intended for leather goods monthly to maintain the suppleness of leather uppers and repair scuffs/surface scratches caused during normal wear.
Make Repairs Early On: Try mending small rips, holes, or tears in the leather early on before they become larger problems that may require professional repair services down the line. Show conditioners can be used to fill in cracks in leather uppers as well as protect them against water penetration when weatherproofing becomes necessary during cold months.
Waterproof Your Boots Regularly: When wet weather comes around, use a quality waterproof spray designed specifically for protecting shoes/boots from water damage each year as part of a regular maintenance regimen both before/after exposure to moisture if necessary popular Brands of Footwear for Men.
When shopping for men's footwear, it is essential to find a brand that offers both style and comfort. Each brand has its unique design and signature materials that are perfect for everyday wear, from casual sneakers to dress shoes. Here is a guide to the most popular brands of footwear for men.
The 5 popular brands of shoes in the world.
Adidas: This German athletic wear maker is renowned for its classic sneaker designs, but its shoes also come in a range of other styles including dress shoes that feature sleek lines and bright colors. Adidas shoes are a great choice for any man who wants to look fashionable while remaining comfortable. Check out the best Adidas shoes for men here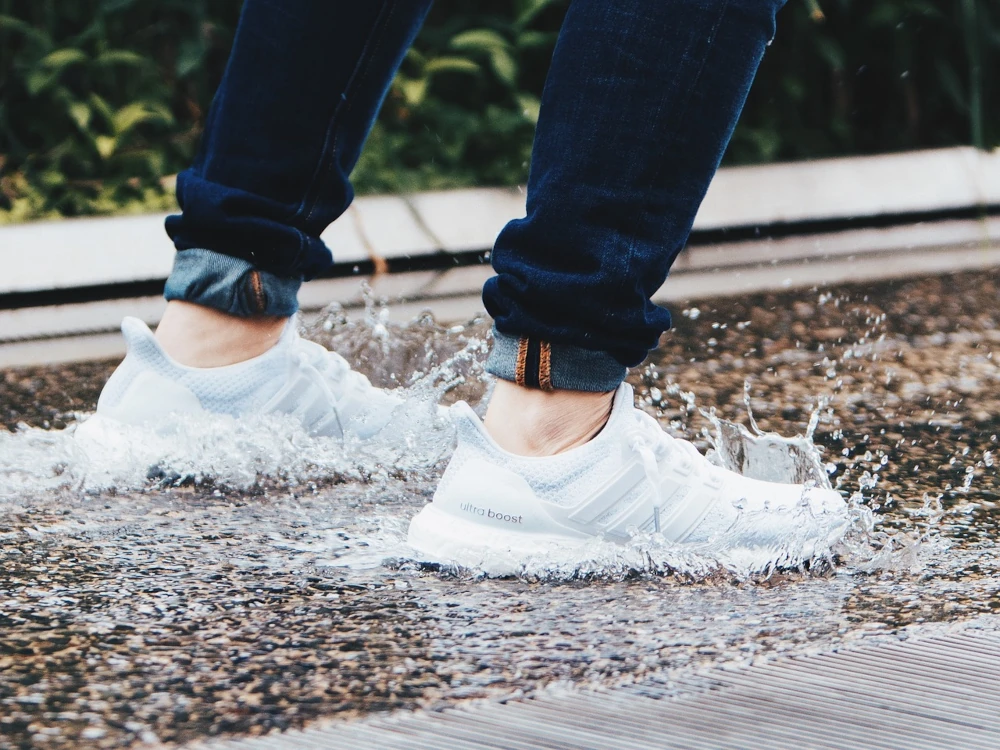 Nike: The Nike Air Max series are some of the most iconic sneakers ever created, but they also offer quite a selection of dress shoes that deliver modern style on the work or street. The company also offers basketball shoes and running shoes with innovative design elements that make them ideal for any active lifestyle or just everyday commuting needs.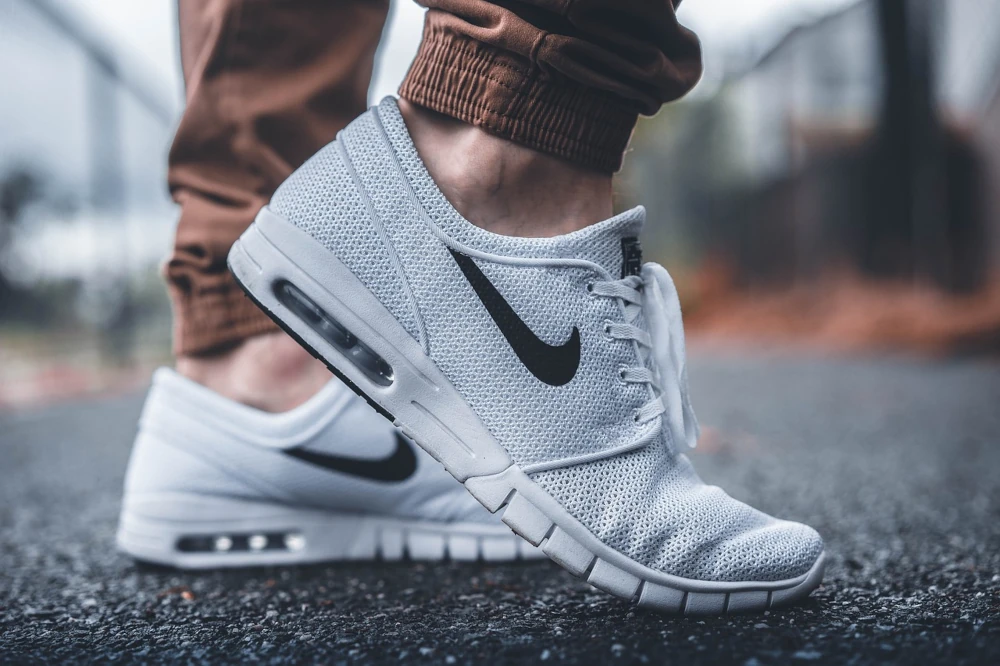 New Balance: This iconic American shoemaker offers a wide range of footwear choices with a comfortable fit and high-quality construction. They have long been synonymous with comfort with styles ranging from running shoes to casual-dress loafers in all sorts of colors, patterns, textures, and materials so you can find one that suits your needs perfectly.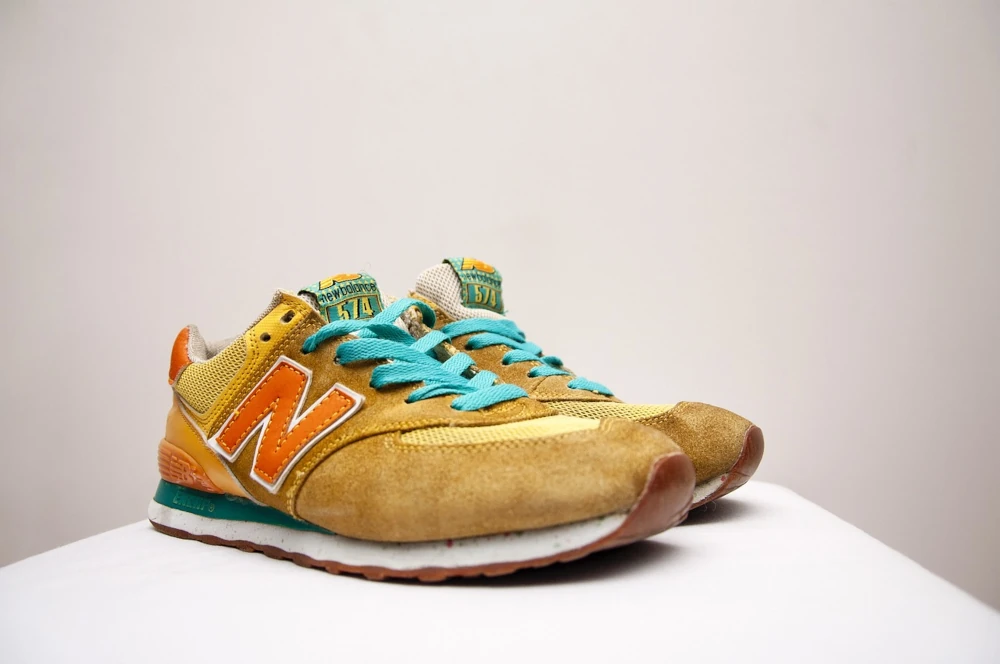 Converse: The brand has become known around the world as an iconic symbol of hipster style as well as cool everyday fashion offerings such as their classic canvas shoe designs as well as cool boots in bright colors and materials like leather or suede. They offer an endless supply of combinations perfect for whatever look you're going for daily.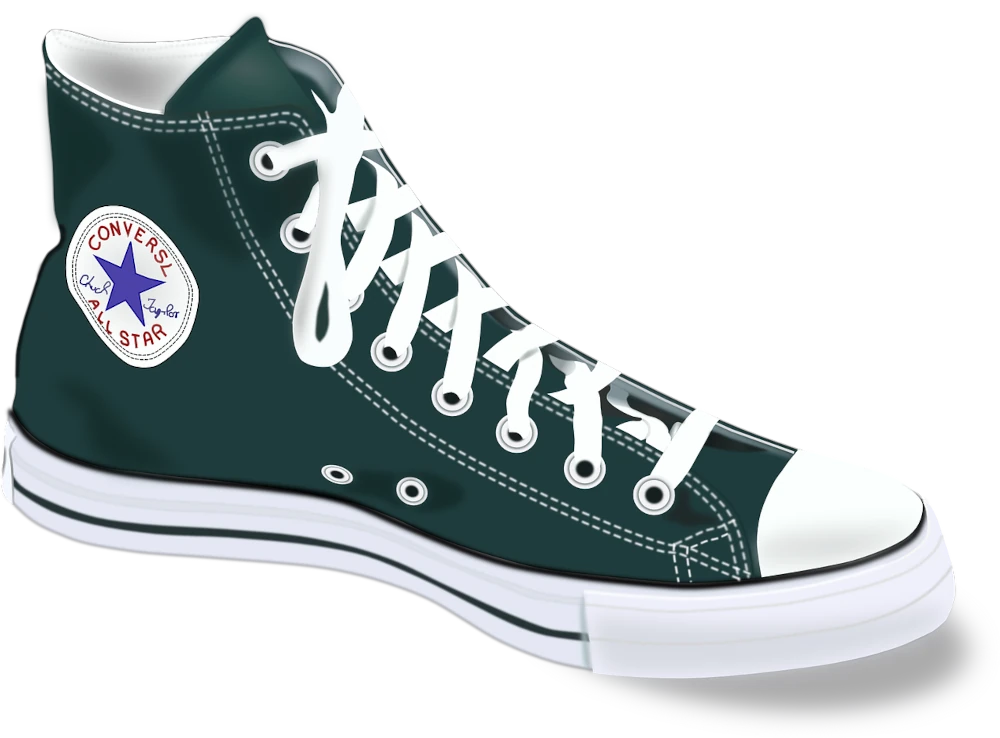 Check out our article about the famous accessories in the world. Converse shoes are there too.
Timberland: This company makes durable work boots designed to withstand the rigors of outdoor living yet still offer attractive style options perfecting for everyday errands around town or outdoor hikes over rugged terrain without sacrificing looks or comfort levels.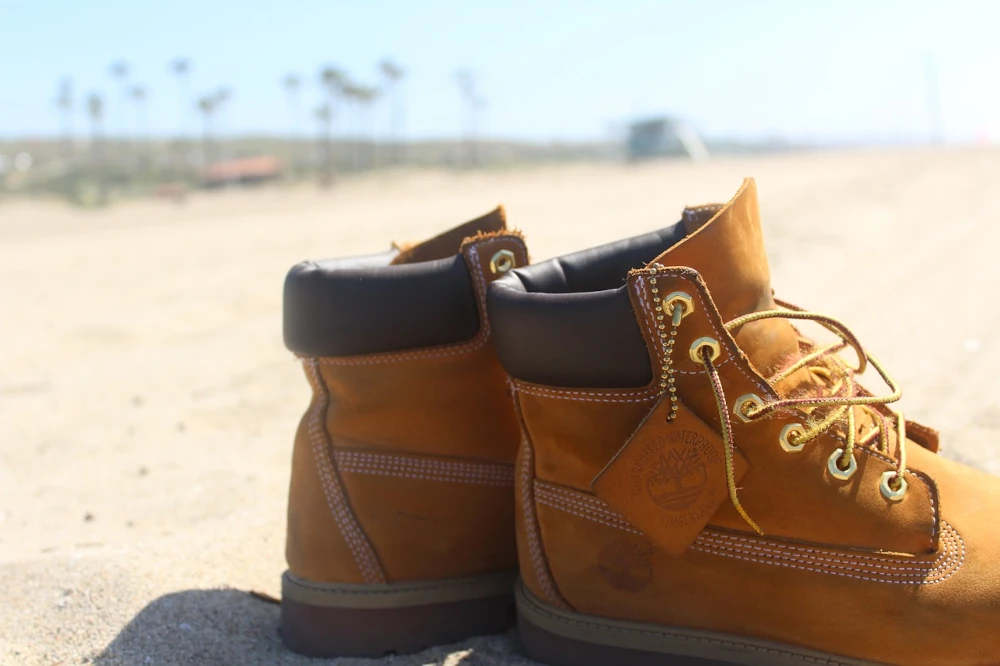 Latest Trends in Footwear for Men
The latest trends in footwear for men offer a wide variety of stylish and functional options. Whether you're looking for something casual or more formal, there are many types of shoes available for men to choose from.
Athletic shoes for men have seen a dramatic growth in popularity among men. They provide superior comfort, support, and durability. Athletic shoes are designed with breathable materials, gum rubber soles, and superior cushioning to make sure your feet stay comfortable on the go. Popular brands include Nike, Adidas, Reebok, and Puma.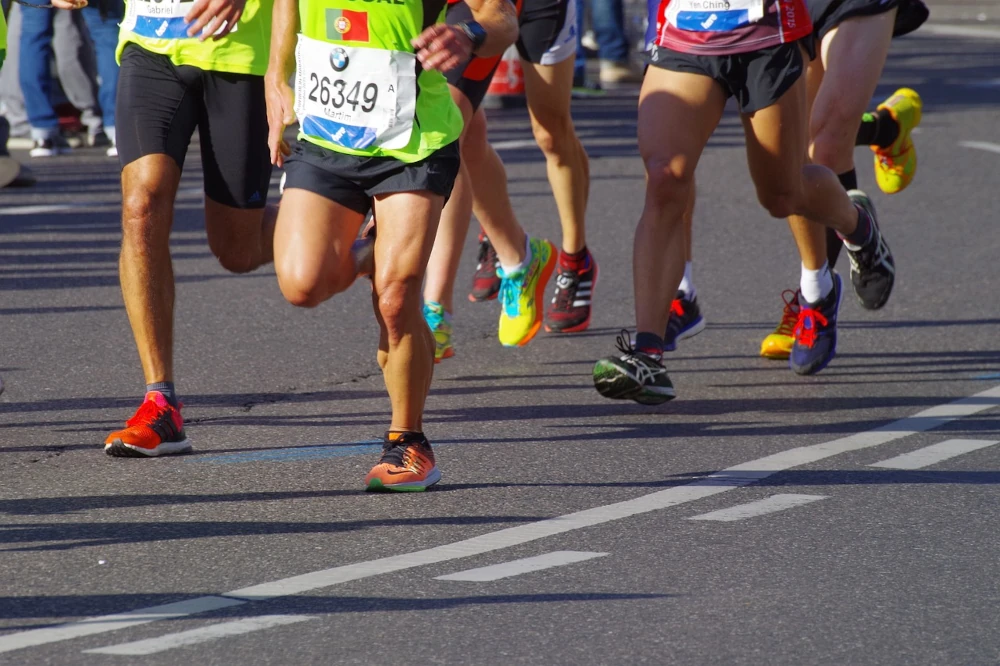 Casual shoes for men like sneakers, loafers, boat shoes, and sandals have been popular choices for men since the start of the 20th century. They can range from classic styles to contemporary designs in a variety of materials including leather, canvas, or technical synthetics that keep feet cool and dry.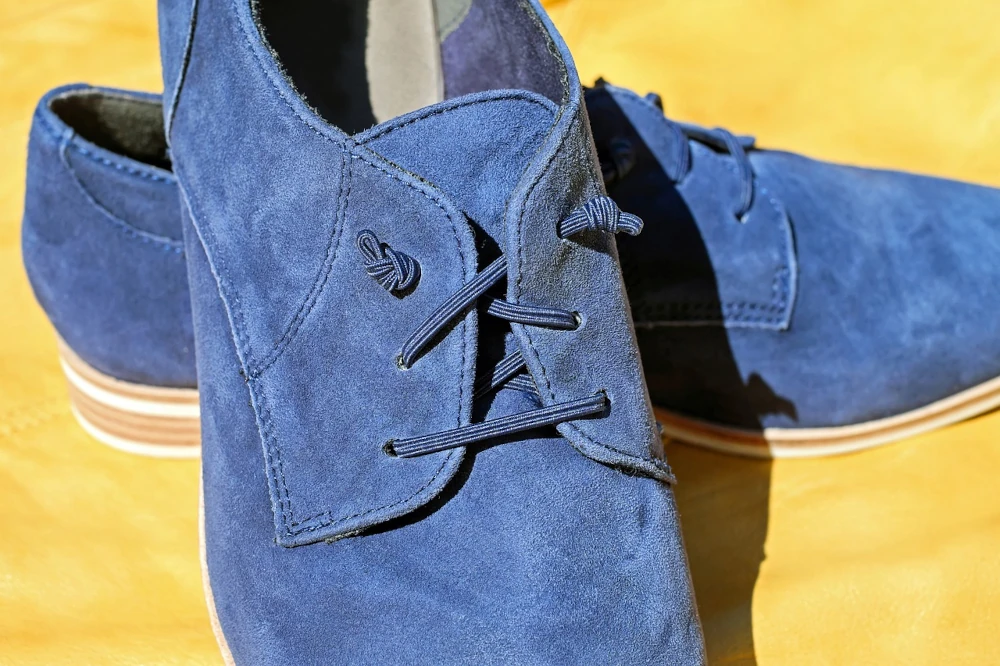 Formalwear includes dressier oxfords and loafers as well as modern boots like Chelsea boots or monk strap designs that add sophistication to any look. Made with fine leather uppers, these styles can be dressed up or down depending on the occasion.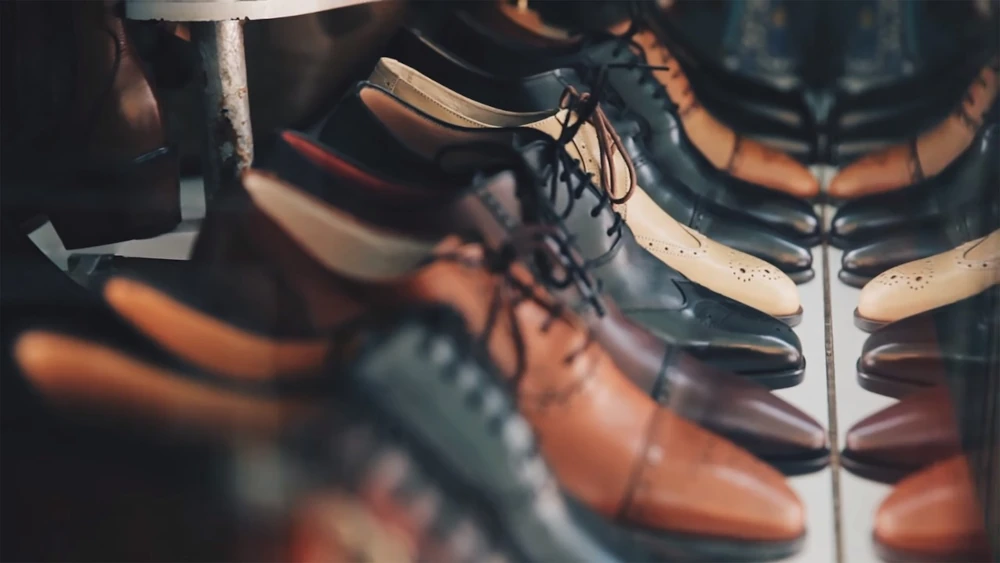 High fashion has also been taken into account when designing footwear for men so they can accessorize just like women do with bold colors such as deep reds and electric blues adorning futuristic silhouettes. Monochromatic looks allow you to streamline any ensemble and keep it cohesive from head to toe while still making a statement.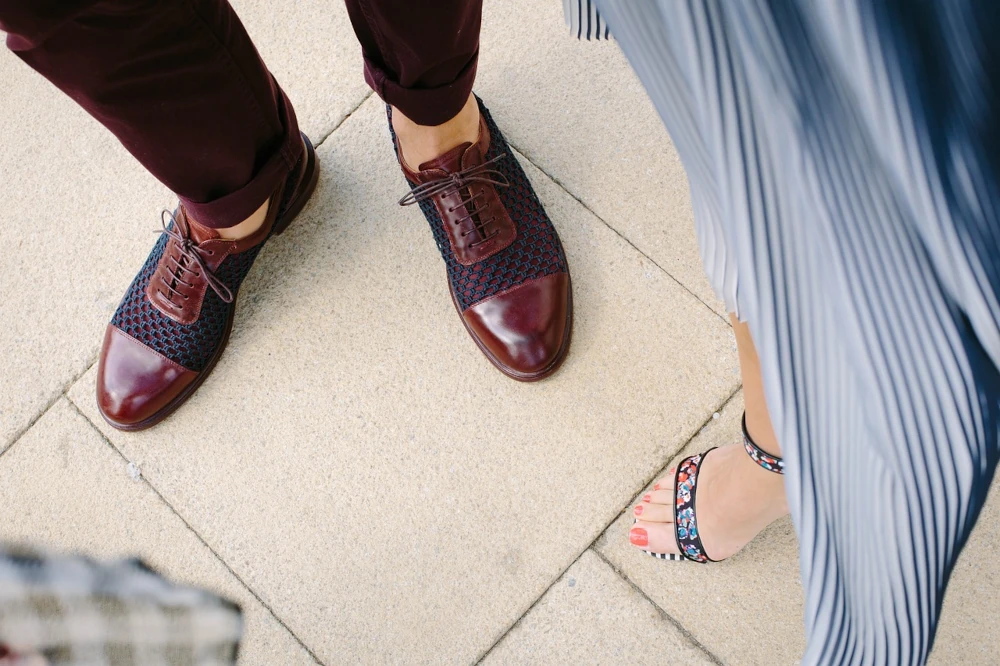 Frequently Asked Questions
What types of shoes for men are without laces?

Some common types of shoes for men that do not have laces include slip-on shoes, loafers, and moccasins. These types of shoes are often considered to be more casual and are perfect for wearing with jeans or chinos. Additionally, some men's dress shoes, such as oxfords and brogues, may have lace-up closures but also feature a slip-on design that allows the shoes to be easily slipped on and off.

What to wear with running shoes for men?

Running shoes are a type of athletic footwear that is specifically designed for use during physical activity, such as running or jogging. As such, they are typically worn with athletic or casual clothing, such as joggers, shorts, or sweatpants. Additionally, running shoes can also be worn with jeans or chinos for a more casual, everyday look. Ultimately, the best thing to wear with running shoes is whatever makes you feel comfortable and allows you to move freely.

Which men's shoe provides the most support?

When it comes to finding the best men's shoes for support, there are several factors to consider. First and foremost, you should choose a shoe with a sturdy, supportive sole that provides good arch support and cushioning. Additionally, the upper part of the shoe should fit securely and provide support to the ankles and instep. Some common shoe styles known for their support include athletic shoes, walking shoes, and hiking boots. It's also a good idea to choose a shoe that is designed for the specific activity you plan on doing, as different activities may require different levels of support. For example, a running shoe is designed for forward movement and may not provide as much support for lateral movement, whereas a cross-training shoe is intended for a wider range of activities and may provide more support.

What casual shoes for men are available?

Many different types of shoes can be considered casual for men. Some common examples include sneakers, loafers, boat shoes, and sandals. The significance of casual shoes is that they are comfortable and easy to wear, making them a good choice for everyday wear or more relaxed occasions. In general, casual shoes are less formal than dress shoes and are not typically worn with suits or other business attire. Instead, they are often paired with jeans, chinos, or shorts for a more laid-back look.

What are the best materials for men's shoes?

Common materials include leather (both genuine and synthetic), suede, canvas, mesh, and various synthetic blends. Leather is a classic choice for durability and style.

What's the best way to break into new shoes?

Wear them for short periods initially to allow your feet to adjust. Use blister pads or moleskin to prevent rubbing. Gradually increase wear time until they feel comfortable.

Are there any fashion rules regarding sock color with different shoe types?

Socks should complement your outfit rather than clash with it. For formal occasions, choose socks that match the color of your trousers. For casual wear, you have more flexibility to experiment with colors and patterns.
Conclusion
Finally, choosing the proper footwear for men may make or break an ensemble. It is crucial to consider both comfort and style when picking the appropriate footwear. Make sure to select footwear suitable for the occasion, such as dress shoes for formal occasions, everyday sneakers for casual usage, and sturdy boots or loafers if you expect to be doing a lot of walking.
With so many different types of shoes available to choose from, there is sure to be something out there that checks all the boxes — comfort, style, and practicality — when it comes to finding your perfect fit!
Let us know in the comments what we could add to this article. We will post articles that are related to each type of footwear for men. You can subscribe here so you don't miss any new articles.
Share this article
Our Latest Articles
Laoutaris Recommends