Men's belts are a necessary accessory that you must wear almost daily. They are not only keeping your pants in place but are a fashion statement and complete your outfit
Table of Contents
The article was last updated on 4 May 2023. The average reading time is 9 minutes
Belts are one of the oldest accessories and have existed since people wear clothes. First, they were used for carrying tools and weapons but later they were mostly used to secure pants, shorts, and skirts.
There are several types of belts today. Below you can find all of them and we will explain when and why to wear them.
Check out our article about gloves for men. Complete your look with style.
Casual Men's Belts
One of the popular everyday belts is the casual belt. They are made of nylon or any other lightweight material like cotton, woven, elastic, and canvas. Casual belts can also be made of leather or faux leather.
You can wear casual belts with jeans, shorts, or any other casual outfit.
Color Woven Belt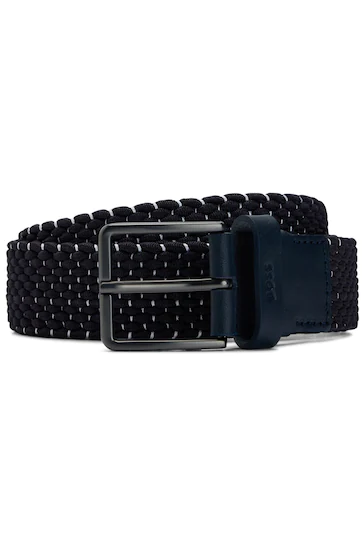 Pros
The multi-color everyday belt for a casual outfit
All the sizes
Made by Boss
Cons
A very good quality belt that will never bring you down.

Check it out at next.co.uk
Dockers® Reversible Stretch Casual Belt
Reversible belts are a practical option that offers versatility. They come with two different colors or patterns on each side, allowing you to switch up your look easily. Reversible belts are perfect for traveling or for those who want to get the most out of their accessories.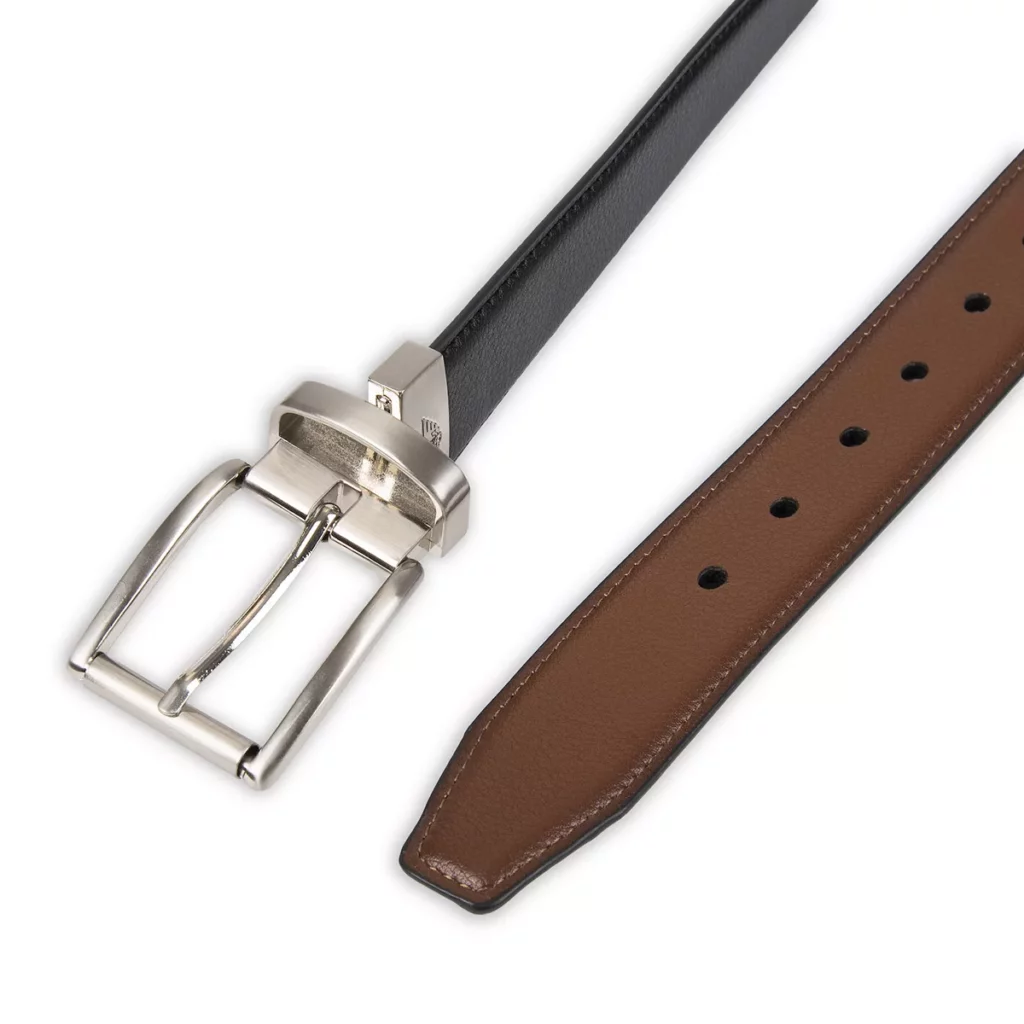 Pros
Adjustable
Reversible
Good price
Man-made leather
Cons
It is a stretchy belt, give it some time to get used to it.

Check it out at kohls.com
Do you want to pair belts with hats? Check out our article about different types of men's hats.
Braided Men's belt
Another popular type of men's belt is the braided belt. This belt is popular because you can fasten your waist at any point you like. They suit well with casual clothes like jeans, shirts, and trousers.
Black braided leather belt
Braided belts are a unique option that adds a touch of character to an outfit. They are typically made from leather or fabric and come in a variety of colors and patterns. Braided belts are perfect for adding a pop of color to an outfit and can be worn with both casual and formal outfits.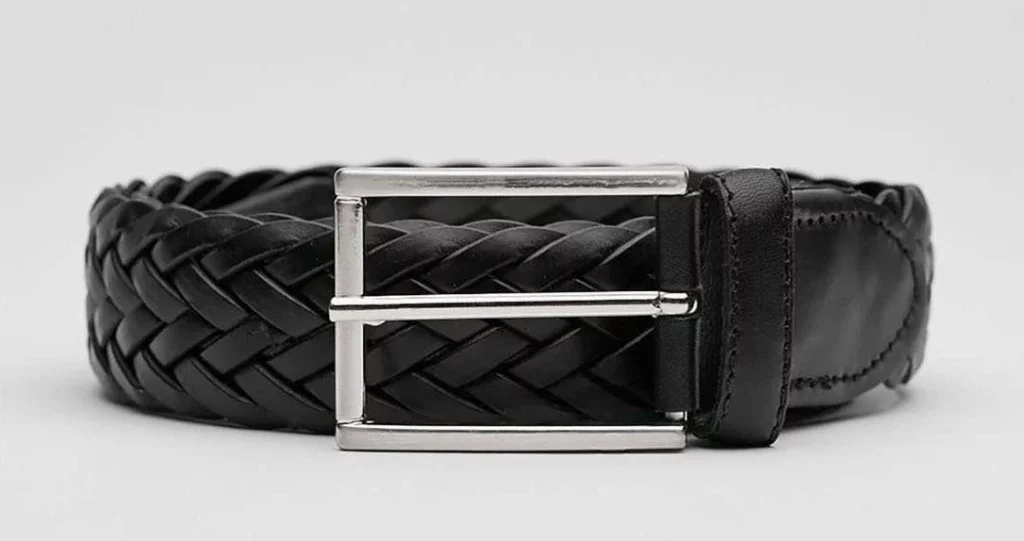 Pros
Material: leather
Different sizes
Good price for a leather belt
Many different colors and designs with similar prices
Cons
More of a casual style. Don't wear them with a suit

Check it out at johnhenric.com
Leather men's belts
Leather belts are a classic choice that will never go out of style. They are versatile and can be worn with both formal and casual outfits. When choosing a leather belt, look for high-quality leather that will age well over time. A good leather belt will last for years and will only get better with age.
You will always be required to have at least one leather belt. Choose the color, buckle, and length depending on your style and waist size. Black and brown color belts are the best because you need to pair them with the same color of shoes.
Check out our article about scarves for men. Complete your look and feel amazing.
Tommy Hilfiger Denton Leather Belt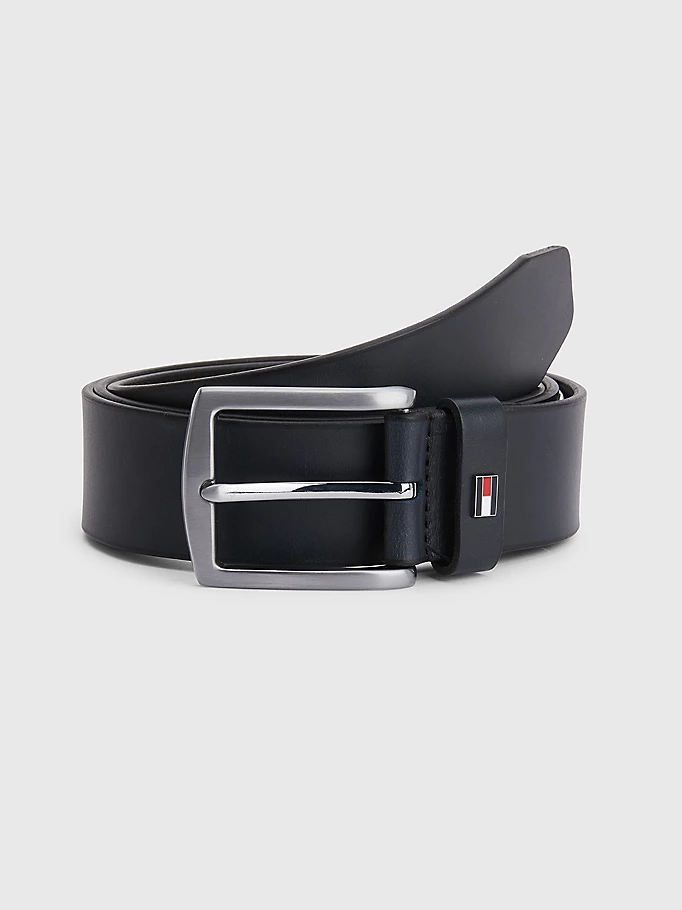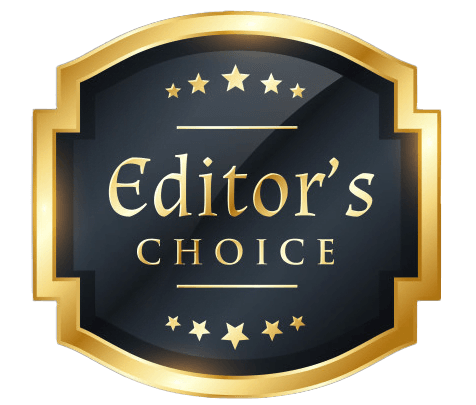 Pros
100% leather
All sizes
Many different colors, including black, brown, organic leather, white, Testa di Moro, and desert sky
Good price
Cons
If you do not like the Tommy Hilfiger flag, there are more designs to choose

Check it out at uk.tommy.com
Boss Italian Leather belt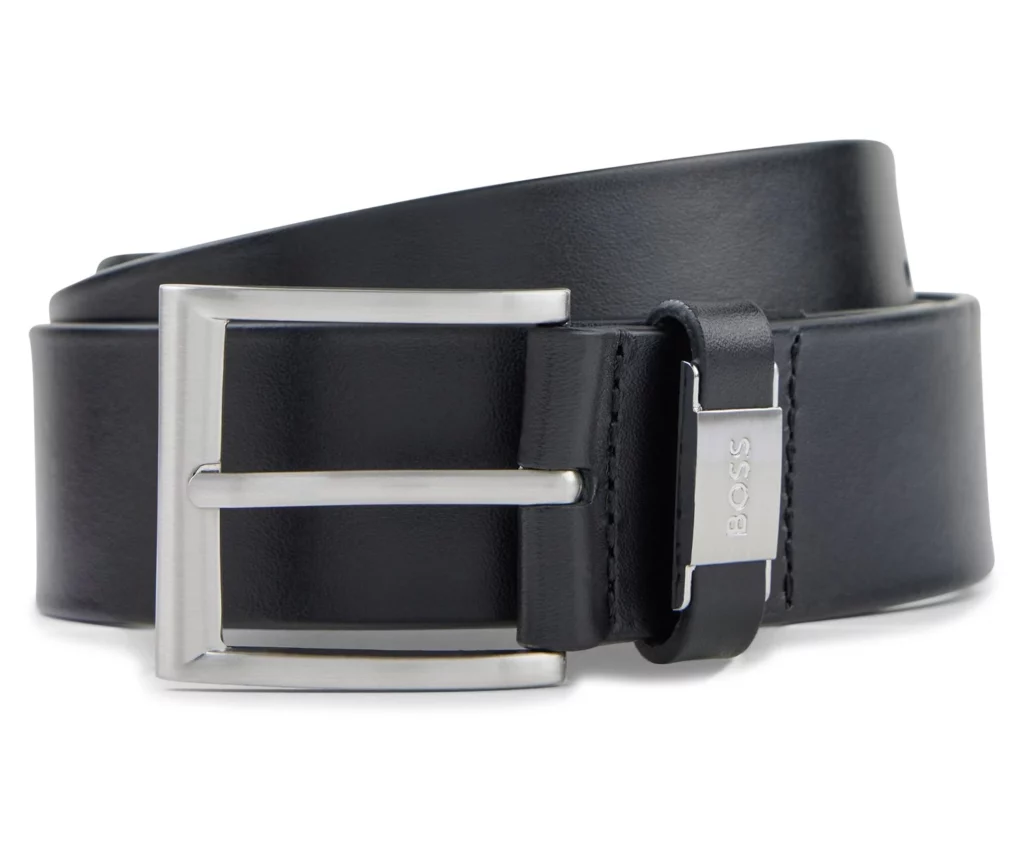 Pros
They are 3 basic different colors, black, dark brown, and brown
Italian leather with a nice touch of patina
Engraved Boss logo
The average price for a leather belt
Cons
Just buy it

Check it out at hugoboss.com
Suspenders of belts? What to choose? Read our article about suspenders for men.
Dress men's belts
You will need to have at least one dress belt in your wardrobe. Dress belts are usually made of high-quality leather and are needed in events like weddings, funerals, or any other big social event.
Keep in mind that you need a brown belt if you are wearing a blue suit and a black dress belt for your black suit.
Check also our article about suit accessories
Dillard's oiled dress belt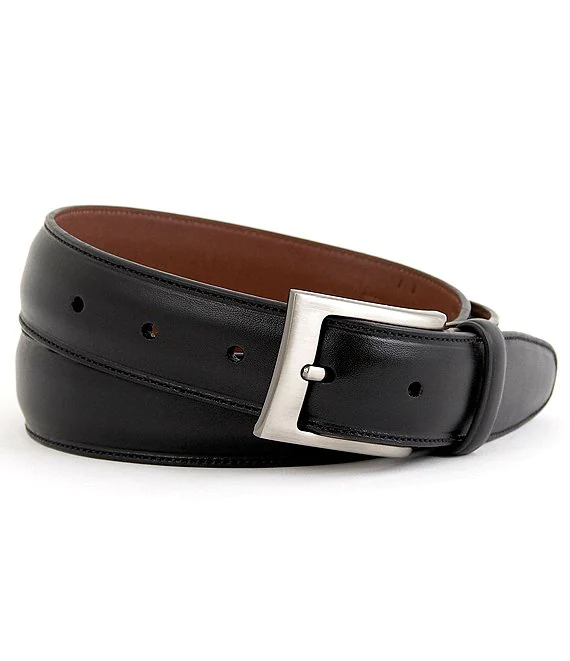 Pros
Black and brown color
Oiled full grain
Gunmetal buckle
Good price
Cons
If you need a dress belt buy it now

Check it out at dillards.com
Polo Full-Grain Leather Belt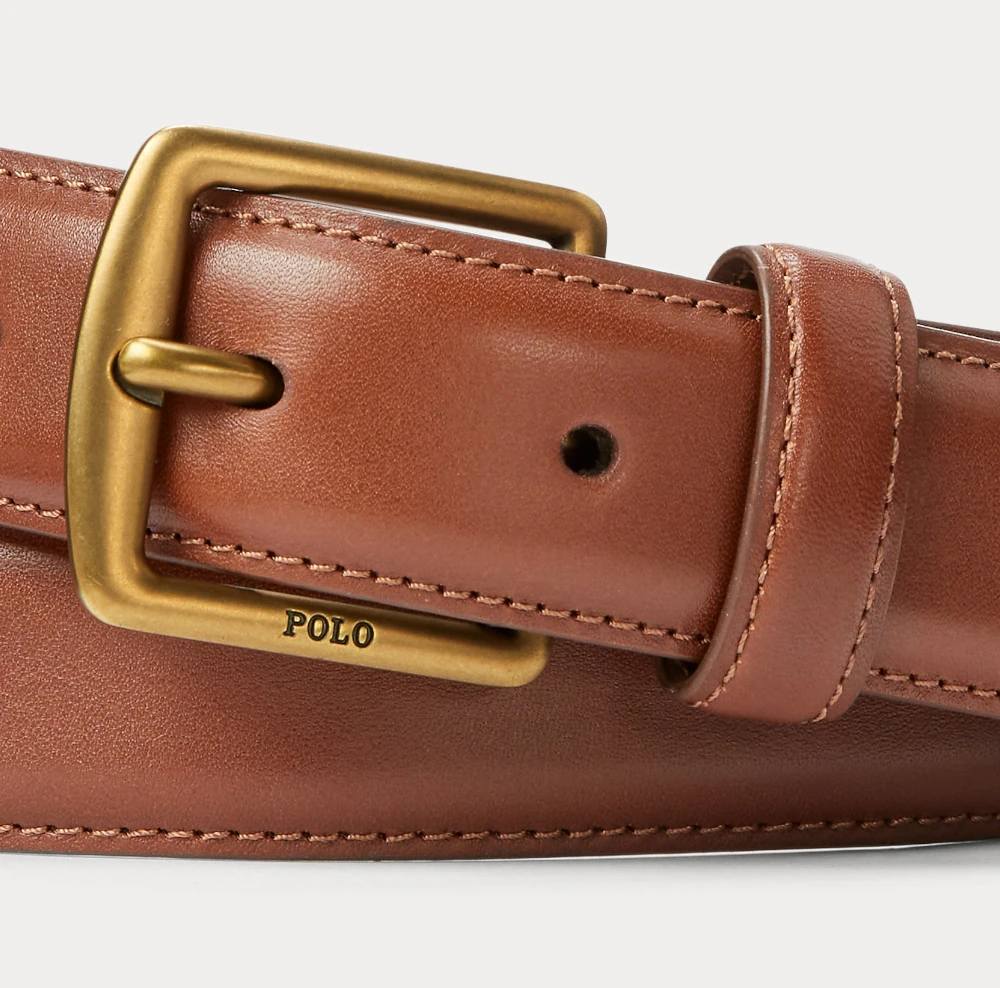 Pros
Brown and black color
Full grain leather
Logo on buckle
Cons
Price above average

Check it out at ralphlauren.co.uk
With a nice leather belt, you want to wear a nice tie also. Read our complete article about ties for men.
D-ring men's belts
For a casual belt, you can also try a D-ring design belt. They are usually made of canvas or other lightweight materials.
Wear them with your jeans, work pants, or any casual outfit
D-ring Buckle Canvas Belt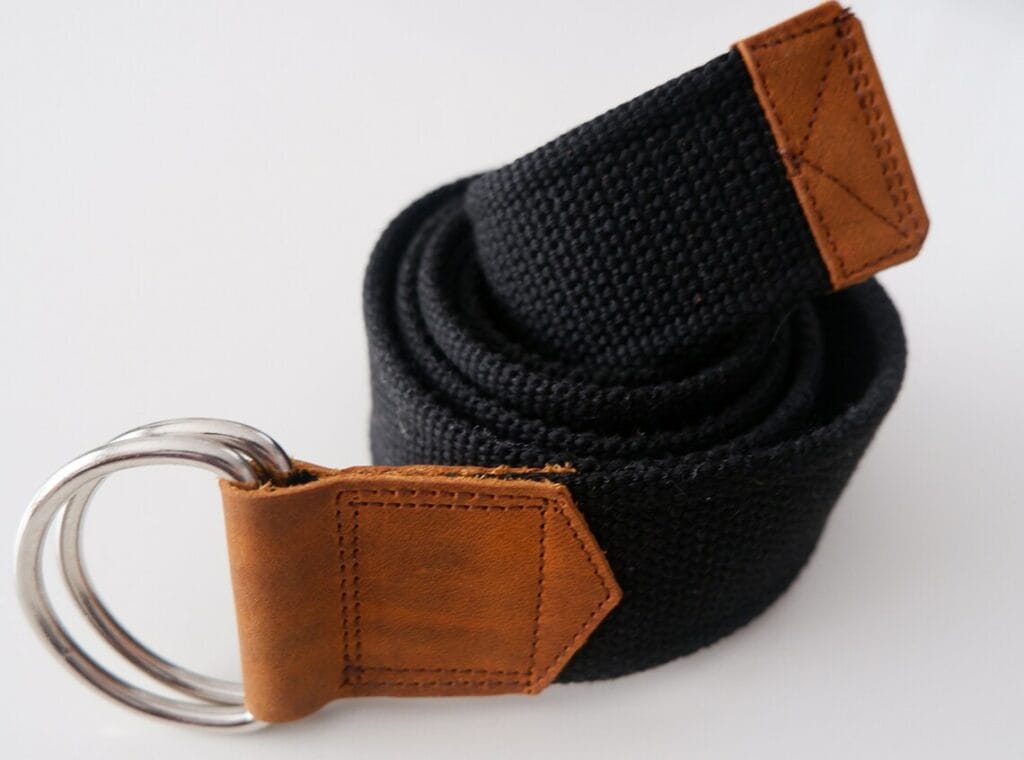 Pros
Thick canvas material
6 different colors
Sizes up to 66 inches in length
Good price
Cons
Only for a very casual outfit. Military style.

Check it out at etsy.com
Suede Men's belts
Suede belts are a stylish option that adds a luxurious touch to an outfit. They are typically made from high-quality leather and have a soft and supple texture. Suede belts are perfect for pairing with jeans or chinos for a casual yet sophisticated look.
Brown suede men's belt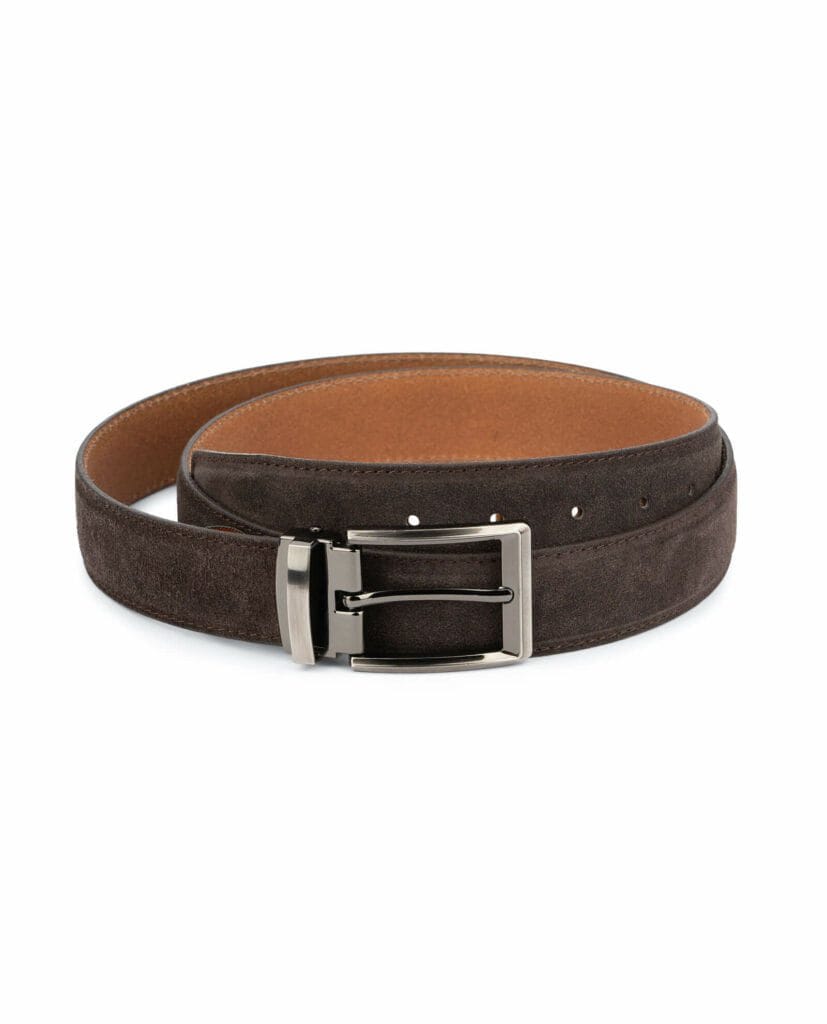 Pros
Made of 100% Italian genuine suede leather
3.5 cm wide
Made in Italy
Sizes up to 44″ (110cm)
Cons
For casual style. Check for discounts before buying

Check it out at leatherbeltsonline.com
Valentino Garavani Reversible Leather Belt
For the last belt, we have something different. A Valentino Garavani belt with an extraordinary design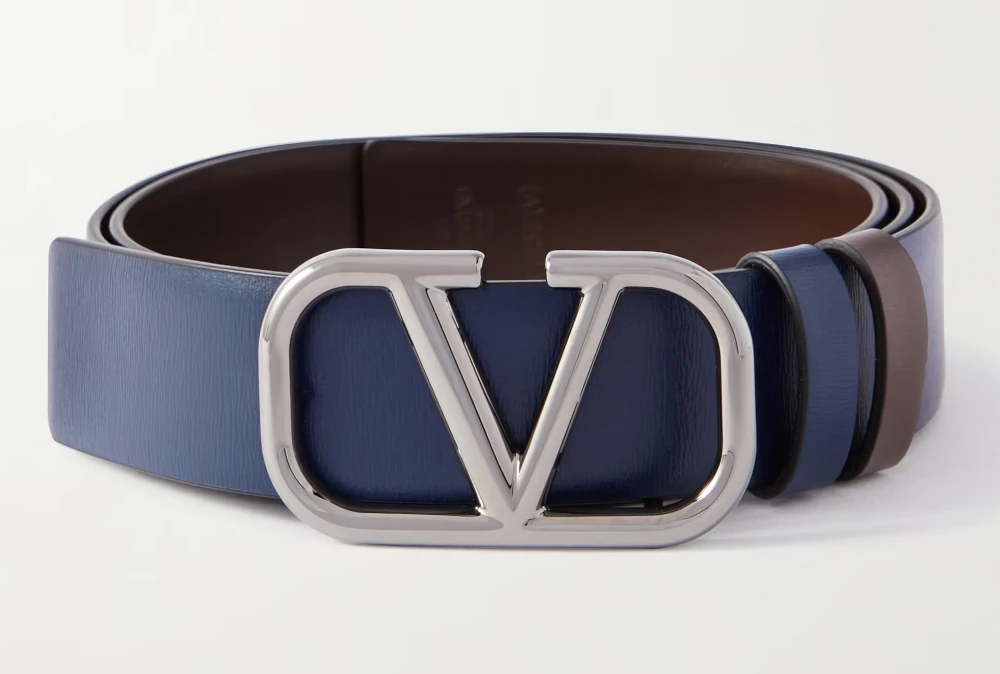 Pros
Reverses in Navy and brown leather.
Designer belt with a V logo on the buckle
Fits true to size
Cons
Designer accessories are always high in price. This belt is not an exception

Check it out at mrporter.com
Frequently Asked Questions
How do you determine the men's belt size?
You can add 2 inches to your pants size to be sure. Or simply take one size larger than your trousers.
How thick should a man's belt be?
For formal occasions choose a belt around 1″-1.5″. For the casual belt choose from 1.5″ to 1.75″. One inch is 2.54 cm, so the formal belt from 2.5cm to 3.75cm, and the casual belt from 3.75cm to 4.5cm, Don't wear wider belts, they are only for special occasions, like work forms or military applications.
How long do leather men's belts last?
Depending on the thickness and quality of the belt it can last from 5 to 15 years maximum. Some belts are thick enough to last more but they are not so comfortable for daily use. Also, keep in mind the buckle needs to be attached strongly to the belt.
What are some different styles of cool belts for men?
There are many different styles of cool belts for men, including leather belts with unique buckle designs, woven fabric belts in various patterns and colors, canvas belts with metal accents, and braided belts made from materials like suede or leather.
How do I know what size belt to buy?
It's important to measure your waist before purchasing a belt. Most belts are measured from the end of the buckle to the middle hole. For the best fit, choose a belt that is one size larger than your waist measurement.
Can I wear a dress belt with casual outfits?
It's not recommended to wear a dress belt with casual outfits as it may look out of place. Instead, opt for a more casual belt such as a woven or braided belt.
Are reversible belts a good option?
Reversible belts can be a good option as they offer versatility and can be worn with multiple outfits. However, it's important to ensure that the reversible side is of the same quality and material as the primary side.
How do I care for my leather belt?
To care for your leather belt, wipe it down with a damp cloth and mild soap. Avoid using harsh chemicals or soaking the belt in water. Apply a leather conditioner every few months to keep the leather soft and prevent cracking.
Can I wear a belt with suspenders?
It's not recommended to wear a belt with suspenders as it may look too busy and redundant. Instead, choose one accessory to complete your outfit.
How do I choose a belt for formal occasions?
For formal occasions, opt for dress men's belts made of leather in a neutral color such as black or brown. Avoid belts with large or flashy buckles as they may draw attention away from your outfit.
What are some popular buckle styles for men's belts?
Some popular buckle styles for men's belts include standard buckles, D-ring buckles, and box buckles. Standard buckles are the most common and have a classic look. D-ring buckles are more casual and provide a secure fit. Box buckles are typically used on dress belts and have a sleek, polished appearance.
Conclusion
Well, here are the most popular belt types in the market. Any other belts like studded, Thin leather, or canvas web belts are not recommended.
Let us know in the comment what type of belts you have in your closet.
Our Latest Articles
Laoutaris Recommends