Necklaces for women are accessories that come in different sizes and shapes. There are all kinds of necklaces available for everyday use and special events. Whatever your style or budget is, you can find many different ideas to make you look and feel amazing.
Table of Contents
The average reading time is 7 minutes
Different types of necklaces for women
Pendant necklaces for women
If you want to show your personality and be unique, you can wear pendant necklaces. The variations are many, so choose what you like and match your style. There are many trends, check out 2 of our picks.
Kate Spade Pendant Necklace.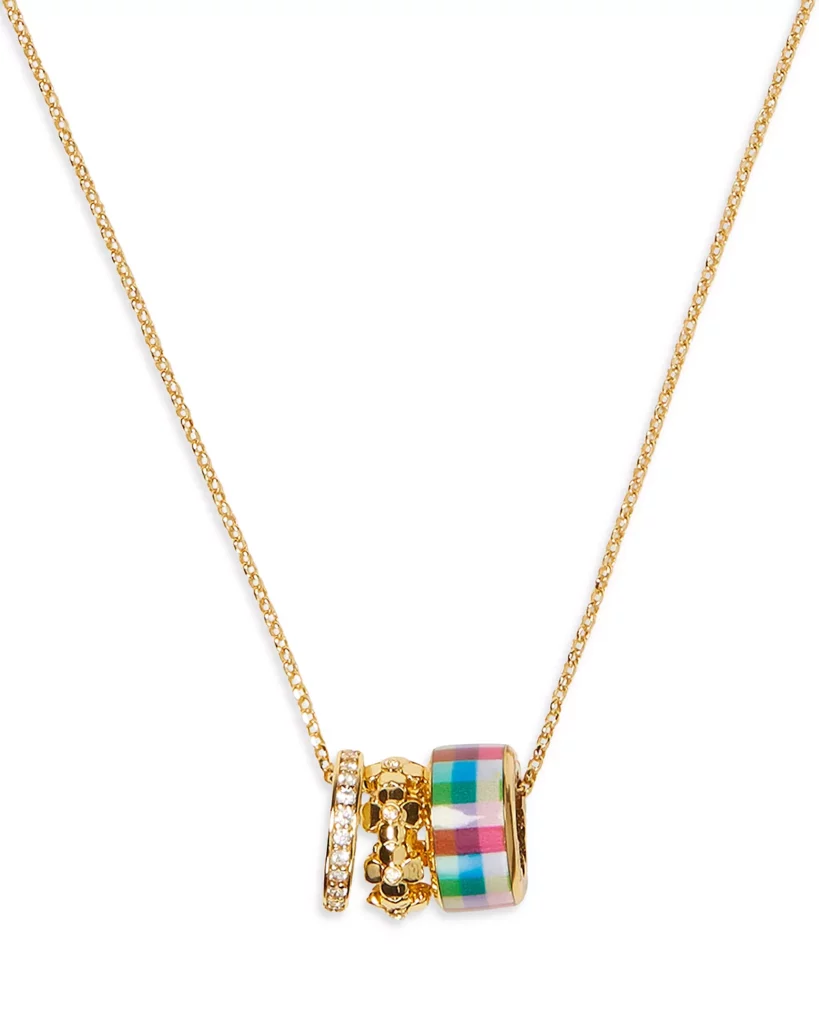 Kate Spade New York mini pendant necklace.
Pros
14K gold plated with cubic zirconia
17″ length
Lobster clasp closure
Great price
Cons
It is called mini for a reason. If you like something small and fancy it is a very good choice

Check it out at bloomingdales.com
Match your necklace with a pair of earrings. Check our article about women's earrings.
2. Pure Luxuries London Necklace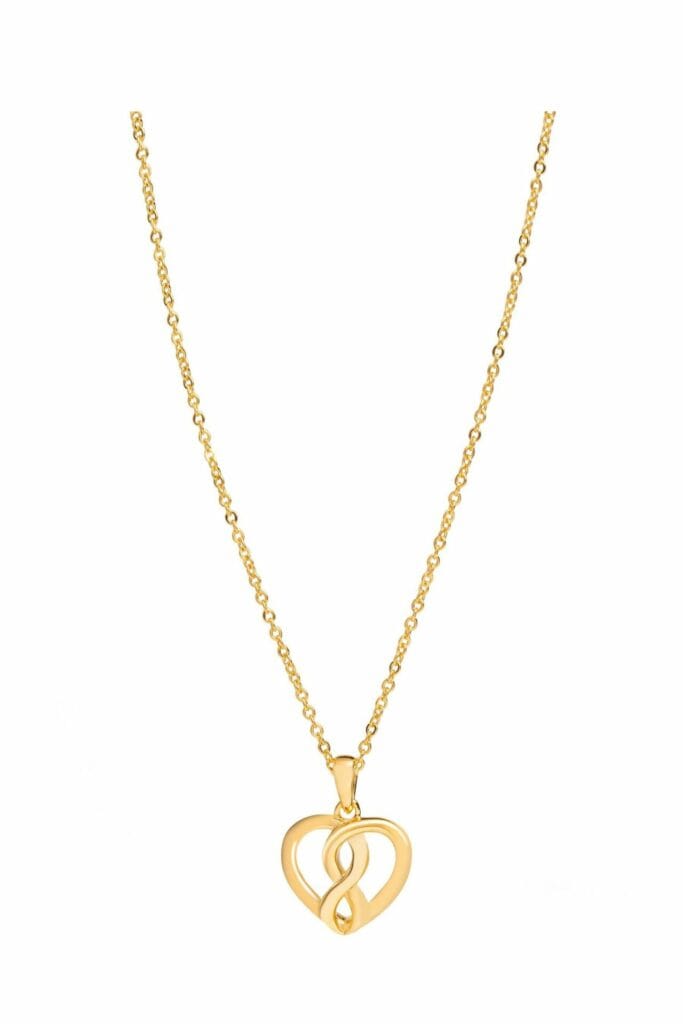 Pure Luxuries London Cirillo Yellow Gold Plated Silver Woven Heart Necklace
Pros
18ct yellow gold plated 925 Silver
Unique clasp with adjustable length
A nice heart design with a slim chain
Good price
Cons
Nothing too fancy or expensive. You can wear this every day.

Check it out at next.co.uk
Choker necklace for women
A choker necklace is famous because all the famous actresses were found to wear them.
From simple velvet to diamonds, gold, or even leather. The choice is yours.
Want to see Queen Elizabeth's jewelry? Check our article.
3. Missoma Moonstone Choker Necklace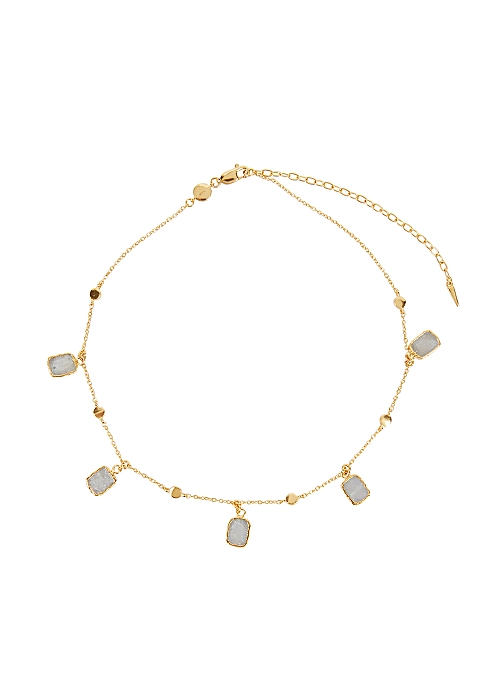 Missoma moonstone 18K gold choker
Pros
18K gold vermeil
Moonstone charms
Adjustable lobster clasp
Cons
The price is average, but the 18K vermeil gold is a good choice

Check it out at harveynichols.com
Check to see our article about women's bracelets.
4. MisBHV Choker Necklace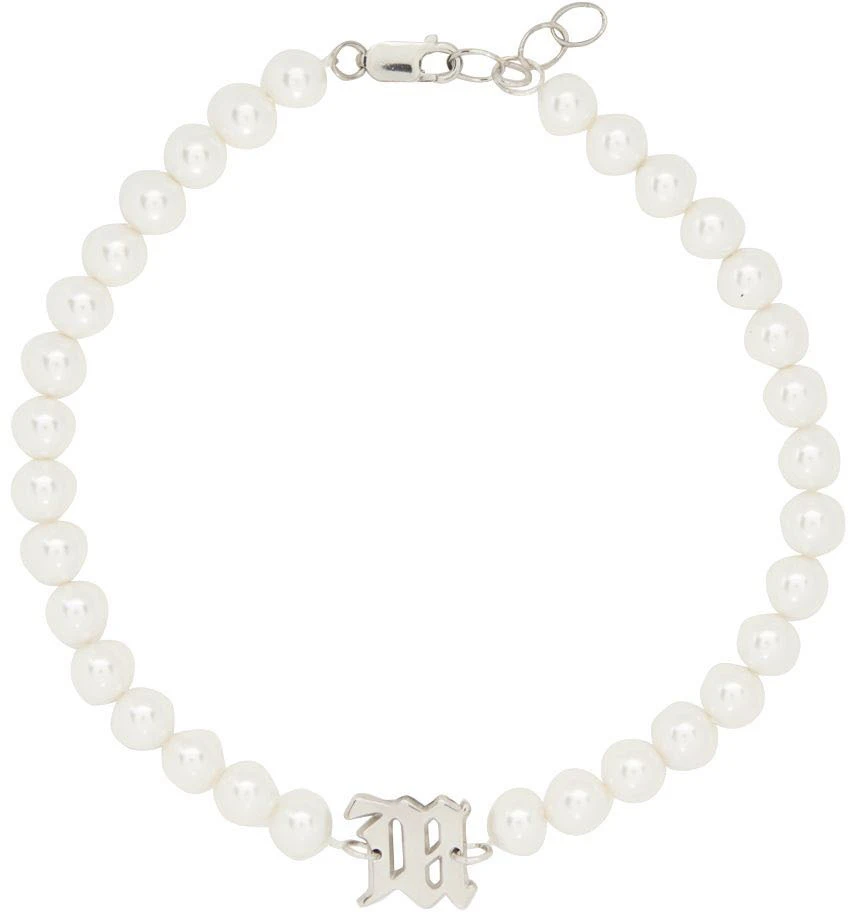 MisBHV White Pearl Choker Necklace
Pros
White shell pearl necklace. Always trendy
Sterling silver plated
Adjustable lobster clasp
Various sizes
Cons
The price is above normal considering the quality of the pearls.

Check it out at ssense.com
Check out our article on why pearl necklaces are timeless accessories women should own.
Charm necklace for women
5. Arctic Symphony Necklace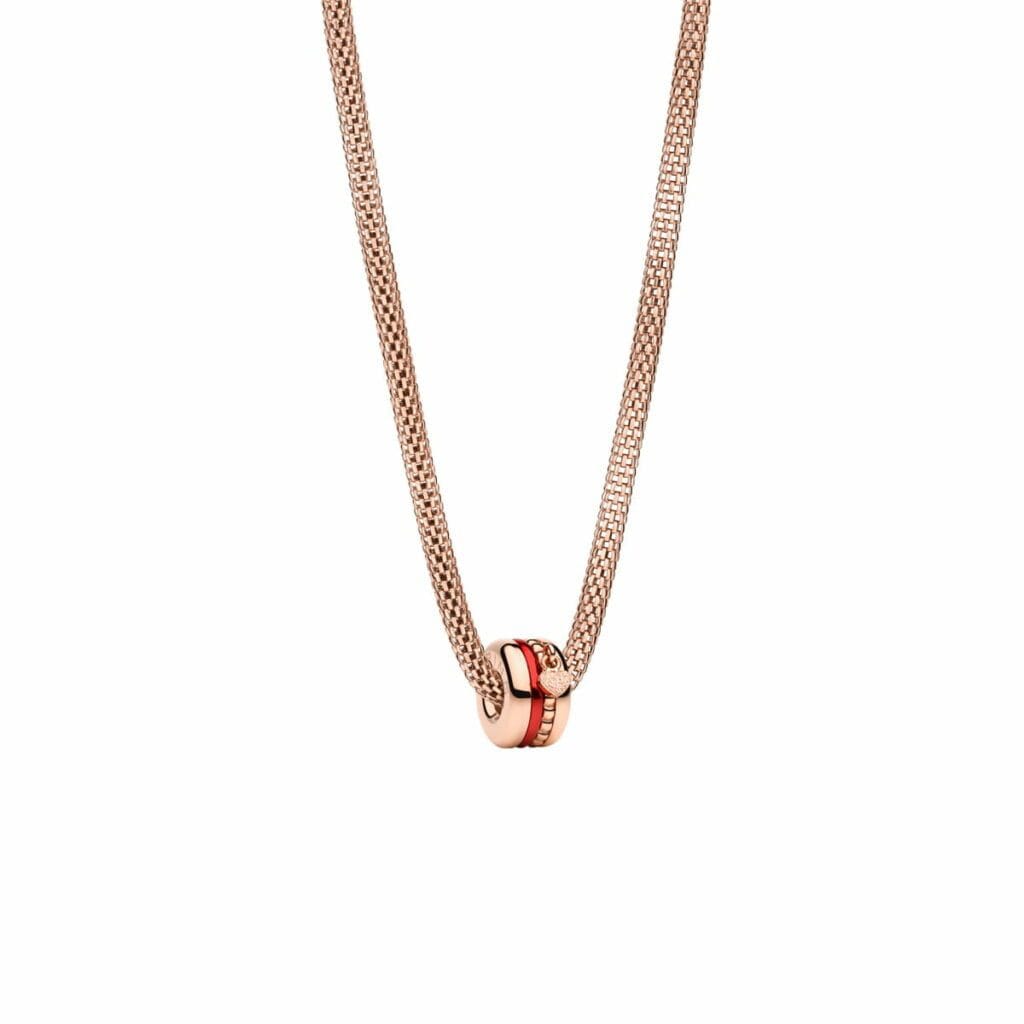 Arctic Symphony, polished rose gold necklace
Pros
Unique design.
Stainless steel material
Free shipping
Cons
Not anything of value. But the design made it to our list.

Check it out at beringtime.com
Opera necklace for women
6. Japanese Akoya Pearl Necklace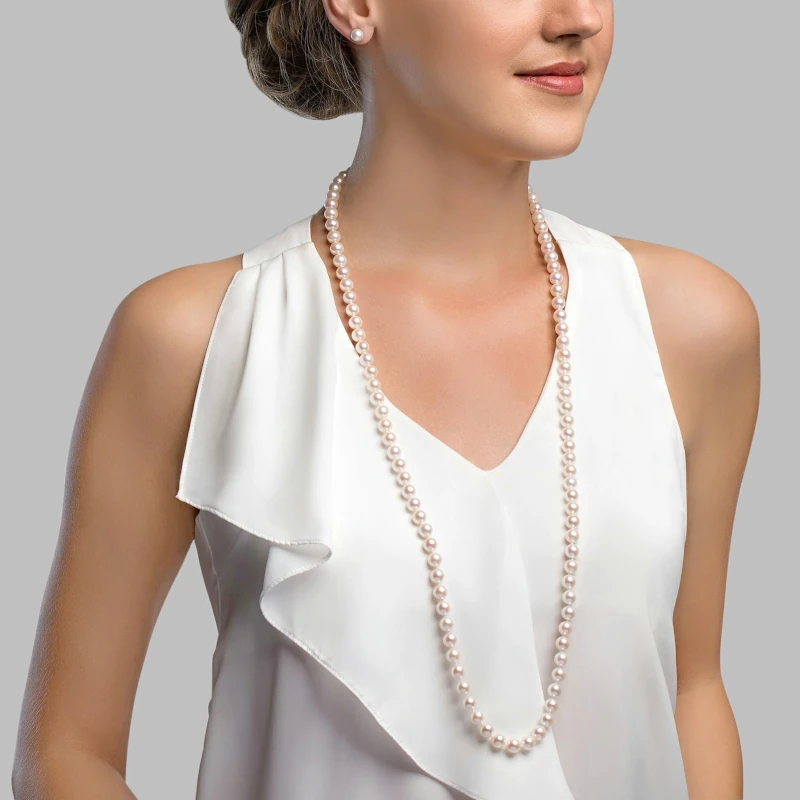 Opera-length Japanese Akoya Pearl necklace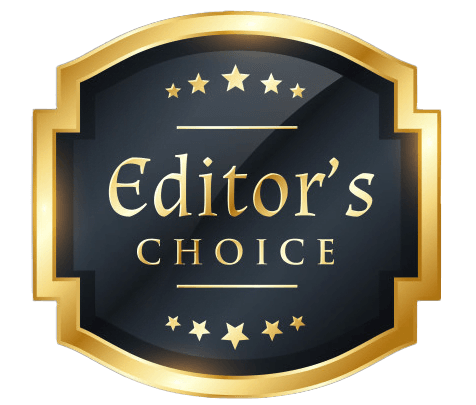 Pros
36″ Opera length
Various clasp options
You can select pearl size and quality
Certificate of Authenticity
Cons
Absolute magic necklace. Our top pick

Check it out at thepearlsource.com
Locket necklace for women
7. Mejuri Pearl Necklace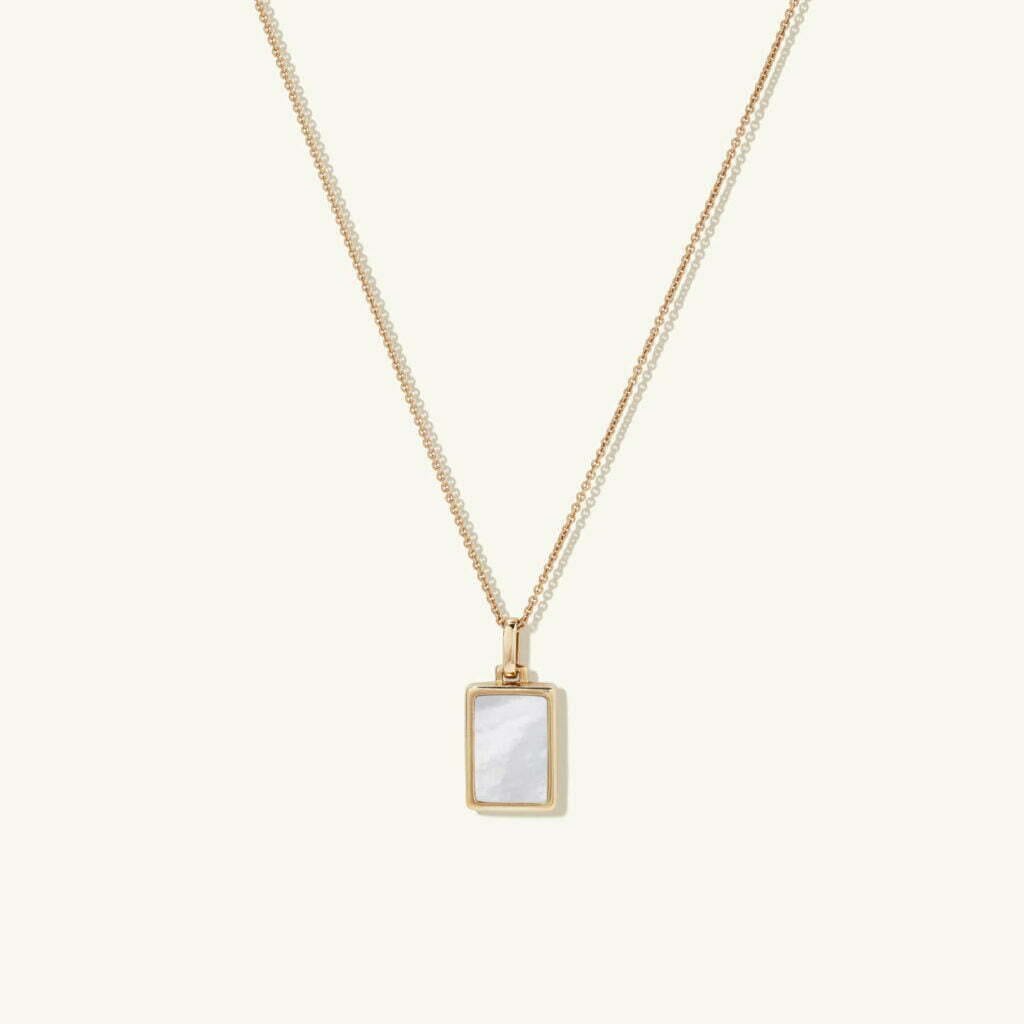 Mejuri Pearl rectangle locket necklace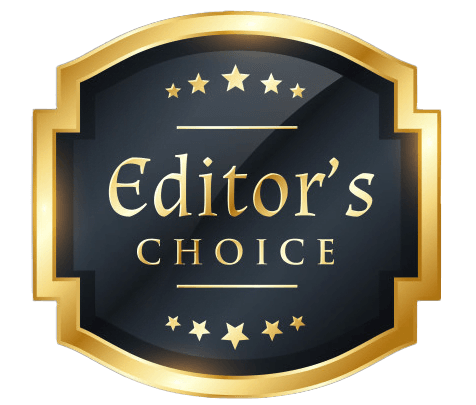 Pros
18K gold vermeil
Custom engraving
Fair pricing
Cons
It is our favorite locket necklace

Lariat necklace for women
8. Freshwater Pearl Lariat Necklace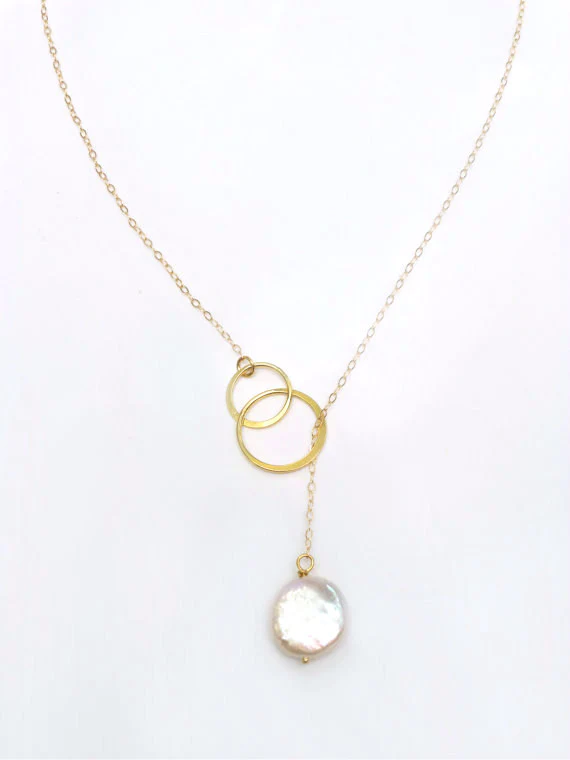 Freshwater Pearl Lariat Necklace
Pros
Sterling silver or gold
Choose a length from 18-22″
The chain is 14K gold-filled or sterling silver
Cons
No information on the pearl quality.
Extra note: Lariat necklaces usually need to be ordered an extra inch or two longer than the standard necklace size that normally fits you – this creates the drop section of the chain.

Check it out at etsy.com
9. Moon and Star Lariat Necklace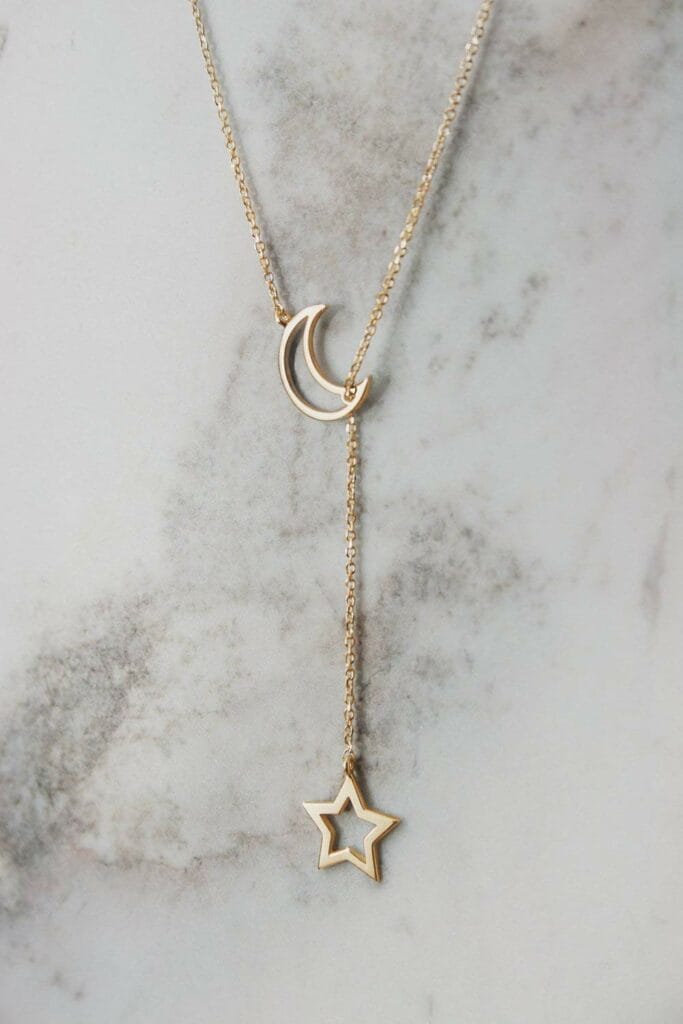 Moon and Star Lariat Necklace with various options.
Pros
Made from 9K, 14K, or 18K solid gold
Option for various chain length
Gold color: yellow, white, or rose gold
Check for extra 10% promotion
Cons
Moon and star are approx 1cm x 1cm. Small but beautiful

Check it out at amazon.com
10. Princess Diamond Necklace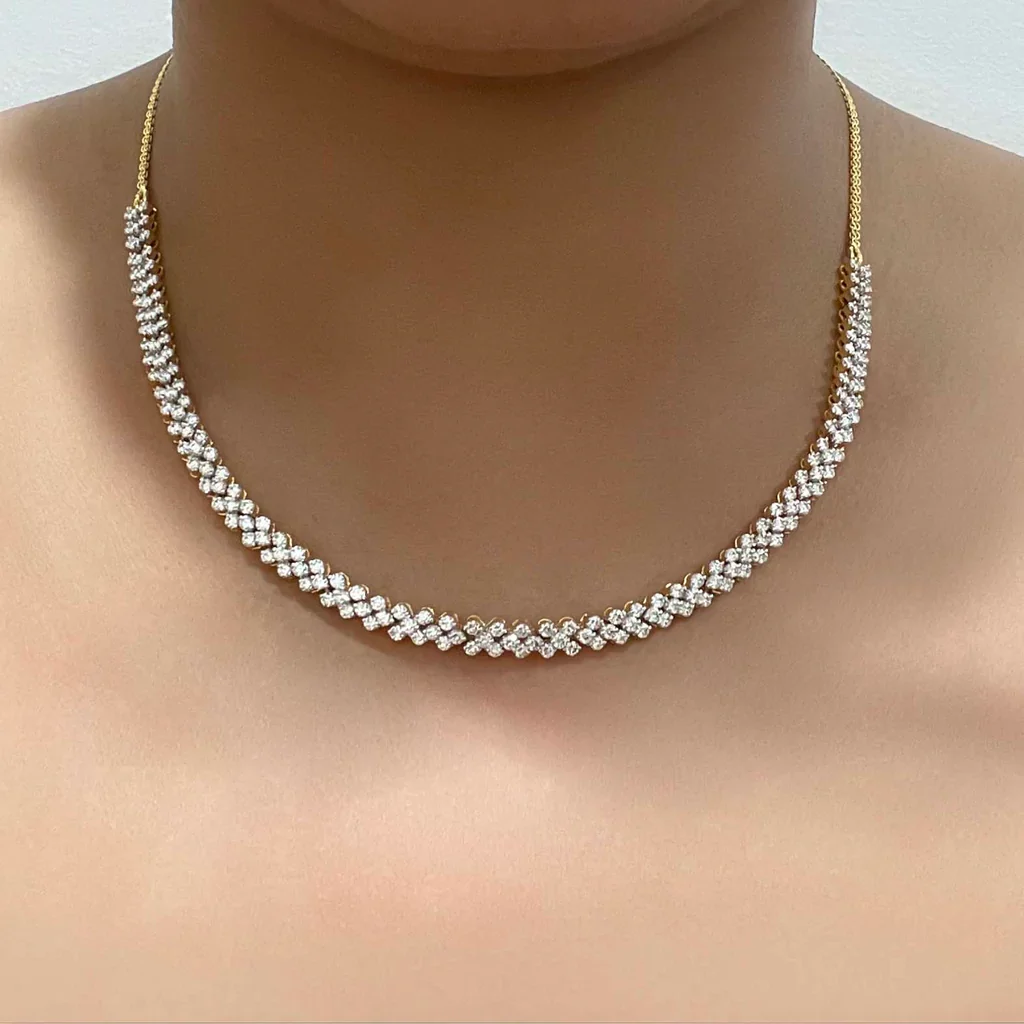 14K Yellow Gold Princess Women Diamond Necklace
Pros
14K Yellow gold
Total Diamond Carat Weight approx 6.36ct
Average diamond Clarity SI
Average diamond Color I-J
Different designs with similar prices
Cons
A Princess diamond necklace with a princess price.
Diamond quality is average but the necklace looks amazing

Check it out at rbdiamond.co.au
Want to learn what are the most famous diamond necklaces in the world? Check our article about famous diamonds.
Chain Necklaces for women
11. Simply Silver Small Rope Chain Necklace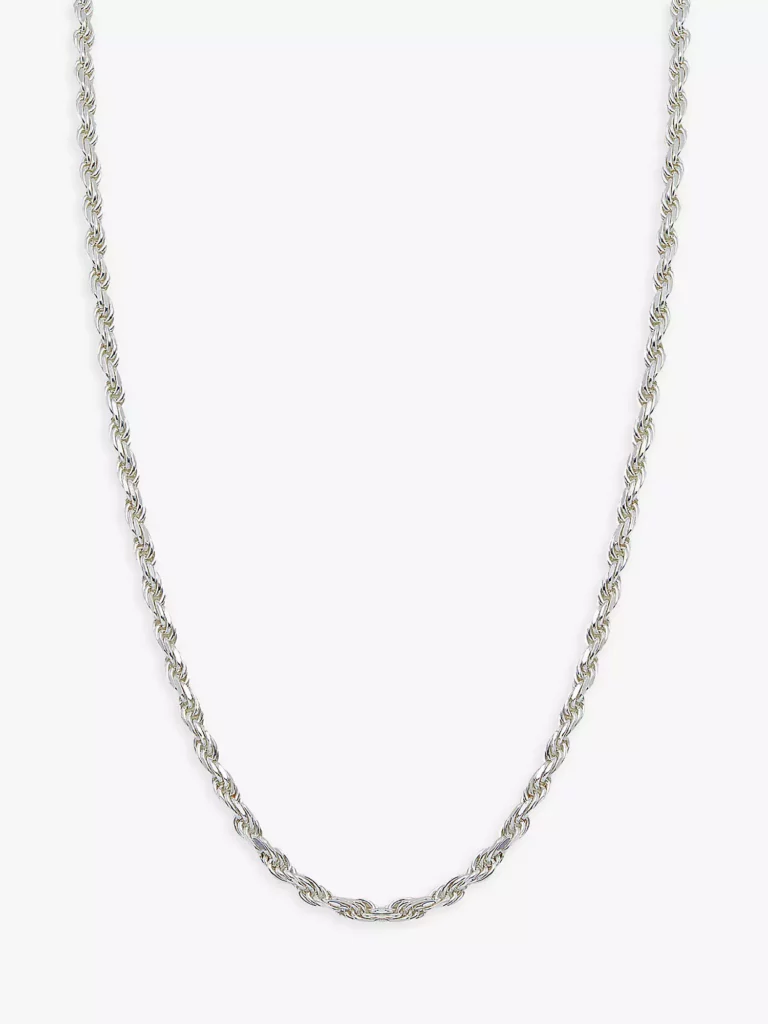 Simply Silver Small Rope Chain Necklace from Sterling Silver
Pros
Sterling Silver
Lobster clasp secured
Chain length 38cm
Good price
Cons
Casual style only

Check it out at johnlewis.com
12. Link Chain Necklace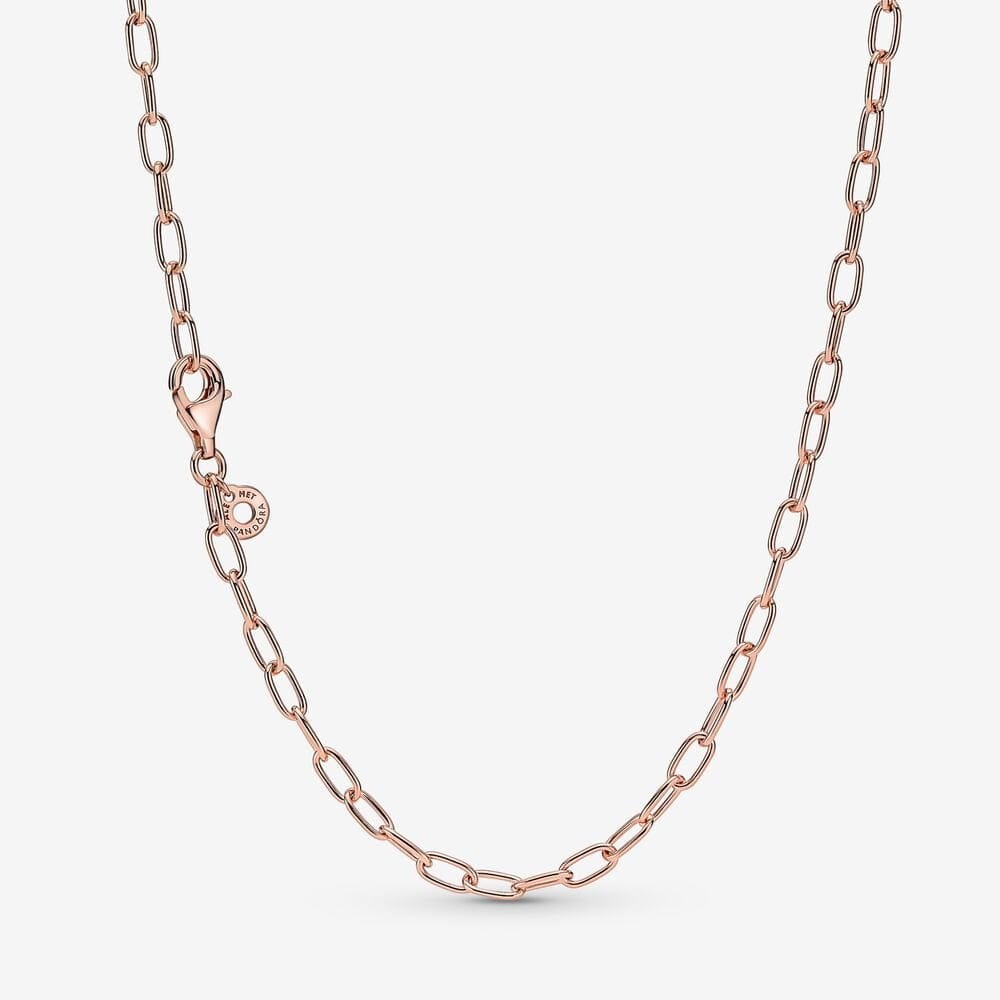 A classic link chain necklace from 14K gold or sterling silver
Pros
Material from Sterling Silver or 14K Rose Gold Plated
50 cm long
Width 3.5mm
Good price
Cons
Classic style, but better to pair it with a pendant, or different sizes of necklaces

Check it out at uk.pandora.net
Lavaliere Necklace for Women
13. Lavaliere gold and white opal pendant necklace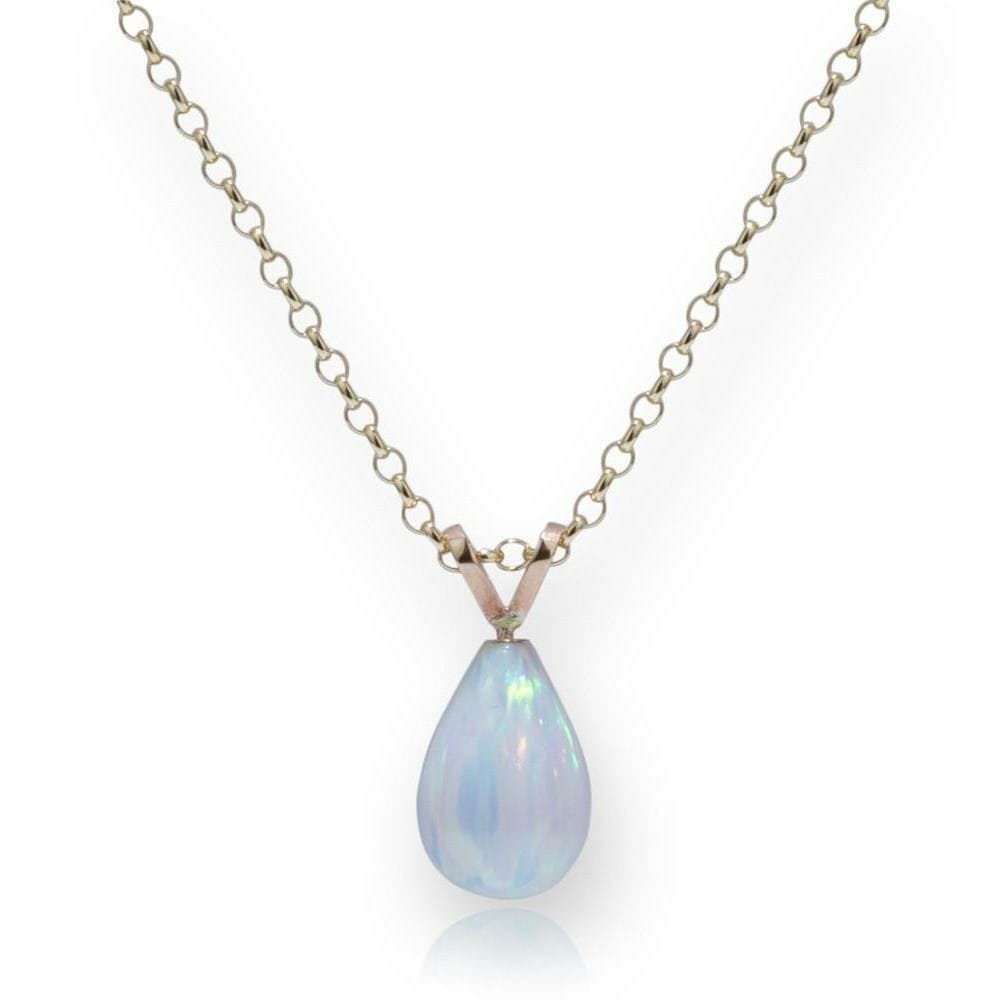 9kt Gold & Large White Teardrop Opal Pendant
Pros
9kt yellow gold
White opal gemstone
Handmade
Cons
Average price

Check it out at jewelstreet.com
14. Art Deco Pearl Spider Pendant Lavaliere Necklace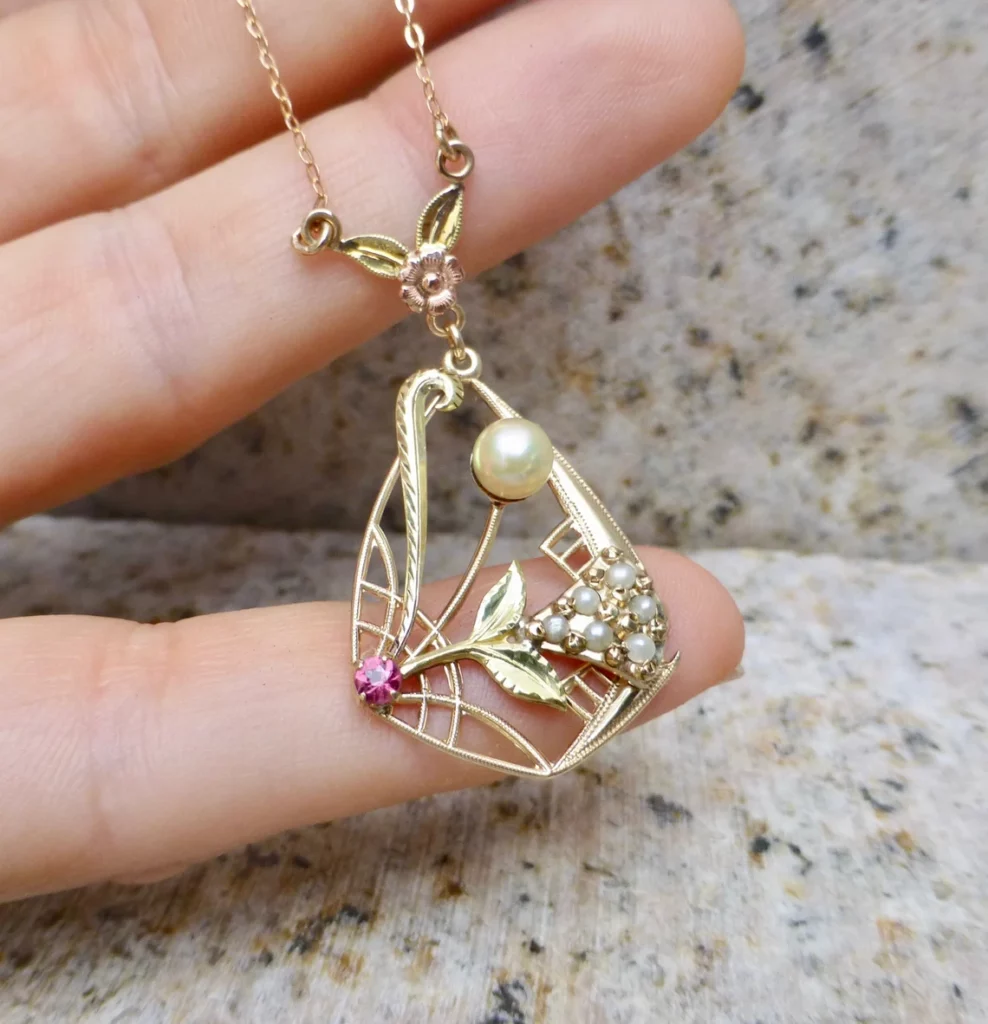 Vintage flower and spider Art-Deco Necklace
Pros
Vintage from 1930
10K yellow and rose gold pendant and chain
Chain length 18.5 "
Rare find
Cons
Only 1 item is available
Used item but in good condition

Check it out at etsy.com
Negligee Necklace for women
A négligée is a necklace of fine links with two parallel pendants suspended at different lengths – asymmetrically. This necklace came into fashion around 1900.
15. Edwardian Negligée Necklace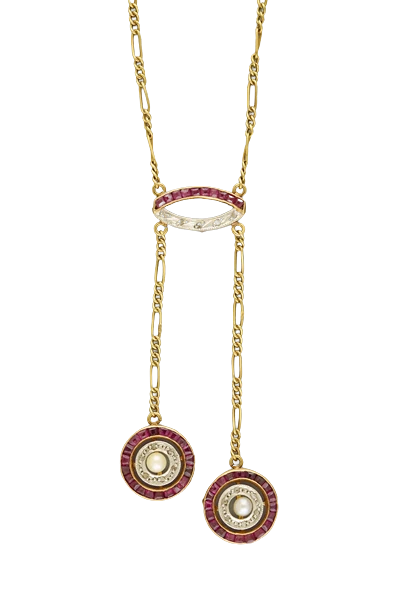 Made in the early 1900s during the Edwardian period, this asymmetrical style necklace features an unbeatable combination of rubies, diamonds, and pearls.
Pros
18K yellow gold
48 square rubies
Total gem weight 0.5 ct
17 rose-cut diamonds
2 tiny pearls
Necklace length 18″
Cons
One item is available only at the time of writing this article

Check it out at joden.com
Riviere Necklace for women
16. Yellow Gold Diamond Necklace My Twin Skinny Riviere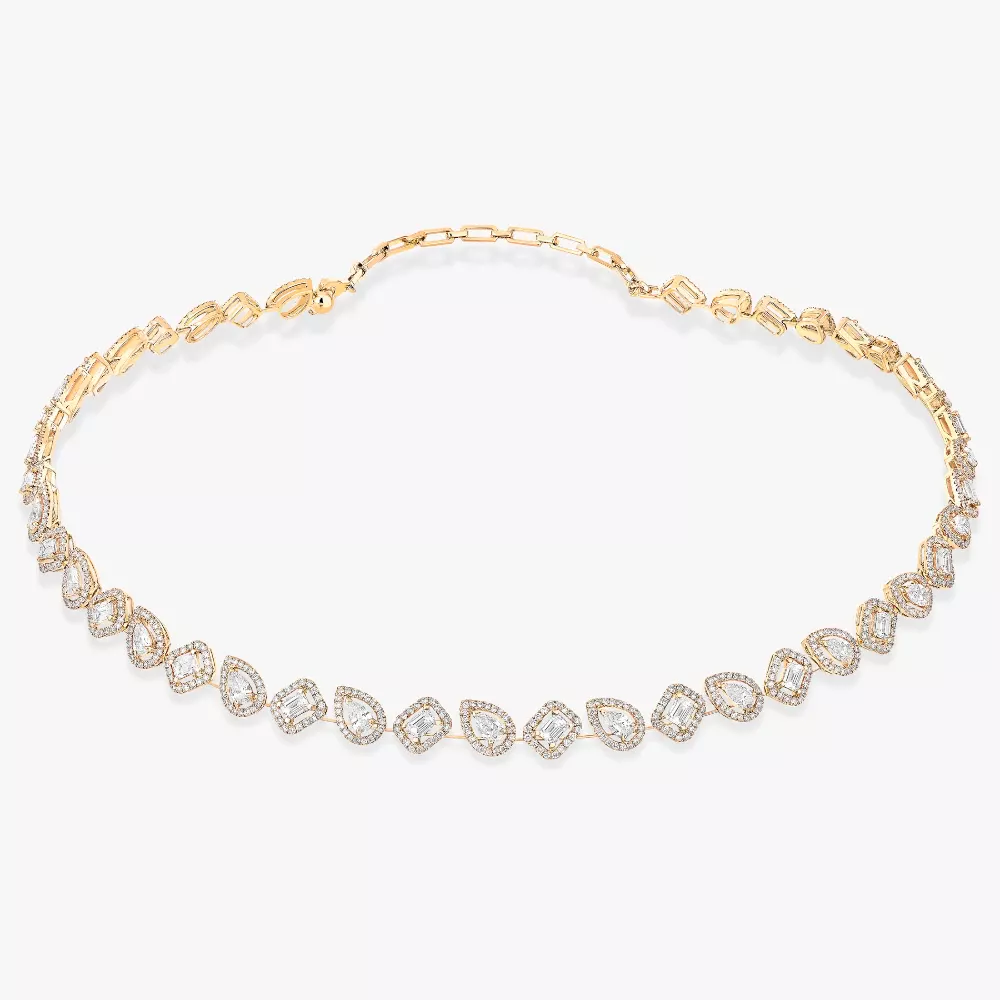 An amazing Messika diamond necklace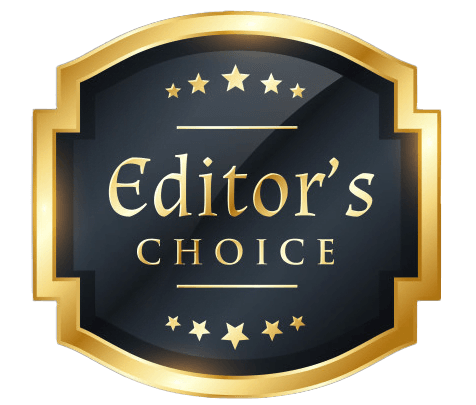 Pros
18K yellow gold
Diamond weight 0.15ct each with quality F/VS
Total diamond weight 7.1ct with quality FG/VS
Also available in rose, white, pink, and black gold on request
Cons
The best necklace we found. Perfect

Check it out at messika.com
Festoon necklace for women
Festoon necklaces were one of the most popular styles of jewelry in the 18th and 19th centuries. A festoon by definition is a chain or garland hung in a curve as decoration and often features flowers, leaves, or other popular motifs.
17. Pearl Festoon Necklace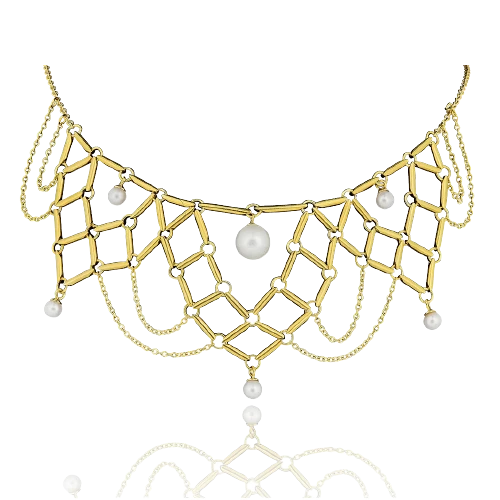 Pros
18K yellow gold vermeil on a sterling silver base
Genuine freshwater pearls
17″ length
Handmade and assembled
Cons
No mention of pearl quality

Check it out at saiflatif.com
Rope Necklace for women
18. 14K Gold Rope Chain Necklace for women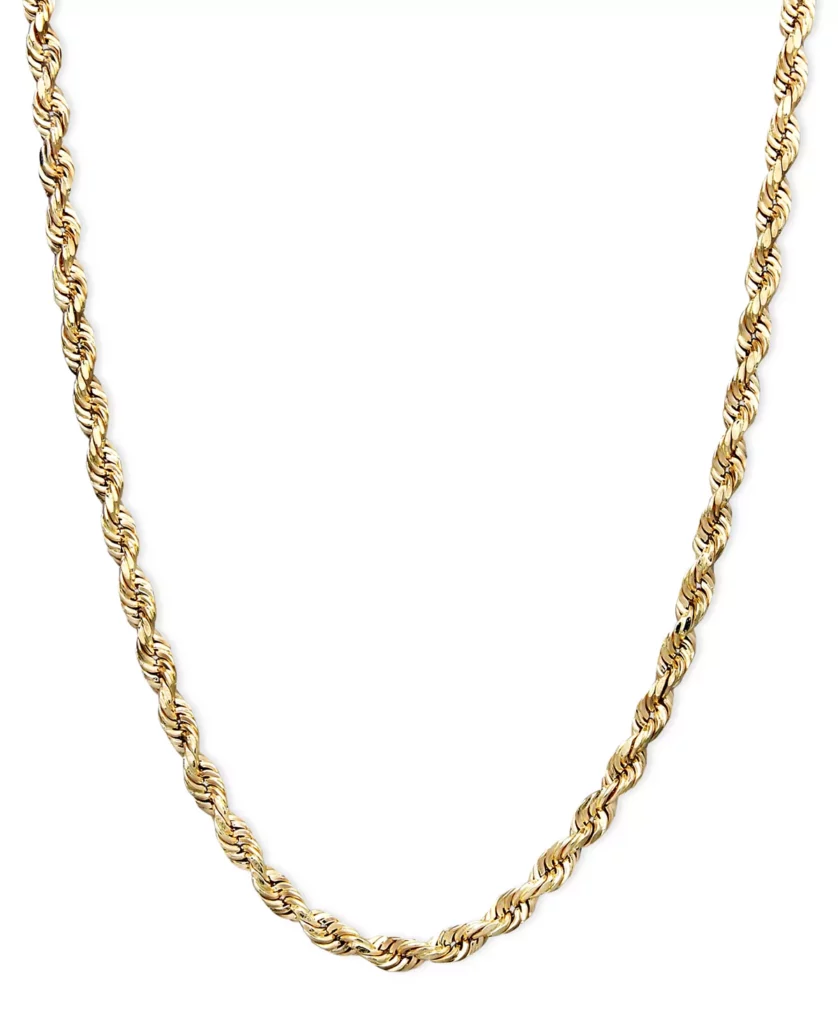 Pros
14K white or yellow gold
Sizes: 18-20-22 "
Lobster clasp closure
Cons
Use it carefully, can be broken easily

Check it out at macys.com
Thread necklace for women
19. Yellow gold Entrelacet thread necklace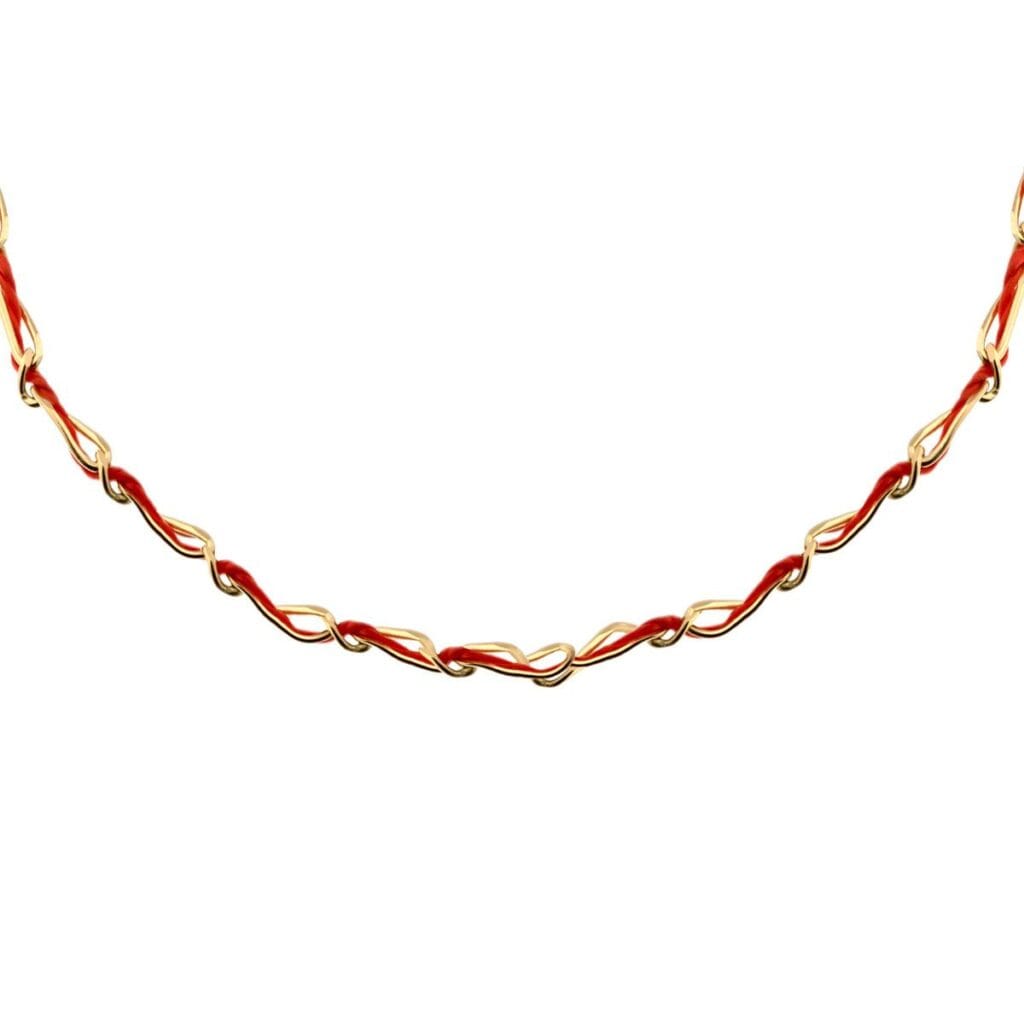 Pros
Select from many thread colors
Can be worn anytime, ultra-resistant
Cons
Expensive
No mention of gold quality

Check it out at redline-boutique.com
Bib necklace for women
20. Flamboyant fabric necklace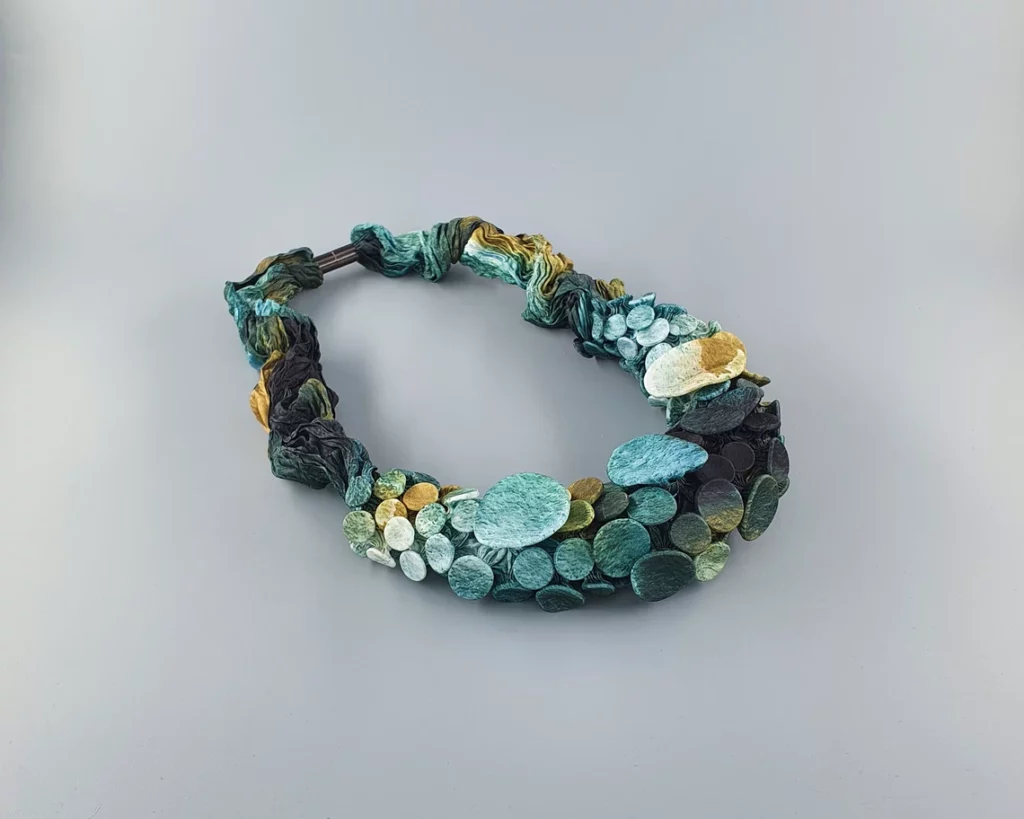 Pros
Made of soft and lightweight fabric
Magnetic clasps
Free delivery
Short, medium, and long dimensions (45-64 cm)
Cons
Extraordinary item. Wash it with a dry cloth.

Check it out at etsy.com
Conclusion
20 necklaces for women. Every single one is unique. Choose the ones that match/ your personality and occasion.
What do you think? Do you have any other necklace types to add?
Let us know in the comments below.
Women's Watches. 10 Super Choices To Be Sparkling. Read this amazing article.
Laoutaris Recommends