Find 10 Unique Women's Bracelets, everything to know what to wear and when. Every day you can wear so many types of bracelets, at work, at university, at the bar, at an event, everywhere.
Table of Contents
Last updated 04/05/2023. The average read time is 14 minutes
Popular types of Women's bracelets.
Women have more choices than men and as with most accessories, the limit is your imagination.
If you're looking for the perfect accessory to add a little pizzazz to your outfit, look no further than our collection of women's bracelets. Whether you're searching for a delicate and dainty bracelet to wear every day or a statement piece for a special occasion, we've got you covered.
With a wide variety of materials, styles, and colors to choose from, you're sure to find the perfect bracelet (or two… or three!) to add to your jewelry collection.
Charm bracelets for women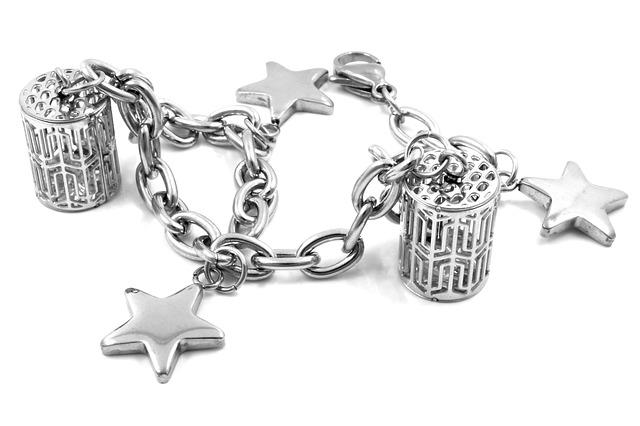 A chain with some charms that gives a statement. They are good for every day and your style is never old-fashioned.
Charm bracelets have existed since prehistoric times. They became popular again after World War 2 when soldiers brought home little items. Jewelers take those little items and attach them to a chain.
Because of famous actresses like Elizabeth Taylor and Joan Crawford, bracelets became popular again.
Charm bracelets are another popular type of women's bracelets. These bracelets usually have a variety of charms dangling from them, which can represent different things such as memories, special occasions, or inside jokes. Charm bracelets are fun and flirty, and they're a great way to show off your personality.
Charm bracelets are a popular jewelry choice for women of all ages. They are stylish and offer a personal touch that other jewelry items may lack. There are many different types of charm bracelets available on the market, so it is important to know what to look for when shopping for one.
The most important thing to consider when shopping for a charm bracelet is the material it is made from. Charm bracelets can be made from a variety of materials, including gold, silver, and platinum. Each material has its unique properties and benefits, so it is important to choose the material that best suits your needs.
Another thing to keep in mind when shopping for a charm bracelet is the size of the charms. Charms come in a variety of sizes, so it is important to select charms that are proportionate to the wrist size of the wearer. Selecting charms that are too large or too small can result in an unflattering look.
When shopping for a charm bracelet, it is also important to pay attention to the quality of the craftsmanship. Charm bracelets should be made with care and attention to detail to ensure that they last for many years. Cheap-made charm bracelets are more likely to break or tarnish over time, so it is worth paying a bit more for a well-made bracelet.
Beaded bracelets.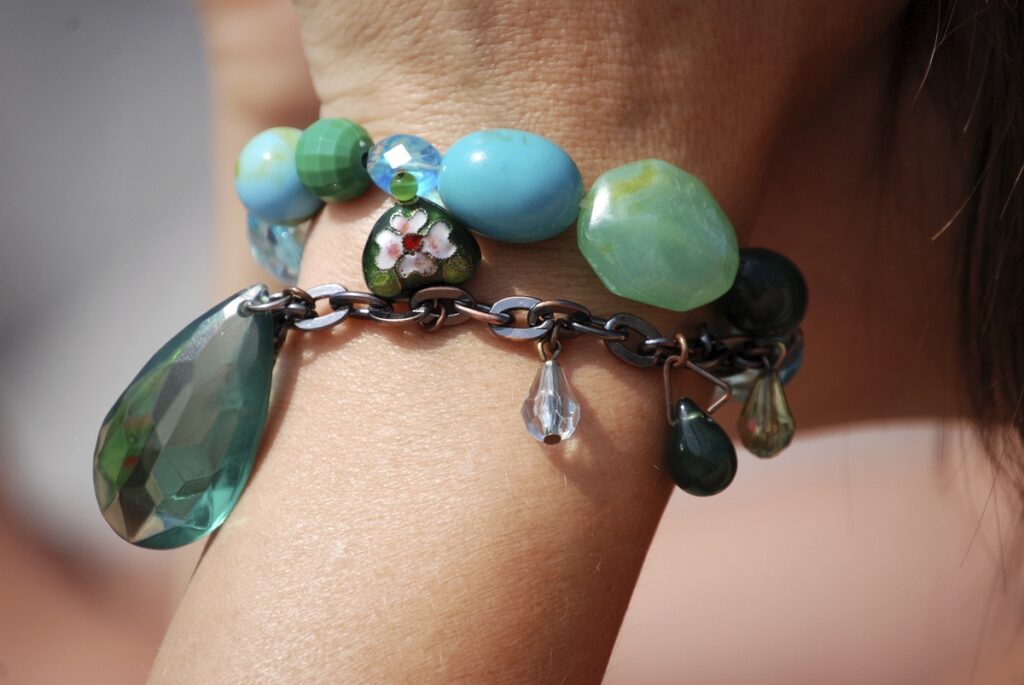 For a casual look, you can wear beaded bracelets. Either one or a combination of other types. They can be made of wood, plastic, glass, gemstones, or simply anything.
They are very simple. that's why they are so popular. You can wear them for meditation or spiritual reasons. Also, most of the time, they are cheap. You can play in different colors or even incorporate feathers or charms.
The style is timeless and classic. High-end collections offer a great number of different beaded bracelets.
Beaded bracelets are a type of bracelet that is made with beads. The beads can be made out of many different materials, such as glass, metal, stone, or even plastic. Beaded bracelets are very popular among women of all ages, and they can be worn for both casual and formal occasions.
There are many different ways to make beaded bracelets. Some people prefer to string the beads onto stretchy cords, while others prefer to use wire. There are also plenty of kits available that contain all the supplies you need to make your beaded bracelet.
If you're looking for a unique gift for a special woman in your life, consider giving her a beaded bracelet. Beaded bracelets make wonderful gifts for birthdays, anniversaries, Mother's Day, or any other special occasion.
Anklet bracelets for women
Ankle bracelets are a type of jewelry that can be worn by women of all ages. They are often made of metal, but can also be made of other materials such as beads or fabric. Ankle bracelets are sometimes also called anklets.
Ankle bracelets have been worn for centuries, but they have become particularly popular in recent years. Many women like to wear ankle bracelets as a fashion statement, and they are often seen as a symbol of femininity.
Ankle bracelets can be bought in many different stores, and they come in a wide range of prices. You can often find them on sale, and there are also many places where you can buy them online.
Gold bracelets for women
Gold bracelets are timeless pieces of jewelry that can be worn for any occasion. Whether you're looking for a casual bracelet to wear with jeans or a dressier option for a night out, there are plenty of beautiful gold bracelets for women to choose from.
There are many different styles of gold bracelets, from delicate chains to chunky bangles. hoops. The type of bracelet you choose should be based on your style and the look you're going for. If you're looking for something understated and elegant, a simple gold chain bracelet is a great choice. If you want to make more of a statement, opt for a chunky bangle or hoop-style bracelet.
No matter what style you choose, gold bracelets are always in fashion and make a great addition to any jewelry collection.
Silver bracelets for women
Silver bracelets are classic and timeless, but they can also be quite contemporary and chic. Silver bracelets come in many different styles, from simple and elegant to edgy and modern. You can also find silver bracelets with a variety of different stones, including diamonds, pearls, crystals, and more.
Pearl bracelets for women
Pearl bracelets for women are a popular choice for all ages and styles. Whether you're looking for a sophisticated and elegant bracelet for a special occasion or a simple and casual bracelet for everyday wear, there's a pearl bracelet out there to suit your needs.
There are many different types of pearl bracelets for women available on the market, from simple strand bracelets to more elaborate designs with multiple strands or adorned with diamonds or other gemstones. And of course, there is a wide range of prices to choose from as well. So, whether you're on a budget or you're looking to splurge on something truly luxurious, there's a pearl bracelet out there for you.
Here are some tips to help you choose the perfect pearl bracelets for women:
– First, decide what type of pearl bracelet you're looking for. Do you want something simple and classic, or something more elaborate?
– Second, consider what occasion you'll be wearing the bracelet for. Is it for everyday wear or a special event?
– Third, think about your budget. Pearl bracelets can range in price from very affordable to quite pricey, so it's important to set a budget before shopping.
– Finally, take some time to research different jewelers and compare prices before making your final purchase. This will help ensure that you get the best possible deal on your pearl bracelet.
Want to learn more about pearls? Check our complete article about 50 amazing tips for pearls
Pros
Cultured pearls
Handmade
Barrock style
Very cheap
Cons
Potato shape pearls with uncertain quality

A nice pearl bracelet was found on Etsy.
Want to know more about pearl bracelets for women? Check our article about pearls.
For a sophisticated and very elegant bracelet, choose a pearl bracelet. It is a tradition for a bride to wear a pearl set on her wedding day. You can wear them every day also. Just clean them with a damp cloth and store them in a hot environment.
White is the most common color, but you can find black., pink or even coral pearls. They were very cheap but were too expensive. It all depends on the pearls, and the clasp can be combined with diamonds or gold.
There was a famous seven-row pearl bracelet that Princess Diana wore. Check to look at the article and the photo when the Princess was falling asleep and gave her the name "The Sleeping Beauty".
Check here our article about gold accessories. You can learn many important facts.
Designer Women's Bracelets.
A jewelry designer can produce a masterpiece. They can be expensive, but they are unique. They are made using expensive materials like diamonds, gold, and platinum.
If they are made by a well-known designer, they can cost a fortune. And because of the materials, they can last many lives. Lately, you can find many pre-owned items on the market, but the prices are still high.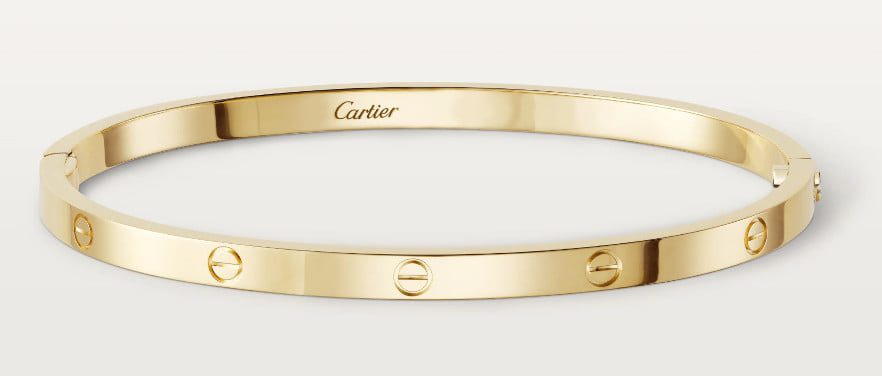 Pros
Yellow gold 750/1000
Different sizes
Option for engraving
Timeless design
Unique locking mechanism
Cons
It is Cartier. The price is unique also.

This LOVE bracelet from Cartier is one example. Check it out at Cartier.com
Find more amazing famous accessories from the world
Cuff bracelets.
Cuff bracelets are a must-have accessory for any fashion-savvy woman. They come in a variety of styles and can be made from a variety of materials, including metals, leather, and fabric. They're also relatively affordable, so you can stock up on several different pairs to mix and match with your outfits.
Whether you're looking for a statement piece or something more understated, there's sure to be a cuff bracelet that's perfect for you. Check out our favorite picks below.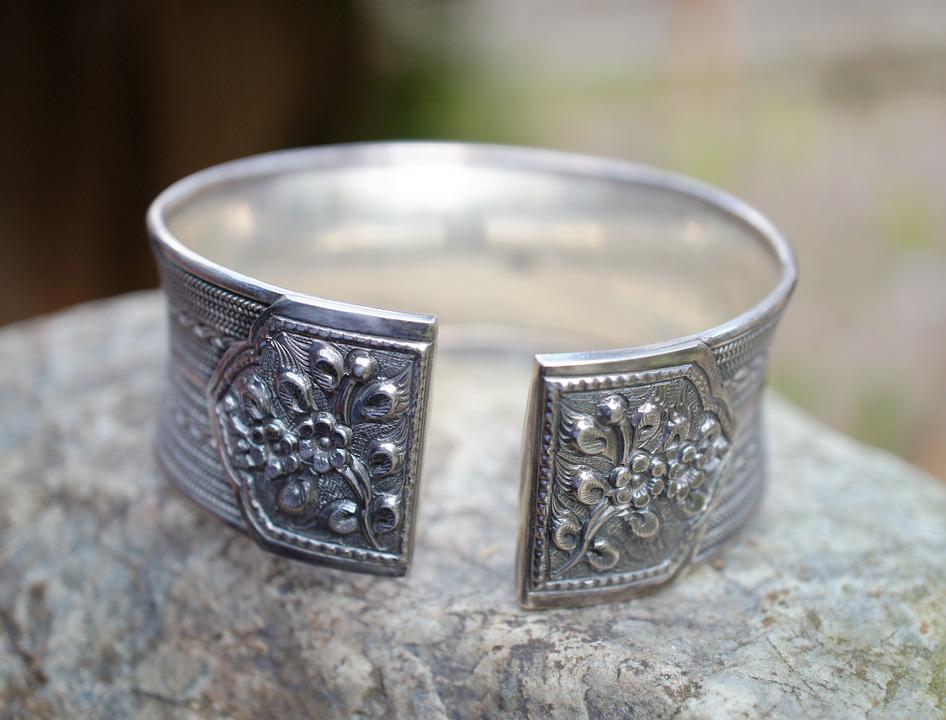 The cuff bracelet is a wrist adornment made from a single piece of rigid material. The shape is curved with a narrow opening that allows the wearer to put the item on or off as opposed to a bangle which would have no break.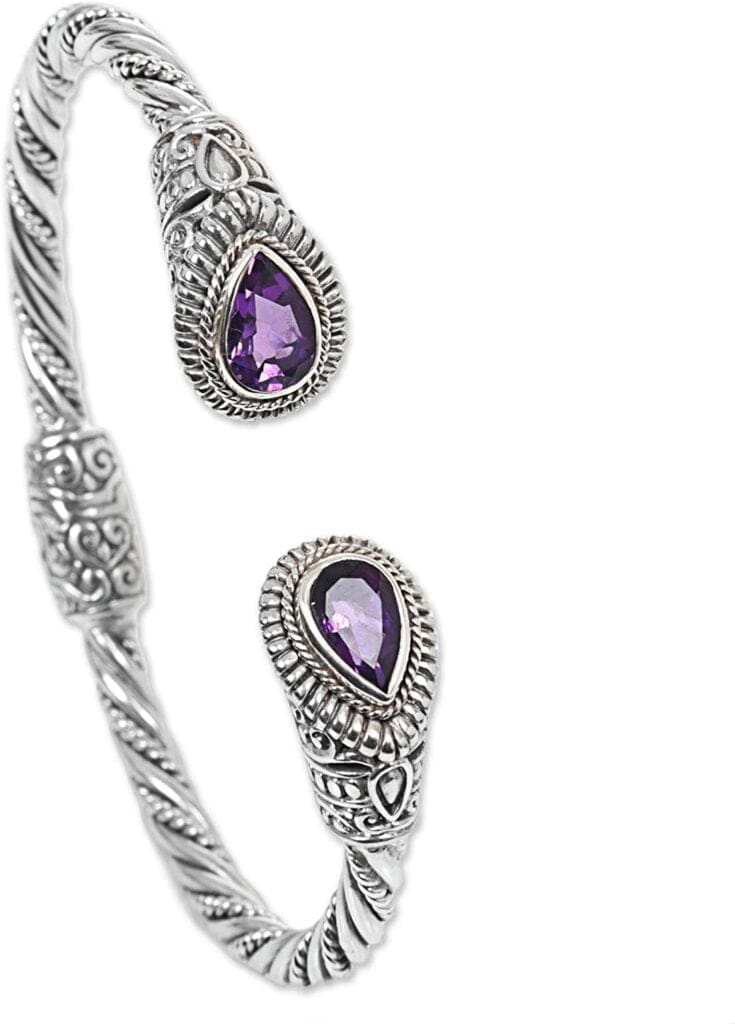 A 925 Sterling silver cuff bracelet with amethyst stones.
Pros
925 sterling silver
Handcrafted
Slightly adjustable
Cons
Not for every occasion or woman.

Check it out at amazon.com
More Unique Women's Bracelets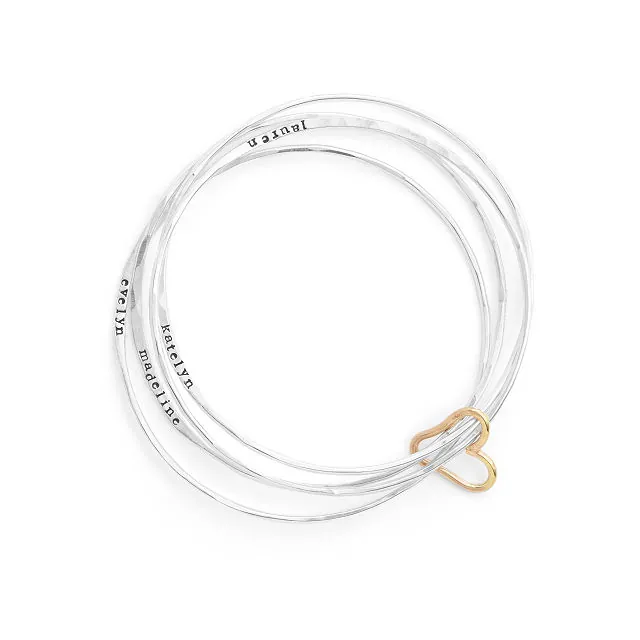 This is a personalized heart bangle bracelet from Canela Lemoine. It can be stamped with a name, date, or special word.
Pros
Sterling silver with 14k yellow gold fill wire
Handmade
Customizable with name, date, or word
Selection of 2 to 5 pieces
Cons
Price is above average

The bracelet is made from stainless steel and 14k gold fill. wire. Check it out at uncommongoods.com
12 tribes sterling silver bracelet.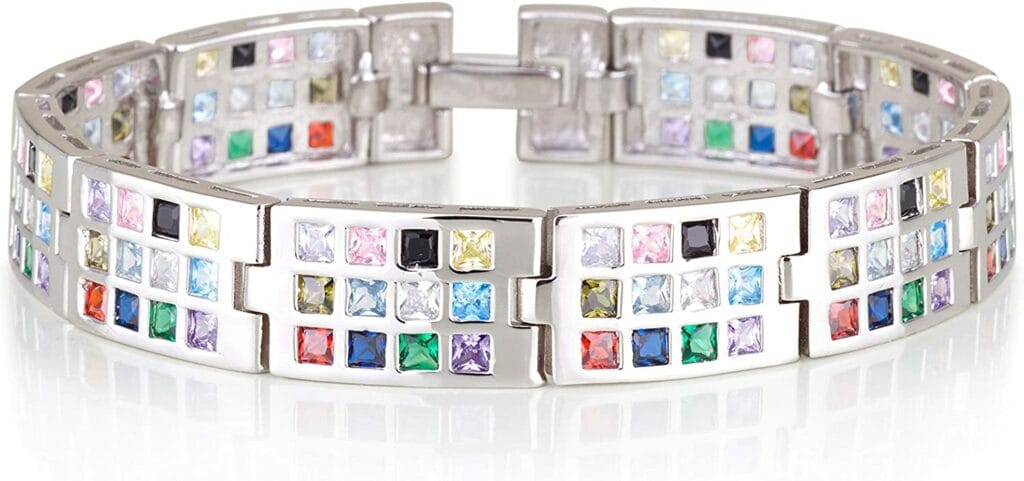 A traditional religious art piece from Israel. The 12 Tribes bracelet is a mixture of stones and metals from the Holy Land.
Pros
925 sterling silver
Handmade
Good quality
Cons
Price is above average for sterling silver with zirconia

Check it out at amazon.com
Swarovski tennis bracelet for women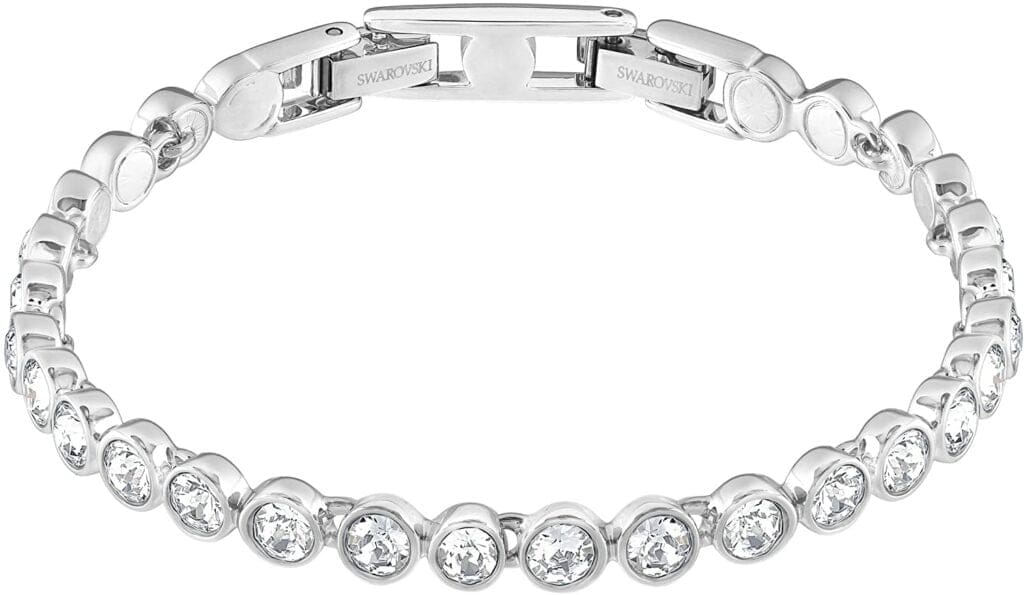 This tennis bracelet for women is classic and gorgeous. The Swarovski stones are perfectly combined with the rhodium-plated chain. Beautiful and elegant.
Pros
Rhodium-plated
Nice shiny stones
Cons
Not stamped
The price is average for a Swarovski

Check it out at amazon.com
Frequently Asked Questions
What wrist should a woman wear a bracelet?

Women prefer to wear a bracelet on their right hand. But not all women are the same, you can see women's bracelets worn on both hands and others on the left hand. It is all about your taste and style.

Do you wear a bracelet above or below the wrist bone?

You should wear women's bracelets before your wrist bone. Wearing it on or after your wrist bone will also restrict your wrist movement and may cause some pain.

Can you wear women's bracelets all the time?

The short answer is yes but with exceptions. Most jewelry is worn more quickly if you wear them every day. That is because of the sweat and the perfumes. We advise also not to wear women's bracelets when sleeping or showering. When sleeping it may scratch your skin and water is not a good friend of jewelry, especially if they have gemstones.

What are the different types of bracelets available for women?

There are several types of bracelets available for women, including bangles, cuffs, charm bracelets, beaded bracelets, chain bracelets, and leather bracelets.

How do I know what size bracelet to buy?

The easiest way to determine your bracelet size is to measure your wrist with a measuring tape or a string. Then, add 1/2 inch to the measurement for a snug fit and 1 inch for a looser fit.

Can bracelets be worn with watches?

es, bracelets can be worn with watches. It's important to consider the style and color of both the bracelet and the watch to ensure they complement each other.

How do I care for my bracelets?

The care instructions for bracelets will vary depending on the materials used. Generally, it's best to avoid exposing them to water, lotions, perfumes, and other chemicals. Store them in a dry place and clean them with a soft cloth when necessary.

What occasions are bracelets suitable for?

Bracelets are suitable for a wide range of occasions, from casual outings to formal events. They can be worn as everyday jewelry or as statement pieces to complement an outfit.

Can bracelets be personalized?

Yes, many bracelets can be personalized with initials, names, or other meaningful symbols. This adds a special touch and makes them a great gift option.

What materials are commonly used to make bracelets?

Bracelets can be made from a variety of materials, including metals like gold, silver, and brass, as well as natural materials like leather, wood, and gemstones.

What are some popular bracelet styles for women?

Some popular bracelet styles for women include delicate and dainty chains, bold and chunky cuffs, beaded bracelets with natural stones, and charm bracelets that can be customized with unique charms.

How do I style bracelets with my outfit?

When styling bracelets with your outfit, consider the color and style of your clothing, as well as the occasion. For example, a delicate chain bracelet may be more suitable for a formal event, while a bold cuff can add an edge to a casual outfit.

Can I wear multiple bracelets at once?

Yes, wearing multiple bracelets at once is a popular trend. When layering bracelets, consider mixing different styles and textures to create a unique and personalized look.
Conclusion
What is your favorite type of women's bracelet? Do you have anything to add?
We like charm bracelets for women and tennis bracelet for women is our second favorite.
For any questions, our team is ready to give you experienced advice.
Let us know below in the comments.
Our Latest Articles
Laoutaris Recommends