Master styling pearl necklaces for women, whether you're dressing up or going casual. Tips cover lengths, layering, care, and more so you can rock pearls confidently.
Table of Contents
Different Pearl Types
Freshwater, Akoya, and Tahitian are the three central pearls in necklaces. Their colors, sizes, and shapes differ: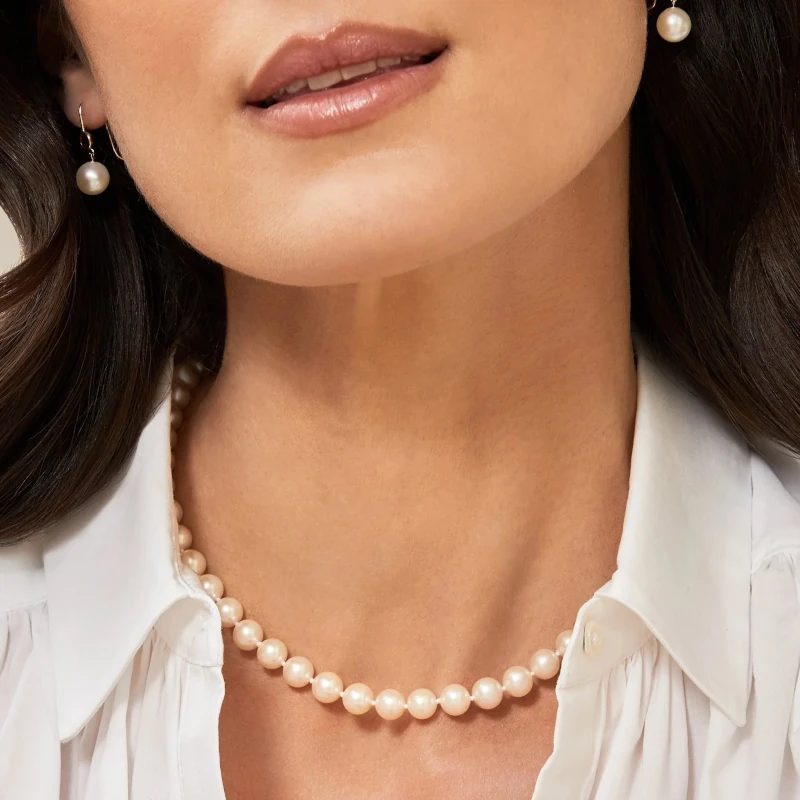 Check out this affordable freshwater pearl necklace here.
Freshwater Pearls – The most affordable and widely available pearl type. They come in vast sizes and shapes with a rainbow of overtone colors like white, pink, peach, and lavender. Baroque freshwater pearls have unique freeform shapes. More uniform round or oval pearls can be matched into necklaces. Freshwaters are ideal for layering and casual everyday wear.
Akoya Pearls – Known for their classic white luminous color and smaller-sized rounds and ovals. Akoya pearls are cultured in saltwater oysters and prized for their refinement. They are usually 5-10mm, perfect for single-strand necklaces or dainty multi-strand collars.
Tahitian Pearls – Grown in Tahiti and the South Pacific, these exotic black pearls get dramatic coloring from the black lip oyster. They range from gray to jet black with green, blue, and purple overtones. Baroque shapes are standard, along with circle and oval rounds. Tahitians make statement pieces.
Pearl Sizes
The size of pearls used in a necklace impacts the overall look and feel when worn. Standard pearl sizes include: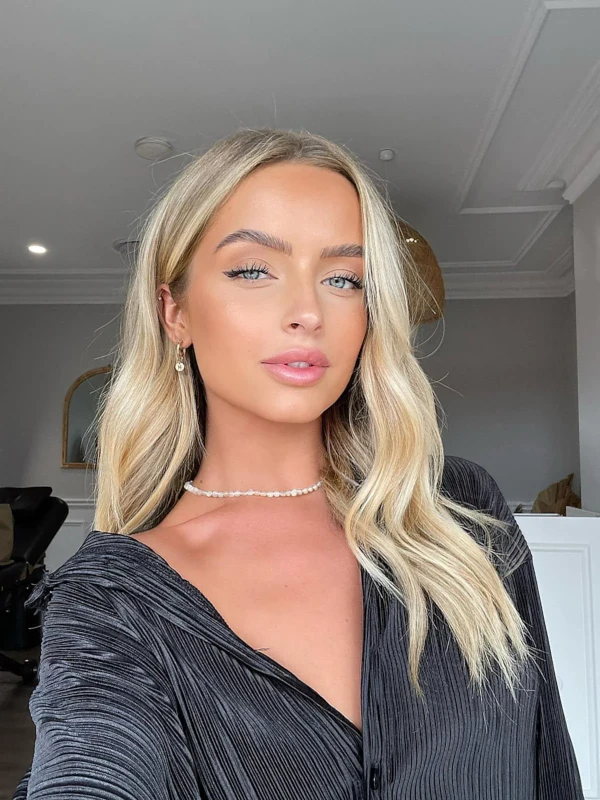 Check out this freshwater pearl necklace with tiny pearls here.
Large Pearls – Baroque freshwater pearls around 10-14mm or large Tahitian baroque over 14mm create bold statement necklaces with an organic, natural look. Their substantial size and asymmetric shapes give them a contemporary, daring vibe.
Medium Pearls – The most versatile classic pearl size, medium pearls range from 6-7mm to 9mm. This size mixes well in all strand arrangements, from uniform singles to graduated multi-strands. They make superb heirloom pieces and wedding jewelry.
Tiny Pearls – Dainty necklaces use pearls under 6mm down to 3mm. The little pearls have an elegant, refined look perfect for layering and special occasions. Collar multi-strand and lace-like bib necklaces often utilize tiny pearls for their delicate detailing.
Pearl Shapes
Beyond the standard round, pearls come in a variety of shapes that each provide a different aesthetic: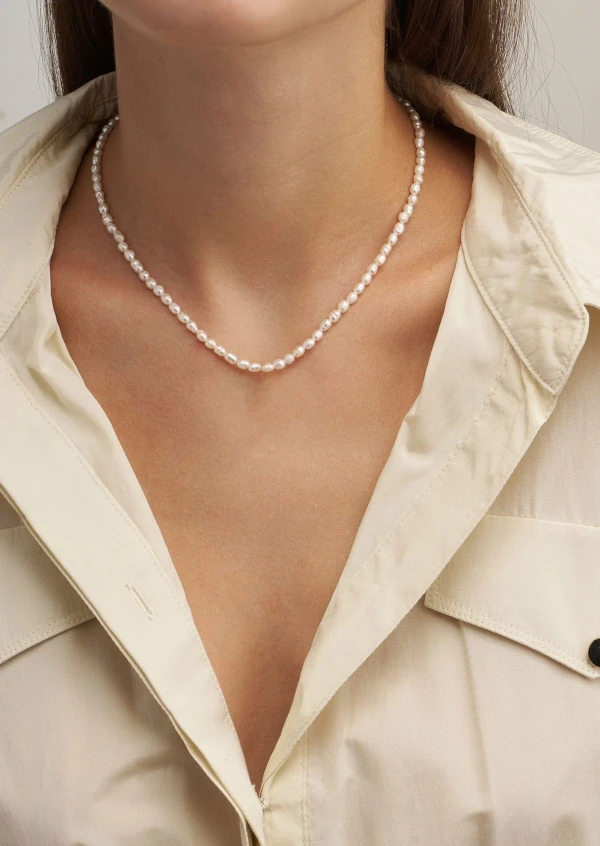 Check out this classic oval pearl necklace here.
Round Pearls – The most classic and timeless pearl shape, perfect spherical rounds give off an elegant, refined look. South Sea and Akoya pearls are prized for their roundness.
Oval Pearls – A subtle oval shape adds a soft organic asymmetry to the standard round. Oval pearls may be fatter at one end, giving them a teardrop silhouette.
Button Pearls – Flattened on one side gives these pearls a vintage coin or button appearance. Baroque freshwaters are often made into buttons.
Baroque Pearls – Irregular abstract shapes with lots of surface allure. Baroque pearls come in endless forms, often resembling corn kernels, potato chips, or bacon strips!
Semi-Baroque Pearls – The halfway point between round and baroque, these pearls have soft, undulating asymmetric shapes. Keshi pearls are a popular semi-baroque Japanese type.
Pearl Necklace Lengths
The length of pearl necklaces for women impacts how and when they can be worn fashionably. Standard lengths include: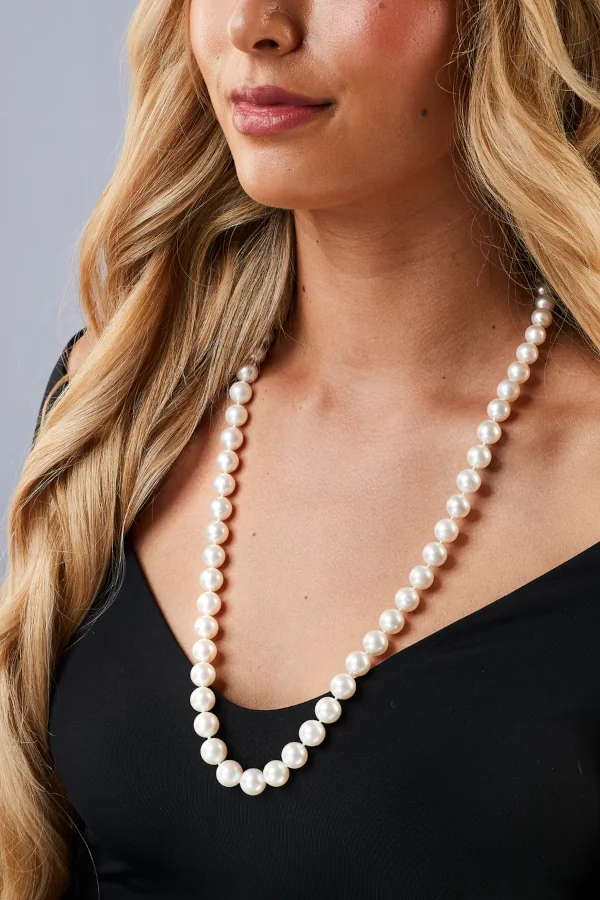 Check this Opera length South Sea pearl strand with 80 pearls here.
Choker Length – Choker pearl necklaces range from 14-16 inches long. This fits snugly around the neck right below the throat. Chokers work with crew and jewel necklines.
Princess Length – Princess length falls elegantly around the collarbone, hanging at approximately 17-19 inches long on most wearers. This versatile length works with many necklines.
Matinee Length – Matinee pearl necklaces measure 20-25 inches in length. The pearls fall midway down the chest above the bust. This length is great for layering with shorter chokers and collars.
Opera Length – The most extended necklace length, opera pearls hang down the chest to the breastbone at 28-34 inches long. They pair dramatically with v-necklines.
Lariat and Y-Drop Length – Unstrung lariat style pearl necklaces allow for adjustability, customized lengths, and layered looks. The strand connects at the ends to one central dangling pearl in a Y-drop design.
Pearl Necklace Styles
Pearls can be styled into many different looks: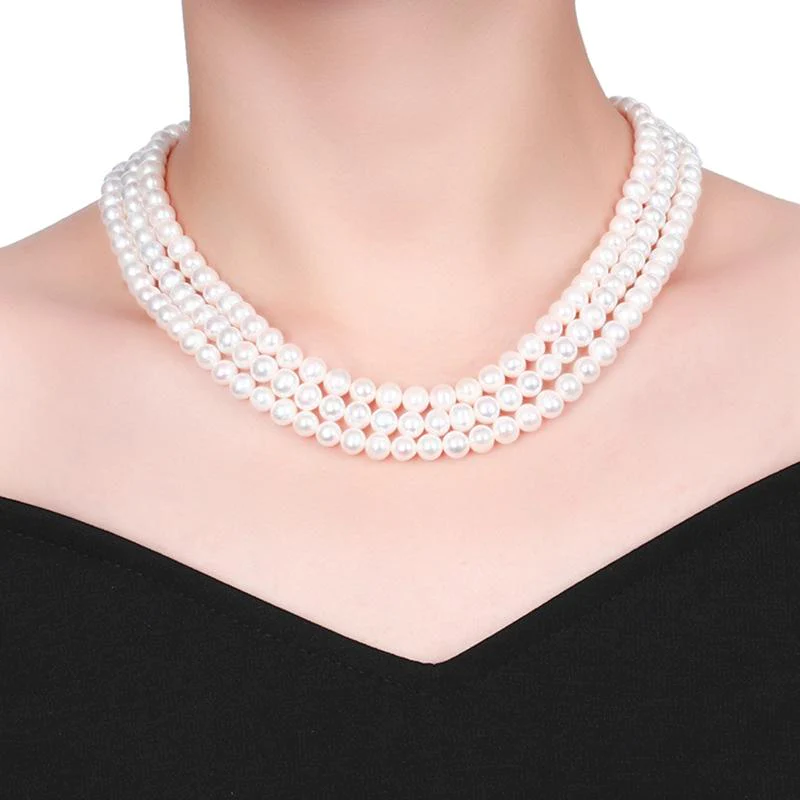 Check out this multi-strand pearl necklace here.
Single Strand – One length of matched pearls is the most straightforward necklace. Delicate and chic for everyday refinement. Works with smaller 3-8mm pearls.
Multi-Strand – Two, three, or more strands of Akoya, freshwater, or tiny Tahitian pearls are knotted together. It gives a bold, collared effect, allowing smaller pearls to be seen.
Uniform – Pearls are matched in size and shape for consistency. Excellent for versatile pieces that pair with everything.
Graduated – Strands start with larger pearls, gradually decreasing in size toward the clasp. Creates a dramatic, fluid look.
Accents – Pearls with decorative tassels, knotted bows, Swarovski crystals, or precious gemstone beads for added flair.
With Pendants – A pendant like a pearl drop, coin pearl, or gemstone can make the pearl necklaces for women more distinctive.
Layering Pearl Necklaces For Women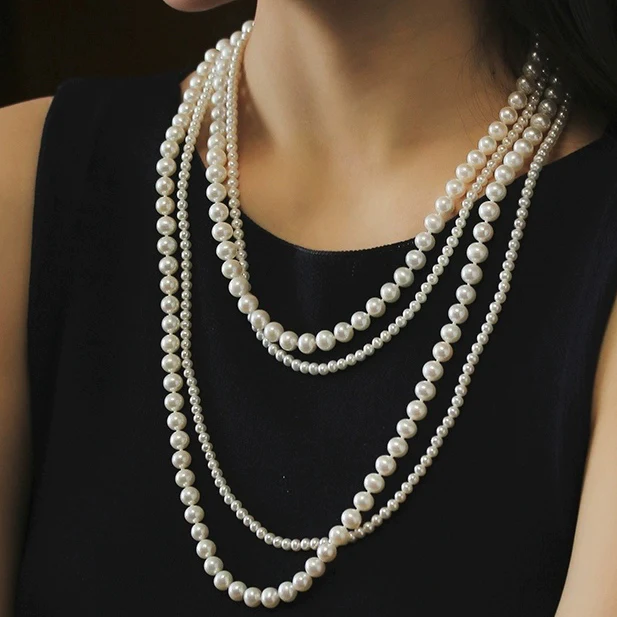 Check out this Extra Long Multi Strand of Freshwater Cultured Pearl Necklace here.
Mixing different lengths and styles creates dimension. Short chokers, mid-length princesses, and long ropes stacked together.
Place the shorter length innermost, then medium size centered with the longest outermost to avoid tangling.
Combine pearl strands with coordinating gold or silver chains for extra interest.
Try coordinating earrings, rings, and bracelets with necklaces for a complete put-together look.
Layer multiple pearl strands together for an opulent style for formal events or weddings.
Go from day to evening by layering on more pearl strands and removing other pieces.
Caring Pearl Necklaces For Women
Follow these tips to keep pearls looking their lustrous best:
Store pearls away from other gemstones and metals that may scratch their soft nacre coating. Lay strands in separate compartments or pouches.
Put on creams, perfume, and hairspray first to avoid chemicals damaging pearls. Don't spray these products directly on necklaces.
Clean pearls occasionally with a soft, damp cloth to remove dirt and oils. Use mild soap and water. Pat dry well.
Avoid prolonged sunlight exposure, which causes pearls to fade and lose luster over time.
Have pearl necklaces restrung every few years to maintain structure. Knots and loose spacing indicate time to restring.
Take care when showering, swimming, or exercising. Water can seep inside pearls. Rinse after wearing, and don't soak for long periods.
Styling Pearls for Formal Occasions
Pearls effortlessly elevate formal looks: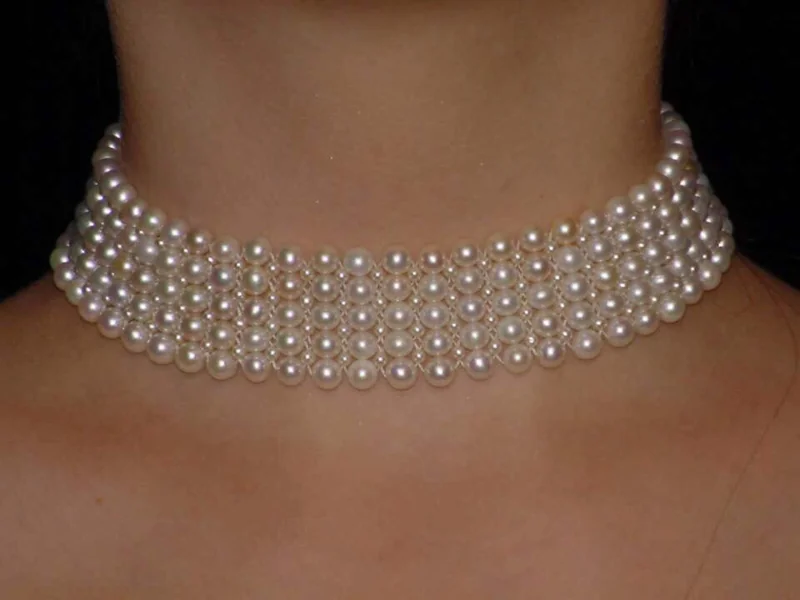 Check out this multi-strand choker pearl necklace here.
Multi-strand chokers provide a glamorous collared statement with strapless or sweetheart gowns.
Three-strand mid-length princess pearls are perfect for accenting off-the-shoulder and portrait necklines.
Longer single-strand opera lengths let pearls take center stage with strapless tops or v-necklines.
Coordinate your necklace with pearl drop earrings, pearl bracelet, and ring for special events like black-tie galas, weddings, or date nights.
Avoid turtlenecks and crew necks that hide away necklaces. V-necks, off-shoulder, and scoop necks show them off.
For a romantic bridal look, layer multiple strands of matching akoya or freshwater pearls in a graduated style.
Casual Pearl Necklace Looks
Pearls easily transition from weekday workdays to weekend fun: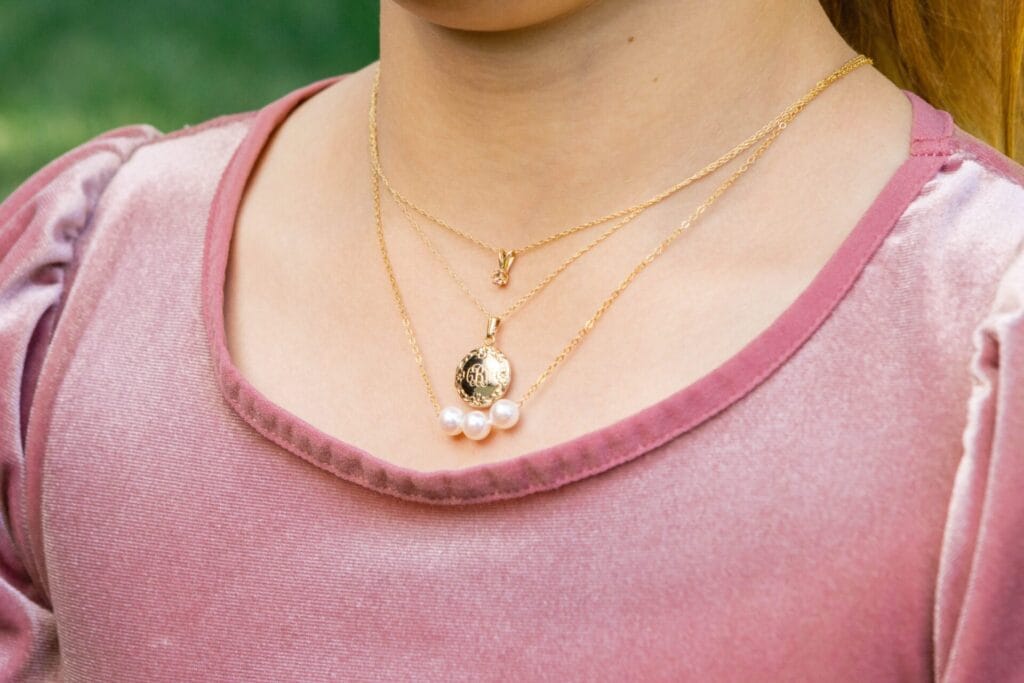 Check out this 3-pearl starter pearl necklace here.
Errands – A 16-18 inch single strand princess necklace over a t-shirt, jeans, and cardigan makes pearls look laidback.
Work – Dress up blouses and blazers with classic double-strand akoya necklaces. Chokers work for buttoned-up looks.
Date Night – Unstrung Y-drop designs provide an adjustable length for versatility. Pair with LBD for date night flair.
Beach Wedding – Play up the origins of pearls with a casual bohemian beachy dress. Have fun mixing lengths and styles.
Brunch – Create a fashion-forward look by layering multiple pearl strands with everyday attire and sandals.
Travel – Matinee and opera lengths are perfect over camisoles and tanks while sightseeing. Easy to pack.
Gifting Pearl Necklaces For Women
Reasons that make pearls ideal gifts for women of all ages:
Timeless Accessory – They transcend trends and remain in style for generations. It is a classic investment piece to enjoy for decades.
Value – Natural pearls hold value exceptionally well. A pearl gift has lifelong worth.
Sentimental Meaning – Associated with love, femininity, and wisdom gained over time. Meaningful for significant milestones.
Milestone Gift – Given for landmark birthdays, anniversaries, and weddings. Or pass them down as heirlooms.
Personalization – Add engraved pendants, birthstones, or nameplates to customize the meaning.
Flexible Budget – Freshwaters, Tahitians, and Akoyas come in a wide range of prices to fit any budget.
Frequently Asked Questions
What pearl necklace lengths are most versatile?

A 16-18-inch princess is arguably the most versatile pearl necklace length. It can be worn with most necklines, from crew tops to lower V-necks. The size is also suitable for casual daytime wear and evening dressing. Princess lengths work well on most body types without being too short, like a choker, or too long, like opera lengths.

How do you keep pearl necklaces for women from tangling?

Use a jewelry organizer with separated compartments to keep strands from knotting together.
Knot long strands gently before putting them away for storage so they don't tangle
Clip necklace clasps together before placing in a jewelry box
For travel, lay strands individually in a travel roll or pocket in your suitcase rather than loose
Avoid letting strands hang freely together in a pile, which leads to frustrating, tangled messes
After taking off, hang necklaces on a hook by the clasp or drape over a jewelry stand

How often should pearls be restrung?

It's recommended to restring pearls about every 3-5 years of regular wear. Pearls worn frequently or with stretchier silk string may need restringing more often than those worn only occasionally. Signs your pearls need restringing include loose strands, pearls feeling unevenly spaced or scattering across the necklace, and visible knots showing between pearls. Restringing helps maintain the structure, beauty, and value of pearl necklaces over decades of wear.

Can you wear pearl necklaces for women in the shower?

It's best to avoid getting your pearls wet as moisture can seep inside and cause damage over time, including discoloration, cracks, pits, or loss of luster. After wearing, gently wipe pearls with a soft cloth to remove dirt, oils, and perfume. When showering, take your pearls off beforehand or secure them up in your hair, away from water exposure. Although brief water contact won't immediately harm pearls, prolonged soaking or long showers can diminish their quality and appearance.

How do you clean pearl necklaces for women?

Use a soft, damp cloth to wipe away dirt and debris gently. Avoid pulling or tugging on the strand.
For a deeper clean, use mild soap and water. Pearl-safe cleaners are also available.
Gently pat dry with a towel. Let air dry thoroughly before storing away.
Have them professionally cleaned by a jeweler every year or two to maintain luster.
Take care not to over-clean Tahitian pearls, as this removes the shiny black coating.

What jewelry looks good layered with pearl necklaces for women?

Gold or silver chains in varying lengths
Pendant necklaces with birthstones, initials, or symbols
Beaded gemstone strands that match pearl colors
Ribbon choker necklaces in lace, velvet, or satin
Monogrammed metal disk necklaces
Dainty chains with tiny lockets or crosses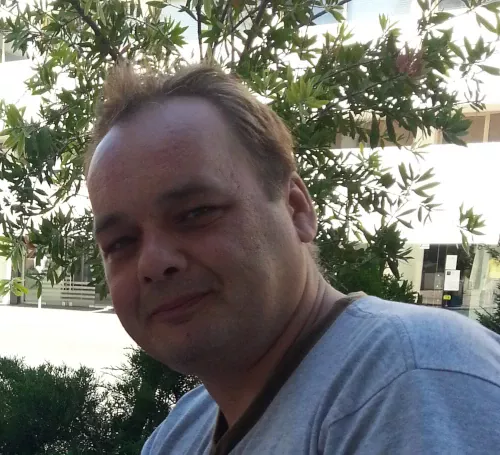 Pashalis Laoutaris
Fashion Blogger
I am a professional writer, fashion blogger, and owner of the site https://laoutaris.com. As a salesperson for more than 20 years, I have experience of 10 years in the fashion industry. I consider myself a true fashionista. I am writing daily blog articles about fashion, tools and converters, and everything you need to know about the current fashion trends.
Share this article
Our Latest Articles
Laoutaris Recommends