From meaning to history, styles to care, explore the world of infinity necklaces—the enduring jewelry trend that signifies eternal love and limitless possibility.
Table of Contents
The Meaning Behind Infinity Necklaces
The infinity symbol has long represented concepts like endlessness, eternity, continuity, and boundlessness. In mathematics, an infinity symbol depicts a never-ending loop with no beginning or end.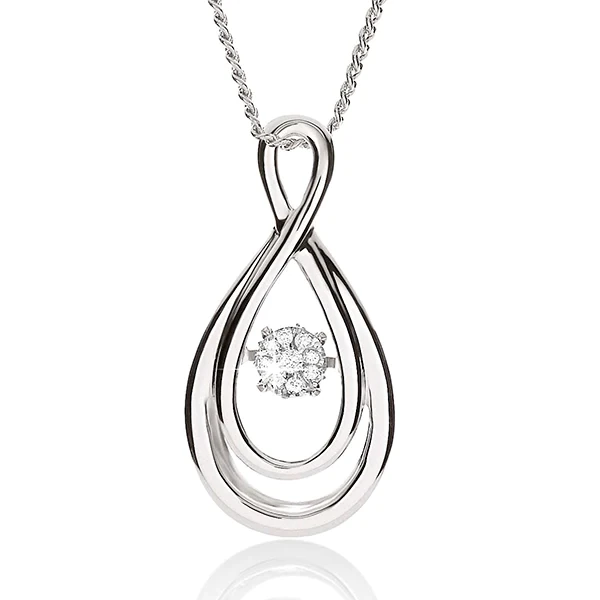 Check out this diamond infinity pendant here
When rendered into jewelry like a necklace, the emblem takes on additional meaning related to everlasting love, unbreakable bonds, and limitless affection. For this reason, infinity necklaces have become a popular romantic gift exchanged between lovers, spouses, family members, and close friends. The endless loop encircling the neck symbolizes their infinite, unending connection.
The History of Infinity Necklaces
While the infinity concept harkens back to ancient Indian religions and Greek philosophy, infinity necklaces as we recognize them arose in the 1960s and 1970s. The peace sign pendants of the hippie generation evolved into an infinity shape made of delicate charms suspended from long chains. Early versions often featured simple wire loops, sometimes adorned with beads.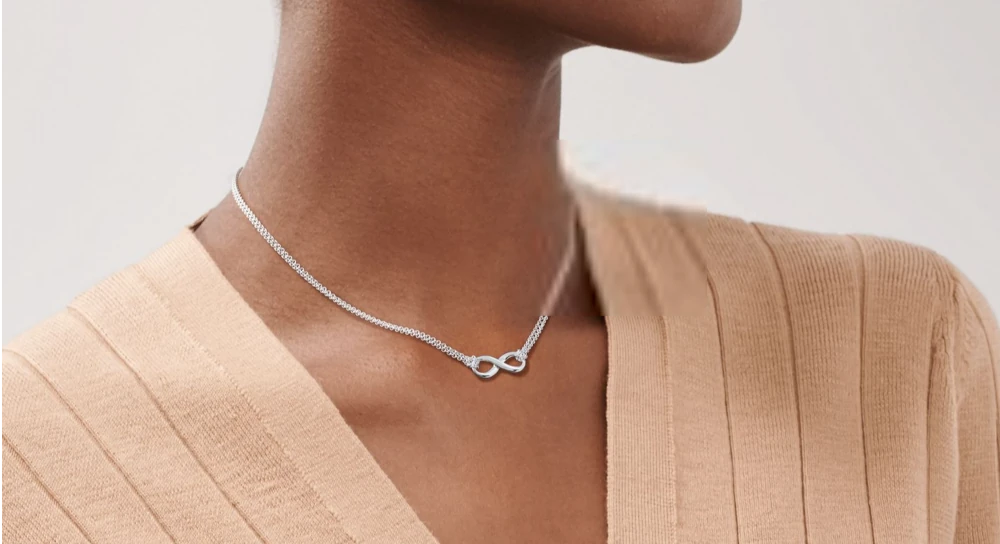 Check out this Tiffany Infinity pendant here
But over time, jewelry artisans crafted more ornate pendants using metals like gold, silver, and platinum, studded with glistening diamonds and gemstones. This explosion of creatively styled infinity necklaces transformed them into a trendy jewelry fashion statement.
Popular Styles and Designs
Today's infinity necklaces offer diverse aesthetics to suit any personal style: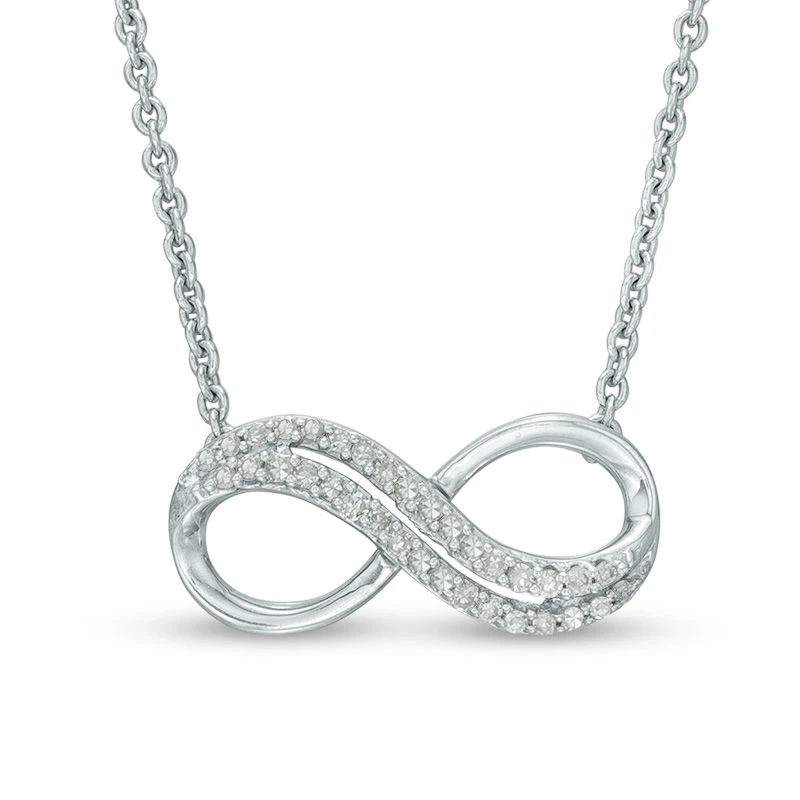 Metals – Gold, silver, platinum, titanium, sterling silver, stainless steel, and more
Size – Larger pendants or dainty mini sizes
Length – Choker, princess, matinee, opera, rope
Loops – Single, double, triple, interconnected
Pendant Shape – Circles, hearts, knots, teardrops
Embellishments – Diamonds, crystals, pearls, birthstones
Engravings – Names, dates, symbols, messages
With so many options, it's easy to find a tailored infinity pendant and chain combination that reflects your individuality.
Customization for Personalization
One of the appeals of infinity necklaces is the ability to customize the design to hold personal significance. Many jewelers provide options to select: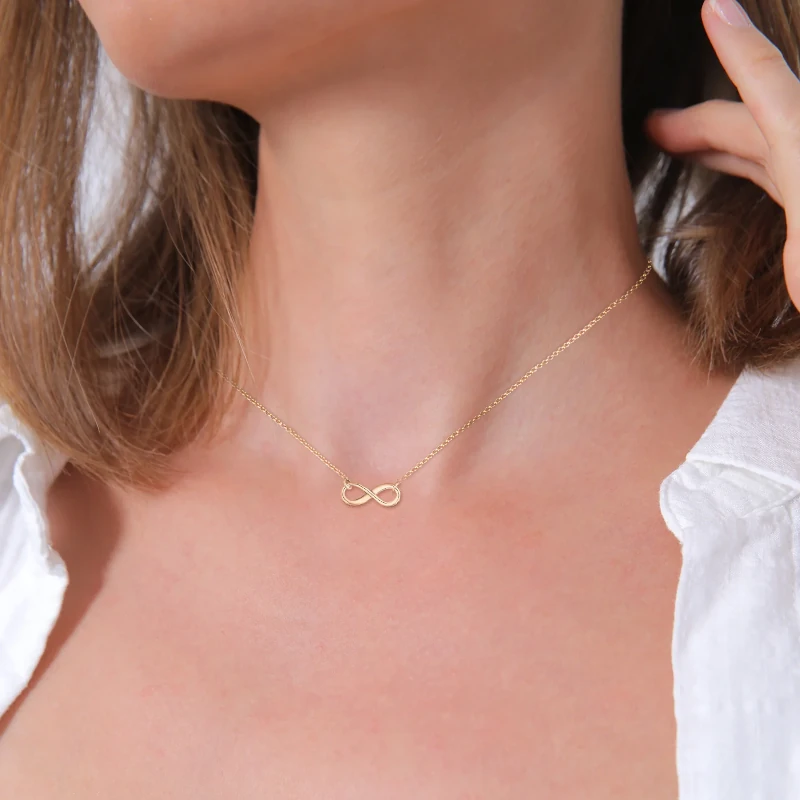 You can buy it at ellyjewelry.com
Metal type based on color, value, and sensitivity
Chain length – choker, princess, or rope
Pendant size – large statement or delicate mini
Added embellishments like diamonds or engraving
Symbolic engravings – names, dates, messages, symbols
Personalized custom details make the necklace uniquely meaningful and ensure it will be cherished for years to come.
Wearing and Layering Infinity Jewelry
Thanks to their versatile styling, infinity necklaces complement both dressy and casual ensembles. They add a delicate accent to dresses, layer nicely with other dainty pendants, and peek attractively from collared shirts. Tips for wearing include: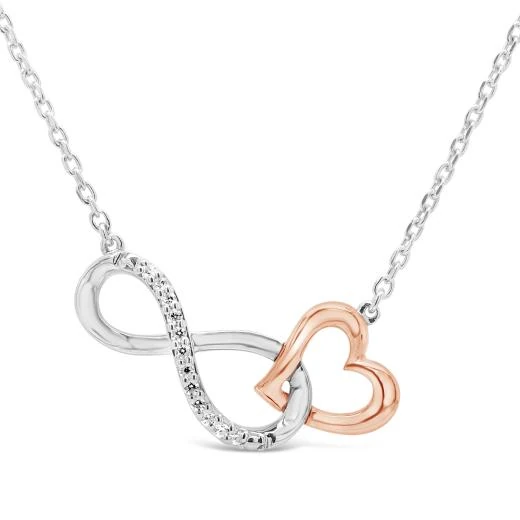 Complement V-necks, wrap dresses, scoop tops
Create a stacked necklace effect with other pendants
Adjust shorter lengths higher to show above scarves
Allow longer lengths to graze tops of jeans or tanks
Show off engraving by wearing the pendant outside shirts
Pair with simple studs or small hoops to avoid clutter
Promoting Positive Virtues
Beyond affection, the infinity pendant inspires virtues like:
Faith in possibilities
Hope and resilience
Limitless love
Unbroken connections
Perspective on what matters
Shared stories and journeys
Empowerment to overcome
Belief in renewal and rebirth
Its unique symbolism promotes healthy attitudes to live fully with gratitude.
Top 10 Infinity Necklace Designs
From minimalist to opulent, here are 10 stunning styles perfect for gifting:
Diamond Halo Infinity Pendant – A glamorous infinity loop fully encircled in dazzling diamonds.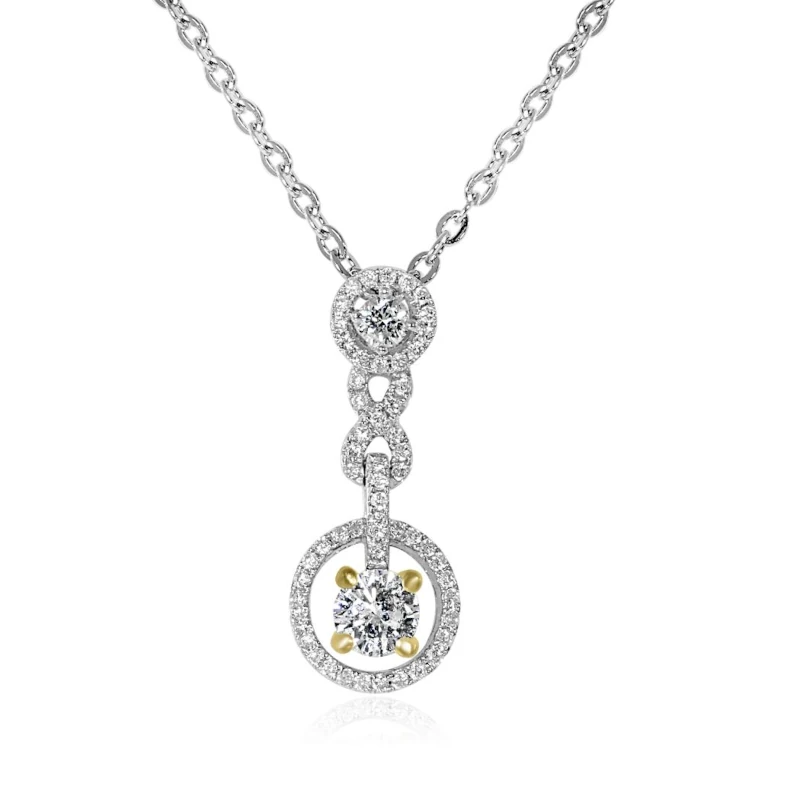 Check out this white gold with diamonds pendant here
Engraved Couples Necklace – One loop engraved with your name, the other with your partner's.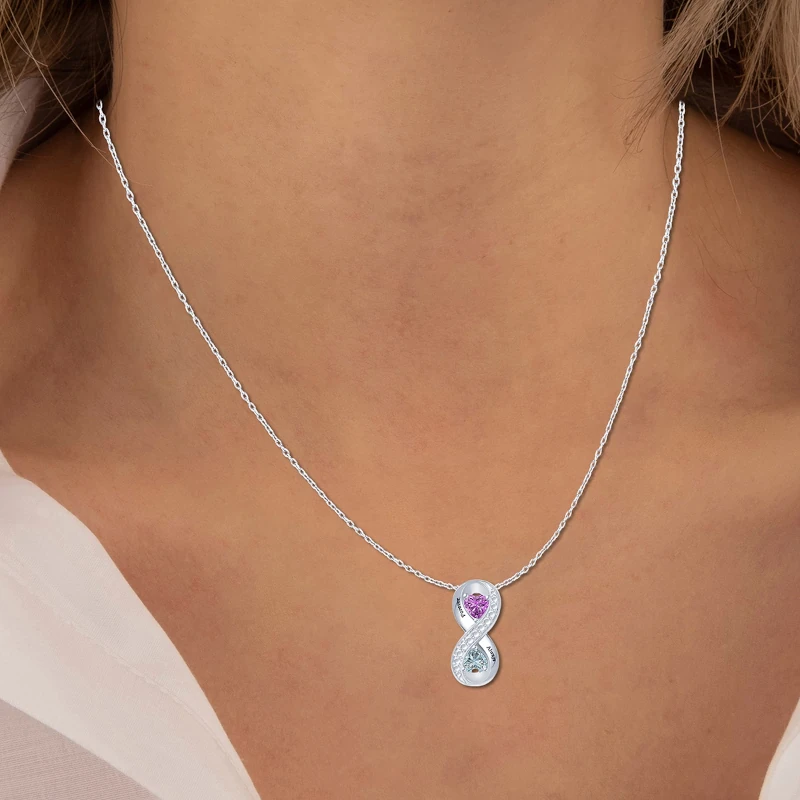 You can choose the birthstones and engraving at kay.com
Rose Gold Choker Chain – A delicate mini rose gold infinity pendant on a 45cm chain.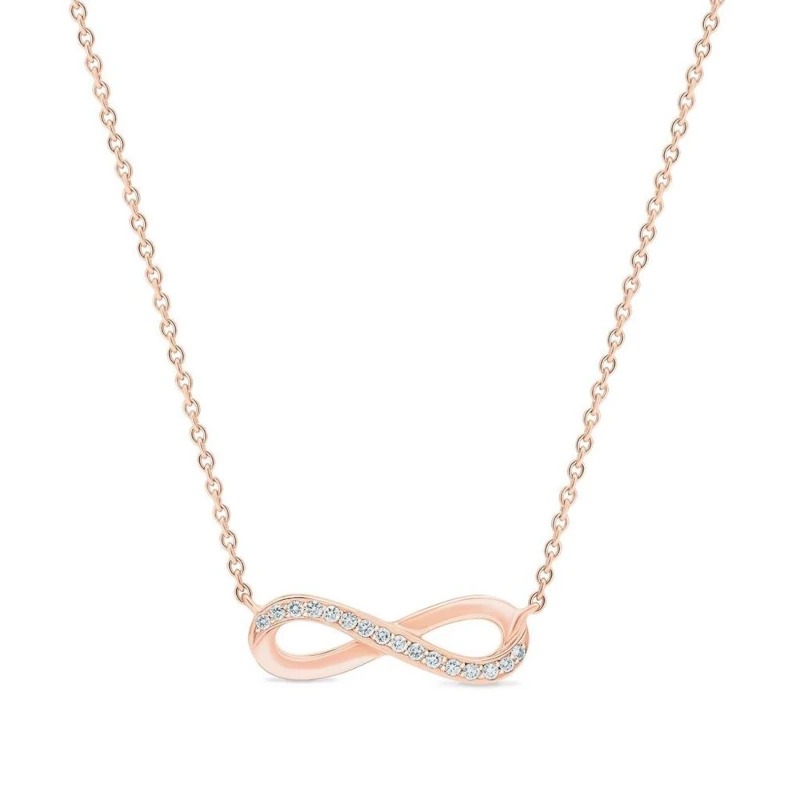 Check it out at debeers.co.uk
Midnight Blue Vertical Infinity Pendant – A large Vertical midnight blue infinity pendant with 2 round brilliant diamonds.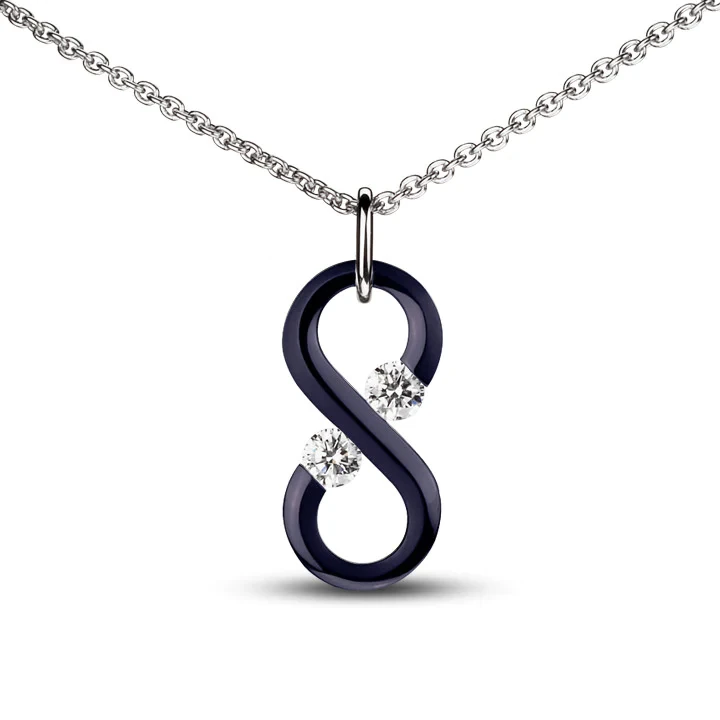 Heart-shaped Infinity Necklace – Features heart and infinity pendant, all in one shape.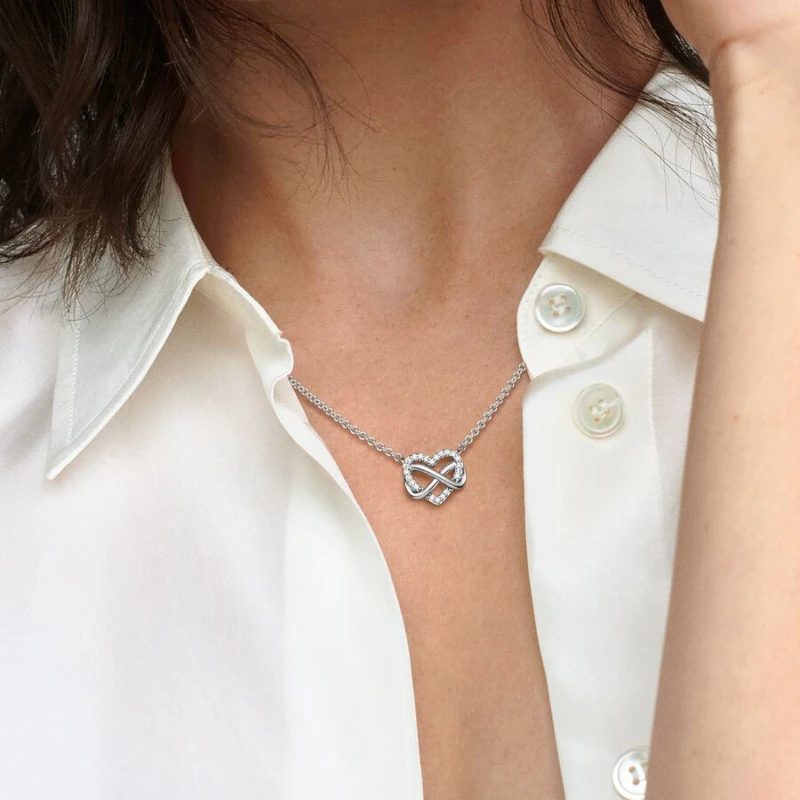 Check it out at pandora.net
Triple Interlocked Infinity Pendant – A Heart and infinity loops interconnected into one pendant.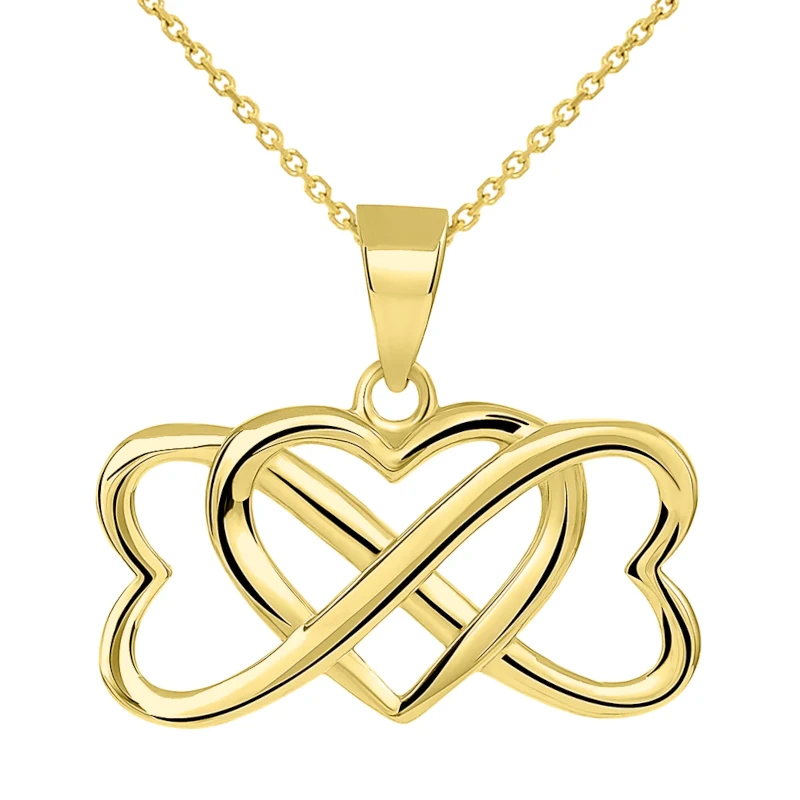 Check out this triple-heart infinity loop necklace here
Mystic Rainbow Pave Infinity – An infinity pendant rainbow paved with cubic zirconia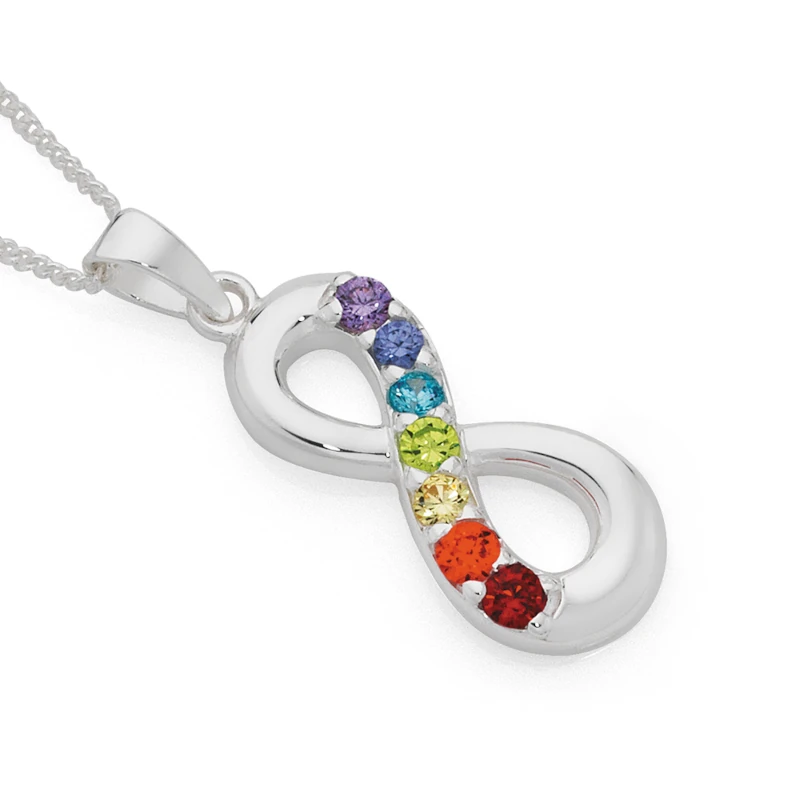 White Gold Diamond Solitaire – A minimalist white gold infinity decorated with round solitaire diamonds.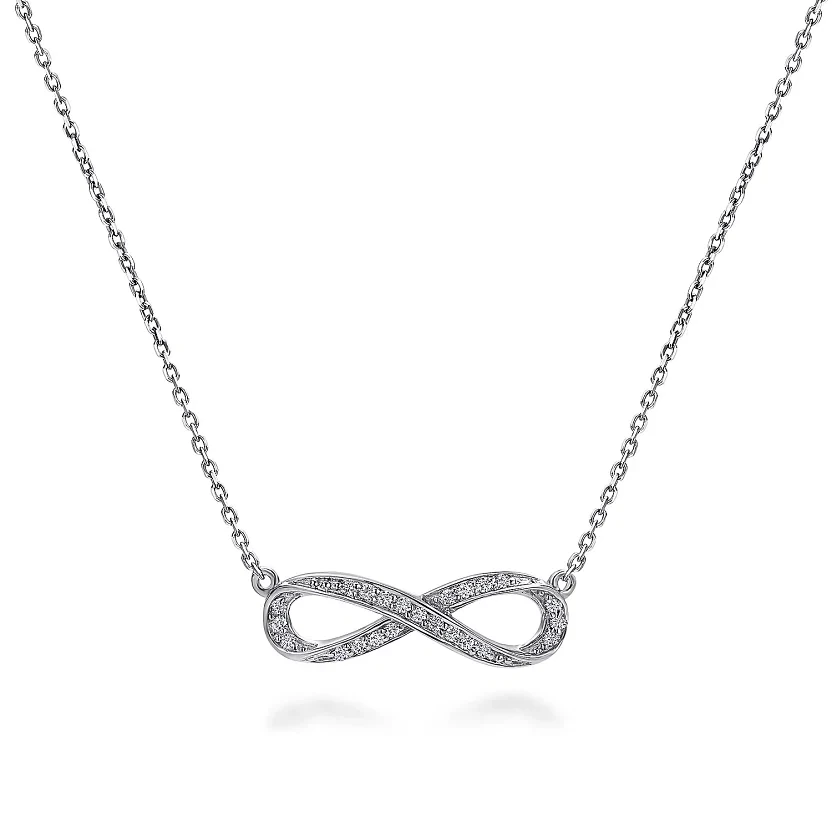 Sterling Silver and Peridot August Birthstone Infinity – Peridot gems adorn one loop of this elegant sterling silver pendant.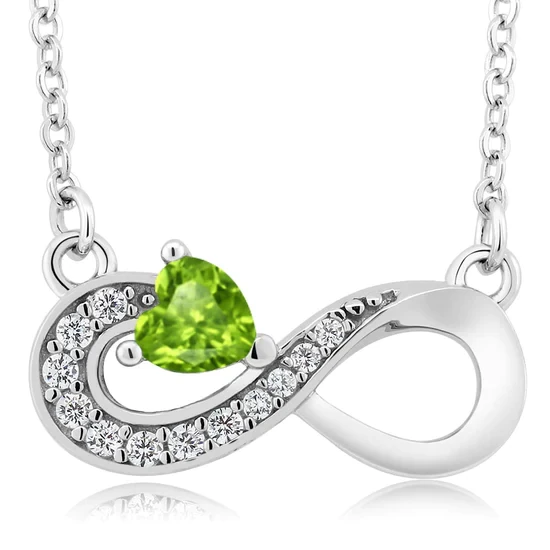 Check it out at gemstoneking.com
Engraved Initial Infinity Necklace – An adorable couple's style engraved with your initial on one loop, and your partner's on the other.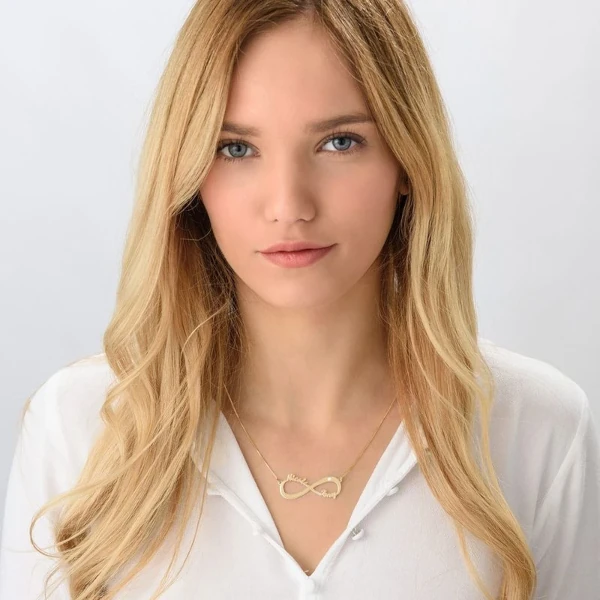 Check it out at myka.com
Caring for Infinity Necklaces
With proper care, an infinity necklace can last a lifetime. Follow these tips to keep it looking beautiful:
Store pieces separately in a fabric pouch to prevent scratching
Avoid harsh chemicals, submerging in water, or impacts
Clean periodically with a soft jewelry cloth to remove oils and dirt
Have white gold, sterling silver, or platinum re-dipped when needed
Check the security of bail and chains every few months
Take off during strenuous activity, gardening, cleaning, etc.
Meaningful Gift for Any Occasion
Infinity jewelry makes a thoughtful gift for any special occasion from holidays to anniversaries. As a gift for her, it empowers self-love, optimism, and strength to follow dreams. For him, it promotes focus on meaningful relationships and passions. And exchanged between lovers, it solidifies an unbreakable bond you can both cherish.
Gifting Traditions
Infinity necklaces are frequently given as special gifts to celebrate or represent:
Weddings and engagements
Anniversaries
Valentine's Day
Motherhood, fatherhood
Births, adoptions
Graduations
Continuing friendship
Long-distance relationships
Support through grief, health struggles, or hard times
The symbolism emphasizes everlasting love, infinite possibility, and unbreakable connections. Popular as promise gifts for couples, they also reinforce familial, friendly, or spiritual bonds.
Frequently Asked Questions
Do infinity necklaces ever tarnish or turn skin green?

Quality infinity pendants made from sterling silver, gold, or other metals like titanium and platinum do not tarnish or cause skin discoloration. Opt for solid metals versus plated ones and perform occasional gentle polishing.

What is the most durable metal for an infinity pendant?

For longevity, platinum is the most durable, followed by 14k or 18k gold and titanium. Sterling silver requires more frequent polishing but is affordable and less prone to cause skin reactions.

What length chain is best?

16, 18, and 20 inches are popular lengths that work well for infinity pendants. 16-18-inch princess length hits near collar bones while 20-inch matinee falls just below. Go longer or shorter based on the neckline styles you wear most.

What pendant size should I choose?

Pendant sizes range from tiny 3-6mm mini to large 15-25mm statement styles. Mini pendants work well on choker necklaces while larger ones stand out on longer chains. Pick based on personal style and intended recipient.

How do I clean and care for an infinity necklace?

Clean gently with mild soap, water, and a soft bristle brush, rinse and hand dry. After drying, polish with a soft cloth. When not wearing, store pieces separately in fabric pouches. Take off during physical activity, sleep, and cleaning.
Our Latest Articles
Laoutaris Recommends