Useful keyrings for men are what we don't think about too much. But why keep your keys in a simple keyring when you have so many options? You can have tools, USB flash drives, pocket knives, and many many more.
Table of Contents
The average reading time is 5 minutes. The article was last updated on 07/09/2023.
KeySmart – Smart Key Organizers
From Kickstarter to Worldwide Brand
KeySmart is what we call a brilliant idea. Starting 9 years ago, they became a recognizable brand with over 5 million happy customers and over 50 products.
From the original KeySmart that holds up to 8 keys, to the multitool KeySmart Max with any option you want.
KeySmart Max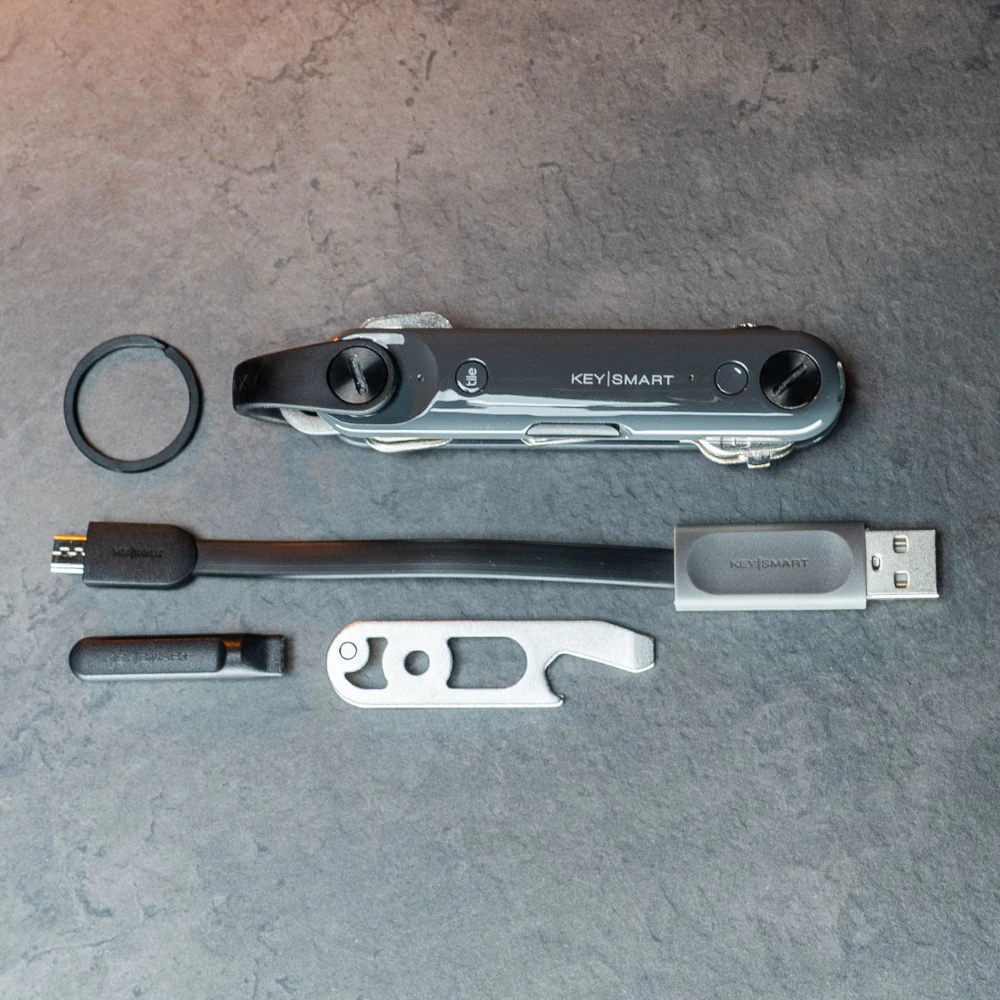 The latest and most advanced key organizer.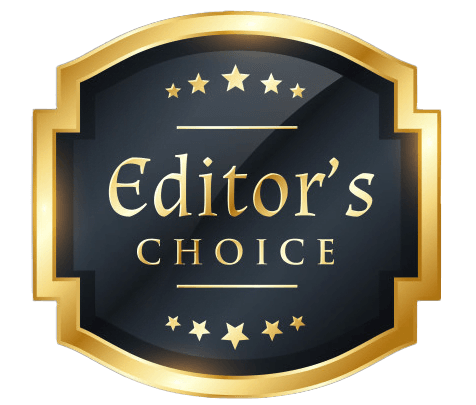 Features
Locate your lost keys with the free Tile™ app
Make your missing keys and phone ring and find them easy
Organize up to 14 keys
Included a powerful rechargeable battery with a cable
Option to add more than 20 tools
It consists of a powerful flashlight and a multi-tool
Consists of a loop ring to add a car key fob
Pros
Eliminate key jingle
Save pocket save
Never get poked by keys anymore
KeySmart leather edition available
KeySmart Air to add your AirTag so you never lose your keys
Easy to assemble
Cons
It is a great product. One of the ultimate Useful Keyrings for men

Check it out and all the other products at getkeysmart.com
Check out our article about the best luxury pens.
Key-Bak Keychains
Key-Bak touchless door opener and stylus
After 3 years of the COVID pandemic, we are all concerned about touching things daily.
One of the oldest companies in America has been producing key retractable reels for over 75 years.
We have chosen keyrings for men that you will love from the wide range of their products.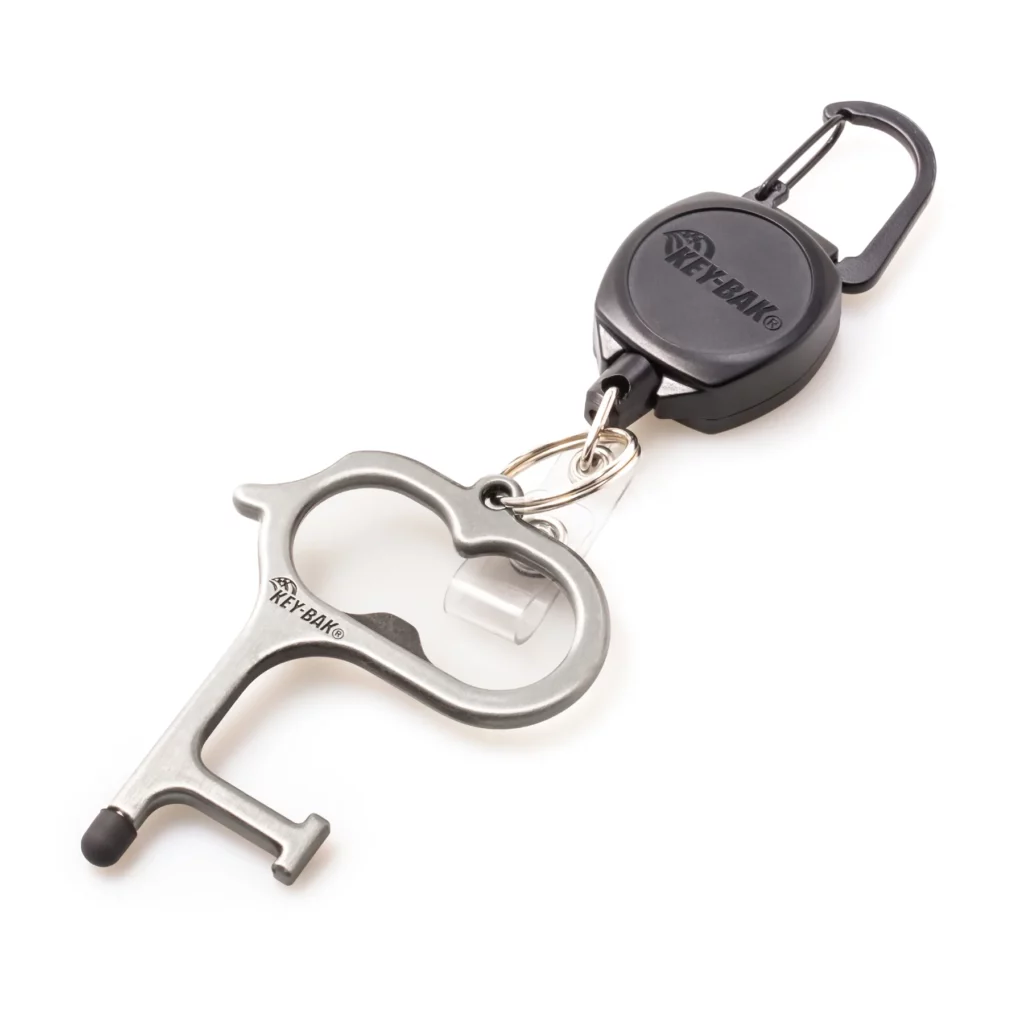 Features
Stylus tip for using any touchscreen devices
Engineered to reduce slippage from door handles, push bars, and pull handles
Rounded-edged design to ensure pain-free use
Thumb rest for control and comfort
Battle opener
Attaches to Key-Bak retractable keychain
Light but strong
1-year warranty
Pros
Can be used with Key-Bak retractable keychains
Ergonomic
Great quality
Durable
Cons
The rubber tip can fall off easily

Check all the products of KeyBak on their homepage.
Complete your style with a nice tie. Read our article about ties for men.
The Ridge KeyCase
You should know The Ridge from the great wallets they produce. Check our article about wallets for men.
Another unique product is the KeyCase. It can hold from 2-6 keys and is light, durable, and sleek.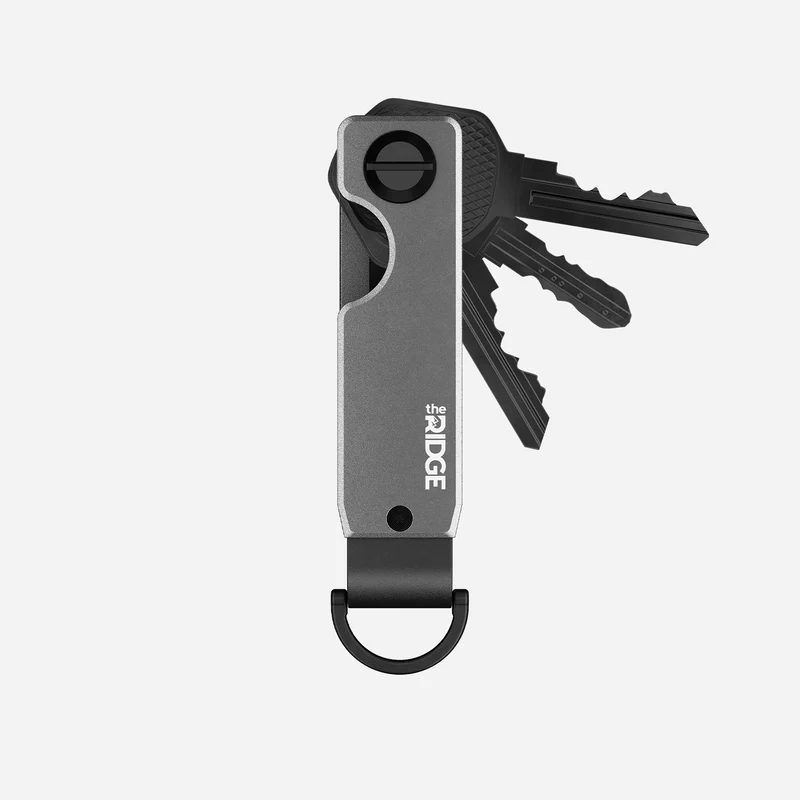 Pros
Tension plate system
Manganese spring steel clip
6 different colors
Very good reviews
Cons
Expensive
No useful tools or add-ons
A very good product but we prefer the KeySmart solution.

Check it out at ridge.com
OrbitKey Key Organizer set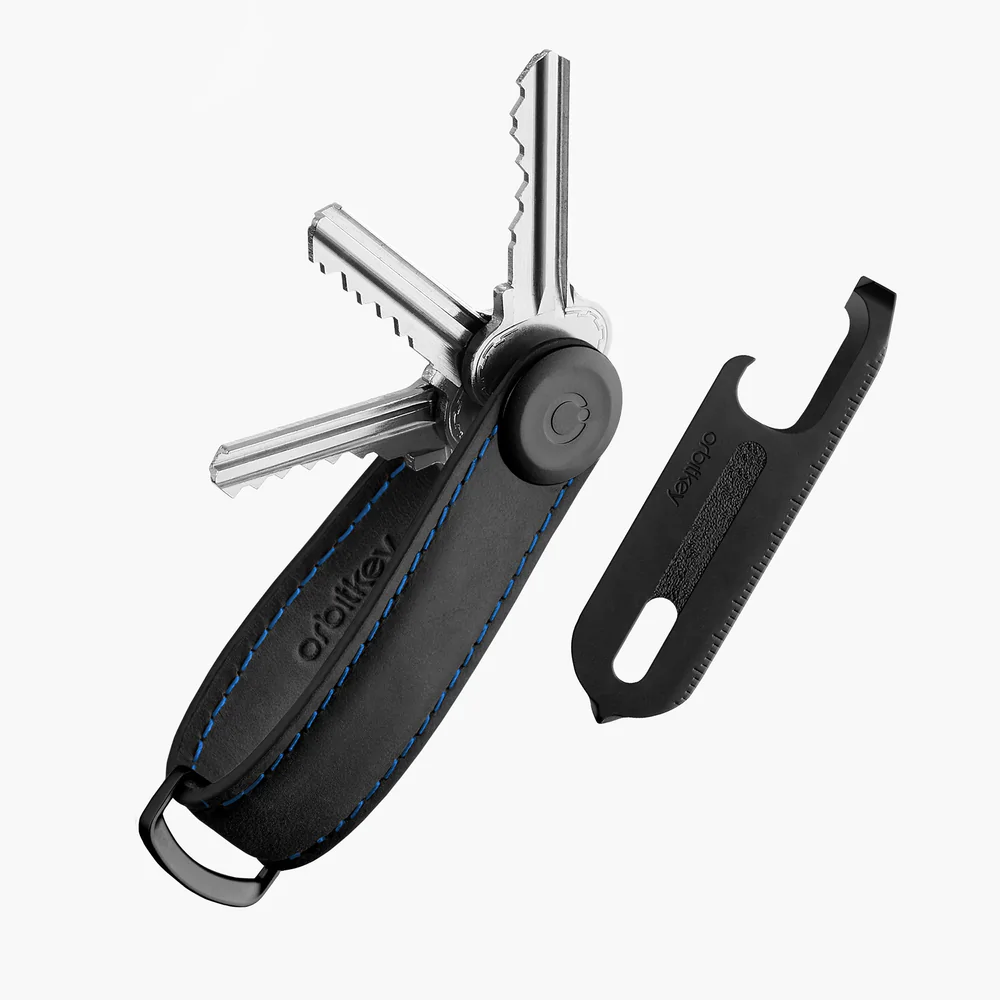 Pros
Leather key organizer
A multi-tool with 9 handy tools
A 2-year warranty
Nice gift box
Cons
Expensive
Can hold 3 keys and the multi-tool
The multi-tool can be better

Check it out at orbitkey.com
Keyport Pivot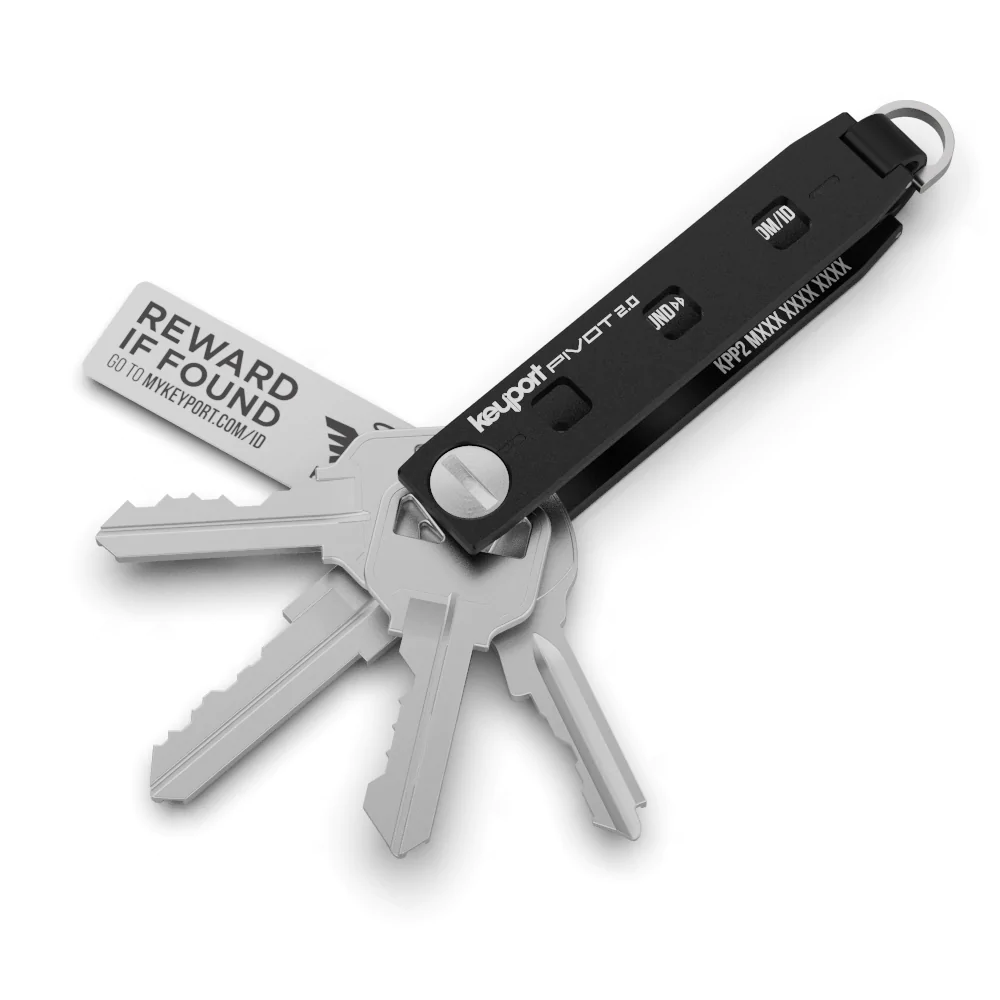 Characteristics
Stacking modules
Custom side plates
Locking pin
Lost & Found Service
Pros
Titanium, stainless, and aluminum materials with different colors
Optional Inserts: multitool, Ink pen, USB flash drive, RFID Key
Optional modules: smart remote, mini flashlight, charger cable
Optional accessories faceplates and add-ons
Most complete key organizer and multitool in the market
Cons
The basic price is low, but adding accessories increases the overall cost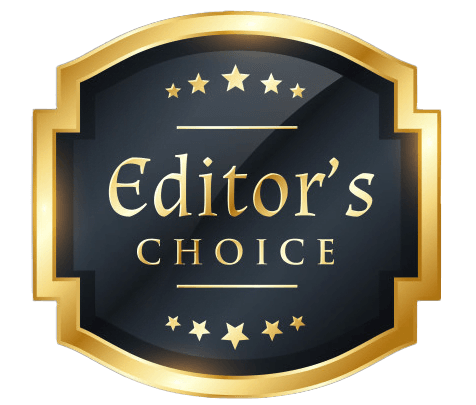 Check all the products and modules at mykeyport.com
Read our article about 15 stylish money clips for men.
KeyDisk mini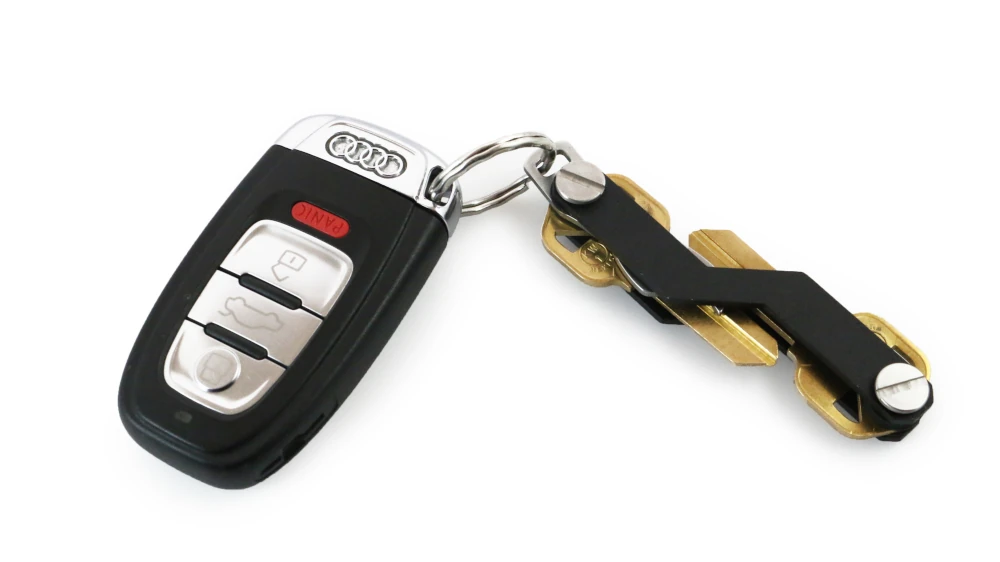 Pros
The lightest key organizer in the market
Holds 8 keys
Bottle opener included
From anodized aluminum, extremely light and strong
Currently with a 50% discount, a great price
Cons
No additional options for tools or add-ons

Check it out at elliothavok.com
K-Addict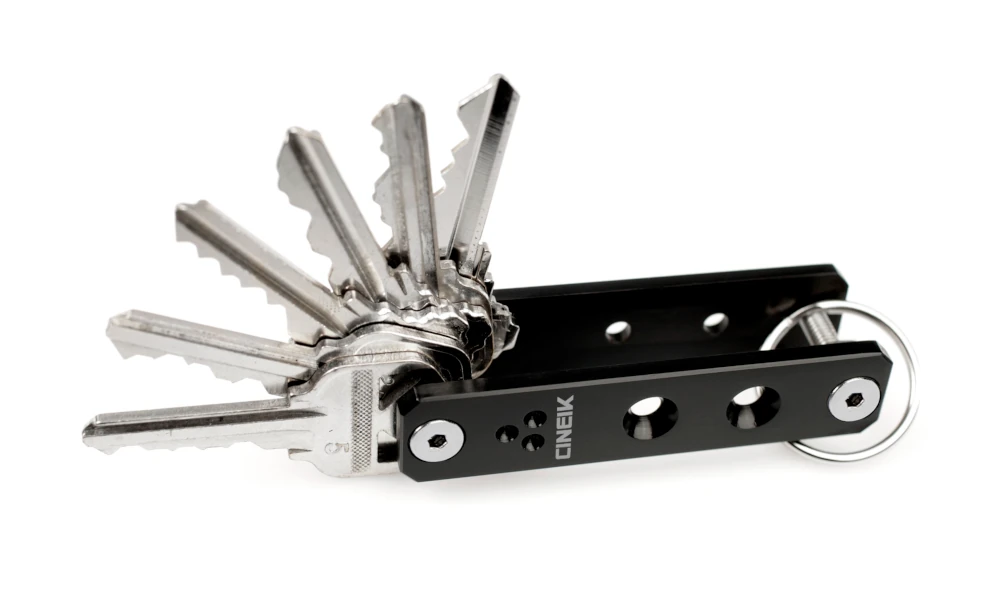 Pros
18/8 Stainless steel
Military spec microfinish anodized
Titanium version available
Good price (check discounts)
Cons
Must be built by yourself
Only a paracord addon

Check it out at cineik.com
KeyClip 6 Clear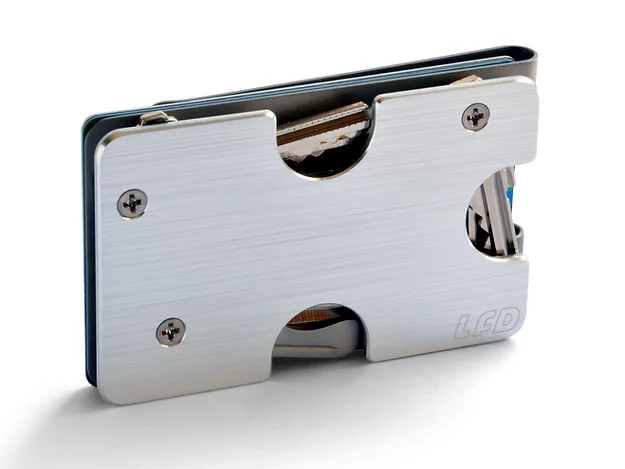 Pros
Holds up to 8 credit cards and 6 keys
Option for a 4-1 multitool and USB drive with 3 keys only
Anodized aluminum material
Can hold cash also (with a money clip)
12 months warranty
Cons
The most expensive
Not many tools to add

Check it out at keyclipwallet.com
KeyBiner Carabiner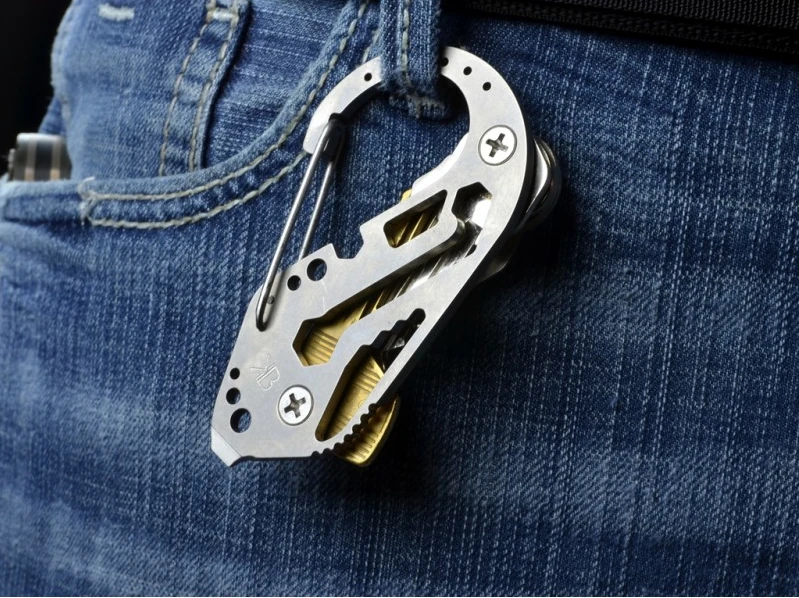 Pros
Select from Copper, Aluminum, and Titanium material in different colors
No sharp edges to damage your clothing
Includes tools like a bottle opener, wrenches, screwdrivers
Option for USB thumb drive
Holds up to 15 keys
Cons
Big in size compared with the other solutions

Check it out at fortiousarms.com
Frequently Asked Questions
What are the benefits of using a key organizer?

A key organizer allows you to consolidate all your keys into one compact unit. This helps keep your keys from jangling around or getting tangled up in your pocket or bag. A key organizer also makes it easy to find the right key when you need it. The keys are neatly arranged and easy to identify. Using a key organizer can also protect your pockets and bags from getting poked by loose keys.

What types of key organizers are available?

There are a few main types of key organizers:
Keyrings: These are circular rings that allow you to attach your keys around the ring. They come in various sizes.
Key chains: Key chains are chains, usually with a clip or ring at one end, that allow you to attach your keys. This keeps them together in a line but allows them to jingle and move around more freely.
Multi-tools: Some key organizers integrate other tools like bottle openers, screwdrivers, flashlights, etc. This consolidates your keyring and tools into one unit.
Leather organizers: These often have a leather pouch or fold-over design. Leather can provide a more stylish look for your keys.
Compact plastic: Plastic key organizers are often credit card-sized units that fold up your keys into a compact rectangular shape.

What features should I look for in a key organizer?

Consider the following when choosing a key organizer:
Size – Make sure it can accommodate all your keys but remain compact
Materials – Metal, leather, and plastic options have different looks and durability
Design – Look for a design that's easy to open and access your keys quickly
Tool integration – If you also want to consolidate tools, look for options that allow for this
Portability – Consider how portable and pocket-friendly the organizer's design is
Extras – Some have extra features like bottle openers, carabiners, lights, etc.

Any tips for maximizing my key organizer?

Streamline your keys – Remove any old keys you don't need to pare it down to basics.
Put your most used keys on one end for the easiest access.
Add a location tag or color code to identify duplicates.
Integrate key multi-tools that also have a bottle opener, flashlight, or knife.
Customize with accessories like a lanyard, carabiner, or leather case.
Go for a small, minimalist design that doesn't bulk up your pocket.
Conclusion
There are many keyrings and key organizers in the market.
We choose to review only the most unique ones that have some tools with them.
What key organizer do you like the most? Let us know in the comments below
Our Latest Articles
Laoutaris Recommends