Choose the best socks for men in this article—socks for winter, casual, athletic, or formal. Find everything you need to know in this complete guide.
Table of Contents
The article was last updated on 19/05/2023. The average reading time is 14 minutes.
Are your feet feeling a little neglected? Don't worry, we've got the perfect solution – introducing Socks for Men! Our selection of stylish and comfortable socks will have your toes tapping and ensure you stay fashionable all day long. So, if it's time to upgrade your sock drawer, look no further than Socks for Men!
What do you need to know?
Socks for men are essential items in a man's wardrobe. They not only keep us warm and cozy, but they can also make a great fashion statement. As men's fashion continues to evolve, more sock choices are available than ever before. Whether looking for something stylish or practical, you can find the perfect pair of socks to suit your needs.
Let's start by looking at some of the different materials that make up today's socks for men. Cotton is a timeless choice that never goes out of style and is perfect for those who need breathability and comfort; wool makes an excellent insulating layer; cashmere offers an ultra-soft feel; nylon provides lightweight flexibility, and silk is stylishly luxurious.
Next, consider the styles of men's socks that are popular today: no-show or low-cut socks provide light coverage around your shoes to keep them sweat-free; ankle socks are perfect for everyday wear; quarter socks provide extra range around your ankle; mid-calf socks protect from shoe rubbing and provide extra warmth in cold weather, and knee-high or over knee offer maximum warmth during long outdoor activities like hiking or hunting.
Finally, think about color! You no longer have to be limited to dull black — choose fun colors that best suit your style, or pick white for a timeless look! Whatever you choose, you will feel comfortable and fashionable with quality pairs of men's socks.
Types of Socks
Whether you're putting together an outfit for business or casual wear, knowing the different types of men's socks can help you select the right style for the occasion. From dresses to athletic socks, there are a variety of styles and materials to consider depending on your needs. Here is a look at some of the most popular types of men's socks.
Dress Socks for Men: Dress socks come in several colors and textures — such as wool or cotton — and are often worn with suits, tailored slacks, and other dressier looks. The length depends on personal preference; some prefer ankle length, while others opt for knee-highs or crew lengths.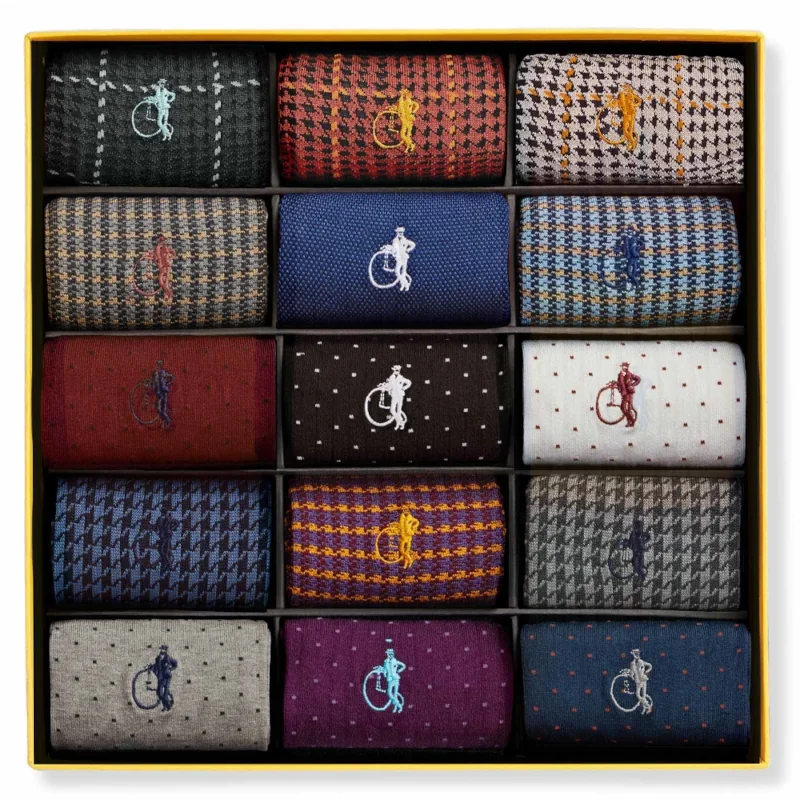 No-Show Socks for Men: Perfectly suited for dressy and casual looks, no-show socks stay hidden beneath sneakers, offering discreet comfort all day long. They usually come in low-cut designs that won't show even if your pants ride up slightly when you sit down.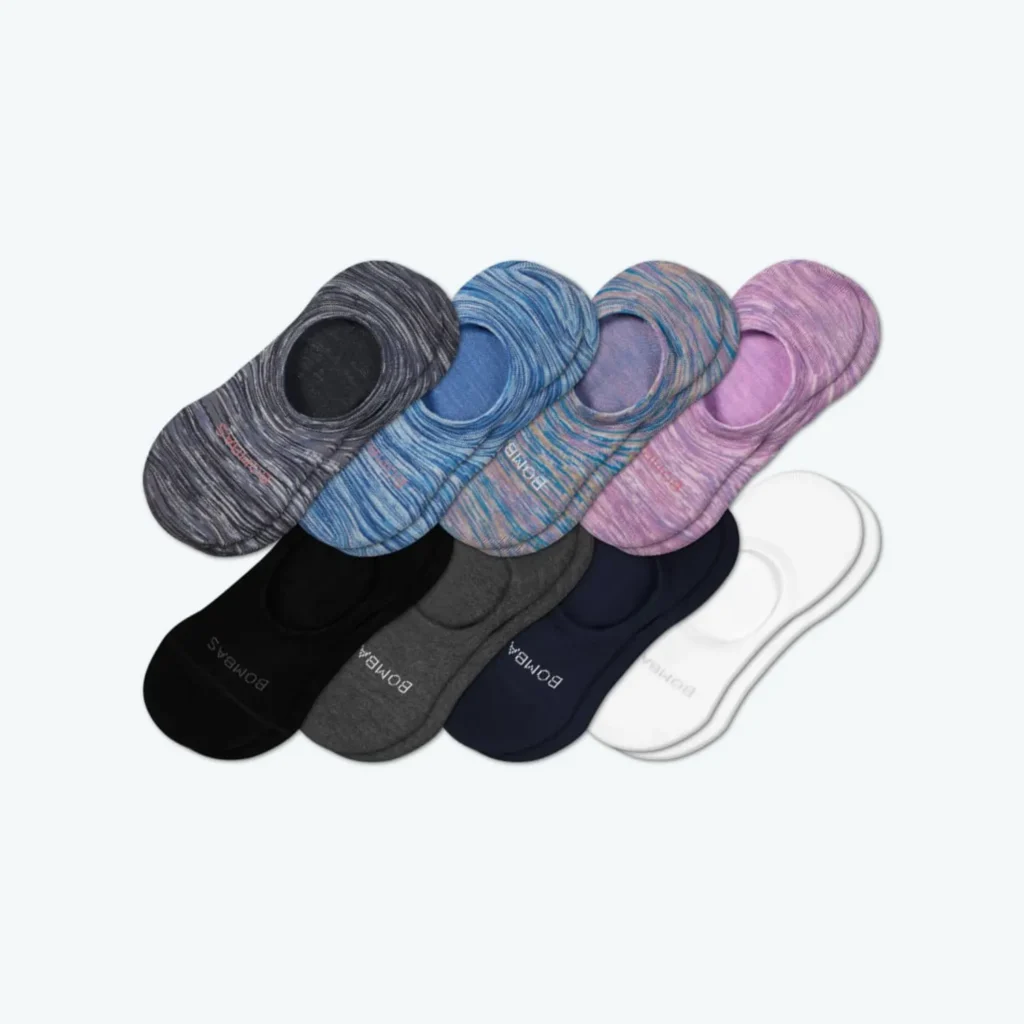 Crew Socks for Men: Crew socks are designed to rise just above the ankle, providing medium coverage — making them an excellent option for those who want something between the ankle and knee-high without going too high with their sock game! It can be made from traditional fabrics like cotton or wool but just as often from synthetics that combine softness and breathability.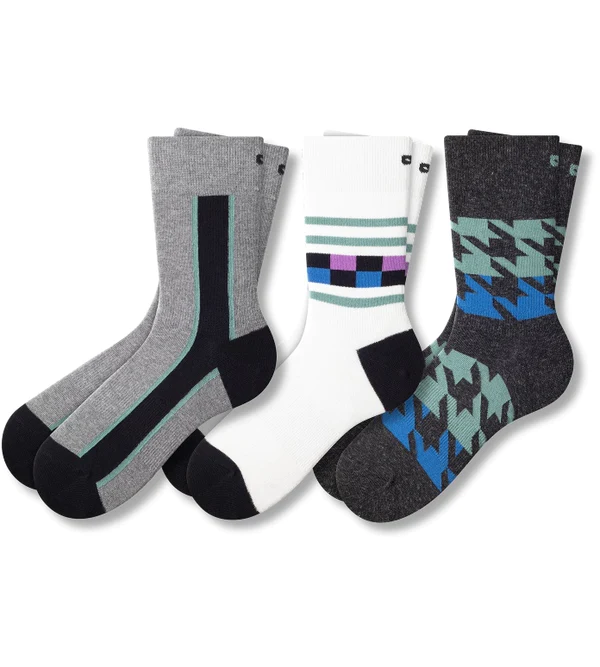 Athletic Socks for Men: Whether engaging in sports like running or basketball, it's important to have athletic socks that can keep feet dry while providing cushioning support during activities involving aggressively jumping or running around on hard surfaces. Choose socks with arch supports plus enhanced treads to ensure a good grip inside your shoes, which helps reduce friction against your feet and blisters. Athletic crew-length styles can also be used casually alongside more relaxed clothing, such as cargo shorts or jeans comfortably tucked into boots!
Materials Used in Socks
The materials used in men's socks vary depending on what type of socks you are looking for. The most common materials are cotton, wool, and synthetic fabrics.
Cotton socks are lightweight and comfortable and can be great uniform socks for those who work outdoors or in the construction industry, as they offer protection against heat or cold temperatures. Cotton socks also hold their shape, meaning they will last longer than many other types of material and provide quality comfort all day.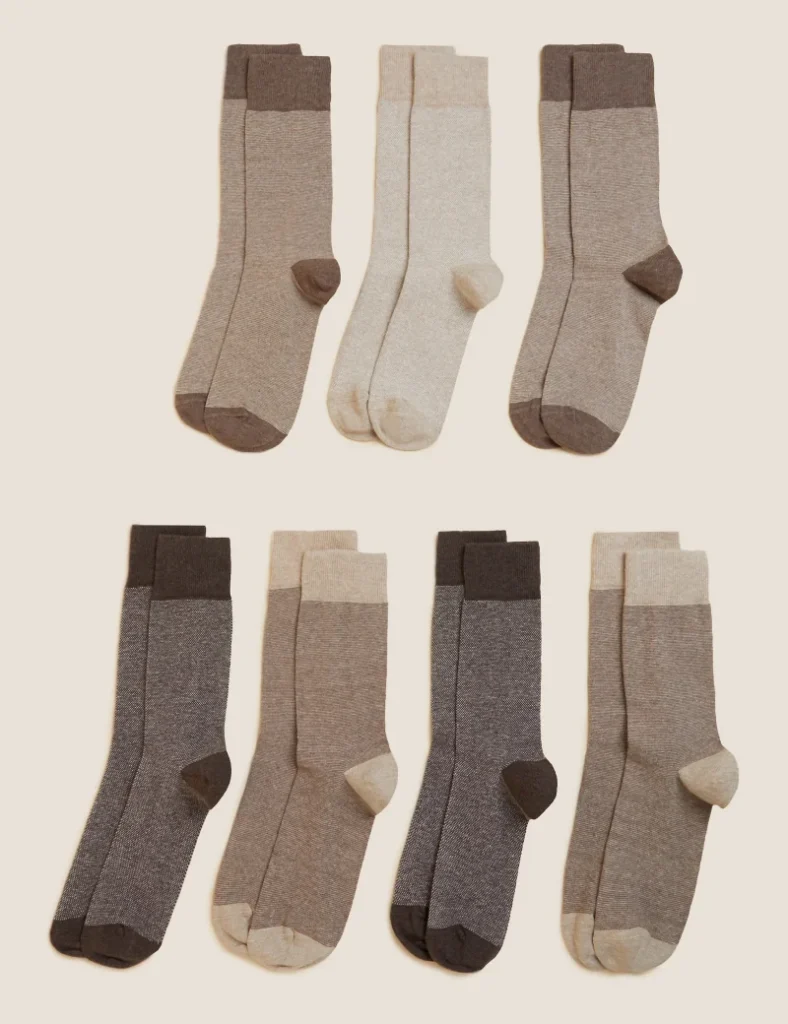 Wool socks are the most popular winter sock choice because wool can trap body heat in conditions that may not be as conducive to warmth, like outdoor activities or cold seasons when the temperature drops below freezing. Wool naturally wicks away moisture from your feet, so you won't have to worry about sweaty feet getting your shoes damp and uncomfortable. Wool is also naturally flame retardant, offering protection in extreme environments.
Synthetic fabrics such as polyester, acrylic, and spandex can make up a substantial portion of many sock choices today since they dry faster than natural fibers (cotton and wool), making them better suited for those who participate in more physically active activities like running or biking. Synthetics absorb less water than natural fibers, allowing you to stay drier and calmer throughout the day while retaining their shape even after washing them multiple times. Synthetics also tend to be budget-friendly since they cost less than natural fibers due to their more straightforward processing requirements; therefore, they can be affordable options that won't break the bank.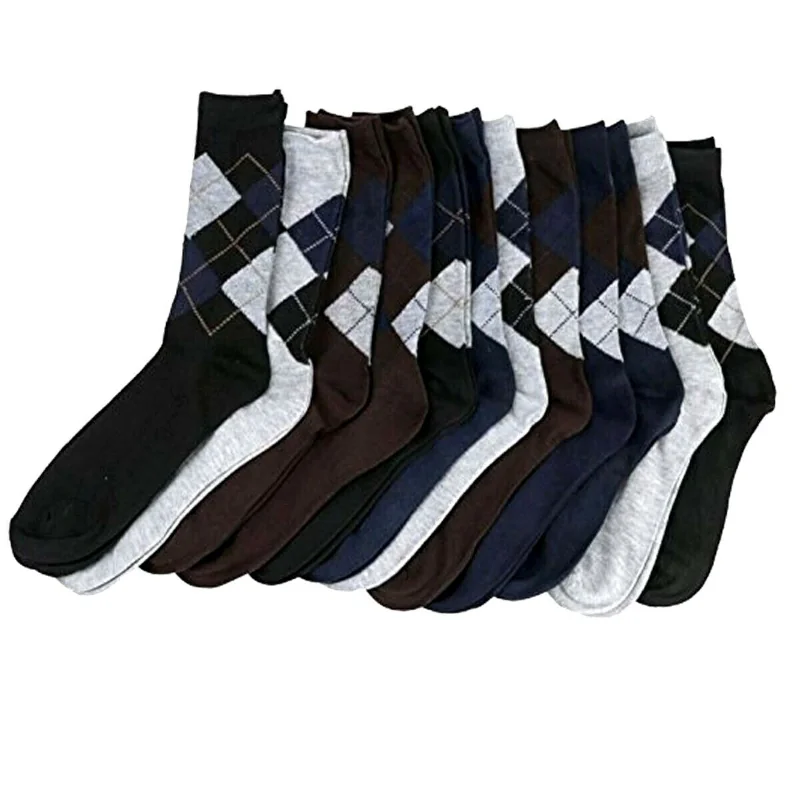 Benefits of Wearing Socks

Socks are an essential accessory for men. Not only do they complete the look of a dress outfit, but they also provide practical benefits such as warmth and protection against blisters and calluses. In addition to looking good, there are several other benefits to wearing socks for men.
Health: When left exposed, feet can be prone to skin infections, chafing, and other issues due to bacteria that breed in warm and moist environments on the feet. Wearing socks helps absorb sweat, preventing bacteria from multiplying. In addition to absorbing moisture, socks wick away sweat from the foot, making it less susceptible to issues such as athlete's foot.
Support: Socks help add a layer of support for your feet when walking or running. The added compression encourages better blood flow throughout your body, improving circulation while protecting your feet from minor injuries such as bruises.
Insulation: Wearing socks helps keep your feet warm even in cold temperatures, preventing chilling that can lead to stiffness in muscles and joints and numbness in toes caused by low temperatures. This won't just keep you comfortable but will also reduce the risk of frostbite.
Hygiene: Many men do not take proper care of their "down there" areas due to a lack of knowledge or motivation to do their hygiene correctly until it is too late and infections set in already, causing unpleasant consequences. Keeping your feet covered with clean new socks is a proactive way of maintaining high levels of hygiene by avoiding disorders that may develop over time due to the accumulation of dirt and sweat against the skin for long periods. Without wearing socks at all times, you're out booting about town!
Care and Maintenance of Socks for Men
As part of any man's wardrobe, good-quality socks can play a significant role in looking and feeling your best each day. To maintain their quality and stretch the life of the socks in your closet, a few essential tips should be considered to get the most out of any pair.
Socks should always be appropriately laundered to provide maximum benefit. Machine washing is usually preferred for most socks, although hand washing can also be effective if performed carefully. For machine washing, use cold water with a mild detergent, not bleach or harsh cleaners. Afterward, hanging it dry rather than using a machine dryer to prevent shrinking is recommended. If using a tumble dryer, select the lowest temperature possible to avoid damaging fibers and shrinking the sock size.
Between laundering cycles, taking proper care of your socks as they age is essential. Wiping off excess dirt after wear and brushing them lightly with a soft cloth will help keep them looking their best until they need washing again. This process also helps reduce staining or discoloration on lighter fabrics so they stay vibrant for extended periods.
By taking the proper steps in cleaning and caring for socks — especially quality ones — men will get more practical use out of one purchase instead of needing to replace individual pairs many times during the year. The result: more wardrobe options while saving money in the long run!
Fashion Trends in Socks for Men
As men have become more fashion-conscious, the range of socks for men in design, fabric, and color has also grown exponentially. This allows you to create fun, stylish looks that show your personality and taste. To pull off the latest fashion trends in socks without looking over the top, it's essential to go with just one statement sock at a time—it should be the focal point of your look. When combined with well-coordinated trousers, shoes, and accessories, you can create trendsetting and on-trend outfits.
Patterned socks for men are a great way to make a statement without going overboard. Striped argyles, clocks, or floral patterns add contrast while still looking subdued when paired with solid dress pants. Novelty socks featuring animal or food patterns are great for pairing with jeans, as they bring fun to your look. Solid-colored designer socks in eye-catching hues like deep navy blue or burgundy allow you to express yourself in an ultra-stylized manner that won't be too overwhelming for everyday wear.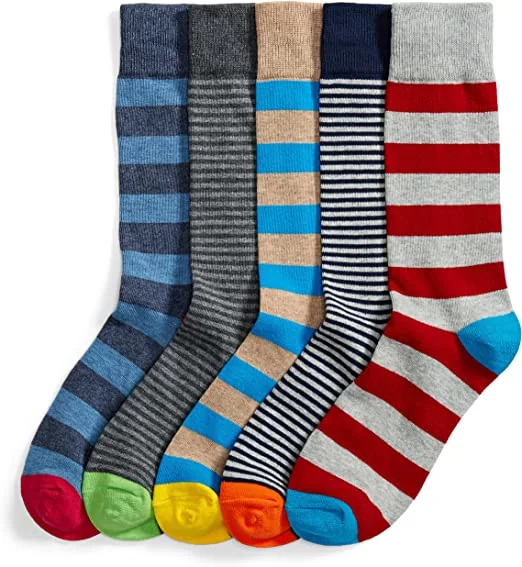 Anchor-patterned socks for men exude classic masculinity, while embroidered designs add a unique touch that won't go unnoticed. Polka dot designs are making a comeback- but keep it subtle: patterns with fewer dots are more refined than their bolder counterparts and pair well with office wear and casual attire. Color block styles offer further versatility by giving you two contrasting colors in one sock – perfect for balancing out simple outfits where your legs don't do the talking!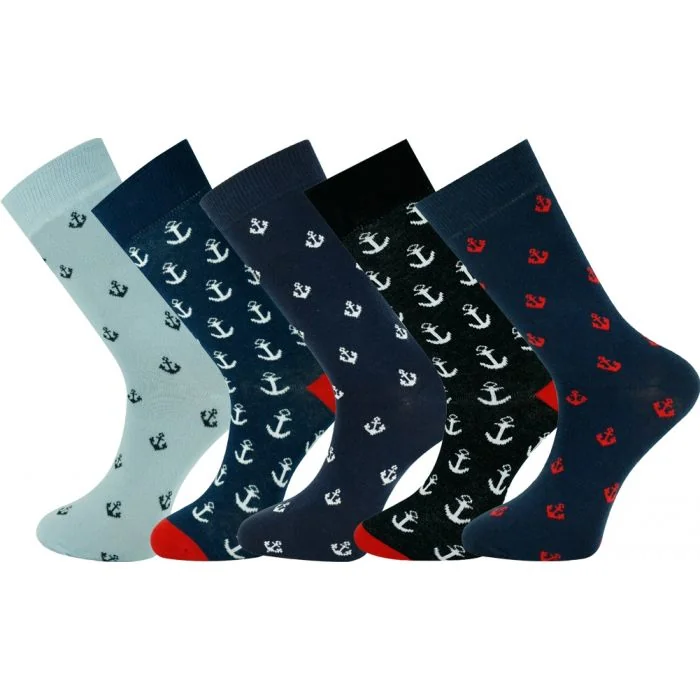 Where to Buy Socks for Men
Finding quality pairs of socks for men can be a difficult task. With the wide range of options available, from luxury brands to sports-specific styles, deciding where to buy your socks can be challenging.
If you're looking for something of higher quality, consider looking at luxury retailers or specialty stores. Luxury retailers often provide a selection that offers a blend of materials like wool and cotton and unique styles with colorful patterns and textures. If you prefer something more sporty or technical, explore sports-specific retailers specializing in outdoor apparel and footwear. They typically have complete collections of sport-specific performance socks designed for various conditions and climates.
For those on a tight budget or who need an everyday pair, check out department stores or your local bargain retailer for great deals, a casual dress, or athletic sock styles. You'll find an array of colors and materials to choose from at value prices perfect for everyday use – plus, with seasonal discounts available often, you might score some fantastic savings!
No matter what style you may be looking for – dress socks in flexible fit technology, low-cut ankle socks featuring arch support, or something unique – there's sure to be something out there that will keep your feet comfortable no matter the occasion.
Frequently Asked Questions
What are dress socks?

Dress socks are typically made of thinner materials like cotton or wool and are designed to be worn with formal attire. They often come in solid colors or subtle patterns, usually calf-length or longer.

Are athletic socks only for sports activities?

While athletic socks are commonly worn during sports activities, they can also be worn for everyday casual wear. They are usually made of moisture-wicking materials and provide cushioning and support.

What are casual socks?

Casual socks are versatile and can be worn for various occasions. They come in multiple colors, patterns, and materials, including cotton, bamboo, or blends. Casual socks are typically shorter in length, ranging from ankle-length to mid-calf.

What are compression socks?

Compression socks are designed to improve blood circulation and support the legs. Individuals with specific medical conditions often wear them or those who spend extended periods on their feet. Compression socks come in different compression levels and styles.

Can you explain novelty socks?

Novelty socks are fun and whimsical with unique patterns, prints, or designs. They can showcase themes like animals, sports teams, superheroes, or pop culture references. Novelty socks are a popular choice for adding a touch of personality to an outfit.

How should I choose the right socks for specific activities?

Consider factors such as cushioning, moisture-wicking properties, arch support, and breathability for specific activities. Athletic socks are designed to provide these features, while dress socks are more suitable for formal events. Choose socks that meet the particular needs of your chosen activity.

Are there any guidelines for matching socks with outfits?

While there are no strict rules, matching your socks with the color of your pants or shoes is generally recommended. If you're feeling adventurous, you can also use your socks to add a pop of color or pattern that complements your overall attire.

What are the benefits of cotton socks?

Cotton socks are soft, breathable, and comfortable to wear. They absorb moisture well and provide good insulation. However, they may not be as durable as other materials and can shrink if not cared for properly.

Are wool socks suitable for all seasons?

Wool socks are excellent for colder seasons, providing insulation and moisture-wicking properties. Wool can keep feet warm even when wet. However, they may feel too warm in warmer weather and are best reserved for colder climates.

What are the advantages of bamboo socks?

Bamboo socks are known for their exceptional softness and moisture-wicking abilities. They are hypoallergenic, making them an excellent choice for individuals with sensitive skin. Bamboo fibers also have natural antibacterial properties, keeping feet fresh and odor-free.

Are synthetic fiber socks a good option for active individuals?

Yes, synthetic fiber socks, such as polyester or nylon, are famous for athletic activities. They are lightweight, durable, and provide excellent moisture management. These socks often have added features like arch support and cushioning for enhanced comfort.

Can the choice of sock material affect foot health?

Yes, the choice of sock material can impact foot health. Fabrics like cotton and bamboo offer breathability and moisture management, reducing the risk of fungal infections and odors. It's essential to select socks that are suitable for your specific foot conditions and activities./
Conclusion
When shopping for socks for men, there is an extensive variety of styles, colors, and fabrics available. Whether you are looking for fashion-forward dress socks to make a statement, extra-warm over-the-calf wool socks for winter adventures, or colorful crew socks to show off your favorite fandom, you can find something to meet your needs.
There is no need to worry about fit either – sock sizes are now available in specific measurements to give you the perfect match every time. You can find the right pair of men's dress socks for your lifestyle by selecting quality materials and keeping up with changing trends.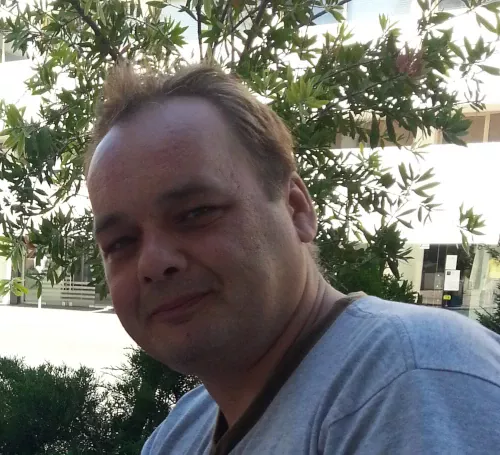 Pashalis Laoutaris
Fashion Blogger
I am a professional writer, fashion blogger, and owner of the site https://laoutaris.com. As a salesperson for more than 20 years, I have experience of 10 years in the fashion industry. I consider myself a true fashionista. I am writing daily blog articles about fashion, tools and converters, and everything you need to know about the current fashion trends.
Share this article
Our Latest Articles
Laoutaris Recommends