Leather bracelets are a timeless accessory that adds style and flair to any man's wardrobe. Made from high-quality leather, these bracelets are durable, comfortable to wear, and look great in both casual and formal attire.
In this blog post, we'll explore the history of leather bracelets, the benefits of wearing one, and provide tips on how to pick the right style and fit for you.
Table of Contents
The average reading time is 9 minutes.
A Brief History of Leather Bracelets
Leather bracelets for men have been around for centuries and are worn by men across many cultures.
Ancient Egyptian men wore wide leather bracelets called cuffs for ceremonial purposes.
Roman soldiers wore thick leather wristbands as a sign of rank and status.
Native American men wore leather bands with beads and stones for spiritual meaning.
Bikers and military men started wearing thinner leather bracelets and cuffs for practicality.
Over time, leather bracelets evolved from having religious, cultural, and practical significance to becoming a fashionable accessory for men looking to add an edgy, rustic flair to their style.
Benefits of Wearing a Leather Bracelet
Leather bracelets for men offer several benefits that make them a stylish accessory staple:
Rugged and Durable
Good quality leather develops a patina over time, lending the bracelet character as it ages. With proper care, a leather bracelet can last years.
Natural and Timeless
Leather bracelets have an organic, earthy look that has been in fashion since ancient times. The simplicity of a leather band makes it a timeless accessory.
Practical and Comfortable
Leather is a soft, flexible material that molds to your wrist for day-long comfort. Wide cuff styles provide versatility to layer with watches.
Personalized Style
From detailed tooling designs to the ability to wrap and tie a bracelet for a perfect fit, leather bracelets allow you to add personal flair.
Pairing a leather bracelet with other accessories creates a rugged, casual look full of attitude perfect for everyday wear.
Types of Leather Bracelets for Men
There are many styles of leather bracelets to choose from based on your personal taste, style needs, and occasion.
Simple Leather Bracelets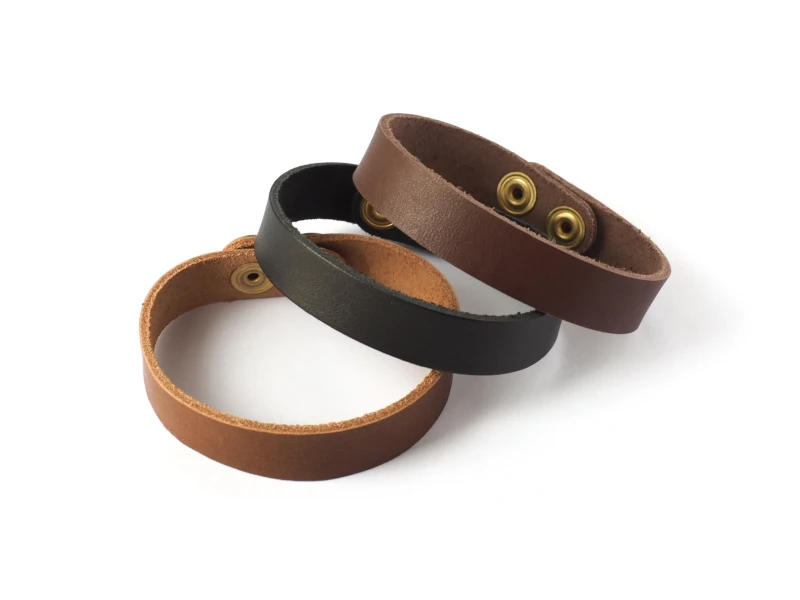 Check it out at marlondoleather.com
These feature a basic, thin-band design without any embellishments. They have a minimalist, refined look perfect for both casual everyday wear and formal occasions. Simple leather wraps and cuffs in brown and black go well with business clothing.
Wide Cuff Bracelets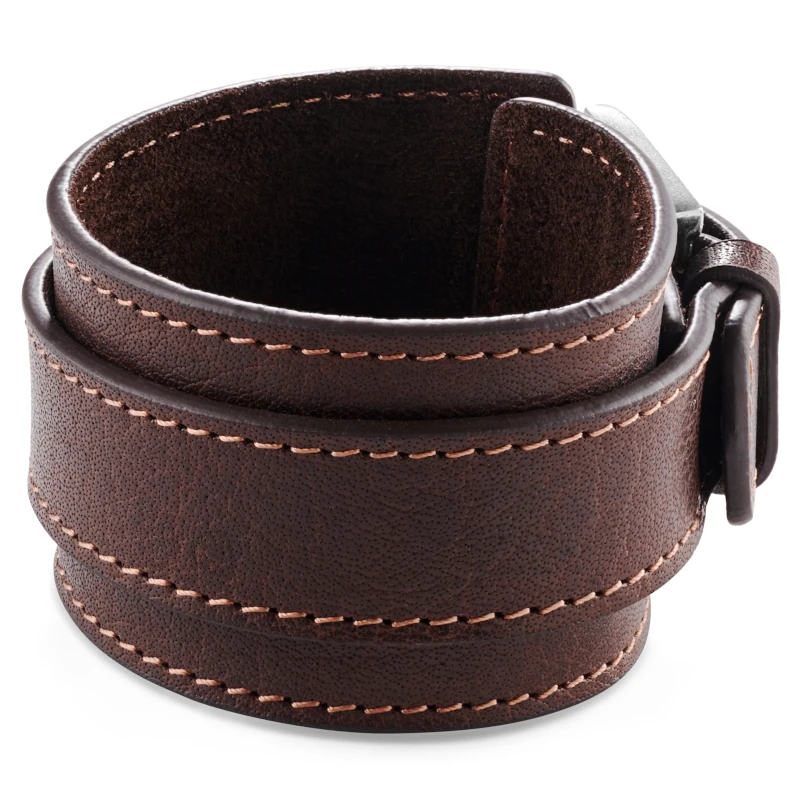 Check it out at Trendhim.com
Chunky leather cuffs give off a bold, biker-inspired vibe. Broad Wraps that crisscross and tie closed allow for fit adjustments. Pair wide cuffs with casual ensembles of t-shirts, jeans, and boots.
Braided Leather Bracelets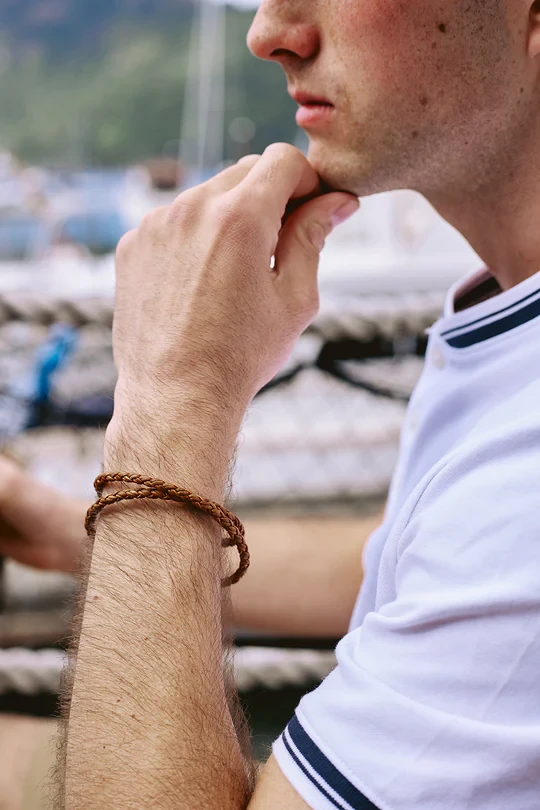 Check it out at Wovenstone. co
Intricately braided leather makes for a visually interesting texture and a rugged style. Varying the widths and number of braids creates unique looks and personalities. These multidimensional bracelets add flair to casual and beachwear.
Beaded and Stone Bracelets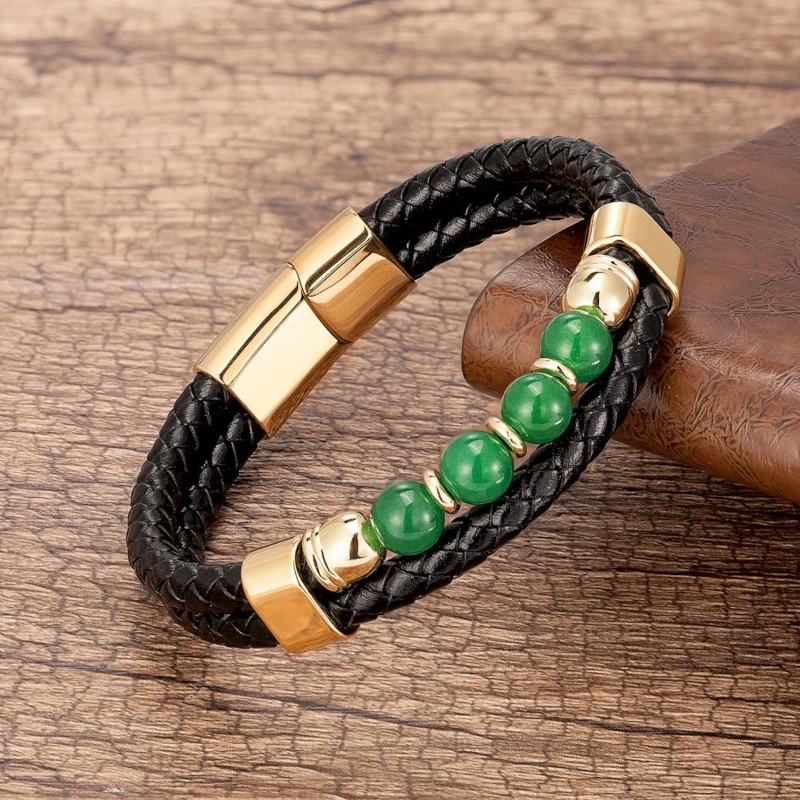 Check it out at manygoodstore.com
Natural materials like beads, wood, and turquoise stones are often incorporated into leather bracelets. These accessories take on a bohemian or tribal feel. The earthy textures pair well with linen shirts and relaxed trousers.
Tattoo-Inspired Designs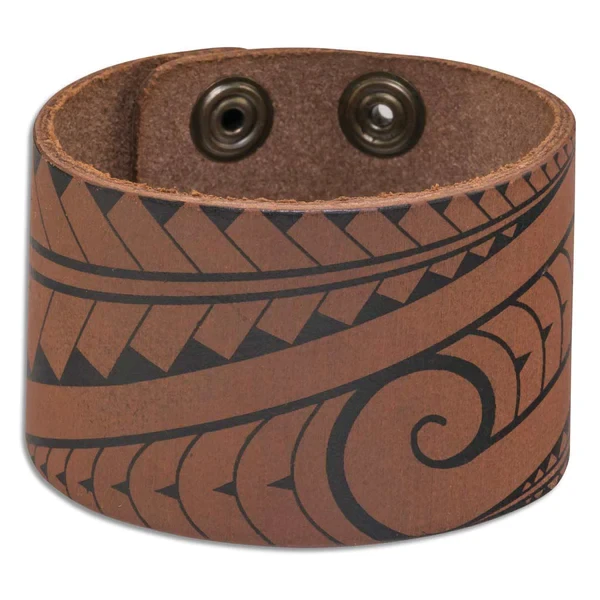 Check it out at nakoa.com
Edgy tattoo aesthetics like skulls, anchors, buckles, and compass designs give leather bracelets a bold, rock n' roll vibe. Wear these leather bands with graphic tees and jeans.
Personalized Leather Bracelets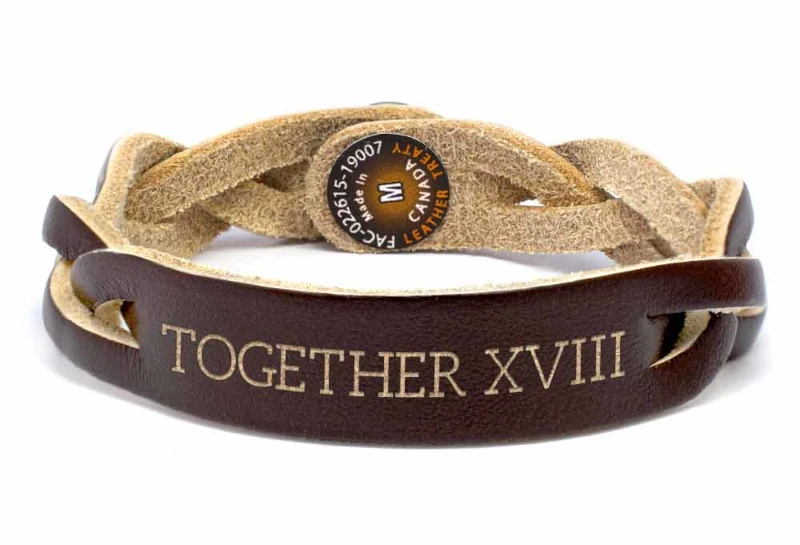 Check it out at leathertreaty.com
Custom leather bracelets can be tooled with initials, names, dates, and special symbols, making for meaningful accessories. Add a metal ID plate or get creative with color dyes. Personalized leather bracelets make great gifts.
Tips for Finding the Perfect Fit
Fit and comfort are key when picking a leather bracelet. Here are some tips for finding the right size and style for your wrist:
Measure – Wrap a tape measure around your wrist to determine its exact width. Add about 1/2 inch for a comfortable fit.
Try it On – If shopping in stores, always try the bracelet on for fit before purchasing.
Snug is Best – Leather will loosen a bit with wear, so opt for a snugger fit that hugs your wrist.
Mind the Gap – A good-fitting bracelet should lay flat on your wrist without leaving big gaps or hanging over the edges.
Consider Layers – If layering with a watch, go slightly larger to accommodate wearing both on the same wrist.
Test Closures – Make sure any clasps, buttons, or ties are secure and comfortable to put on and take off.
Get Adjustable – Custom wrapping or tie styles allow more wiggle room to tighten or loosen as needed.
Taking quick wrist measurements and trying on different leather bracelet widths and styles is key to finding your perfect fit.
Caring for Your Leather Bracelet
Like any quality accessory, leather bracelets require some minor care and cleaning to maintain their look and durability over time. Here are some leather bracelet care tips:
Avoid Water – Protect leather from moisture by taking bracelets off before washing hands, showering, swimming, etc.
Clean Dirt – Wipe away dirt and dust with a soft, dry cloth occasionally.
Condition Periodically – Use leather conditioner every few months to hydrate and protect the leather.
Rotate Wear – Give bracelets a break by rotating different styles day to day to allow the leather to rest.
Store Properly – Keep bracelets in a fabric pouch or box when not wearing to prevent scratches or damage.
Avoid Perfumes/Lotions – These products can dry out and discolor the leather over time. Apply any fragrances before putting on leather bracelets.
Seek Professionals – For deep cleaning needs or repairs, seek help from leather conditioning professionals.
With periodic cleaning and conditioning, quality leather bracelets will develop character over time and can be enjoyed for years of stylish wear.
Top Picks for Leather Bracelets by Style
Whether your style is rugged, refined, or laidback, we've rounded up some of the best leather bracelets for men to match any look:
Best Simple Leather Bracelet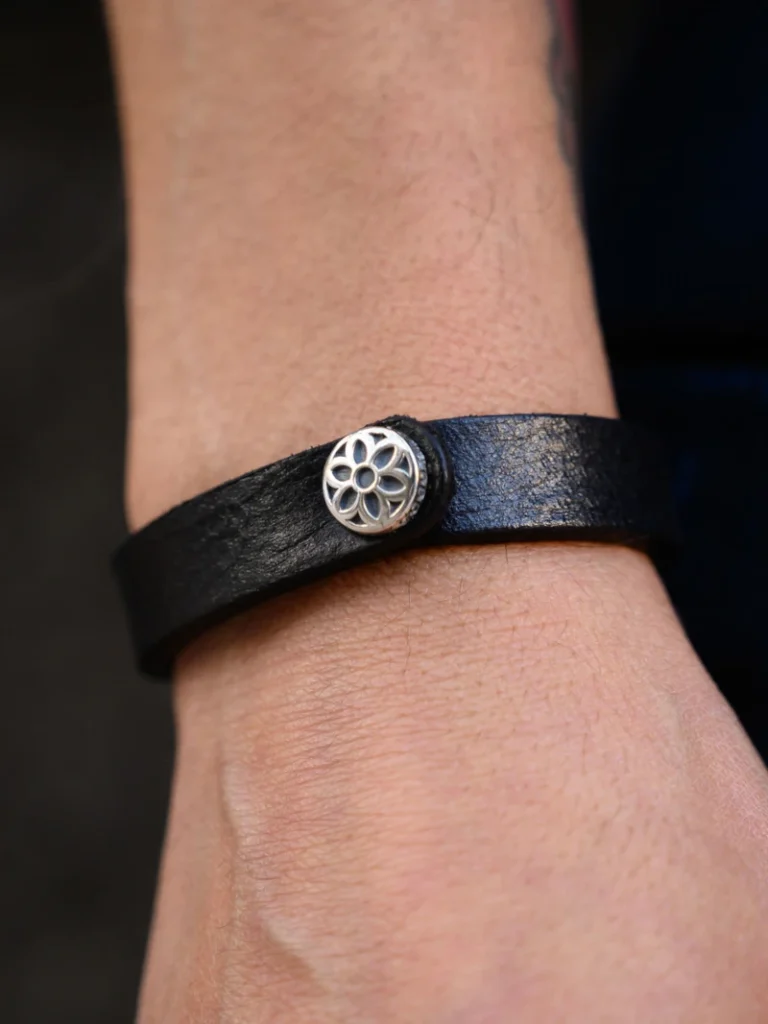 For an understated, polished look try the Handmade Leather Wrap Bracelet by GoodArt. Strap bracelet made of Horween leather, with a Rosette-adorned snap button closure.
Features:
3 different sizes
Solid .925 Sterling Silver
Cast at the Good Art foundry in Los Angeles
Good Art original design
Made in USA
Check it out at rivetandhide.com
Best Wide Cuff Bracelet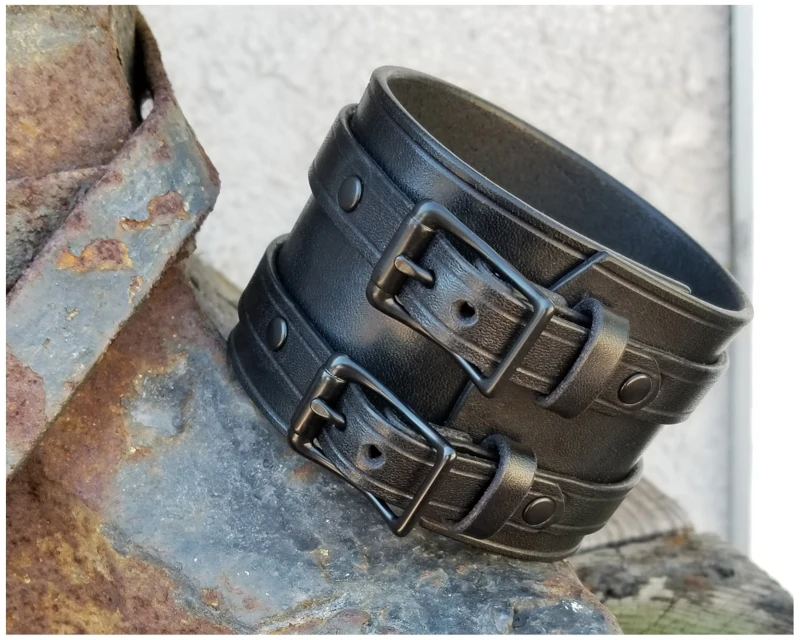 Check it out at luckydogleather.com
The Leather Cuff from Lucky Dog Leather is a top pick for a bold, masculine look. Made from thick 2 1/4″ American leather, this handmade cuff feels substantial on the wrist.
Features:
Made in America from bridle leather
This style offers more support and stability
Made to comfortably fit on the wrist measurement you order
Handmade in Los Angeles
Best Braided Leather Bracelet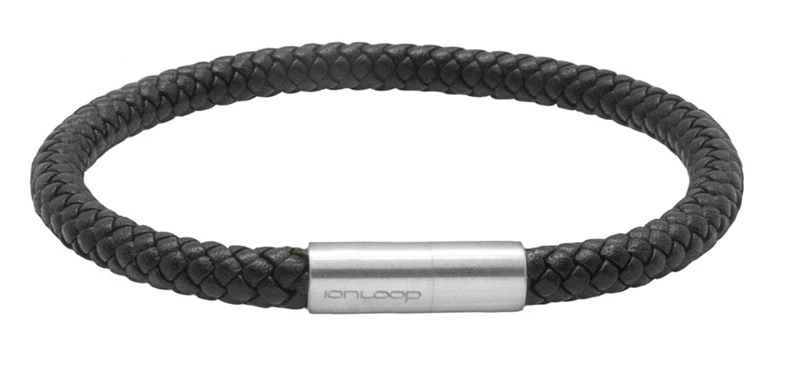 Check it out at ionloop.com
For free-spirited style, the 8 Strand Braided Leather Bracelet by IonLoop is a great choice. Intricate multi-strand weaving looks like friendship bracelets in luxurious genuine leather.
Features:
Eight-strand round braid
Negative Ions manufactured into the bands
Multiple color options
Stainless Steel magnet clasp
Best Personalized Leather Bracelet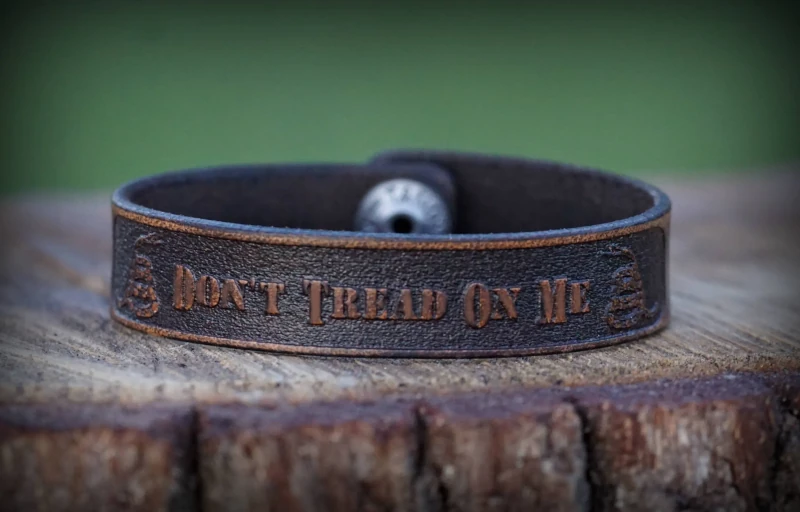 Check it out at forjdleather.com
The hand-tooled Stamped Leather Cuff comes engraved with the "Don't Tread on Me" logo. Ideal for adding a personal touch or as a thoughtful gift.
Features:
Hand-tooled and dyed leather
Top-notch quality and workmanship
Vintage rugged style
Snaps closed for a perfect fit
Wrap Up
Leather bracelets for men are the perfect way to add instant style to any man's wardrobe. Their natural, rugged good looks pair well with casual and formal wear alike. With so many great styles and customization options, you're sure to find a leather bracelet to fit your personal taste and style needs. Treat the leather with care and it will develop character over time. So go ahead and embrace this classic masculine accessory – your wrist will thank you!
Frequently Asked Questions
What are the main benefits of wearing a leather bracelet?
Leather bracelets for men are durable, comfortable, and have a timeless natural style. The leather develops a rustic patina over time that looks better with age. Leather bracelets are also practical to wear daily as they are soft and mold to your wrist.
What are the different types of leather bracelets?
Common styles include simple leather bands, wide leather cuffs, braided bracelets, beaded/stone bracelets, tattoo-inspired, and personalized bracelets. Styles range from rugged to bohemian to refined.
How can I find the right size leather bracelet?
Measure your wrist width in inches, then add 1/2 inch to allow a comfortable fit. Trying bracelets on before buying also ensures proper sizing. A good fit should lay flat on the wrist without gaps or hanging over the edges.
How do I care for my leather bracelet?
Avoid moisture and perfumes which can damage leather. Clean periodically with a soft dry cloth. Use leather conditioner every few months. Give the bracelet breaks from wear to rest the leather. Store in a pouch when not wearing.
Can leather bracelets be personalized?
You can add initials, names, dates, symbols, etc. to numerous bracelets by engraving, stamping, or tooling. Customized wrap bracelets are also adjustable to your perfect size.
What is the best leather bracelet to wear for formal occasions?
Simple, thin leather bands or cuffs in black or brown are suitable for formal attire. Avoid wide, chunky, or heavily embellished styles. Refined leather paired with a suit has a timeless, polished look.
What is the best leather bracelet to wear every day?
For everyday casual wear, choose a simple, comfortable style you love. Soft, flexible leathers hold up well to daily wear. Distressed styles with texture hide scuffs nicely. Go with slightly wider cuffs to layer with watches.
Can I wear a leather bracelet in water?
Take leather bracelets off before contact with water to preserve the material – including hand washing, showering, swimming, etc. Water can dry out and damage leather quickly.
How do I clean dirt or dust from a leather bracelet?
Use a soft, dry cloth to gently wipe away any surface dirt from the bracelet periodically. For deeper cleaning, use a small amount of mild leather cleaner applied to the cloth, not directly on the bracelet.
How long should a quality leather bracelet last?
With periodic conditioning and proper care, a good leather bracelet should develop character and last for years of stylish wear. Quality leather and sturdy construction are key for longevity.
Share this article
Our Latest Articles
Laoutaris Recommends