Cuff bracelets for men are a timeless accessory that adds flair to any man's wardrobe. From bold metal cuffs to simple leather bands, they come in many styles that complement both casual and formal attire.
Table of Contents
Benefits of Wearing Cuff Bracelets for Men
Cuff bracelets offer several advantages that make them a versatile accessory for men:
Add subtle flair and personality – Cuffs allow men to add some interest to their wrists without being overly flashy. They lend a subtle stylish touch.
Finish off a dressy look – Pairing metal or fabric cuff bracelets with a suit or tuxedo can elegantly polish off a formal ensemble.
Showcase personal style – From rugged leather to polished metal, cuff bracelets display personal taste and style.
Variety of materials – Cuffs come in materials like metal, leather, and fabric, allowing men to choose options that express their personality.
Popular Styles and Materials
There are many styles and materials to consider when choosing a cuff bracelet:
Metal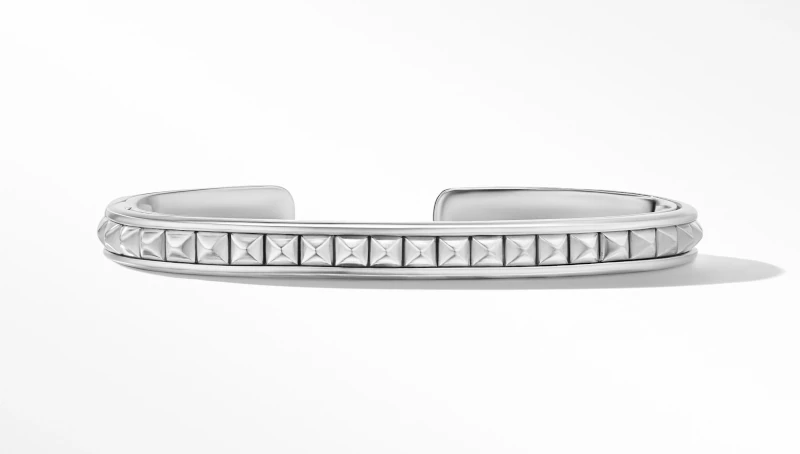 Check it out at Davidyurman.com
Silver – Sterling silver cuffs have a classic, timeless look. They work with both casual everyday wear and formal occasions.
Gold – Gold cuffs exude luxury. Yellow gold is brilliant and eye-catching while white gold is more understated.
Stainless steel – For a modern rugged vibe, stainless steel cuffs are durable, affordable, and have a heftier weight.
Finishes – Metals come in shiny polished finishes but also popular brushed finishes for a more muted look.
Leather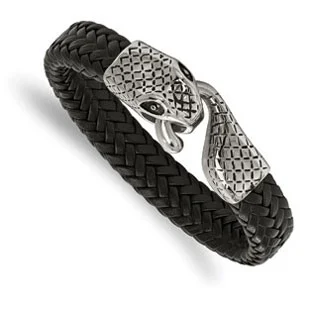 Check it out at gemologica.com
Rugged look – Leather cuff bracelets have a casual, rugged vibe perfect for everyday wear. They develop a patina over time.
Studs/embellishments – Many leather cuffs incorporate metal studs or embellishments for added interest and texture.
Variety – Leather cuffs can be made of materials like deer, elk, cow, buffalo, or snakeskin.
Fabric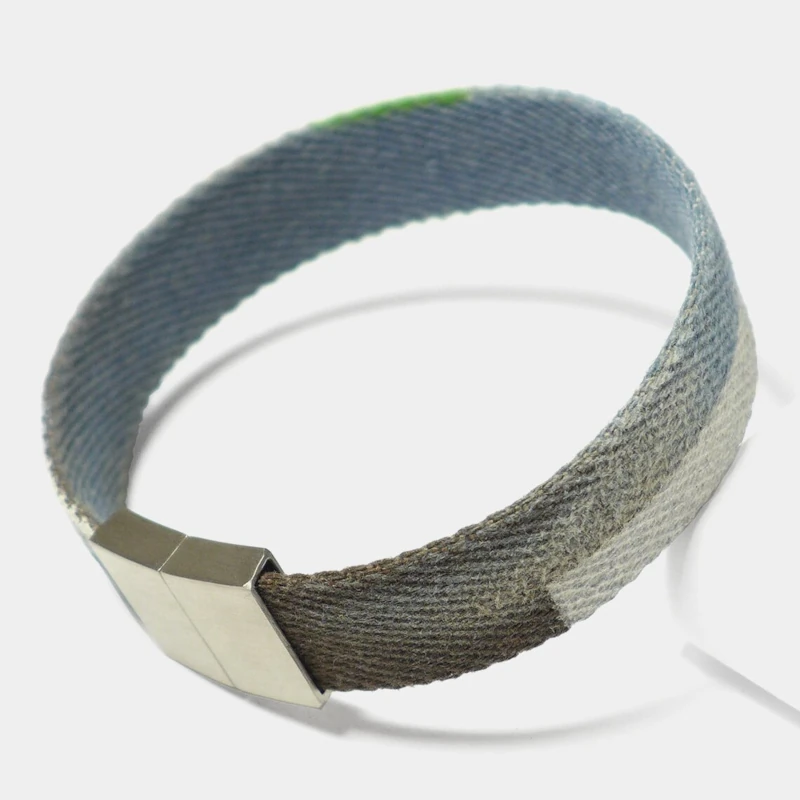 Check it out at etsy.com
Patterns – Fabric cuffs allow for varied patterns and designs like florals, paisleys, and geometrics.
Solids – Silk cuffs in solids like black, navy, or brown add subtle interest to formal wear.
Texture – Fabrics like linen, cotton, wool, velvet, and corduroy provide diverse textures.
Wearing and Pairing Cuff Bracelets For Men
Stacking Multiple Cuffs
Stack 2-3 cuffs on one wrist to make a bolder statement. Mix metals, leathers, and fabrics for eclectic styling.
Pair thin and wide cuffs together – a thin metal cuff alongside a wide leather one.
Stick to the same metal color family when stacking multiple metal cuffs.
Pairing with a Watch
Leather cuffs beautifully pair with metal watches. Match the watch and cuff metals.
Cuffs worn on the opposite wrist than your watch keep the accessories balanced.
Metal cuffs coordinate well with metal watches for a more refined, elegant look.
Matching Metals and Leathers
Match metals in cuffs to other accessories like rings, eyeglass frames, and watch bands for a coordinated finish.
Pair leather cuffs with other leather accents like belts or boots to pull the look together.
Cuffs with Long or Short Sleeves
Cuff bracelets for men work equally well with long-sleeved shirts and coats or short sleeves.
Adjust the fit to allow sleeves to comfortably slide over bracelets.
Cuffs worn with rolled-up sleeves put the accessorizing on display.
For formal long-sleeve shirts, keep cuffs low-profile underneath.
One or Both Wrists
Stacking multiple cuffs on one wrist makes more of a statement.
Wearing a single cuff on the non-dominant wrist provides balance.
For formal occasions, a dual cuff look on both wrists can polish off a suit.
Cuff Bracelets For Men Care and Maintenance
Cuff bracelets for men do require some care and upkeep. Here are tips for keeping them looking their best:
Metal Cuff Maintenance
For shiny metal cuffs, regularly polish with a jewelry polishing cloth to maintain luster.
Clean tarnished silver cuffs with a silver jewelry cleaning solution.
Use a jewelry cleaner formulated for gold on gold cuff bracelets when needed.
Stick to warm water, mild soap, and a soft cloth to clean stainless steel cuffs.
Caring for Leather Cuffs
Apply waterproofing spray frequently to protect leather from sweat, water, and grime.
Clean leather cuffs with a leather cleaner or saddle soap and soft cloth.
Condition periodically with a leather conditioner to prevent drying out.
Fabric Cuff Care
Follow fabric washing instructions. Many can be gently hand-washed and laid flat to dry.
Use fabric-safe jewelry cleaner or a mild detergent for stains. Spot clean only.
Store fabric cuffs in a dry place not touching other metals or fabrics.
Adjustable Size
Look for cuffs with adjustable sizes or links to customize for comfort.
Proper fit will prevent abrasion on the wrist when wearing cuffs.
Proper Storage
Keep cuffs in a fabric-lined jewelry box separated from other items to prevent scratching.
For expensive keepsake cuffs, consider a safe deposit box or locked fireproof cabinet.
Styling Cuff Bracelets for Different Occasions
Bold Metal Cuffs for Casual Wear
Wide silver, gold, or stainless steel cuffs dress up casual looks like jeans and t-shirts. Stack multiple or accent with leather cord bracelets.
Leather and Metal Pairings for Nice Dinners Out
Match metal watches and simple metal cuffs with rugged leather accents when dressing up for dinners out or low-key events.
Fabrics and Leathers for the Office
Fabric cuffs in solids or subtle patterns pair with sport coats and dress shirts. Leather cuffs also work with business casual office attire.
Black Tie Formal
Thin polished metal cuffs in gold, silver, or platinum subtly accent black tie tuxes and formal wear. Skip leather and fabrics.
All Black Everything
Add black metal, leather, or fabric cuffs to any monotone black suit to add texture and intrigue.
Top Cuff Bracelets For Men Picks
Here are my top cuff bracelet recommendations in various styles and materials:
Metal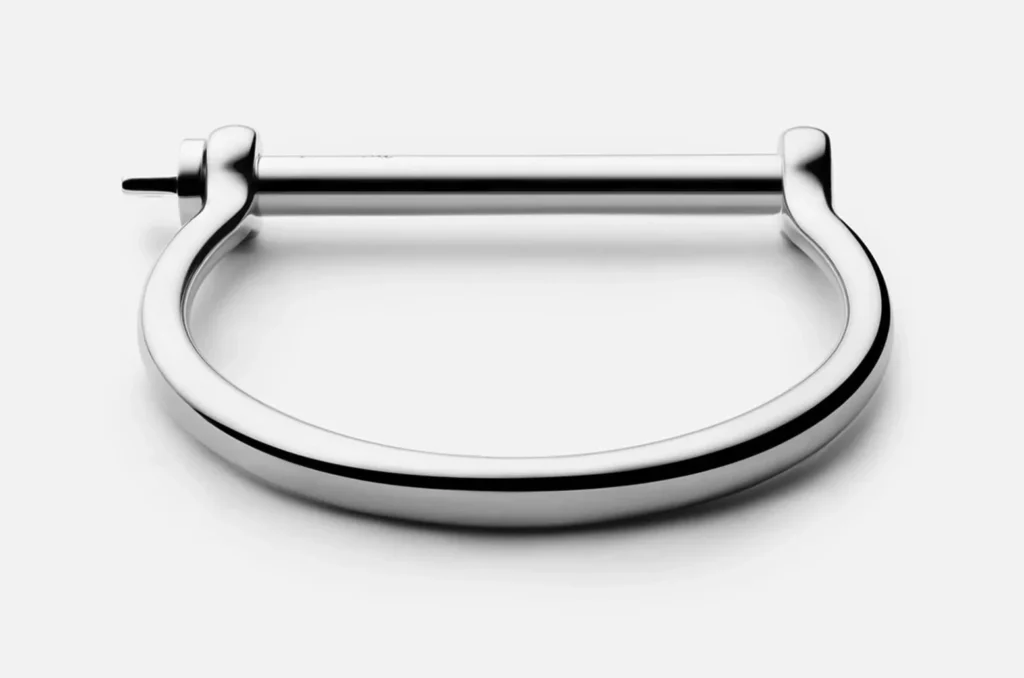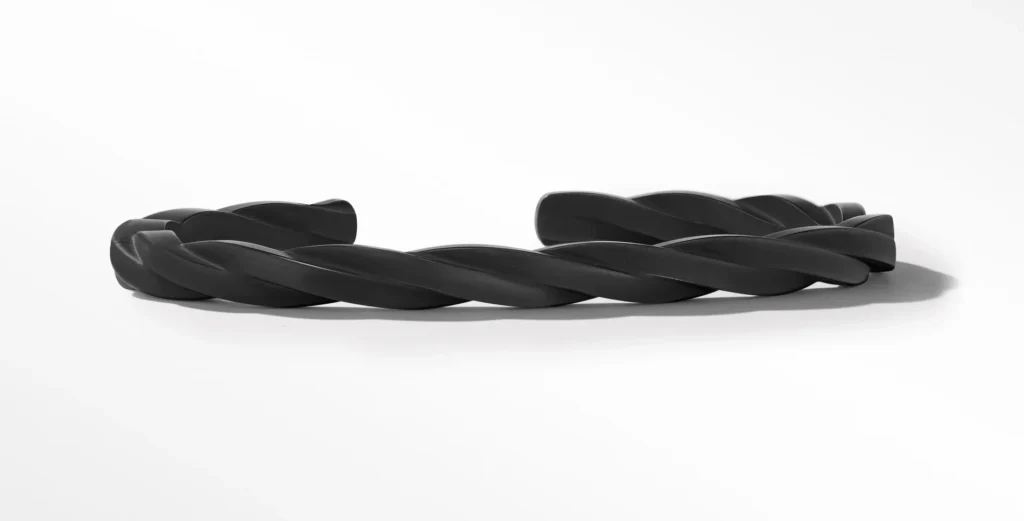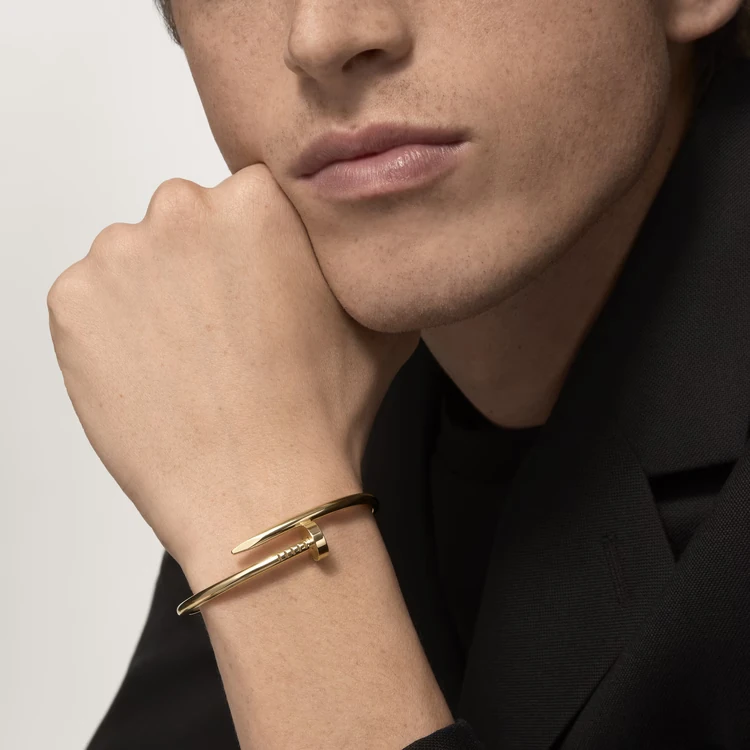 Leather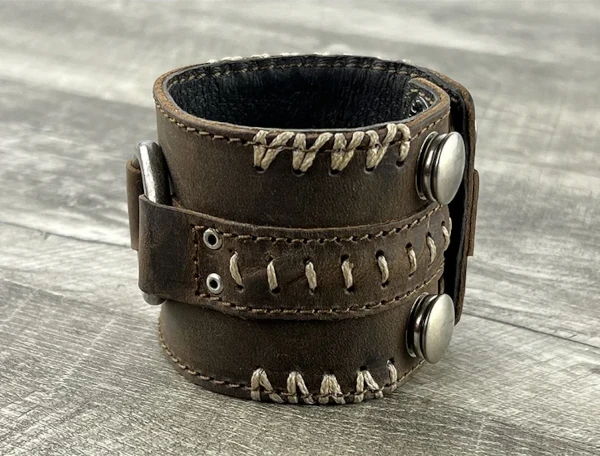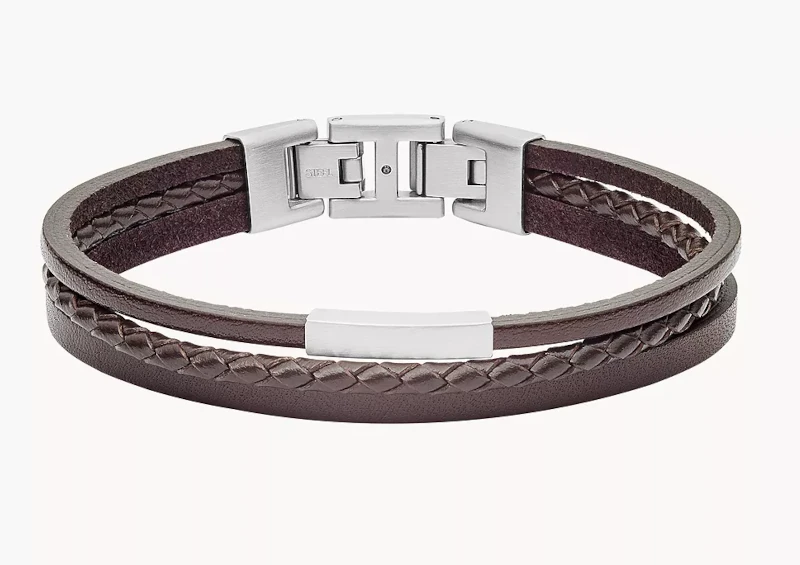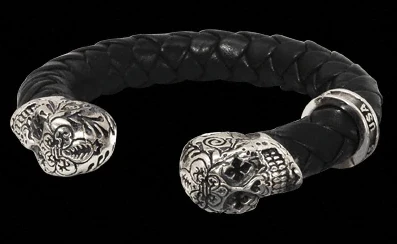 Fabric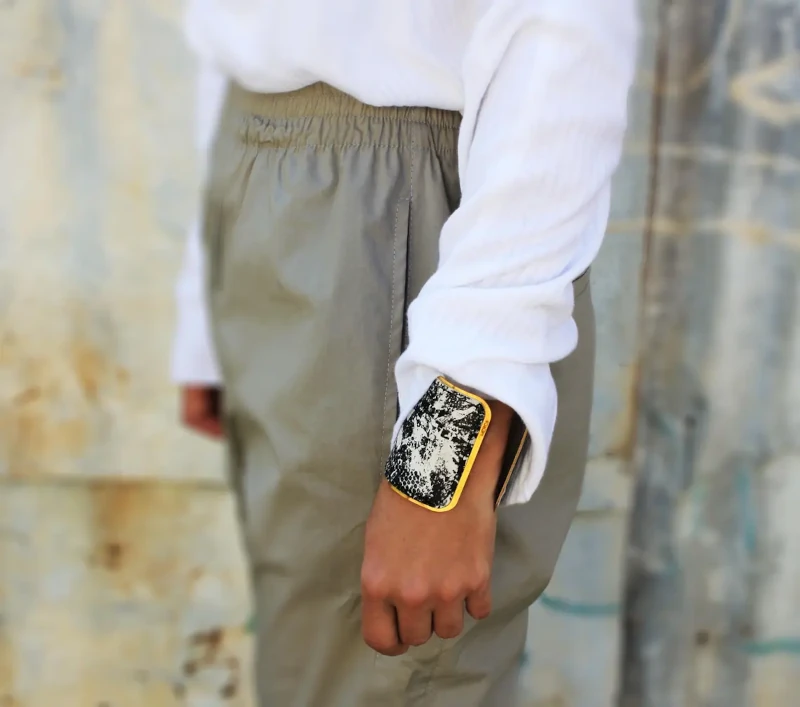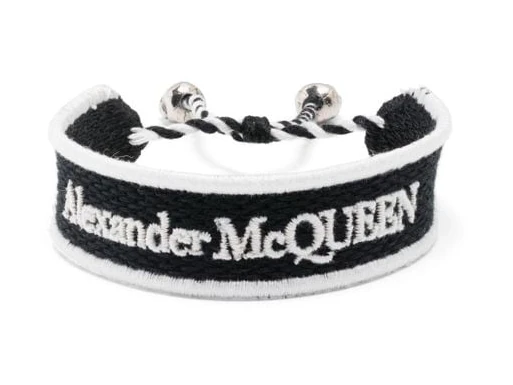 Frequently Asked Questions
Are cuff bracelets for style now?

Yes, cuff bracelets for men are very on trend right now for men's jewelry and accessories. Their versatility to work with casual to formal wear also makes them a timeless option.

Should the cuff bracelet be tight or loose?

The fit is a personal preference, but in general cuff bracelets look best with a snug fit. For wider cuffs, ensure it's not too tight as to be uncomfortable on the wrist. Leather cuffs may loosen up over time.

How do you measure for a cuff bracelet?

Use a fabric tape measure to measure the circumference of your wrist where you want the cuff to sit. Add about 1/2 an inch if you want a looser fit or for leather to allow stretching.

Which wrist should you wear a cuff bracelet on?

There are no set rules – wear your cuff on the right, left, or both wrists. Most people wear a cuff on their non-dominant hand. Stacking multiple cuffs is popular on one wrist.

Should the cuff face up or down the wrist?

Facing the opening down the wrist is the most common way to wear cuffs. An open hinge or detail facing up may also be designed to be worn that way. Feel free to style either direction.

Can you wear cuff bracelets for men with a watch?

Yes, you can wear a cuff with a watch. Wear the watch on one wrist and the cuff on the other. Or layer them on the same wrist, being careful not to scratch your watch.

Are cuff bracelets for men appropriate for the office?

Cuff bracelets are generally acceptable for business casual office environments. Opt for subtle colors and textures, and avoid very wide cuffs. Save your heavy metal cuffs for the weekends.

What's the best way to store cuff bracelets for men?

Keep cuffs safely stored in a fabric-lined jewelry box, or individually in soft jewelry pouches. Proper storage prevents scratches and tangling.
Share this article
Our Latest Articles
Laoutaris Recommends