Chain bracelets for men are a timeless staple in men's fashion accessories. With their versatile styling and classic masculine links, chain bracelets have been popular on men's wrists for decades.
Their metallic sheen and sleek durability make chain bracelets an ideal jewelry piece for everything from casual weekends to black tie events.
Table of Contents
In this comprehensive guide, we'll explore the history and rise of men's chain bracelets. You'll discover the different types of chain styles, precious metals, and sizes to consider when shopping.
We'll provide detailed tips and inspiration on how to wear and style chain bracelets for any occasion. Read on to learn why every man should add this iconic bracelet to their jewelry collection.
A Brief History of Chain Bracelets For Men
Chain bracelets for men first emerged in ancient times, with archaeological evidence showing simple necklaces and chains dating back to 2500-3000 BCE in Egypt. Chains and links were also common in ancient Rome, Greece, and during Medieval times across Europe. Jewelry signified power, status, and wealth.
By the 1940s-50s, American GIs returning from World War II brought back chunky identification bracelets. Fashioned from stainless steel or sterling silver chains, these ID bracelets were engraved with the soldier's name and details.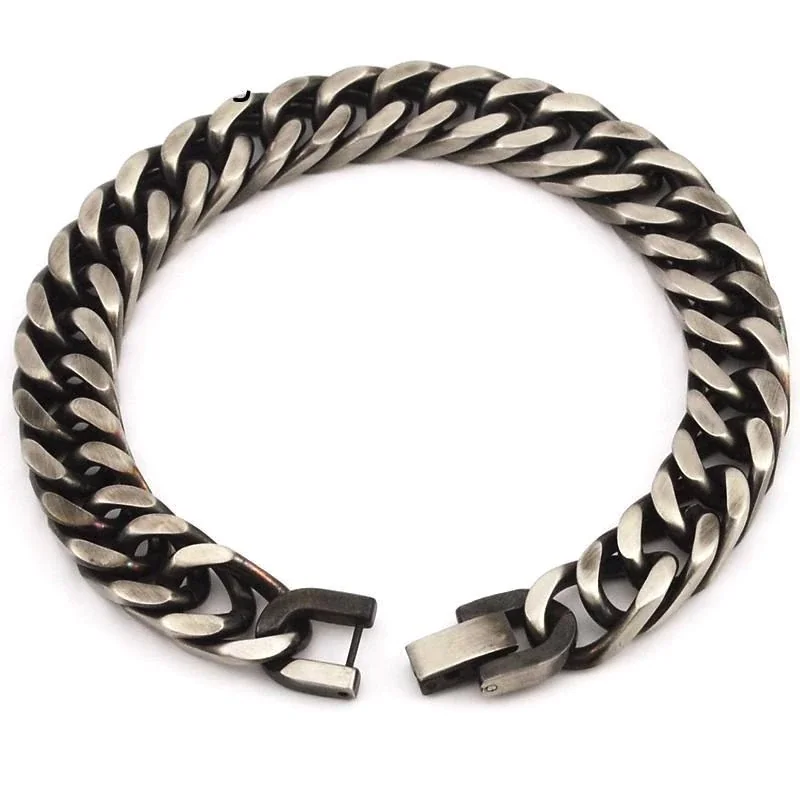 The 1970s saw gold chains and bracelets rise in popularity. Disco culture and hip-hop music influenced bigger, bolder gold chains on men's wrists. Links got wider and heavier. Brand name plaques and pendants became designer status symbols.
Moving into the 1980s and 90s, various chain styles infiltrated mainstream fashion. From preppy tennis bracelets to surfer chokers, chain necklaces and bracelets had their moment across subcultures. Simple curb and box link chains also gained traction as a masculine accessory.
Today, chain bracelets for men continue to evolve with modern styles. But certain classic links and metals remain perennial favorites. Read on as we dive into the different types of chains suited for men's bracelets.
Types of Chain Bracelets for Men
Curb Chain
The curb chain is arguably the most popular chain bracelet style for men today. Featuring chunky, interlocking links, the curb chain has a rugged, masculine look. The flat, uniform links lay smoothly for comfortable wear. Curb chains come in varying widths, with popular sizes between 6-10mm. Wider, more substantial links create a bold wrist presence.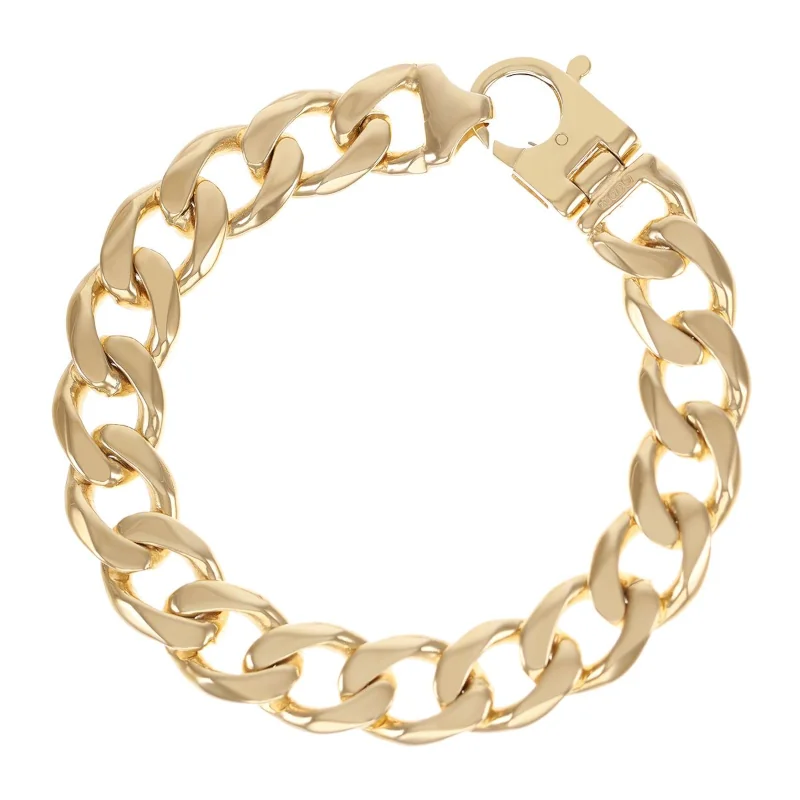 Check it out at Hatton-jewellers.com
Curb chains work well for men who want a statement bracelet. The chunky links pair best with casual wear like t-shirts, jeans, or leather jackets. Yellow gold, rose gold, and two-tone curb chains also make great additions to formal attire.
Rope Chain
As the name suggests, rope chains resemble the twisting links of a rope. Small metal links are tightly woven together to create a flexible, nautical-style bracelet. Rope chains have a sleek, understated look compared to bulky curb links.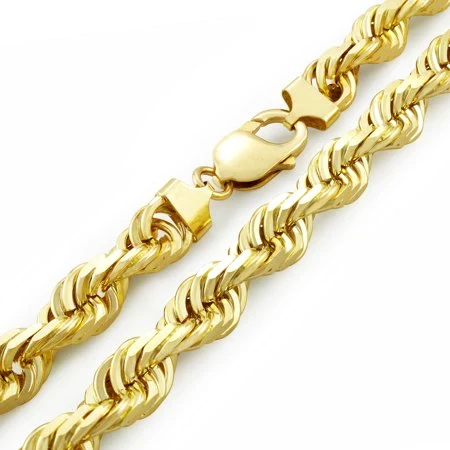 Check it out at giggys.co.uk
Rope chains come in stainless steel, sterling silver, and gold. Unlike large curb links, the narrow woven links work well for both casual and formal wear. The rope chain's flexibility ensures a comfortable fit for all-day wear.
Box Chain For Men
The simple box chain features small, smooth, equally-sized square or box-shaped links. Rows of flat links give a symmetrical, streamlined look. Box chains are lightweight and lay flat against the wrist.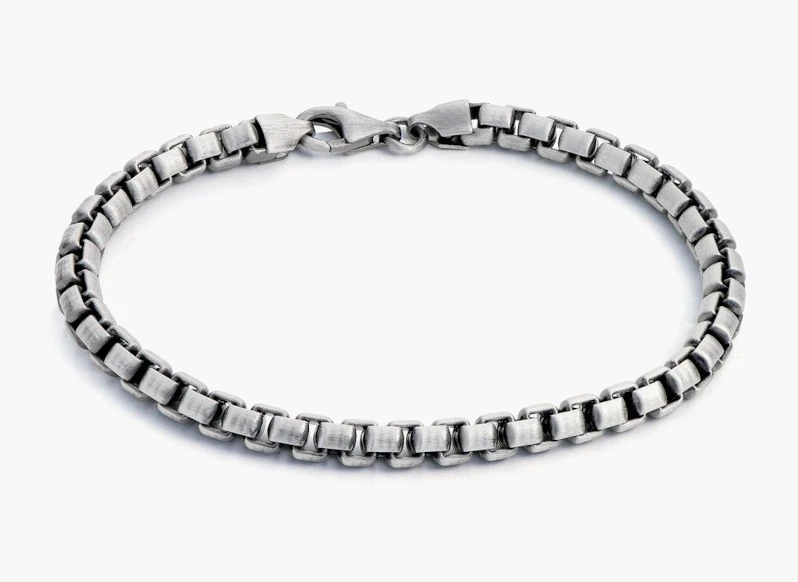 Check it out at oakandluna.com
This delicate chain style has an understated elegance perfect for the office or formal events. Box chains also pair well with casual everyday wear. Compared to curb and rope chains, box links are daintier and range from 2-6mm in thickness.
Singapore Chain For Men
Similar to the box chain, Singapore chains have tiny, uniform links. But each connecting link consists of a rounded oval shape. The machined links join together to create a sleek, flexible bracelet style.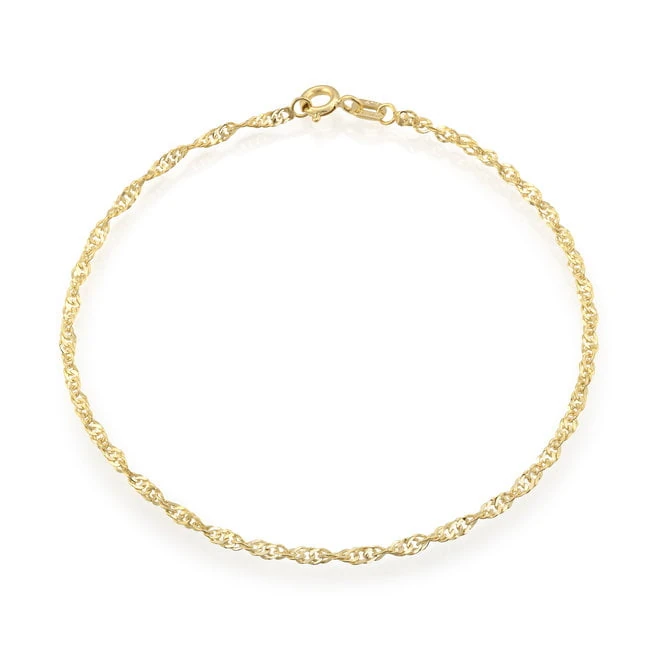 Check it out at sophy.ch
Lightweight and comfortable, Singapore chains work for casual or business fashion. Stainless steel and sterling silver Singapore chains have an eye-catching shine. Their fluid shape drapes smoothly on the wrist.
Cable Chain For Men
Cable link chains use oval or round links to create a smooth, rope-like appearance. The continuous links resemble twisted cables as they interlock snugly together. Cable chains are versatile bracelets with tones of yellow gold, white gold, rose gold, or silver.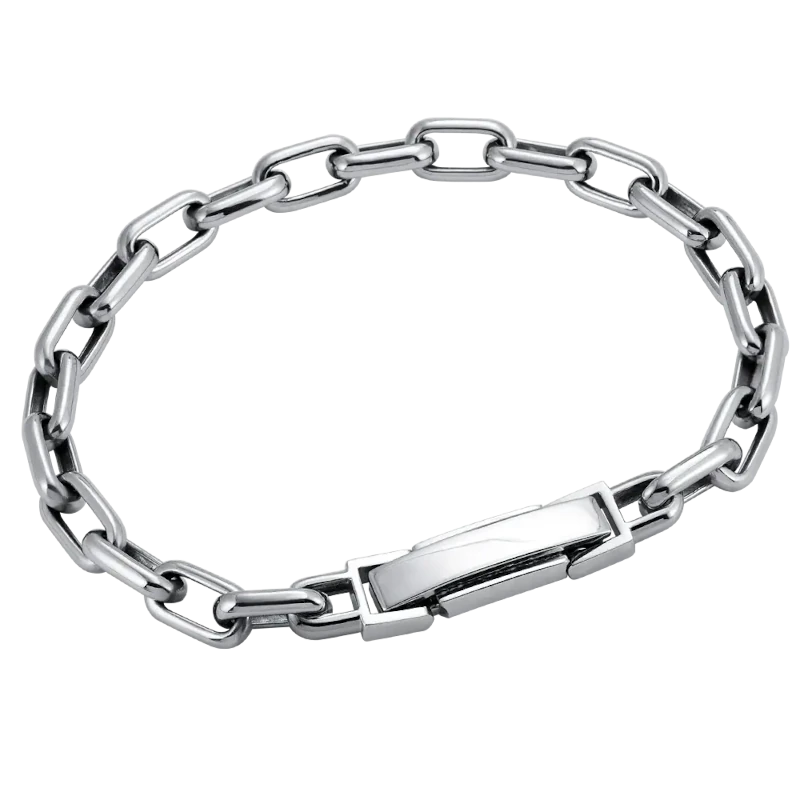 Check it out at byenzojewelry.com
The oval links range from small and delicate to wider statement sizes. Cable chains are suitable for everyday wear as well as mixing up smart casual and formal outfits. Their flexibility and engraved links easily layer with other chain styles too.
Figaro Chain For Men
The Figaro chain is named after an Italian opera style and features an alternating pattern of wide and narrow links. The distinctive linked sequence gives a unique, decorative look along the length of the chain.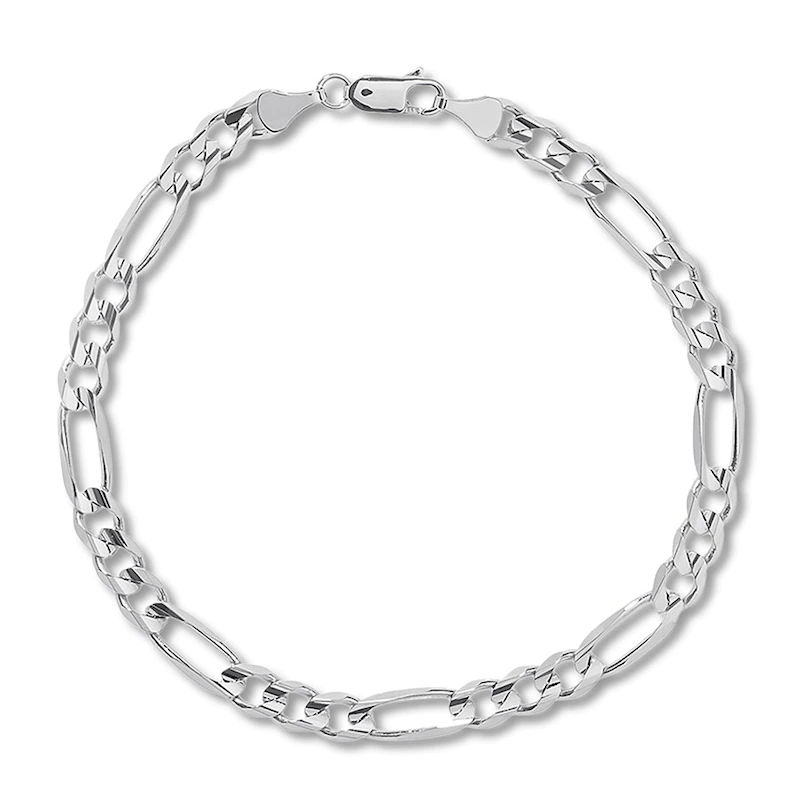 Check it out at kay.com
Popular as both bracelets and necklaces, Figaro chains add visual interest versus standard link chains. The alternating links range from rounded cable-style ovals to flattened curb shapes. Gold, silver, and stainless steel are classic metal choices.
Metals for Chain Bracelets
Chain bracelets come in a variety of metals to suit different styles and budgets. Traditional metals like gold and silver have an elegant, luxurious look. Stainless steel chains offer durability and affordability.
Gold Chains
Gold remains one of the most popular metals for chain bracelets. Yellow gold chains have a warm, bright tone. White gold has a cooler silvery shine. And rose gold blends yellow and copper for a pinkish hue.
Gold alloy chains contain mixing metals like nickel or copper to increase strength. Chains can be 10k, 14k, 18k, or 24k based on the gold content percentages. Higher karats mean greater purity but also a higher price.
Gold chains show quality craftsmanship with interlocking links that lie flat and comfortably drape on the wrist. Their eye-catching shine dresses up both casual and formal looks.
Sterling Silver Chains
Sterling silver chains contain 92.5% pure silver. The metal is long-lasting but requires more care to prevent tarnishing. Like gold, silver chains should have soldered links versus cheaper mechanical connections.
Sterling silver chains complement cooler skin undertones. Their brighter white luster contrasts against yellow gold. Silver chains also pair well with stainless steel watches and jewelry.
Stainless Steel Chains
Stainless steel chains are alloyed with metals like chromium and nickel for an affordable, tarnish-resistant alternative. The steel still shines like silver and provides great durability.
Stainless steel chains maintain their luster without requiring special polish. Their neutral steel tone complements various outfits too. Curb, rope, and box link stainless chains are rugged and low-maintenance choices.
Lengths and Widths
Chain bracelets for men's lengths typically range between 7 to 9 inches. Wider curb chain styles are often stocked in 8-inch sizes to fit most men's wrists. More delicate chains can be 7 inches or shorter for a snug fit.
For custom sizing, measure your wrist where you wear bracelets:
Use a flexible tape measure
Wrap it around your wrist loosely
Mark the measurement and round up to the nearest half-inch
This will provide your ideal bracelet length. Add extra links (usually 1-2 inches) for adjustable chains.
For chain widths, common sizes are:
Curb chain – 6mm, 8mm, 10mm
Rope chain – 4mm to 6mm
Box chain – 2mm to 5mm
Wider, chunkier curb chains command more visual attention. Slim box and rope chains have an understated elegance. Pick chain widths based on your style and wrist size.
How to Wear and Style Chain Bracelets For Men
Now that you know the essential chain types and metals, here's how to wear them for the perfect style:
Chain Bracelets for Casual Wear
Chain bracelets instantly elevate casual looks:
Weekends – A bold curb or rope chain adds an urban edge to t-shirts and jeans.
Beach days – Coastal vibes call for casual stainless steel or sterling silver chains.
Going out – Stack multiple chains with chinos or shorts for nightlife flair.
Stainless steel, sterling silver, and yellow gold chains all complement the casual style. Pick wider, beefier chains for more statement appeal.
Chain Bracelets For Men with Formal Wear
Chains aren't just for casual Fridays – they smarten up formal attire too:
Business – A thin box link or Singapore chain polished the boardroom look.
Weddings – Gold and silver chains pair nicely with a suited style.
Evening – Add shine with a precious metal chain and blazer.
Opt for thinner, more delicate chains like Box, Singapore, or Figaro links with tailored shirts and suits. Keep metal tones sleek with silver, white gold, or platinum.
Mixing Metals
Stick to the same metal finishes when combining a chain bracelet with a watch, ring, or other jewelry:
Match silver chain with stainless steel watch
Pair yellow gold chain with gold wedding band
Mix white and yellow gold chains
This creates a cohesive, pulled-together look. But feel free to experiment with mixing metals for an eclectic style.
Layering Chains
For added interest, stack and layer chain bracelets together:
Combine wider and narrower chains
Mix metal colors like silver with rose gold
Include other bracelets like leather, fabric, or beaded
Bracelet stacking creates visual depth and dimension. Keep chains loose enough for comfort when layering multiple on one wrist.
Placement with Watches
Determine if your chain bracelet should sit above or below your watch based on the following:
Wrist size – chains below the watch on narrow wrists
Fit – loose chains above, snug chains below
Style – silver tones below, gold tones above
Experiment to find the placement that feels most comfortable and attractive.
Getting the Right Fit
For maximum comfort and wearability, ensure your chain bracelet properly fits your wrist:
Measure wrist size accurately
Include extra links for adjustability
Allow room to slip on and off, but not slide around on the wrist
Add sizing links or remove them as needed
Readjust fit if wrist size changes over time
Avoid overly tight or loose bracelets that can catch on clothing or fall off unexpectedly.
Caring for Your Chain Bracelet
With periodic care and maintenance, a quality men's chain bracelet will last for years:
Cleaning – Use a soft brush and mild soap and water to clean. Rinse and dry thoroughly.
Polishing – Special polishing cloths gently buff away tarnish on silver and stainless steel chains.
Storing – Place chains in a fabric-lined box or pouch to prevent scratches when not wearing.
Resizing – Take to a jeweler to have links added or removed as needed.
Repairs – Have a jeweler repair any damaged or broken links to keep chains like new ones.
Take care not to expose chains to chemicals, lotions, or soaps that can prematurely wear down the metal finish. Also, give bracelets an occasional break instead of 24/7 wear.
Chain Bracelets For Men Inspiration
Need some stylish inspiration on how to rock different chain bracelets? Browse these fashionable outfit examples:
Bold Curb Chain & T-Shirt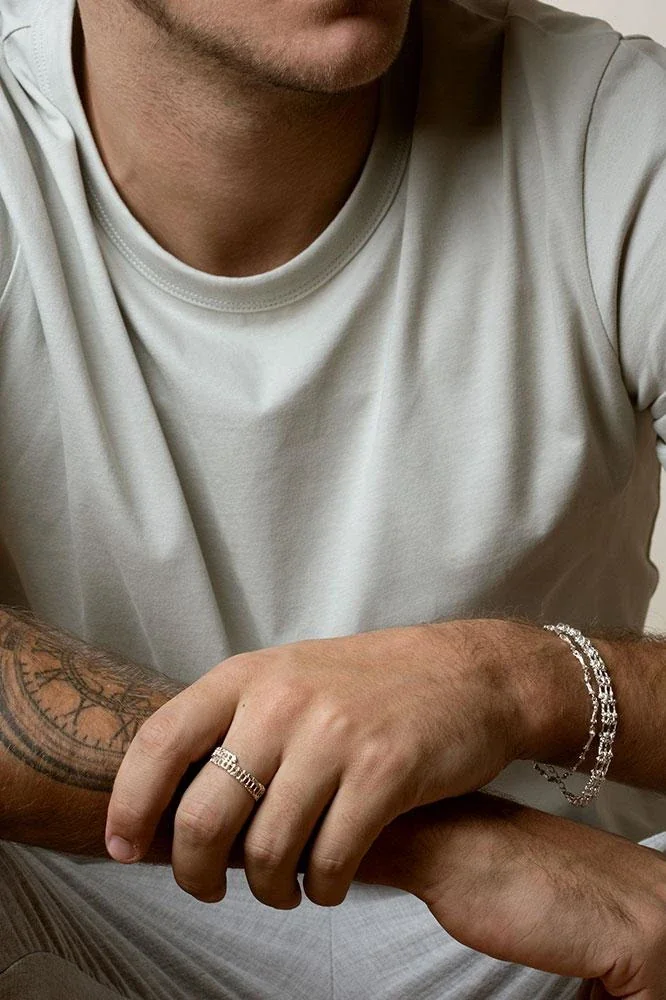 Check it out at aurumiceland.com
Rose Gold Curb Chain & Gray Suit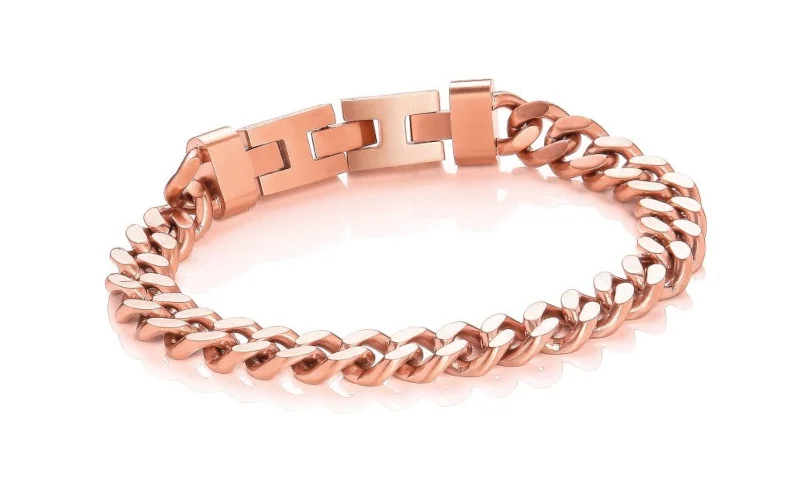 Check it out at daviddeyong.co.uk
Yellow Gold Curb Bracelet and Navy Blazer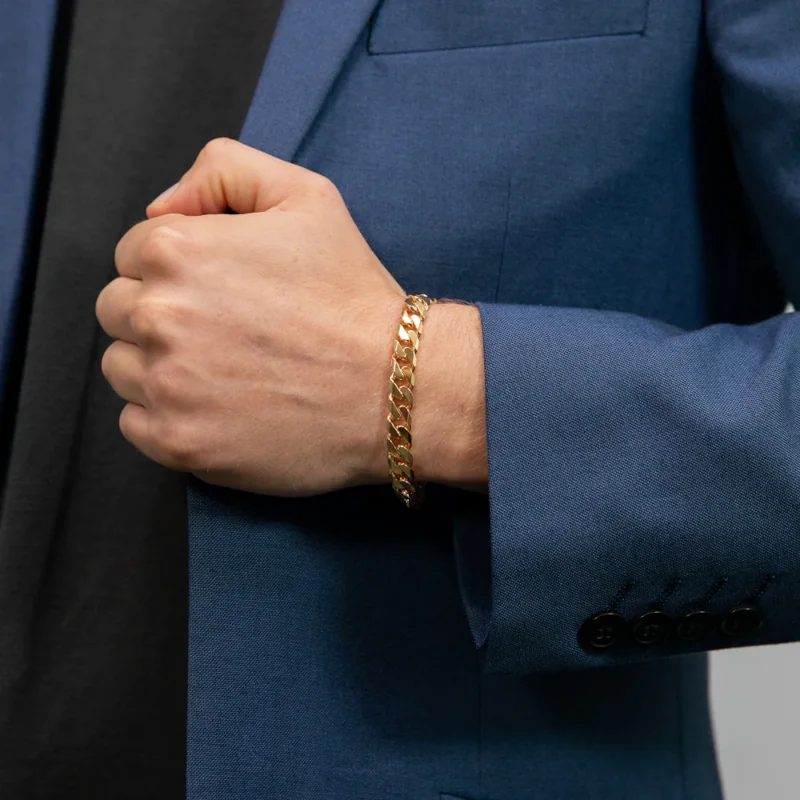 Check it out at shiels.com.au
Sterling Silver Box Chain & White Button Down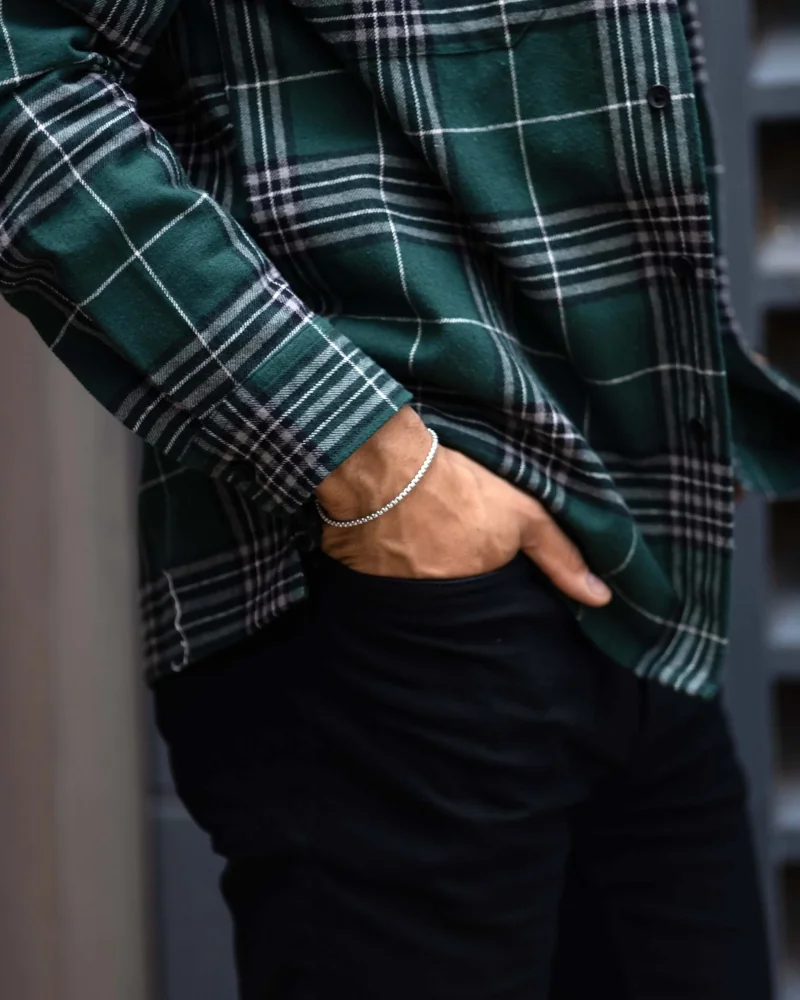 Check it out at vincerocollective.com
Layered Chains & Henley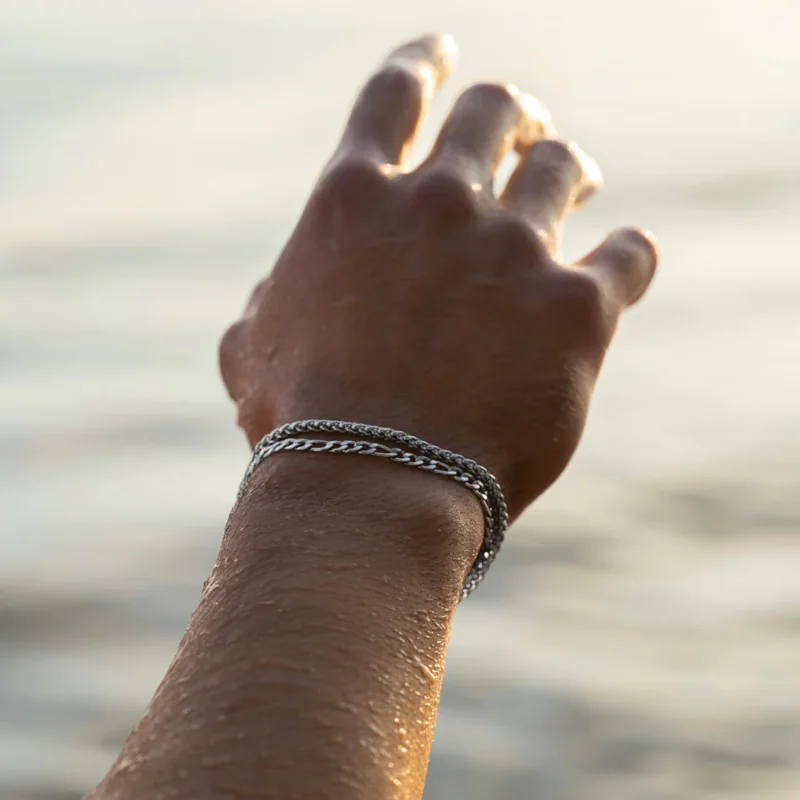 Check it out at rosegoldandblack.com
Chain Bracelets For Men Frequently Asked Questions
How do you determine your wrist size for a chain bracelet?

Use a flexible measuring tape to wrap around your wrist. Keep your wrist relaxed rather than tightened. Round up to the nearest 1/2 inch for the best fit.

What length chain bracelet should you get?

The standard length is 7-8 inches for most men's wrist sizes. Petite wrists do well with 7-inch bracelets. Larger wrists may need 8 or more inches.

How can you make a chain bracelet smaller?

Remove sizing links or take it to a jeweler to have links professionally removed to size down a chain bracelet.

What is the proper way to clean a chain bracelet?

Use a jewelry polishing cloth or soft brush with mild soap and water to gently clean metal bracelet chains. Avoid harsh chemicals.

Can you wear a chain bracelet in the shower?

Unless specifically designed for water, it's best to take off your chain bracelet before showering to prevent exposure to soaps, shampoos, and water pressure.

How tight should a chain bracelet fit your wrist?

The fit should be snug but not painfully tight. You should be able to slip a finger between the bracelet and your wrist.

How do you remove a stuck chain bracelet?

Apply a small amount of lubricant like rubbing alcohol to the stuck clasp. Gently twist and maneuver the bracelet to release the clutch without pulling too hard.
Eye-Catching Chains Are a Timeless Jewelry Staple
A sleek chain bracelet is a versatile piece of jewelry essential for every man's wardrobe. With an array of chain styles, precious metals, and smart styling options, you can wear a chain bracelet for nearly any occasion or outfit. Whether you prefer an everyday stainless steel curb chain or an elegant 14k gold Singapore chain, embrace this iconic men's accessory.
When chosen and styled properly, chain bracelets for men project sophistication, personality, and great fashion sense. So explore adding one of these classic masculine bracelets into your collection this season.
Our Latest Articles
Laoutaris Recommends