Finding the right work bags for men can be tough. You want something that looks professional but isn't too boring. Check out our roundup of the best work bags for men.
Table of Contents
The average reading time is 11 minutes
Discover the best work bags for men to upgrade your professional style in 2023 and beyond. From sleek leather briefcases to versatile canvas backpacks, we break down the top carry options for office and business travel.
The Classic Leather Briefcase
The leather briefcase remains an iconic professional bag for men. From vintage, old-school designs to modern aluminum briefcases, it carries everything needed for the workday. The rectangular silhouettes and structured shapes project an image of classic refinement. Opt for a fuller classic rectangular style or consider a sleeker, more streamlined laptop-friendly option.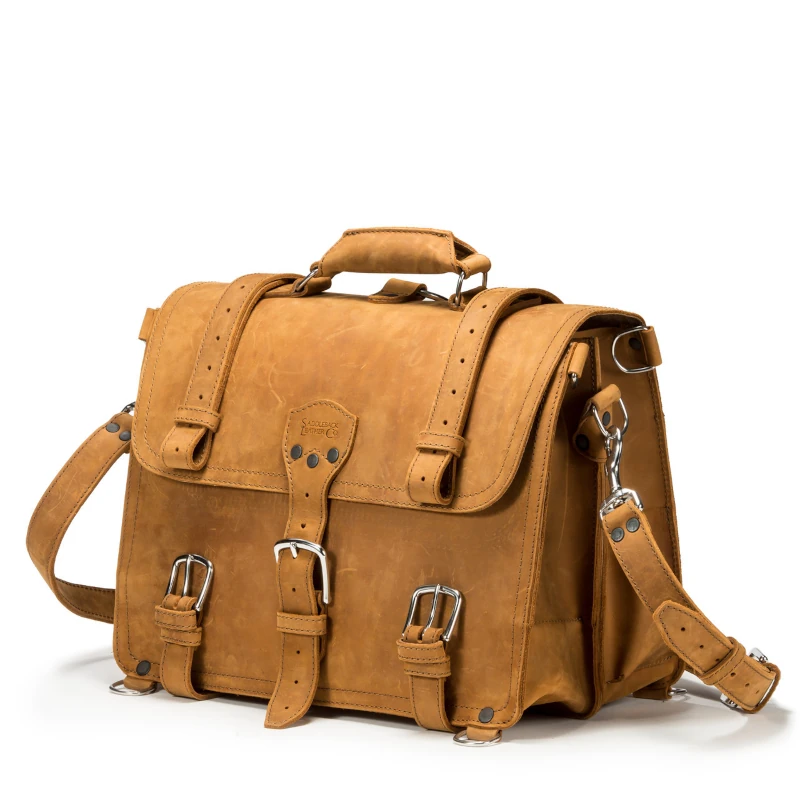 Check it out at saddlebackleather.com
Briefcases crafted from fine Italian leathers like pebbled grain and supple tan hides retain their rich character over years of daily use. Top luxury brands like Tumi, Jack Georges, Paul Smith, and Montblanc craft quality briefcases built to last a lifetime. More affordable options from Banana Republic, Everlane, and Fossil also get the job done. Look for a briefcase with a shoulder strap for added convenience on the commute or when traveling.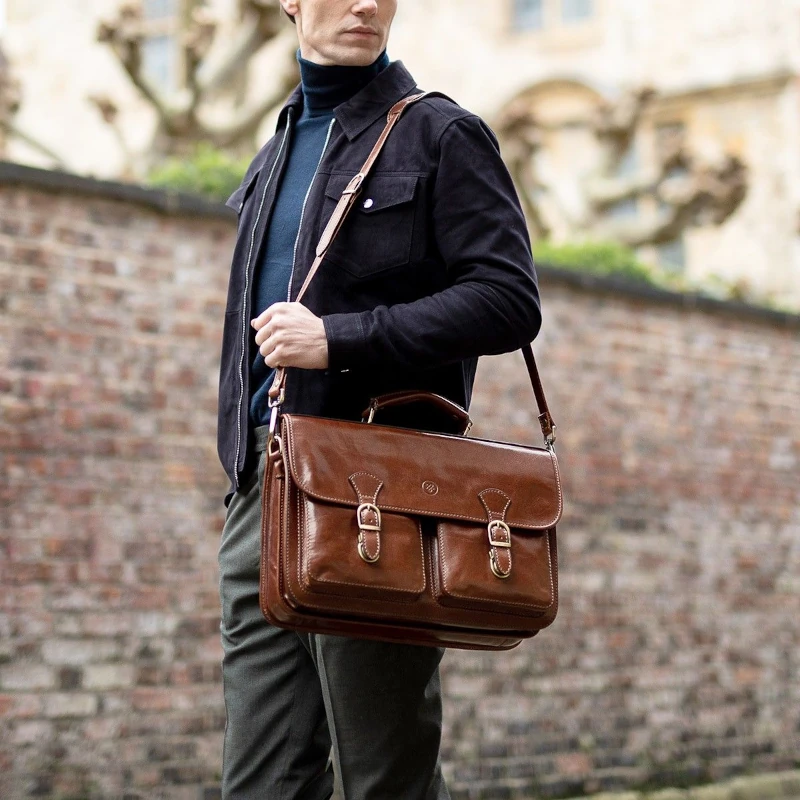 Check it out at maxwellscottbags.com
The organized interior compartments keep notebooks, pens, and important documents neatly in place. A padded laptop sleeve protects your device, while exterior pockets hold keys, phones, and smaller essentials. When an important meeting calls for timeless sophistication, few bags match the mighty leather briefcase's appeal.
Modern Messenger Bags
Messenger bags offer a casual, hipper alternative to the traditional briefcase. Choose a hands-free crossbody bag in rich leather or stylish canvas. Go for a classic rectangular shape or a curvier compact silhouette. Interior compartments keep your laptop, notebooks, chargers, and business essentials organized on the move.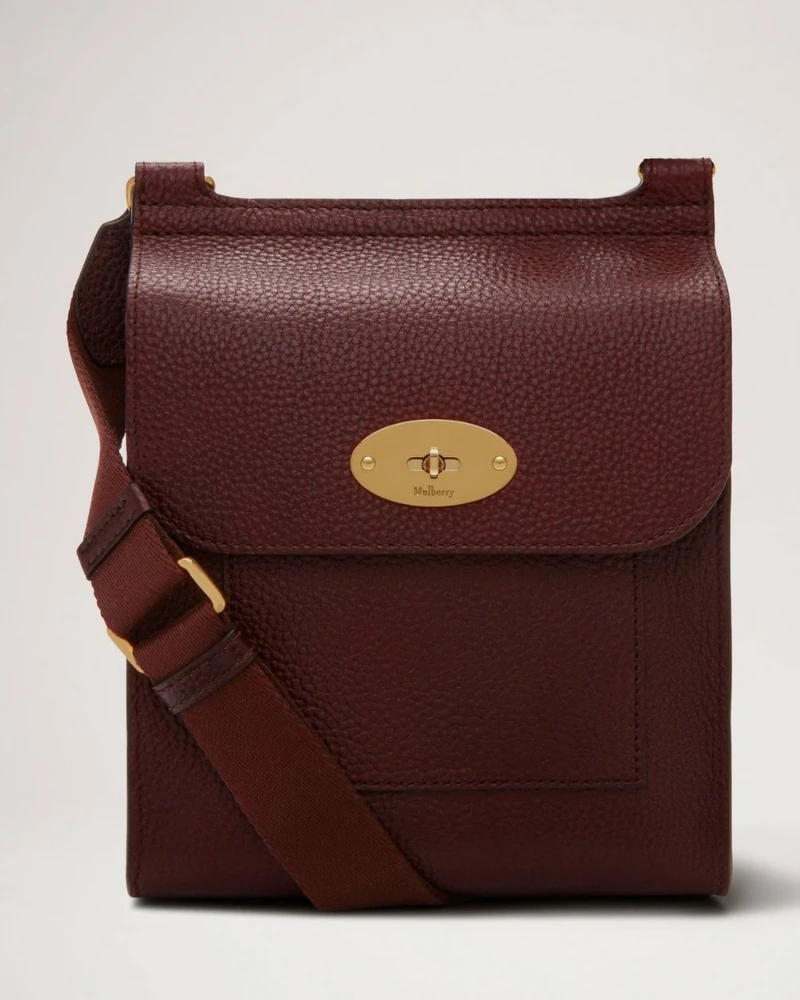 Check it out at Mulberry.com
An adjustable shoulder strap allows a comfortable fit while biking or walking to the office or meetings. The expandable flap closure allows quick access to the contents inside. Premium materials like oil-tanned bridle leather and waxed canvas resist moisture and gain character over time.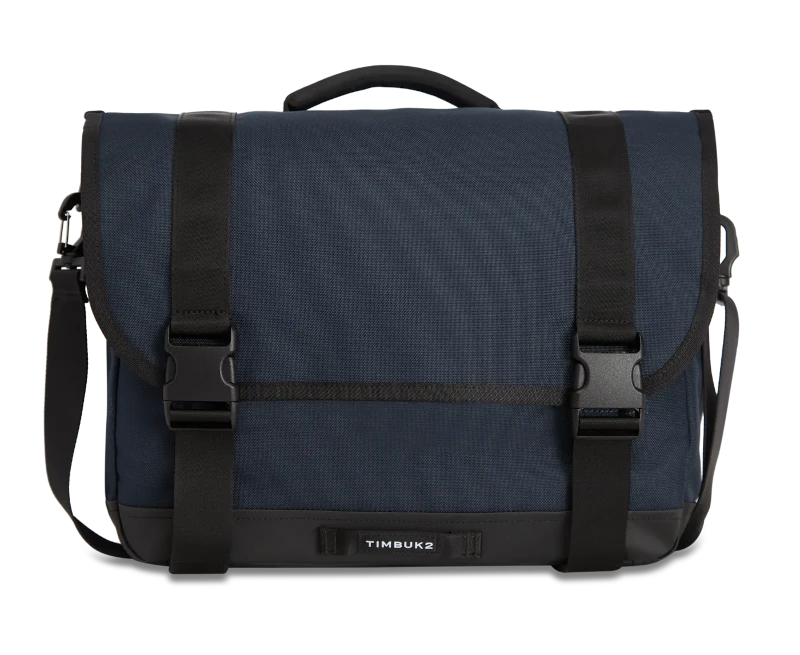 Check it out at timbuk2.com
Classic brands like Timbuk2 and Manhattan Portage put their signature smart spins on messenger bags. More formal contemporary choices come from Bottega Veneta, Hugo Boss, and Burberry. For professionals who favor a laidback yet put-together casual style, messenger bags deliver on the functionality front.
Backpacks for the Professional Commuter
From sleek startups to polished boardrooms, backpacks now permeate many modern workplaces. Far from stuffy and traditional, backpacks provide a hands-free option for the commuter who's always on the move. Whether biking to meetings across town or traveling to conferences worldwide, backpacks keep essentials well-organized and close at hand.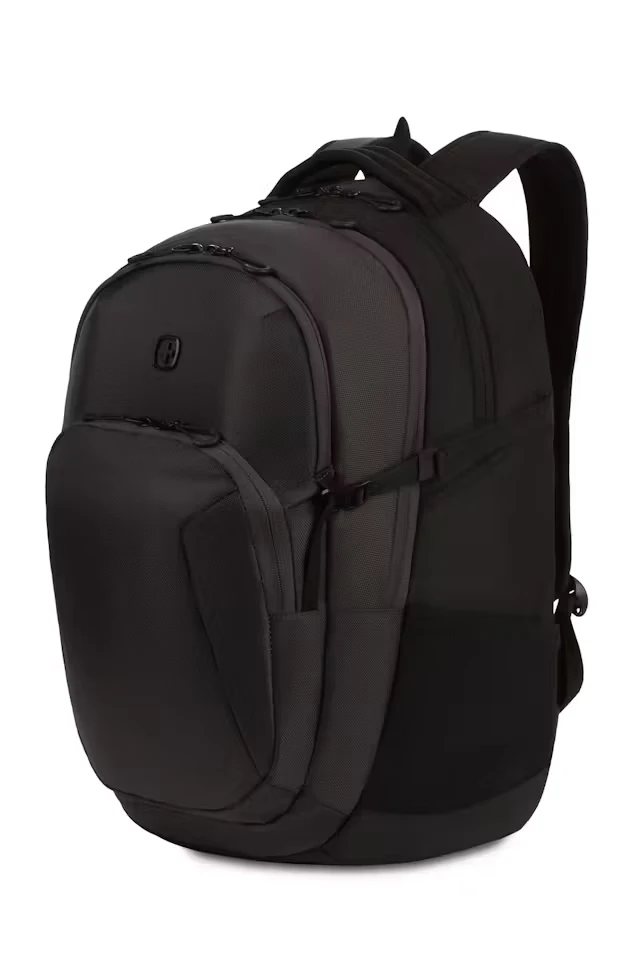 Check it out at swissgear.com
Choose a design specifically created for business and office use, avoiding overtly outdoorsy camping vibes. Sleek leather and durable canvas backpacks project professionalism with the added perk of comfort. Look for designs with ergonomic shoulder straps to alleviate neck and back strain. Extra padding and support go a long way during lengthy commutes. Interior laptop sleeves protect your device from bumps or spills.
With enough compartments and pockets, you can neatly organize pens, notebooks, battery packs, water bottles, headphones, and documents. The heritage Swedish bag maker Fjallraven offers ergonomic, minimalist designs that work across casual and formal offices. Brands like Aer, Targus, Incase, and Solo NY incorporate functionality with efficient organization.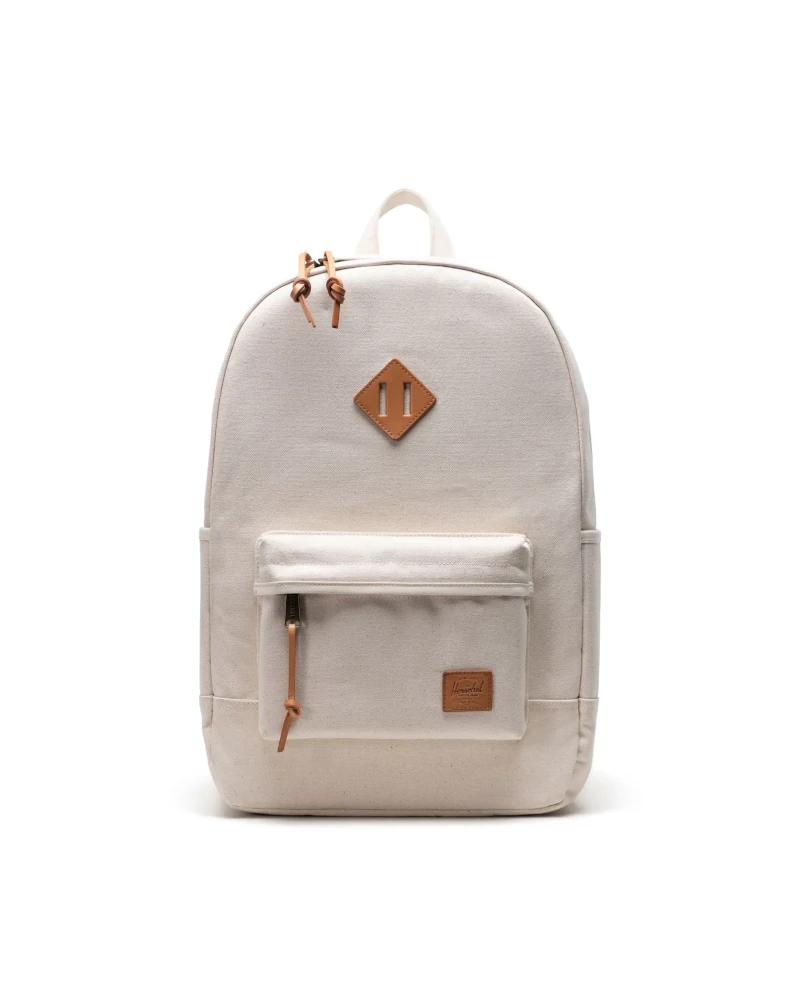 Check it out at herschel.com
Herschel Supply Co. supplements its signature backpacks with laptop sleeves and padded straps suited for urban professionals. When you want mobility along with convenient access to your devices, a backpack keeps your hands free.
Specialty Laptop Bags
For professionals who travel frequently for work, a dedicated laptop bag protects your precious cargo. Start by considering the typical length of your trips—is a large backpack or wheeled carry-on ideal for week-long excursions?
Or will a compact sleeve work for a quick overnight stay? From airport security lines to cramped airplane cabins, your laptop case faces challenges. Seek out quality materials like abrasion-resistant ballistic nylon and water-resistant tarpaulin that withstand rigorous use. Both backpacks and sleeves feature protective padding to shield your device.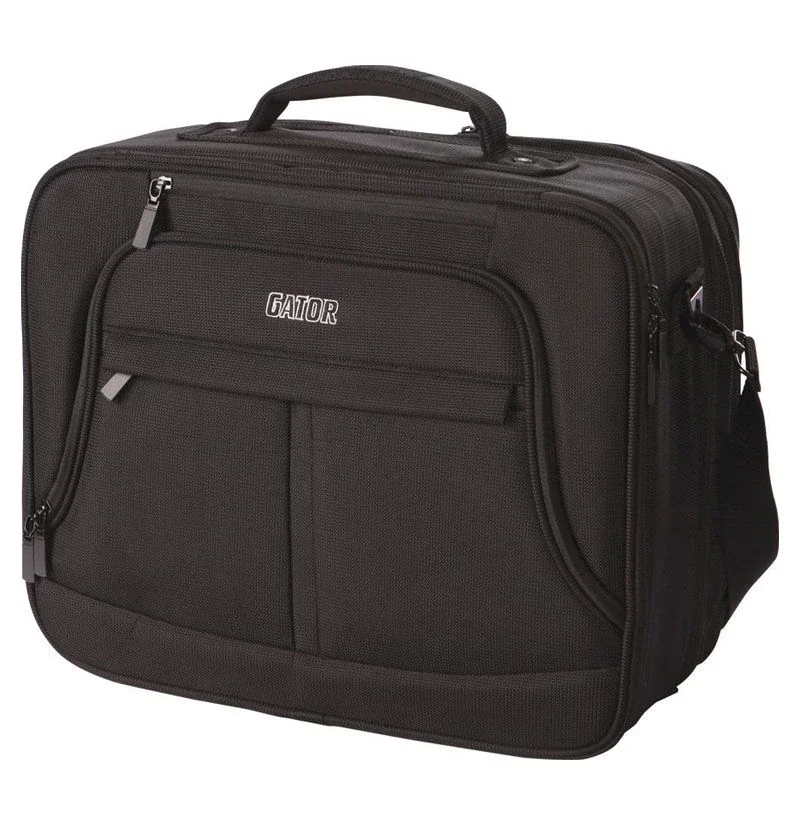 Check it out at specialitycases.com
Some laptop bags boast special designs allowing TSA agents to scan devices without removal—a true time saver. Extra padding in the back and shoulder straps prevents aching during long treks through the terminal. Outfit your bag with interior organizers devoted to chargers, mice, external batteries, and other accessories you need on hand. Top laptop bag brands like Away, Incase, and Beis offer contemporary, minimalist styles in both carry-on and compact sizes.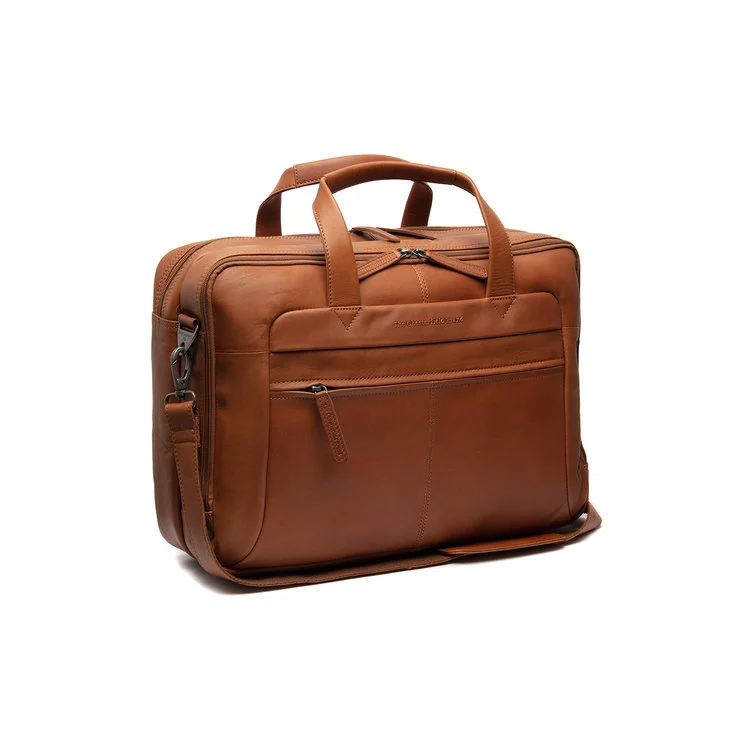 Check it out at chesterfieldbags.com
More formal options from Philip Lim, Armani, and Ralph Lauren incorporate luxury finishes from leather to polished hardware. Keep power cords and documents neatly stowed in interior pockets. Having a place for everything inside your laptop bag alleviates stressful hunts at security. Moving through airports swiftly bolsters professional polish.
Portfolio Bags Protect Creative Work
For photographers, graphic artists, and architects carrying precious creative materials, portfolio bags safely transport samples, artwork, blueprints, and documents. Both leather and thick water-resistant nylon constructions withstand heavy everyday use across varied weather conditions.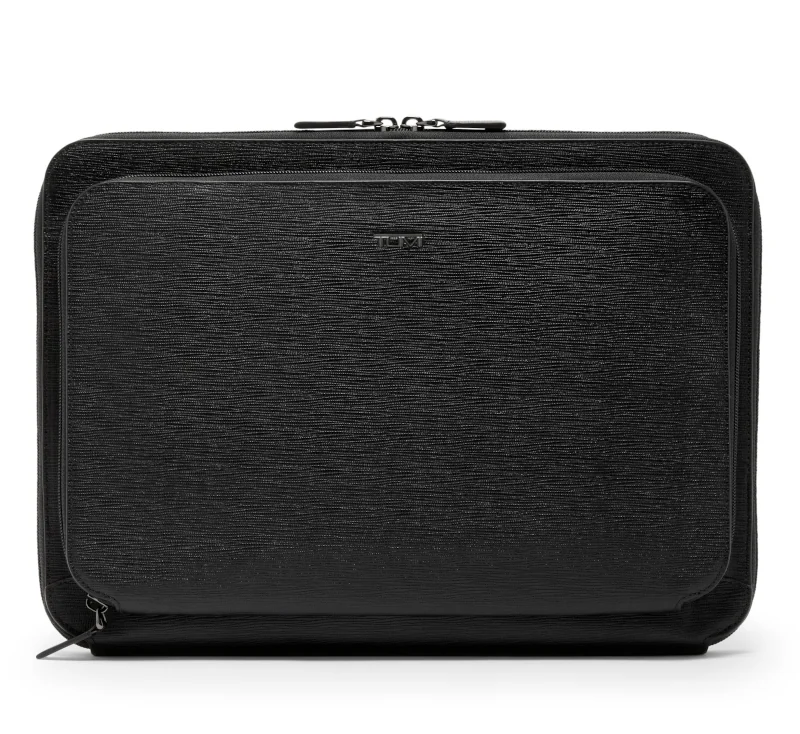 Check it out at tumi.com
Shoulder straps provide multiple carry options while thick foam or fabric padding shields portfolio contents from bumps or drops. The two-way zippered design allows the bag to open completely to display materials inside. The portfolios feature durable metal or plastic feet to keep the underside elevated from wet ground. Larger portfolio bags include expandable gusseted compartments and removable shoulder straps along with carrying handles. Smaller options work well for housing a tablet, sketchbook, and essential tools.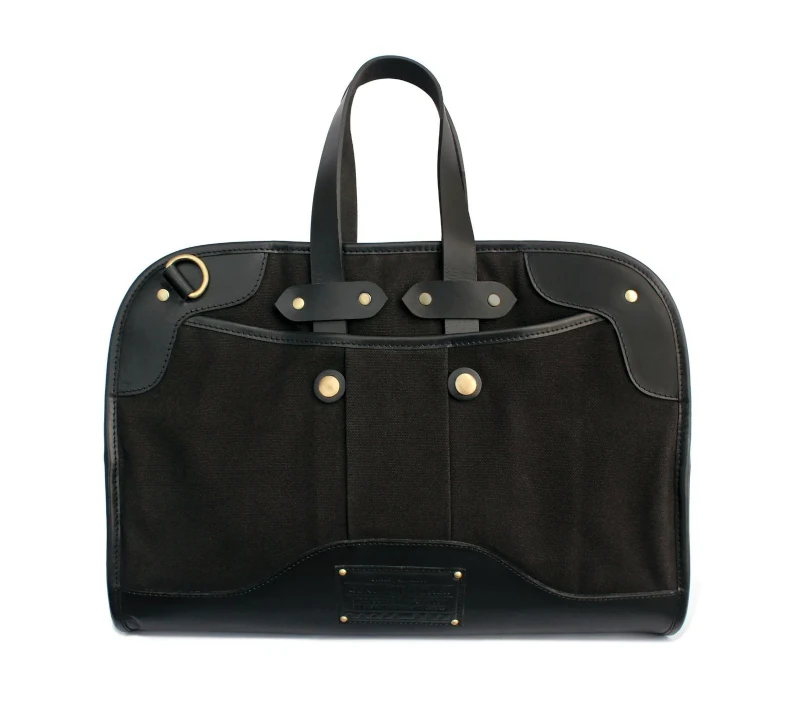 Check it out at nappadori.com
Top picks like the Vessel Work collection offer professional quality crafted from rugged ballistic nylon along with calf leather accents. Brands like Alzor and Ibarguengo also produce quality portfolios sized for blueprints, artwork, photography prints, and presentations. For design professionals who need to make an impression, a portfolio bag safely transports your hard work while making stylish first impressions.
Duffel Bags Bring Versatility on Short Trips
When traveling for client meetings, conferences, and presentations, duffel bags excel as professional luggage. The mid-sized carry-on dimensions provide ample room for quick two or three-day domestic trips. Quality leather and abrasion-resistant canvas constructions withstand the rigors of bumpy plane rides and crammed overhead bins.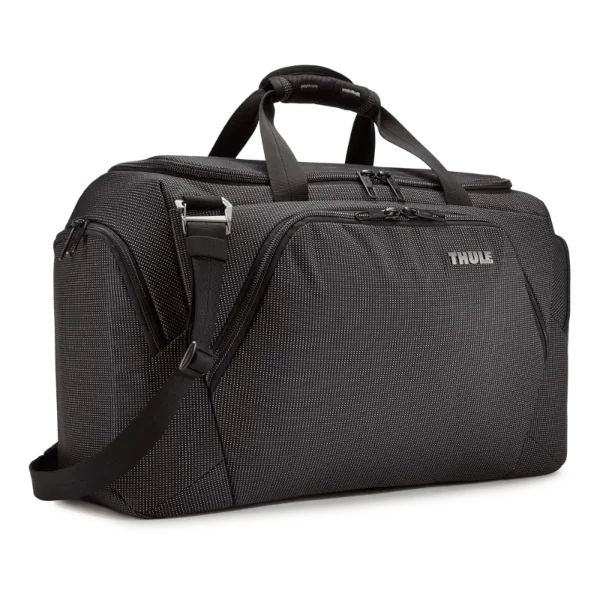 Check it out at Thule.com
Look for a duffel bag featuring both handles and a removable shoulder strap for easy carrying through airports and to the taxi stand. Keep gym clothes and dress shoes separated inside the bag's interior compartments. Exterior zip pockets allow access to boarding passes, pens, or USB battery packs when navigating cramped flights. Top-quality zippers hold up through repeated use over years of business flights.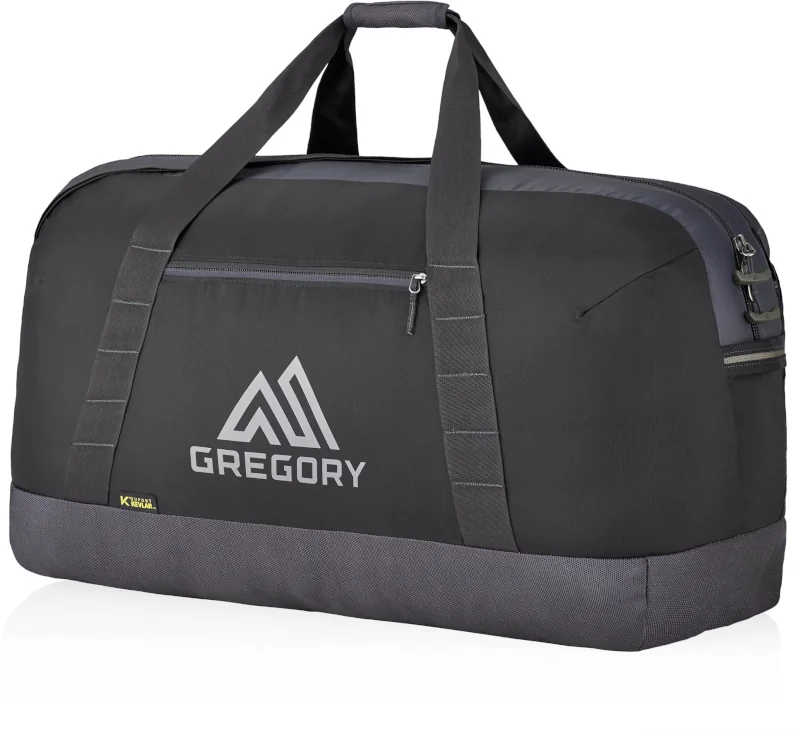 Check it out at rei.com
For the frequent flier who needs durability, convenience, and versatility, duffel bags like Filson's Rugged Twill line prove perfect travel companions across cities nationwide. Other top brands for quality business duffels include Tumi's Alpha line, The North Face Base Camp duffels, and Patagonia's Black Hole bags.
The lightweight designs pack down small so you can stash them inside your main luggage when not in use. The right duffel bag keeps you organized and prepared to tackle busy, unpredictable travel schedules.
Attaché Cases Evoke Vintage Refinement
The metal or leather attaché case evokes refinement, conjuring images of the Mad Men era. Typically made of aluminum or fine leather, these ultra-sleek rectangular cases feature a fold-over flap closure and sturdy handles for carrying by hand. The streamlined silhouette projects an air of timeless sophistication and attention to detail.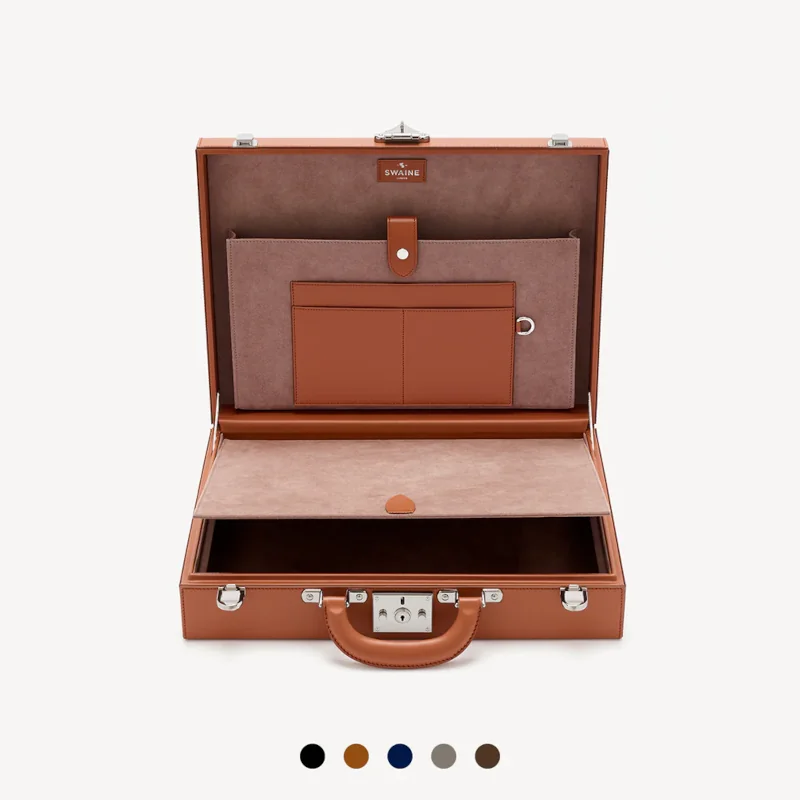 Check it out at Swaine.London
Premium Italian calfskin leather develops a unique patina over time. High-end models feature interiors divided into multiple compartments to keep legal documents, contracts, and folders crisp and intact. Some attachés open completely flat for easy access during meetings. Vintage 1950s and '60s metal attachés by brands like Samsonite fetch high prices among collectors today.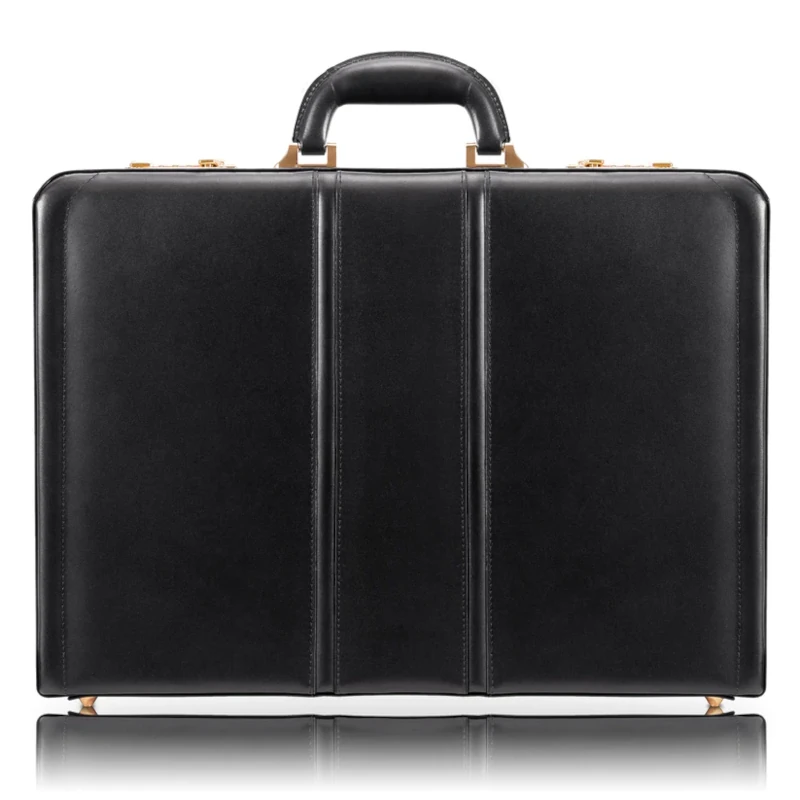 Check it out at therealleathercompany.com
For modern office professionals, leather attachés remain quintessential for important legal proceedings or executive presentations. They're standards for lawyers headed to trial, bankers attending board meetings and CEOs giving press conferences. When you want to exude polish and confidence, the refined attaché briefcase serves as a strong, silent statement piece.
Business Totes Offer a Casual Yet Professional Option
For more casual creative agencies and offices with relaxed dress codes, stylish leather or canvas tote bags work as professional carryalls. The best designs maintain structure while offering ample room for daily essentials. Leather totes from quality tanneries develop handsome patinas, aging gracefully like a worn baseball glove.
Check it out at tods.com
Durable canvas options withstand daily use without excessive scuffing or tearing. Secure zipper closures keep devices and documents safely stowed yet readily accessible. Interior lining and compartments keep gear organized and tablets/laptops separate from snacks or drink bottles that may leak. Exterior pockets allow access to keys, phones, pens, and other smaller necessities you frequently need to grab.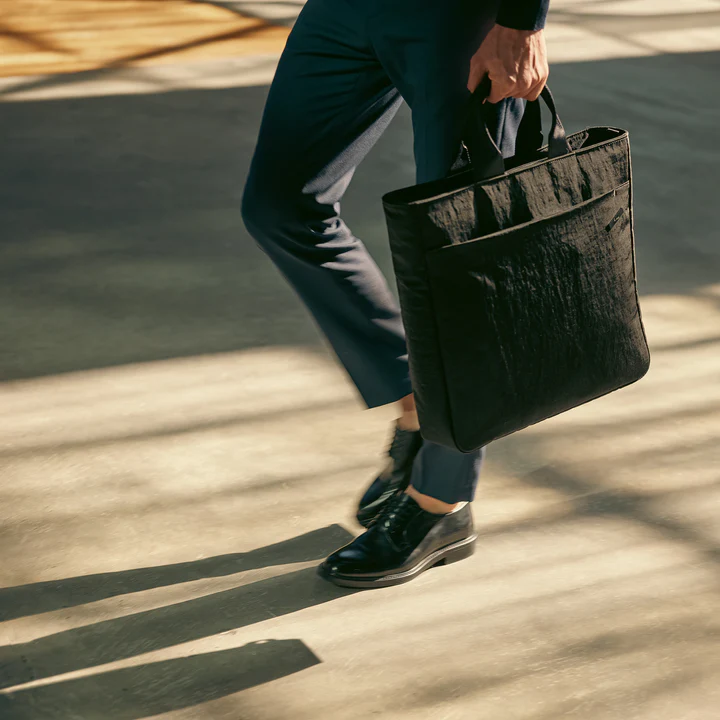 Check it out at emigre.travel
Look for reinforced leather straps and padded handles that won't dig into your shoulders when loaded up. Top luxury brands like Givenchy, Prada, and Saint Laurent offer elevated totes in Italian leather with polished hardware. More affordable leather options come from Cuyana, Dagne Dover, and Timbuk2. When you need to carry dresses or athletic gear for after-work activities, cavernous totes fit it all.
Weekender Bags for Impromptu Business Trips
When last-minute client meetings or conferences get scheduled, weekender bags provide a flexible travel solution. Quality weekender bags allow you to pack enough attire and gear for impromptu two to three-night trips. The most versatile designs work equally well as business or personal luggage. Leather and canvas backpack styles offer hands-free convenience for navigating busy airports and train stations.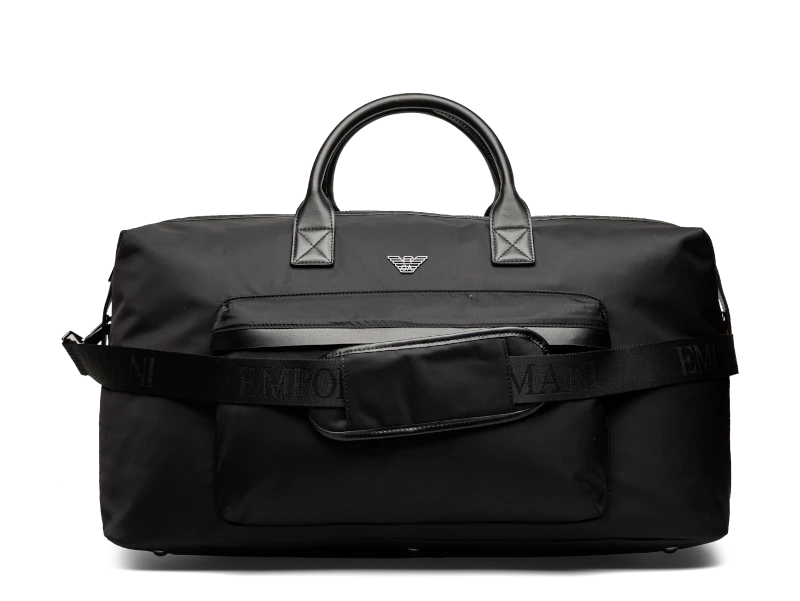 Check it out at boozt.com
Duffel bags provide accessibility and plenty of packing space. Look for weekenders featuring a separate, padded laptop compartment to protect your device. Interior compression straps keep clothing neatly packed. Shoe compartments isolate dirty footwear away from dresses, suits, and ties. Quick-access exterior pockets allow grabbing chargers, headphones, or travel documents while in transit.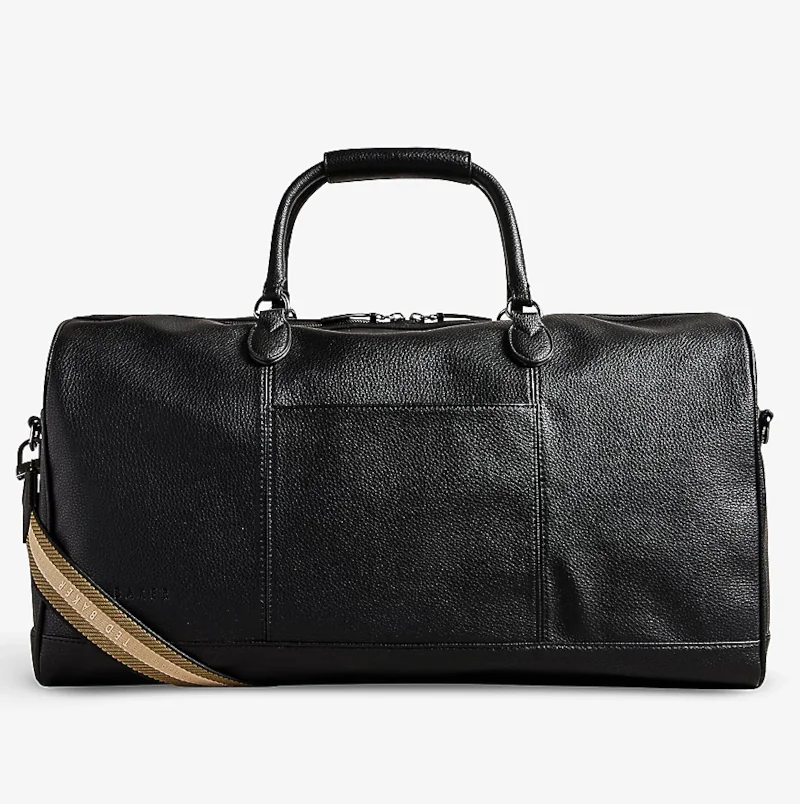 Check it out at selfridges.com
For durability, water-resistant leathers, ballistic nylon, and tarpaulin withstand the chaos of crowded overhead bins. Removable straps convert many duffel bags from shoulder carry to briefcase mode for business meetings. Top weekender bag brands like Tumi, Filson, and Briggs & Riley optimize their designs for both adventures and business trips. When you need to be ready at a moment's notice, a versatile weekender bag carries you through last-minute trips in style.
Personal Item Bags Keep Daily Essentials Handy
In addition to their primary bag, many professionals also carry a smaller pouch or case just for personal items like AirPods, medications, lip balm, spare glasses, passports, or auto keys. These cases keep daily essentials organized and close at hand instead of swallowing your most-used items in a cavernous backpack or tote.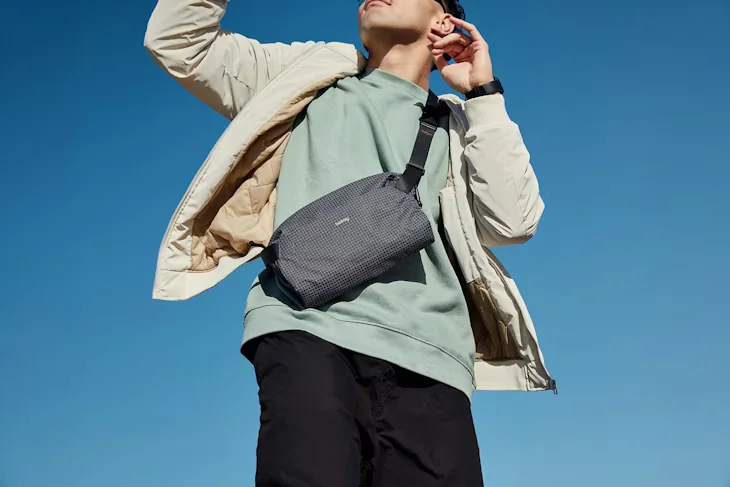 Check it out at bellroy.com
Small leather pouches like those from Bellroy work well thanks to their durable materials that develop character over time. Travel-friendly nylon versions from Active Roots, Aer, and Incase provide multiple compartments to sort smaller accessories while staying lightweight. Look for a design with both a grab handle and strap you can attach to your main bag for security in crowded areas.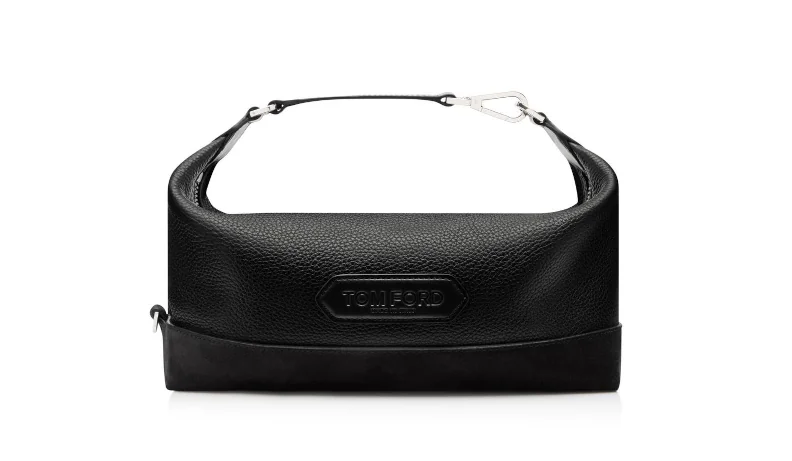 Check it out at tomford.com
RFID-blocking materials and zipper closures deter pickpockets from swiping your devices or identity. The ideal personal pouch allows easy access and quick visibility to items you need most throughout the hectic workday.
Frequently Asked Questions About Work Bags For Men
What bags work best for business casual and smart casual dress codes? 

More relaxed business casual and smart casual dress codes open up more casual bag options like canvas messenger bags, basic backpacks, and totes. Just ensure your bag appears clean, minimalist, and not too worn or distressed. Avoid overt sports team logos or rugged outdoor styling to stay professional.

Are anti-theft features worth paying extra for? 

If you'll be traveling through crowded areas or commuting on public transit, anti-theft features provide peace of mind. Look for bags with lockable zippers, cut-proof straps, RFID shielding to protect IDs, and lower-profile silhouettes that stay close to your body. Avoid ostentatious branding that attracts attention.

What's the best professional bag for organizing small accessories?

Bags devoted just to tech and smaller items keep your most-used essentials accessible. Options like slim leather organizers, nylon tech pouches, and Cordura accessory cases have slots and pockets sized perfectly for items like headphones, chargers, AirPods, pens, styluses, business cards, and batteries. Dedicated accessory storage prevents dumping loose items into larger bags.

How much should I expect to spend on a quality leather briefcase or work bag? 

Expect to invest $300-$500 for a leather bag from an established luxury brand made from fine Italian or full-grain leather. Well-crafted options from smaller designers may cost $200-$400. Quality canvas bags range from $100-$300 depending on size and materials.

Should I consider a bag suited for my choice of work attire? 

Yes, your ideal work bag complements the office wardrobe you wear most often. For tailored suits, choose fine leather portfolios, folios, and briefcases. With business casual looks, consider canvas messenger bags and leather backpacks. For dresses and skirts, leather satchels and nylon totes work well. Matching shoes and bags projects extra polish.

What are the most versatile colors for professional bags? 

Stick with neutral, versatile colors like black, brown, navy, and tan that work across formal and casual offices. Gray and Olive also get the job done. Very light shirts and bags can get dirty, so deeper shades make the most sense for frequent use. Try to avoid loud graphic prints unless your office culture is ultra-casual.

Should I choose backpacks, briefcases, or messenger bags?

Choose based on your commute, mobility needs, and professional style. Backpacks work best for biking and transit commuters who need hands-free carrying. Briefcases provide classic polish for client meetings and legal professions. Messenger bags are good for creatives and those wanting a laid-back look.

What types of compartments and features help keep my bag organized? 

Look for bags with a simple, useful built-in organization like padded laptop sleeves, interior dividers, quick-access pockets for phones/pens/keys, and exterior zippered compartments for documents. Avoid bags with too many small pockets that become cluttered.

How do I keep my nice leather bag protected? 

Use a protective spray to guard against water and stains without altering the leather's look or feel. Store bags with stuffing inside away from direct sun. Condition regularly with leather lotion. Bring your bag to a shoe repair pro for scuff removal and repairs.

Should I invest in a high-end designer bag or start with a mid-range option? 

We suggest purchasing a reasonably priced bag from an established brand known for quality to test a style, then later investing in a luxury version of the bag that suits your office needs and preferences. This allows finding the ideal features before committing to a forever bag.
Our Latest Articles
Laoutaris Recommends