Stud earrings for women are a versatile jewelry staple. Discover why they are a must-have and see 18 pairs of classic studs every woman should own.
Table of Contents
Definition and History of Stud Earrings For Women
Stud earrings for women are defined as small earrings that sit directly on the earlobe, often featuring a single gemstone or design. The post passes through the piercing with a stop at the back to secure it in place. Unlike dangling or hoop earrings, studs do not hang below the earlobe. Their petite size makes them lightweight and comfortable to wear all day.
While trends come and go, stud earrings for women remain a staple in the jewelry world. They have been widespread across many cultures for centuries. In ancient Egypt, men and women wore simple gold studs to symbolize status and wealth. During the Renaissance era, pearl and gemstone studs became fashionable in Europe. Studs first gained widespread popularity in America and Europe in the 1920s as a bold accessory for flapper fashion. Since then, they have evolved into a jewelry box staple for everyday elegance.
Why Every Woman Needs at Least One Pair of Stud Earrings
There are many reasons why stud earrings for women deserve a prime spot in every woman's jewelry collection:
Versatility – Studs seamlessly transition from day to night. They work for the office, date night, a casual brunch, etc. They elevate a T-shirt and jeans just as well as a cocktail dress.
Wearability – Stud earrings for women are lightweight and comfortable, making them ideal for all-day wear. Unlike heavy dangling earrings, they won't cause earlobe strain or discomfort. Their petite size also makes them perfect for wearing in multiple ear piercings.
Style – Stud earrings have simple sophistication. They polish off any look without being loud or overpowering. Studs let your natural beauty shine.
Value – Investing in a quality pair of stud earrings is worth it. Precious metals and genuine gemstones will withstand decades of wear. Style-proof studs will never go out of fashion.
Self-Expression – Studs allow you to change up your look in an instant. Swap out your studs to match your mood, outfit, or occasion. Go minimalist with diamonds one day, or make a colorful statement with gems the next.
Most Popular Styles of Stud Earrings For Women
Stud earrings for women may be small, but they make a significant style impact. Here are some of the most popular studs that every woman should own:
Simple Metal Studs
The Basic metal studs are wardrobe staples that work for everyday wear. Opt for neutral, complementary colors like:
Gold – 14K or 18K yellow gold studs are jewelry box essentials with a warm, rich tone that flatters most skin tones. Gold is hypoallergenic for sensitive ears.
Check out these 18ct Yellow Gold Knot Stud Earrings here.
Platinum – This lustrous silver-hued metal is ideal for everyday wear. Platinum is tarnish-resistant and one of the strongest, most durable metals.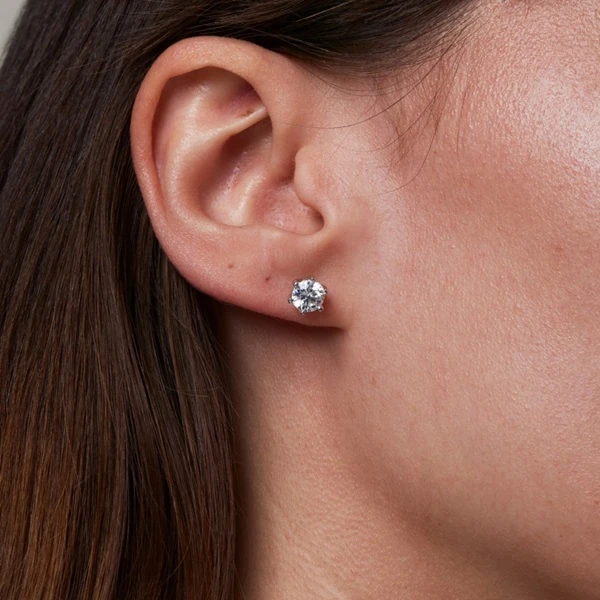 Check out these Platinum Round Diamond Stud Earrings here.
Silver – Opt for affordable stainless steel or .925 sterling silver studs to match cool skin undertones. Silver offers a contemporary color palette.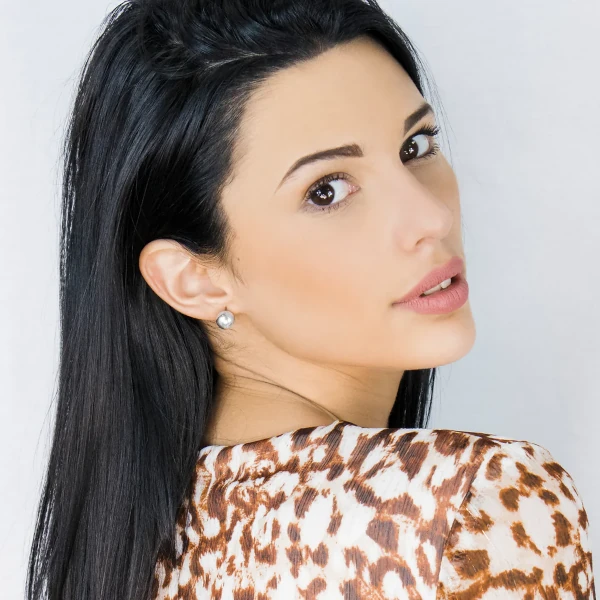 Check out these Sterling Silver Large Ball Stud Earrings here.
Birthstone and Gemstone Stud Earrings For Women
Add color and sparkle to your look with studs featuring your birthstone or favorite gems:
Diamonds – A girl's best friend. Diamond stud earrings are a timeless classic. Splurge on .5 carat or 1 carat for endless shine.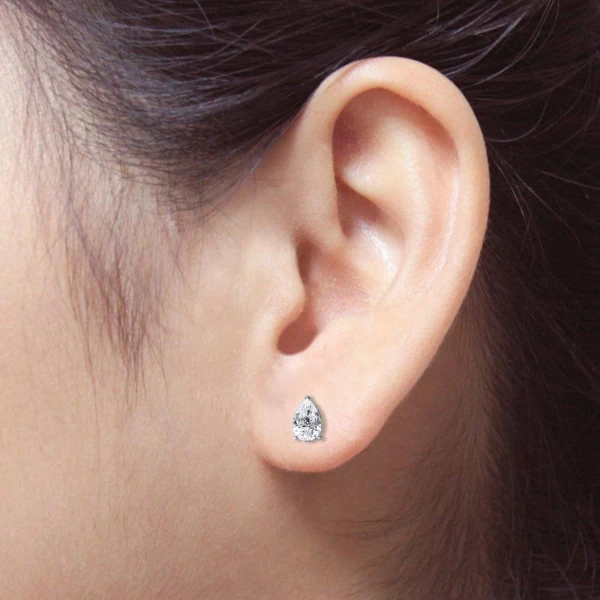 Check out these Lab Grown Diamond Stud Earrings Pear 1.25 ct. Here.
Pearls – Cultured or freshwater pearls have a refined, luminous sheen. They emit a soft glow for the ultimate ladylike accessory. Great for everyday luxury.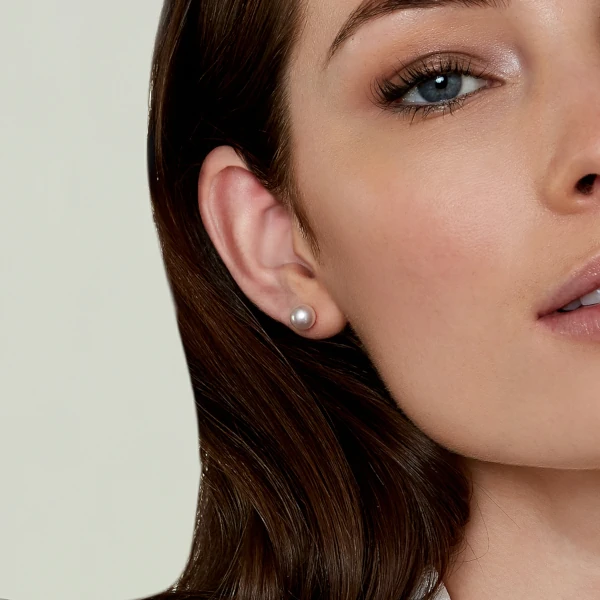 Check out these White Akoya Round Pearl Stud Earrings here.
Sapphires – The September birthstone is available in a rich, deep blue hue. Or opt for other sapphire colors like pink, yellow, and white.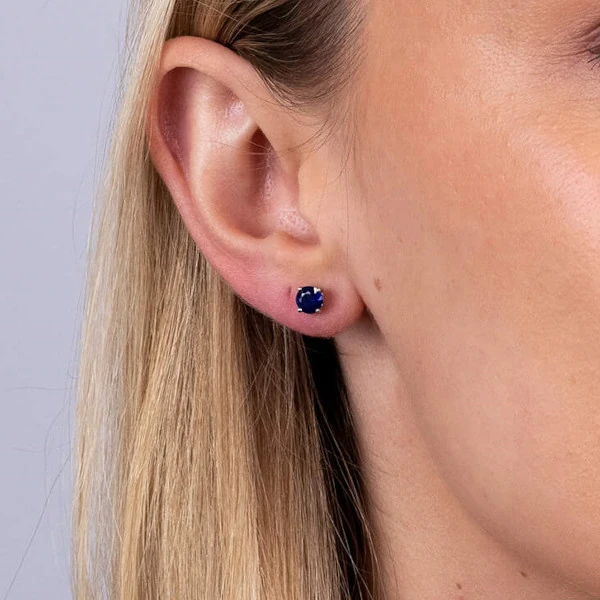 Check out these 9ct White Gold 5mm Sapphire Solitaire Round Shape Stud Earrings here.
Opal – This October birthstone has a stunning fiery play of color. Opals are romantic and feminine. Perfect for the free spirit.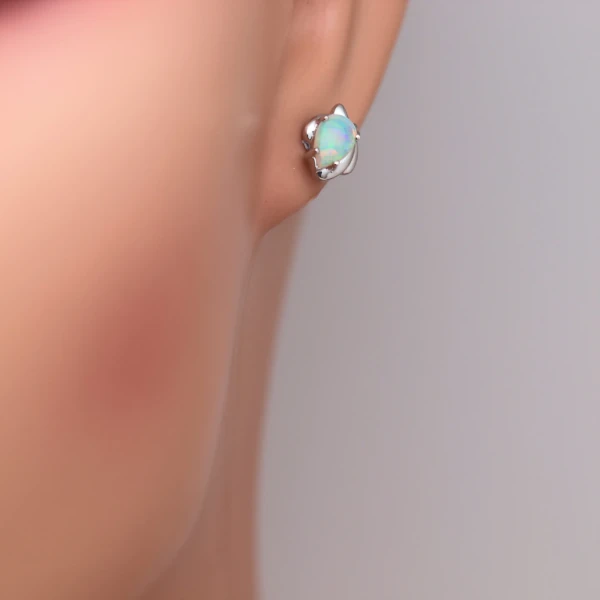 Check out these Fior Australian Solid Opal Earrings here.
Statement and Vintage Studs
Take your stud game to the next level with these stylish statement earring designs:
Monogram Studs – Initial studs are a personalized jewelry option. Opt for your first name initial, surname initial, or 3-initial monogram in script, block, or cursive fonts.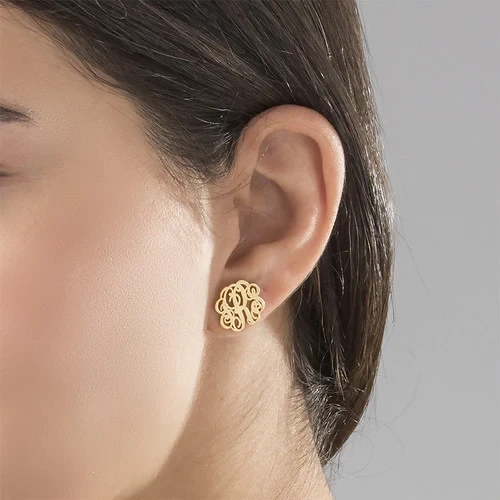 Check out these Monogram Stud Earrings here.
Iconic Symbols – Express your interests or personality with studs shaped like stars, hearts, crowns, animals, flowers, and other motifs. Go modern or choose retro motifs.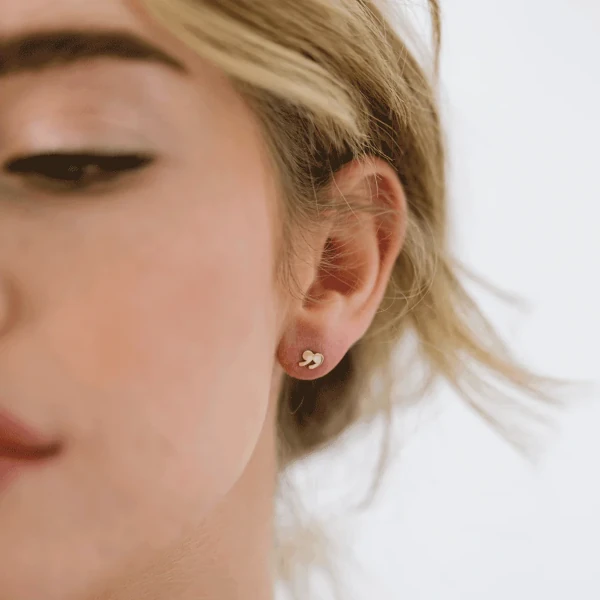 Check out these 14k Solid Gold Symbol Earrings here.
Vintage Acrylic – These plastic beauties are a throwback to the '60s and '70s mod era. Pick bright colors and graphic shapes for an eye-catching accessory.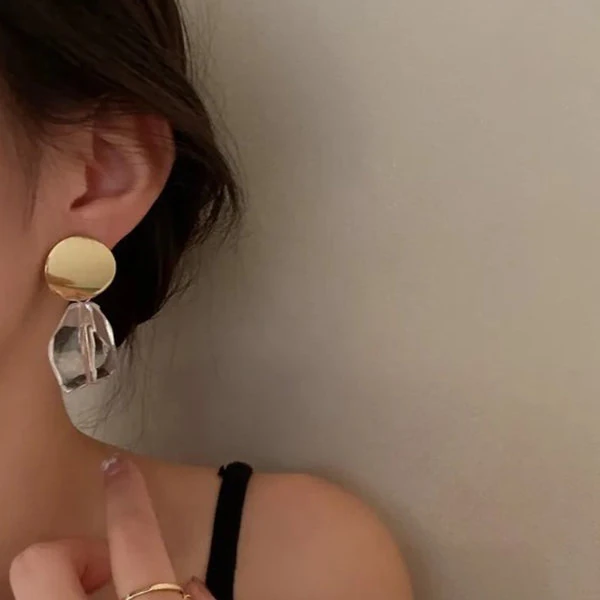 Check out these Vintage Acrylic Stud Earrings here.
Deco Designs – Intricate studs with filigree details, engraving, etching, and inlays echo the glam Art Deco style of the 1920s and '30s.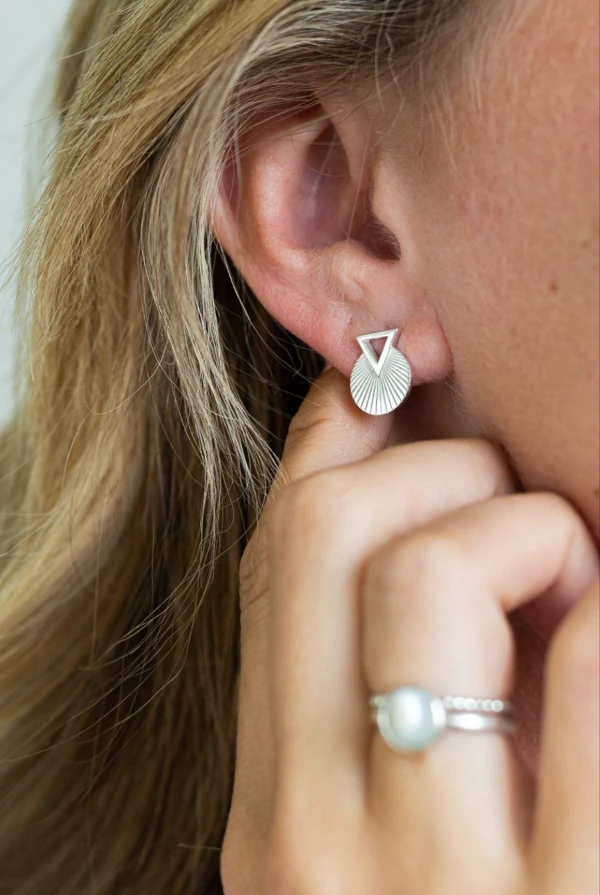 Check out these Art Deco Stud Earrings here.
Tips for Styling and Making the Most of Your Stud Earrings
Studs may be small, but they can make or break your look. Follow these tips to pick the perfect pair and style them like a pro:
Keep it simple – Opt for bare metal or birthstone studs in neutral, everyday colors when in doubt. Dainty studs work for the office and casual wear.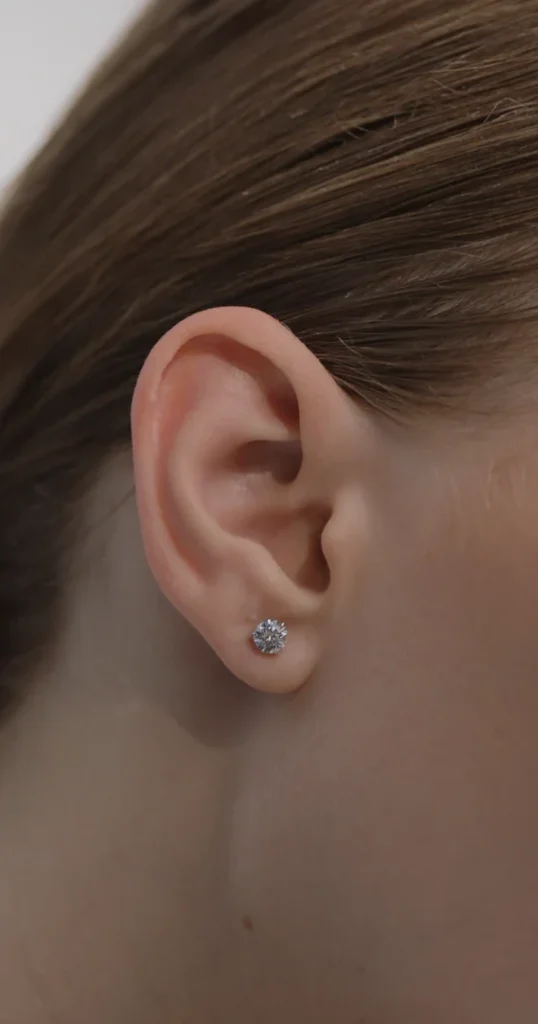 Check out these Simple single-round stud earrings here.
Make a statement – Switch to eye-catching gems like rubies or emeralds for date nights and weekends. Vintage acrylic and monogram studs also say fashionista.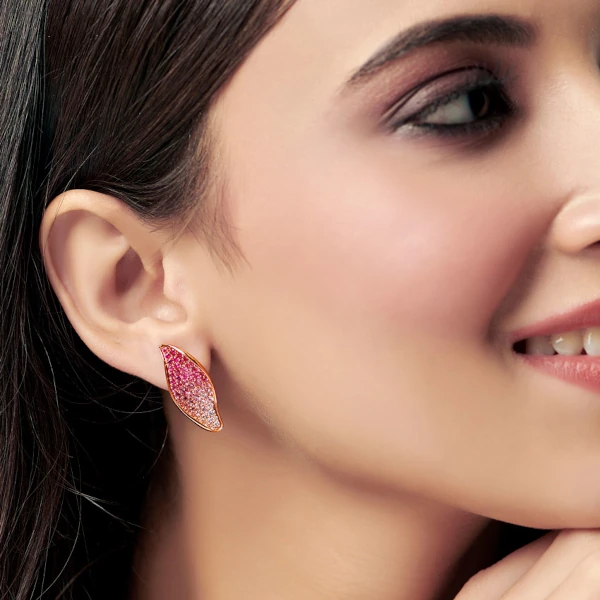 Check out these Stud earrings with Rubies, Diamonds, and Sapphire stones here.
Location matters – Place bolder statement studs in your first lobe piercings to draw the eye upwards and highlight your face. Go smaller in upper ear piercings.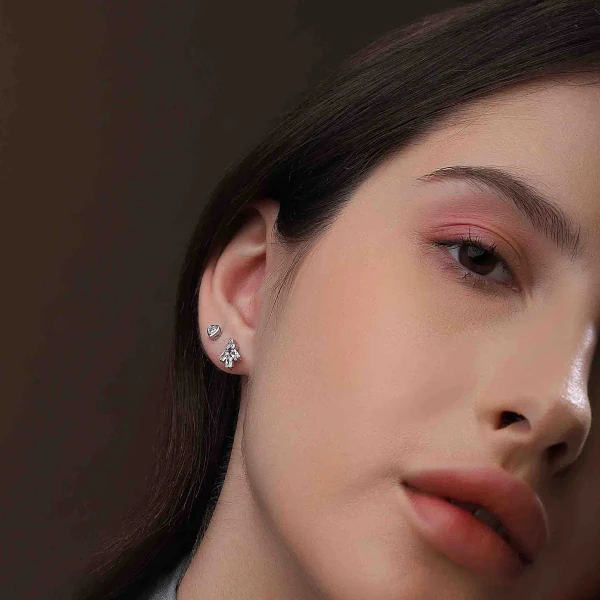 Check out these Vivid Silver Earstuds here.
Mix and match – Don't be afraid to combine different metals, shapes, and colors when wearing studs in multiple piercings. Contrast adds interest.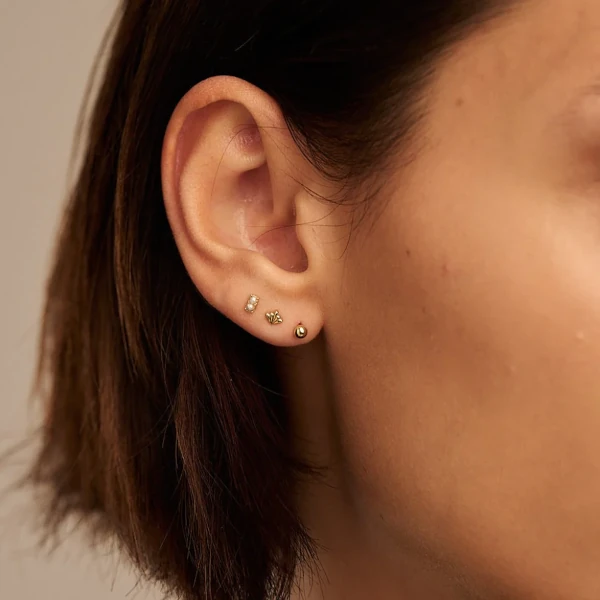 Check out these Mixed Stud Earrings here.
Consider your face – Opt for delicate studs no wider than your eye width if you have a round or heart-shaped face. Longer oval and square faces can pull off a bit bolder.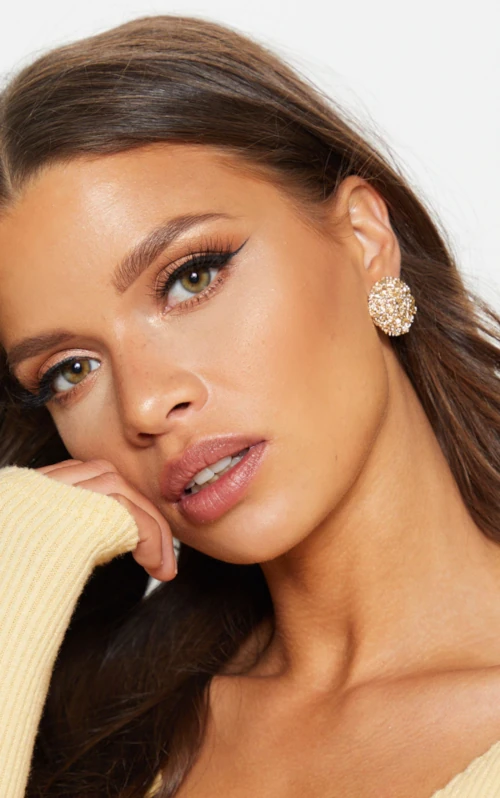 Check out these gold-textured circle stud earrings here for only 4 pounds.
Show them off – Pull your hair back in an updo to highlight your earrings. Studs look extra glamorous when ears are exposed.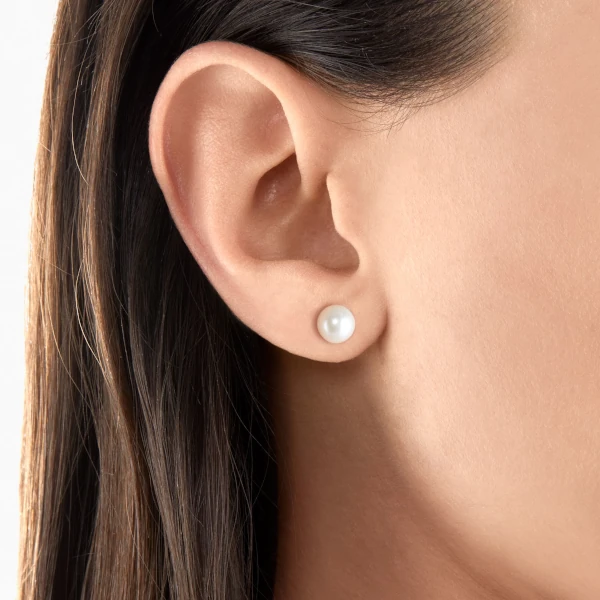 Check out these pearls stud earrings here.
Don't compete – Coordinate metals and stones with other jewelry you wear. Your studs should complement, not compete with, necklaces or bracelets.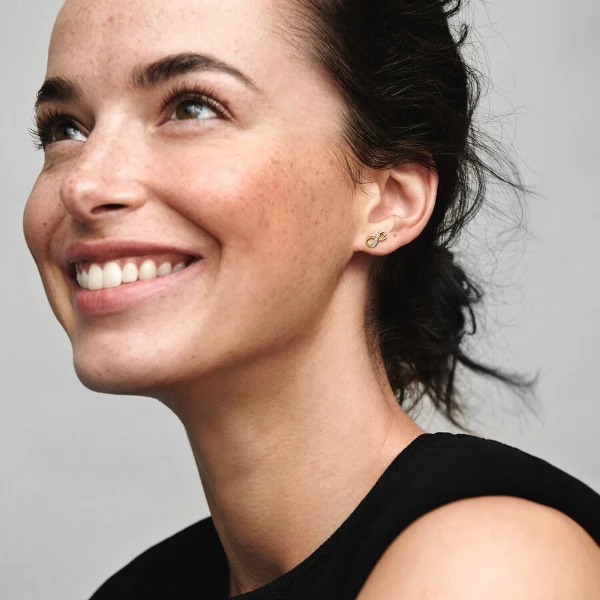 Check out these Sparkling Infinity Stud Earrings here.
Caring for Stud Earrings For Women Properly
Stud earrings may be small, but they require as much care and maintenance as larger statement pieces – especially if made with precious metals and gemstones. Follow these tips, and your studs will stay like new for years to come:
Proper storage – Keep studs safely stored when not being worn in a dedicated jewelry box, fabric pouch, or display stand. This prevents loss and damage.
Regular cleanings – Clean studs frequently, especially if you wear them often. Soak in mild soap and water. Gently scrub with a soft toothbrush and wipe with a soft cloth.
Professional care – Take precious metals like gold and platinum to be professionally cleaned once or twice a year. Ultrasonic cleaning removes built-up grime and tarnish.
Special care for gems – Use a gentle brush and cloth to clean gems. Avoid harsh chemicals. Do not ultrasonically clean softer stones like pearl, opal, or emerald.
Careful wear – Insert posts straight when putting on studs. Tighten backs carefully to avoid damaging piercings. Remove studs gently and slowly to prevent loss of gems.
Limit exposure – Take studs off for activities that may cause damage – sports, swimming, bathing, yard work. Avoid contact with water, perfume, makeup, and chemicals.
Answering Common Questions About Stud Earrings For Women
How should I choose stud earrings to match my style?

The key is to think about your wardrobe palette and aesthetic. Simple diamonds or metal studs are perfect if you gravitate towards minimalist, neutral colors. If you prefer statement accessories and vibrant colors, go for bold gemstone or art deco studs.

What size stud earrings are best for small earlobes?

Look for dainty studs with post lengths between 4 mm and 6 mm. Tiny earlobes under 10mm in diameter can likely accommodate 2mm posts. Avoid heavy stones or large stud fronts that cause stretching or tearing of small piercings.

Is it okay to sleep in my stud earrings?

Removing all earrings before bed is the best practice to allow piercings to breathe and avoid injury while sleeping. However, lightweight studs with screw-back posts or friction backs are suitable for safe overnight wear. Just take care of snagging hair and bedding.

How often should I clean stud earrings for women?

Frequent stud wearers should aim to clean their earrings every 1-2 weeks. For those who wear studs only occasionally, every 2-3 months is sufficient. Of course, clean immediately if earrings get dirty or are exposed to perfumes, lotions, hair products, etc.

Can I wear regular stud earrings with a new piercing?

Only after the initial healing phase. Barbell-style starter studs are best for new piercings for the first 6-8 weeks. After healing, you can wear classic stud styles. Opt for hypoallergenic metals like stainless steel, titanium, 14K gold, or platinum at first. Avoid sterling silver, pearls, and opals until fully healed.
Price Ranges of Classic Stud Earrings For Women
| Stud Earring Style | Price Range |
| --- | --- |
| 14K Yellow Gold Ball Studs | $100 – $500 |
| 0.5 Carat Round Diamond Solitaire Studs | $200 – $5,000+ |
| Akoya Pearl Studs | $50 – $500 |
| Sapphire & Diamond 3-Stone Halo Studs | $300 – $1,000 |
| Fire Opal Flower Studs | $75 – $300 |
| Engraved Monogram Studs | $25 – $150 |
| Pave Diamond Heart-Shape Studs | $150 – $750 |
| Bold CZ Geometric Hoop Studs | $25 – $100 |
| Filigree Swirl Retro Studs | $20 – $150 |
Whether you gravitate towards timeless diamonds, colorful birthstones, or vintage designs, stud earrings are a versatile staple every woman should own. They instantly elevate everything from joggers and tees to cocktail dresses. Start curating your stud collection today to complete your jewelry box!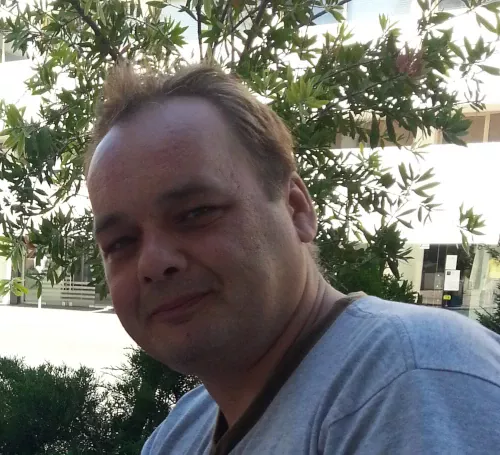 Pashalis Laoutaris
Fashion Blogger
I am a professional writer, fashion blogger, and owner of the site https://laoutaris.com. As a salesperson for more than 20 years, I have experience of 10 years in the fashion industry. I consider myself a true fashionista. I am writing daily blog articles about fashion, tools and converters, and everything you need to know about the current fashion trends.
Share this article
Our Latest Articles
Laoutaris Recommends