When adorning a woman's ears, diamond earrings add an air of sophistication and radiance that is simply unmatched. Whether it's a formal gala, a casual brunch, or a special celebration, diamond earrings can elevate any ensemble and turn heads wherever you go.
Table of Contents
Diamond earrings are a timeless and versatile jewelry choice for women. They come in many styles, sizes, cuts, and settings to suit any taste and budget. This article will explore the most popular types of diamond earrings and what makes each style unique.
Diamond Stud Earrings
The most classic and straightforward diamond earring design. Consists of a single diamond in a four-prong or six-prong setting. It tends to be smaller in size – usually under 1 carat total. Very versatile – can be dressed up or down. Common diamond cuts for studs: round brilliant, princess, cushion, asscher. Settings: yellow gold, white gold, rose gold, platinum.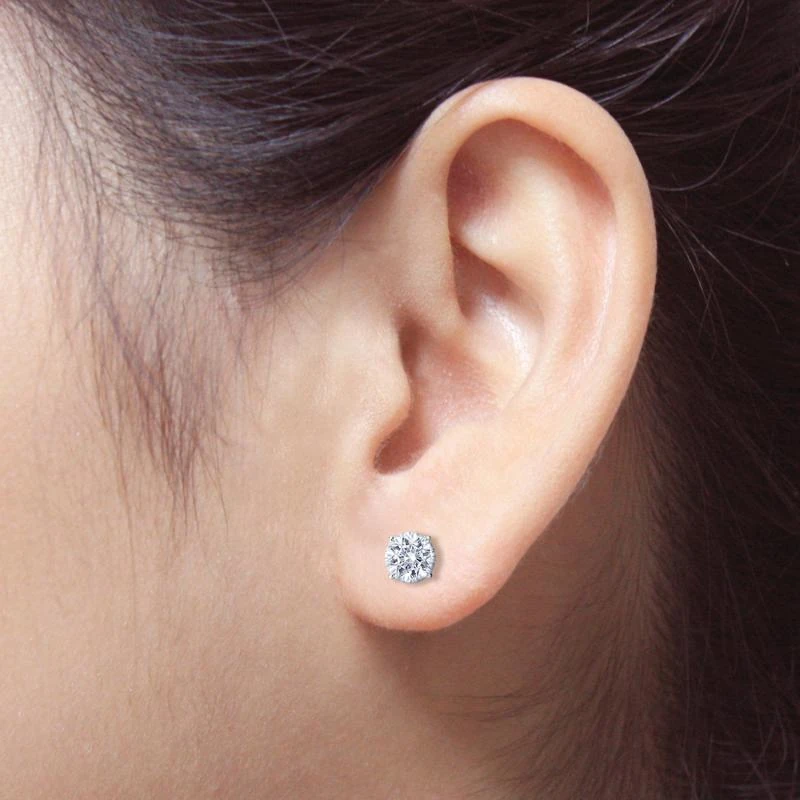 Check out these Lab-grown diamond stud earrings here.
Pros:
Timeless, elegant, minimalist
Easy to pair with other jewelry
Appropriate for everyday wear
Cons:
Not as flashy as other earring types
Smaller diamonds can appear underwhelming
Styling Tips:
Wear every day for understated glamour.
Stack with another stud in a second ear piercing.
Opt for a larger carat stud for more presence.
Mix metals by pairing rose gold studs with a white gold necklace.
Diamond Hoop Earrings
Diamonds encrust the front of a hoop earring to create sparkle and visual interest. Hoop size ranges from small huggies to dramatic statement earrings. Larger hoops tend to have pave diamonds rather than single stones—a great way to incorporate diamonds into a casual earring style.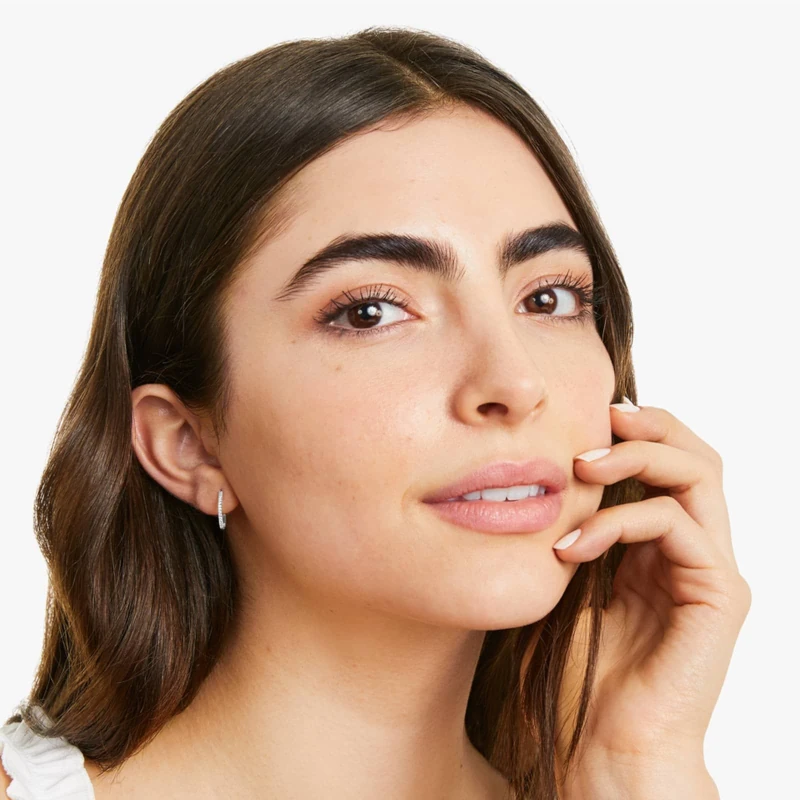 Check out these 14K White gold diamond hoop earrings here.
Pros:
Adds glamour to a casual earring
Small hoops are very versatile
Large hoops make a dramatic statement
Cons:
Diamonds may feel excessive on a very casual hoop
Large hoops can feel heavy
Styling Tips:
Small Huggies are great for every day.
Larger hoops make more of a statement for the evening.
Pair with an updo to show off the diamonds.
Stick to round brilliant cut diamonds for maximum sparkle.
Diamond Halo Earrings
Circular style with diamonds encircling a center stone to create a bright, eye-catching effect. It is most commonly seen with a round center stone. The halo can consist of micro-pave diamonds or larger stones. Settings include yellow gold, white gold, and rose gold.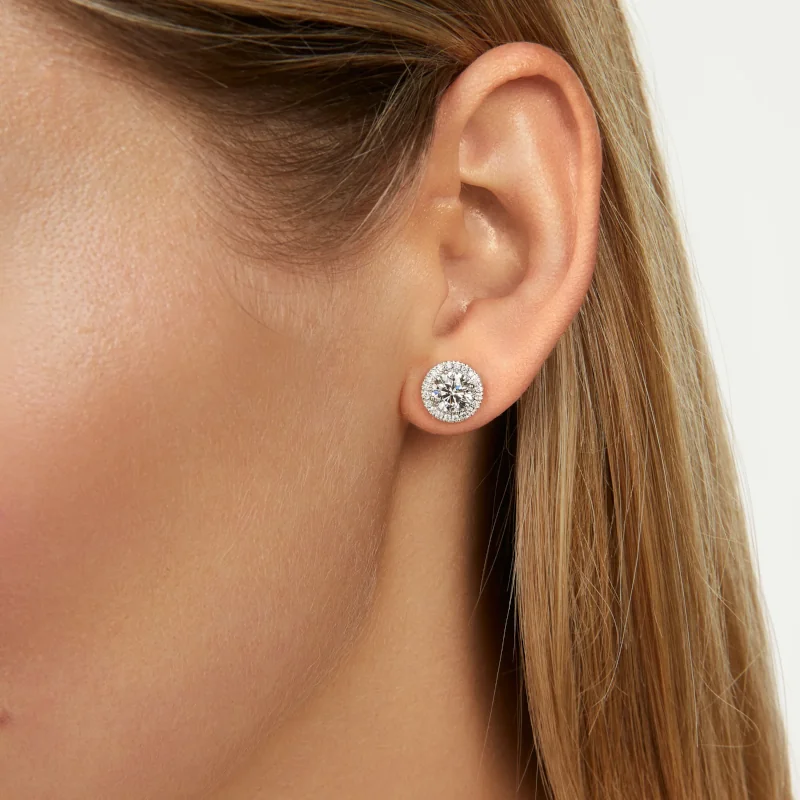 Check out these Lab-Grown Diamond 2ct. Halo 14k Gold Earrings here.
Pros:
Eye-catching sparkle and brilliance
The Center stone stands out
Lots of flexibility in size and colors
Cons:
Halo can overwhelm a smaller center stone
Not as versatile for everyday wear
Styling Tips:
It's ideal for making a statement and adding drama.
Stand out against an updo hairstyle.
Opt for a vibrant center stone like sapphire for color.
Make sure the earring backs are comfortable and secure.
Diamond Drop Earrings
Elongated style with diamonds suspended from the top setting. Movement and sparkle make these eye-catching. The "drops" can be of various shapes: circles, ovals, and pears. Sets include platinum, yellow gold, and rose gold. Drops may be framed with additional diamonds.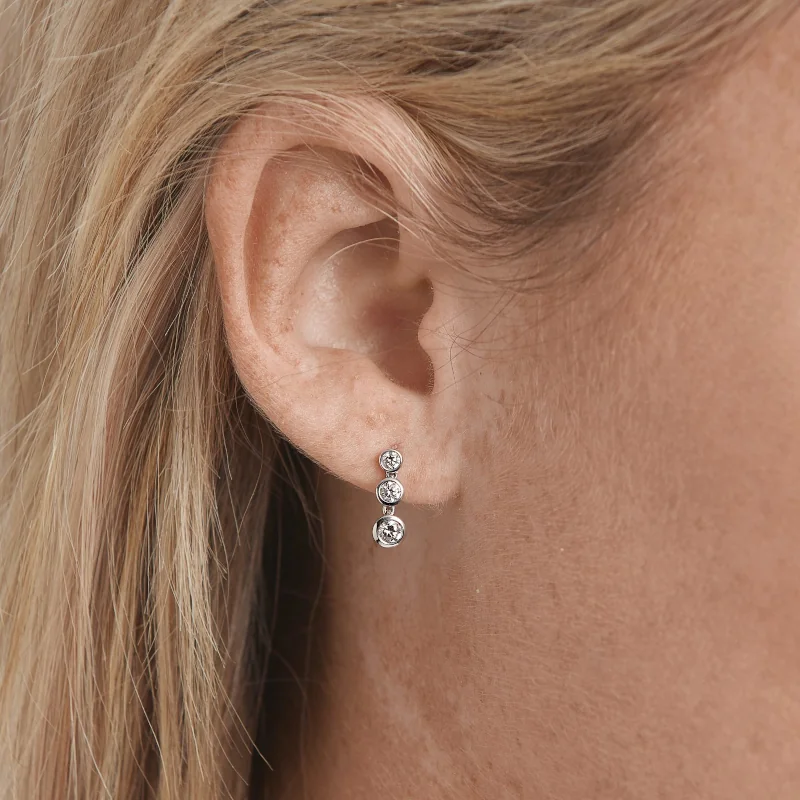 Check out these 3-stone diamond drop earrings in 18ct white gold here.
Pros:
Adds movement and drama
Flattering and feminine style
Endless design possibilities
Cons:
Long, heavy drops can be uncomfortable
They are not as versatile as studs
Styling Tips:
Make a dramatic statement with more extended drops.
Frame the face beautifully with a shorter drop length.
Pair with an elegant evening gown or a little black dress.
Experiment with mixing metal colors.
Diamond Cluster Earrings
Multiple diamonds clustered together into a floral or geometric design to create lots of surface sparkle. Often set in white metal to contrast with the stones. Range from small clusters to dramatic statement earrings.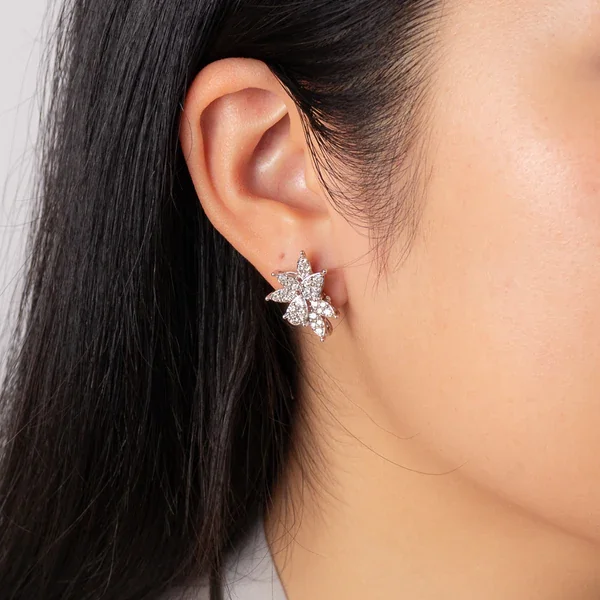 Check out these Diamond Cluster Earrings in 10K White Gold here.
Pros:
Maximum sparkle in a small space
Can work for everyday or evening wear
Fun, unique designs
Cons:
Small stones can make cleaning tedious
Prone to snagging hair and fabrics
Styling Tips:
Pair small clusters with casual everyday wear.
Larger groups make more of an impact with evening wear.
Stick to round brilliant and princess-cut diamonds.
Make sure earring backs are secure.
Diamond Linear Earrings
A row of diamonds lined up in a sleek, geometric shape. Often alternating stones and metal. Creates the illusion of longer ear length. Modern and stylish design. It tends to have a streamlined, minimalist look.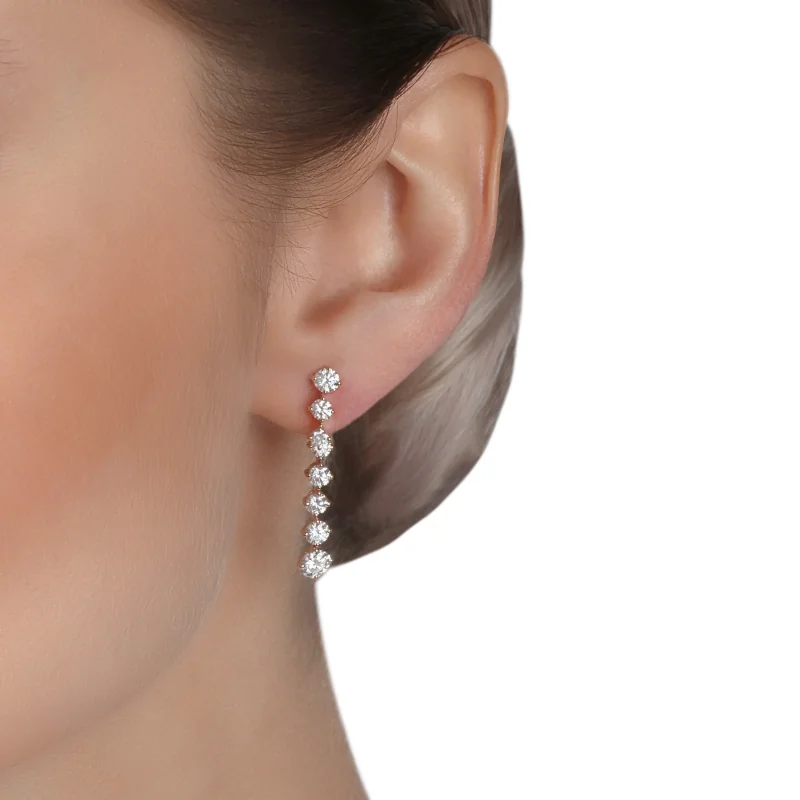 Check out these Linear Drop Diamond Earrings in 18K gold here.
Pros:
Slimming and elongating effect
Lots of design flexibility
Contemporary style
Cons:
Can snag hair and fabrics
Not as versatile as traditional studs
Styling Tips:
Pair with contemporary, sleek outfits.
Showcase with pulled-back hairstyles.
Go for white metals like platinum or white gold.
Opt for princess or emerald cut stones.
Diamond Twist Earrings
Strands of diamonds twisted together in various shapes like rope, knot, and braid designs. The dimensional style adds interest. The twisting effect catches the light beautifully—feminine, romantic style.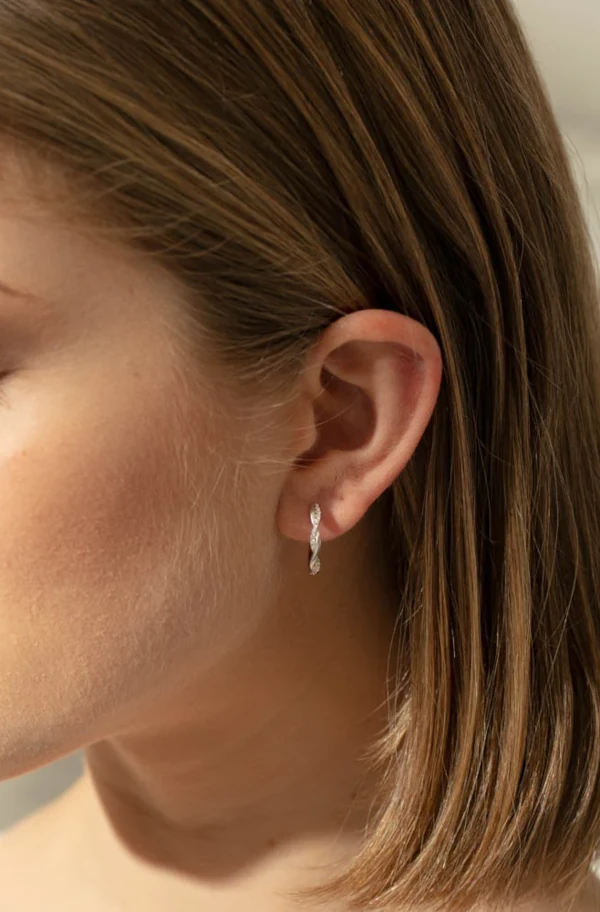 Check out these 18ct White gold diamond twisted earrings here.
Pros:
Unique, eye-catching design
Dimensionality adds interest
Lots of movement
Cons:
Occasional loosening of settings
They are not as versatile as classic studs.
Styling Tips:
Make these the focal point of your look.
Pull your hair back to showcase the design.
Save for special occasions.
Take care not to catch the twisting strands.
Diamond Flower Earrings
Flower-inspired earrings with diamonds form the petals or center, ranging from subtle floral shapes to dramatic botanic designs. Often crafted in yellow or rose gold. Nature-inspired femininity.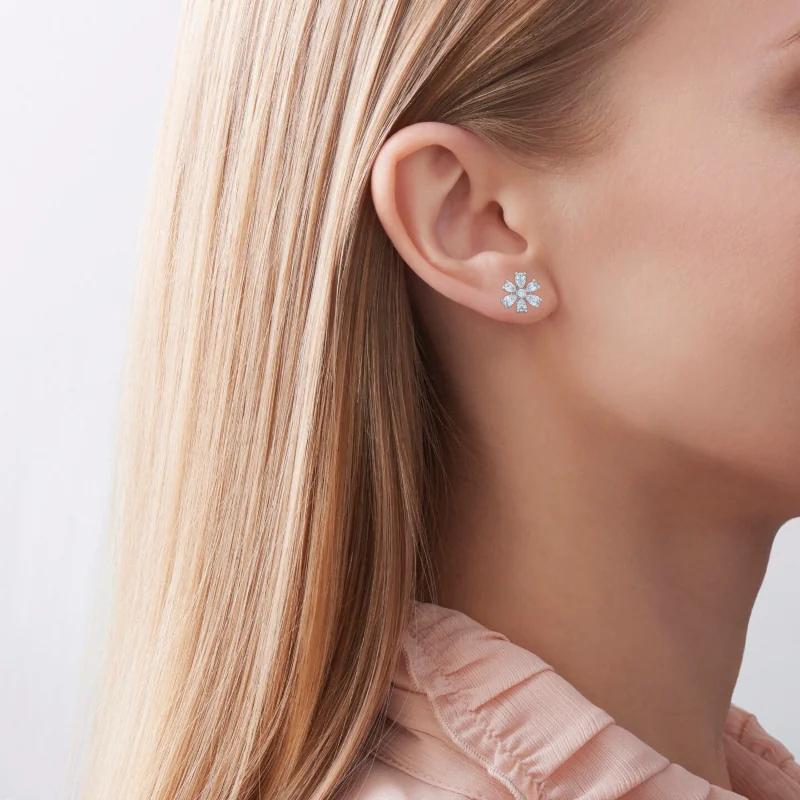 Check out these 18ct white gold diamond flower earrings here.
Pros:
Unique floral motif
Soft, feminine aesthetic
Works for everyday or special occasions
Cons:
Delicate design requires more care
They are not as versatile as studs.
Styling Tips:
Show off with an updo hairstyle.
Pair with sundresses or flowy fabrics.
Choose smaller blooms for everyday wear.
Stick to secure backings like screws or latches.
Diamond Huggie Earrings
Little hoops that "hug" the earlobe closely. A sprinkling of diamonds amps up this cute, minimalist style. Tend to be smaller in diameter, usually under 1/2″—the perfect blend of subtle sparkle and everyday comfort.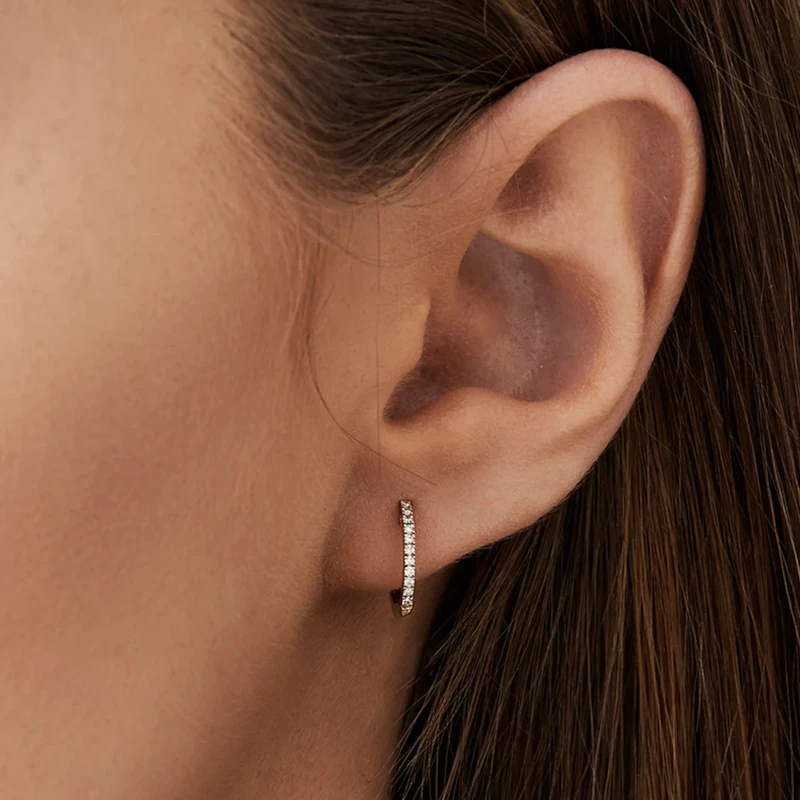 Check out these 14K gold diamond huggie earrings here.
Pros:
Subtly show off diamonds daily
Comfortable close-to-ear fit
Effortlessly chic vibe
Cons:
Too small to make a significant impact
It is not as secure as some backing.
Styling Tips:
Wear these when you want just a hint of sparkle.
Pair with casual daytime outfits.
Opt for yellow or rose gold settings.
Use notch backings for maximum security.
Diamond Ear Jackets
Two separate earring pieces connect through the ear for a look-through effect. The front piece is typically more decorative with added diamonds. Surprise sparkle from the back part.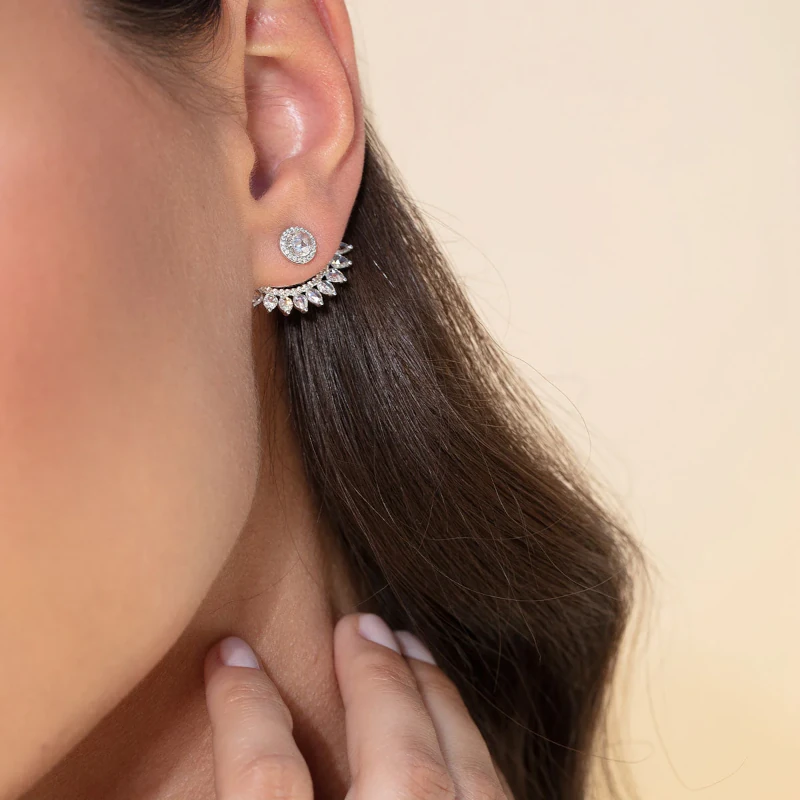 Check out these Diamond stud earring jackets here.
Pros:
Unique, eye-catching design
Two looks in one
Lots of design possibilities
Cons:
More tricky to put on
It is not as secure as traditional backing.
Styling Tips:
Pull your hair back to showcase the style fully.
Reserve for going out or special events.
Opt for hinge backings for comfort and security.
Make sure pieces connect properly when worn.
Frequently Asked Questions
What are the most popular diamond cuts for earrings?
The round brilliant and princess cuts are earrings' most popular diamond cuts. Their sparkly facets reflect light beautifully. Cushion and asscher cuts are also commonly seen in earrings.
What metals pair best with diamond earrings?
Yellow gold is classic, white metals like platinum and white gold make the diamonds pop, and rose gold offers a unique, vintage vibe. Ultimately, the metal is a personal preference. Mixing metals can also create interest.
How can I style diamond earrings for everyday wear?
Opt for classic studs, diamond hoops or Huggies, cluster earrings, and smaller halo designs daily. Save statement and dramatic earrings for going out.
What diamond shape works with any outfit?
Round brilliant diamonds are the most versatile and complement dressed-up and casual looks. Princess cuts and cushions also work well as everyday earrings.
What earring backings are most secure?
Screw backings, notch settings, tension mountings, and latch back closures are the most secure earring back options. Avoid friction backings for diamonds, which can loosen over time.
Do diamond earrings come in different colors?
Diamonds are typically colorless, but natural fancy-colored diamonds exist, including blue, pink, and yellow.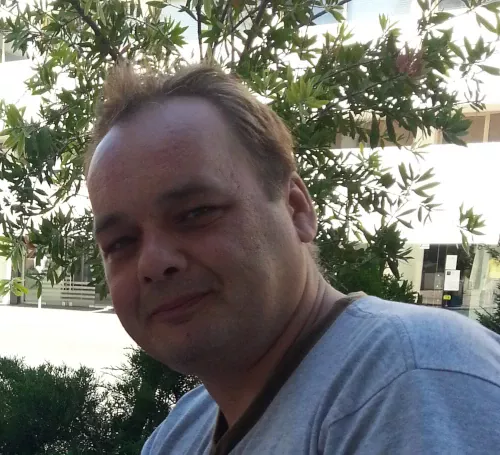 Pashalis Laoutaris
Fashion Blogger
I am a professional writer, fashion blogger, and owner of the site https://laoutaris.com. As a salesperson for more than 20 years, I have experience of 10 years in the fashion industry. I consider myself a true fashionista. I am writing daily blog articles about fashion, tools and converters, and everything you need to know about the current fashion trends.
Share this article
Our Latest Articles
Laoutaris Recommends