The ultimate guide to huggie earrings – their extensive history, diverse styles, detailed sizing info, pro-wearing tips, luxury brands, and thorough FAQs.
Table of Contents
The Long, Winding History of Huggies
While the origins of "huggie earrings" remain uncertain, they rose to prominence in the 1960s and 70s. Their ingenious name stems from the tight "hugging" fit on the earlobe.
Over the many decades, Huggies have been flaunted by celebrities of every era, from Audrey Hepburn to Jennifer Lopez. Their versatile, chic, seamless look has stayed relevant through shifting jewelry trends.
Some key moments and style icons throughout the long history of huggie earrings include:
1960s – Jackie Kennedy popularized dainty yellow gold huggies as a refined minimalist earring for women. They aligned with '60s Mod fashion.
1970s – Legendary designers like Coco Chanel and Elsa Peretti introduced ornate engraved and crystal-embellished huggies. Bianca Jagger and Elizabeth Taylor donned dramatic diamond huggies on red carpets.
1980s – Madonna and Whitney Houston rocked the growing trend of substantially wider, bolder huggies with attention-grabbing jewels and metals.
The 1990s – Minimalism returned, with Kate Moss and Gwyneth Paltrow wearing tiny understated huggies. Gold fell from favor, replaced by silver, platinum, and white metals.
2000s – Beyonce, Jennifer Lopez, and Rihanna wore ostentatious diamond and gemstone huggies as glamorous red-carpet statements.
The 2010-2020s – Layering gained traction, with multiple stacked huggies becoming popular. Mixed metal colors also grew trendy.
The versatile huggie has evolved tremendously across eras while retaining its signature shape and style.
What Makes Huggies So Special: Key Traits That Define Them
Several distinctive characteristics set "huggie earrings" apart from other earring types and give them their signature style:
Snug fit – The chief defining feature. Huggies fit tightly on the earlobe without gaps between the front and back, unlike larger hoops and drops. This close fit spawned their apt name.
Seamless look – The tight circular shape creates a polished, seamless appearance without interrupting the lines of the earlobe.
"Hugging" shape – Their close wrap around the lobe resembles a metal hug, adding to their charm.
Sleek profile – Huggies smoothly follow the natural contour of the earlobe and sit close to the head for an integrated look.
Hoop structure – Almost always a complete, unbroken circle or oval of metal, unlike dangling earrings.
Range of widths – From slim 4mm up to dramatic 20mm widths to suit different ear sizes. Width has a significant impact.
Ornate or plain – Offered in embellished and engraved varieties and simple polished metals.
These distinctive attributes make the huggie a versatile, sophisticated, and appealing earring.
Diverse Styles: Types of Huggies for All Personalities
There is incredible diversity in "huggie earrings" styles to suit any taste. Some top varieties include:
Classic Plain Metals
The simplest style. It is offered in polished precious metals like yellow gold, white gold, rose gold, platinum, and sterling silver. Perfect for minimalists.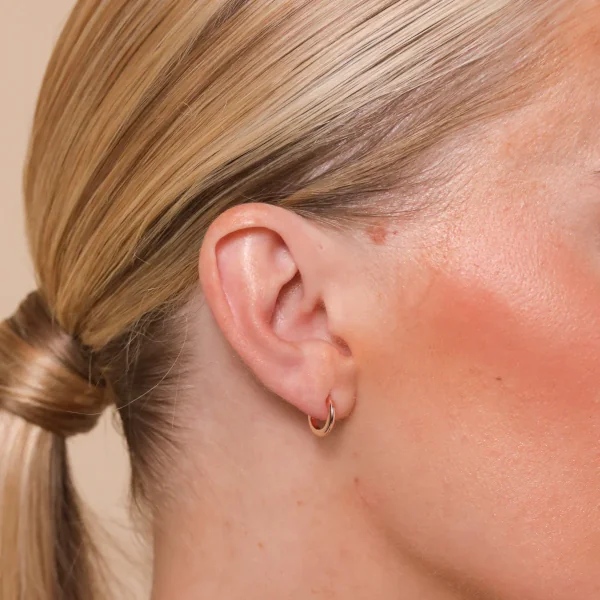 Check out these 18k Rose Gold Plated Sterling Silver Huggie earrings here.
Dazzling Embellished
Huggies jazzed up with exquisite embellishments like diamonds, gemstones, pearls, Swarovski crystals, enamel designs, lacquer, or opulent engraving. Adds lush texture.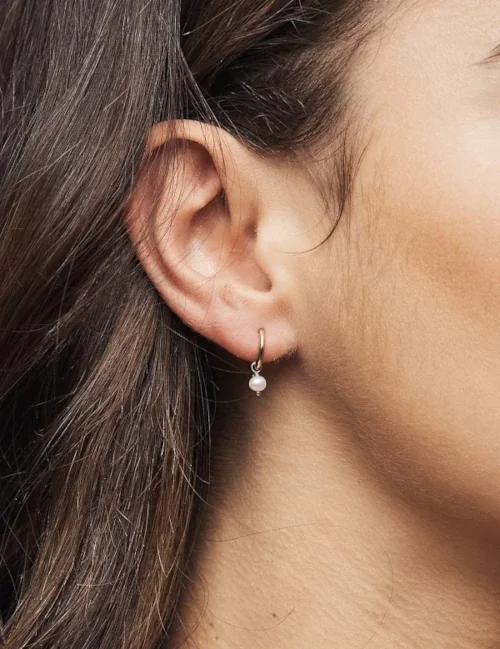 Check out these 9K gold with freshwater pearls huggie earrings here.
Intricate Engraving
Engravings are etched directly onto the metal surface. Features geometric patterns, logos, floral designs, grids, texts, or custom images for added visual interest.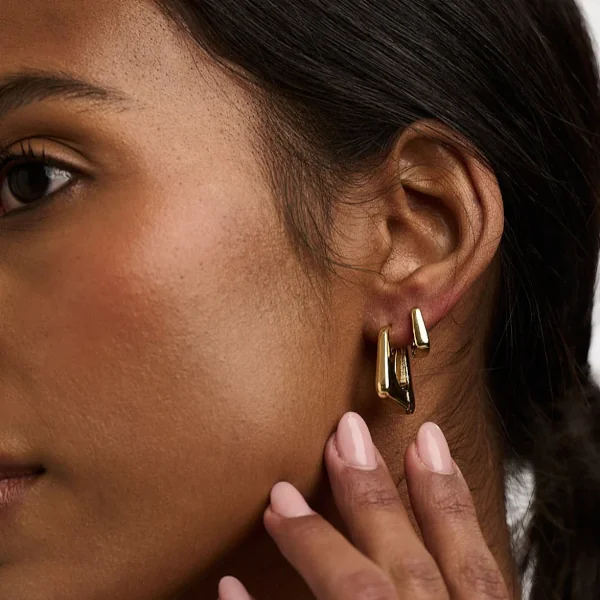 Check out these Square gold huggie earrings here.
Mixed Metals
Combines one pair of metallic tones like yellow and white gold for contrast. It matches more outfits and provides visual pop.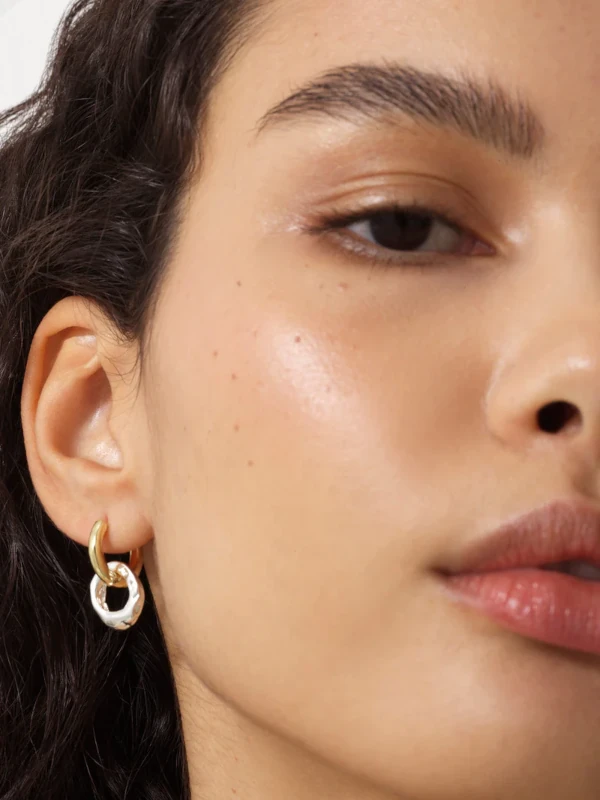 Check out these mixed metal huggie earrings here.
Alternate Materials
Beyond precious metals, Huggies are also crafted from materials like wood, acrylic, ceramic, buffalo bone, resin, or engraved shells for unique looks—lower price points.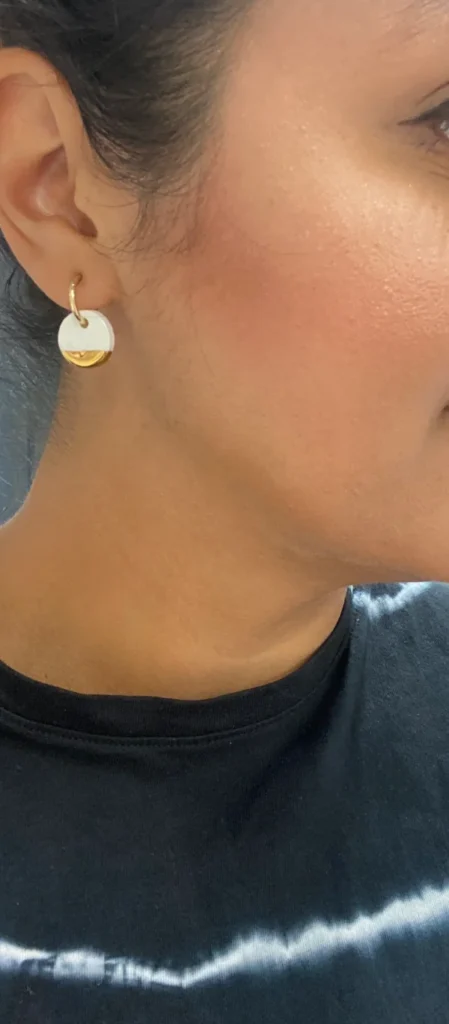 Check out these Mini Ceramic Circle Charm with Huggie Hoops here.
Chandelier Huggies
Wide huggie hoops that connect to dangling jewel-encrusted chains, beads, or charms hanging below the earlobe. Makes a glamorous statement.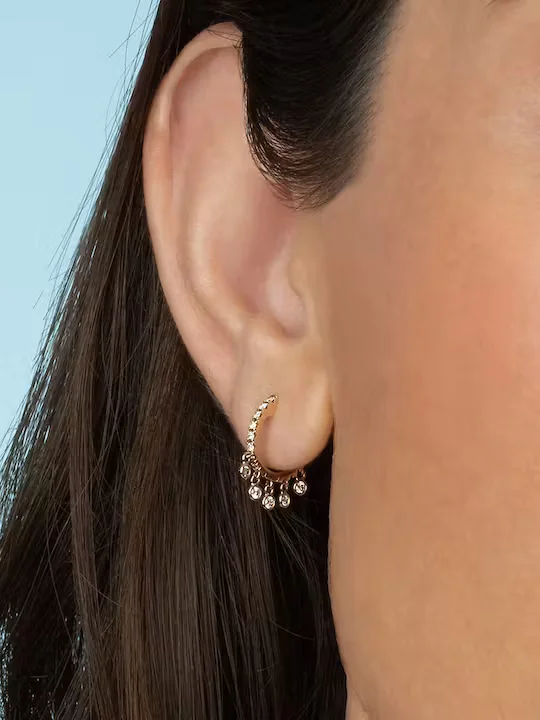 Check out The Chandelier Huggie here.
The possibilities are endless thanks to the vast array of metals, accents, shapes, and designs.
Demystifying Sizing: Width and Diameter Guide
Choosing the perfect "huggie earrings" diameter and width for your earlobe shape and size is vital. Some helpful guidelines:
Extra Small – 4-6mm – ultra delicate and subtle for smaller pierced ears.
Small – 8-10mm – the classic narrow width that suits most. Good balance.
Medium – 12-15mm – moderately wide but still with a snug fit for average lobes.
Large – 16-20mm – makes a bold statement and dominates the ear with a broad hug. Best for large lobes.
Oversized – 20mm+ – extra wide diameter can overwhelm small ears.
Remember to account for elongation over time if you have stretched lobes. However, most ears look best with small to large widths for the ideal fit. Avoid going oversized or undersized for your lobe size.
Expert Tips for Wearing and Caring for Huggie Earrings
Follow these professional tips to wear and care for your beloved "huggie earrings comfortably":
Putting on – Unscrew backs first, insert through lobes, then screw backs on securely. Please don't force them through unscrewed.
Prevent slipping – Double check backs are screwed on tightly so Huggies don't accidentally slip out and get lost. Consider adding backstops.
Sleeping and storage – Remove huggies before bed to maintain their shape. Store in a fabric-lined box or pouch.
Travel – Bring along a travel pouch for Huggies when on the go. Store them safely when not being worn.
Cleaning – Use a polishing cloth to buff Huggies clean. Avoid submerging them in chemical solutions or abrasive scrubbing.
Damages – inspect huggies regularly for damage like stretching or scratches. Avoid wear during rough activities where they can hit surfaces.
Treat your huggie earrings with care to ensure they last a lifetime.
Top Designer Brands and Where to Buy Them
Looking to invest in timeless "huggie earrings" from luxury designers or discover quality trendy options? Here are the top brands spanning different price points and styles:
High-end and Fine Jewelry Brands
Tiffany & Co. – classic sophistication
Cartier – exquisite engraved styles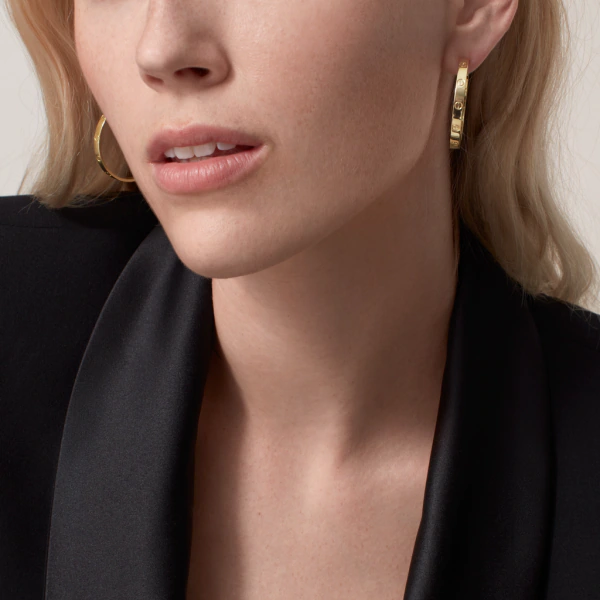 Check out these Cartier LOVE earrings in yellow gold here.
David Yurman – signature cable designs
Bvlgari – Italian luxury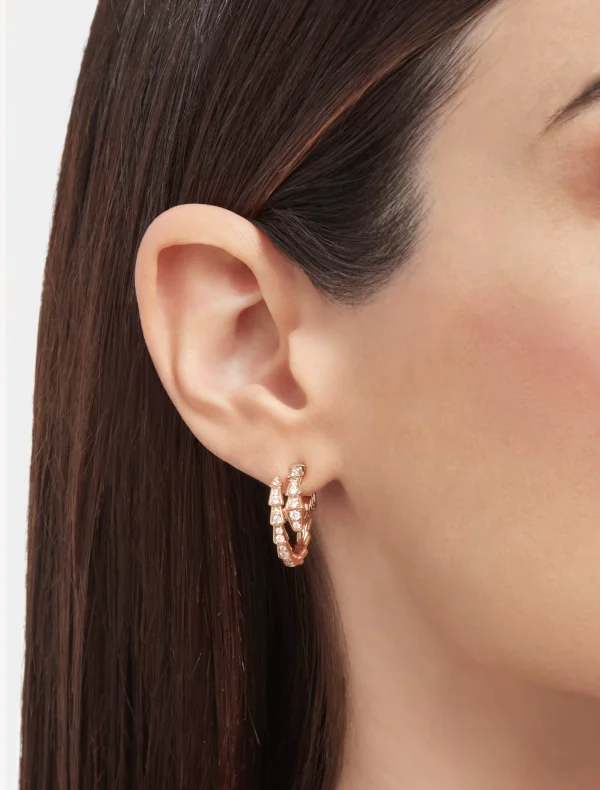 Check out these Serpenti Viper 18 kt rose gold earrings set with pavé diamonds from Bvlgari here.
Van Cleef & Arpels – upscale statement Huggies
Contemporary and Trendsetting Brands
Mejuri – trendy everyday Huggies
AUrate New York – playful, stylish Huggies
Gorjana – boho chic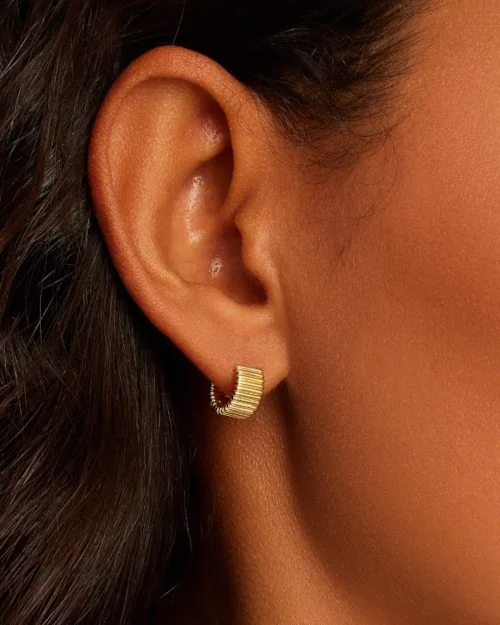 Check out these 18K gold-plated Huggies from Gorjana here.
Madewell – minimalist and feminine
Anthropologie – whimsical, vintage-inspired
Major Department Stores
Nordstrom – extensive designer selection
Bloomingdale's – luxe to contemporary options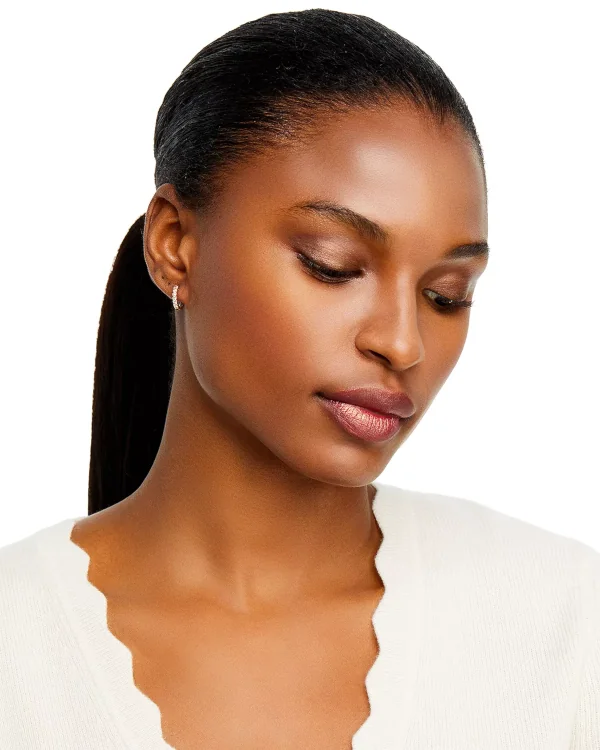 Check out these Diamond huggie earrings in 14K yellow gold here.
Saks Fifth Avenue – high-end jewelry department
Neiman Marcus – top-tier luxury offerings
Macy's – affordable, fashionable varieties
So shop everything from dainty 18K gold Huggies to trendy acrylic styles from these excellent in-store and online retailers.
Huggie Earrings Do's and Don'ts: Tips for Success
Some professional do's and don'ts to find the most flattering "huggie earrings":
Do…
Match huggie width to your lobe size for the best fit
Layer with studs, hoops, and other piercings
Choose screw backs over friction backs for security
Clean huggies regularly with a polishing cloth
Don't…
Wear oversized huggies on small earlobes.
Sleep in your Huggies – remove them before bed
Wear loose Huggies for sports or strenuous activity
Use harsh chemicals like bleach that can damage metals
Following these guidelines will ensure your Huggies look and fit perfectly.
Frequently Asked Questions
What metals work best for sensitive ears?

Platinum and surgical steel huggies are ideal for those with metal sensitivities. Nickel-free is also recommended.

How long should quality Huggies last?

Solid gold, platinum, or sterling silver huggies can endure for decades or even a lifetime with proper care and occasional repairs. Fashion Huggies may average 1-5 years, depending on wear.

Can I wear Huggies for a new piercing?

It's best to wait until new piercings have fully healed before wearing snug Huggies that could irritate or prolong healing. Opt for oversized hoops instead.

How tight should they fit around my lobe?

The hoop should fit closely without pinching. You should be able to comfortably slide your pinky finger between the huggie and your earlobe.

Should huggies sit at the top or bottom of my lobe?

Most sit vertically on the lobe so the earring weight is evenly distributed. I was sitting at the bottom, risking them flipping up over time.
In Summary
The versatile "huggie earrings" will continue to transcend trends and remain a chic staple. Following the tips in this guide, you can demystify sizing, care, styling, and more to find your perfect pairs. Shop an array of designers from Tiffany to Anthropologie. Huggies are a timeless jewelry box essential.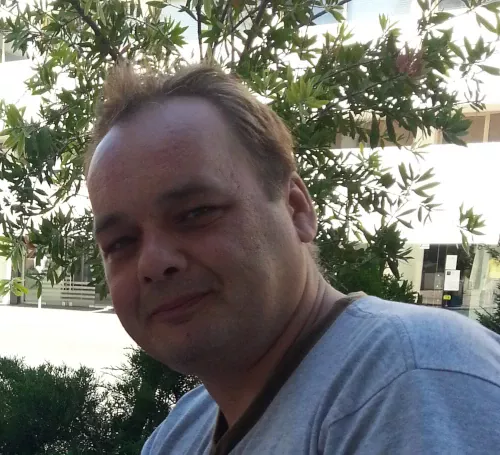 Pashalis Laoutaris
Fashion Blogger
I am a professional writer, fashion blogger, and owner of the site https://laoutaris.com. As a salesperson for more than 20 years, I have experience of 10 years in the fashion industry. I consider myself a true fashionista. I am writing daily blog articles about fashion, tools and converters, and everything you need to know about the current fashion trends.
Share this article
Our Latest Articles
Laoutaris Recommends