Friendship bracelets for women are all about celebrating the special bonds between friends. These handmade accessories have been exchanged for centuries as tokens of friendship and sisterhood.
Table of Contents
While often associated with summer camp and teens, friendship bracelets can be a thoughtful, stylish gift for women of all ages. They showcase your unique relationship and make a sentimental keepsake to cherish.
In this post, we'll explore different ways to give the gift of friendship through these knotted wristbands. Learn how to make meaningful customized bracelets, shop ready-made designs, and creatively gift them to your best gals.
Popular Styles of Friendship Bracelets for Women
Friendship bracelets come in endless colors, patterns, and designs. Here are some of the most popular styles and trends:
Classic Chevron and Diagonal Patterns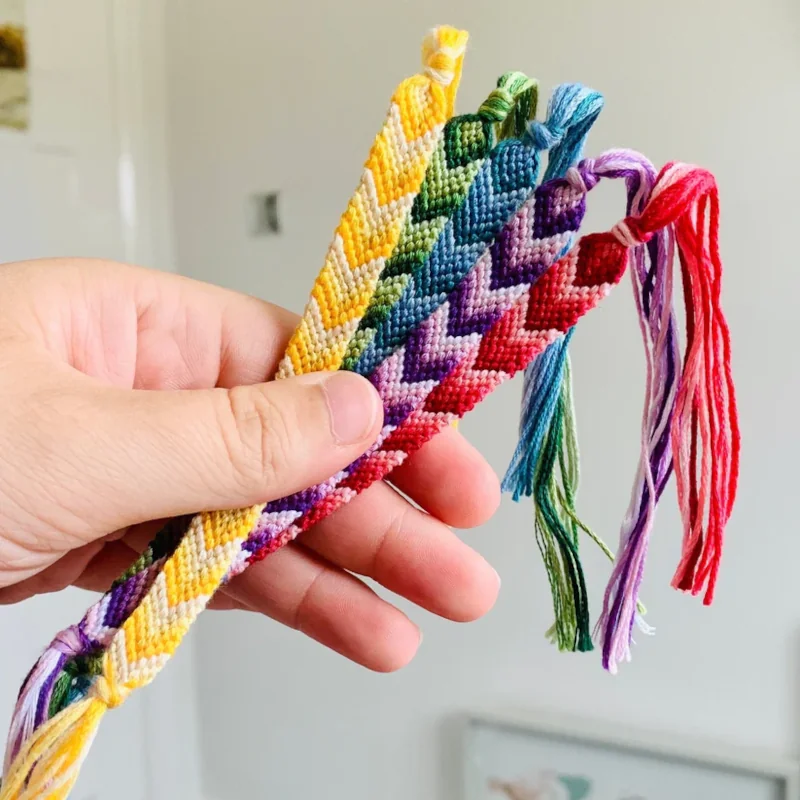 Check them out at furnessities.com
The traditional friendship bracelet features colorful embroidery floss woven in chevron stripes or diagonal lines. These patterns are easy for beginners to knot by hand.
For a trendy take, opt for a black and white chevron bracelet or use metallic embroidery thread on a neutral background.
Dainty Hearts and Symbols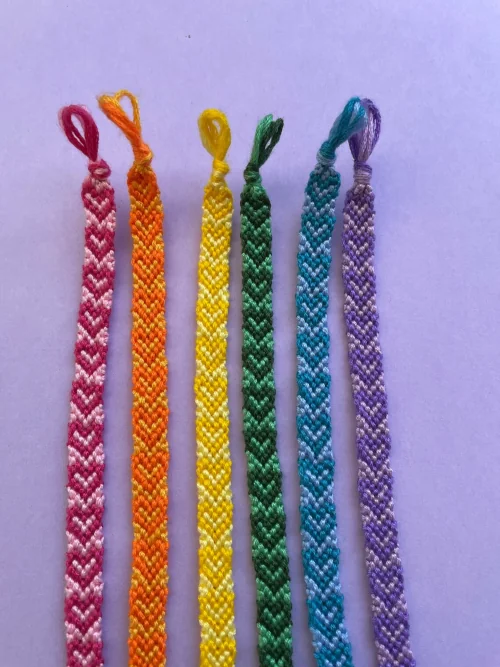 Check them out at etsy.com
Add tiny heart knots along one section of the bracelet or space out little heart charms along the length. Heart patterns sweetly symbolize friendship.
Other cute symbols like stars, peace signs, and circles make fun design details.
Coordinating Name Bracelets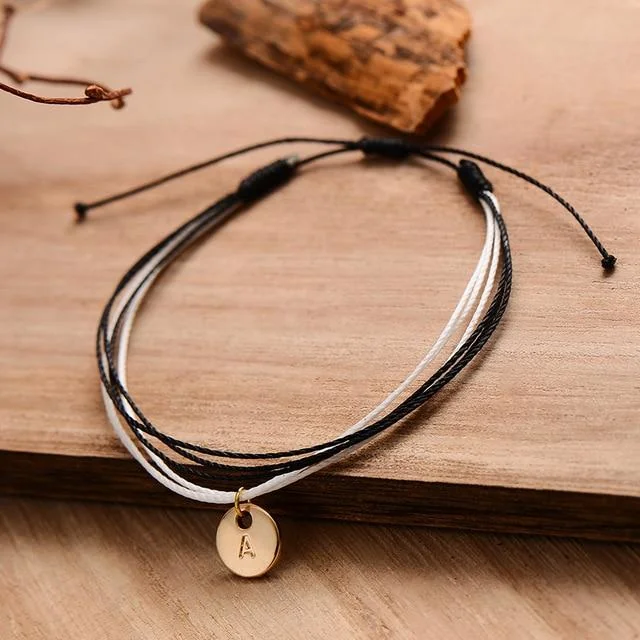 Check them out at justpromiserings.com
Spell out your BFF's name in block letters using different thread colors. Or, create matching bracelets with your first initial charms.
Make them identical or slightly different – either way, customized name bracelets show you care.
Beaded Bracelets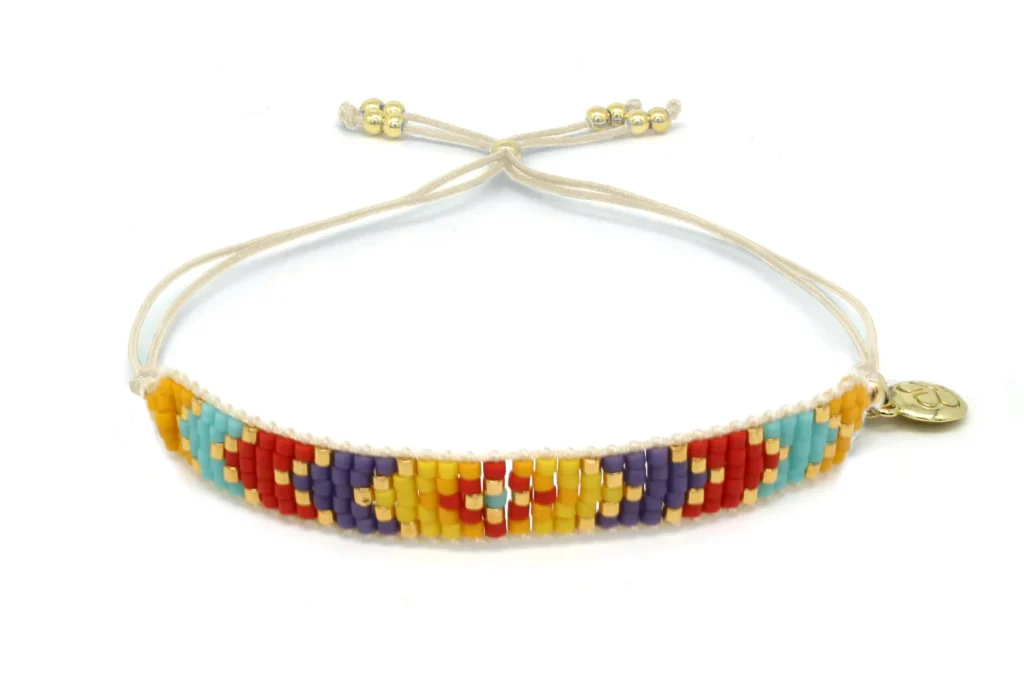 Check it out at boho-betty.co.uk
For bohemian flair, shop macrame bracelets with woven beads incorporated into the knots. Or find DIY tutorials on working beads into more basic knotted patterns.
Bead colors can match the thread or pop as accents. Wooden, glass, and gemstone beads add natural texture.
Braided Leather Bracelets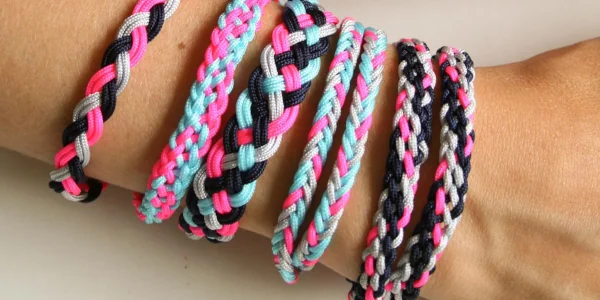 Check this article on how to make them
Braided leather bracelets make an elevated, minimalist style statement. Shop high-end versions with gold metal cuffs.
Or, DIY your own by braiding together thin leather cords. Top with a customized metal plate or bead caps.
Rainbow Loom Bracelets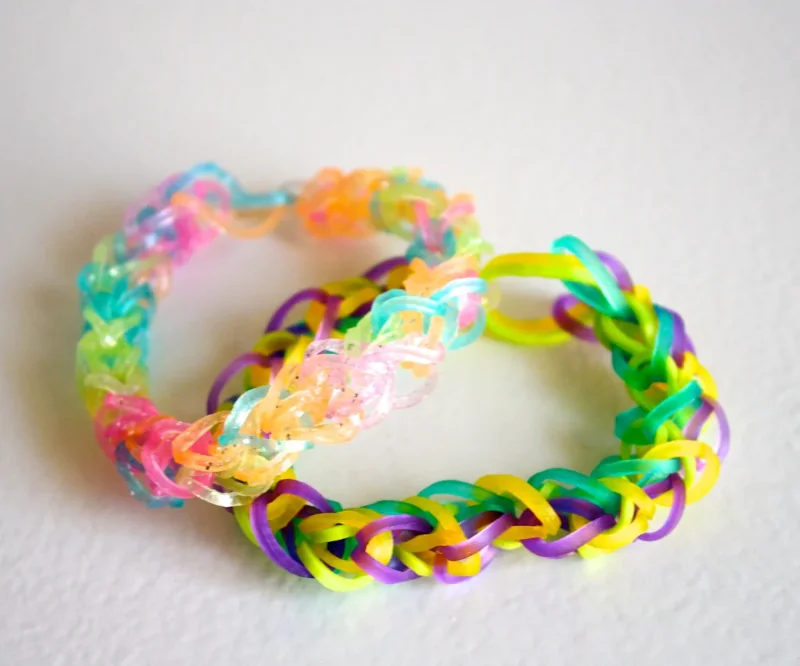 Check this article on how to make them
Rainbow Loom – the popular weaving tool for kids – can make jewelry-style designs like fishtail and triple single bracelets. YouTube has endless step-by-step tutorials.
The stretchy elastic bands come in every color and are fun to wear alone or layered together.
Meaningful Ways to Customize Your Friendship Bracelets
Birthstones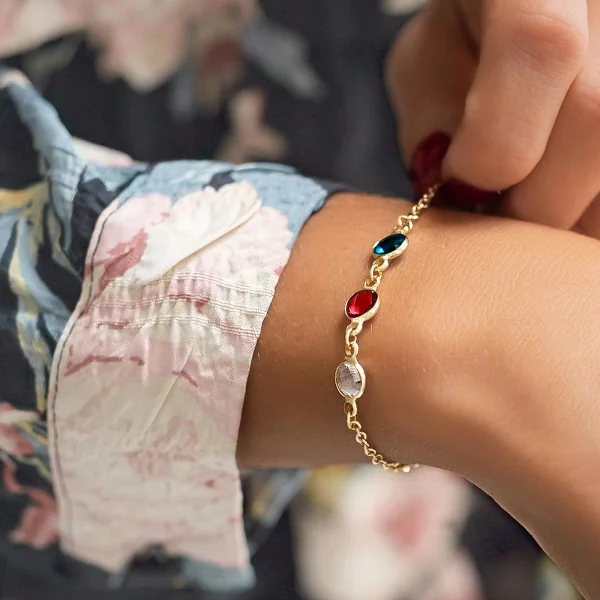 Check it out at bloom-boutique.co.uk
Add birthstone beads, charms, or embroidery floss colors to represent each friend. Arrange them in order of birthdays.
For extra meaning, have everyone gift each other matching birthstone bracelets.
Initial Charms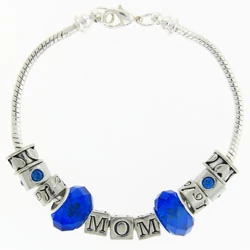 Create unlimited charm bracelets at Charmfactory
Hang mini gold or silver letter charms along the length of the bracelet spelling out BFF or each person's first initial.
Zodiac Symbols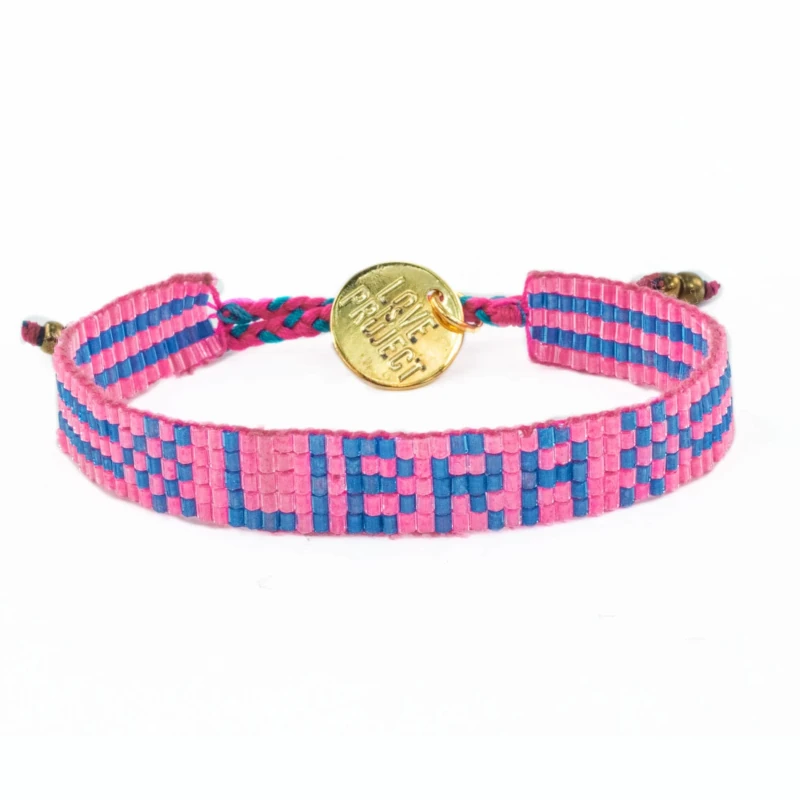 Check them out at loveisproject.com
Incorporate zodiac symbols like an archer for Sagittarius, scales for Libra, and two fish for Pisces. Use them for astrological besties or as your sign.
Inside Jokes and Shared Interests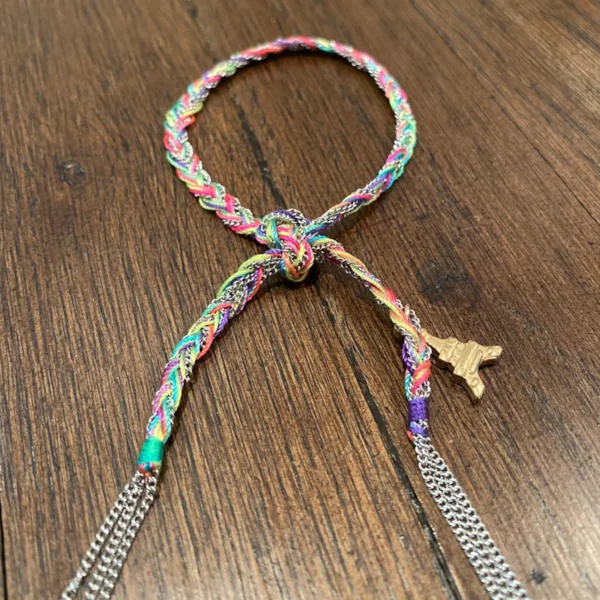 Check them out at ashershay.com
Turn memories, hobbies, and inside jokes into embroidered shapes or charm dangles. Some ideas:
Sports team logos
Pets or favorite animals
Travel mementos like the Eiffel Tower, palm tree, or cactus.
Dance shoes, musical note
Pizza slice, ice cream cone, coffee cup
Meaningful Quotes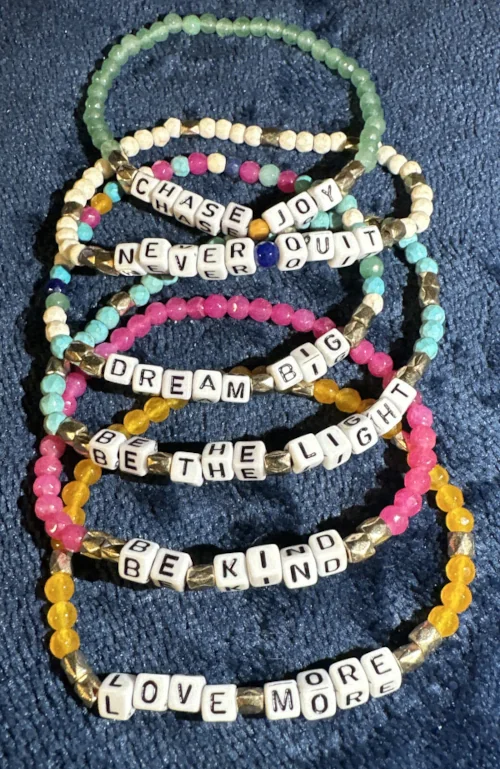 Check them out at ebay.com
Look up short inspirational quotes, song lyrics, or words of wisdom that resonate. Translate a few keywords into Morse code beads or alphabet charms.
Coordinating Sets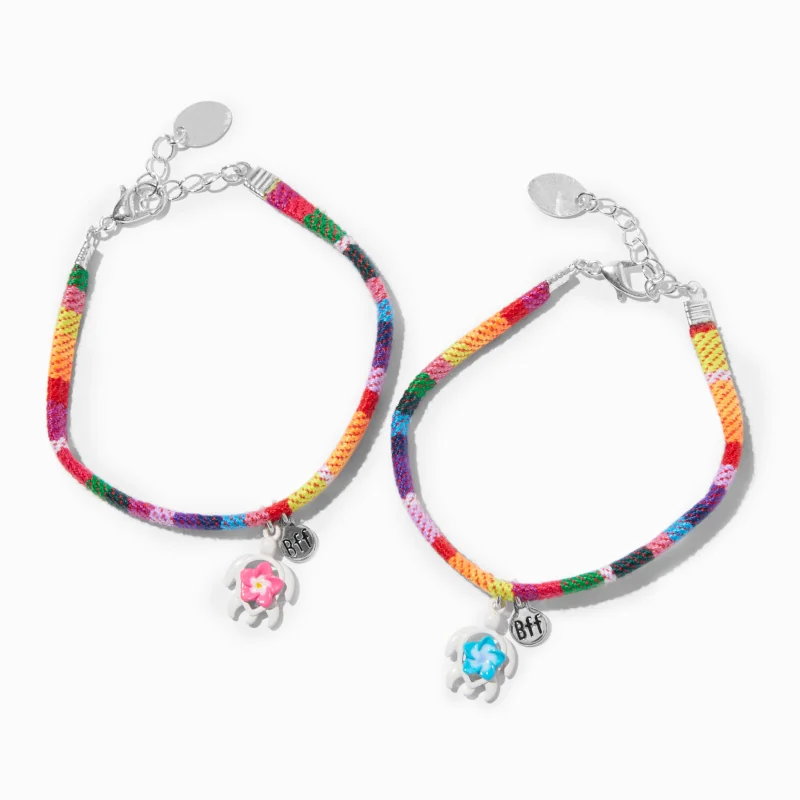 Check them out at claires.com
For friend groups, make matching bracelets in the same colors and patterns. Or create complementary styles that connect. Wearing the set symbolizes your crew.
Tips for Making Your Friendship Bracelets
Making DIY friendship bracelets takes practice, but anyone can pick up the basics. Here are some tips for beginners:
Supplies
Embroidery floss – The classic friendship bracelet thread comes in endless colors. Opt for a cotton/poly blend that knots tightly.
Cord – For leather, try a 1-2mm waxed cord. For macrame plant fiber cords, 5mm to 8mm works well.
Tapestry needles – Big eye needles make threading cords easy.
Beads, charms, buttons – Find extras small enough to incorporate.
Clasps – Choose metal clasps or basic bead caps.
Knotting surface – Use a clipboard with slits to keep tension tight.
Basic Knotting Techniques
Simple knots – Just tie knots following a pattern, gradually filling in the bracelet.
Forward knots – Each knot secures the one before it.
Reverse knots – Start with the last knot then work backward toward the first.
[Box knot] – A symmetrical square knot. Use for chunky macrame designs.
Patterns and Tutorials
Check out the variety of free friendship bracelet patterns available online. Here are some beginner-friendly designs:
Classic chevron
Candy stripe
Diagonal stripe
Heart pattern
Wave pattern
Box knot macrame
Look for step-by-step tutorials on YouTube. Pausing the video lets you follow along and master the techniques.
Thoughtful Bracelet Gifting Ideas
A handmade bracelet shows more love when presented in a meaningful way. Here are some ideas:
Milestone Birthdays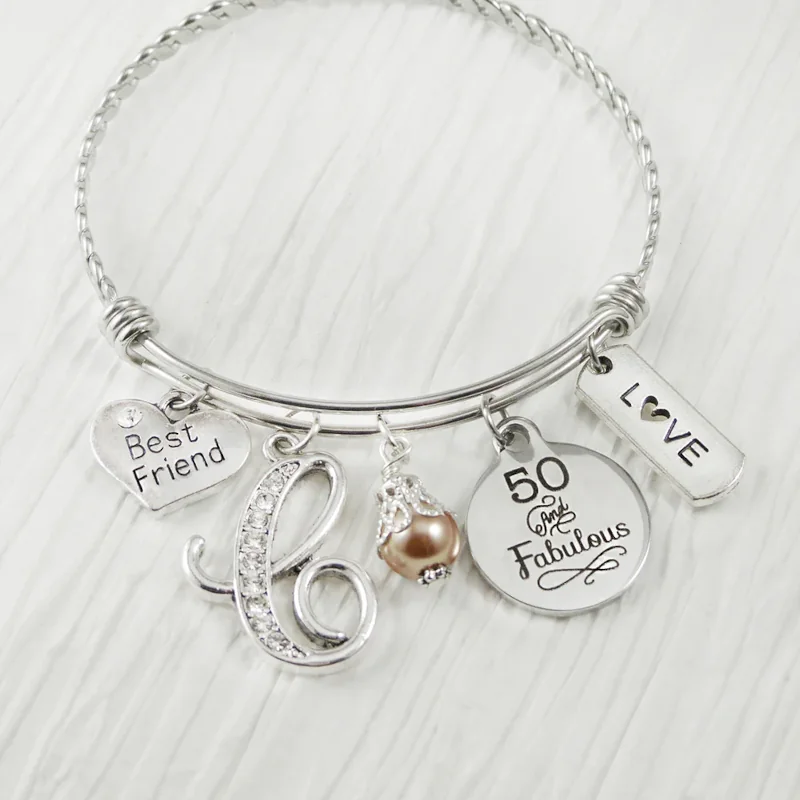 Check them out at sugartreeandcompany.com
Significant birthdays like 13, 16, 18, 21, 30, 40, etc. – celebrate with personalized friendship bracelets! Coordinate the colors and charms to the person and their milestone.
College Send-Off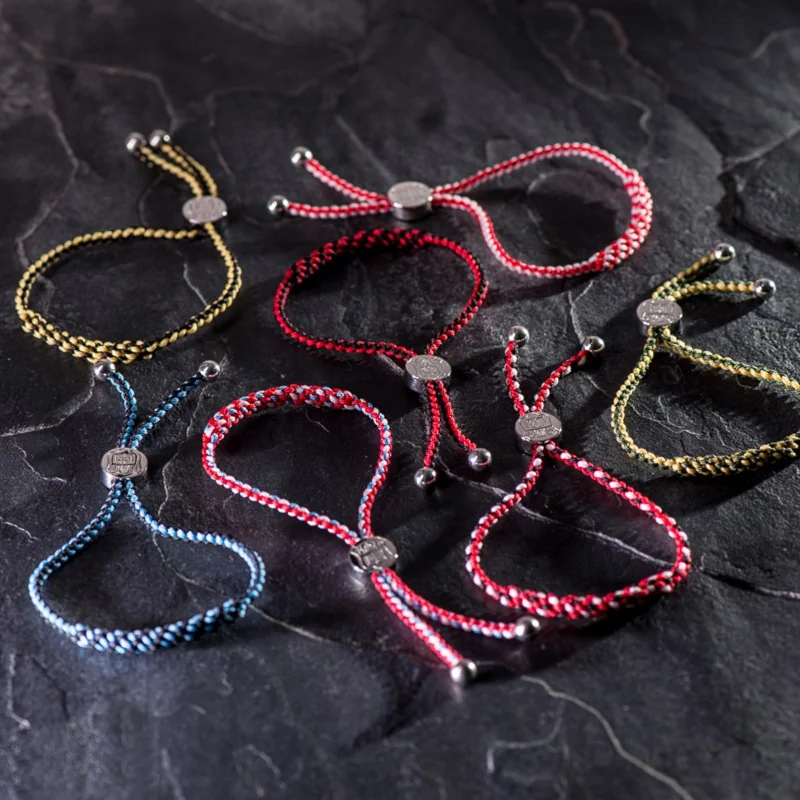 Check them out at inkerman.co.uk
Are you saying goodbye to a childhood bestie heading to college? A matching bracelet helps keep your bond strong across the distance.
Bridesmaid Proposal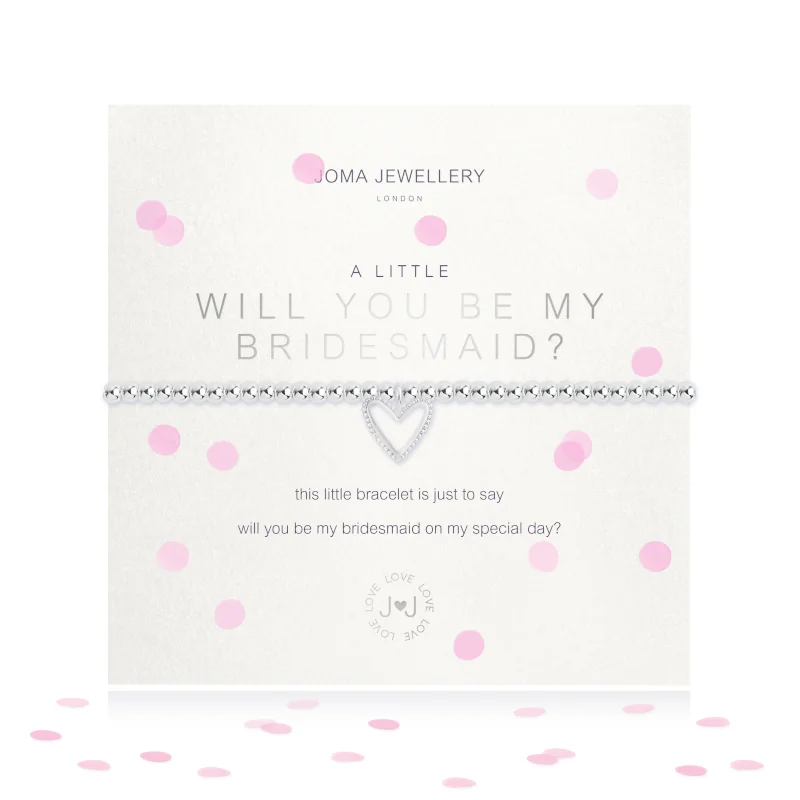 Check them out at jomajewellry.com
Asking gals to be your bridesmaids? Make unique "Will you be my bridesmaid?" bracelets for a cute proposal gift. Bonus points if you theme them to the wedding colors and style.
Just Because
Sometimes the best day to send a little love is a random Tuesday! Mail a bracelet to show you care for no particular reason at all.
Add a Heartfelt Note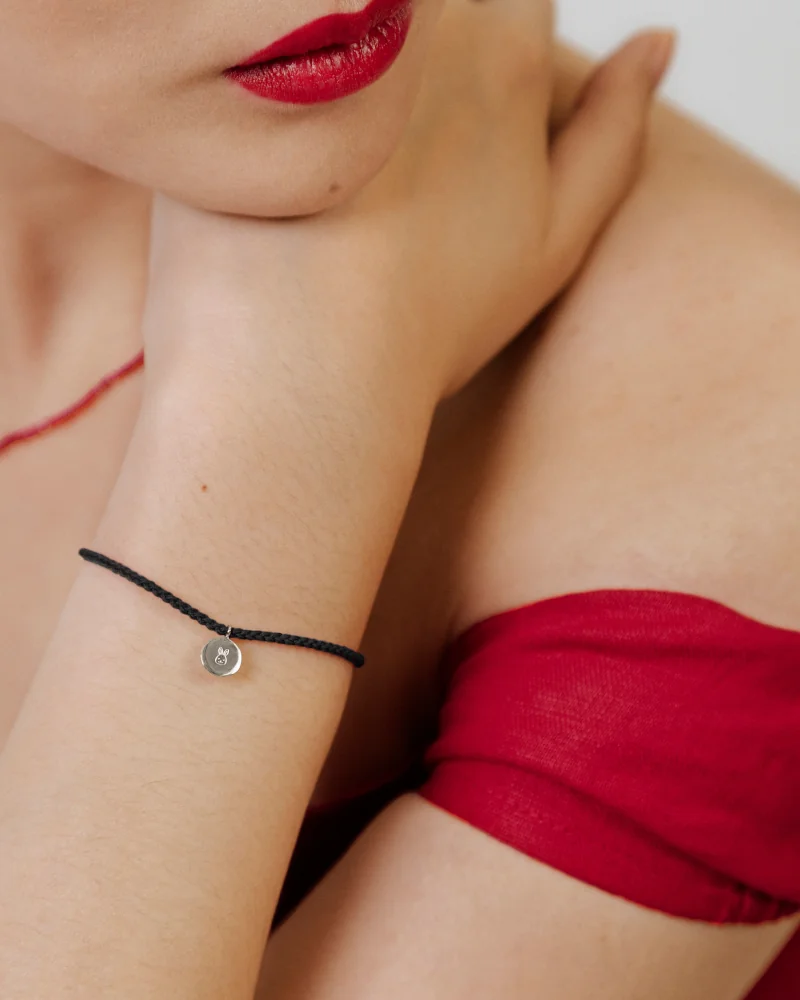 Check this Linear Disc Friendship Bracelet here
Include a meaningful handwritten message to explain why you chose certain charms, beads, or colors. Share favorite memories and inside jokes. Express how much the friendship means to you!
Conclusion
Exchanging friendship bracelets have spanned continents and generations as a meaningful tradition. Whether handmade or store-bought, these bracelets showcase shared stories and exceptional bonds.
So gather your closest girlfriends – near and far – and start gifting. Each bracelet stitches together memories of laughter, tears, secrets, dreams, and sisterhood. May the threads of your friendship continue to intertwine and strengthen for years to come.
Frequently Asked Questions
What is the best thread to use?

Embroidery floss is the traditional choice. Look for a tight twisting 6-strand cotton/poly blend. Avoid looser threads like yarn that won't hold knots.

How do you make friendship bracelets adjustable?

Leave about 6 inches extra when tying off the bracelet. Create a slip knot so the wearer can tighten or loosen it to fit.

What are trendy alternatives to standard embroidery floss?

Waxed linen cord makes chic braided bracelets. Leather cord works for boho macrame styles. Metallic floss and glow-in-the-dark thread add unique accents.

What are good bead options?

Wooden beads, shaped glass lampwork beads, semi-precious gemstones, and sterling silver all make nice accessories. Avoid beads with holes too small to thread your floss or cord.

Should I give bracelets already tied or as a DIY kit?

You can't go wrong either way! Some may enjoy the creative process of making their own. Others will appreciate receiving it already assembled and ready to wear.

What are cute ways to package friendship bracelets as gifts?

Present them in jewelry boxes, metallic gift bags, and fabric pouches. Include a sweet handwritten note or poem. Secure mailed bracelets carefully in tissue paper inside a bubble mailer.

How much is reasonable to spend on a friendship bracelet?

Handmade ones use inexpensive supplies, so giving them shows more sentiment than monetary value. But there are also many stylish designed bracelets in the $10-$50 range if you want to spend more.
Share this article
Our Latest Posts
Laoutaris Recommends