Cameo bracelets for women are a vintage-inspired jewelry trend that is coming back into fashion.
Table of Contents
Cameos feature hand-carved portraits on a background of shell, stone, or modern materials like resin. With their antique, romantic vibe, cameo bracelets for women add a unique, feminine touch to jewelry collections.
A Brief History of Cameos
Cameos have a long history as a jewelry tradition. Here's a quick look at how they evolved:
Ancient Greece and Rome – Some of the earliest cameos were made in ancient Greece around 500 BC. These early cameos were carved from semi-precious stones. In ancient Rome, wearing cameos was a status symbol, and Roman artisans perfected the carving techniques. Common motifs included mythological figures and scenes.
Georgian and Victorian Eras – During the Georgian and Victorian eras, cameo jewelry became highly popular in both England and France. Shell, especially sardonyx, was the material of choice for this intricately carved jewelry. Cameos took on a neoclassical style, often depicting mythological or allegorical scenes.
Art Deco Period – In the early 20th century, cameos fell out of fashion. But in the 1920s, some Art Deco jewelry designers revived the cameo, creating pieces in an abstract, geometric style quite different from earlier eras.
Vintage Revival – While cameos were no longer mainstream in the late 20th century, interest in vintage jewelry kept some demand alive. Now, as retro styles make a comeback, so too have carved cameo bracelets for women and necklaces for those who love an old-fashioned look.
Cameo Jewelry Today
The cameo has evolved from a must-have jewelry staple into a trendy, retro-inspired accessory. Here's a look at what cameo jewelry is like today:
New Takes on a Vintage Style – Modern cameo jewelry runs the gamut from antique reproductions to updated, funky styles with an avant-garde twist. Historical motifs get a new look with bolder, brighter colors and abstract carving.
Diverse Materials – Traditionally cameos were carved from stone or shell. Today glass, resin, Lucite, and porcelain allow artisans to offer affordable cameo jewelry. Plastic cameos can mimic the look of antique celluloid cameos.
Range of Styles – From glitzy, rhinestone-accented pieces to simple, minimalist pendants, today's cameo jewelry has something for every taste. Bracelets, rings, necklaces, and earrings all showcase the carved cameo portraits.
Handcrafting Still Reigns – Most cameo jewelry continues to be hand-carved by artisans requiring tremendous skill and precision. This ensures each piece has a depth and artistry unique to the cameo.
Why Cameo Bracelets For Women Are So Popular
Of all cameo jewelry, vintage-style cameo bracelets for women stand out as a favorite. Here are some reasons they're so popular:
Showcase Detailed Carvings – A cameo bracelet gives the carved portrait maximum visibility. Whether a profile, full face, or more abstract design, the cameo is meant to be seen and admired.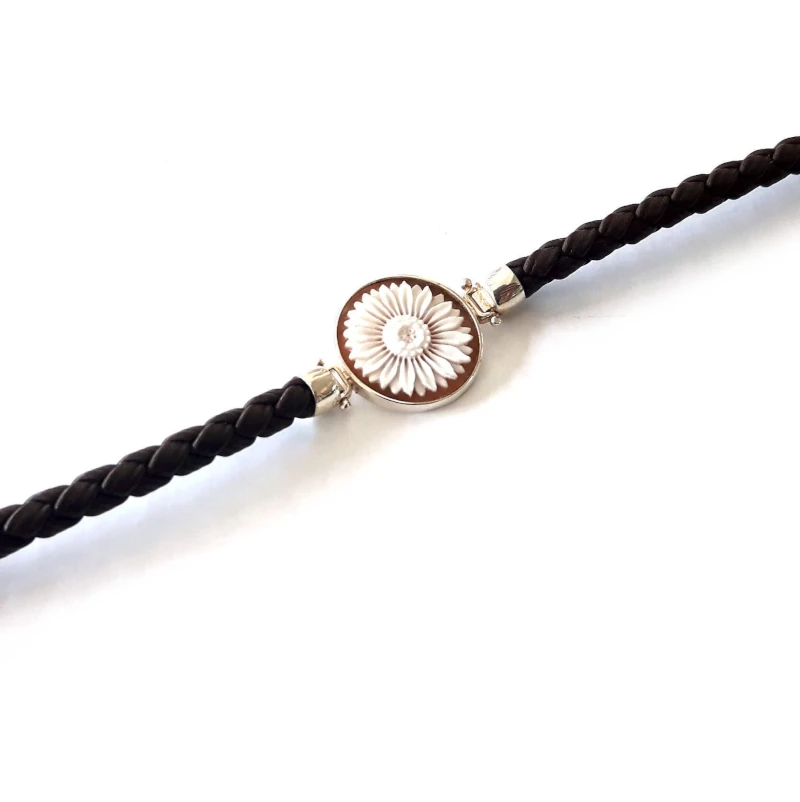 Check it out at Donadio.jewelry
Range of Looks – From dainty and minimal to bold and edgy, cameo bracelets for women fit any fashion aesthetic. They come in a spectrum of sizes, from tiny charms to large statement cuffs.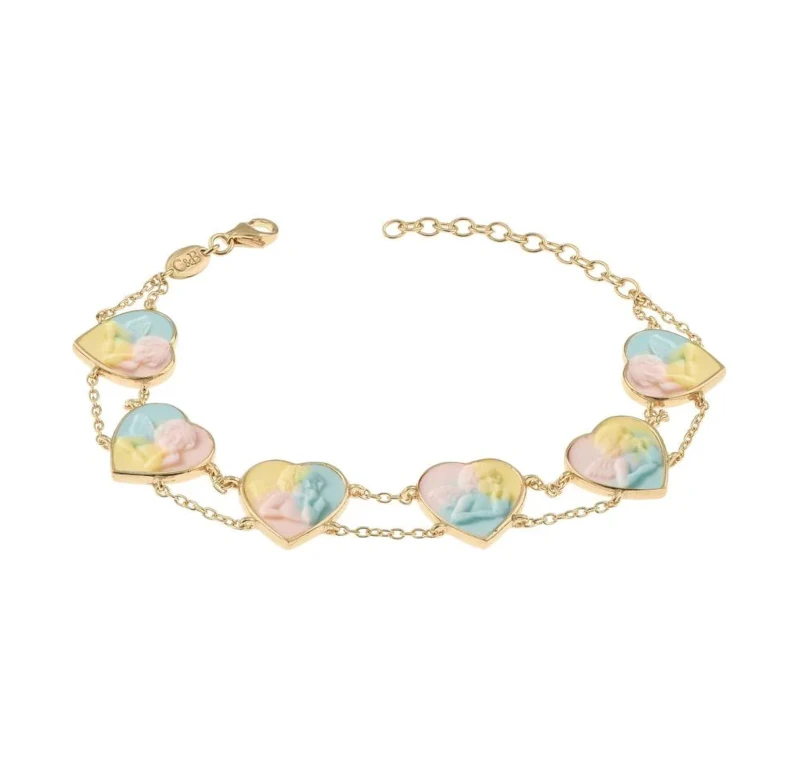 Check it out at farfetch.com
Artistry on Display – A bracelet provides the perfect "canvas" to highlight the cameo carver's skill. The depth, angles, and detailing of a cameo stand out best on the wrist.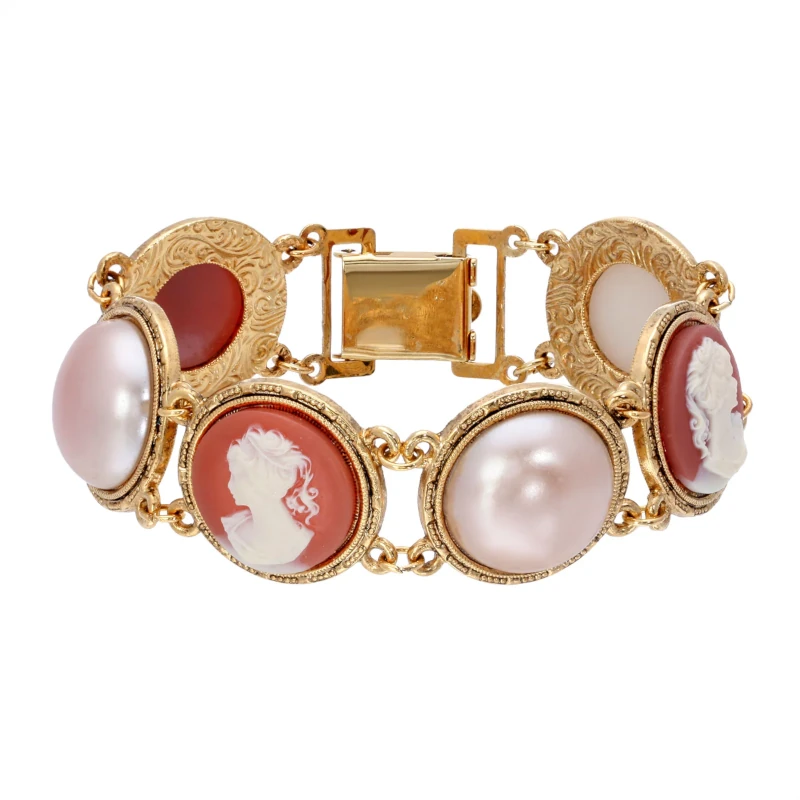 Check it out at 1928.com
Versatility – Cameo bracelets for women transcend styles and occasions. Wear one with jeans for an offbeat touch, or pair with formal wear for a glamorous accessory. There's a cameo bracelet for every mood and outfit.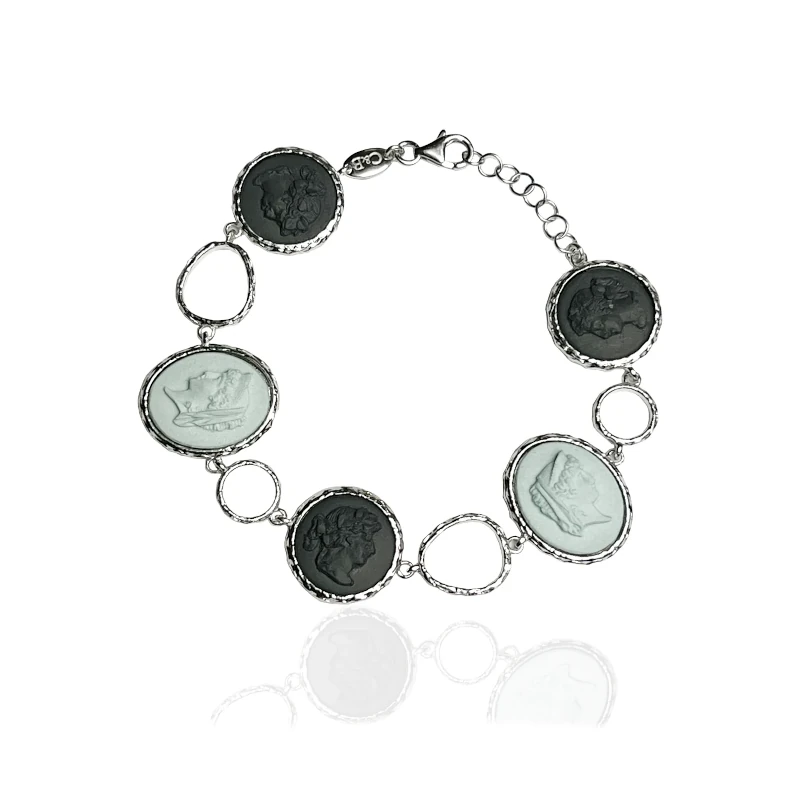 Check it out at cameocalamity.com
Romantic and Retro Appeal – With their ladylike, old-world feel, cameo bracelets have an inherent feminine, romantic appeal. For those who love vintage-inspired style, cameos hit the nostalgic sweet spot.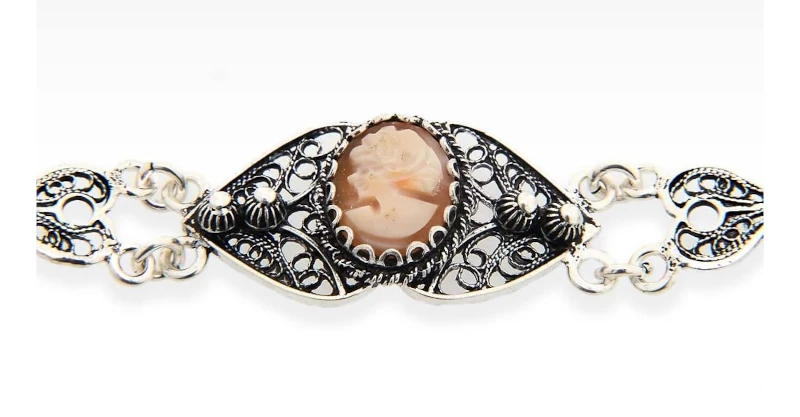 Check it out at eredijovon.com
Tips for Wearing Cameo Bracelets For Women
Cameo bracelets for women offer tons of styling versatility. Here are some tips for rocking these romantic retro bracelets:
With casual, everyday wear – For a laidback look, pair a dainty cameo bracelet with jeans and a t-shirt or tank top. Add loads of other layered bracelets for an eclectic touch.
To the office – A simple cameo bracelet adds polish and a bit of vintage flair to office attire like blazers, trousers, and sheath dresses. Keep other accessories minimal.
For date night – Make cameo bracelets for women your bold statement accessory with an LBD or form-fitting midi skirt for date night. Let the cameo take center stage and skip any other jewelry.
With romantic fabrics – Cameos have an inherent romantic vibe, so wear them with other feminine fabrics and details like lace, ruffles, and silk. Floral prints and pastels also complement their lushness.
To formal events – Larger carved cameo bracelets for women make stunning additions to formal wear when you want bold, glamorous accessories. Pair with gowns or strapless dresses to maximize their visibility.
With your hair and makeup style – Soft, touchable hairstyles and makeup in pinks and peaches play up the feminine beauty of cameo bracelets. Create a seamless retro look.
Building a Cameo Bracelet Collection
For cameo lovers, one bracelet is never enough! Here are some tips for amassing a stylish collection:
Start with classics – Every collection needs a few classic cameo bracelets in simple, elegant designs. Opt for versatile neutral backgrounds like white, ivory, or taupe.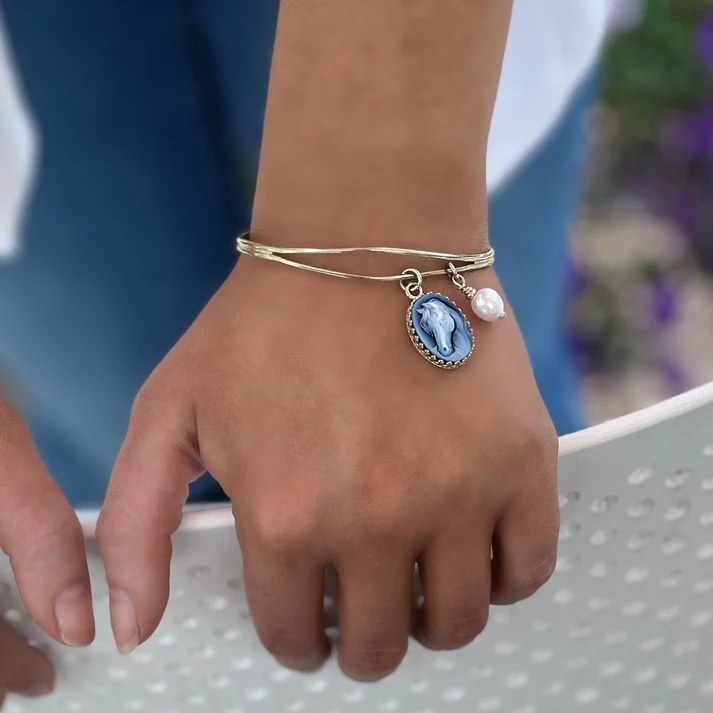 Check it out at dinnerwearjewelry.com
Add vintage varieties – Keep an eye out for vintage and antique cameo bracelets for women, which offer quality and craftsmanship that's hard to replicate. Flea markets, estate sales, and Etsy are great hunting grounds.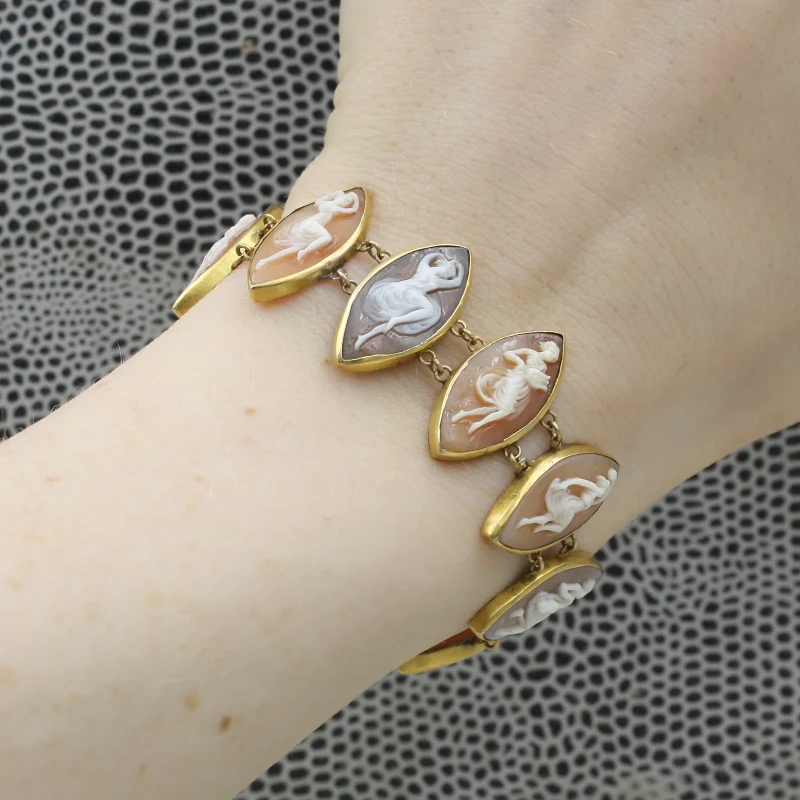 Check it out at pippinvintage.com
Mix-up sizes – For versatility, include a range of cameo bracelet sizes, from dainty charms to broad cuffs. Match them to your different fashion moods and occasions.
Play with materials – Don't limit yourself to traditional shell and stone cameos. Mix in some fun resin, Lucite, or porcelain styles as well as vintage celluloid. New materials = new possibilities!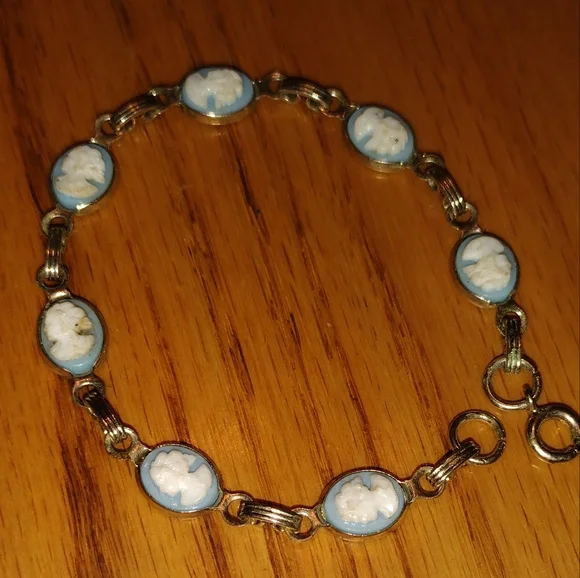 Check it out at poshmark.com
Include some funky styles – The carved cameo portrait itself is the focal point, so feel free to choose some modern, funky bracelet designs for an eclectic twist. Mix and match!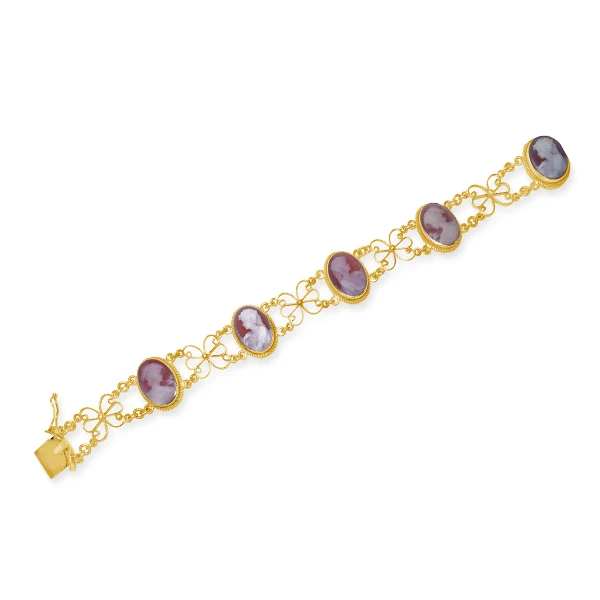 Check it out at ebhorn.com
Coordinate colors – Build a collection around your favorite color palette. Try mixing jewel-toned backgrounds with neutral and pastel ones for maximum impact.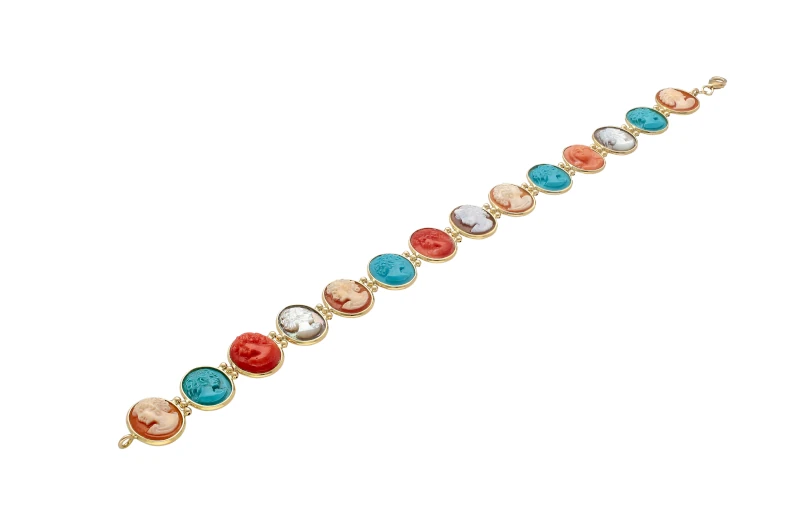 Check it out at jeansaade.com
Budget for investment pieces – While plastic cameo bracelets are inexpensive, some materials like gold and gemstones may be worth investing in. Quality lasts when taken care of.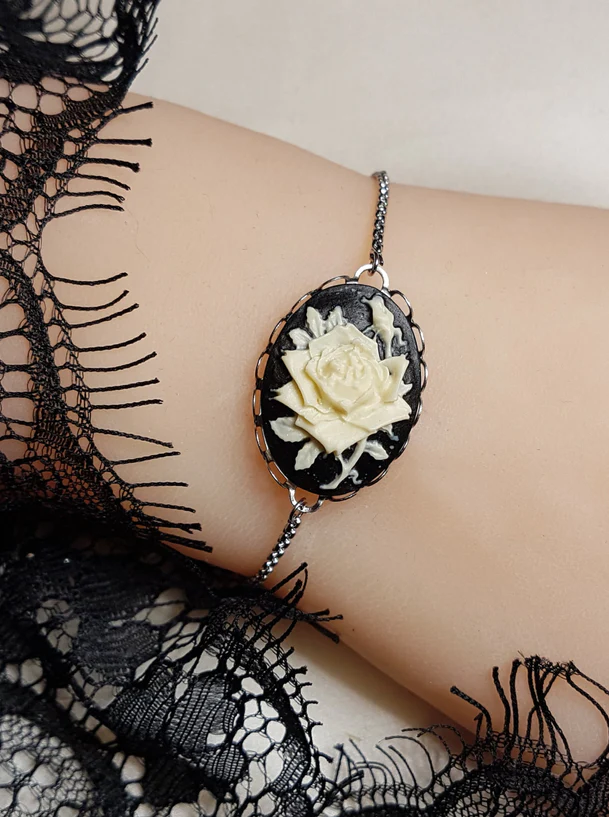 Check it out at theblackwardrobe.com
Size it right – When purchasing bracelets, make sure the size works with your wrist. If needed, take it to a jeweler to size for comfort.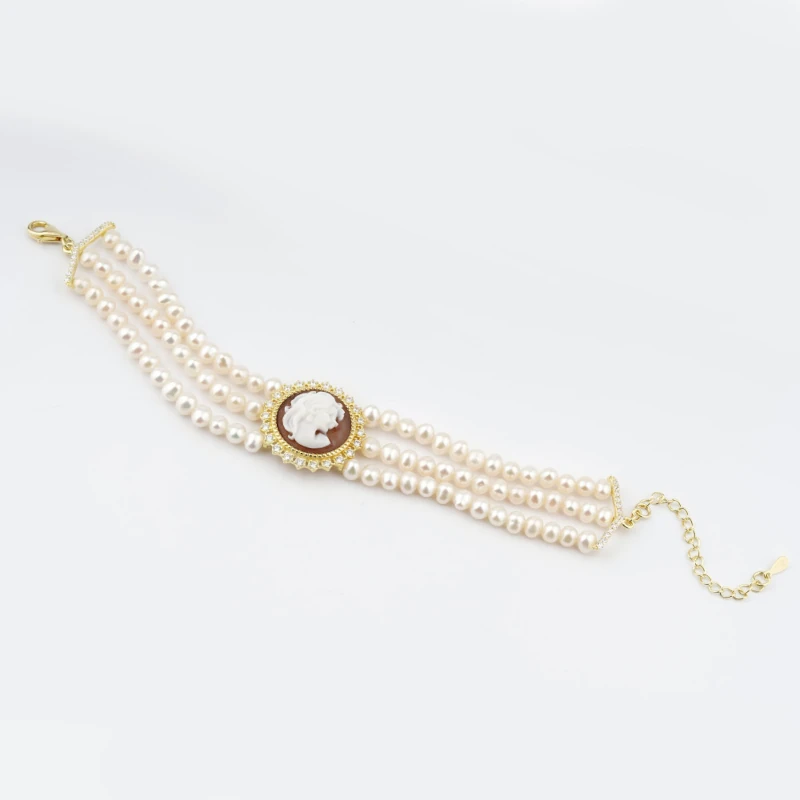 Check it out at cameoitaliano.com
Caring for Cameo Bracelets
To get the most enjoyment from your bracelet and help it last, proper care is key:
Remove before physical activities – Take off your cameo bracelet before swimming, exercising, and doing heavy housework or yardwork. This protects the setting and cameo itself from damage.
Clean routinely – Use a soft toothbrush and mild soap and water to gently brush jewelry. This removes dirt, oils, and residue that can dull the bracelet over time. Dry thoroughly.
Inspect prongs and settings – Make sure all prongs/settings are secure and not loose. Take to the jeweler immediately if you notice any issues to prevent losing stones.
Store properly – Keep bracelets in a fabric-lined box or pouch when not wearing. This prevents scratches and tangling. Store pieces individually if possible.
Take off at bedtime – Never wear your fine cameo bracelet to sleep. Even tossing and turning can misshape softer settings and metal over time.
Consider insurance – For expensive cameo bracelets for women, look into getting jewelry insurance to protect against theft, loss, and damage. Appraisals help prove value too.
With some basic care and maintenance, your beloved cameo bracelet will stay like new for many years of wear.
Frequently Asked Questions
How can I tell if a cameo is hand-carved vs. manmade?

Examine the backside carefully. A true hand-carved cameo will have carving marks, uneven surfaces, and depth from the tooling. Flat, perfectly smooth backs indicate a manufactured molded cameo.

What's the best way to wear multiple cameo bracelets?

For the most visual impact, wear cameo bracelets for women next to each other on one wrist. This showcases the carved portraits beautifully. Mix up sizes and styles for variety.

How can I make a vintage or antique cameo bracelet feel new again?

Refresh the look by pairing it with modern outfits and accessories, like jeans and edgy layered bracelets. Or mount the cameo in a new, contemporary setting.

What are some thoughtful cameo bracelet gift ideas?

For milestone birthdays, look for cameo bracelets for women with portraits of that decade's style. For mothers, brides, or sisters, customized cameos with portraits of them would be treasured.

How much do quality cameo bracelets cost?

There's a huge range. Simple plastic styles may run $20-$50 while fine gold and gemstone cameos will be $500+. Vintage pieces also vary greatly based on materials, age, and artistry.

How can I make sure a cameo bracelet is nickel-free?

Check markings for nickel-free metals like sterling silver, 10k or 14k gold, or surgical stainless steel. Plastic, lucite, and resin cameos will also be nickel-free.

Are cameos dated or old-fashioned?

Vintage styles are very on-trend right now! But modern twists with bolder colors/shapes or funky bracelet designs keep cameos feeling fresh too. There are styles to suit every wearer.

What's the most valuable or rarest cameo material?

Antique coral cameos, since coral harvesting is now illegal, are exceptionally rare and command higher prices. Certain shells like conch are also harder to source today.

How do I pick bracelet sizes for a great fit?

Test sizing beads at jewelry stores to find the right circumference for your wrist. Or if buying online, wrap a tape measure lightly around your wrist to measure. Add an extra 1/4 inch.
Our Latest Articles
Laoutaris Recommends