Surfer necklaces for men are the perfect accessory to capture the essence of this lifestyle. Often made from natural elements like shells, wood, and beads, these necklaces have an organic, bohemian look that's perfect for guys who want to give off good vibes.
Table of Contents
Surf culture brings to mind sunshine, crashing waves, sandy beaches, and most importantly, the casual, laidback attitude of surfers around the world. Surfer style embraces this chill vibe with its focus on natural materials, comfortable fits, and beachy designs.
The Natural Appeal of Shells and Wood
Seashells and wood are classic materials used in surfer necklaces. Their natural origins connect the wearer to the sea and nature. Various types of shells, each with their distinctive shape, color, and texture, are commonly used.
Seashells
Tusk shells – These elongated cone-shaped shells have a smooth exterior that comes in white, brown, and yellow tones. Their curved, tooth-like shape gives tusk shells a rugged, earthy look.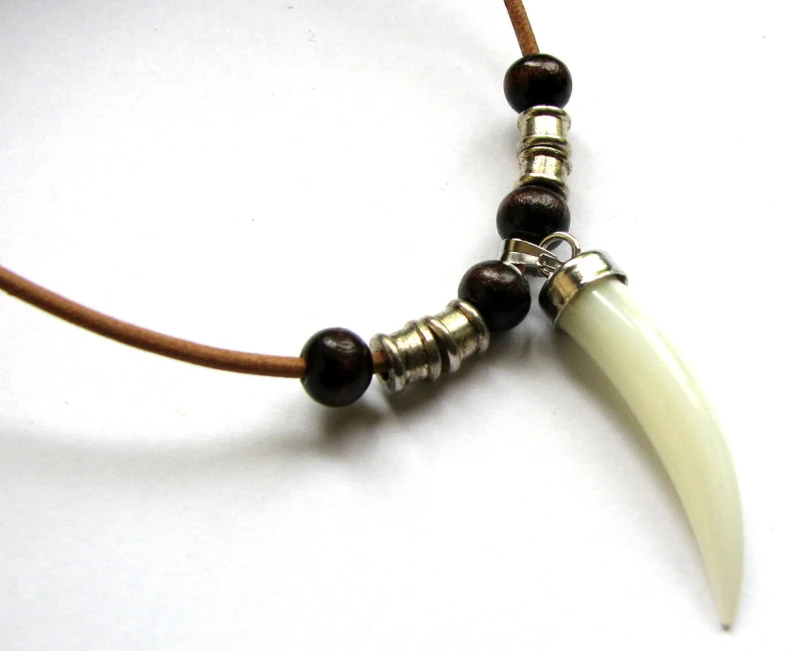 Check it out at bitsoffthebeach.com
Paua shells – Also called abalone shells, these are known for their eye-catching rainbow of blues, greens, and purples that shine under light. Paua shells have a distinctive swirled, oval shape.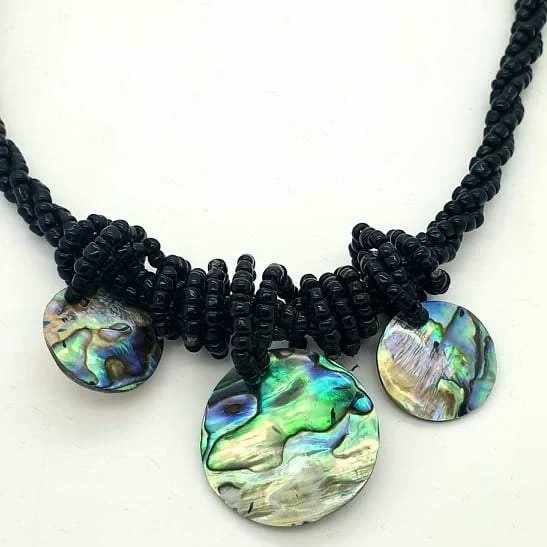 Check it out at Geckogearz. nz
Cowrie shells – Probably the most recognizable seashells, cowrie shells are oval-shaped with a smooth porcelain-like exterior that's usually white with brown or yellow markings.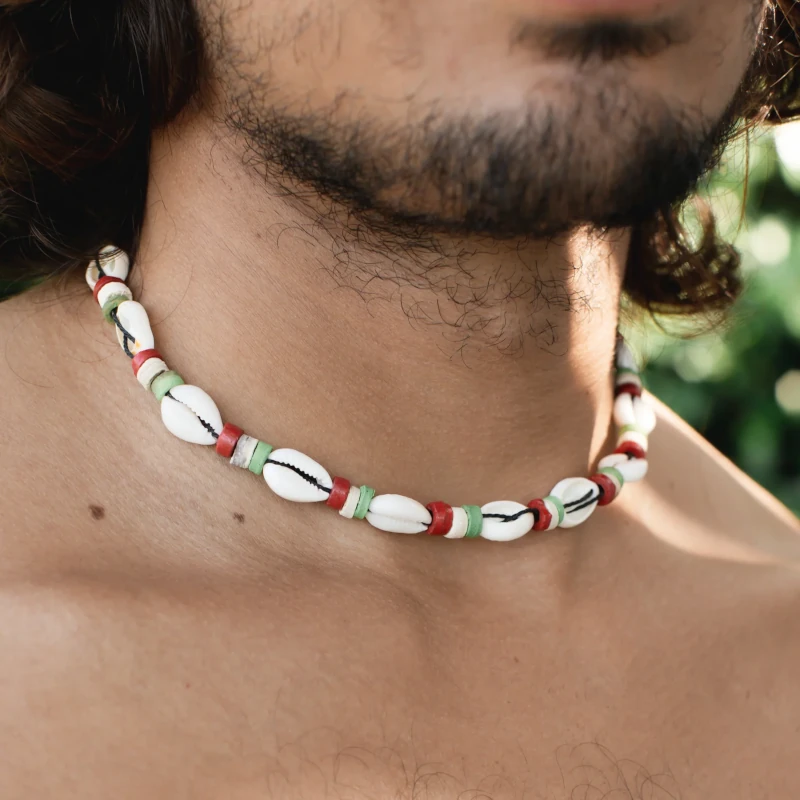 Check it out at pineapple-island.com
Conch shells – Large, dome-shaped shells that flare out into a wide opening. Conch shells range from white to pink to orange in color and often feature a rugged, weathered texture.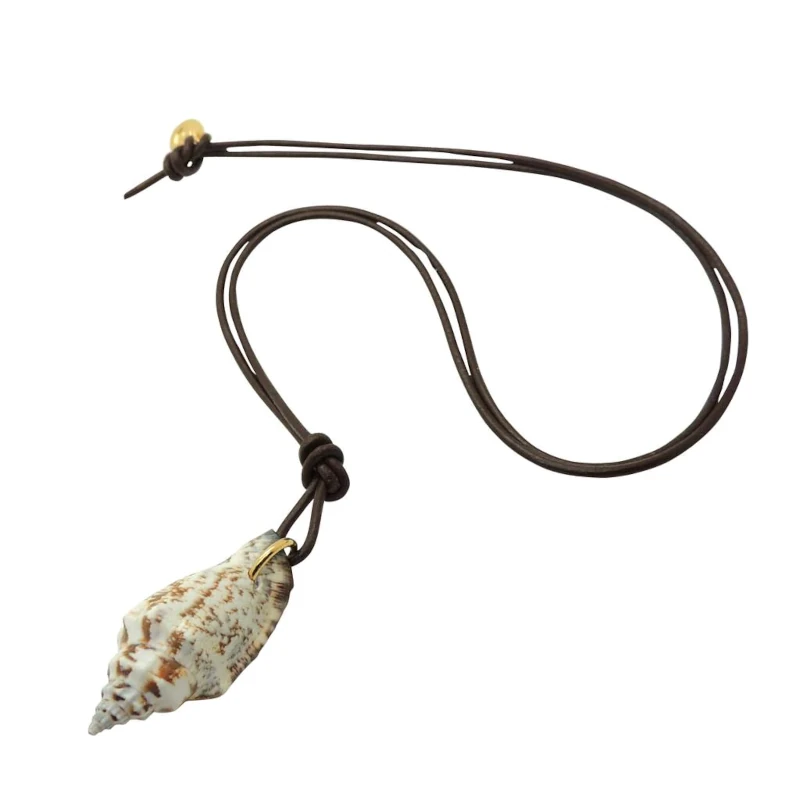 Check it out at danalevy.co.uk
Wood
In addition to seashells, various wood beads are also commonly used in surfer necklaces:
Koa wood – Native to Hawaii, koa wood often has a reddish-brown color and grain pattern. It gives a tropical vibe.
Sandalwood – Sandalwood has a delicate fragrance and comes in blonde and brown shades with natural grain variation.
Bamboo – For an eco-friendly option, bamboo has a bohemian, hand-carved look. It ranges from light tan to warm brown colors.
The natural origins of seashells and wood give surfer necklaces an organic, earthy look and feel. Their colors and textures evoke the beach and ocean. Mixing different types of shells and wood allows you to create unique designs.
Customizable Designs
One of the great things about surfer necklaces for men is that you can create completely customized looks. Since they often incorporate various natural beads and materials, the options are endless when it comes to mixing and matching.
Mix of Materials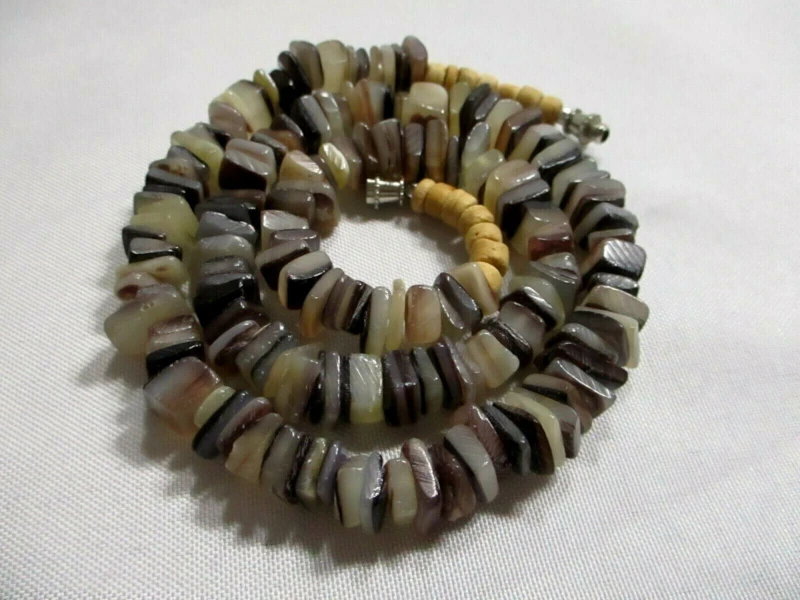 Check it out at ebay.com
You can combine different types of seashells or mix shells with wood varieties. Try blending white tusk shells with colorful paua shells. Or alternate koa wood beads with cowrie shells. See what designs you can come up with by pairing contrasting or complementary colors and shapes.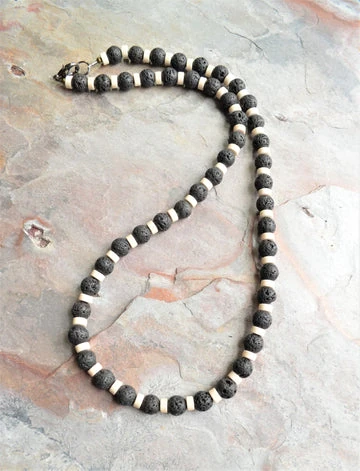 Check it out at danaleblanc.com
In addition to seashells and wood, other natural materials like lava rock beads or seeds can be incorporated. Man-made materials like bone, plastic, resin, or glass are also commonly used in combination with natural beads. This adds extra variety and allows even more unique looks.
Cord Options
The cording that holds the beads together is another chance for customization and self-expression. Popular options include:
Leather – Leather cording has a rugged, casual vibe. Often braided or twisted, it comes in various colors like classic brown or black but also colorful options like orange, teal, and purple.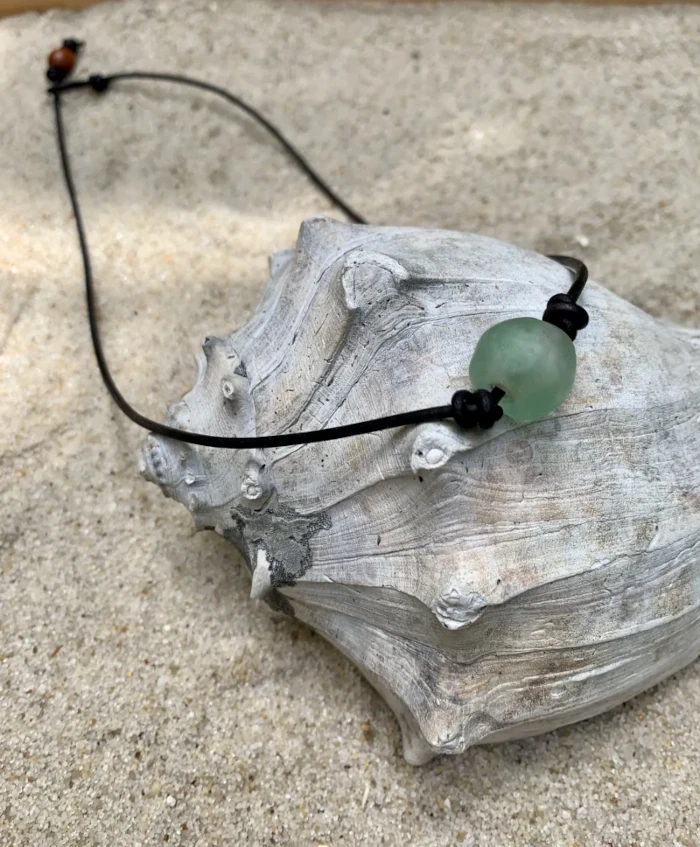 Check it out at miscellanee.com
Hemp – Hemp cord combines well with the natural materials in surfer necklaces. Its earthy tan color and soft texture lend a bohemian style.
Nylon – A durable nylon cord is a great choice for water since it dries quickly. It comes in every color imaginable so you can match or contrast with your beads.
Chain – Add a touch of polish to the casual surfer style by using silver, brass, or stainless steel chains. Delicate trace chains or chunky curb chains can both work.
With so many options for combining materials and cording, the variations are endless. Embrace the chance to play around and create necklaces that reflect your unique personal style.
Look for the Beach and Beyond
While the beachy, laidback vibe is at the heart of surfer style, the right necklace can go from the waves to the streets effortlessly. Surfer necklaces for men work great for casual everyday outfits, not just trips to the ocean.
Beach Looks
A simple surfer necklace with wood or neutral-toned shells is perfect for the beach. It won't be too flashy or draw attention away from boardshorts or swim trunks.
Go bright with a necklace made with colorful paua or conch shells when wearing swim gear in matching blues, pinks, or oranges. Coordinate the colors for a stylish beach look.
For the ultimate carefree attitude, layer a few long surfer necklaces over your swimsuit. Mix and match beads and cord materials for an eclectic look.
Streetwear
Casual looks for everyday wear call for surfer necklaces too. Layer over t-shirts, tanks, open button-downs, or henleys to add interest.
Cowrie shell or sandalwood necklaces look great with casual button-downs. Leave the shirt open over a t-shirt to showcase the necklace.
Make even simple looks pop by pairing vibrant surfer necklaces with neutral-toned shirts or shorts. Bright coral necklaces instantly grab attention.
Chunky wood and lava rock bead necklaces make a bold statement. Pair with jeans and a plain white tee or tank for a laid-back style.
For cooler weather, layer a surfer necklace over a hoodie. Choose one long enough to show beneath the hood for a touch of texture.
Making it Work
Let surfer necklaces for men take center stage in your outfits. Skip loud prints or flashy accessories and let the necklace be the focal point.
For variety, collect necklaces in different lengths – some that fall mid-chest and longer ones that hit just above the waist.
Consider longer necklaces with varying bead sizes. These look great layered together for an on-trend stacked look.
Surfer necklaces for men look best with casual, beachy outfits. For a polished summer look, choose sleek paua and polished wood over shells.
Conclusion
Surfer necklaces for men let guys embrace the laidback attitude of surfers and beach bums everywhere. Natural materials like seashells, wood, and beads connect you to the ocean and nature with their one-of-a-kind designs.
Let these earthy, bohemian accessories become statement pieces in your warm-weather wardrobe. Mix and match shells, wood varieties, and cord textures for unique, personalized looks. Surfer necklaces add chill vibes and effortless style to any casual outfit.
Frequently Asked Questions
What length of surfer necklace for men works best?
Surfer necklaces for men come in varying lengths, from chokers that sit high on the chest all the way to extra-long ropes that hit at the waistline. Most guys prefer mid-length necklaces that fall somewhere around the top of the breastbone. This provides enough room for the necklace to show well with shirts that aren't fully buttoned. Longer lengths work well when layered together.
How do you clean surfer necklaces for men?
Most surfer necklace materials like wood, shell, and stone beads can be cleaned by handwashing with mild soap and warm water. Avoid soaking leather cords and don't submerge necklaces in water. Instead, use a soft cloth to gently clean. For sanitizing, rubbing alcohol can be applied with a cloth. Avoid harsh chemicals that may damage beads.
Should you wear surfer necklaces for men in the water?
Surfer necklaces for men are meant to embrace the surfer lifestyle but their materials vary in terms of water-resistance. Seashells and wood will become damaged if submerged repeatedly. For ocean wear, wax cord or nylon is best. Avoid wearing leather cords in water as they can become brittle when dried. Remove necklaces before extensive water activities.
What if my surfer necklace breaks? Can I fix it?
Natural materials like seashells and wood are prone to breaking, especially if worn in the ocean regularly. Repairing depends on the breakage. If the cord frays or a clasp comes undone, you can usually re-string or replace the clasp. If shells crack or wood beads split, these may need replacement. Take broken necklaces to a jeweler for assessment and possible repairs.
How much do surfer necklaces for men cost?
Surfer necklaces for men vary widely in price depending on the materials used. Simple necklaces made from plastic beads or basic cowrie shells may cost $10 to $30. For natural exotic shells or high-end woods like koa or sandalwood, or hand-carved beads, expect prices from $50 to $300. Vintage or antique shell necklaces also command higher pricing. Shop around to find good deals even on premium materials.
Our Latest Articles
Laoutaris Recommends