Stylish, affordable, and functional: What to look for when buying sunglasses for women.
Table of Contents
The last update was on 13/05/2023. The average read time is 9 minutes
Trend or Timeless Sunglasses for Women.
Let us face the truth. We do not want to buy a new pair of sunglasses and wear them only one or two times. We want them for 2 or 3 years at least. Each year there are a lot of trends in fashion including sunglasses. You see Kim Kardashian or Emma Chamberlain wearing some unique pieces but they are out of trend in a few months.
What you need is something classic and timeless that fits with many of your outfits. Cat-eye, rounded, aviator, wayfarer, or even rectangular-frame sunglasses for women will be never out of fashion.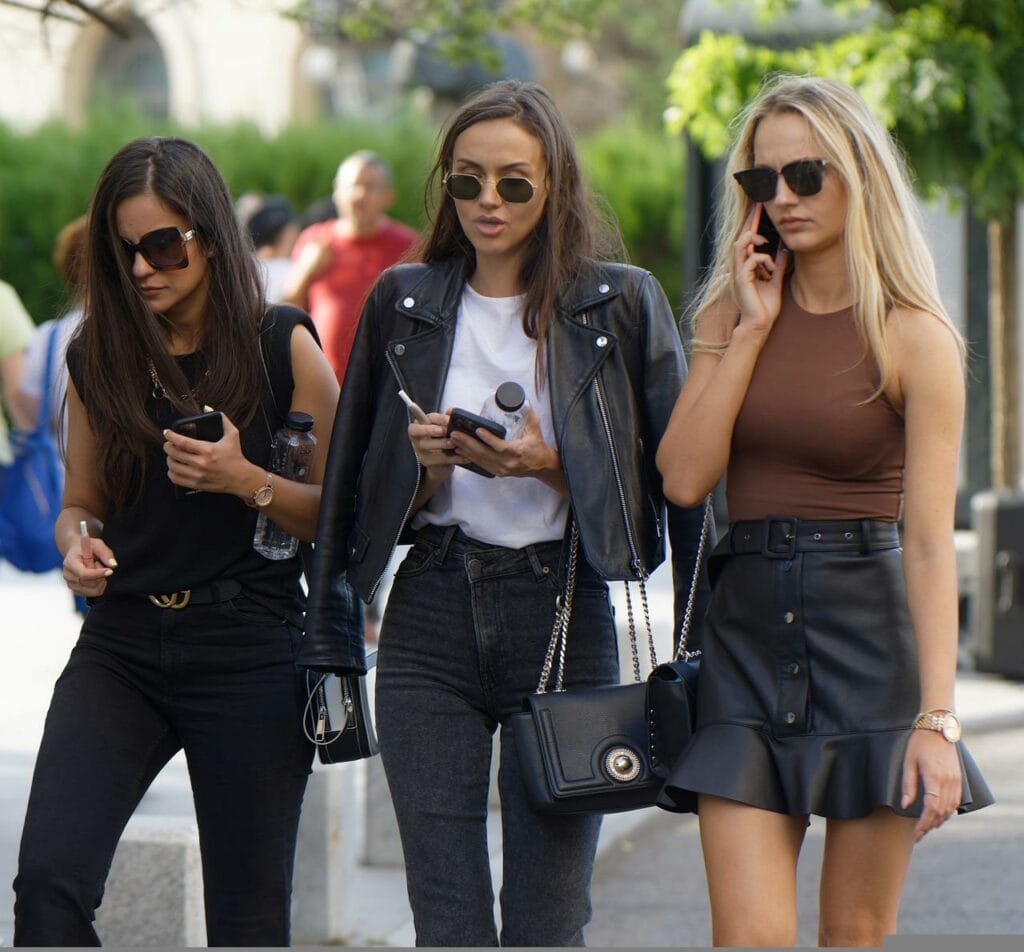 Different Types of Women's Sunglasses.
Round sunglasses for women.
Janis Joplin, Beyonce, Selena Gomez, Rihanna, and many many more use round sunglasses to express themselves.
Iconic photographs like Jackie Kennedy, wearing oversized round sunglasses, making them a trend for 60 years now.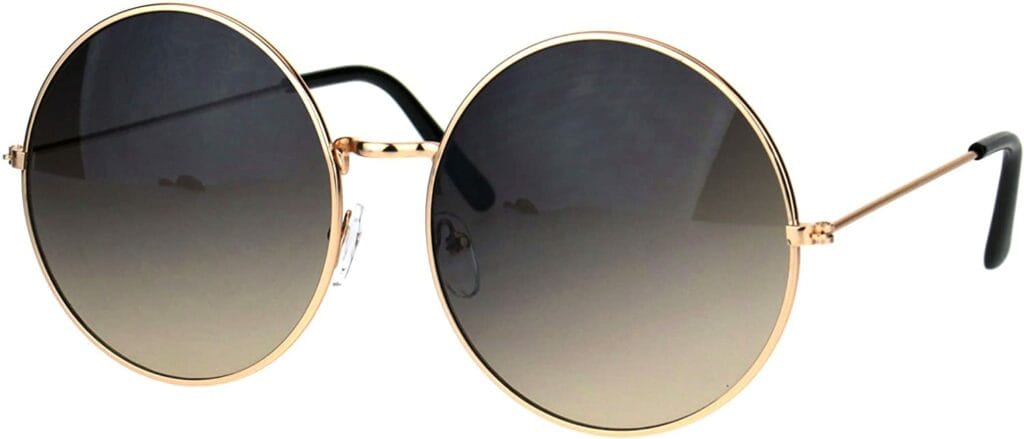 Check these oversized Janis Joplin round sunglasses at Amazon.com
Pros
Many colors
100% UVA & UVB protection
Very good price
Cons
No polarized lenses

Check our article about the best women's handbags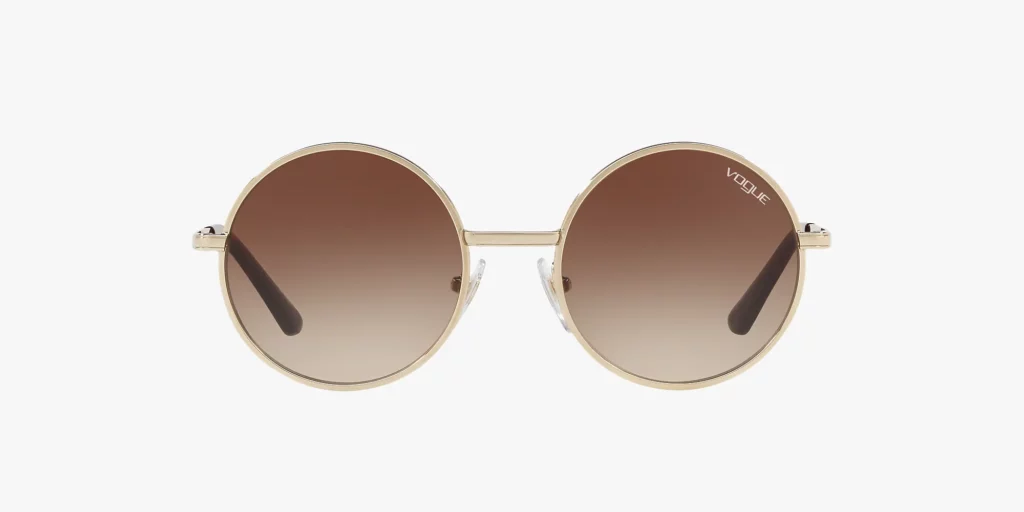 Vogue pale gold/brown sunglasses, Italian design, superior quality, and good price.
Check them out at sunglasshut.com
Pros
Nice design
Adjustable nose pads
Polycarbonate Lenses
Cons
No mention of UV protection.
Buy them at a discount

Check to see our article about women's necklaces
Rectangle sunglasses for women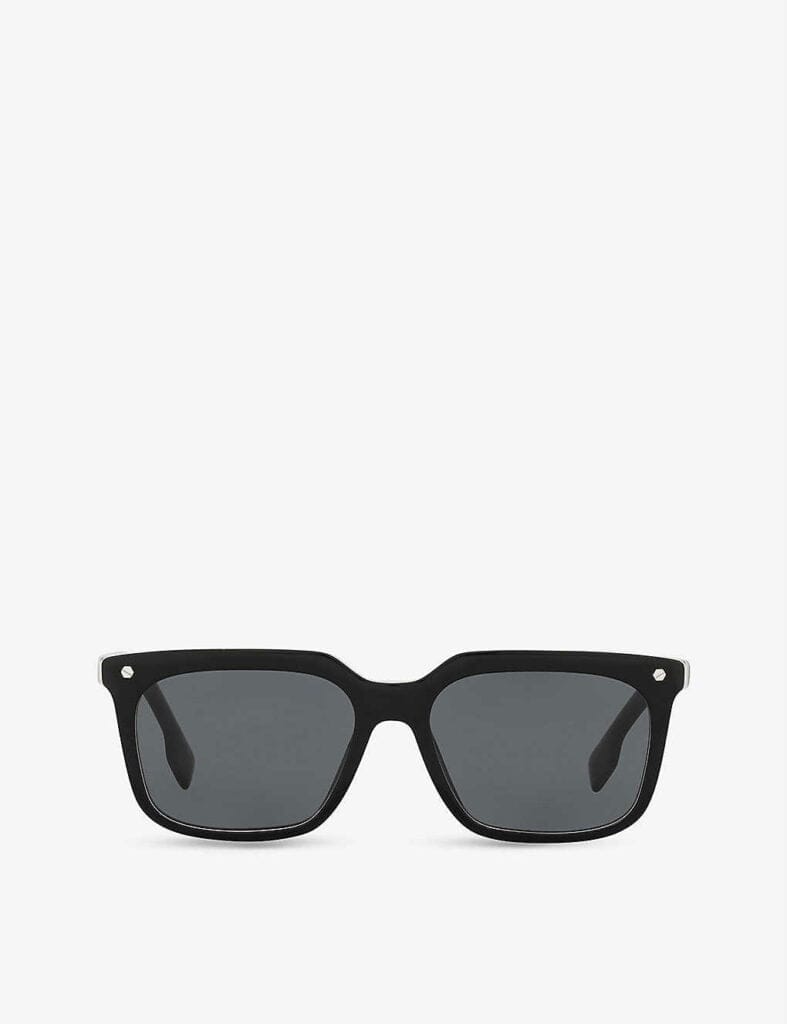 Burberry rectangular black sunglasses with 100% UV protection.
Check them out at selfridges.com
Pros
Burberry logo on the arm
100% UV protection
Polarised lenses
Cons
Price can be better, check for discounts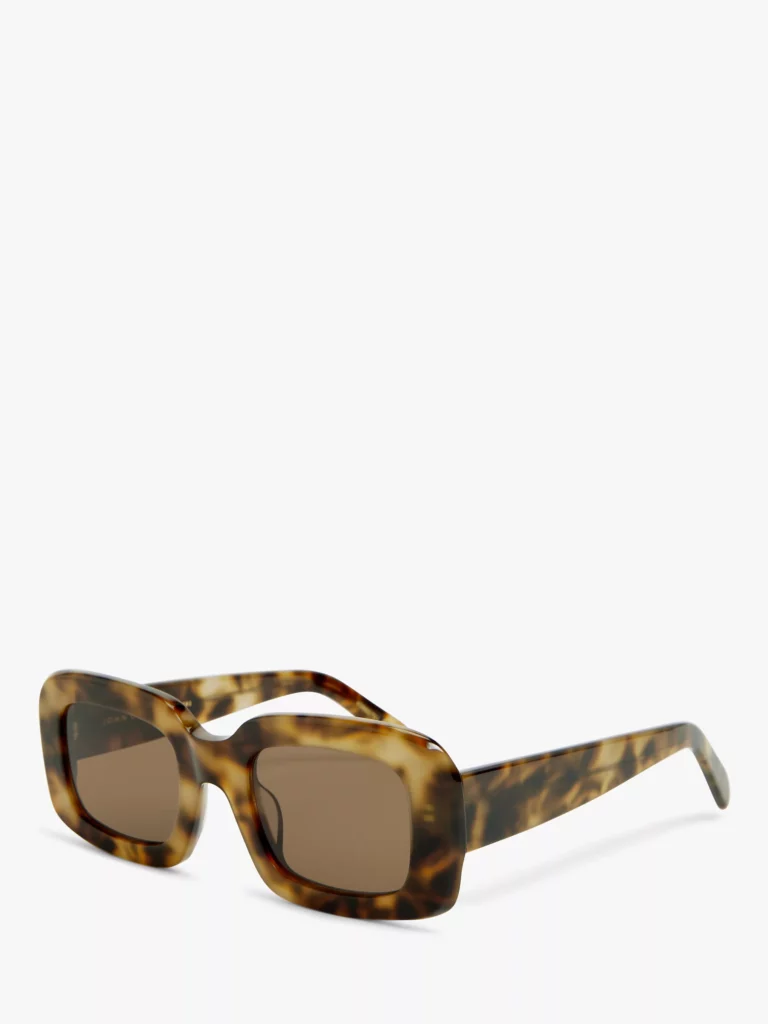 John Lewis & Partners rectangular women's sunglasses are perfect for an oval-shaped face. Read more below.
Check them out at johnlewis.com
Pros
Nice style
Plastic lens
Tortoise color
Cons
No UV protection, No polarised lenses

Aviator/Pilot Sunglasses for women
Aviator sunglasses are a timeless piece of eyewear that has been popular for decades with both men and women. For women, aviator sunglasses offer a classic and sophisticated look while providing optimal protection from the sun's harmful rays. Women's aviator sunglasses come in a variety of sizes, styles, and colors, so you are sure to find the perfect pair of shades to complement any outfit or occasion.
The most iconic aviator sunglasses are from Ray-Ban. Designated in 1937 they are today the timeless standard of sunglasses.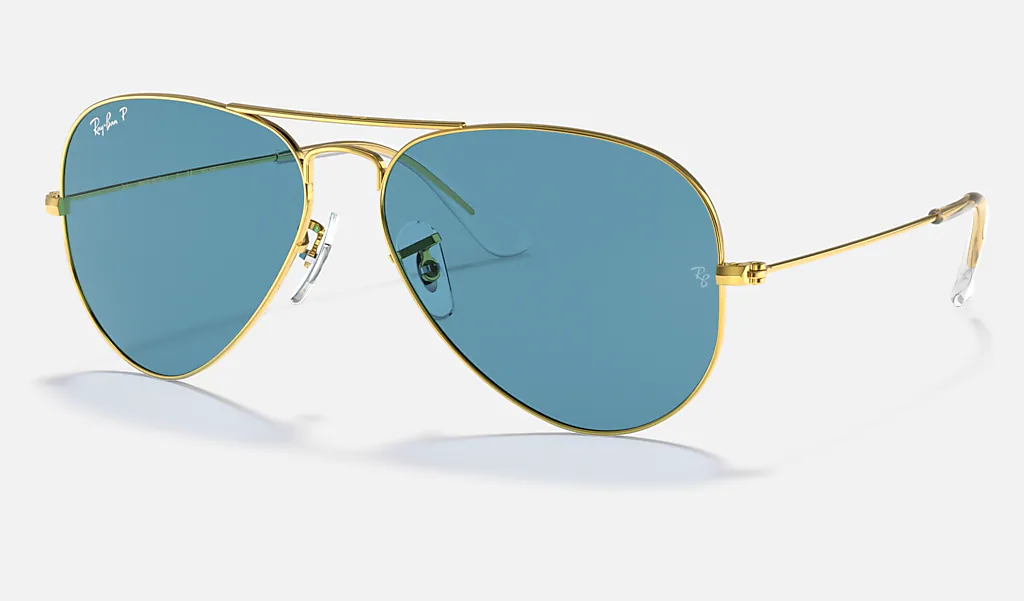 Check them out at ray-ban.com
Pros
Polarised lenses
100% UV protection
13 different colors
Cons
All Ray-Ban sunglasses are expensive, but the style is timeless.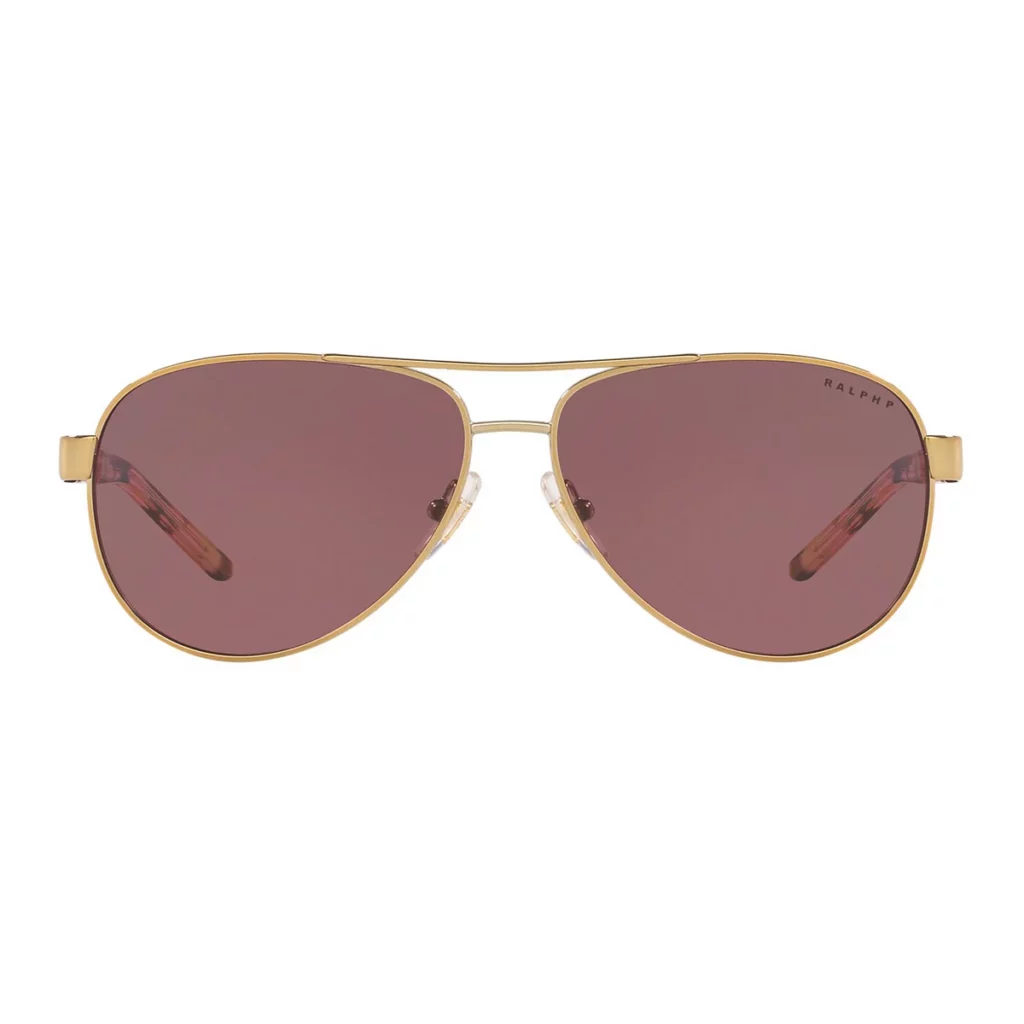 Women's Ralph Lauren sunglasses, check them out at kohls.com
Pros
Cheaper than Ray-Ban.
Plastic lenses
Hard box included
Cons
No mention of UV protection

Wayfarer sunglasses for women
Maui Jim is excellent quality, lightweight, with 100 protection, and you will hear many compliments.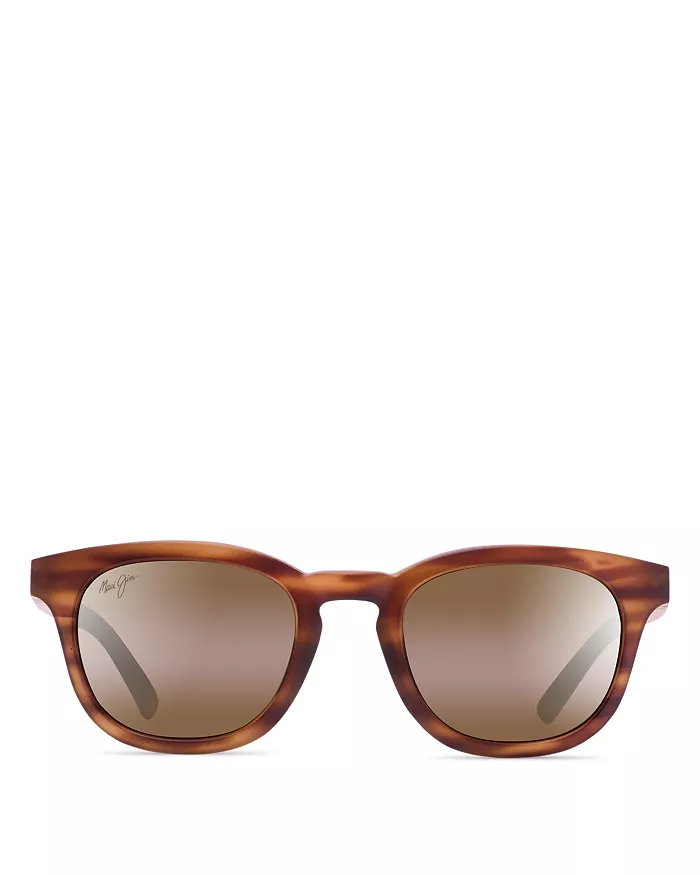 Check them out at bloomingdales.com
Pros
Logo in two places
100% UV protection
Includes a hard case and a cleaning cloth
Cons
They are expensive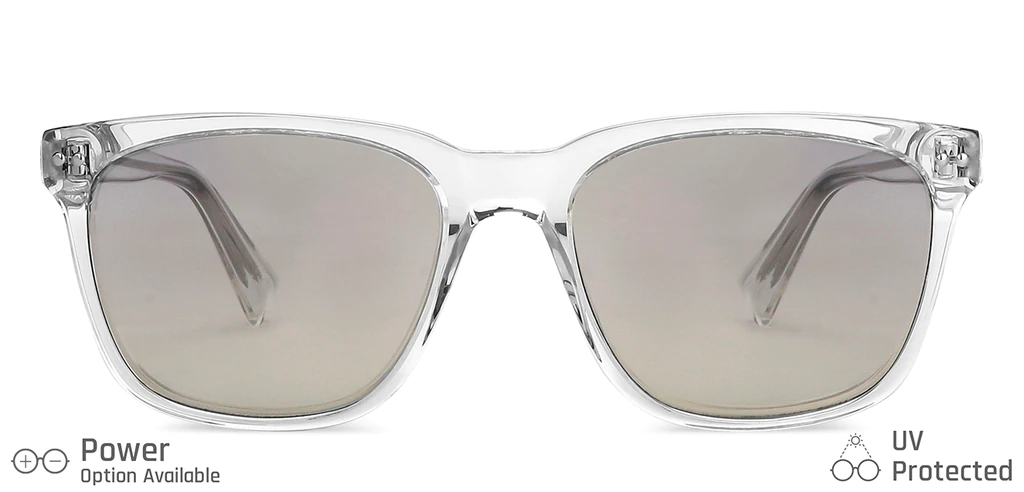 Transparent Wayfarer full-rim women (unisex) sunglasses from John Jacobs. Check them out at lenskart.us
Pros
Wide size
Unisex
Acetate frame material
UV protection
Cons

Cat-eye sunglasses for women
Audrey Hepburn wore the cat-eye sunglasses in "Breakfast in Tiffany's".
Cat-eye sunglasses are a great way to add a retro-inspired touch to any outfit for women. These vintage frames come in a variety of shapes, sizes, and colors, making them perfect for accessorizing any look. Whether you're looking for an edgy or feminine style, cat-eye sunglasses will give you the confidence and flair your look is missing.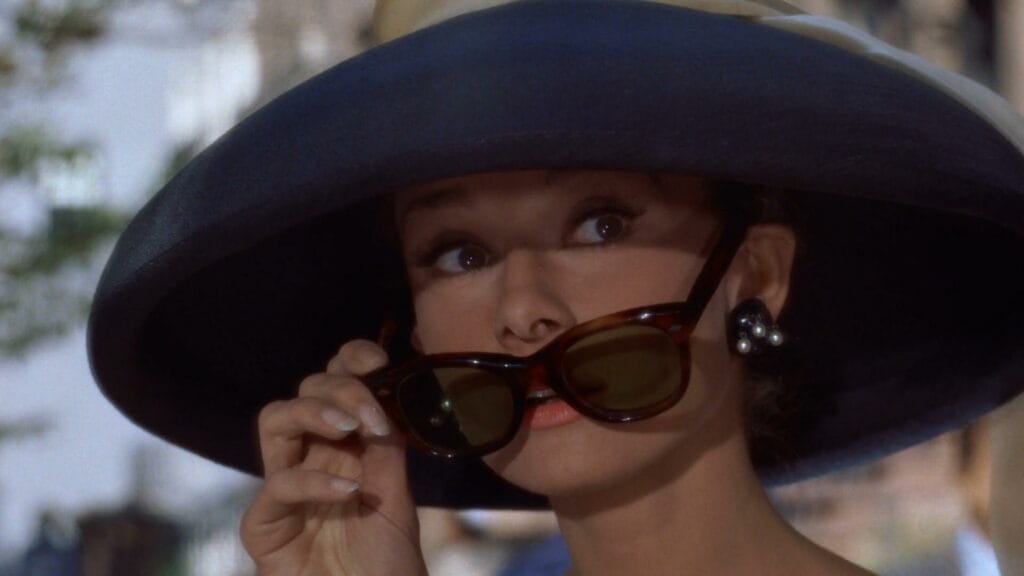 Cat-eye sunglasses started to become popular in 1950. Grace Kelly, Marilyn Monroe, and Elizabeth Taylor were the first to wear them in the movies.
Many believe still today that Audrey Hepburn's sunglasses were Ray-Ban. But they were from Oliver Goldsmith. He named them "Manhattan" design in 1960, made in Italy, exceptional quality, and great sun protection.
Read our article about timeless accessories and why every woman should own them.
Until today you can buy them at olivergoldsmith.com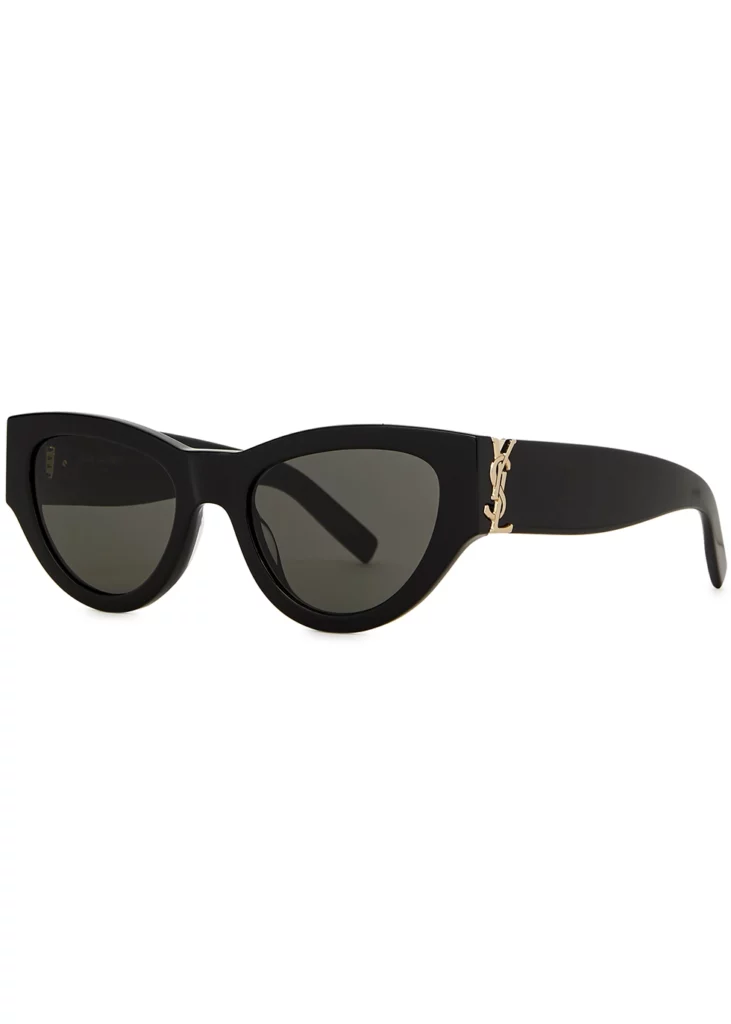 Saint Laurent Black cat-eye sunglasses. Check them out at harveynichols.com
Do you know that Tom Ford was the creative director of Yves Saint Lauren? Read more here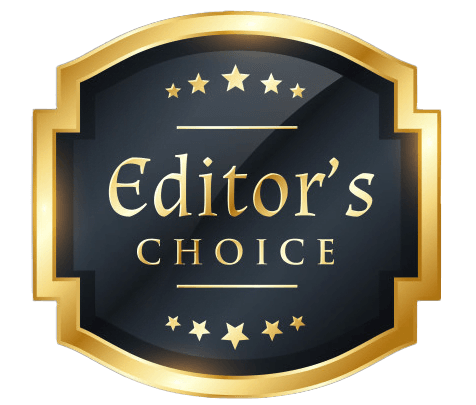 Pros
Iconic sunglasses
100% UV protection
Logo on the arm
Cons
Expensive

Shield sunglasses for women.
Summer, beach, and sun. How can you protect your precious eyes and face? The solution is shield sunglasses.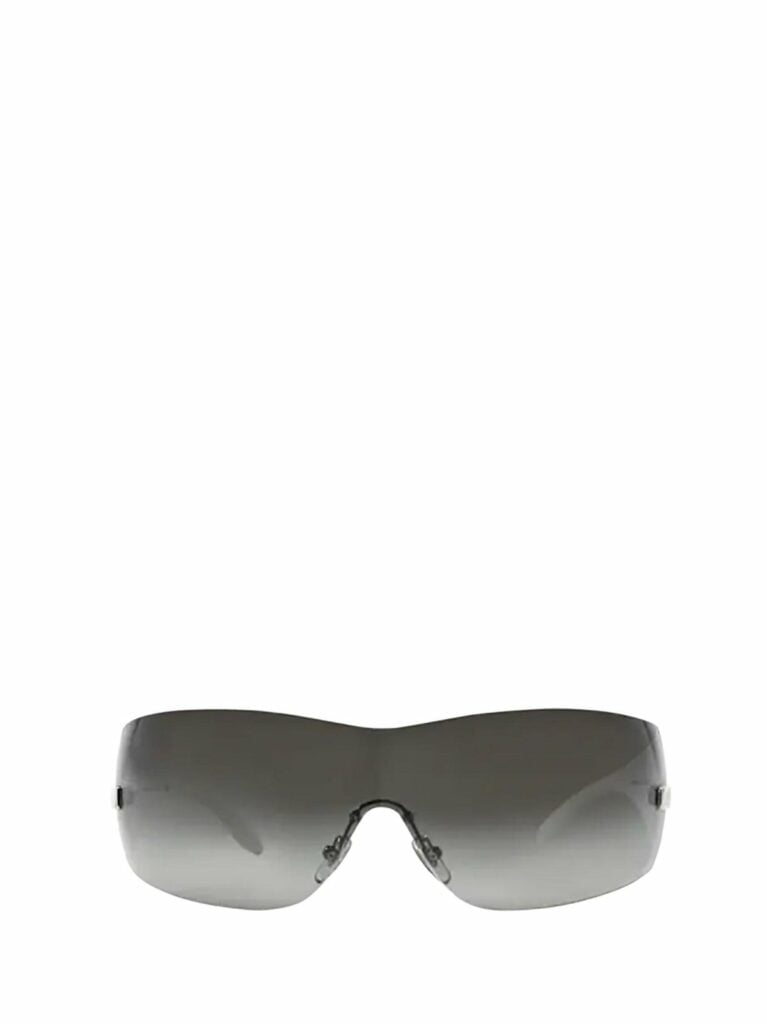 Versace shield eyewear, check them out at cettire.com
Pros
Versace logo on the arm
Made in Italy
Original package
Cons
No mention of UV protection
Check for price drops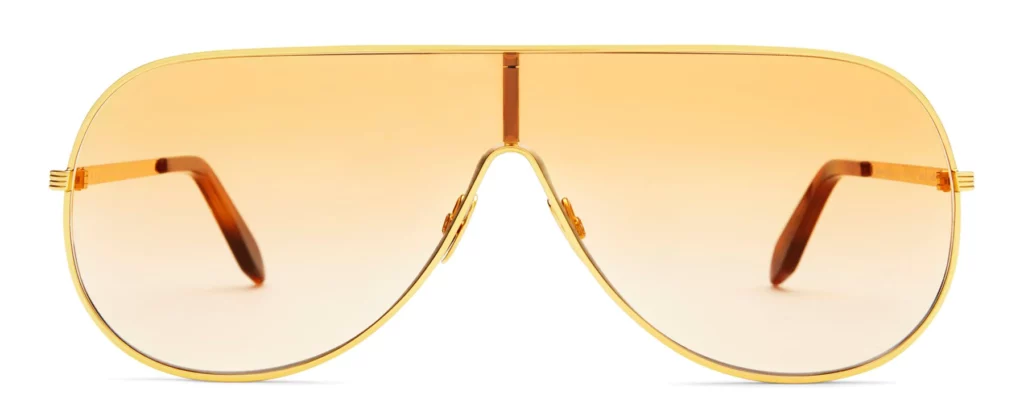 Victoria Beckham grooved metal shield sunglasses.
Check them out at solsticesunglasses.com
Pros
Zeiss lens
PVC nose pads for added comfort
Buy them if you find them on sale
Cons
No mention of UV protection

Clubmaster sunglasses for women
Clubmaster eyewear is unisex, both men and women can wear them.
Back in 1947, the Clubmaster or the browline style was popular. They were created to allow the owner to change the size, fit, or even the color of their specs. They are retro and timeless and are worn today mostly because of the TV series Mad Men.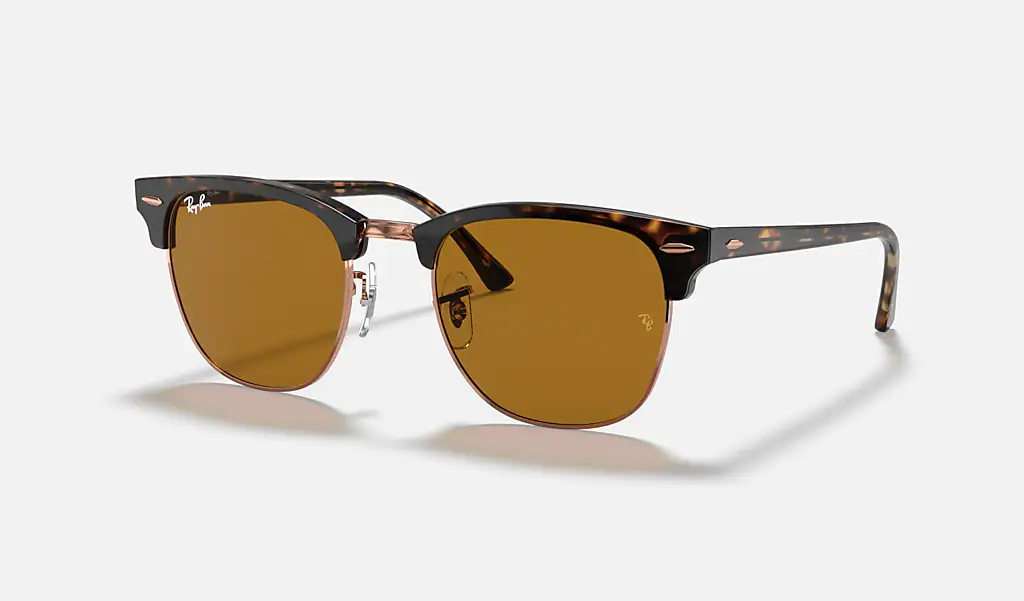 Classic Ray-Ban Clubmaster brown sunglasses, check them out at ray-ban.com
Pros
5 different colors
2 sizes, standard and large
Included case with a cleaning cloth
Cons
No mention of UV protection

Oliver Peoples Tortoise sunglasses are a handcrafted and very popular style.
Check them out at opticiansdirect.co.uk
Pros
Handcrafted
Excellent Trustpilot reviews
With original brand case and cloth
Cons
No mention of UV protection
Price can be better

Oversized sunglasses for women
Oversized sunglasses remain a classic style for women offering both protection and style. The perfect addition to any wardrobe, these glasses give the wearer an effortlessly chic look that can be taken from the beach to a night out in town. Oversized sunglasses offer the perfect combination of function and fashion.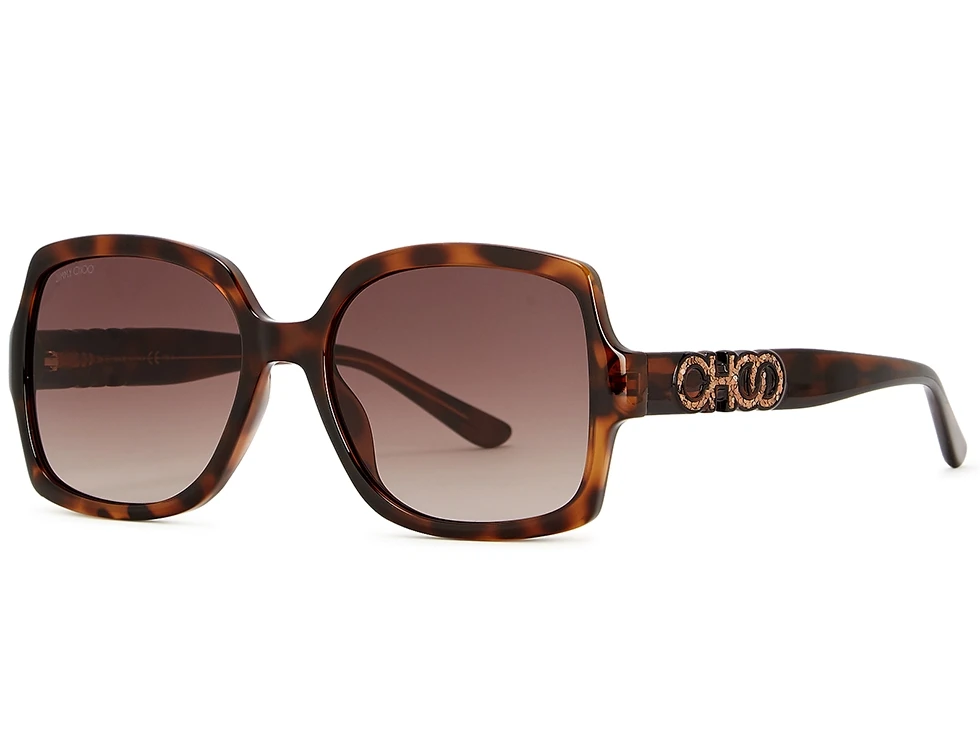 Pros
Jimmy Choo's design with a large logo on the arms
100% UV protection
The frame width is 14cm, a true oversized piece
Tortoise design made from acetate
Cons
As for all designer pieces the price is above average

Check them out at harveynichols.com
Frequently Asked Questions
How do I choose the right sunglasses?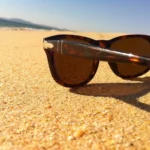 1. Choose not only the color and the style but the UV protection.
2. Choose the right sunglasses for your face shape
3. Size is also important. Not too big but not too small
4. Do not choose the most trendy sunglasses. Choose something that you will wear for years.
5. Do not only buy them but wear them. The sunglasses are to protect your eyes and your face from the sun.
Which color sunglasses should I get?
You must try them all and see which sunglasses suit your vision the best. Try soft pastel lenses, like grey, light blue, light orange, or something similar. Buy sunglasses with mirror lenses. Instead of a black lens, the mirror-coated lens protects your vision and is anti-glare. If you have any eye condition ask your doctor what sunglasses are best for you. The most popular sunglasses are medium darkness, to protect your eyes and to be able to see clearly.
Should I choose sunglasses with polarized lenses?
Polarized lenses help reduce the amount of glare that women typically experience in high-glare situations, while still protecting their eyes from UV rays. This is especially beneficial when driving or participating in outdoor activities like boating and fishing, as the glare can be minimized to improve visibility. With polarized lenses, women can enjoy their favorite activities without worrying about squinting or straining their eyes due to bright sunlight.
What type of lenses is best for sunglasses?
When shopping for the perfect pair of sunglasses for women, be sure to purchase ones made with polycarbonate or Trivex lenses. These materials are more impact-resistant and provide a higher level of protection from dust and debris than other lens types, making them ideal for all activities. Furthermore, women should always follow the guidelines on the sunglasses packaging to ensure optimal UVA/UVB protection for their eyes.
What are the trends in sunglasses for women in 2023?
For the fashion-conscious woman, oversized and rectangular frames are popular choices when it comes to sunglasses. These frames tend to make a bold statement, while also flattering for most face shapes. Women can find a wide selection of designs in this style, such as classic aviators or modern iterations with unique colors and patterns.
Should I buy bright-colored sunglasses?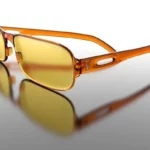 Women are loving the bold frames of brightly colored sunglasses this season, with reds and greens taking over the style charts. These hues add a pop of color to any ensemble, whether in a classic aviator or a more modern cat-eye design.
What are the right sunglasses for my face shape?
The classic cat eye style looks great on oval and heart-shaped faces while rounder frames with soft lines tend to flatter square or round faces. Conversely, those with diamond-shaped faces should go for bold and angular frames that balance the sharp cheekbones.
Conclusion
That wraps up our article on what to look for when buying sunglasses for women. There is an endless array of styles, shapes, and sizes available that can fit any woman's individual preferences. Whether you're looking for something stylish, affordable, or functional, there's sure to be a pair of sunglasses that's perfect for you! So don't be afraid to experiment with different styles, shapes, and colors until you find the perfect pair of sunglasses for your face and style.
What is your favorite type of sunglasses? What is your next pair of sunglasses?
Tell us below in the comments.
Our Latest Articles
Laoutaris Recommends