Round sunglasses for women offer a softer, feminine look. An in-depth guide on how to style the retro, artsy frames to complement your face shape and outfit.
Table of Contents
The History and Timeless Appeal of Round Sunglasses
Round sunglasses rose to popularity in the 1960s and have been a fashion staple ever since. Jackie Kennedy Onassis was one of the early trendsetters seen donning a glamorous pair of oversized circular frames. The retro feel gave women a soft, feminine aesthetic that looked chic decades later.
In the 70s, rock stars like John Lennon made rounds iconic in the music scene. The artsy, vintage vibe suited the era's bohemian style perfectly. Farrah Fawcett also propelled the look into the mainstream with her feathered hair and sophisticated frames.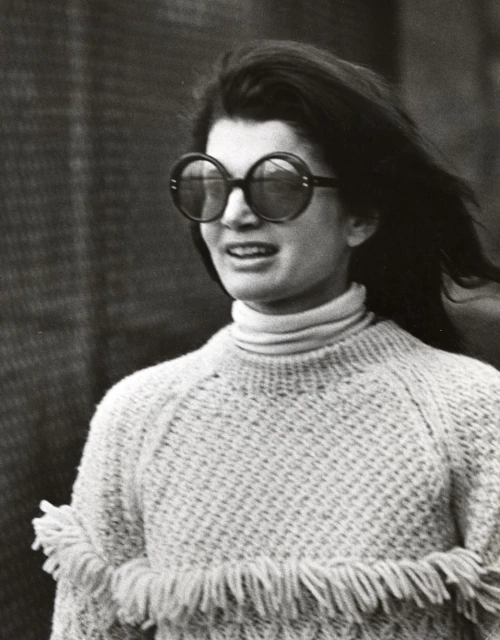 Jackie O was wearing oversized round sunglasses.
Today, round sunglasses are still going strong on fashion week runways and street style blogs alike. Their classic shape offers an artistic, softer alternative to the typical angular frames. The curved silhouette is flattering for many face shapes as well.
From Jackie O to today's It girls, the circular frame remains eternally stylish. Their staying power proves round sunglasses are far from just a passing trend.
The Key Benefits of Round Sunglasses for Women
Many advantages make round sunglasses a versatile accessory staple:
Softer, Feminine Look
The rounded shape provides a delicate profile compared to sharper geometric frames. It's a subtle way to add a feminine touch to your outfit.
Artistic, Vintage-Inspired Style
Circular lenses give off retro vibes that look artistic and creative. Channel a classic cat eye shape or modern mirrored lens for a bold attitude.
Flattering on Many Face Shapes
Unlike some angular frames, rounds complement oval, round, heart, and square face shapes beautifully. Find the ideal size and shape to enhance your features.
Make a Statement
Choose a colored, patterned, or oversized round frame to be the focal point of your look. Show off your taste and stand out from the crowd.
Change Up Your Silhouette
Rounded frames create visual interest and contrast from the typical rectangular styles. Offering a new shape freshens up your accessory game.
Finding the Perfect Fit From Reputable Brands
Once you've decided on a style, consider fit and quality craftsmanship in your frames. Visit an eyewear retailer or optician to get professionally fitted. The weight should not leave indentations on your nose or ears.
Reputable sunglass companies known for round frames include:
Ray-Ban: The iconic Wayfarer has a timeless circular shape in various lens colors. Sturdy construction with quality metal hinges.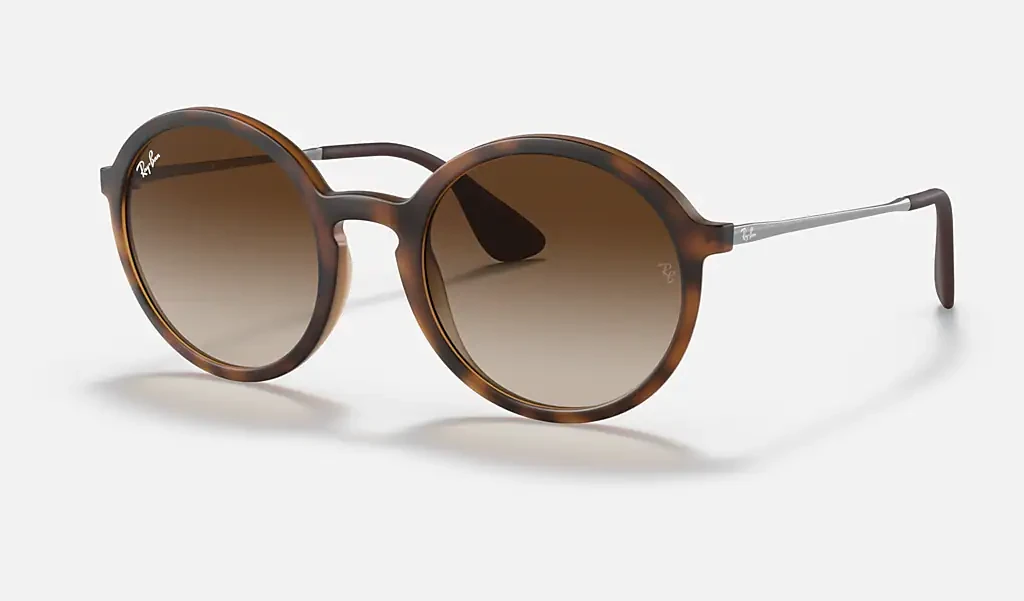 Check out these Ray Ban round sunglasses for women, model RB4222, here.
Prada: Invest in luxury with the Italian brand's chic embellished frames. Some feature crystals, studs, and the triangle Prada logo.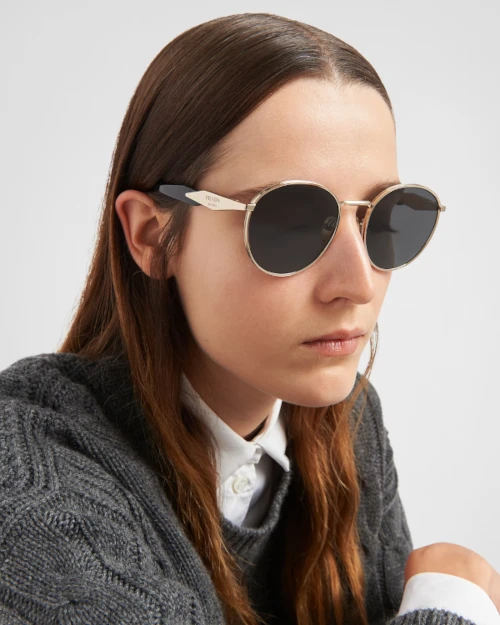 Check out these Prada round sunglasses here.
Gucci: Fashion-forward with interlocking G hardware. Often bold patterns, bright colors, or retro cat-eye shapes.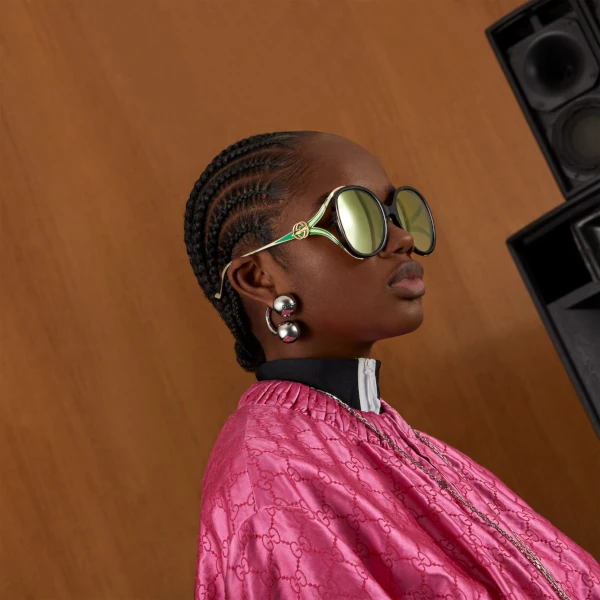 Check out these Gucci round-frame sunglasses here.
Kate Spade: Playful feminine styles like oversized black or tortoiseshell. Signature logo plaque on temple.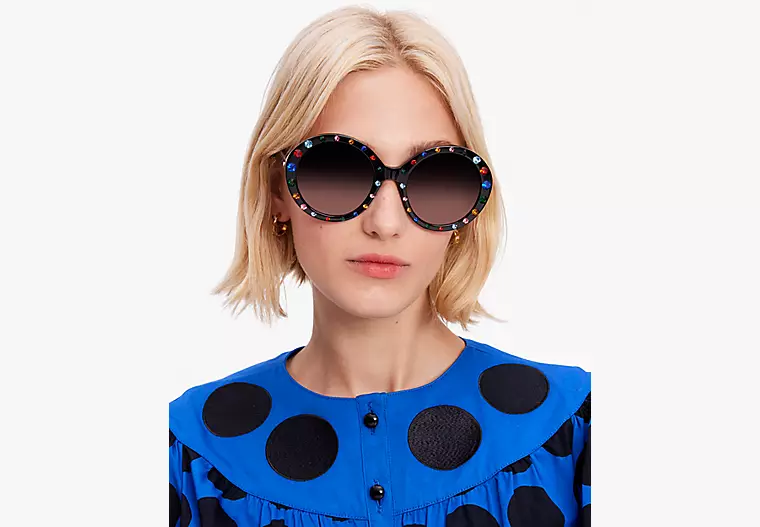 Check out these Kate Spade round sunglasses with crystals here.
Warby Parker: Trendy customizable frames without the designer price tag—many vintage-inspired round shapes.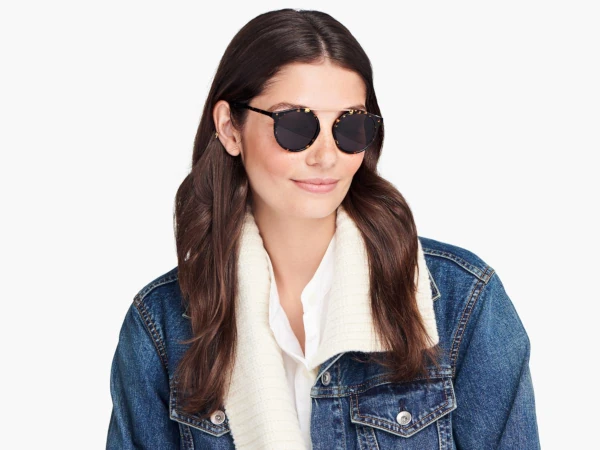 Check out these Warby Parker round sunglasses here.
Coach: Classic American brand known for leather goods with logo-detailed frames. Timeless oval and round styles.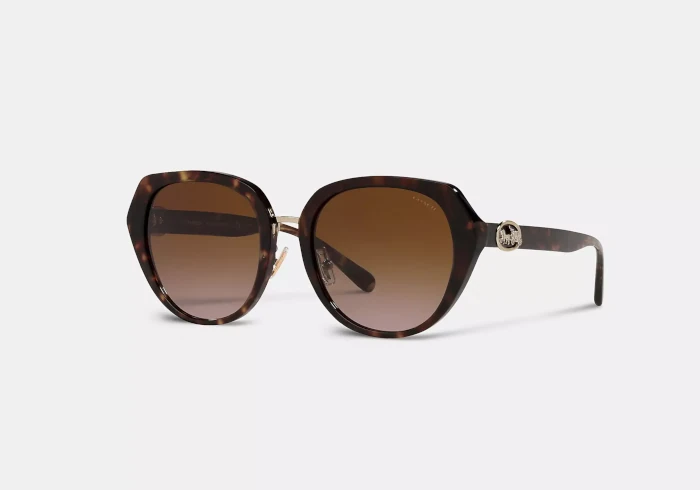 Check out these Coach oversized round sunglasses here.
Maui Jim: Specialize in high-tech lens technology to enhance colors and reduce glare—durable frames in classic circular shapes.

Check out these Maui Jim Polarized round sunglasses here.
Oakley: Sporty, lightweight round frames designed for athletic activities. Many offer UV protection.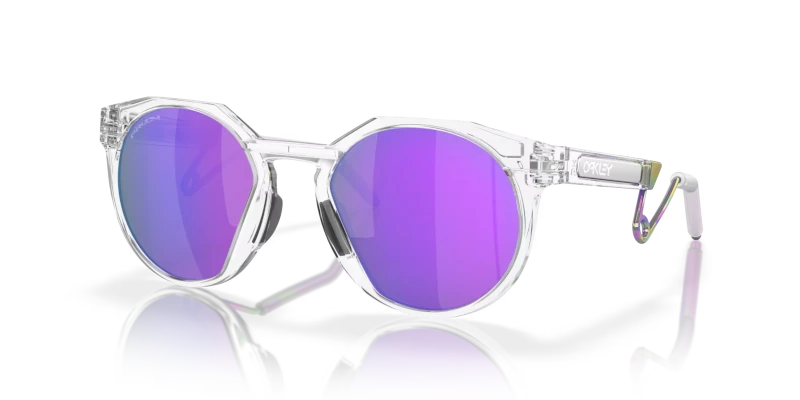 Check out these Oakley metal round sunglasses here.
Polo Ralph Lauren: Preppier circular frames with equestrian and polo inspirations. Signature pony logo on temples.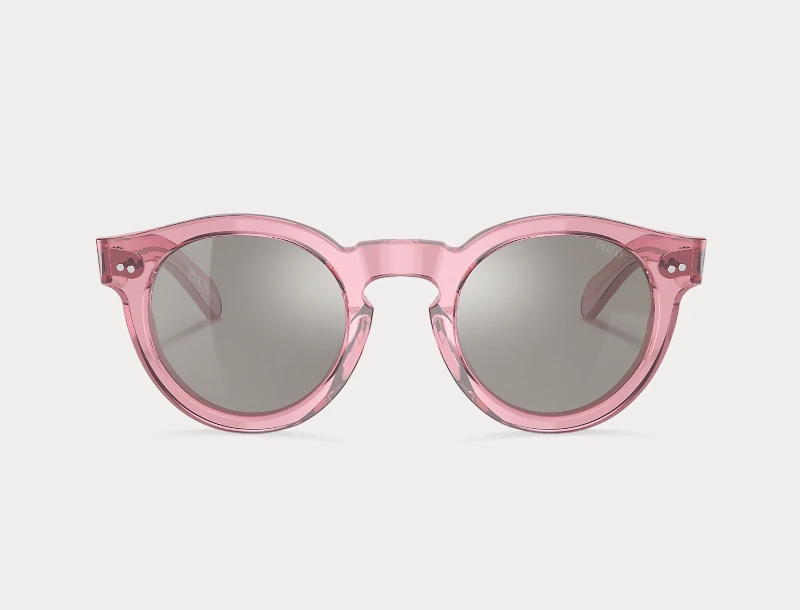 Check out these Polo Ralph Lauren pink round sunglasses here.
The range of quality brands offering round sunglasses ensures you can find the right fit and look for your lifestyle. Invest in pairs from reputable eyewear companies for the best construction and materials.
Determining the Ideal Round Frames for Your Face
Finding the perfect pair involves considering your facial shape, size, and proportions. You want frames that complement without overpowering your features.
For Oval Faces
With rounded edges and a balanced width-to-length ratio, oval faces can pull off nearly any circular frame. Feel free to experiment with oversized, slight, cat-eye, and colorful pairs to accentuate your proportions. Ovals look great in bold, angular styles as well.
For Round Faces
Those with complete, rounded face shapes will want to offset the softness with structured frame shapes. Cat-eye, rectangular, and smaller round styles work well. Look for frames that are a contrasting color or texture from your complexion.
For Heart-Shaped Faces
A heart face has dramatic width at the cheekbones tapering to a narrow chin. Round frames help soften the point of the chin beautifully. Mid-sized round or oval lenses best complement a heart shape.
For Square Faces
Sharp jaws and angles characterize a square face. Circular frames add softness and help round out the edges. Avoid extra large, oversized rounds that may overwhelm your proportions.
No matter your particular face shape, round frames likely have a silhouette to flatter it. Keep the size and shape of your features in mind to pick the most harmonious match.
Tips for Styling Round Frames for Any Outfit
The versatile, classic shape of round sunglasses complements dressy and casual looks. Here are styling tips for glamming up your outfit with circular frames:
For Everyday Casual Wear
Pair oversized rounds with jeans, tanks, and tee shirts for a relaxed weekend.
Contrast a bright-colored frame with neutrals for a focal point.
Go for petite wireframes with sundresses or skater skirts.
Add interest to a simple tee and shorts with mirrored lens versions.
Maximize boho vibes with printed skirts, wedges, and retro shades.
For the Office or Dressier Occasions
Choose thin wire or smaller rounds for balancing professional looks.
Metallic lenses or transparent frames subtly interest sheath dresses or pencil skirts.
Oversized options make a statement with maxi dresses or jumpsuits.
Complement florals and prints with tortoiseshell or two-toned round frames.
Play the retro vibe with cat-eye, vintage-inspired sunglasses, and red lipstick.
For Edgy, Modern Looks
Contrast feminine frames with leather moto jackets and facial piercings.
Pair colorful rounds with ripped skinny jeans and band tees.
Stack with layered necklaces and earcuffs for an urban edge.
Go for transparent pink or blue shades with cropped tops.
Add interest to plunging necklines and mini skirts with metallic frames.
For Athleisure and Sportswear
Small wire rounds suit yoga pants and leggings for grabbing coffee after.
Oversized black rounds look modern with athletic shoes and bomber jackets.
Bright colors pop against neutral gym clothes and sneakers.
Plastic frames won't break a sweat if worn while training.
No matter your plans, round frames can make the outfit with the proper styling. Get creative mixing feminine shades with edgy pieces or everyday basics.
Choosing the Best Frame Color, Shape and Details
From lenses to frame shape, the options are endless for customizing your round sunglasses. Consider what flatters your complexion and makes a unique accessory statement.
Frame Shapes
Classic circular metal or plastic frames
Cat-eye: Angled, pointed versions
Oval: Soften circular with oval lenses
Mirrored lens: Reflective colored or metallic
Two-toned: Mix colors like black and tortoiseshell
Lens Size Variety
Small: Subtle slim wire or rimless rounds
Medium: Balance proportions on petite faces
Oversized – Make a bold statement for more prominent faces
Combination: Mix lens shapes like round and cat-eye
Frame Colors
Neutrals: Black, brown, tan, clear frames for versatility
Metallics: Rose gold, silver, gold frames add glam
Accents: Go bold with white, red, pink, blue and more
Patterns: Tortoiseshell, stripe, cheetah and floral prints
Transparent: Modern colored clear or rainbow shades
Decorative Details
Studded trim: Dotted metal stud accents on plastic frames
Etching: Delicate engraved lines or shapes
Cut-outs: Add interest with small holes in frames
Jeweled: Subtle gems, rhinestones, or glitter on temples
hardware: Statement hinges, logo nameplates
With endless options for frames, lenses, colors, and shapes, express your style. Mix and match to find your signature look.
Caring Tips to Keep Round Frames Looking New
Keep your round sunglasses in tip-top shape with simple care:
Store in a protective case when not wearing to prevent scratches
Clean lenses with microfiber cloth and mild soapy water
Avoid contact with hairspray, perfume, and other chemicals
Use fitted sunglass straps to secure frames during activity
Have it adjusted by an optician if the fit becomes loose over time
See an optometrist yearly to update prescriptions if needed
Taking steps to clean, store, and protect your sunglasses helps retain their quality and appearance. Be gentle to prevent damaging fragile wire or plastic frames.
Stylish Round Sunglasses to Shop Now
Ready to add vintage inspiration to your accessory collection? Shop these recommended round frame styles:
Ray-Ban Erika Round: Chic oversized polished transparent frame.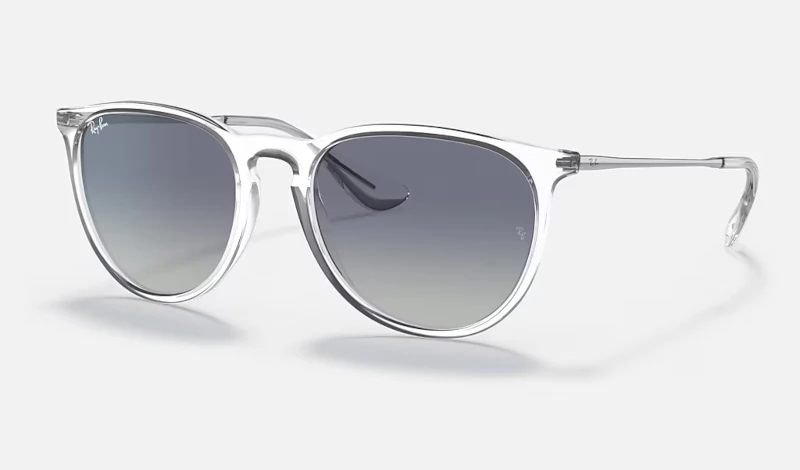 Check out this Ray Ban Erika Classic Exclusive here.
Gucci Round Sunglasses: Make a statement with the classic John Lennon round sunglasses.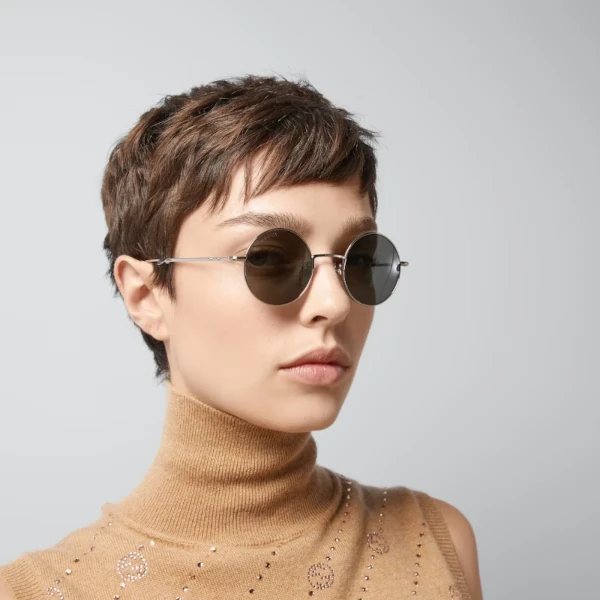 Check out these Gucci round silver sunglasses here.
Le Specs Air Heart: The best of both worlds – a fusion round and cat-eye shape. Retro glam.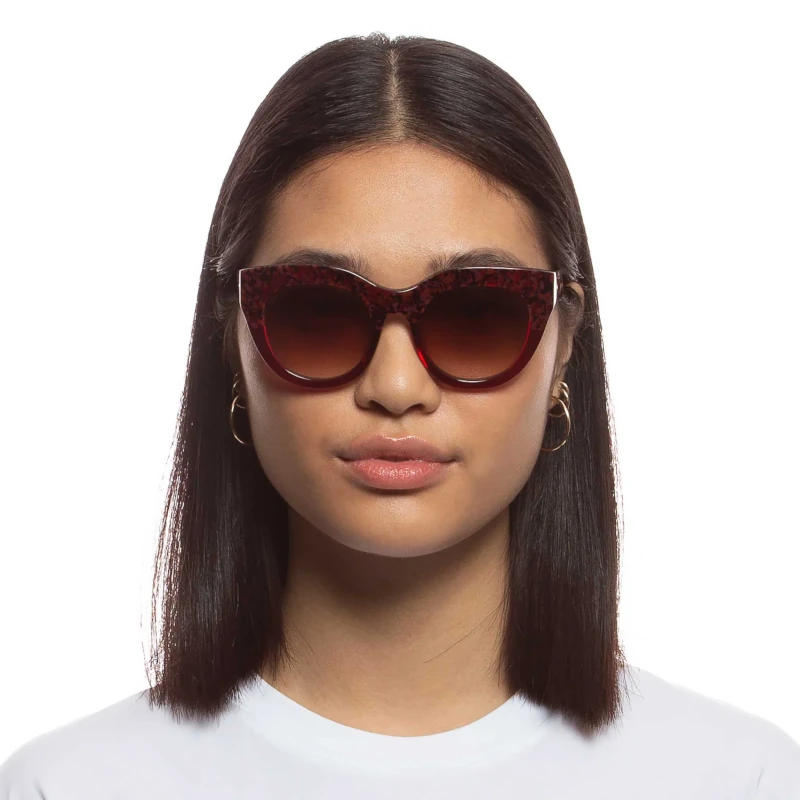 Check out these Le Specs Air Canary II Cherry Leopard sunglasses here.
Quay: Round gradient polarized round frame sunglasses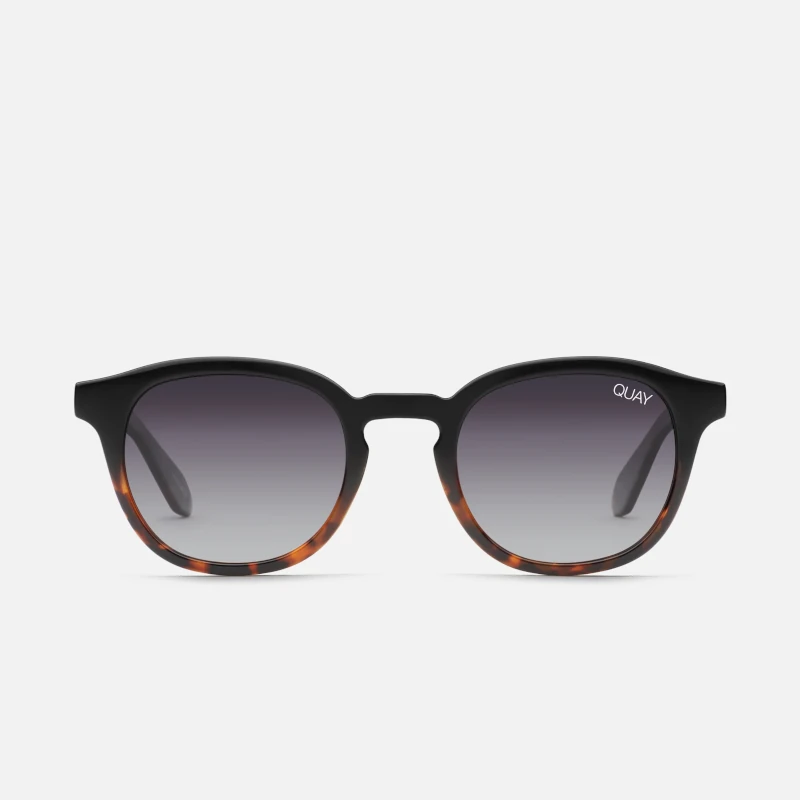 Check out these Quay round sunglasses here.
Thom Browne: Round sunglasses in gold-tone titanium with blue-tinted lenses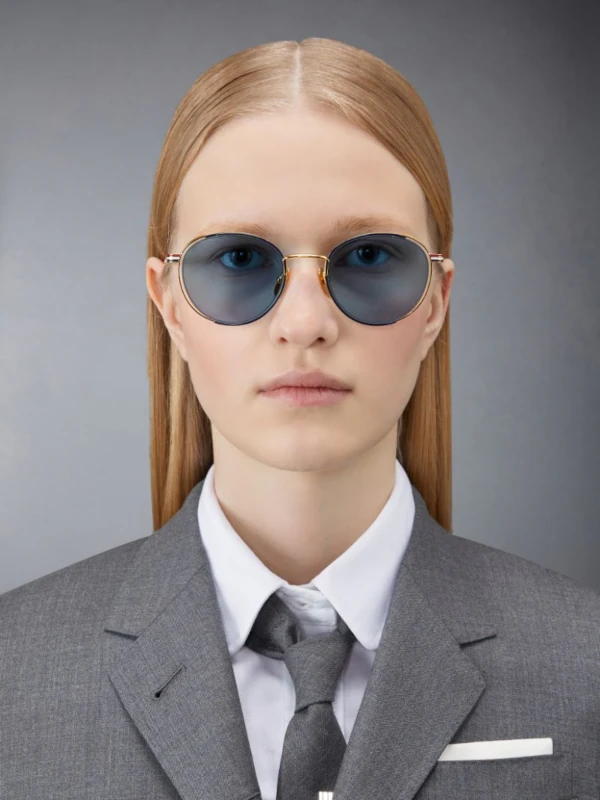 Check out these Thom Browne Round titanium sunglasses here.
FAQs About Round Sunglasses
What face shapes do round sunglasses suit?
Round frames look beautiful on oval, round, heart, and square face shapes. The circular silhouette complements most facial contours.
How do you style round sunglasses?
Style them casually with jeans or dresses. Go for boho-chic or retro-glam vibes. Add edge by pairing it with leather jackets. Choose bold colors for maximum impact.
Should round sunglasses be small or large?
This depends on your face shape. Larger rounds suit the oval and heart face well. Smaller lenses complement round and square faces best.
Are round sunglasses for women still in style?
Absolutely! The round frame is a timeless, artistic shape. From Jackie O to today's street style, this vintage look always goes in fashion.
Do guys wear round sunglasses?
Yes, round frames work for any gender. Many male celebs, including Johnny Depp, Brad Pitt, and John Lennon, have rocked the iconic circular shape. Styles with dark lenses or metallic accents add a masculine edge.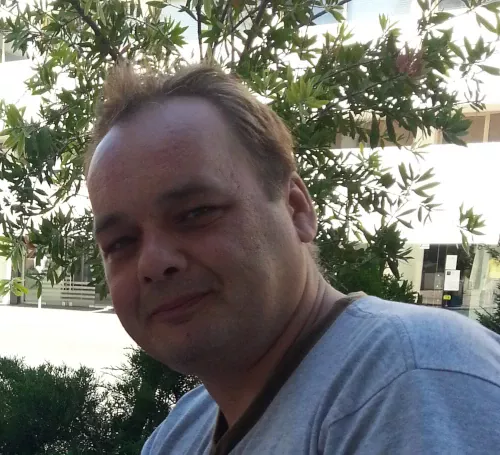 Pashalis Laoutaris
Fashion Blogger
I am a professional writer, fashion blogger, and owner of the site https://laoutaris.com. As a salesperson for more than 20 years, I have experience of 10 years in the fashion industry. I consider myself a true fashionista. I am writing daily blog articles about fashion, tools and converters, and everything you need to know about the current fashion trends.
Share this article
Our Latest Articles
Laoutaris Recommends