Invest in classic leather belts for women to instantly elevate your style. Here's how to choose the perfect leather belt to complete any outfit.
Table of Contents
The Takeaway
Investing in a few high-quality full-grain or top-grain leather belts in versatile colors is a decision your wardrobe will thank you for. This timeless accessory instantly elevates any outfit With options that suit casual days and professional looks. Follow the tips above to pick the perfect belt and adequately care for it; you'll be set for years to come.
What are Classic Leather Belts For Women?
Several key features define a high-quality leather belt:
Simple, minimalist hardware without any overly embellished details. The focus should be on the leather.
They are constructed from top-tier full-grain or top-grain leather for durability. Quality materials are essential.
Neutral and versatile coloring like black, shades of brown, tan, or honey.
Standard widths between 1 and 1.5 inches work well for casual and dressy looks.
Classic buckle shapes include rounded, square, rectangular, oval, or simple logo engraved styles.
By sticking to these design features, leather belts for women achieve a clean, refined, and timeless look that transcends seasonal trends.
Why Invest in a Quality Leather Belt?
There are many reasons why genuine leather surpasses synthetic belts:
Extremely Durable and Long-Lasting
Full-grain and top-grain leathers can often last for decades or even a lifetime if cared for properly. The natural materials develop character as they age. A good leather belt only needs to be bought once.
Improves With Age
As high-quality leather ages, it develops a patina or luster that adds depth. This gives the belt personality and makes it feel special.
Suitable For Any Occasion
From casual everyday outfits like jeans and a tee to dressy professional looks, leather belts for women transition seamlessly. It is the definition of a versatile accessory.
Cinches and Flatters the Figure
The suitable leather belts for women highlight the smallest part of the waist to create those coveted hourglass proportions. It provides shape and structure to loose silhouettes.
A Timeless Classic That Never Goes Out Of Style
Clean and straightforward leather belt designs remain perennially stylish. The look easily transcends fleeting seasonal fashion trends.
How to Choose the Perfect Leather Belt
Consider the following characteristics when shopping for timeless leather belts for women:
Types of Leather
Whole Grain: This is leather in its purest form. It comes from the top outer layer of the hide and is the highest quality and most durable option that will age beautifully.
Top Grain: This leather sands the split layer to create uniform consistency. Whole grain is also of excellent quality and longevity.
Genuine Leather: This is lower-quality leather from the lower layers of the hide. Durability is questionable.
Hardware
Silver, Gold, Gunmetal: Opt for neutral metallic buckle hues to match with all accessories.
Size: Pay attention to reviews and sizing guides. You may need a few extra holes punched for a custom fit.
Width Options
1 to 1.5 inches: This standard width complements dressy and casual looks easily.
Wider Widths: Go for bolder wide belts around 2 inches for statement styling.
Slimmer Widths: Try 3/4 to 1 inch for a laidback casual vibe.
Colors
Black, Brown, and Tan: These three hues match nearly any outfit while looking polished. They are easy to integrate into your wardrobe.
Burgundy, Navy, Grey: For those who like to branch out into versatile colors beyond the basics.
Metallics: Champagne, gold, and silver leather add glam for formal occasions.
10 Must-Have Classic Leather Belts for Women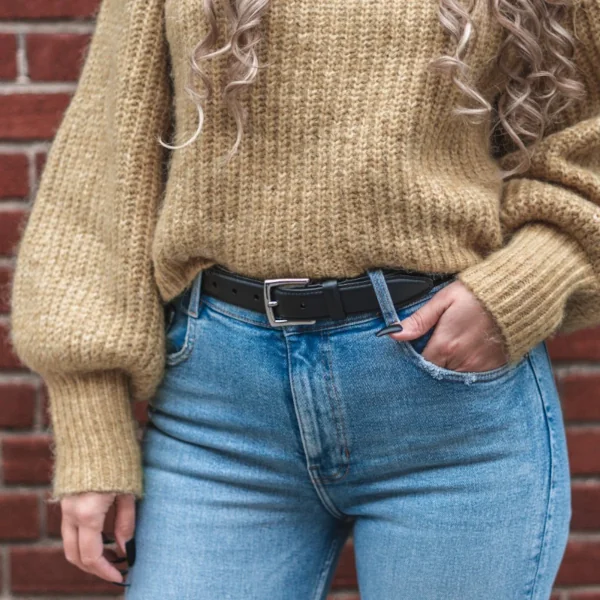 Versatile Minimalist Single-Prong Design, check it here.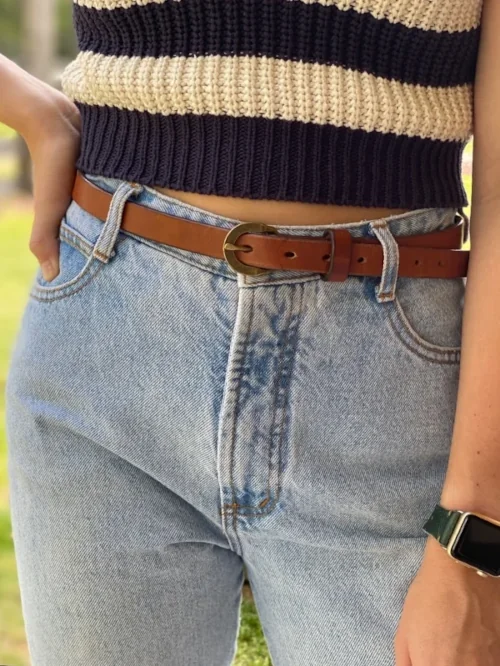 A slimmer 3/4″ wide belt made from soft top grain leather in a light brown hue. Perfect for lending casual flair to jeans, flowy dresses, or sweaters.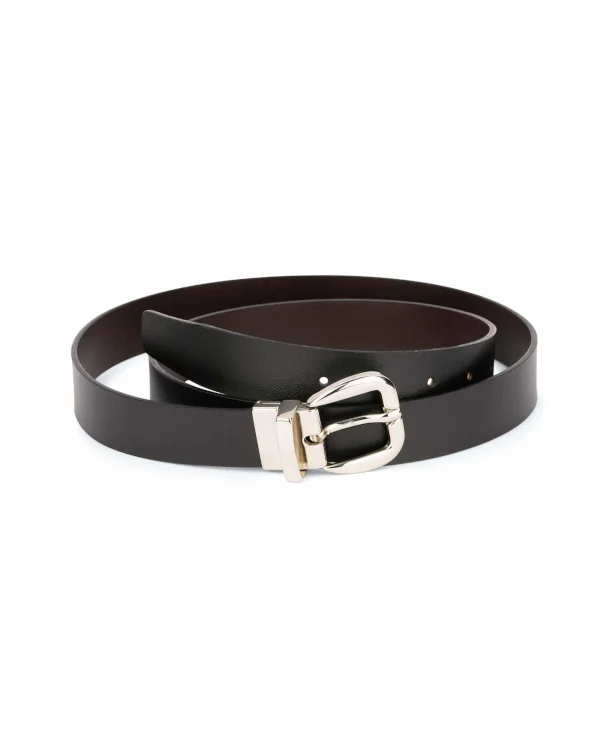 Check out this reversible black-brown leather belt here.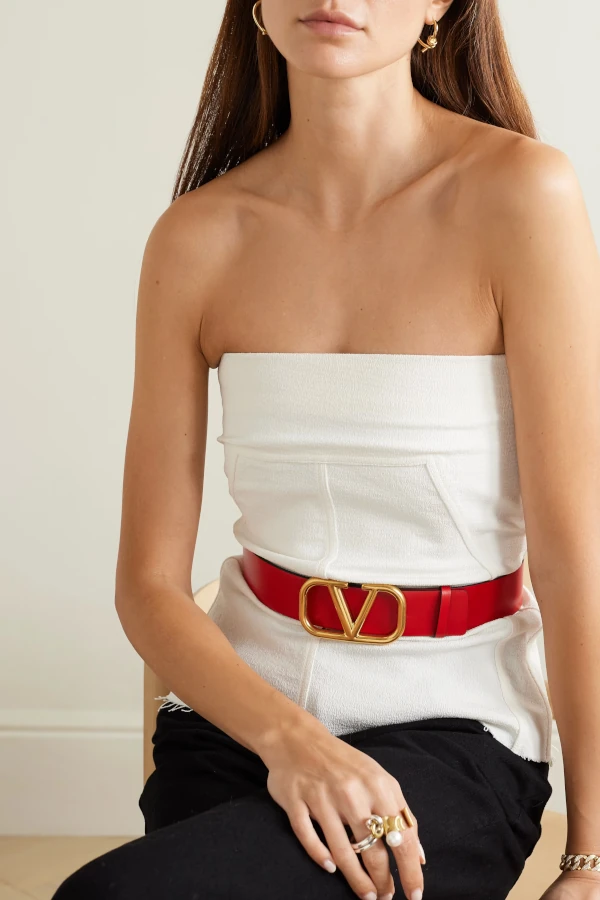 Check out this Valentino Garavani reversible black-red leather belt here.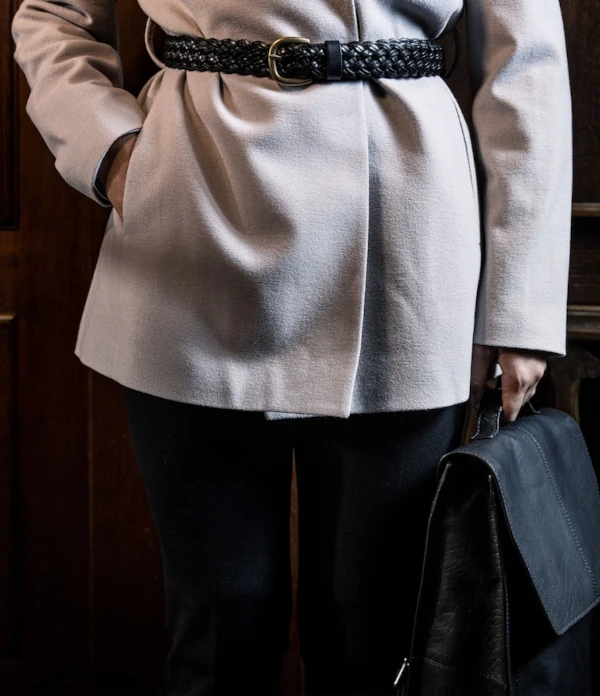 Check out this braided black leather belt here.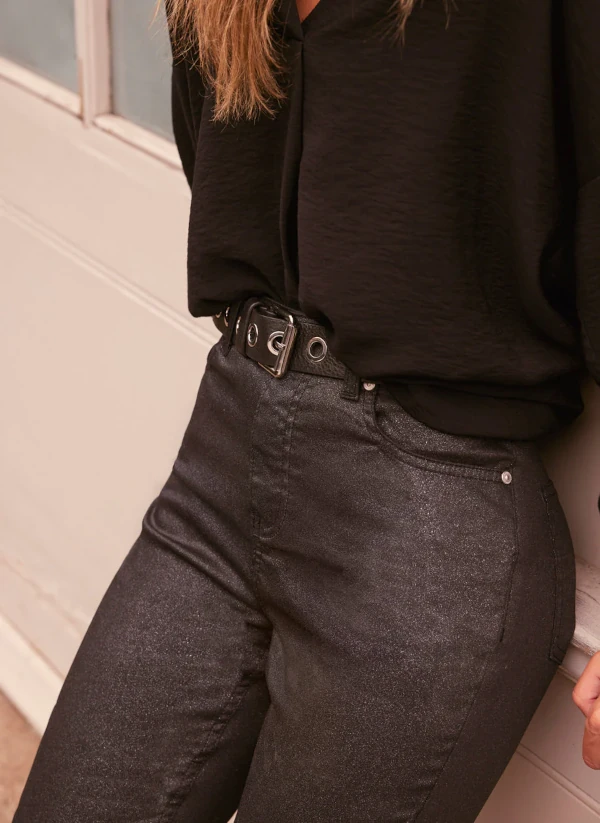 Check out this black eyelet leather belt here.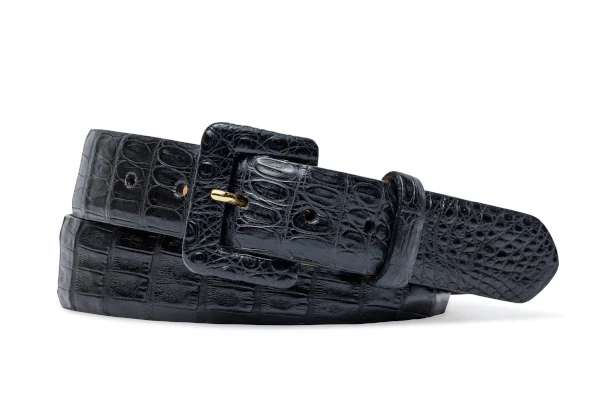 Check out this Caiman Crocodile Belt with Covered Buckle here.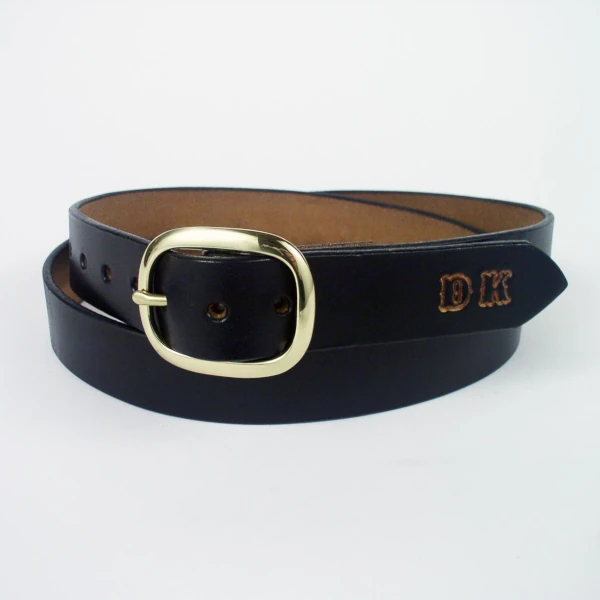 Check out this Custom Leather Belt With Initials here.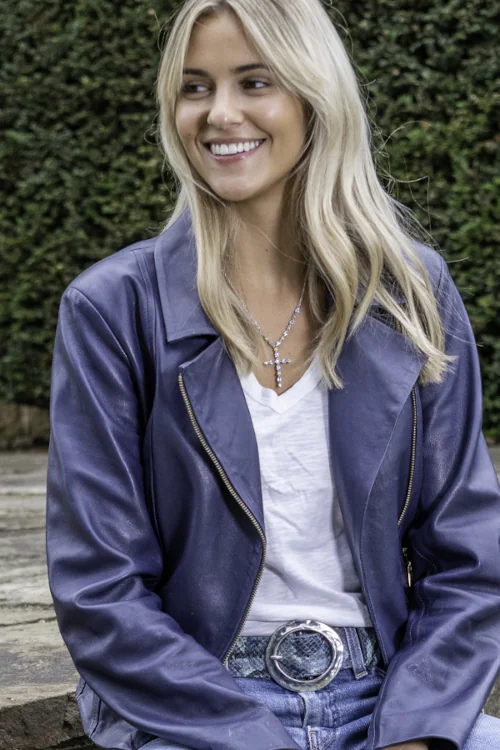 Check out this Blue Snakeskin leather belt here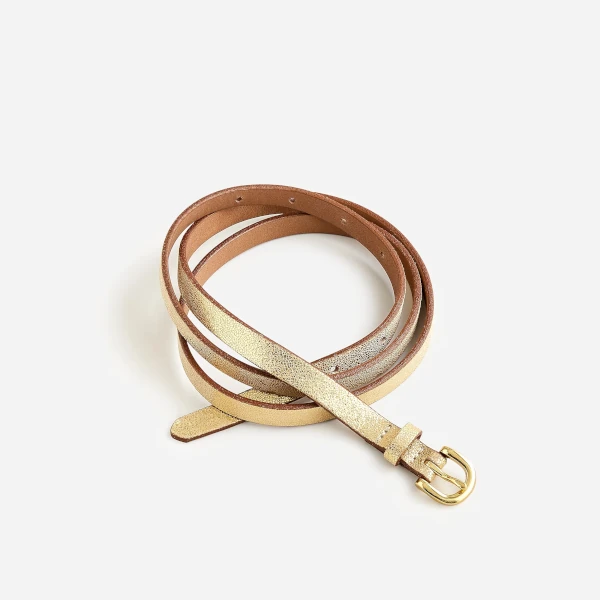 Check out this Skinny metallic Italian leather belt here
Style Your Leather Belt Like a Fashion Editor
Use these expert styling tips:
Match the leather belt color to your shoes. This instantly pulls the look together.
Make sure belt metals like the buckle coordinate with other accessories. This creates a cohesive overall aesthetic.
The perfect fit should allow the belt to lay comfortably at your waist without squeezing too tight.
Position the belt at the top of your hip bones rather than too high on the waist or too low near the hips. Find the proper placement for your body.
Cinch in the waist of otherwise loose dresses, flowy blouses, or oversized sweaters. This defines the silhouette.
If the belt is too long, let the extra length hang loosely rather than looping it back around a second time. This looks more elegant.
Caring for Your Investment Leather Belt
With proper care, leather belts for women will only improve with age:
Storage: Hang the belt up or coil when unused rather than folding or bunching, which can crack the leather.
Cleaning: Gently wipe with a damp cloth to clean. Avoid fully submerging leather in water.
Conditioning: Use leather oils or creams periodically to moisturize and maintain quality.
Repairs: Take to a professional cobbler for any needed repairs. Do not try to punch new holes yourself.
Following these care instructions will preserve your belt for decades to come!
Frequently Asked Questions about Leather Belts For Women
What width of belt should I buy?

Stick to standard widths between 1 and 1.5 inches wide for maximum versatility across outfits. This range complements everything from weekend jeans to professional work looks.

What color or shade of leather belts for women is most accessible to style in my wardrobe?

You can't go wrong with versatile neutrals like black and shades of brown, from light tan to dark chocolate, caramel, chestnut, or honey. These colors effortlessly match a wide range of outfit combinations.

Should I splurge for genuine leather over faux options?

Genuine full-grain or top-grain leather is the best investment if longevity is important. Well-made genuine leather far outlasts cheaper bonded, pleather, and other synthetic belt materials.

What are your top tips for making a quality leather belt last longer?

Properly storing, occasionally conditioning, avoiding excess water damage, and taking belts to a professional cobbler are all great ways to extend the lifespan of a leather belt so it can serve you well for years to come.

What types of outfits can you wear a leather belt with?

Leather belts for women complement nearly anything in your closet, from dresses to jeans or slacks. Try a slimmer belt width for casual ensembles like jeans, a tee, or a sweater. Classic widths between 1 and 1.5 inches add polish for professional office looks or dressier pieces.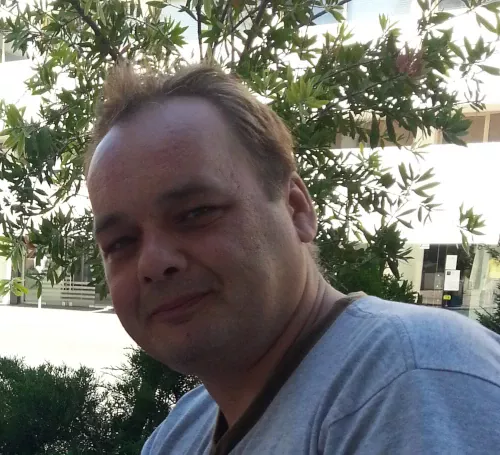 Pashalis Laoutaris
Fashion Blogger
I am a professional writer, fashion blogger, and owner of the site https://laoutaris.com. As a salesperson for more than 20 years, I have experience of 10 years in the fashion industry. I consider myself a true fashionista. I am writing daily blog articles about fashion, tools and converters, and everything you need to know about the current fashion trends.
Share this article
Our Latest Articles
Laoutaris Recommends