Discover the top 10 reasons why fedora hats for women are the must-have accessory in 2024 – from sun protection to instant style upgrade and versatility.
Table of Contents
The fedora hats for women are a timeless accessory that adds instant polish and panache to any outfit. With its distinctive creased crown and wide brim that can be snapped up or down, the fedora exudes retro charm. While the fedora originated as a men's style, women have embraced this chic hat wholeheartedly.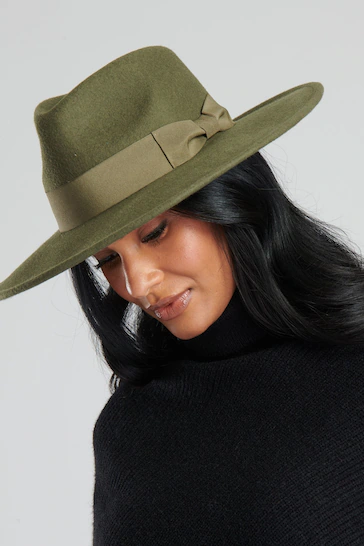 Check out this Wool fedora hat for women here.
A fedora perched on your head lends a touch of sophistication. The flattering shape beautifully frames the face. Fedoras also provide practical sun protection for your complexion. With so many options for styling fedoras today, every woman can find a look that suits her taste. Keep reading to discover everything you need to know to rock a fedora hat!
What are Fedora Hats for Women?
A fedora is defined by its structured creases in the crown and the wide brim encircling it. The visor can be snapped down to shade the eyes or tipped up to let light in. A hatband wraps around the base of the crown, usually made of leather or grosgrain.
While similar styles like the trilby and Panama hats share some elements, the fedora stands apart with its unique pinches and creases in the crown. The fedora crown typically has a dent running down the center front to back.
Origins and History
The fedora's journey to becoming an American fashion staple is intriguing. In the late 19th century, the fedora originated as a women's hat style called the "Fedora" in a play of the same title. It evolved into a famous men's hat style by the early 20th century.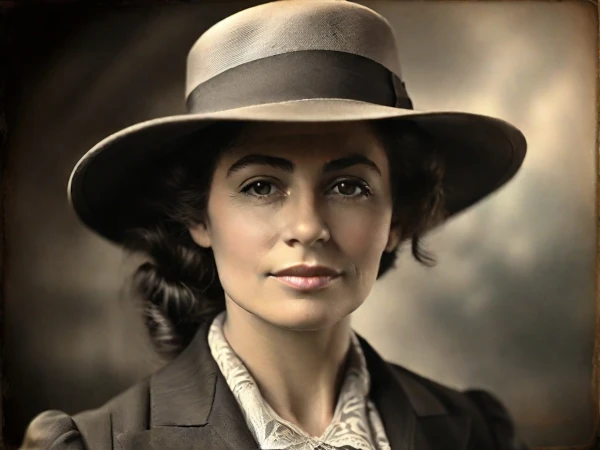 Hollywood stars and gangsters donned the stylish fedora in the 1920s/30s, cementing it as an essential masculine wardrobe. However, women also sported fedoras with class during the first half of the 20th century.
Fedoras faded from fashion in the 1960s and 70s but returned with a vengeance in the 80s and 90s. Women in modern times wear fedoras with confidence and flair. The fedora endures as a versatile accessory that transitions seamlessly with the times.
Key Components of Fedora Hats for Women
The distinctive shape gives the fedora its signature flair. Here are the essential elements that distinguish an actual fedora:
Crown – The crown is the top portion of the hat that fits around your head. Fedora crowns have defined creases and pinches, often with a center dent. The front of the crown is usually slightly taller than the back.
Brim – A wide brim trims the bottom edge of the crown. Most fedora brims span 2.5 to 5 inches wide. Options include a stiff, structured brim or a soft, floppy one.
Hatband – A band wraps around the base of the crown. Traditionally made of leather or grosgrain ribbon, hatbands can be solid, patterned, or textured.
Styles of Fedora hats for women
While all fedoras share common traits, they come in style variations. Popular types of fedoras include:
Classic Fedora – This style has a wide brim and a center dent in the crown. The sides are pinched into distinctive shapes—an iconic fedora style.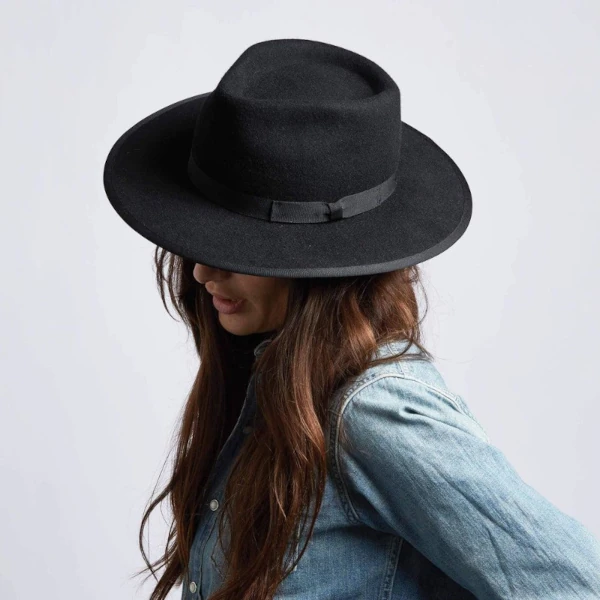 Check out this Women Wide Brim Felt Fedora Hat here.
Pinch Front Fedora – As the name implies, the very front of the crown features a firm pinch or crease down its center. The rest of the height lacks dents or creases.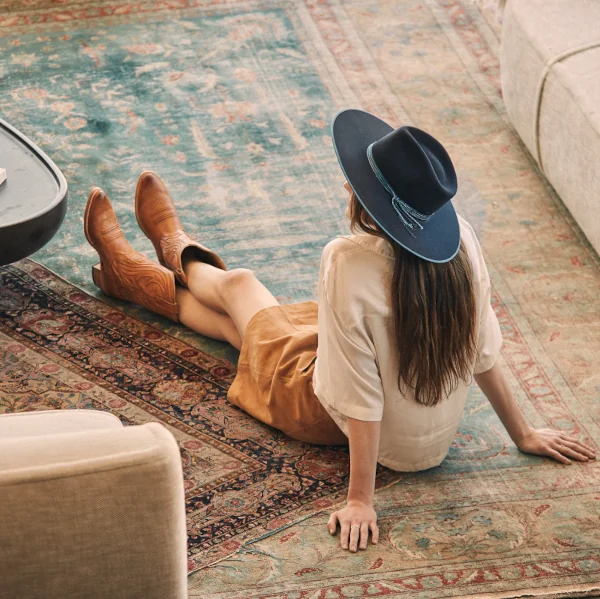 Check out this Stetson fedora navy-colored hat here.
Stingy Brim Fedora – This fedora has a very narrow brim, typically less than 2 inches wide. The skinnier brim gives it a sleek, sharp silhouette.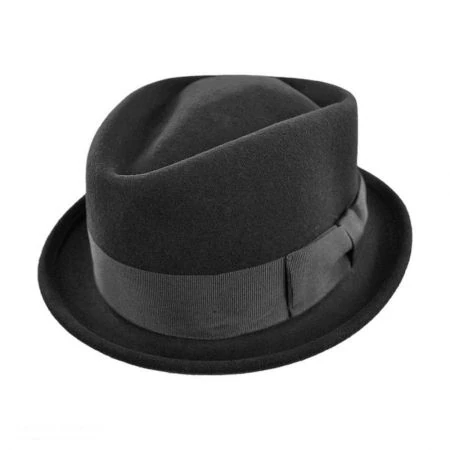 Check out this Stingy-brim fedora hat here.
Benefits of Wearing Fedora Hats for Women
Why should fedora hats earn a place in your wardrobe? Here are some excellent reasons to give this stylish headwear a try:
Sun Protection – With a wide brim that extends beyond your face, a fedora shades your delicate facial skin from harsh UV rays. The visor keeps direct sunlight off your eyes.
Instantly Elevates Outfits – Pop a fedora on; any ensemble immediately looks more polished and put-together. The fedora gives off an air of retro sophistication.
Versatility – Due to their classic elegance, fedoras work for dressy occasions and transition to casual everyday wear. Dress them up or down seamlessly.
Flattering Shape – The fedora's downturned brim beautifully frames the upper face. The silhouette is universally wearable.
Makes a Statement – When you wear a fedora, you mean business—Fedora projects confidence and swagger for the woman who knows her style.
In short, the fedora is much more than just a functional article of clothing – it's an attitude and lifestyle. Wearing a fedora expresses your bold spirit.
How to Wear Fedora Hats for Women Like a Pro
Ready to make a statement with a fedora? Follow these expert style tips to pull off your fedora with confidence and flair:
Positioning the Fedora
The way you position your fedora makes a difference in your overall look:
Tilting the Brim – Angling the brim slightly off-center looks chic. It can create an asymmetrical effect on your features.
Wearing it Straight – For a direct, stony-faced gaze, position your fedora with the brim resting evenly across your brow.
Towards the Back – Wearing your fedora pushed back exposes more of your face. Better for flaunting your features.
Forward on the Brow – Lowering the fedora over your eyebrows adds mystery and shadows your eyes in a sultry way.
Snapping Up the Brim
Another option is snapping up one side of the brim for a casual flair or leaving both sides down for full sun coverage:
Snap Up Just One Side – Flipping up only one side of the visor lends a relaxed vibe.
Snap Both Sides Up – For maximum sun exposure without removing your hat, snap skyward on both sides of the rim.
Leave the Brim Down – With the brim resting level all around, your face stays shaded and protected.
Coordinating Colors
Choose a hatband that aligns with your outfit palette for a cohesive look:
Match Hatband to Outfit – Select a black hatband if wearing black and white. For neutrals, brown leather.
Complementary Colors – With a red dress, try a navy blue hatband. For prints, pick out one color.
Contrasting Colors – Make the hatband a bright pop of color against neutrals.
Style Dos and Don'ts
Follow these fundamental fedora styling guidelines:
DO:
Choose the right hat size – snug but not painfully tight.
Opt for simple accessories like sunglasses, not chunky jewelry.
Apply makeup with a light hand so it doesn't clash with the hat.
DON'T:
Wear a fedora to intensely formal events like weddings. Too casual.
Style with messy hair that frays out from under the hat. Looks unkempt.
Overload a look with multiple statement hats or accessories.
Outfit Ideas with Fedora Hats for Women
Fedoras complements virtually every style. Here are outfit formulas to inspire you:
With Dresses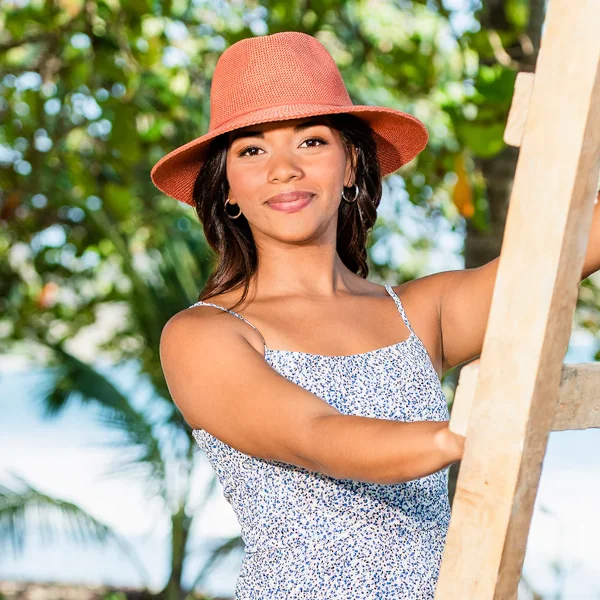 Check out this Fedora straw hat here.
Fedoras pair perfectly with dresses for ladylike flair:
Casual Day Dresses – A breezy floral dress + denim jacket + fedora + sandals
Work Dresses – Sheath dress + blazer + classic fedora + pumps
Maxi Dresses – Flowy maxi + fedora + pendant necklace + wedges
Cocktail/Party Dresses – Sequined shift dress + fedora + strappy heels + red lips
With Jeans & Tees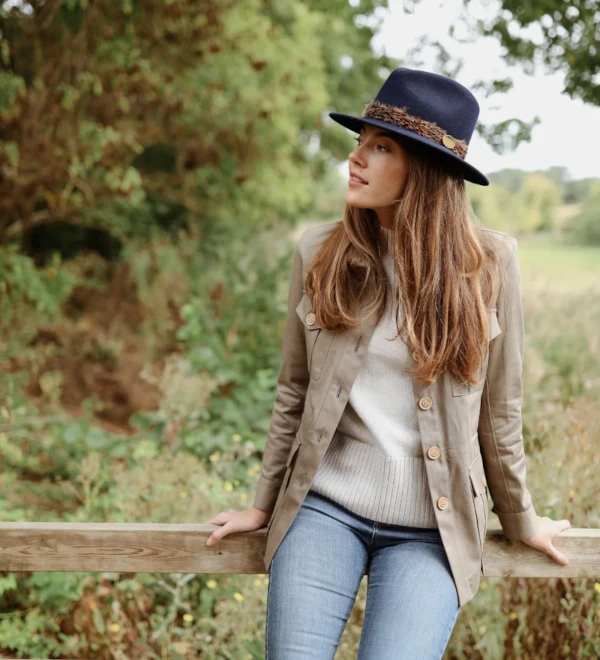 Check out this Navy blue fedora feather hat here.
For weekends and laid-back days, try:
Cropped jeans + graphic tee + lace-up booties + slouchy fedora
Boyfriend jeans + off-the-shoulder top + espadrilles + straw fedora
Ripped skinny jeans + tank top + moto jacket + felt fedora
With Jumpsuits & Rompers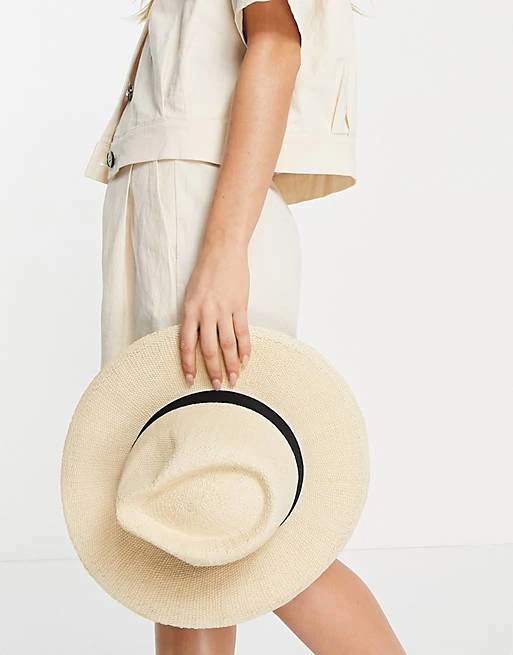 Check out this Fedora straw hat with a black band here.
Streamline your silhouette with the following:
Denim romper + strappy sandals + classic fedora + crossbody bag
Wide-leg jumpsuit + wedge sandals + floral fedora + chandelier earrings
With Tailored Looks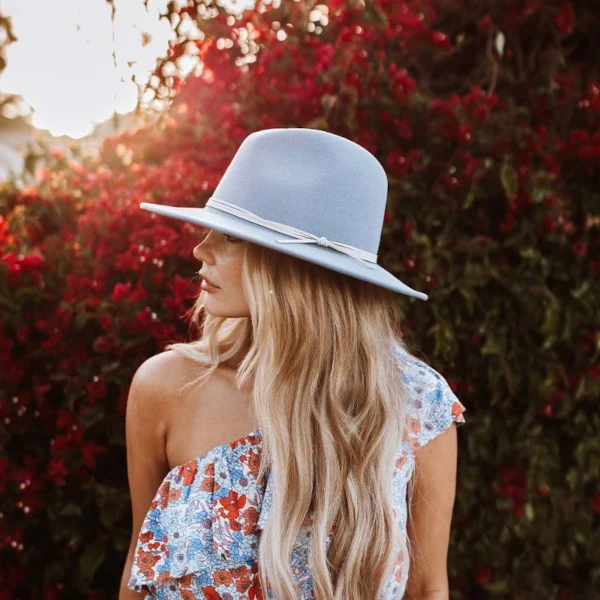 Check out this Wool fedora hat with a wide brim here.
For sharper, polished vibes:
Printed blazer + cigarette pants + silky cami + stingy brim fedora + red lip
Pleated slacks + silk top + ballet flats + pinch front fedora
With Swimsuits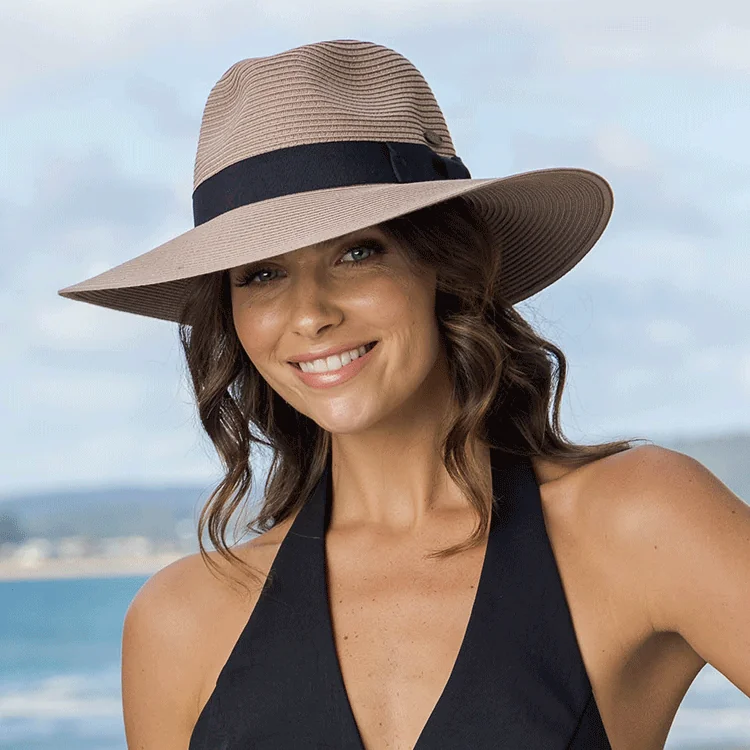 Check out this Wide-brim fedora hat here.
Make your poolside attire ultra-glam with:
One-piece swimsuit + fedora + sarong + oversized shades
Bikini + kimono coverup + woven fedora + sandals
Formula for Any Outfit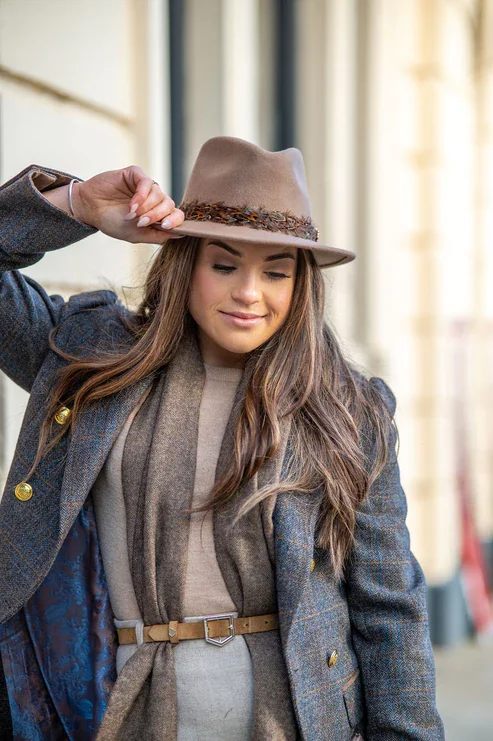 Check out this Fedora hat in mink here.
The basic formula includes:
Bottom – Jeans, pants, skirt, shorts
Top – Blouse, tee, tank, sweater
Shoes – Booties, sandals, sneakers
Fedora – Felt, straw, wool, style of your choice
Optional extras – Jacket, jewelry, bag, sunglasses
Just dress as usual, then add a fedora to amp up your look instantly!
Buying Fedora Hats for Women
Ready to buy your first fedora or expand your collection? Keep these tips in mind:
Choose Flattering Styles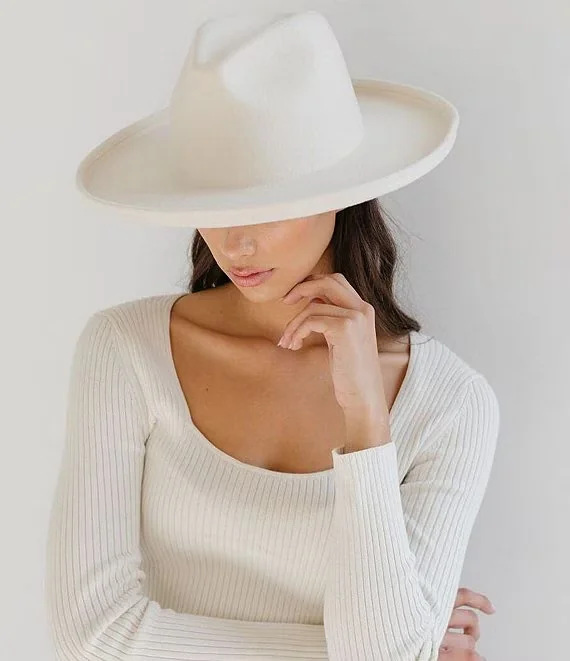 Check out this pencil-brim wool Fedora Hat here.
Consider your face shape when selecting fedoras. Different proportions complement different features best:
Oval face – Any fedora style flatters oval shapes. Go bold with wide, floppy brims if desired.
Round look – Angular fedoras with stiffly structured brims and high crowns add length.
Heart face – Opt for low-set heights that won't overwhelm delicate facial features.
Square look – Soften square jaws with round, low-set peaks and slightly curled brims.
Size It Right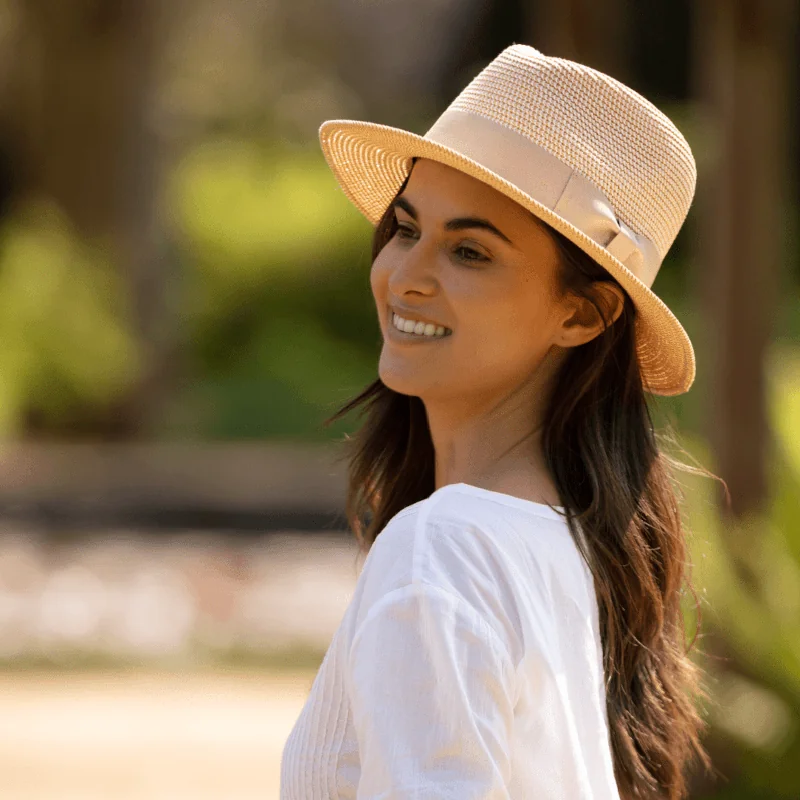 Check out this Straw Fedora Summer Hat with a Light Brown Band here.
Measure your head circumference to get the ideal fedora size:
Have a friend measure around your head about 1 inch above your eyebrows.
Round the measurement down to the nearest quarter inch.
Refer to the store's hat sizing chart to pick your size.
The band should fit snugly but not painfully tight. Your fedora should stay upright and stay upright.
Material and Color Considerations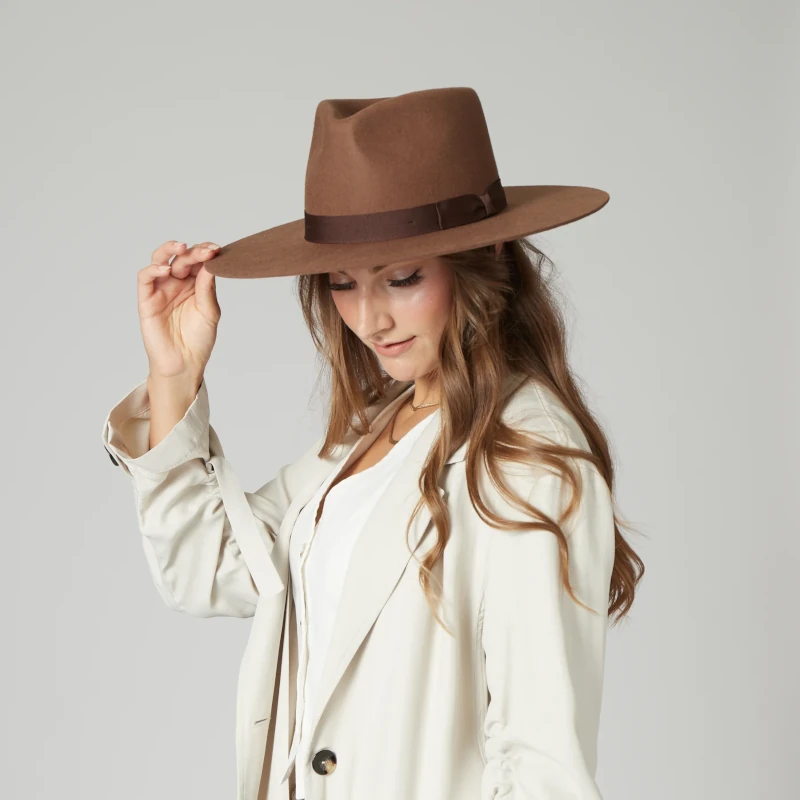 Check out this Wool fedora hat with bow trim here.
Fedoras come in diverse materials and hues to match personal style:
Materials – Wool, cotton, linen, leather, fur felt, straw
Colors – Black, brown, tan, grey, white, pastels, bold brights
Neutral earth tones suit most outfits. Pick vivid colors to make the hat a statement.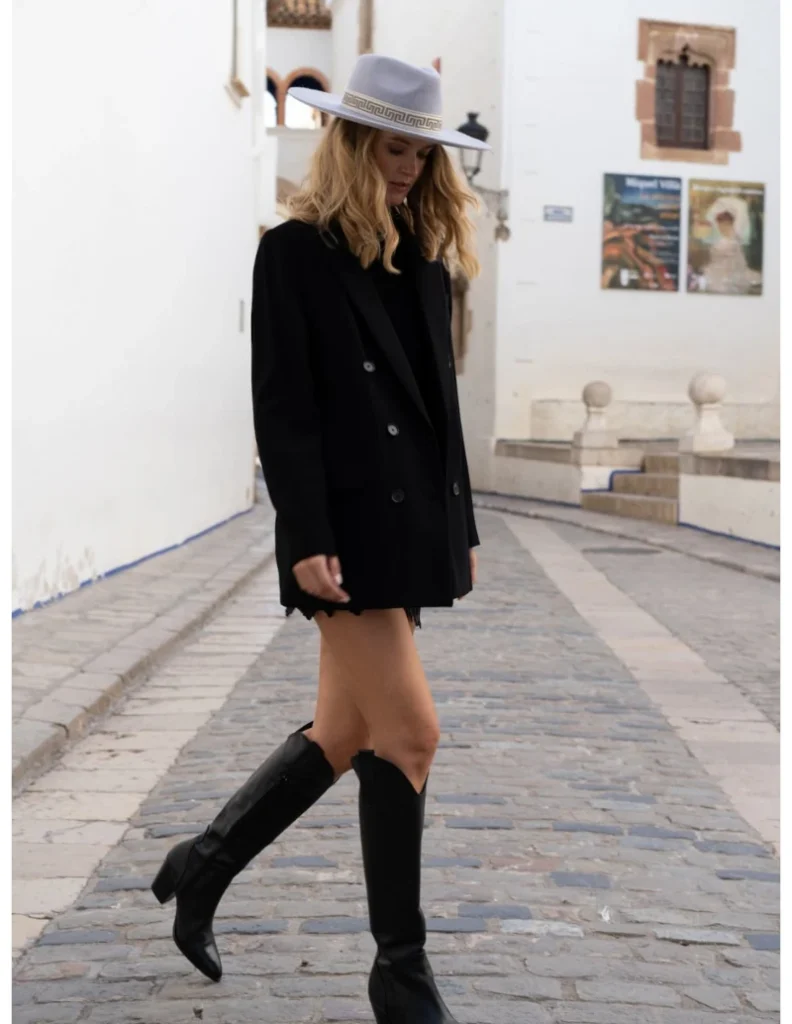 Check out this Fedora hat with a wide brim here.
Quality Brands to Try
Invest in a quality fedora from reputable hat makers like:
Well-crafted fedoras maintain their shape and last for years.
Caring for Fedora Hats For Women
Fedoras require some special care. Follow these tips to keep your hat looking its best:
Storage
Store fedoras on a hat stand or shelf, not stuffed in a drawer or lying flat. The shape can get crushed.
Fill the inside of the crown with tissue paper if you are not wearing it regularly. This absorbs moisture and holds the form.
For traveling, use a hat box—pad with tissue paper and stuff the crown with more tissue.
Cleaning
Spot clean felt fedoras with a small brush and fabric shampoo as needed. Avoid submerging in water.
Wipe away dirt and sweatbands with a damp cloth for straw fedoras.
Seek professional steam cleaning every year to remove embedded dirt and restore shape.
Reshape dented crowns by steaming them with a garment steamer.
Weatherproofing
Waterproof wool or felt fedoras with a silicone-based fabric protector spray. Reapply every few months.
Secure with a hat clip or chin strap when wearing on windy days.
You should enjoy it for many stylish seasons by caring for your fedora correctly!
Fedora Hats for Women FAQs
Are fedora hats for women in style?

Yes, fedoras are a classic accessory that always comes back in vogue—the proper fedora flatters most face shapes. Feel confident the fedora will complement your look, not distract from it.

When should you wear a fedora hat?

Fedora hats for women transition seamlessly from day to night. Wear them to the office, weekend brunch, date night, or the beach. Use neutral colors like tan, brown, black, or white for versatility.

What do you wear with a fedora?

Fedoras pair well with casual everyday outfits and dressy ensembles. Try wearing one with jeans and a tee or sundress for a weekend look. Or style with a blazer and trousers for polished workwear.

How do you keep a fedora hat from blowing away?

Secure it in windy weather by attaching a chin cord. Tie it snugly under your chin. You can also use small plastic adjusters that clip the sides of the brim together underneath to keep the hat in place.
Conclusion
The fedora hats for women deliver a glamorous punch to any outfit when styled with attitude. Follow our guide to find a fedora that complements your look. Tilt, angle, and snap the brim to customize your flair.
Most importantly, confidently wear your fedora to show the world you relish your style. Let your creative spirit shine through this iconic hat. The options are endless when you incorporate the fedora into your wardrobe!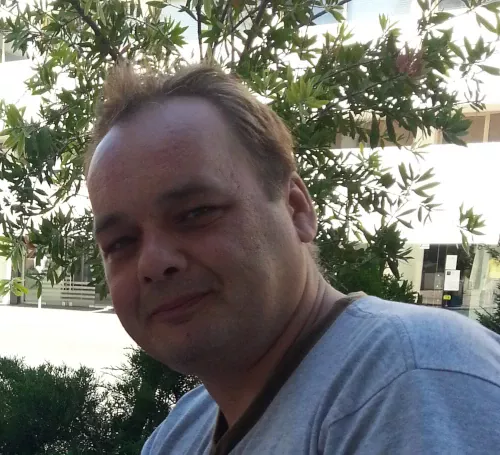 Pashalis Laoutaris
Fashion Blogger
I am a professional writer, fashion blogger, and owner of the site https://laoutaris.com. As a salesperson for more than 20 years, I have experience of 10 years in the fashion industry. I consider myself a true fashionista. I am writing daily blog articles about fashion, tools and converters, and everything you need to know about the current fashion trends.
Share this article
Our Latest Articles
Laoutaris Recommends