Vintage rings for women are seeing a significant resurgence in popularity, especially among women looking for unique, statement pieces.
Table of Contents
While modern ring designs certainly appeal, vintage rings possess an old-world charm and enduring allure that reflects eras of classic style. From dainty Victorian filigree to bold Art Deco geometry, vintage rings evoke a sense of nostalgia and add character to any jewelry collection.
What Makes a Ring Vintage
So what exactly makes a ring "vintage"? Here are some guidelines:
Antique rings are 100 years old or more. Rings from the Victorian, Edwardian, and Art Nouveau eras fall into this category.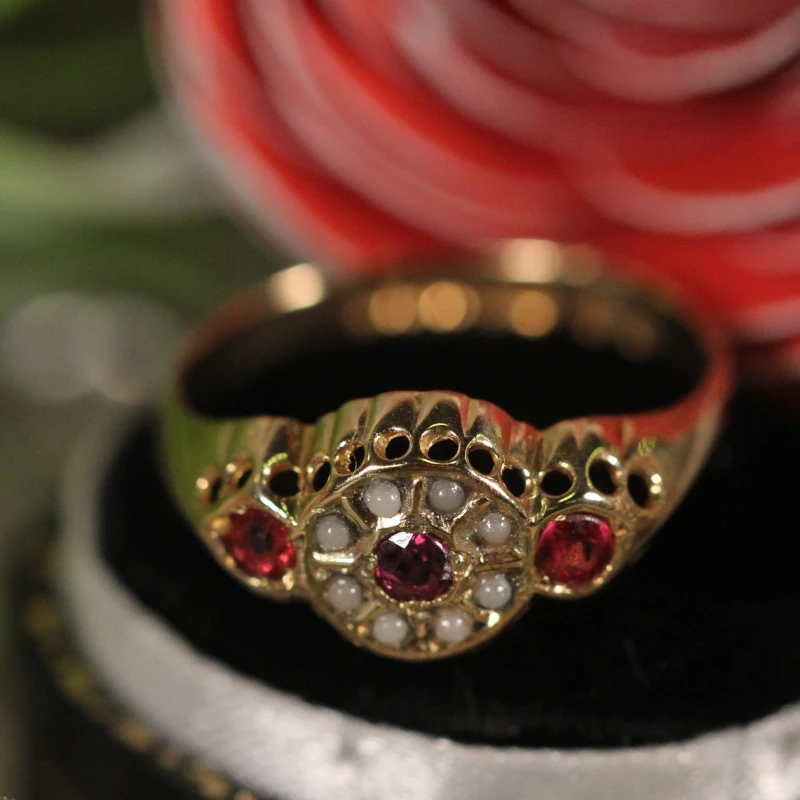 Check out this Antique 18Carat Yellow Gold Ruby and Pearl Cluster Ring here.
Vintage rings are at least 20 years old but less than 100 years old. Mid-century vintage rings from the 1930s to 1980s are plentiful on the market.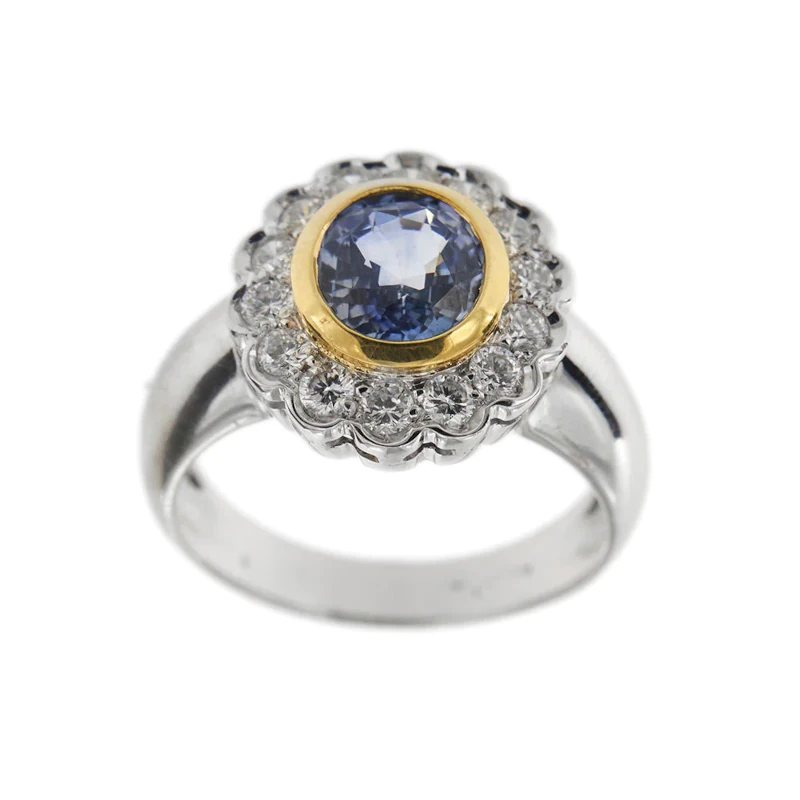 Check out this vintage Sapphire and diamond Marguerite ring here.
Estate rings come from previously owned collections, which can be antique, vintage, or contemporary.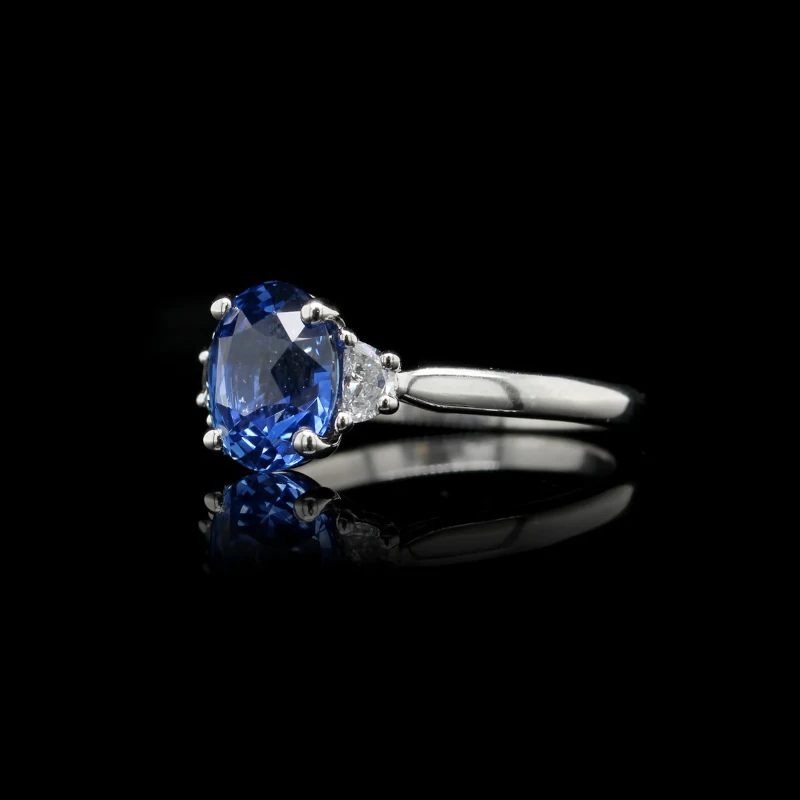 Check out this Platinum Estate Sapphire and Diamond Ring here.
While the age defines if a ring is vintage, the designs draw inspiration from past eras and fashions. Common vintage ring characteristics include:
Ornate metalworking like engraving, milgrain edges, and filigree
Geometric patterns and Art Deco styling
Floral motifs and delicate openwork
Carved gemstone shapes like cameos
Mined diamonds and colored gemstones
Mixed metal combinations like yellow and rose gold
Vintage rings stand out from modern designs' time-honored craftsmanship and intricate details. The older cuts and setting styles are clues to their heritage.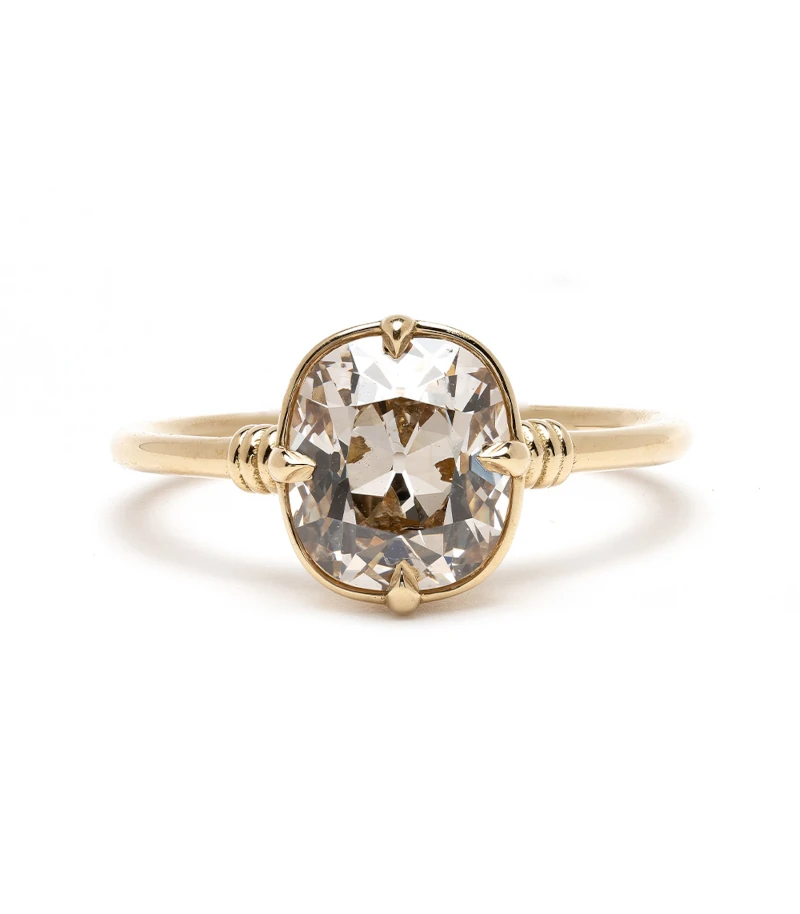 Check out this Antique diamond engagement ring here.
Where to Find Vintage Rings
There are many avenues to find authentic vintage rings to add to your collection:
Antique stores and vintage boutiques: Brick-and-mortar shops with curated collections are a great place to browse and try on different eras and styles. Reputable dealers will know to verify age and authenticity.
Estate sales and auctions: Look for estate jewelry sales through auction houses or online auctions. View items in person when possible to examine details and conditions. Auction records can help date pieces.
Online vintage retailers: Many internet shops sell curated selections of antique and vintage rings for women. Ensure they provide detailed listings with history and have return policies.
Jewelry brands: Some designers like Brilliant Earth and EraGem recreate vintage designs so you can get the look while knowing the ring's provenance.
Family heirlooms: Look through your or relatives' jewelry boxes for vintage treasures waiting to be styled and loved again.
Wherever you acquire a vintage ring, get documentation on its age and background. For valuable antique pieces, an appraisal by a certified gemologist is recommended.
Tips for Wearing and Caring for Vintage Rings
Once you've found the perfect vintage ring, you'll want to take measures to keep it looking its best:
Get appraisals and insurance: For valuable rings, an independent assessment establishes value for insuring your ring properly or passing it down through generations.
Size appropriately: Make sure your ring is correctly sized to your finger. Vintage rings may need rethinking to fit modern tastes and hands. Trust a reputable jeweler for any resizing or repairs.
Clean gently: Avoid ultrasonic and steam cleaners, which can damage softer stones and metals. Instead, soak warm water with mild soap and gently brush with a soft toothbrush. Rinse and dry thoroughly.
Store safely: Protect your ring in a fabric-lined jewelry box, away from other pieces that could scratch it. Vintage rings require more delicate care than modern, often harder, gemstones and metals.
Remove when active: Vintage rings usually feature fragile filigree or softer stones prone to damage. Take your ring off for household chores, gardening, swimming, or sleep.
Get regular check-ups: Make sure to have your vintage ring examined yearly for any worn prongs, loose stones, or needed repairs. Address issues early before extensive damage occurs.
With care and maintenance, vintage rings can be worn and enjoyed for generations. The patina and imperfections only add to their beauty and appeal.
Popular Vintage Ring Styles
Vintage rings span many different eras, from the Victorian age through the Retro 20th century. Here are some highlights of popular vintage styles that you can find in antique shops or websites today:
Victorian Rings (1837-1901)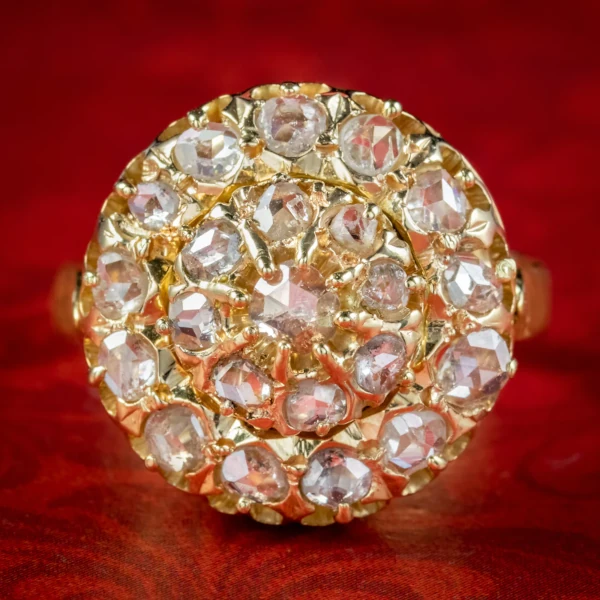 Check out this Victorian diamond cluster ring here.
Iconic for delicate details, floral motifs, and femininity
Gold (yellow, rose) and silver metals with engraved or pierced detailing
Filigree, openwork galleries, cluster designs framed in metal
Common motifs are roses, bows, doves, snakes, stars, crescent moons
Old European and old mine-cut diamonds, seed pearls, opals, garnets
Popular settings are tulip, bowknot, star, and crescent
Edwardian Rings (1901-1910)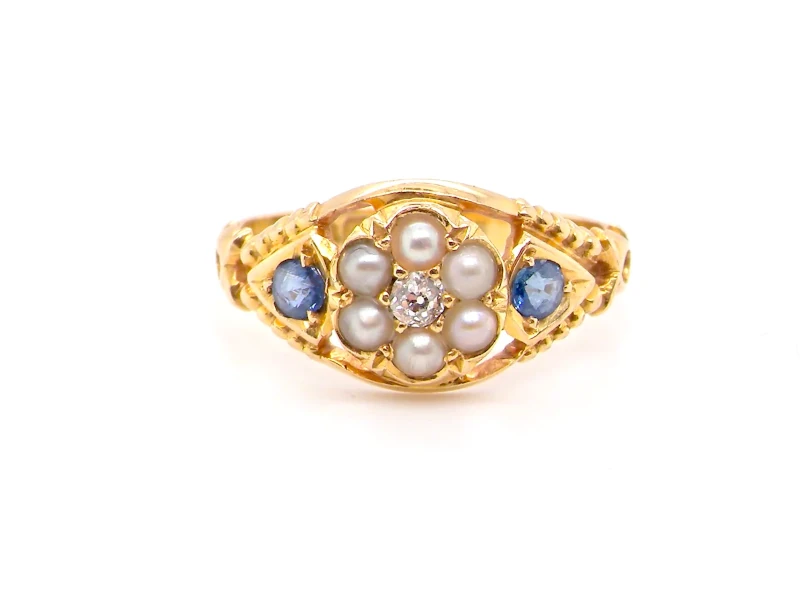 Check out this 18ct gold Edwardian sapphire, pearl, and diamond cluster ring here.
Continuation of Victorian delicate and feminine motifs
Introduction of platinum in jewelry settings around 1910
More open, airy designs – lacey garland-style galleries
milgrain detailing on the sides of metal bands and bezels
Center stones gaining popularity – old European cuts, rose cuts
Common motifs are bows, floral scrolls, wreaths, ribbons,
Popular halo and three-stone arrangements
Art Nouveau Rings (1890-1910)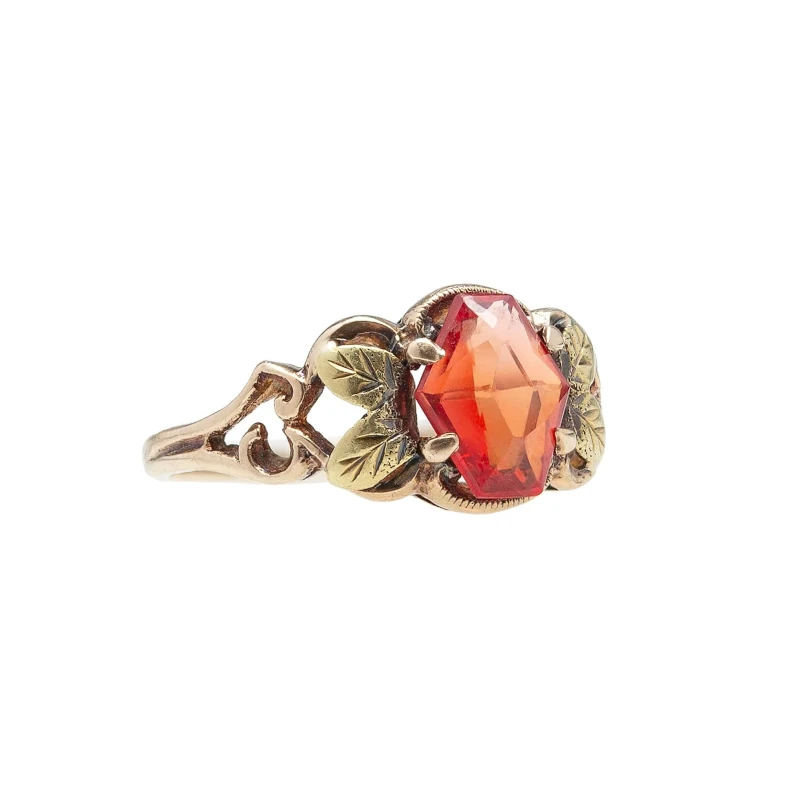 Check out this Art Nouveau 14k Mixed Metal Orange Sapphire Ring here.
Flowing, asymmetrical, whiplash lines
Intricate, curved designs reminiscent of vines, flowers, insects
Popular new materials like horn, enamel, glass, abalone shell
Darker gold and silver metals, mined stones, and pearls
Unique carved gemstones like moonstones and agates
The more stylistic, less literal interpretation of nature
Popular motifs are orchids, dragonflies, vines, crescent moons
Edwardian/Art Deco Rings (1910-1935)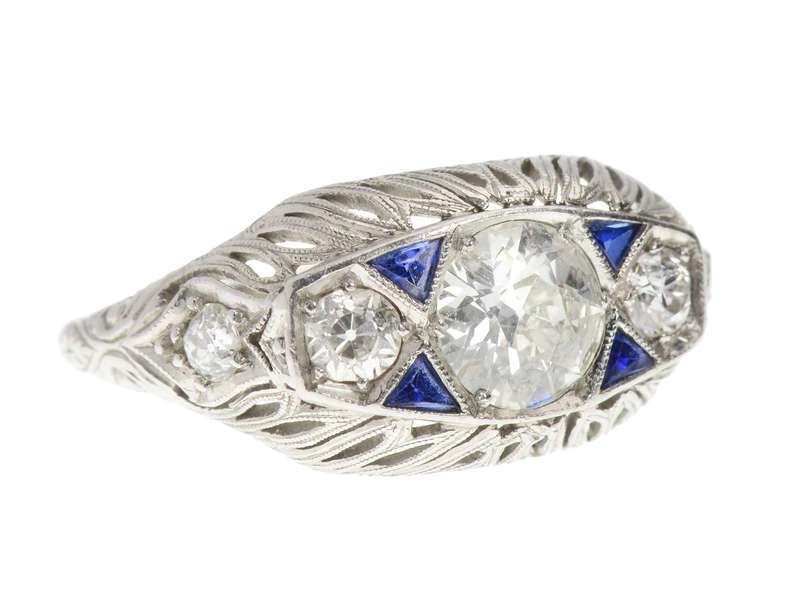 Check out this Fine Three Diamond Platinum Art Deco Trilogy Ring here.
The transition from flowing Art Nouveau to bold geometric Art Deco
Platinum remains popular, but white gold has started gaining favor
Filigree and engraving become more stylized and linear
Strong Eastern influence – Egyptian motifs like scarab pyramids.
Use of onyx, jade, coral, and other striking gemstones
Old mine and European cuts transition to modern round brilliant
Popular motifs are ribbons, tassels, fans, navettes, chevrons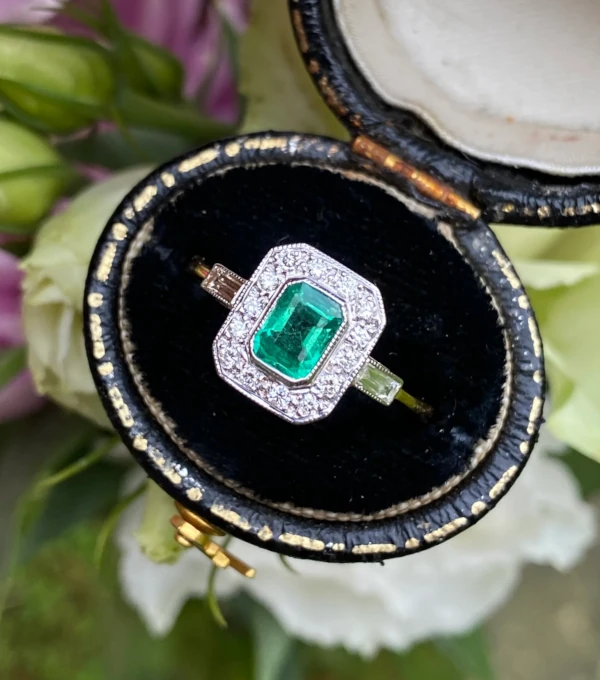 Check out this Art Deco Emerald and Diamond Cluster 18ct Yellow Gold Ring here.
Art Deco Rings (1920-1935)
Sleek, geometric, machine-age-inspired style
Platinum, white gold, and silver metals create a bright canvas for colorful gems.
Filigree is replaced by sleek lines, triangles, chevrons, trapezoids
Center stones prominently displayed in prong or bezel settings
Detailed engraving and enameling for pops of color
Popular motifs are fans, tassels, sunbursts, arrows, chevrons, navettes
Old mine cuts transitioning fully to modern round brilliant diamonds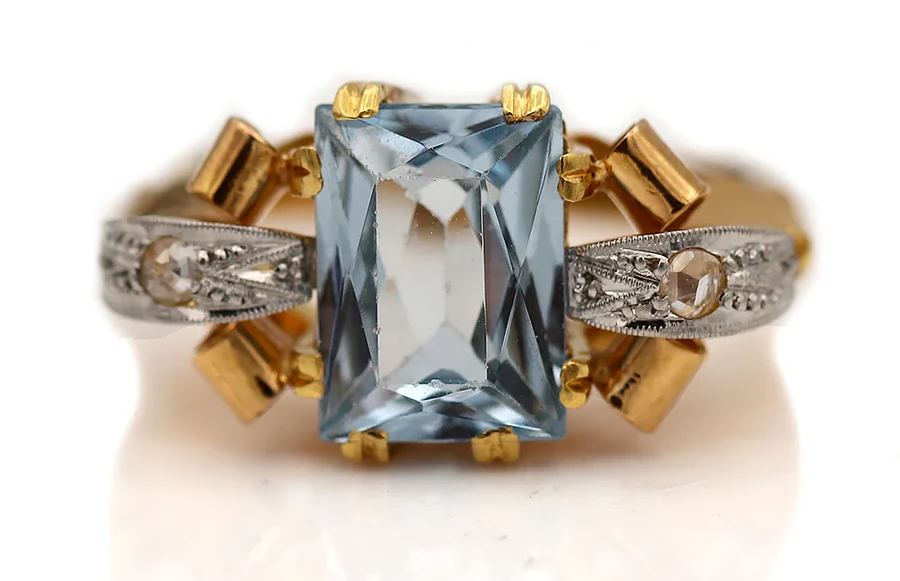 Check out this Retro blue topaz and diamond gold ring here.
Retro Rings (1935-1950)
Softer, more fluid, and natural lines return after angular Deco
Rose gold regains popularity for its warm, reddish hue
Curved bands with delicate leaves, florals, clusters
Center stones are often large, rounded rectangles or ovals
Calibrated stones in horizontal lines or symmetrical patterns
Carved gemstones like jade, star sapphires
Popular motifs are bows, ribbons, flowers, acorns, bowknots
Combination of yellow rose and white gold in multi-tone settings
Conclusion
For those looking to make a statement, vintage rings for women provide a stunning way to embrace eras of timeless beauty and quality craftsmanship. As more people turn to sustainable fashion, vintage rings breathe new life into existing pieces. Beyond their dazzling design, they have a history and sentiment that makes them meaningful to wear or pass down through generations.
When sourcing vintage rings for women, buy from reputable dealers with knowledge of eras and materials. Authentic vintage rings require gentle care and maintenance but reward you with years of wear if adequately treated. Whether it's an Art Deco cocktail ring or a dainty Victorian band, the vintage rings you choose today can become the heirlooms of tomorrow.
Frequently Asked Questions About Vintage Rings for Women
How can I determine if a ring is antique or vintage?
Examine the setting style and metal quality. Styling should match the purported era, like filigree for Victorian or geometric patterns for Art Deco.
Look at the cut of any diamonds or gemstones. These should match periods like old European and old mine cuts in the Victorian and Art Nouveau eras.
Ask the seller for any documentation on the ring's provenance, like an appraisal stating age. Hallmark stamps can help date gold rings.
Please take it to a jeweler for inspection. They can verify if materials and construction indicate authentic age.
What's the difference between antique, vintage, and estate rings?
Antique rings are 100+ years old. Vintage rings are 20-100 years old. Estate rings are previously owned, so they may be antique or vintage.
How should I care for my vintage ring?
Store in a fabric-lined ring box, individually if possible. Vintage rings are prone to scratching.
Clean gently by soaking in warm, mild, soapy water and brushing with a soft toothbrush. Avoid ultrasonic cleaners.
Take the ring off for active tasks, cleaning, and gardening. Vintage rings for women can be fragile.
Get appraisals updated every 2-3 years and inspect regularly for needed repairs.
Can I resize or reset an antique ring?
It's best to only resize within 1-2 sizes up or down. Larger resizing can damage softer vintage metals.
Resetting stones often requires new prongs, which alters the setting's antiquity. Instead, opt for repairing any worn prongs.
Trust any resizing or repairs only to experienced jewelers who understand vintage materials.
What are some ways to style vintage rings for women?
Pair a lacier Victorian ring with a modern, minimal outfit for a striking contrast.
Stack dainty vintage bands in mixed metals with modern rings for an eclectic look.
Let a bold cocktail ring take center stage and keep other accessories simple.
For formal events, create a vintage vibe with a 20s bezel set ring.
For casual outfits, mix fun retro rings with your basics to elevate the look.
Are vintage rings more ethical and sustainable?
Vintage rings for women reuse what's already been mined and produced, extending the lifecycle of pieces. This prevents the need for more new materials, benefiting the environment.
Materials in vintage rings were likely mined decades ago with less strict labor regulations, which may raise some ethical concerns.
Are vintage rings a good investment?
Rare and high-quality vintage pieces from specific eras and designers can be appreciated over time, especially if styles come back in fashion again.
More common vintage rings may not necessarily increase in monetary value but hold sentimental value for generations.
Get appraisals every few years to establish current value for insurance purposes as vintage rings age.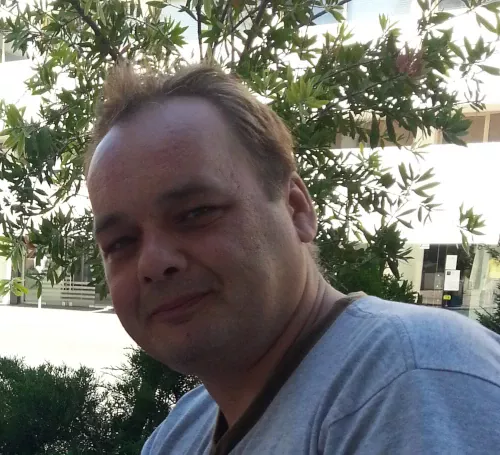 Pashalis Laoutaris
Fashion Blogger
I am a professional writer, fashion blogger, and owner of the site https://laoutaris.com. As a salesperson for more than 20 years, I have experience of 10 years in the fashion industry. I consider myself a true fashionista. I am writing daily blog articles about fashion, tools and converters, and everything you need to know about the current fashion trends.
Share this article
Our Latest Articles
Laoutaris Recommends