Escape into the colorful, romantic world of Oscar de la Renta's timeless designs and learn about the creator behind the iconic brand.
Table of Contents
Take a journey through the colorful, romantic world of Oscar de la Renta's timeless designs and discover the legendary creator behind this iconic luxury brand.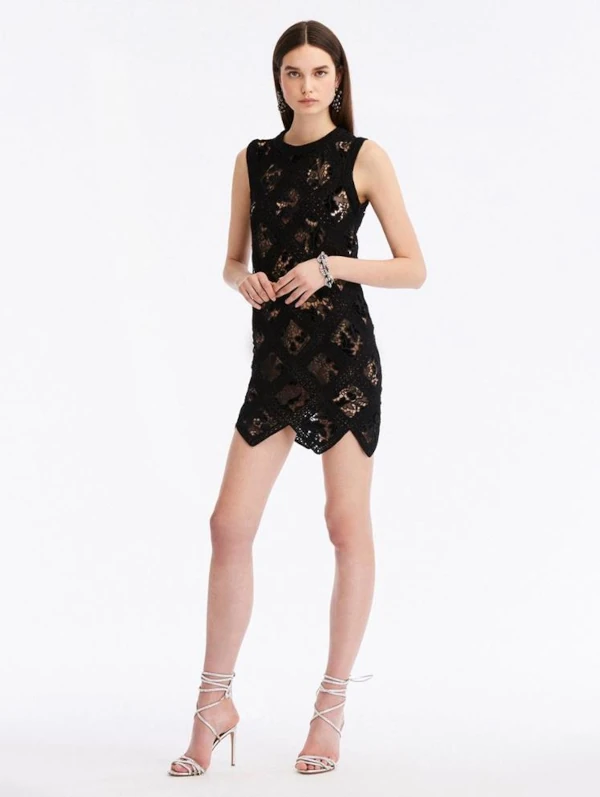 Check out this velvet guipure patchwork shift dress here.
Born 1932 in the Dominican Republic, Oscar de la Renta demonstrated artistic talent and passion from a young age. Though his family expected him to join his father's insurance business, de la Renta dreamed of becoming a painter or fashion designer. At just 18 years old, he left his homeland to pursue his interests in Europe.
Discovering His Calling
De la Renta's first stop was Madrid, where he enrolled in art school and painted abstract pieces inspired by his native Caribbean. His fascination with fabric, clothing construction, and couture techniques began here.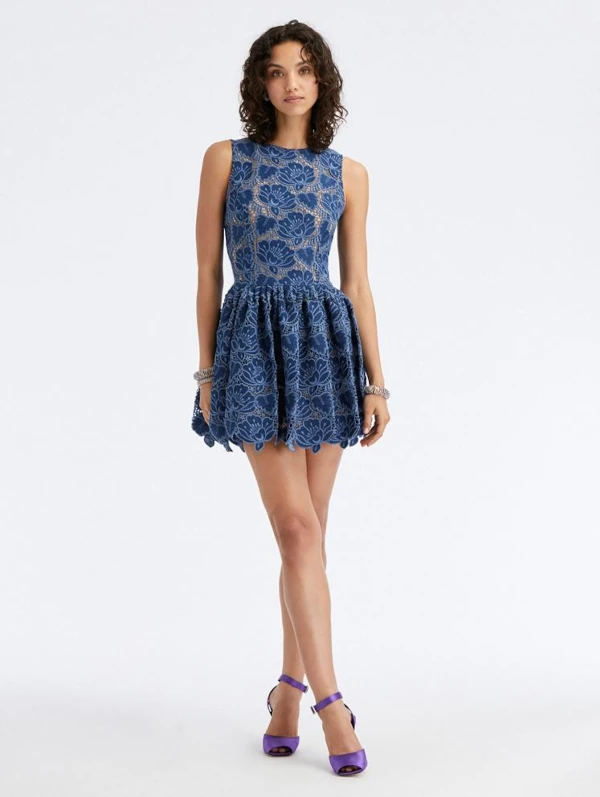 Check out this Lotus denim lace mini dress here.
Next, an apprenticeship with renowned Spanish couturier Cristóbal Balenciaga proved foundational. Under Balenciaga's strict tutelage, de la Renta learned precision patternmaking and garment construction using the finest fabrics.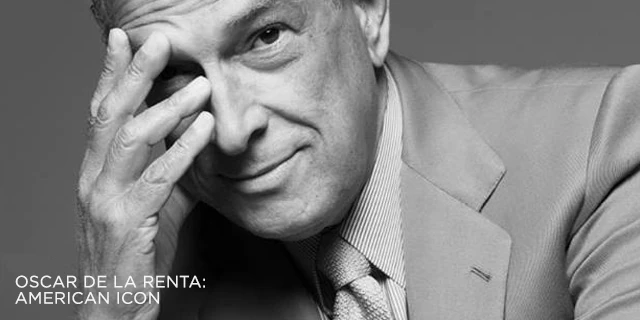 Stints designing for major Parisian fashion houses Lanvin and Balmain further refined de la Renta's skills. Though he appreciated the artistry of European fashion, his sights were set on making his mark in the American industry.
Stateside Success
In 1963, Oscar de la Renta moved to New York City to design couture for Elizabeth Arden. This role gave him valuable experience understanding the American consumer. Soon after, he stepped out to launch a ready-to-wear fashion label.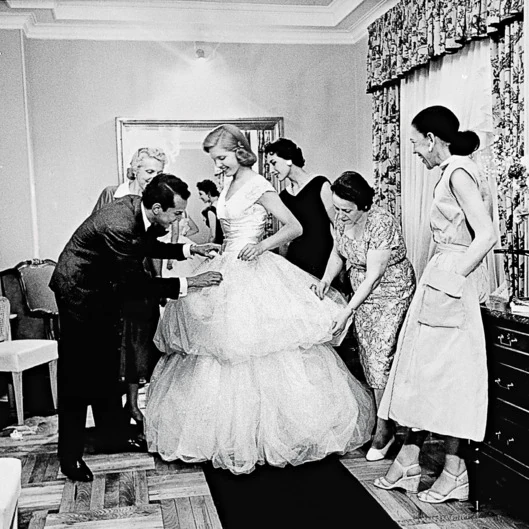 Offering sophisticated yet practical daywear, de la Renta filled a crucial niche in the market. His vibrant use of color, light-as-air fabrics, and eye-catching details quickly caught the attention of Vogue magazine and its influential editor, Diana Vreeland.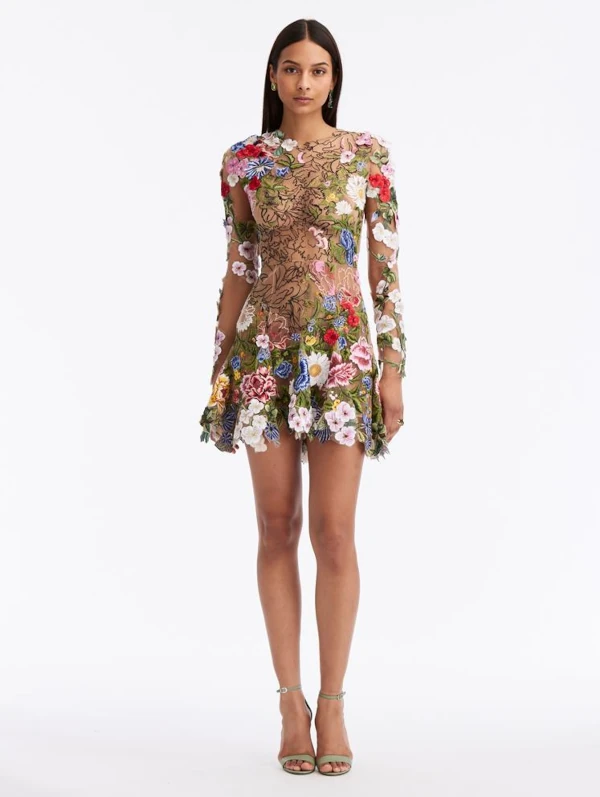 Check out this Sketched floral threadwork mini dress here.
She celebrated de la Renta's couture collection debut in 1965, praising its exquisite embroideries and confident femininity. This vaulted him into the limelight as an emerging designer to watch.
Crafting His Signature Style
Several key elements came to define de la Renta's design aesthetic. Luxurious fabrics like silk, velvet, and brocade added a luxe dimension. Meticulous hand embroidery and sequin or beadwork brought his pieces to life. Tropical floral prints and vivid colors gave his clothes a playful, exotic feel.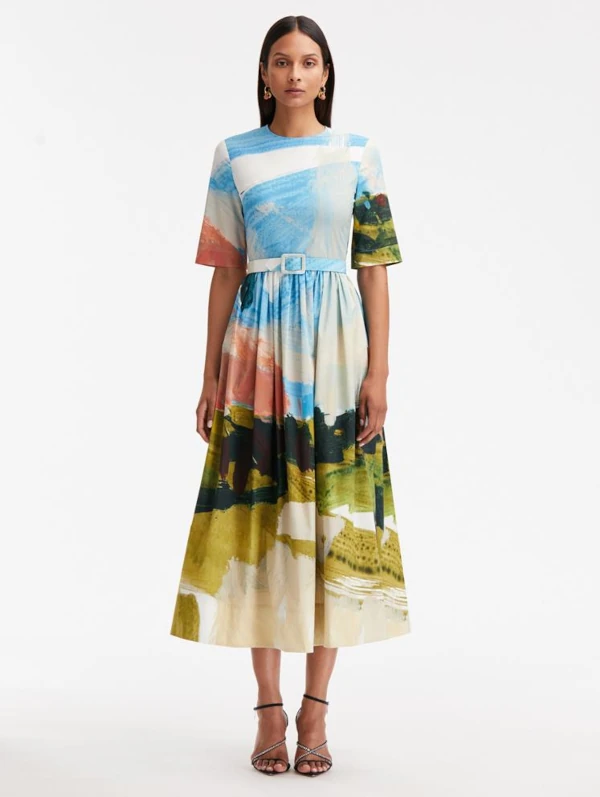 Check out this Abstract Landscape Cotton Poplin Dress here.
Most iconic were his expertly constructed silhouettes. Tailored through the bodice with neatly nipped waists and hips, his creations flowed into soft A-line or full bell skirts. These flattering shapes exuded effortless glamour and sensuality.
Reaching Icon Status
By the 1970s and 80s, Oscar de la Renta sat comfortably among the great American designers. His refinement and eye for detail enabled him to command couture-level pricing, yet he maintained his ready-to-wear line to reach more women.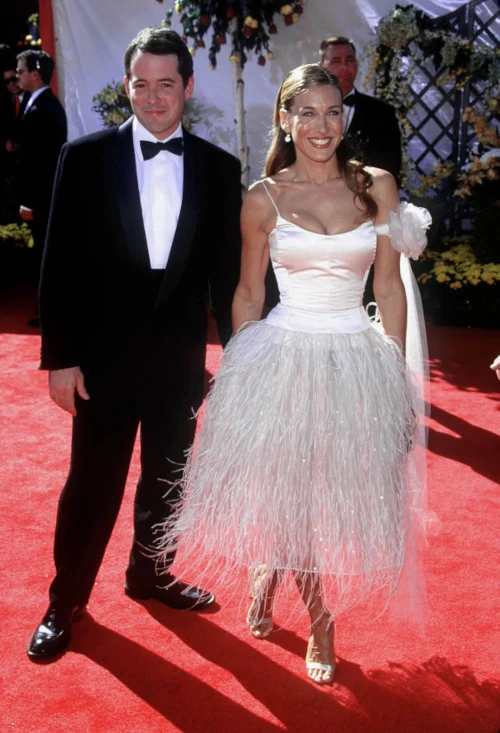 De la Renta's feminine, romantic designs attracted elite clients, from Hollywood stars to political figures. Fans included Jackie Kennedy Onassis, Sarah Jessica Parker, Nancy Reagan, Taylor Swift, and Michelle Obama.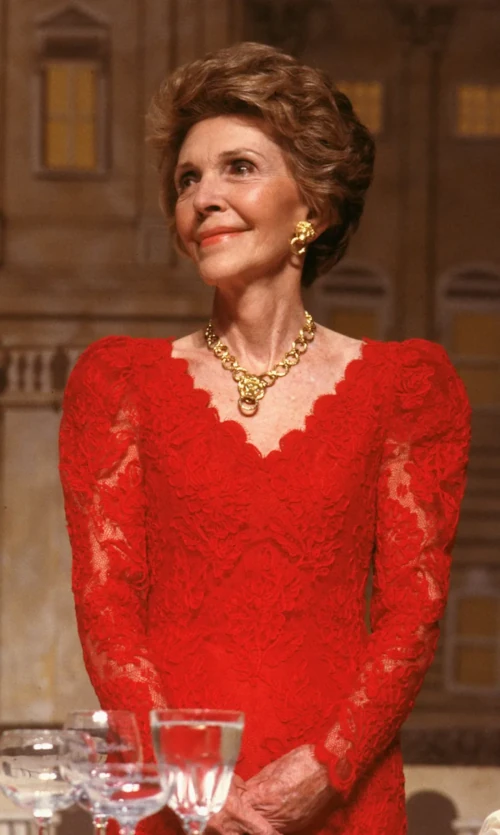 High-society women relied on his glamorous gowns, cocktail dresses for the event circuit, and red carpets. Meanwhile, his chic daywear outfits transitioned effortlessly from office to evening out.
Expanding His Empire
Though Oscar de la Renta continued evolving throughout his long career, he remained committed to his vision of timeless beauty.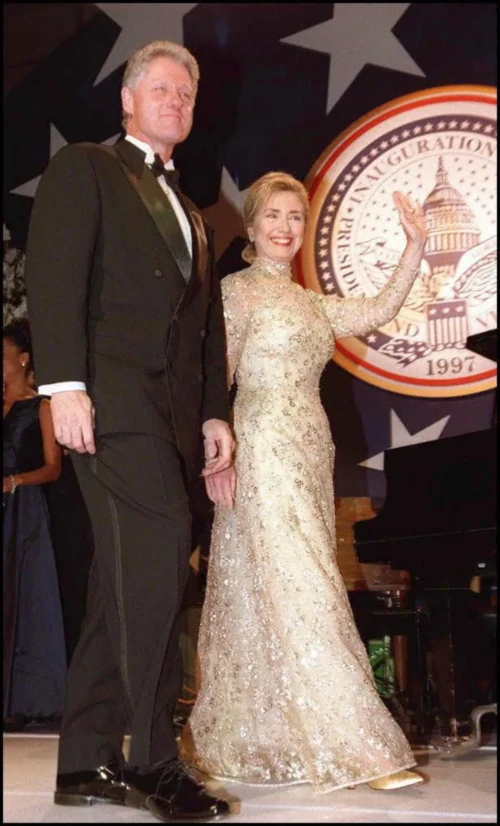 Notable milestones included:
Being named creative director for the revered French fashion house Balmain in 1993, splitting time between New York and Paris
Launching his successful fragrance "Oscar" in 1977, one of the first designer perfumes marketed to American women
Designing an ethereal pink gown for actress Anjelica Huston to wear to the 1977 Oscars, which became iconic in pop culture
Lasting Respect and Admiration
Over 50+ years in fashion, Oscar de la Renta earned universal praise within the industry. His technique was flawless, and his aesthetic was romantic yet modern. Avant-garde trends came and went, but de la Renta's timeless beauty and commitment to women shone through.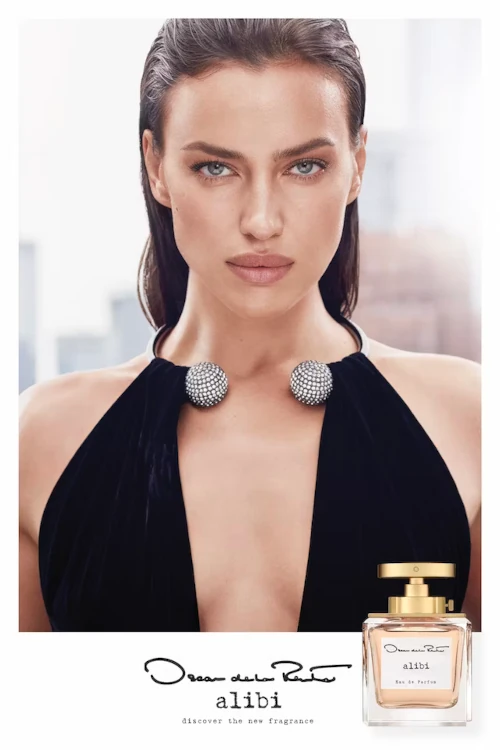 Check out Alibi, the new Eau de Parfum from Oscar de la Renta.
He received numerous awards, including multiple Couture Council Awards for artistry and fashion influence. In 1990, the Council of Fashion Designers of America (CFDA) presented him with their Lifetime Achievement Award. Read here his awards from the CFDA site.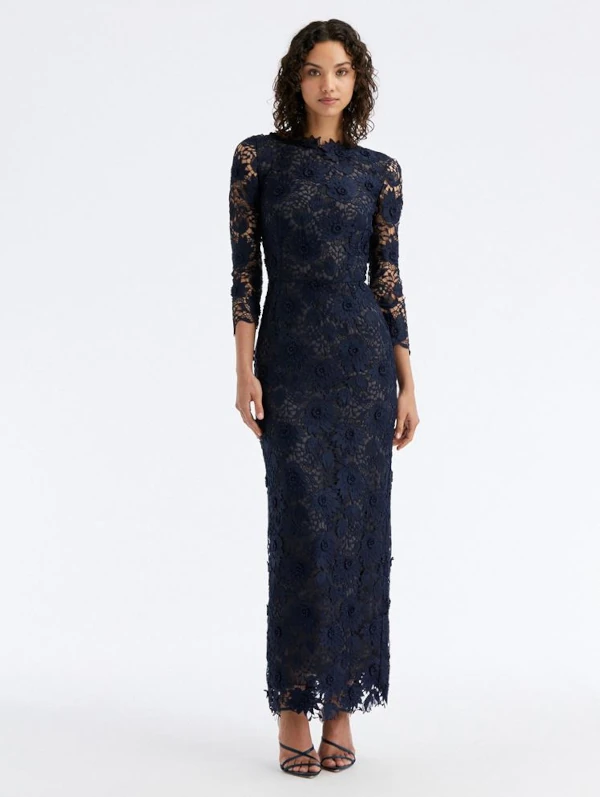 Check out this Water lily guipure tea-length dress here.
Perhaps most importantly, de la Renta treated his staff like family. Many apprentices went on to hold key roles at top fashion houses. Their training under his exacting eye lives on in their work.
Carrying On His Legacy
After passing in 2014 following a battle with cancer, de la Renta's design studio vowed to carry on his legacy. With industry veterans leading the way, his eponymous brand continues releasing collections that embody his feminine, glamorous spirit.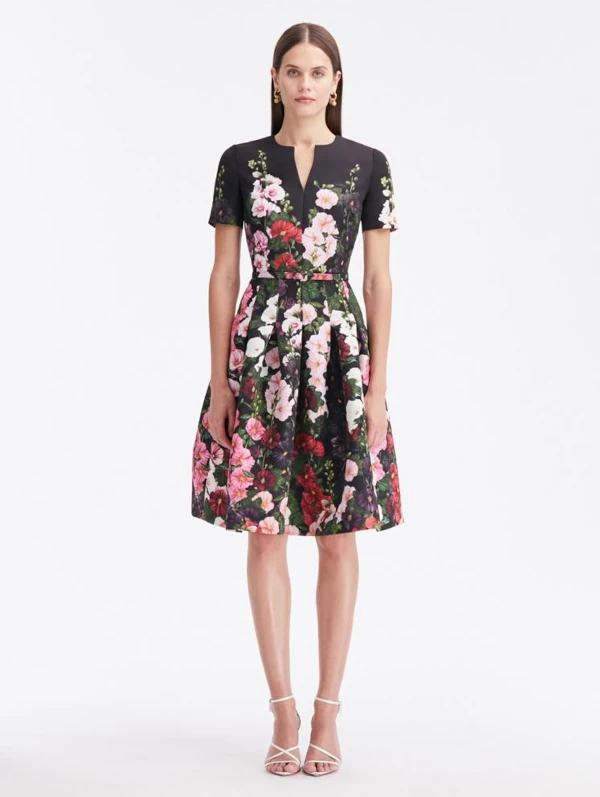 Check out this Split Neck Hollyhock Faille Dress here.
Recent years have seen exhibitions of his most iconic designs at high-profile museums. From bespoke evening gowns to exquisite embroidered jackets, these retrospectives remind us why de la Renta remains a fashion icon.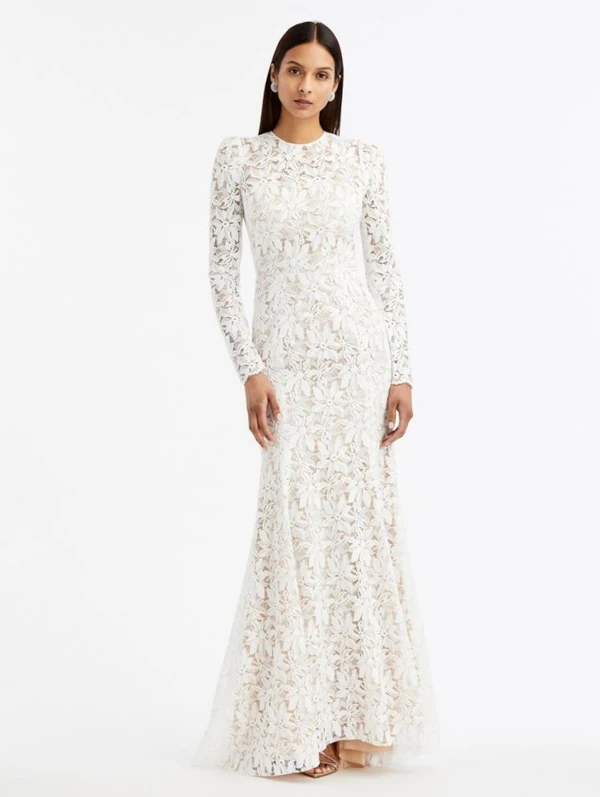 Check out this Gardenia lace open-back gown here.
Though avant-garde and minimalism have their place, de la Renta proves that sometimes true beauty comes from simplicity executed to perfection. His designs make us feel treasured in a world where women are often reduced to objects. For that, his legacy persists.
Frequently Asked Questions
What was Oscar de la Renta's background before entering fashion?
De la Renta was born in 1932 to an upper-class family in the Dominican Republic. He left home at 18 to study painting in Spain, where his interests expanded into sketching fashions.
Where did Oscar de la Renta train in high fashion design and construction?
He completed an intensive apprenticeship with renowned Spanish couturier Cristóbal Balenciaga. This taught him couture techniques and precision tailoring.
How did Oscar de la Renta build his own fashion label and brand?
After refining his skills in Paris, he moved to New York in 1963 to design for American fashion houses. Soon after, he launched his ready-to-wear line, which brought couture quality to practical everyday wear.
What iconic celebrities famously wore Oscar de la Renta designs?
His glamorous gowns attracted elite fans, including Jackie Kennedy Onassis, Nancy Reagan, Sarah Jessica Parker, Taylor Swift, and Amal Clooney.
What significant accolades and awards did Oscar de la Renta earn from the fashion industry?
He received numerous honors over his 50+ year career, including multiple Couture Council Awards and the CFDA's prestigious Lifetime Achievement Award in 1990.
Did he design clothes for other fashion houses besides his label?
Yes. De la Renta took on the role of creative director for the storied French brand Balmain in 1993 while simultaneously running his own thriving company.
How did de Oscar la Renta influence bridal fashion?
His elegant wedding dresses set significant trends, like the pared-down style he created for Carolyn Bessette Kennedy. This look inspired a movement toward more uncomplicated silhouettes.
Who carries on de Oscar la Renta's legacy today?
His eponymous company continues under the creative direction of designers who trained under de la Renta himself. They uphold his feminine, romantic aesthetic.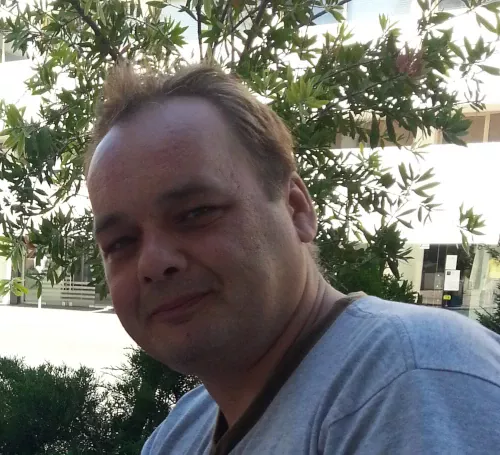 Pashalis Laoutaris
Fashion Blogger
I am a professional writer, fashion blogger, and owner of the site https://laoutaris.com. As a salesperson for more than 20 years, I have experience of 10 years in the fashion industry. I consider myself a true fashionista. I am writing daily blog articles about fashion, tools and converters, and everything you need to know about the current fashion trends.
Share this article
Our Latest Articles
Laoutaris Recommends