Baseball caps for men are versatile, comfortable headwear. Discover the ten most popular baseball cap styles this year, from adjustable to vintage to collab.
Table of Contents
Are you looking for an easy way to add personality and interest to your casual looks? Baseball caps for men are the perfect headwear choice for those who want comfort and style without a lot of fuss. Check out our picks for the top 10 baseball caps making waves.
Ready to find your new go-to cap? Let's explore the key features that make baseball caps versatile and popular.
"The global Baseball Cap market size was valued at USD 16699.18 million in 2022 and is expected to expand at a CAGR of 7.58% during the forecast period, reaching USD 25891.13 million by 2028."

Industry Research Biz
What Makes Baseball Caps Such a Staple Headwear Choice?
When you break it down, baseball caps for men offer the ideal blend of comfort, coverage, and customizable style. The rounded crown fits the shape of the head and stays put without being tight or constricting. The stiff bill jutting out from the front provides shade and protects your eyes from sunlight while you're active.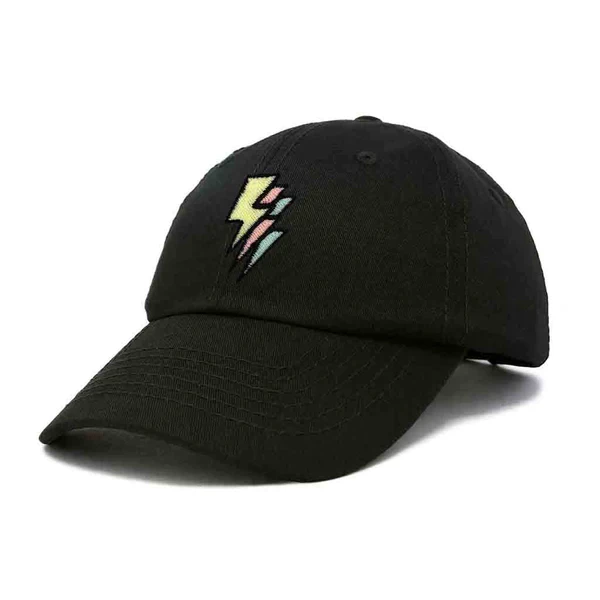 Check out Dalix Lightning Hat (Glow in the Dark) here.
Baseball caps are designed for breathability and sweat-wicking performance. Lightweight cotton, polyester, or mesh make up the back portion so heat and moisture can escape. The adjustable straps and stretchy sweatband ensure a customized fit for all sizes and shapes of heads.
Technical features like pre-curved bills and sweat-wicking panels allow you to keep calm and focused on the activity. But let's pay attention to the style perks, too! Baseball caps are like wearable blank canvases you can deck out with embroidered logos, sports team badges, graphic prints – whatever expresses your interests and personality.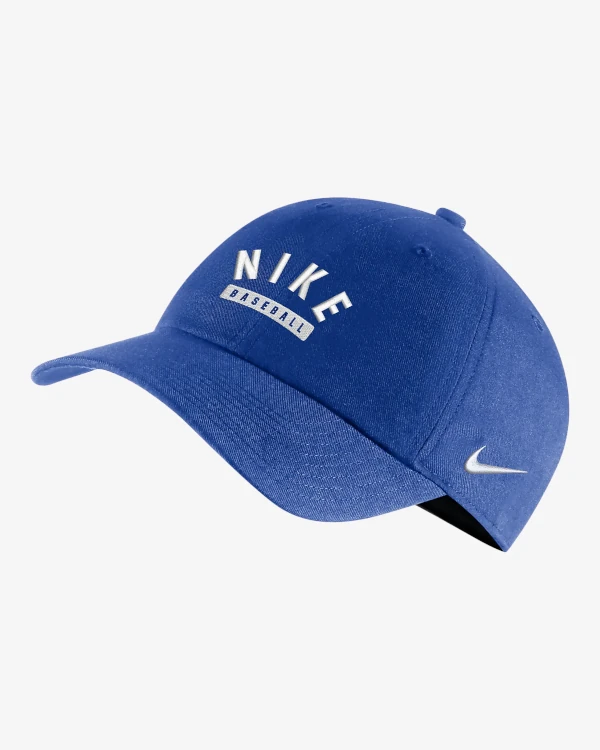 Check out this Nike baseball cap here.
The casual, sporty vibe of baseball caps means you can grab one and go without worrying about elaborate styling. Wear your hat with jeans and a tee for an instant outfit upgrade. Baseball caps have become a versatile menswear staple; intrigued yet? Keep reading for the top baseball cap styles making waves right now.
Mix Up Your Casual Looks With Adjustable Baseball Caps
The adjustable strap and metal buckle in the back make these baseball caps for men easy to tweak for an ideal fit. Just slide the strap through the buckle to loosen or tighten as needed. The range of adjustability means adjustable caps suit nearly all head sizes rather than being sized specifically.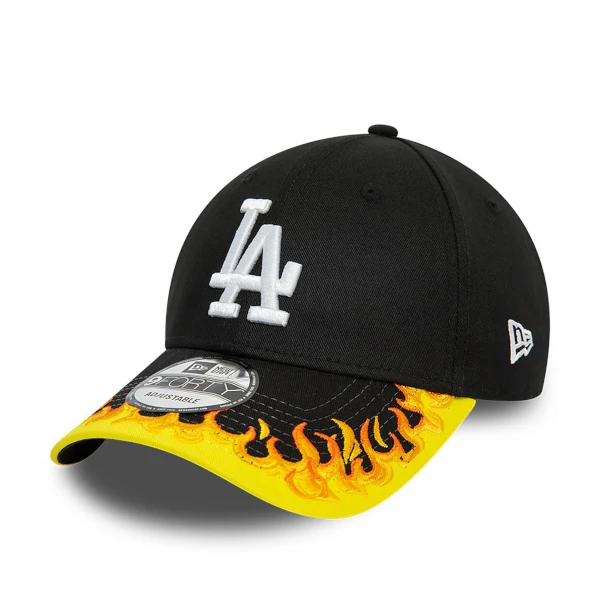 Check out the LA Dodgers MLB Flame Visor Black 9FORTY Adjustable Cap here.
Achieve that Perfect Fit with Precisely Sized Fitted Baseball Caps
Conversely, fitted baseball caps for men cater to those who want that molded-to-your-head feel. Fitted hats have an enclosed elastic band circling the inside to hug the head snugly without being restrictive. Sizing runs from small to XX-large in increments.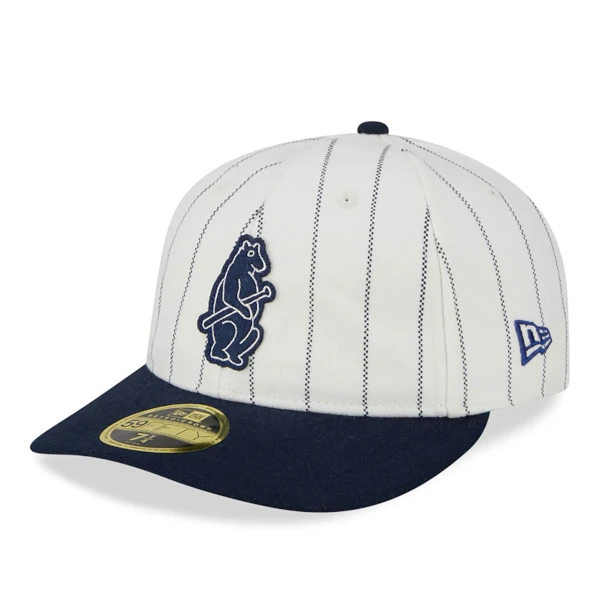 Check out the Chicago Cubs Cooperstown MLB Stripe Chrome White Retro Crown 59FIFTY Fitted Cap here.
For men that fall between the cap size ranges, fitted caps allow you to achieve that tailored, contoured fit. The elastic bands keep the lid securely in place and prevent sliding around. However, fitted hats offer less flexibility – you'll need to know your precise size and stick with that size cap. Attempting to cram into an improper-fitted cap size defeats the purpose.
Make a Statement with Bold Flat Brim Baseball Caps
Flat brim caps maintain the stiff, angular front profile rather than curving the brim. This structured look provides an urban streetwear vibe and makes a bold fashion statement. Angling a flat-brim cap high or low completely changes its style and attitude.
Flat brims supply a different effect than the casual curved brim. The rigid edge calls more attention to the front of the cap for highlighting embroidered designs or logos printed on the crown. For even more advantage, some guys take flat brim caps to a new level by layering stickers across the flat surface.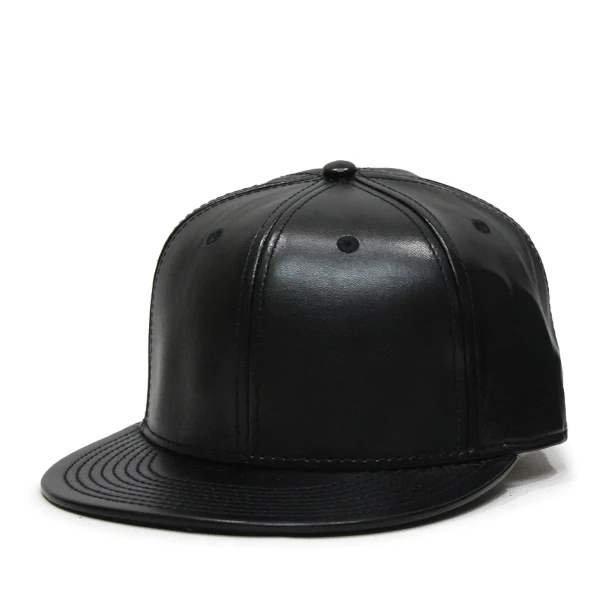 Check out this Vegan leather flatbill baseball cap here.
But the structured shape also requires confidence to pull off properly. The opinions are somewhat divided on whether a flat brim cap should be worn perfectly straight or slightly off-kilter. It comes down to personal preference and finding the sweet spot angle to complement your face shape.
Keep It Casual with Curved Brim Baseball Caps
With their pre-curved brim and relaxed shape, curved brim baseball caps give off an easygoing, approachable vibe. The curved bill adds sporty flair while fitting neatly to the head's contours. It's no wonder the curved brim remains the most famous baseball cap style.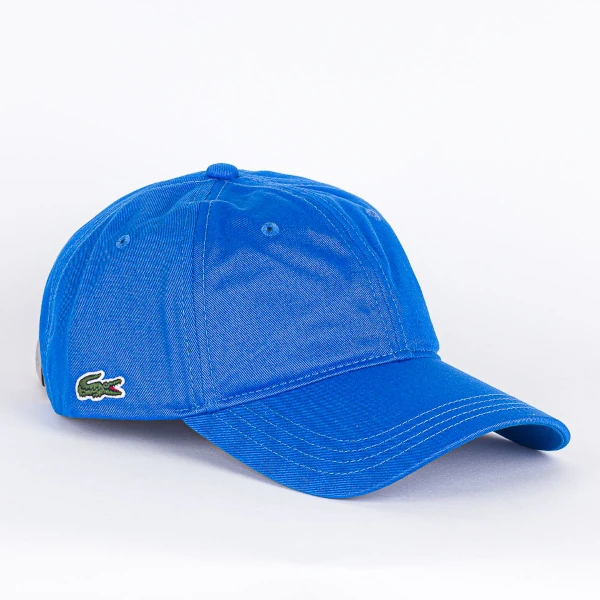 Check out the Lacoste curved brim baseball cap here.
The curved brim style provides a timeless, classic baseball cap silhouette that flatters most face shapes. Guys love their versatility – a curved brim cap in solid neutrals like black, gray, navy, or khaki green goes with everything. Dress it up by wearing the brim flat or bending it into a gentle curve.
Some guys customize a curved brim further by curving the brim sharply with a dramatic U-shape. But in general, curved brim caps are appreciated for their out-of-the-box wearability and laidback everyday appeal.
Block Sun Glare in Style with Mesh Baseball Caps
Mesh baseball caps for men incorporate mesh paneling on the back half or throughout the crown for enhanced breathability. The open mesh construction allows air to pass through and ventilates your head on hot and humid days. Mesh caps are a summer staple.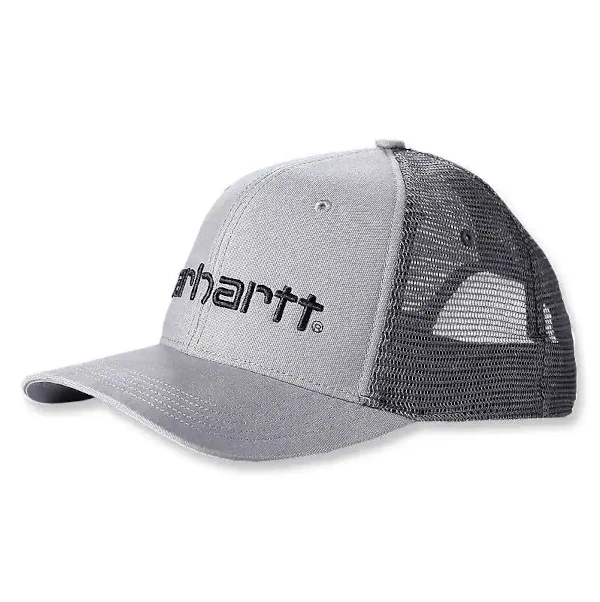 Check out the Carhartt canvas mesh baseball cap here.
The lightweight mesh builds moisture, wicking directly into the cap so sweat can evaporate rapidly. Solid cotton or polyester caps absorb sweat rather than allowing evaporation. For sweltering outdoor activities, guys love the cooling relief of mesh baseball caps.
However, mesh caps trade off some of the structure and warmth of solid fabric caps. Without concrete front panels, mesh caps can droop and lose their silhouette over time. And for colder weather, the open ventilation can make your head chilly. Mesh works best strictly as a hot weather cap.
Rep Your Team Pride with Licensed Sports Baseball Caps
One of the most classic ways to wear baseball caps for men is by repping your favorite sports teams. Licensed caps allow you to display your diehard team spirit through embroidered logos, team names, mascot art, and bold team colors.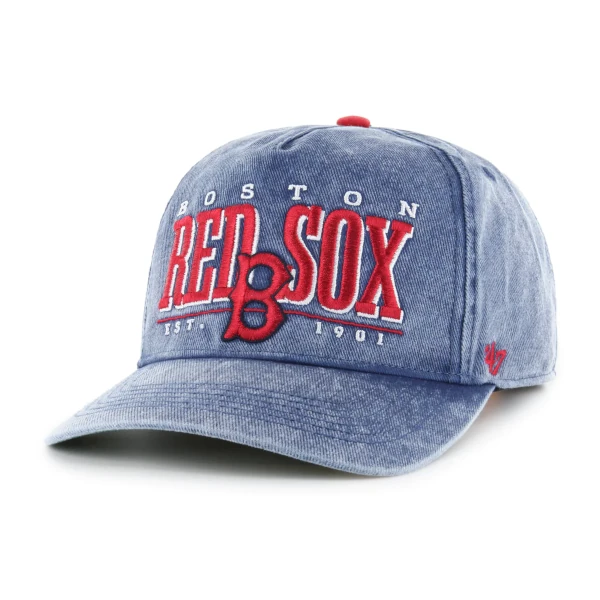 Check out the Boston Red Sox 47 baseball cap here.
Supporting your team doesn't get more iconic than a curved brim cap in official team colors with a prominent embroidered logo on the front. Fans coordinate team caps with jerseys and wear them proudly to games and sports bars.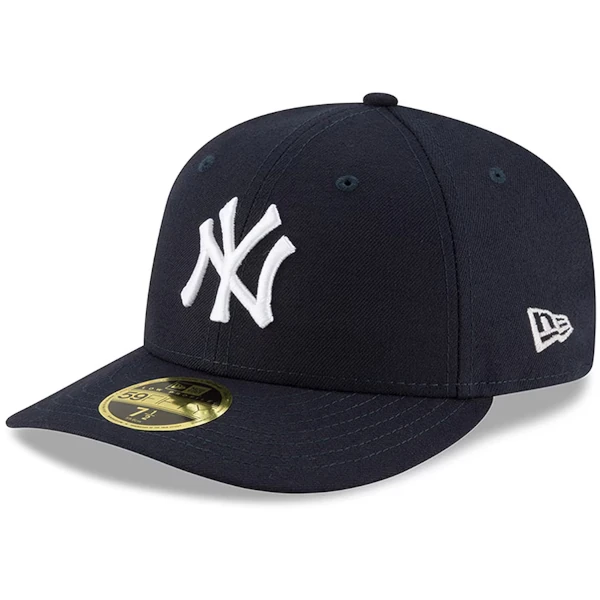 Check out the New York Yankees New Era Navy Authentic Baseball Cap here.
Showcasing loyal fandom has its place, but heavily branded team caps offer less versatility for daily wear. Plastering your whole cap real estate with team badges leaves little room for an individual style. Keep the branded caps for game day and opt for more low-key caps for casual wear.
Take It Back Old School with Vintage Baseball Caps
Vintage-style baseball caps exude a well-worn, distressed look with faded fabric, frayed edges, and retro logos. Brands recreate the broken-in appeal of a flea market find. Vintage caps add a relaxed throwback vibe, perfect for jeans and vintages.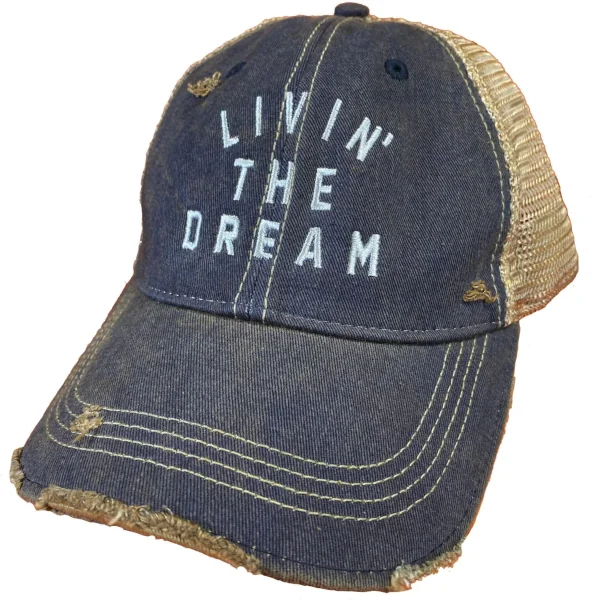 Check out this Livin' The Dream Vintage Snap Back Trucker Cap here.
Unlike pristine flat-brim caps, vintage caps look like they've been with you for ages. Fading and distressing techniques mimic sweat stains and a naturally worn appearance. Standard vintage details include washed-out retro logos, ragged hem fraying, and fabrics like washed denim.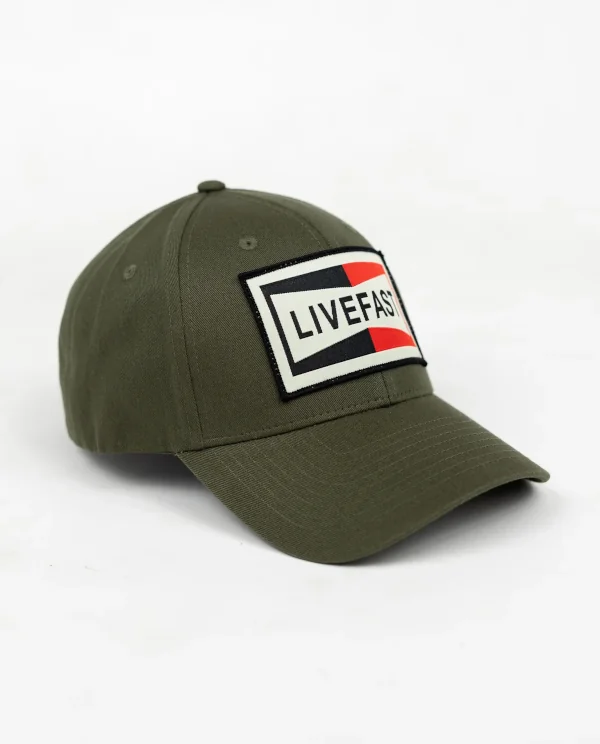 Check out this 8JS Vintage Baseball Cap here.
For guys who dig a lived-in look, vintage caps supply an effortless attitude. Their imperfections only get better with more wear. Rotate through a few classic logo options, like sports teams from decades past. Just know some distressing can verge on dingy over time rather than attractively broken in.
Grab One of the Hottest Collabs with Branded Baseball Caps
Branded baseball caps display the iconic logos of popular streetwear and athletic brands like Nike, New Era, and Supreme. These caps typically feature minimalist flat brims and simple color schemes highlighting the front logo. Limited collabs can sell out fast and become collector's items.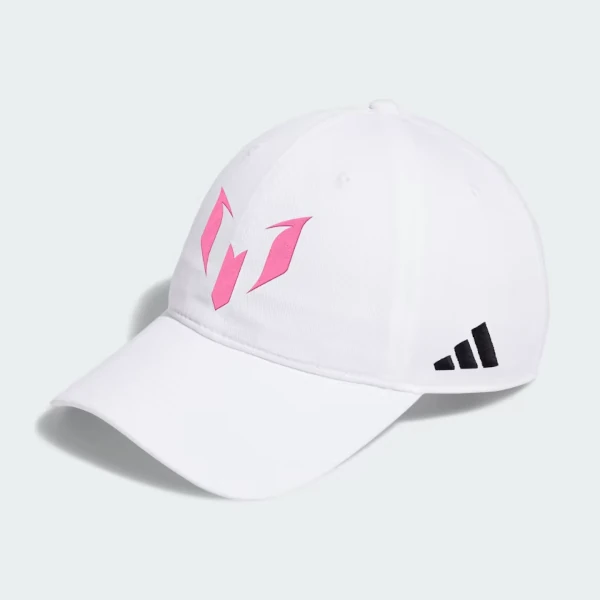 Check out the Messi Adidas baseball cap here.
Hypebeasts covet caps from the hottest streetwear brand collabs for serious style cred. Top labels like Supreme and BAPE are known for partnering with major sports leagues, brands, and franchises on caps with exclusive logos and limited production runs.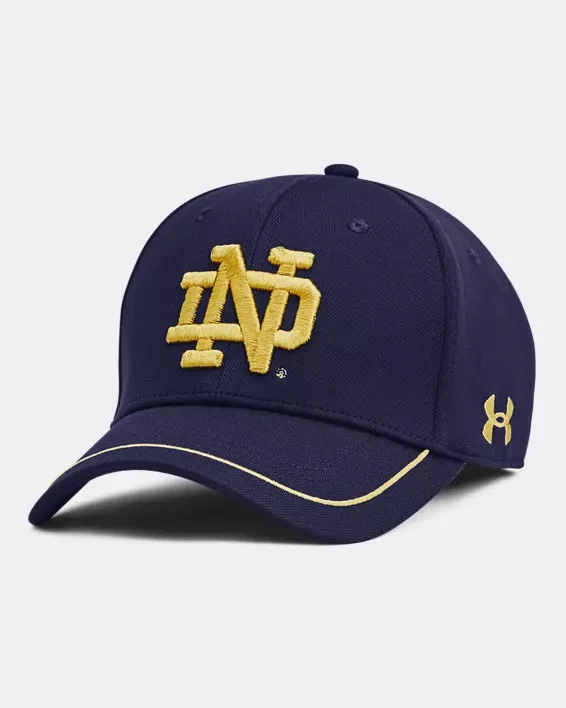 Check out this Under Armor (Notre Dame) adjustable baseball cap here.
Copping a rare collab before it sells out earns serious bragging rights. But be prepared to put in serious work scouring blogs and standing in drop lines for in-demand caps. Otherwise, you'll pay steep resale pricing. For most guys, cleaner branded baseball caps offer a more accessible way to rep a favorite brand.
Add High-Fashion Flair with Designer Baseball Caps For Men
Luxury fashion houses like Gucci and Louis Vuitton have adopted baseball caps for men as a new type of elevated sportswear. Their caps feature high-end materials like leather, signature prints, and logos. Think bold monograms instead of team mascots.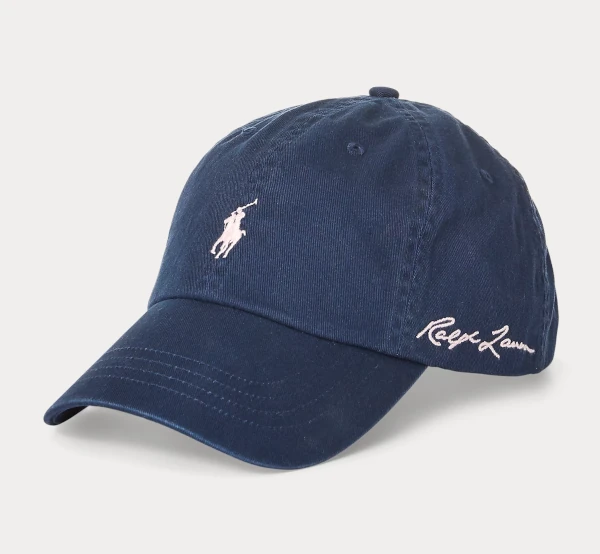 Check out this Ralph Lauren Pony baseball cap here.
For men who appreciate fine detailing, designer baseball caps deliver luxe embellishments you won't find elsewhere. We're talking exotic materials like python skin, intricately embroidered patterns, and metallic accents. Lavish baseball caps signal wealth and status.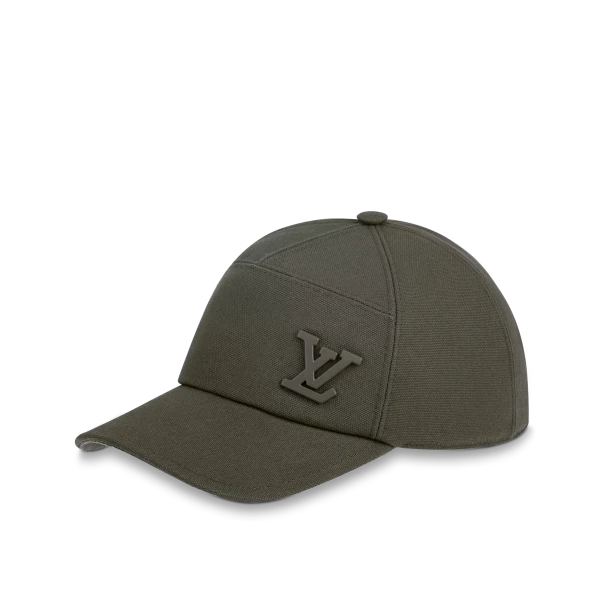 Check out the Louis Vuitton aerogram cap here.
But along with hefty price tags, the high-fashion spin makes designer caps less wearable. Most men can't justify costly caps for regular rotation. Stick to designer options for making polished fashion statements rather than casual comfort.
Sport Retro Flair with Oversized Trucker Hats
Oversized trucker hats give off a nostalgic 1970s vibe with their exaggerated crown heights and wide brims—the mesh back panel, bold colors, and retro branding complete the throwback look. Trucker hats add a fun statement piece to casual outfits.
For novelty flair, oversized trucker hats play up their vintage roots. The supersized silhouette contrasts with the minimalist caps popular today. Pair an expansive trucker hat with slim jeans and a fitted tee to balance the proportions.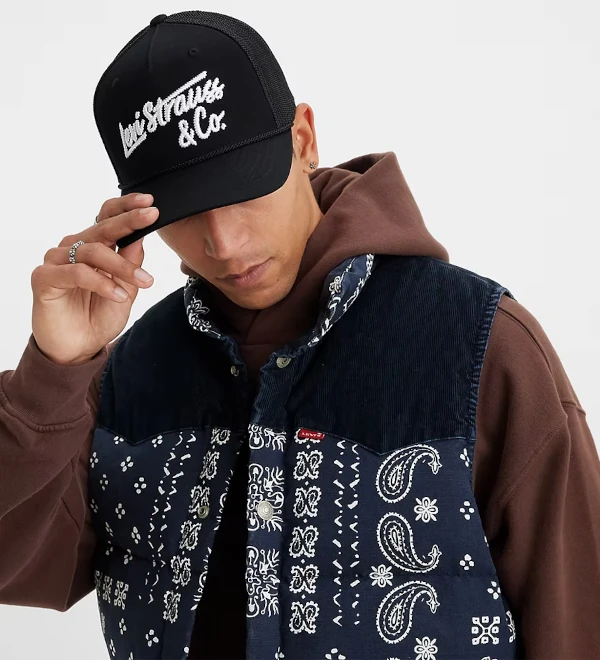 Check out the Levis embroidered Flexfit Trucker cap here.
But the dramatic shape only works for some. Large brims risk bumping into things all day long. And more petite guys can disappear under an outsized cap. Consider your face shape and size before adopting the massive trucker revival.
So there you have it – our picks for the top 10 must-have baseball caps for men this year. From lived-in vintage looks to the latest high-fashion logos, there's a cap fit for every personal style and interest. Time to pick your new go-to topper!
Frequently Asked Questions About Baseball Caps for Men
What is the best way to match a baseball cap to my outfit?
Focus on color pairing and overall style cohesion. Make sure the cap's dominant colors complement the color palette of your outfit. Avoid caps in colors that clash with your clothing shades.
Choose cap styles like vintage, curved brim, or flat brim that align with the outfit's casual, sporty, or streetwear vibe. A relaxed vintage cap won't mesh with sleek, minimalist looks. Pick cap styles that match the attitude of your overall aesthetic.
How should a baseball cap fit?
The cap should fit snugly around your head without pinching. Ensure the back band or adjusters hug your head comfortably and don't slide around. Too tight, and headaches ensue. Too loose, and the cap will blow off on windy days.
The cap crown shouldn't be tight but should sit just above your eyebrows. If the crown completely swallows your forehead, size down. Similarly, size up if the height leaves your forehead fully exposed. Measure cap size against your head circumference for an ideal fit.
How do I break in and shape a stiff new baseball cap?
Curve a stiff brim cap by gently bending the brim in your hands and wearing the hat overnight so the visor conforms to your head shape. The cap liner will also soften and loosen up over time.
For softening overall, wear your new cap periodically for short periods while the fibers start to relax. Letting a cap shape naturally to your head is better than forcing a silhouette. Avoid washing initially so the materials preserve the structure.
Can you wear a baseball cap backward or sideways?
Absolutely! Flipping your cap around is an easy way to change up its look. A backward cap shows off-front embroidery while keeping your face shaded. Sideways suits are laidback casual wear.
Just be aware the backward position leaves your face and ears more exposed to the sun than wearing the bill forward. And only tilt your cap sideways moderately, or it appears haphazard rather than intentionally styled. Find the sweet spot angle that flatters your face shape.
What's the best way to wash a baseball cap?
Hand-washing caps are ideal for preserving logos and shape. Use mild detergent and gently scrub the cap liner with a toothbrush. Rinse thoroughly. Avoid submerging the cap fully in water if possible.
Air dry the cap thoroughly on a towel rather than putting it in the dryer, where heat can warp the brim. Lay the cap flat or insert a towel to hold the crown's shape as it dries. Heat and agitation are enemies of baseball cap fabrics!
How can you style and store baseball caps when not wearing them?
Use cap display racks or hang caps on wall hooks to show off your collection while keeping their shape intact. Avoid shoving hats inside crowded drawers or closets.
You can also lightly stuff caps with tissue paper when storing flat to maintain the crown and brim silhouette. But don't overstuff, or you'll stretch out the size. Folding and severely bunching up caps leads to deep creases.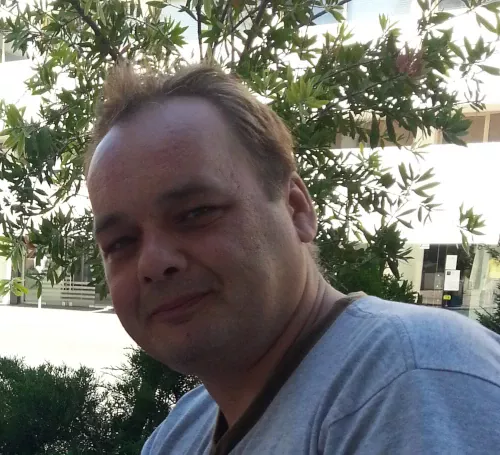 Pashalis Laoutaris
Fashion Blogger
I am a professional writer, fashion blogger, and owner of the site https://laoutaris.com. As a salesperson for more than 20 years, I have experience of 10 years in the fashion industry. I consider myself a true fashionista. I am writing daily blog articles about fashion, tools and converters, and everything you need to know about the current fashion trends.
Share this article
Our Latest Articles
Laoutaris Recommends