With this free tool, you will learn how to make 15 DIY bracelets for a small amount of money and still look cool and beautiful.
Table of Contents
Essential Tools and Materials
Before diving into the different types of DIY bracelets, let's take a look at some essential tools and materials you'll need for most projects:
Jewelry pliers (round-nose, chain-nose, and wire cutters)
Beads (various sizes, colors, and materials)
Charms and pendants
Cord or thread (nylon, silk, or leather)
Macrame cord or hemp twine
Leather strips or cords
Chains and jump rings
Fabric strips or ribbons
Clasps and closures
Adhesive (such as jewelry glue or fabric glue)
Having these basic tools and materials at your disposal will allow you to explore a wide range of bracelet-making techniques and designs.
---
DIY Bracelets for Women: Add a Personal Touch to Your Style
---
Do you want to learn how to design a dress on your own? Check our article here.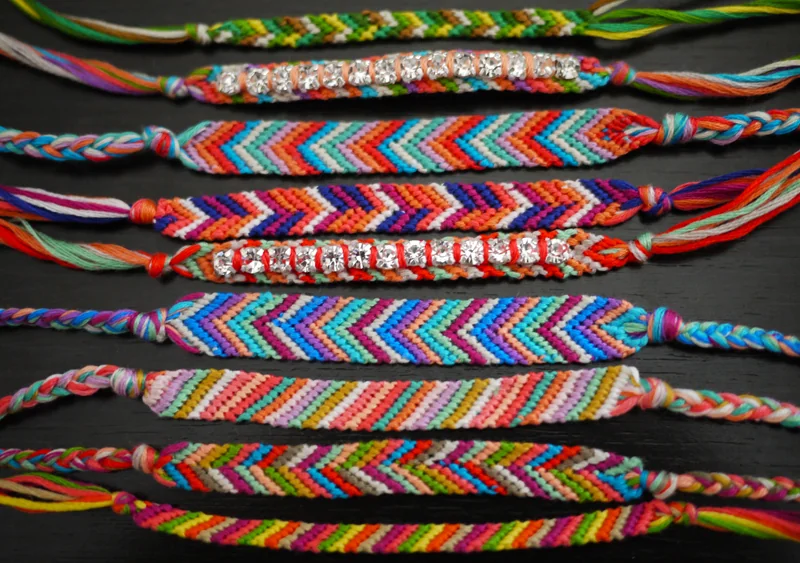 Please read our article about bracelets for women.
Frequently Asked Questions
What materials do I need to make DIY bracelets?

The materials needed for DIY bracelets depend on the specific bracelet design you choose. Some common materials include chains or bracelet bases, beads, leather cords, embroidery threads, pearls, wire, fabrics, and resin. Each bracelet option in the article provides a list of the materials required.

Where can I find the materials for DIY bracelets?

You can find the necessary materials at local craft stores, online marketplaces, or specialized jewelry supply shops. These places offer a wide range of beads, cords, charms, wires, fabrics, and other materials needed for bracelet making.

Are these bracelets suitable for beginners?

Yes, many of the DIY bracelet options are beginner-friendly. They often involve simple techniques such as stringing beads, braiding, or basic knotting. However, some bracelet designs may require a bit more practice and familiarity with certain techniques like macramé or wire wrapping.

Can I use different materials than those listed in the article?

Absolutely! The materials listed are just suggestions to get you started. Feel free to explore and experiment with different materials, colors, and textures to create a bracelet that reflects your style and preferences.

Do I need special tools to make DIY bracelets?

The tools required depend on the bracelet design and techniques involved. Common tools include scissors, pliers, needle-nose pliers, wire cutters, and glue. However, many bracelet options can be made using just your hands and basic household tools.

Are there any safety precautions to keep in mind?

Yes, when working with certain materials or tools, it's important to follow safety guidelines. For example, if you're using wire or sharp objects, be cautious of sharp edges and handle them carefully. If you're using glue or resin, ensure proper ventilation and read the product instructions for any safety precautions.

Can I personalize the bracelets?

Absolutely! DIY bracelets offer a wonderful opportunity for personalization. You can choose your preferred colors, add charms or pendants with special meanings, or even incorporate initials or birthstones. Get creative and make the bracelets uniquely yours!

Can I gift DIY bracelets to others?

Definitely! DIY bracelets make thoughtful and meaningful gifts. You can create personalized bracelets for friends, family, or loved ones to celebrate special occasions or simply show your appreciation.
Share this article
Our Latest Articles
Laoutaris Recommends