Wallets, for women, are the accessory that makes them unique and sometimes eccentric. Find the best wallets for women of 2023 and prepare to make a difference.
Table of Contents
The average reading time is 9 minutes. Last updated on 22/09/2023
History of wallets and current meta
Wallets have existed since the ancient Greeks had small fabric packs with drawstrings to hold coins or even lunch.
The first modern wallets were created when paper money was introduced in the late 17th century. They were leather purses that held paper money, calling cards, and visiting cards.
In the 19th century, the wallet was a cigarette case to carry tobacco and cigarette accessories.
In the middle of the 20th century, when credit cards started, we slowly transformed into the wallets we have now.
Types of Wallets for Women
Wallets for women come in a variety of styles and forms. Consider what you will use your wallet for to help determine the best type for you. Some popular options include:
Clutch wallets – Compact, designed to be carried alone and used for nights out. Fits just essentials.
Wristlet wallets – Features a wrist strap to wear instead of carrying it. Perfect for events and partying.
Phone wallets – Special slots for holding your smartphone and cards/cash. Ideal for minimalists.
Zip around wallets – Zips closed for maximum security. It prevents items from falling out.
Checkbook wallets – Offer a cover and register for those who still use checks.
Tri-fold wallets – Folds into thirds for a slim and sleek profile. Easy to slip into a pocket.
Popular Materials
Women's wallets come in a wide selection of materials, each with pros and cons. Some top choices include:
Leather – Classic, durable, and professional looking. Requires some maintenance.
Vegan leather – Animal-friendly alternative with a similar look and feel.
Canvas – Casual material that is washable and lightweight. It's not as luxurious.
Nylon – Also lightweight and casual. They are known for being water-resistant.
Metal – Sleek, modern look but can feel cold and rigid. Heavy.
Acrylic – Fun, eye-catching, translucent option. Scratches easily over time.
Essential Features of wallets for women
Beyond looks, the features of a wallet impact how useful it will be. Some features to look for include:
Card slots – Multiple slots to organize debit/credit cards and ID. 6-10 is ideal.
Cash compartment – A designated spot for bills to prevent a disorganized wad.
Coin purse – Zipped or buttoned pouch for coins and small items.
ID window – Clear sleeve to display ID without having to remove it.
Receipt pocket – Section to tuck away receipts, coupons, and other paper items.
Stylish Designs
While function is essential, fashion is, too. Women's wallets come in an array of gorgeous and trendy designs, Including:
Solid colors – Classic, versatile, and easy to match. Available in bold brights or neutrals.
Animal prints – Fun patterns like snake, leopard, and zebra. Makes a statement.
Patent finish – Glossy lacquered exterior in black or nude. Polished look.
Metallic – Iridescent metallic sheen in silver, gold, rose gold, and more. Glamorous.
Monogram – Initials or names embroidered on the exterior and customized and personalized.
Big vs Small
Wallets come in a spectrum of sizes. Consider how much you need to carry to determine the best size:
Small – Ideal for nights out. Fits just the essential cards and cash. Easily portable.
Medium – Accommodates most daily needs. Slim enough for many purses.
Large – Holds everything plus extras like a checkbook. It may be bulky for some bags.
Oversized – Great for travel. Room for passport, documents, and more. Difficult to carry.
Popular Brands
There are dozens of reputable brands creating stylish wallets for women. Some favorites include:
Kate Spade – Playful designs featuring the Spade logo. Medium price range.
Coach – Signature-coated canvas or leather with a heritage vibe. Luxury priced.
Michael Kors – Jet set lifestyle designs with logo charm. Contemporary looks.
Tory Burch – Iconic T logo on saffiano leather. Lots of brights and neutrals.
Fossil – Known for vintage Americana-inspired wallets. Quality leather.
Vera Bradley – Quilted cotton fabric in floral prints. Lower average price point.
Pricing
Set a budget before shopping since wallets for women's prices vary significantly based on factors like material and brand. Some general price ranges are:
Budget – Under $25. Usually, basic designs are without much organization.
Moderate – $25-$75. Better quality materials and more compartments.
Premium – $75-$200. Designer brands and fine leather. More decorative accents.
Luxury – $200+. Made from exotics like snakeskin with opulent hardware. High fashion names.
Extras
Some women's wallets come with unique features that provide added functionality:
Cell phone pocket – Safely store your phone inside your wallet for Access.
Keyring – Built-in ring to attach your keys, so you only need to grab your wallet. Avoid losing keys in the bag.
Mirror – Handy for quick touch-ups on the go. Check teeth or makeup discretely.
Chains/straps – Prevent theft or drop a wallet by wearing it on the wrist or around the neck.
RFID wallet protection – Blocks digital pickpockets from scanning personal data via an RFID chip. Added security feature.
Our 18 Wallets for Women suggestions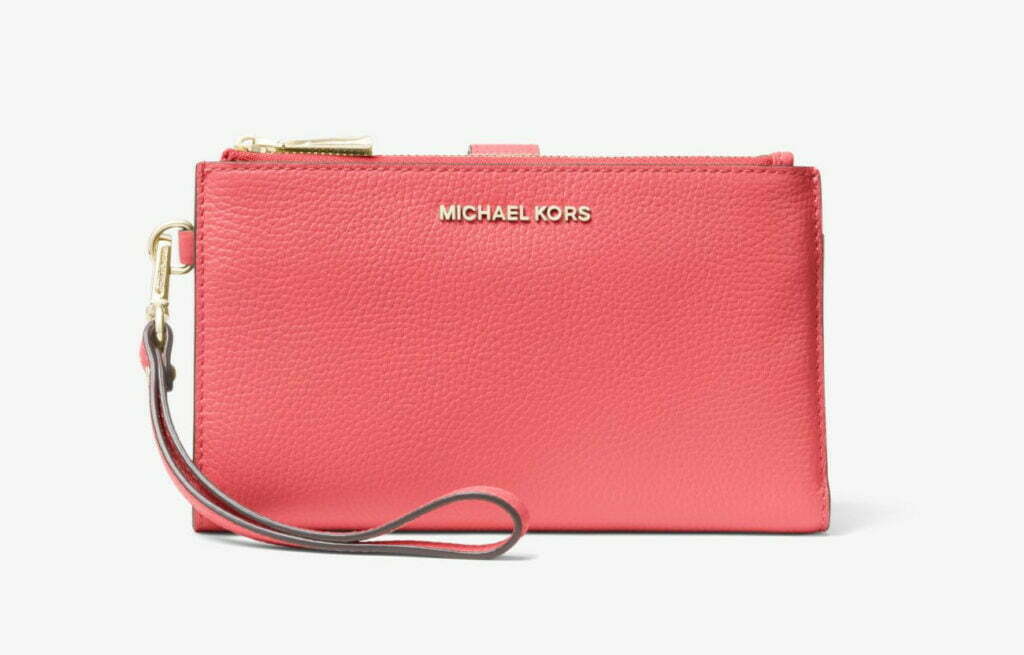 Michael Kors Pebbled Leather Smartphone Wallet. Check it out at michaelkors.com
Pros
Pebbled leather with good quality
Two zip sides with plenty of room for smartphones or credit cards.
Detachable strap, to be carried alone or in a handbag
Four different colors
Cons
Price is average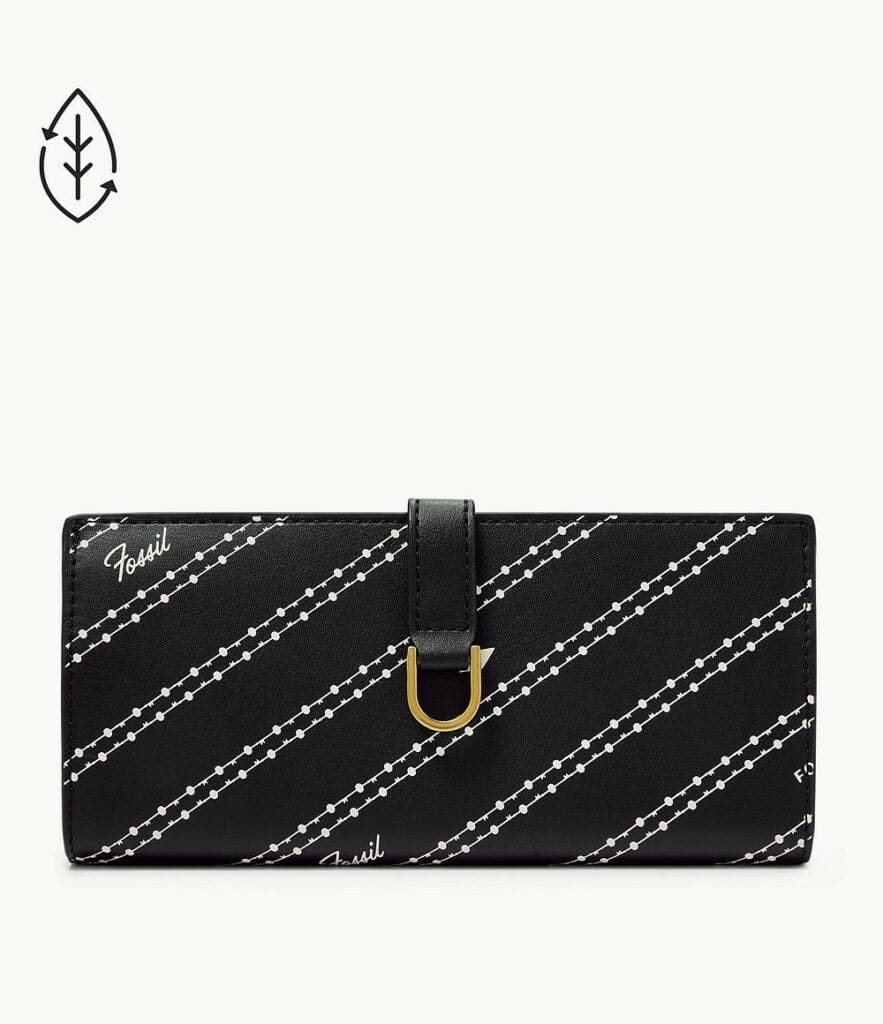 Fossil Kier Cactus Leather Tab Clutch. Check it out at fossil.com
We see more companies using vegan cactus leather in many accessories. Fossil's Kier collection has many products from cactus leather that are of good quality and made to last for a long time.
Pros
6 Different colors
Be proud of vegan leather; even the interior is 100% recycled polyester.
Room for 11 credit cards, ID with window, and back zip pocket.
Cons
No room for a smartphone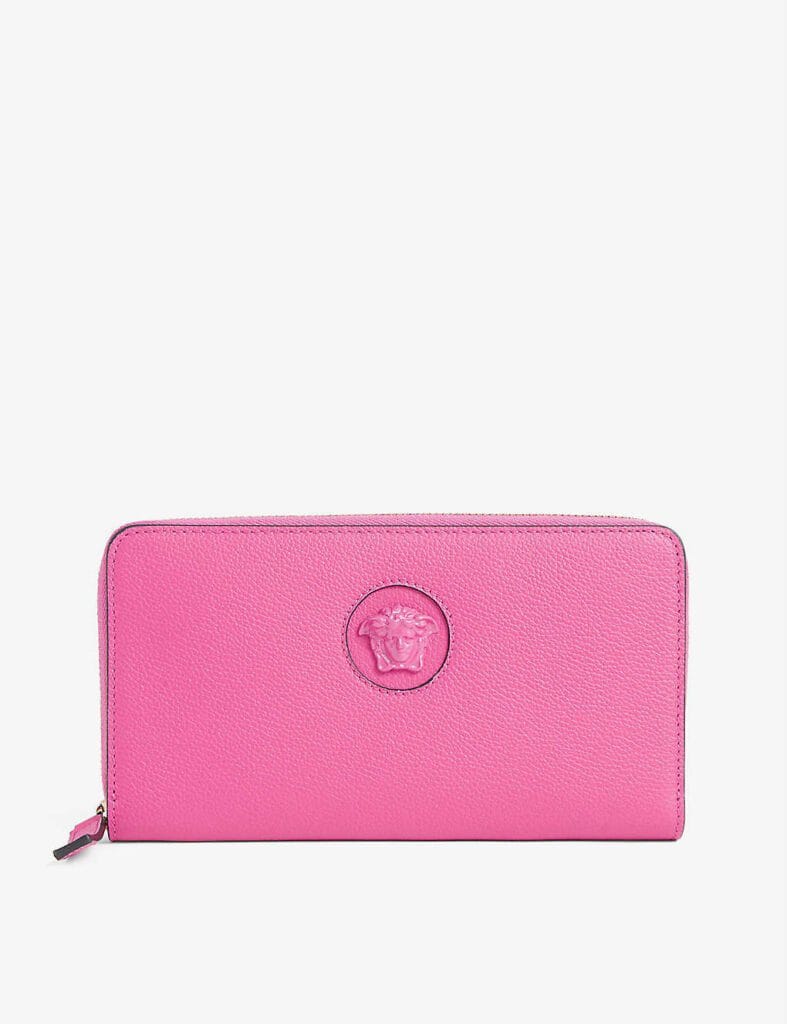 Versace Medusa leather wallet. Check it out at selfridges.com
Pros
Project earth. A series of products that are better for people and the planet.
100% leather
Made in Italy
Medusa logo plaque
Cons
It is Versace, just perfect, the color, the Medusa plaque, everything

Check out our article about the best backpacks for women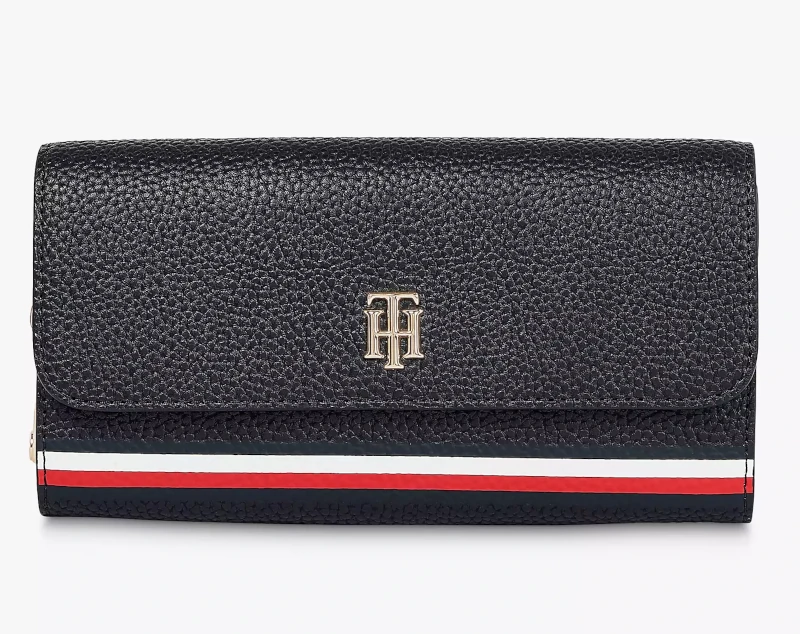 Tommy Hilfiger Element Signature Stripe Wallet, Navy Corporate. Check it out at johnlewis.com
Pros.
100% polyurethane – Vegan leather
Good price
Amazing colors and design
Cons
Wipe clean only.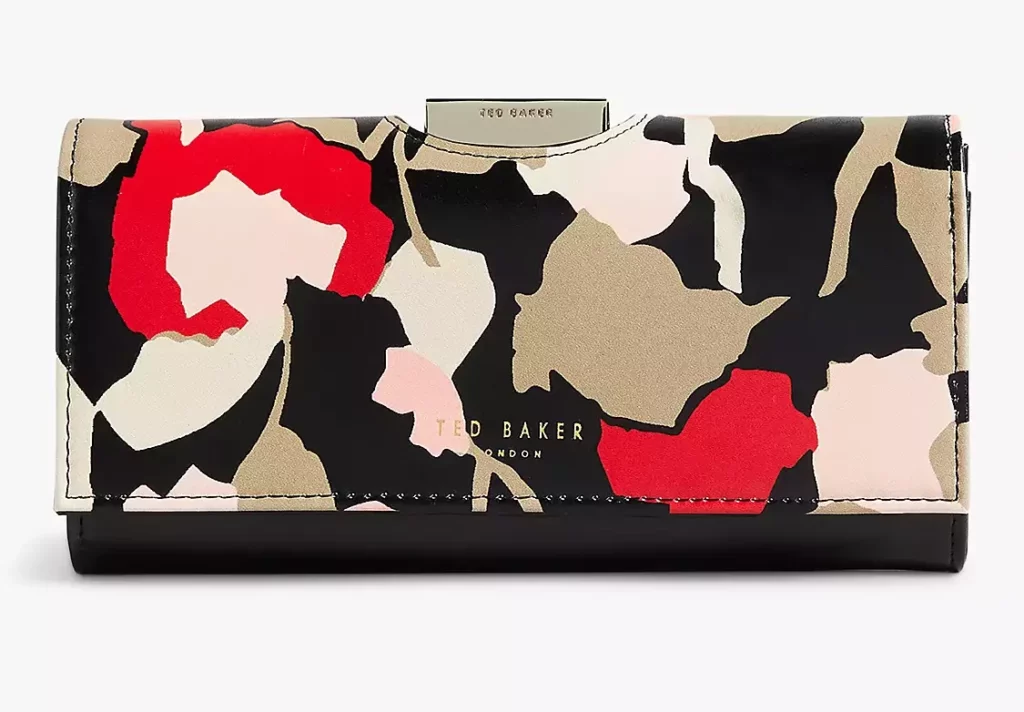 Ted Baker Felura Retro Flood Large Leather Purse. Check it out at johnlewis.com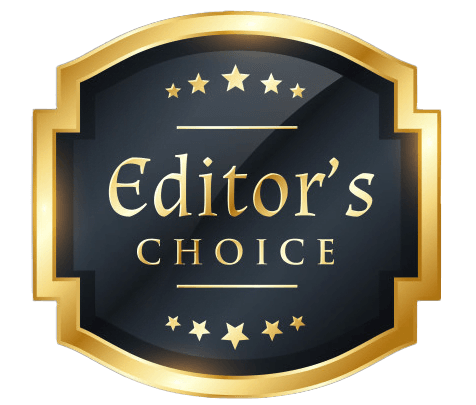 Pros
Large leather wallet
Good price
Many zip pockets
Cons
Is it a purse or a wallet? Overall, it is a fancy accessory for modern women.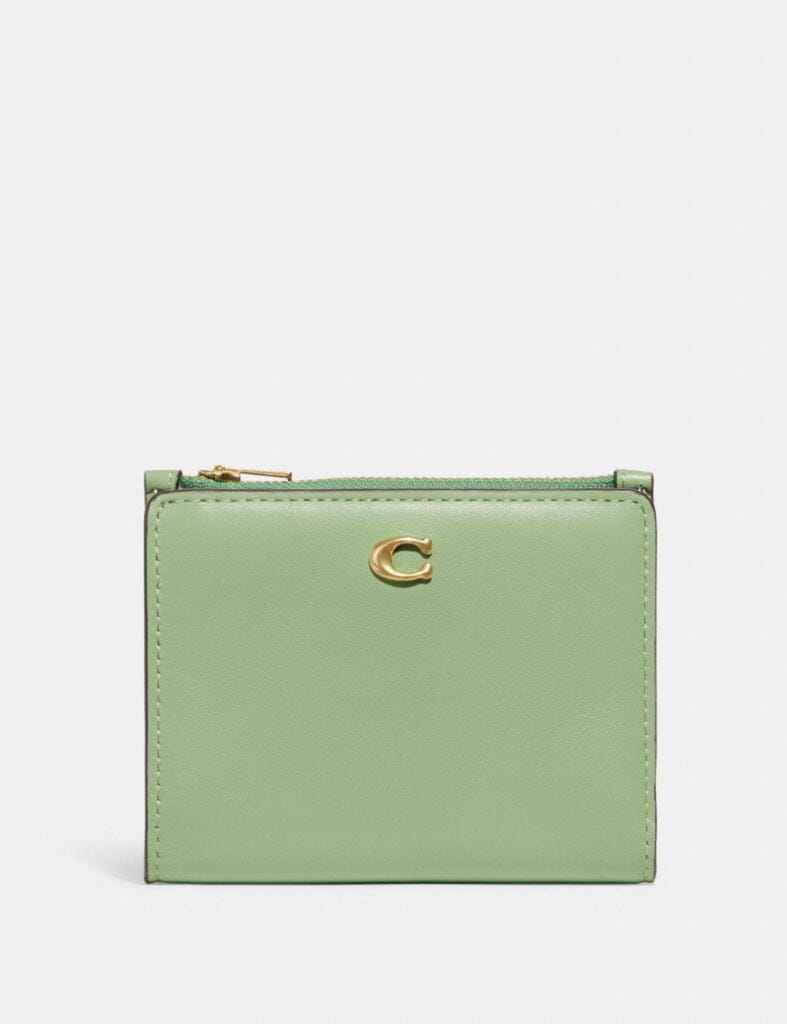 Coach bifold snap wallet. Check it out at coach.com
Pros
Leather wallet
Four different colors
6 card slots and bill compartment
Cons
There is not much room for many cards or smartphones.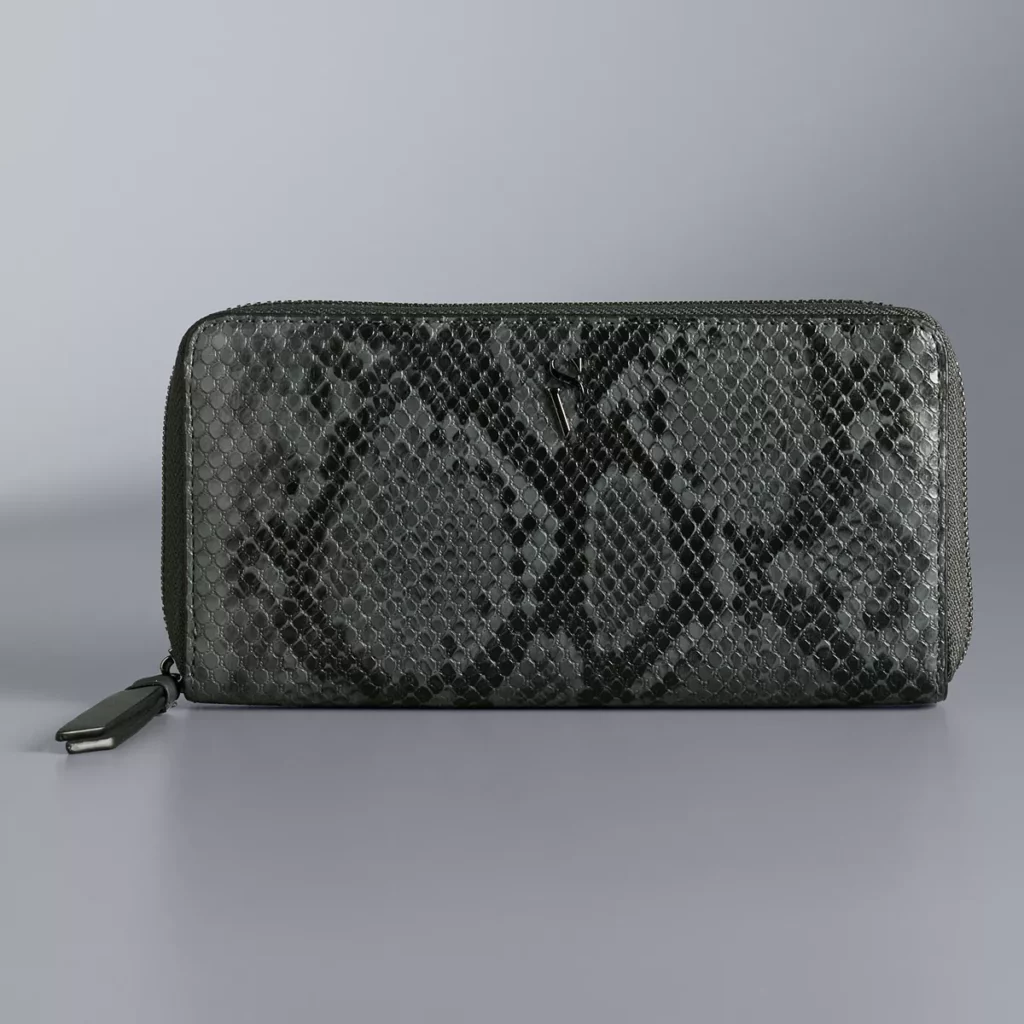 Simply Vera Vera Wang Signature Wallet. Check it out at kohls.com
Pros
Vegan leather wallet
Good price
More than 20 colors
Cons
Suits with casual style.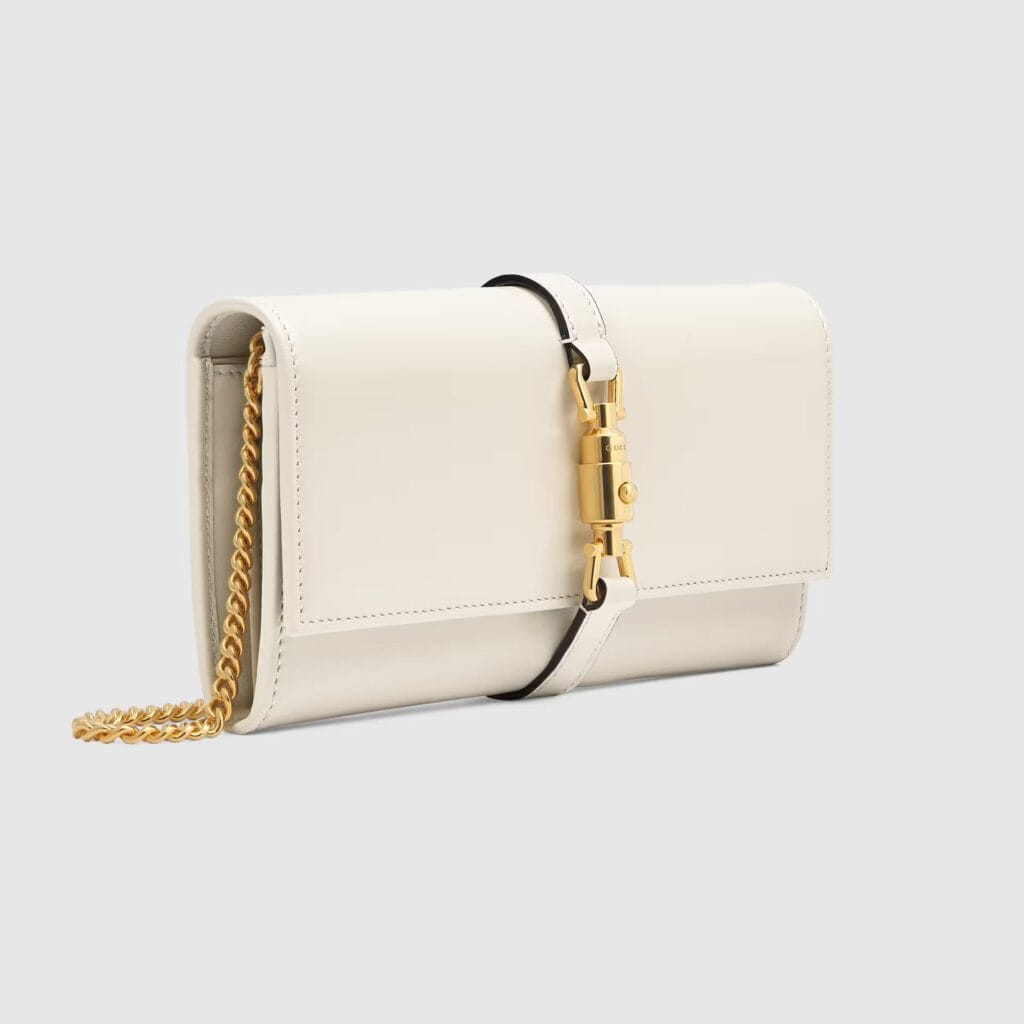 Gucci Jackie 1961 chain wallet in white leather. Check it out at gucci.com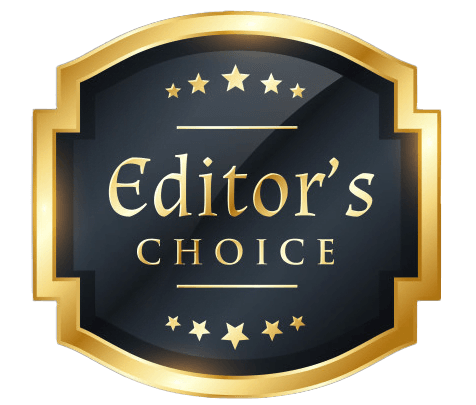 Pros
Fantastic style, with a piston that is the symbol of Jackie's 1961 collection
Four different variations
It can be used as a bag with a chain strap
Cons
It is Gucci. It is from the World of Jackie 1961 collection. Everything is perfect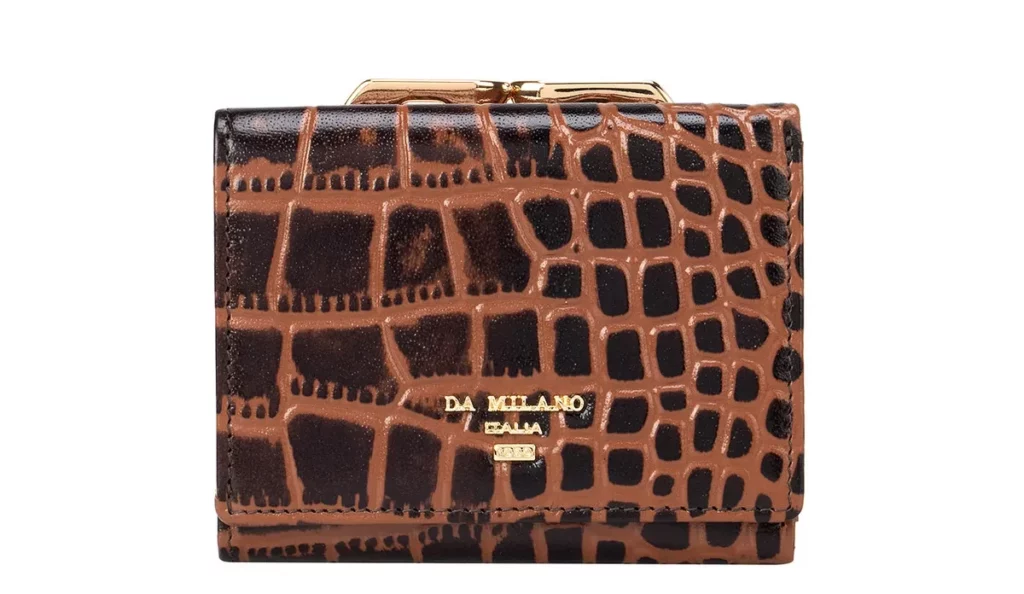 Da Milano Brown Croco effect wallet. Check it out at damilano.com
Pros
Good price
Four different colors
Compact size
Cons
Damilano is made in India. That is why the price is reasonable.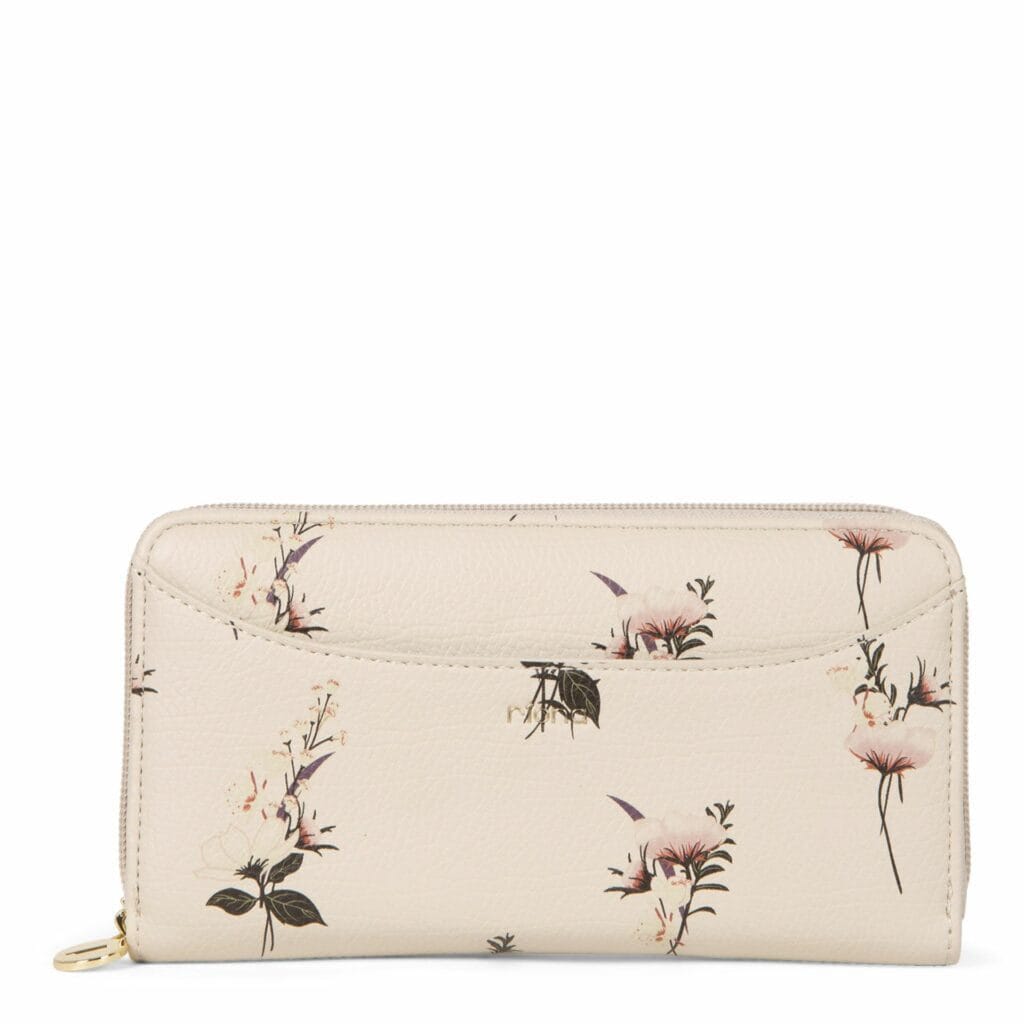 Riona Ivy Zip-around RFID wallet. Check it out at shopbentley.com
Pros
Vegan product and PETA-approved
Four different colors
Good price
RFID protection pockets to keep your cards safe
Cons
For casual and only everyday use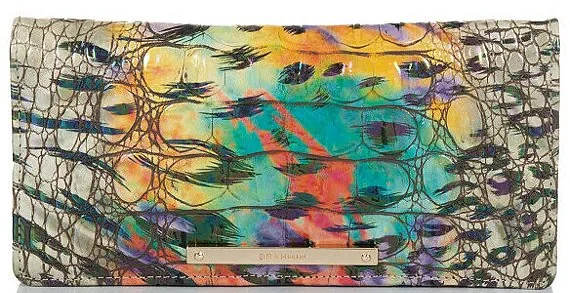 Brahmin Ombre Melbourne Collection Ady Animal Print Crocodile-embossed wallet. Check it out at dillards.com
Pros
From the Ombre Melbourn collection, you can have the same color handbag
Handcrafted and leather
Fantastic design and colors. One of the best wallets for women.
Cons
IF YOU LIKE THE COLORS, you MUST take the handbag from the same collection.

Check out our article about women's handbags.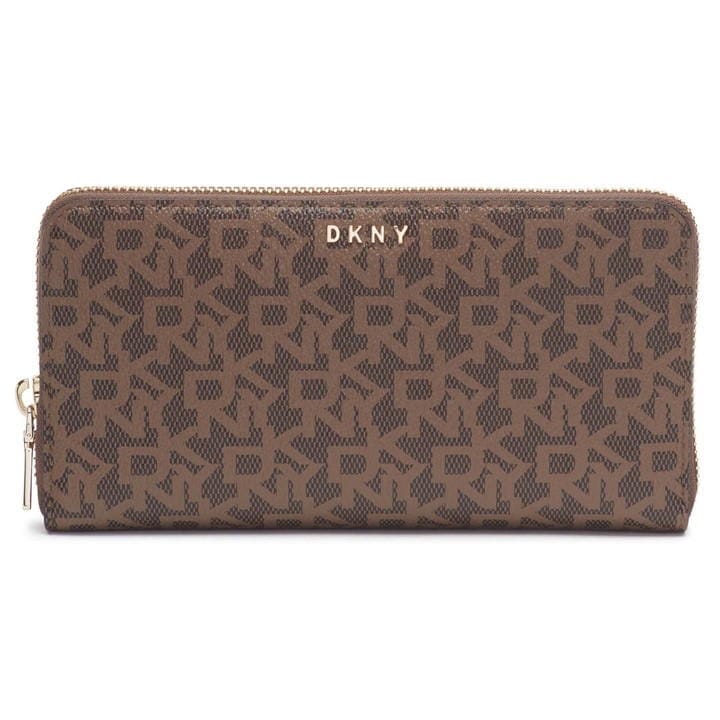 DKNY All Over Logo Zip Around Purse. Check it out at houseoffraser.co.uk
Pros
Faux leather
Plenty of space
Top zipper for secure closure
Cons
No RFID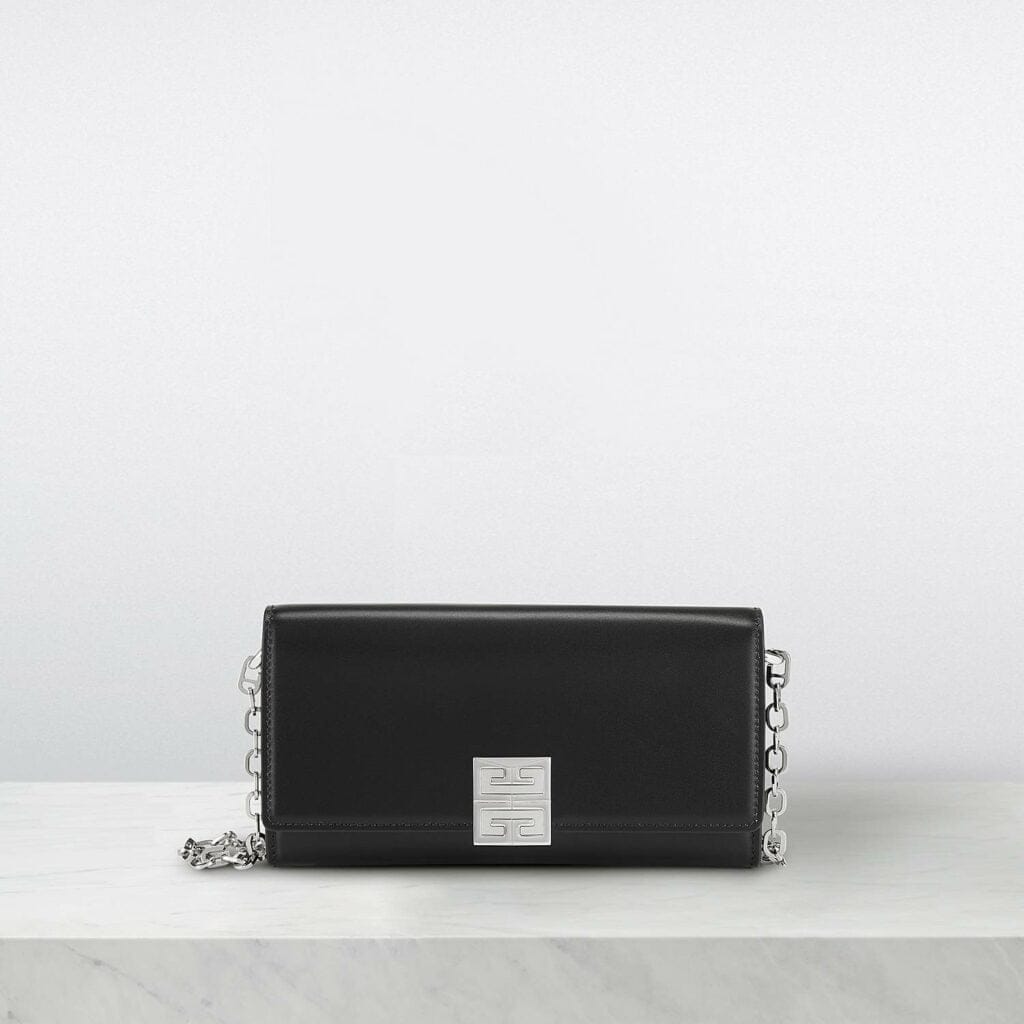 GIVENCHY 4G Leather Chain Wallet. Check it out at brownthomas.com
Pros
100% leather
Magnetic flap opening
Detachable Chain strap
Cons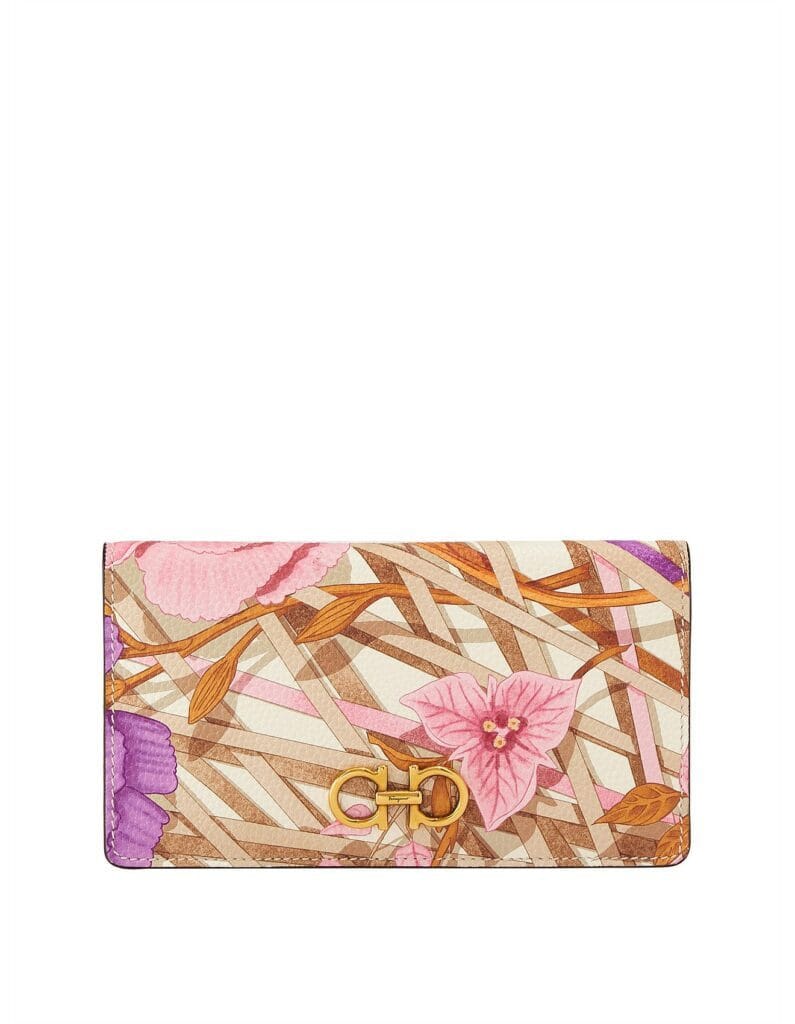 Salvatore Ferragamo GANCINI Continental Wallet. Check it out at davidjones.com
Pros
Calf leather
Made in Italy
The design consists of floral elements with imperfect waves
Large wallet with plenty of room
Cons
Price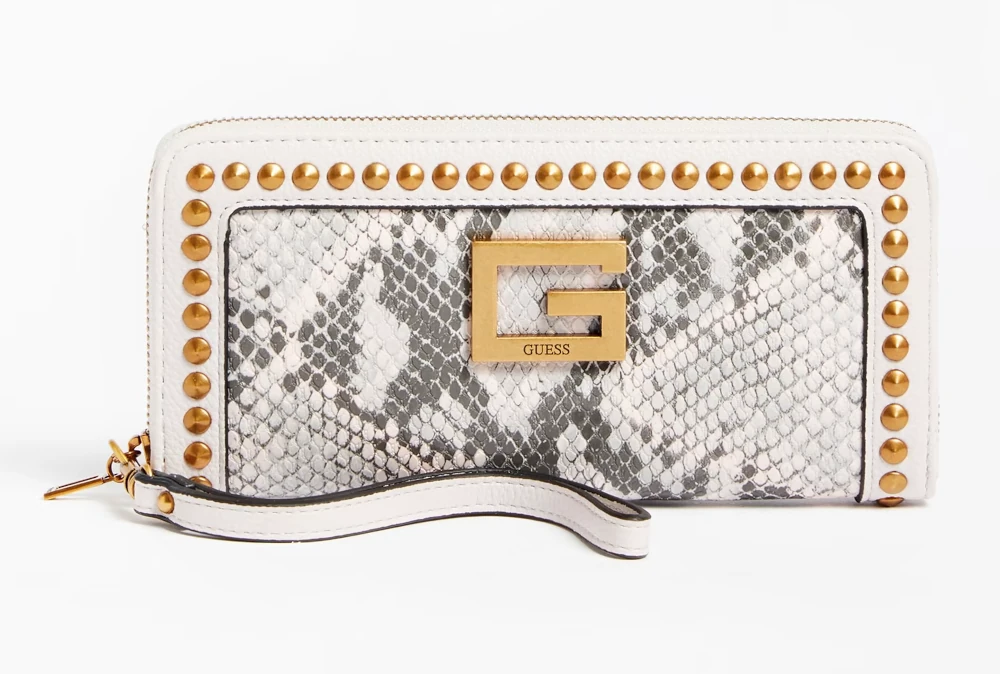 Guess maxi wallet. Check it out at a guess. eu
Pros
Woven material
100% Polyurethane
Large wallet
Good price
Cons
Suitable for casual daily use, not with an evening dress.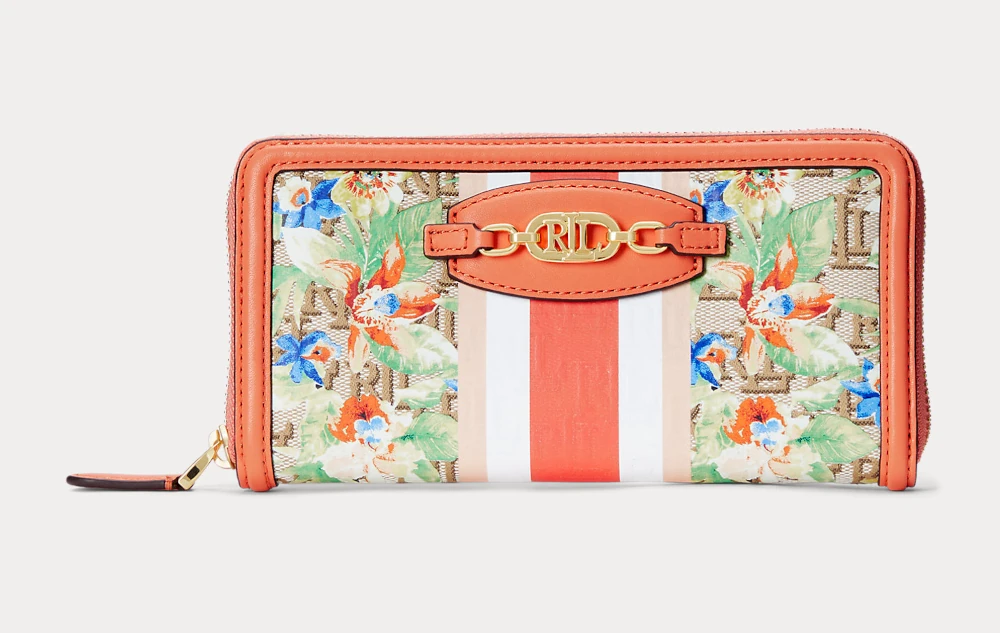 Ralph Lauren Monogram Jacquard Continental Wallet. Check it out at ralphlauren.com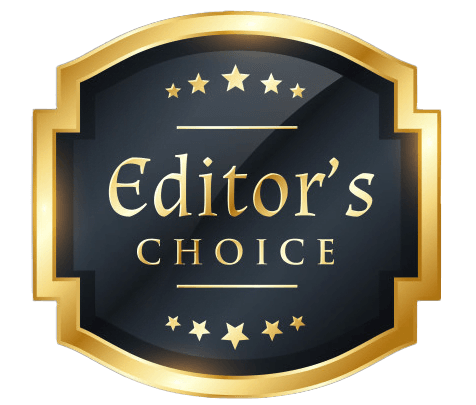 Pros
Made from Jacquard fabric with a floral motif
Imported – no mention of where
Trimmed with full-grain leather
One of our favorites
Cons
Only the price is high, but it is a masterpiece.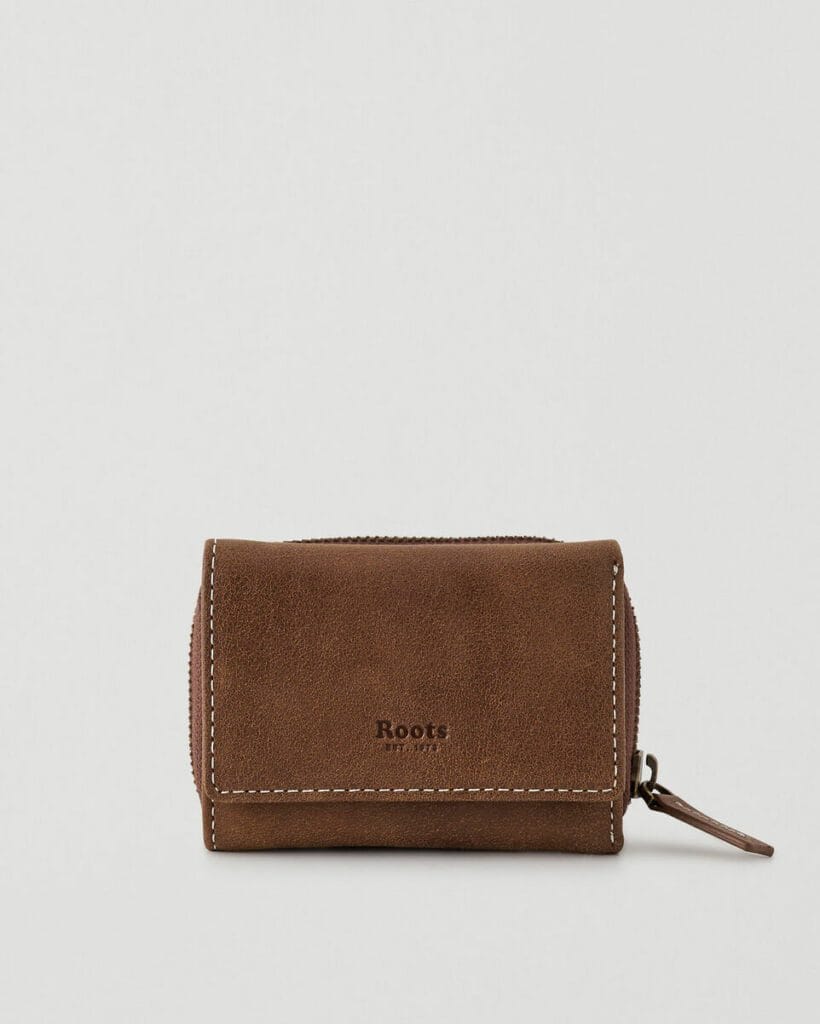 Roots trifold clutch tribe. Check it out at roots.com
Pros
Natural or black color
Genuine leather
Small but mighty
Excellent quality
Cons
Soft leather needs extra care.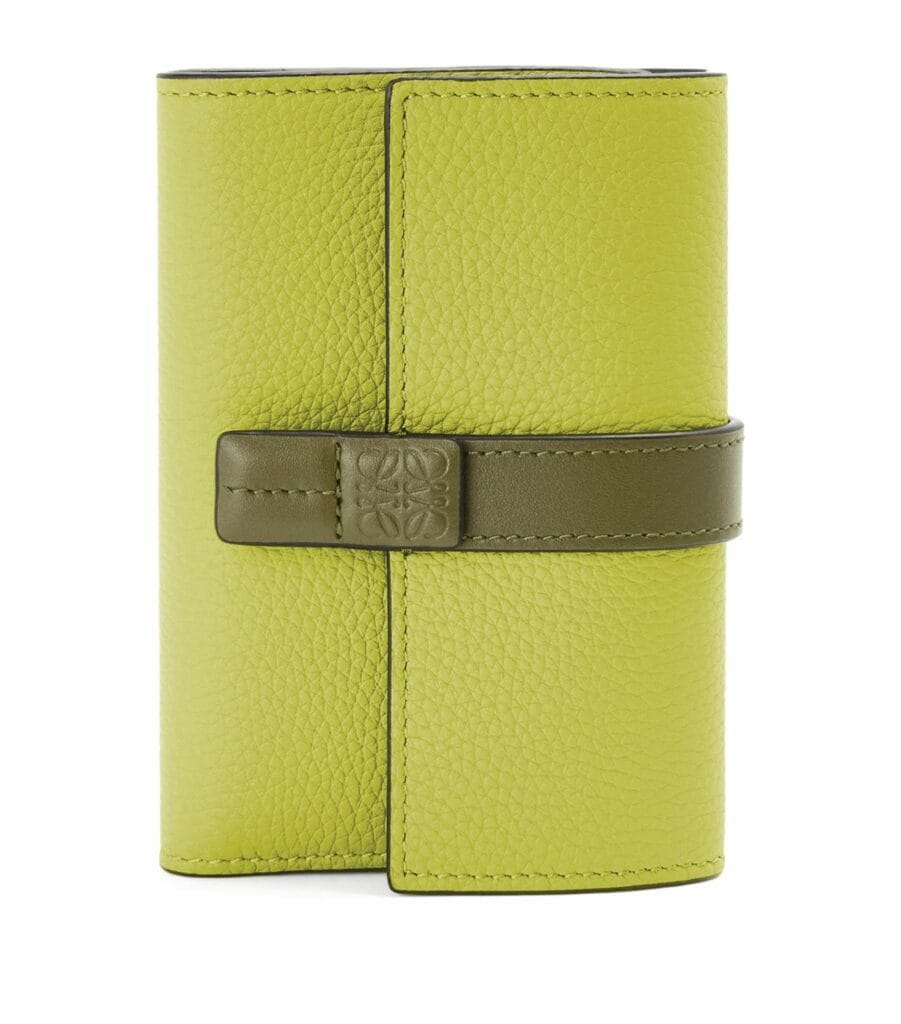 Loewe Leather Trifold Wallet. Check it out at harrods.com
Pros
Leather
Tricolor and trifold
Charming colors mixing lime yellow and avocado
Cons
Price

Check out our article about new keychains for women. You will find many new ideas there.
Frequently Asked Questions
What is a vegan leather wallet made of?

Vegan leather is made from polyurethane, a plastic material that can be made of leaves, apple peels, fruit waste, and recycled plastic.

Is cactus leather good?

Cactus leather is made from the Nopal cactus leaves found in Mexico. It is very strong, waterproof, smooth to the touch, and very durable.

What is RFID in women's wallets?

Modern thieves use RFID readers to scan information from your credit cards, IDs, or passports. RFID readers use radio waves to read the data. Wallets with RFID protection use unique materials to interrupt and block those radio waves.

How do I choose a women's wallet?

Check for the following. Material: leather, vegan leather, nylon, woven. Color: Do you want the wallet to match your outfit, or go with a classic black or brown color? Easy Access: space for your credit cards, ID, and passport. Or it will be big enough to hold your smartphone. Protection: RFID protects you from electronic thieves. Size: Small or large? That is a personal opinion and depends on whether you carry a handbag.

What are the different types of women's wallets?

1. Bi-fold 2. Tri-fold 3. Continental 4. Coin wallet
5. Card case 6. Clutch wallet 7. Slim Wallet 8. Wristlet
9. Travel wallet 10. Wallet on a string 11. Money clip
Conclusion
These are some of the most trendy wallets for women.
We would like to hear your comments. What is the wallet that you will buy next?
What wallet would you like to see next?
Write below in our comment sections what you think about this article.
Women's Watches. 10 Super Choices To Be Sparkling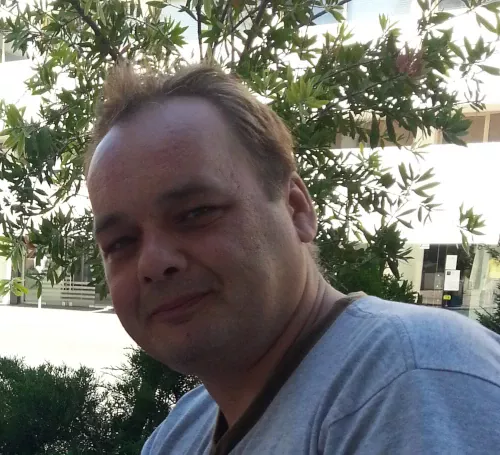 Pashalis Laoutaris
Fashion Blogger
I am a professional writer, fashion blogger, and owner of the site https://laoutaris.com. As a salesperson for more than 20 years, I have experience of 10 years in the fashion industry. I consider myself a true fashionista. I am writing daily blog articles about fashion, tools and converters, and everything you need to know about the current fashion trends.
Share this article
Our Latest Articles
Laoutaris Recommends