Aviator sunglasses for men have an enduring popularity among men looking for classic, stylish eyewear. But where did these teardrop-shaped sunglasses originate, and what makes them such a versatile accessory for men?
Table of Contents
A Brief History of Aviator Sunglasses for Men
The aviator style dates back to the 1930s when it was created to meet the needs of pilots flying at high altitudes.
In 1936, Bausch & Lomb launched the first pair of aviator sunglasses after extensive research into eyewear for military pilots. The teardrop shape offered maximum eye coverage and protection.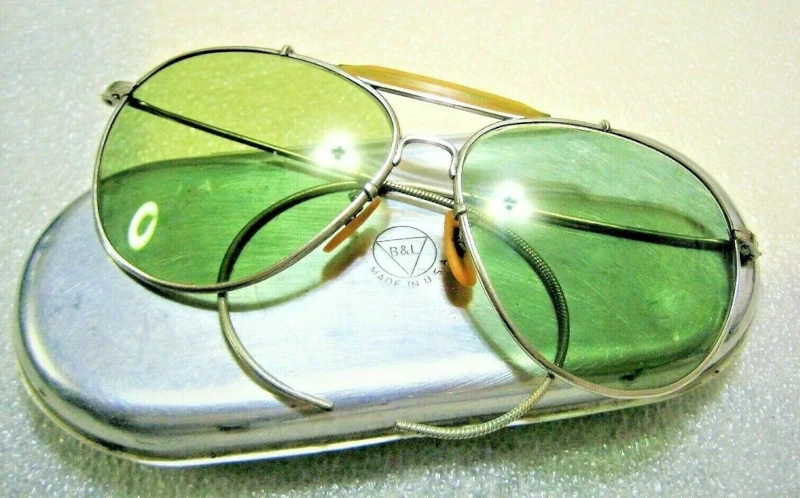 Check them out at ivintagesunglasses.com
The glasses became standard equipment for pilots during World War II and were nicknamed "pilot shades."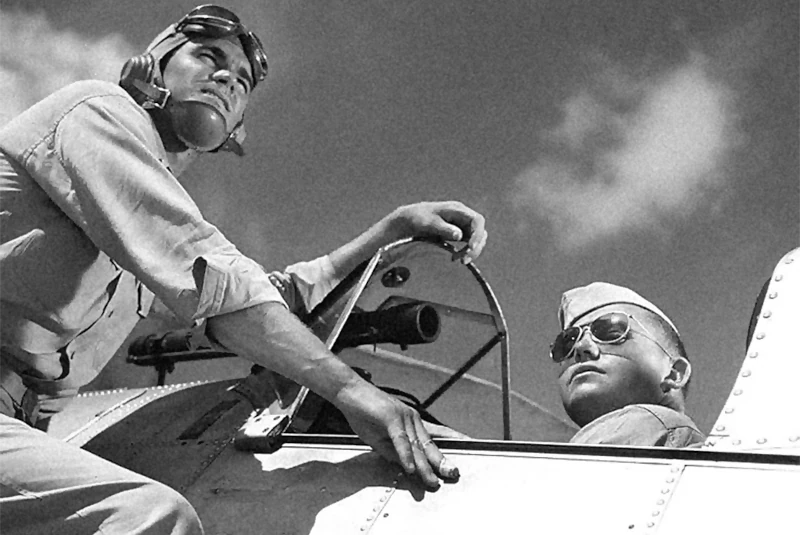 In the 1970s, aviators gained popularity as a fashion accessory after celebrities like Robert Redford were seen wearing them. They became a status symbol.
Today, aviator sunglasses remain one of the most iconic sunglass styles. Though other designs have come and gone, aviators have stood the test of time.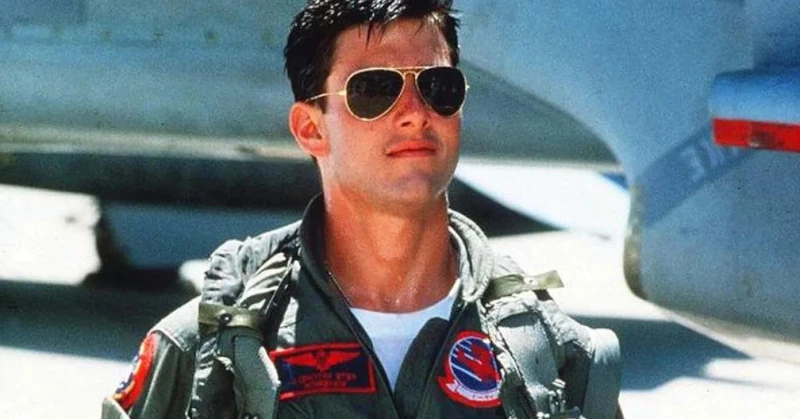 What Makes Aviators Distinctive
Several key design features characterize the classic aviator style:
Thin Metal Frames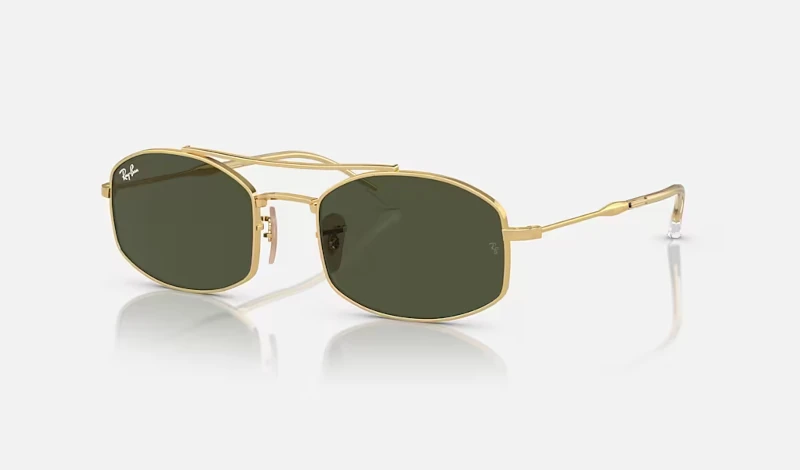 Check the New "Gold Mine" Aviators at ray-ban.com
Traditional aviators have thin metal frames, usually made from lightweight and durable metals like titanium. Gold, silver, and gunmetal tones are common. The thin wire frame keeps the glasses lightweight while retaining shape and durability.
Teardrop Shaped Lenses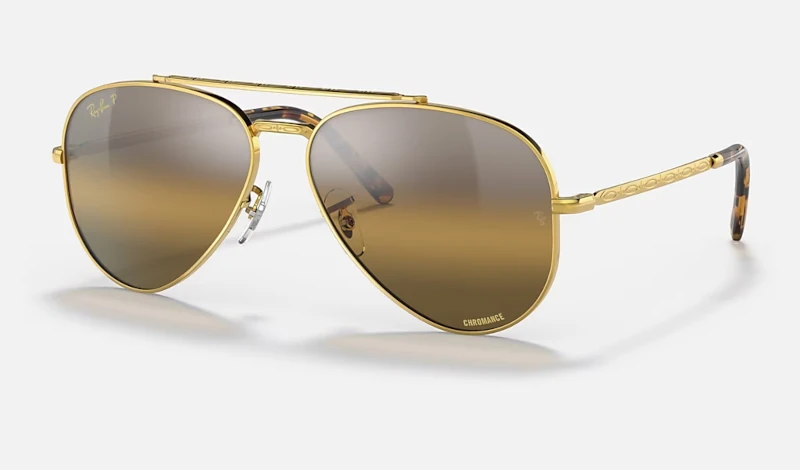 Check them out at ray-ban.com
The teardrop lenses are the most identifiable part of aviators. The top of the lens is rounded, and the bottom has a slight curve. This shape provides optimal coverage and a wide field of vision.
Dark Lenses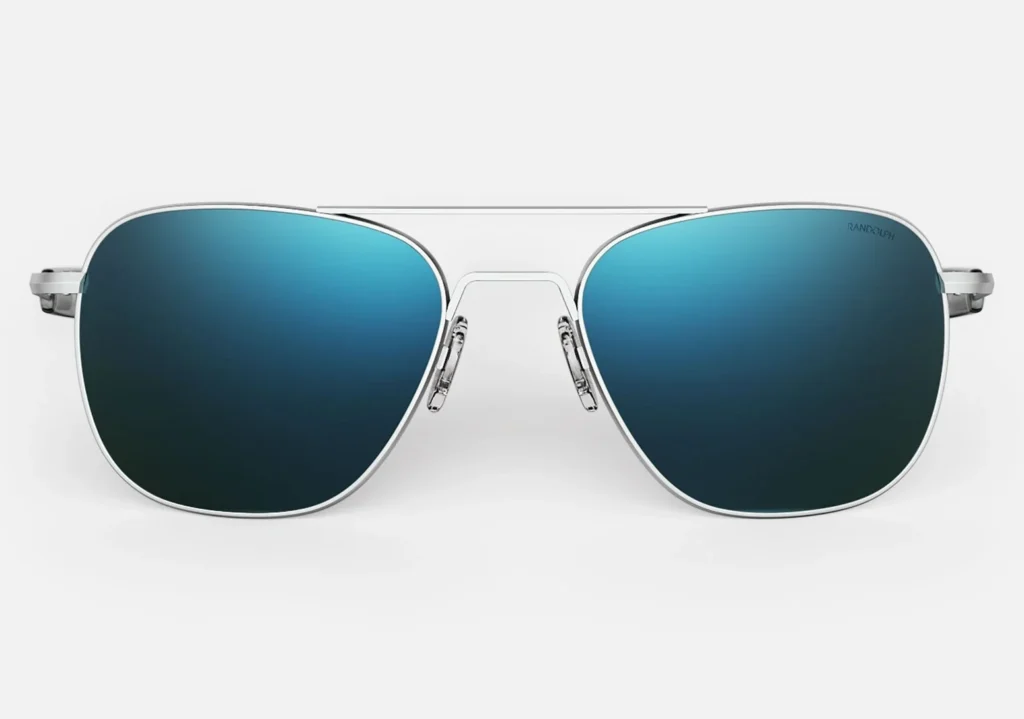 Check them out at randolphusa.com
Aviator lenses are slightly convex and deeply tinted, providing glare protection. Many pairs also have a mirrored coating, which further cuts brightness while enhancing visual clarity.
Adjustable Features
Check them out at aoeyewear.com
From the bridge size to the length of the arms, most aviators are adjustable for a customized fit. Wearers can tweak the proportions to find their perfect fit and comfort.
Why Aviators Sunglasses for Men Complement Fashion
Several characteristics of the aviator design make them a natural choice for men seeking stylish eyewear:
Masculine Appeal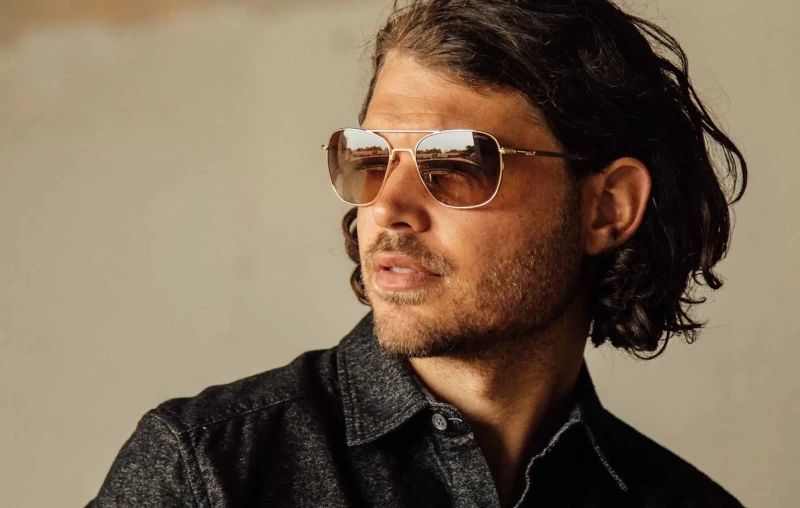 Read more about the History of Aviator sunglasses at randolph.com
The straight lines and angular shape of aviators give them an inherently masculine style. They project ruggedness and boldness.
Suitable for Most Face Shapes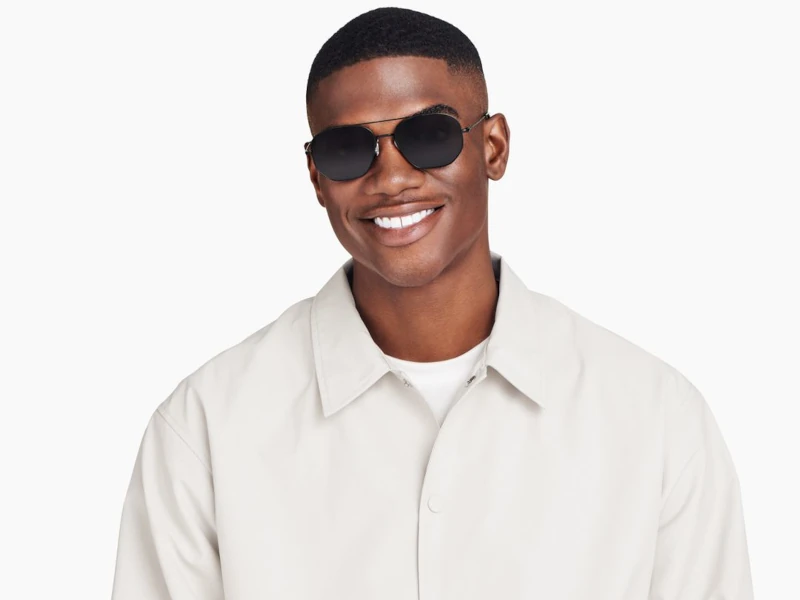 Check them out at warbyparker.com
Unlike dramatic cat-eye or oversized sunglasses, aviators suit most male face shapes. The teardrop lenses especially complement square, oval, and heart-shaped faces.
Versatile for Different Outfits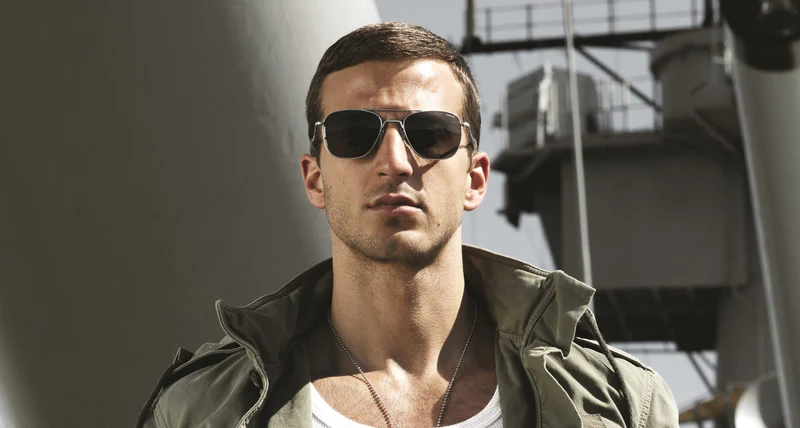 Aviators' cool persona adapts well to both dressy and casual outfits. They can add a laidback touch to everyday clothes or sharpen up formalwear.
Practical Eye Protection
Check them out at ajio.com
With their broad lenses, aviators offer superior protection from UV rays and glare – critical benefits for everyday wear.
Styling Tips about Aviator Sunglasses for Men
Follow these tips for choosing and wearing aviators:
Opt for the right fit. Make sure the aviators' size and shape are proportional to your face. Avoid pairs that look comically large or small.
Select versatile metal tones. Gold, silver, matte black, and gunmetal finishes pair well with most colors. Tortoiseshell and two-tone styles offer alternatives.
Balance casualness. If wearing aviator sunglasses for men with tailored clothing, reduce the casual vibe by choosing a thin metal frame.
Carry a protective case. Keep aviators safe in a sleeve or hard case when not wearing to prevent scratches.
Wear for water activities. Aviators are ideal for boating, swimming, and beachwear when you need eye protection from sun glare.
Finding the Right Aviator Frames
With so many aviator options now available, it can be tricky to find the best pair for your needs. Here are some tips:
For small faces: Look for thin or ultra-thin metal frames. Mini aviators with shorter lenses and arms are also a good bet. This will keep the glasses balanced on small features.
For larger faces: Opt for wide or extra wide lens aviators to match your proportions. You can also consider large or oversized aviator sunglasses for men.
For round faces: Angular aviators with sharper lines complement soft rounded face shapes. Avoid circular lens options to prevent exaggerating roundness.
For outdoorsy activities: If you'll primarily wear aviators outdoors, prioritize function over style. Seek out polarized or mirrored lenses to deal with glare. Sports bands can keep glasses on securely.
Popular Brands for Aviator Shades
Some top aviator brands to look at include:
Ray-Ban: The most iconic brand. Known for high quality and offering the traditional model plus updates.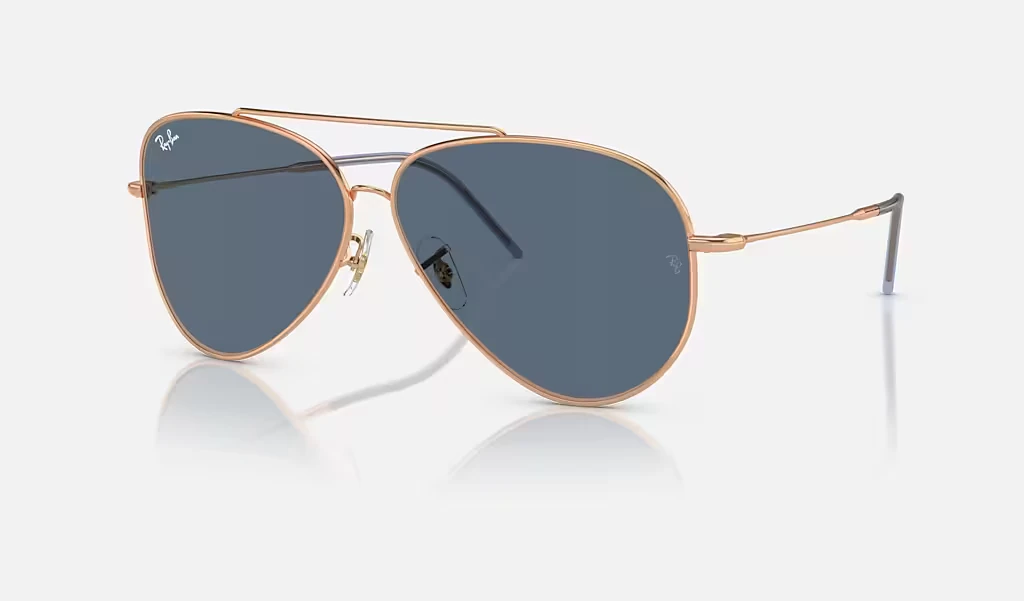 Check out the new Aviator Reverse at ray-ban.com
Randolph Engineering: Retains the classic military look. Rugged and durable frames.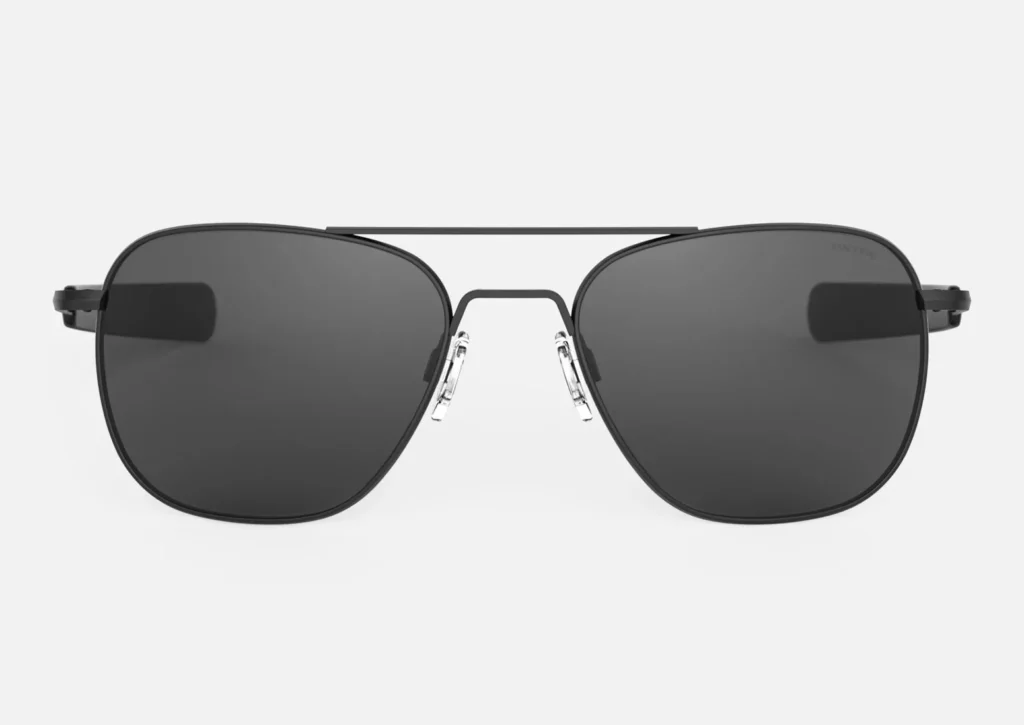 Check them out at randolph.com
Warby Parker: Offers trendy tweaks on the classic aviator with mixed materials. Reasonably priced.

Check them out at warbyparker.com
American Optical Original Pilot: True to the original model worn by WWII pilots. A piece of history.

Check them out at aoeyewear.com
Persol: Handmade Italian aviators with top-notch crystal lenses. Expensive but some of the best quality.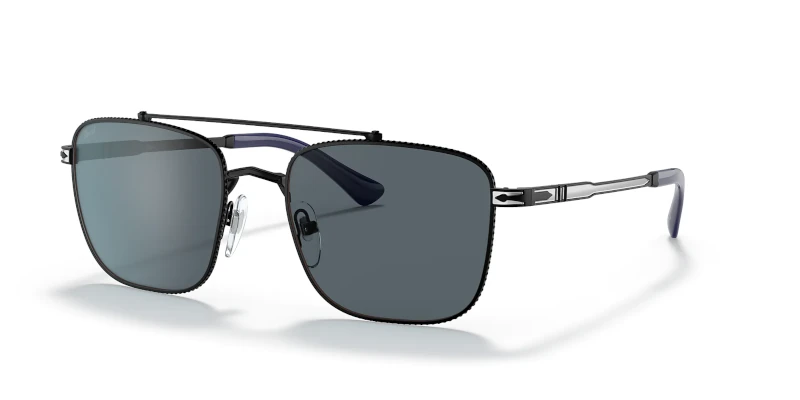 Check them out at persol.com
5 Situations to Wear Aviator Sunglasses for Men
Aviator glasses bring rugged cool to all kinds of occasions:
Weekend errands: Give your Saturday shopping outfit an instant style boost by popping on aviators.
Driving trips: Hitting the open highway? Block glare during long drives with always-stylish aviators.
Poolside lounging: Relax in style poolside by pairing aviators with swim trunks. Protect eyes while looking laidback and fashionable.
Casual social gatherings: For a daytime BBQ or rooftop party, aviators add flair to casual attire.
Outdoor adventures: Headed hiking, fishing, or kayaking? Aviator sunglasses for men will protect your eyes and up the cool factor.
Caring for Your Aviators
Aviator sunglasses for men are durable but still require basic care. Follow these tips:
Store in a hard case when not in use to prevent scratches. Microfiber pouches also work.
Use lens cleaner and a microfiber cloth to wipe off smudges or dirt. Avoid using paper products.
For grease or stains, use mild soap and water with a soft brush or cloth. Rinse and dry completely.
Don't leave aviators lying in direct sunlight, which can damage the lenses and frame.
Look into replacement lenses if your current pair becomes too scratched up.
Frequently Asked Questions
Should the bridge of aviators touch my nose?
Ideally, the bridge should rest gently on the bridge of your nose. Make sure it's not so tight that it's uncomfortable. You want the weight distributed evenly.
How dark of lenses should I get?
Consider how you'll use your aviators most. For everyday wear, category 2 or 3 lenses (transmitting 15-70% light) are recommended. For very sunny situations, go darker with category 4 lenses (3-8% light transmission).
Are bayonet temple tips better?
Bayonet-style aviator arms (with pointed tips that hook into the frame) are usually more adjustable and stay on securely. But some people dislike how they feel behind the ears. Choose based on your preference.
Should I get gradient or mirrored lenses?
Gradient lenses are darker at the top to block the overhead sun. Mirrored lenses reflect more light, provide glare protection, and have a cool look. Determine which benefit you want most.
What face shapes do aviator sunglasses for men not flatter?
Aviator Sunglasses for men are quite versatile but not ideal for every face. They can look too big and overwhelm long, narrow face shapes. Heart shapes often suit rounded lens styles better. Choose wisely if you have these shapes.
Are aviators still in style?
Aviator sunglasses for men have never really gone out of style since they rose to popularity in the 70s and 80s. Their classic teardrop shape and cool vibe remain sought after. While trends come and go, aviators remain a staple.
Our Latest Articles
Laoutaris Recommends