Roberto Cavalli became a global fashion legend known for bold animal prints, provocative designs, and dressing celebrity A-listers in his signature sexy style.
Table of Contents
Roberto Cavalli exploded onto the international fashion scene in the 1970s with bold, innovative designs that pushed boundaries. With exotic animal prints, lavish embellishments, and body-conscious silhouettes, Cavalli captured a sensual, hedonistic aesthetic that evoked glamour and sex appeal.
Over his remarkable five-decade career, the Italian designer built his namesake label into a global fashion empire while dressing rock stars, actresses, and VIPs in his signature style. Though now retired, Cavalli's artistic vision and trailblazing textile techniques have cemented his status as a true fashion legend.
Early Life and Career Beginnings
Roberto Cavalli was born in Florence, Italy in 1940. From a young age, he demonstrated a remarkable talent for art, showing an eye for color, form, and texture. His parents noticed his artistic gifts and enrolled him in the local Academy of Art at age 10. Here, the young Cavalli honed his drawing, painting, sculpting, and sketching abilities while surrounded by Florence's rich cultural heritage.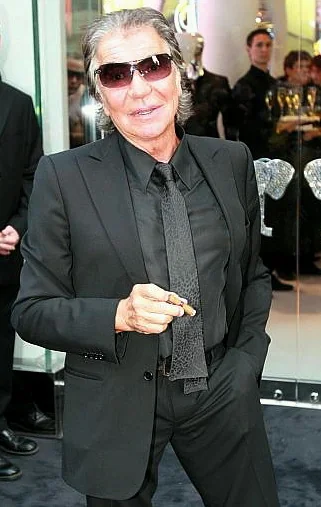 After finishing his studies at the academy, Cavalli first tried his hand at working with leather, printing colorful designs onto leather jackets, skirts, and purses. He would sell these creations at local markets while still a student, gaining valuable business skills. During this time, he learned techniques for treating and printing onto leather that he would later perfect in his own fashion house.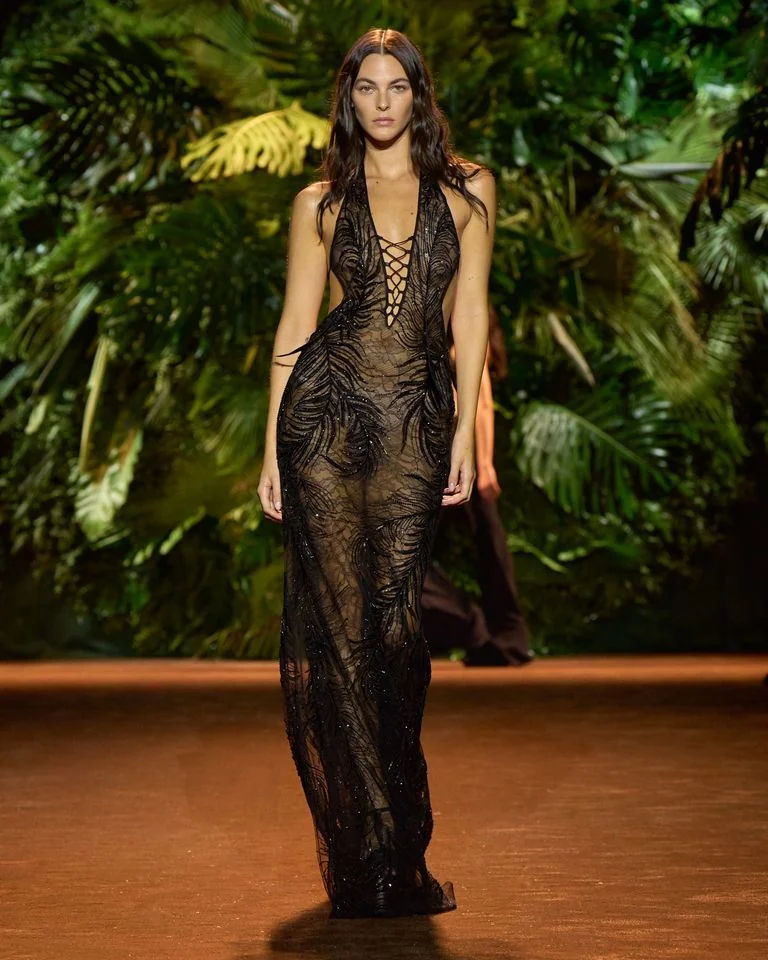 From Rober Cavalli SS24 collection.
In the 1960s, Cavalli landed an assistant position with an up-and-coming designer named Krizia. In this role, Cavalli was immersed in the construction and production side of the fashion world. He gained knowledge of draping, pattern making, sewing, and bringing creative ideas to life in garment form. Working so closely with Krizia also shaped his artistic aesthetic, blending elements of femininity, glamour, and sensuality that define Italian fashion.
Critical Events in Roberto Cavalli's Early Career:
Born in Florence, Italy in 1940
Studied at the Florence Academy of Art from age 10
The first fashion foray was hand-printing designs onto leather
Sold his leather creations at local markets as a student
Worked as an assistant to designer Krizia in the 1960s
Learned garment construction and design skills with Krizia
Developed an affinity for Italian glamour and sensuality
The Rise of the Roberto Cavalli Brand
In 1970, with knowledge and experience under his belt, Cavalli felt ready to launch his fashion line in his native Florence. He had soaked up the city's artisanal heritage and Milan's rising fashion energy, blending both influences in his initial collections. His first runway show was held in Paris in 1972 at the prestigious Salon du Prêt-à-Porter.
Buyers and critics were immediately taken with Cavalli's innovative use of vibrant animal prints and sexy, body-conscious silhouettes. His slinky dresses and figure-flattering separates stood out among the muted earth tones and minimalism trends of the 1970s. Within just a few years, Cavalli had been credited with pioneering the reintroduction of animal prints into high fashion.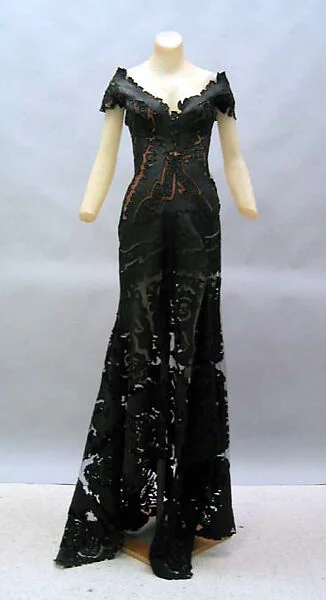 From Roberto Cavalli's 1972 collection.
By the late 1970s, Cavalli had opened his first boutique in Saint-Tropez, a jet-set locale synonymous with European glamour. Here, he cemented his reputation for laidback sensuality, dressing stylish women in signature body-skimming prints and luxe fabrics. Cavalli expanded into accessories, perfumes, menswear, childrenswear, and home goods as demand grew, turning his last name into an aspirational global brand.
Key Milestones in Roberto Cavalli's Rise to Fame:
He founded his label in Florence in 1970, debuting at Paris Fashion Week in 1972
Immediately won acclaim for the sensual use of animal prints and form-fitting designs
Opened the first boutique in Saint-Tropez in 1977, catering to wealthy vacationers
Pioneered technique of printing onto lightweight leathers and suede
Expanded into accessories, perfumes, menswear, childrenswear, and home goods over the years
Became a celebrity favorite and global fashion empire by the 1990s
Signature Style and Notable Designs
Animal Prints
Cavalli's most iconic trademark is his bold use of animal prints. From leopard spots to tiger stripes to reptile skins, exotic patterns adorn everything from slinky gowns to swimsuits in the Cavalli world. He pioneered innovative printing techniques to create lightweight designs on silk chiffon and other translucent fabrics, allowing the prints to drape fluidly on the body.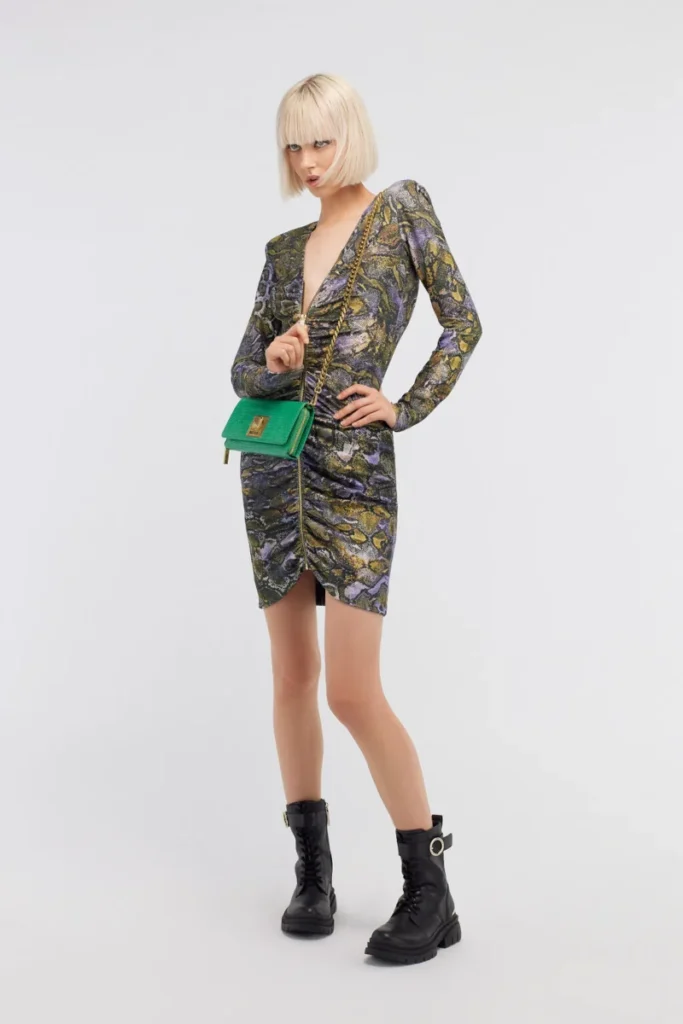 Check out this Python-Print Mini Dress here.
In another technical first, Cavalli became renowned for his prints on leather and suede, perfecting embossing and coloring the hides without compromising their softness and flexibility. Other designers have copied his techniques over the decades, cementing animal prints as a Cavalli signature.
Hardware Details
The designer artfully incorporates decorative metal hardware into many creations. Metallic studs, grommets, buckles, chains, and cuffs add shine and texture while accentuating the female form. Strategically placed hardware cinches waists, crisscrosses bustlines, trails down gowns or provides structure to sensual silhouettes.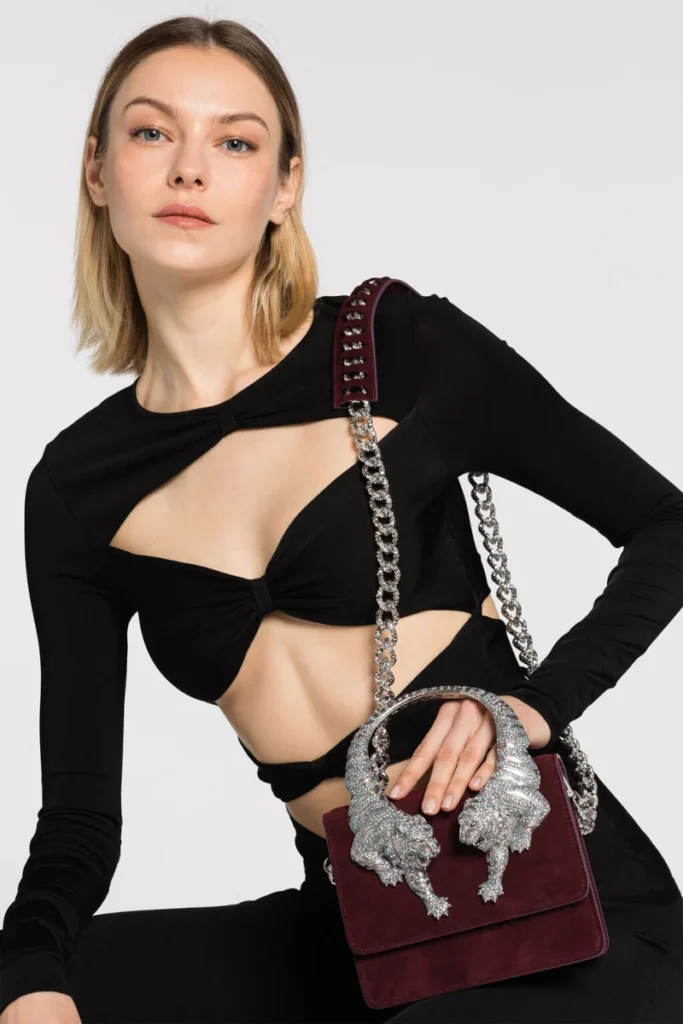 Check out this Roar suede shoulder bag here.
Cavalli's jewelry-inspired embellishments turn clothing into wearable art. Sources of inspiration include tribal jewelry, ancient Roman coins, and Mediterranean motifs.
Sheer and Cut-Outs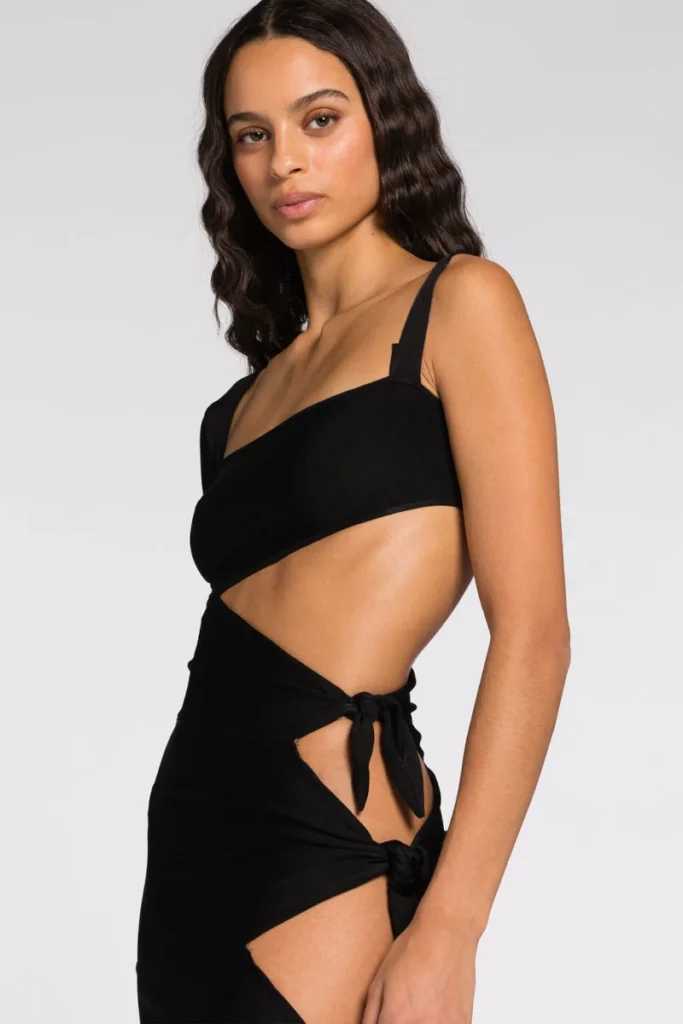 Check out this Cut out-detail mini dress here.
Cavalli embraces sensuality and seduction in sheer fabrics, plunging necklines, cut-outs, and draped silhouettes that hug the body. Strategically revealing skin adds to the allure and mystique. The designer has an uncanny ability to balance just enough coverage with suggestions and intricately placed embellishments.
Glamour and Embellishment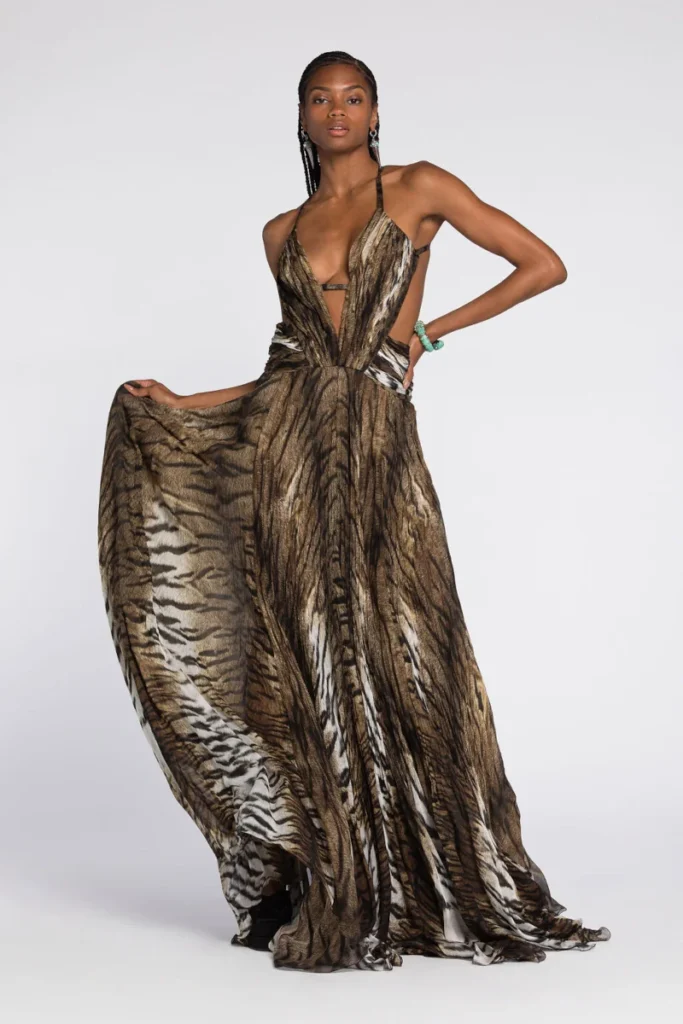 Check out this Tiger-Print Silk Maxi Dress here.
For his red carpet and performance creations, Cavalli goes opulent. Elaborately sequined and beaded gowns, mini-dresses dripping with crystals, and metallics add Old Hollywood glamour. Intricate embroidery, decadent fabrics like satin and velvet, and hand-applied details turn every dress into a work of art.
East-Meets-West Motifs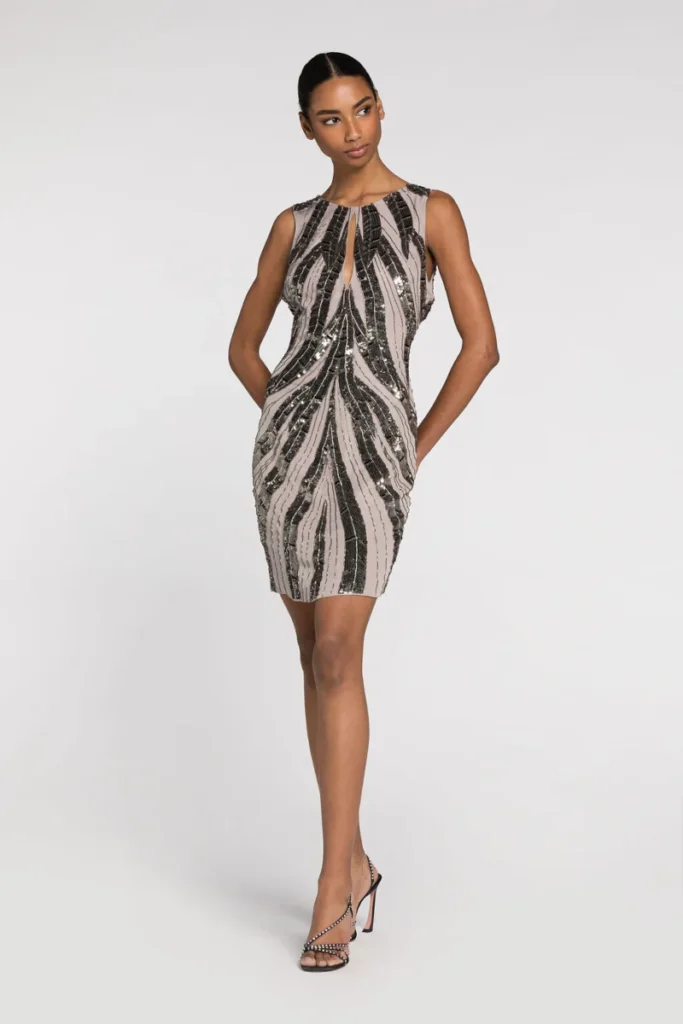 Check out this Sequin-embellished silk dress here.
Inspired by travels to China, Japan, India, and the Middle East, Cavalli incorporates exotic Eastern motifs like dragons, chrysanthemums, and lotus flowers. Combined with Italian techniques, these multi-cultural influences result in unique East-meets-West designs. Richly embroidered silk robes take inspiration from the Orient.
Vibrant Colors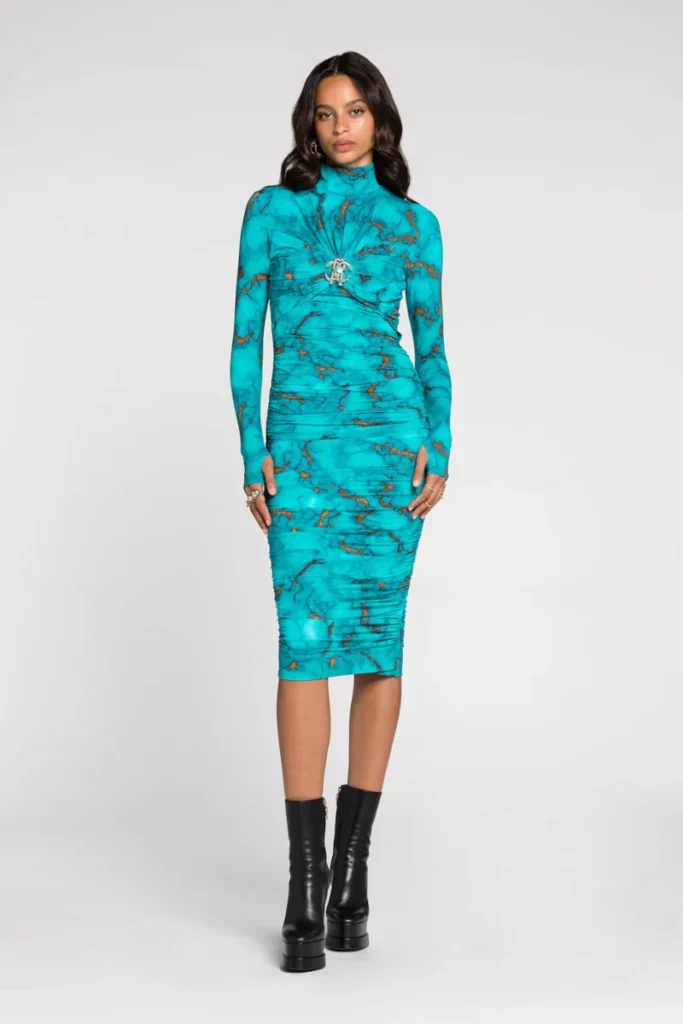 Check out this Marble-print bodycon midi dress here.
Cavalli embraces a vivid color palette. Figure-hugging dresses come in jewel tones like emerald, sapphire, ruby, and amethyst alongside sun-drenched metallics. Equally bold patterns mix animal prints with florals, paisleys, and abstract designs for visual impact. The designer cites the saturated hues of Mediterranean nature and architecture as inspiration.
Key Roberto Cavalli Designs:
Vibrant blue tiger print gown worn by Halle Berry at the 2002 Oscars
Michael Jackson's red military-style jacket with metal buckles
Animal print bodysuit commissioned by Beyonce for her 2018 Coachella show
Plunging printed maxi dress for Jennifer Lopez at the 2004 Golden Globes
Metallic snake print trousers worn by David Bowie in the 1970s
Florals meets tiger print cocktail dress made for Rihanna
Dressing the Stars
Cavalli's decadent aesthetic attracts celebrities craving bold, high-impact looks for the spotlight. Musicians, models, and actresses know that Cavalli's body-conscious silhouettes will show off their figures while allowing their natural beauty and personalities to shine.
Some notable celebrity fans Cavalli has dressed over the decades include:
Beyoncé: Commissioned a curve-hugging Cavalli creation to perform at the Academy Awards 2007. The black and gold silk gown featured a plunging neckline and snake print accents. She wore a custom Cavalli leopard print bodysuit for her iconic 2018 Coachella performance.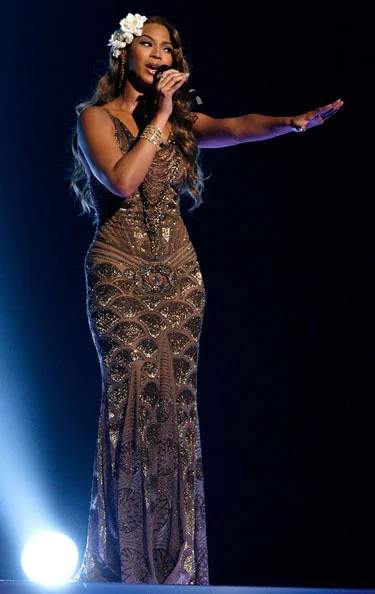 Beyonce at the 49th Annual Grammy Awards in Los Angeles,2007.
Jennifer Lopez: She has worn Cavalli's sultry looks for decades. Some standouts include a plunging jungle-print gown at the 2000 Grammy Awards and a printed maxi dress at the 2004 Golden Globes. Cavalli's draping and cut-outs flatter Lopez's famous curves.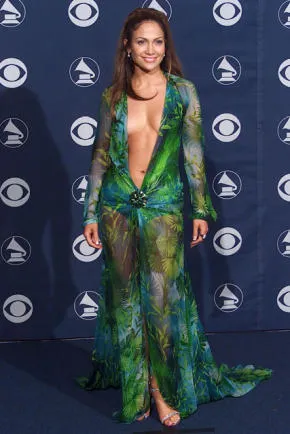 JLO in Roberto Cavalli's print dress.
Victoria Beckham Favored form-fitting Cavalli dresses in her Spice Girl days. It often featured daring cut-outs and metallic fabrics to flash some skin.
Lady Gaga: Commissioned futuristic custom outfits from Cavalli for her Monster Ball tour in 2009-2010. The avant-garde looks included an electric blue cape and boot ensemble printed with the designer's name.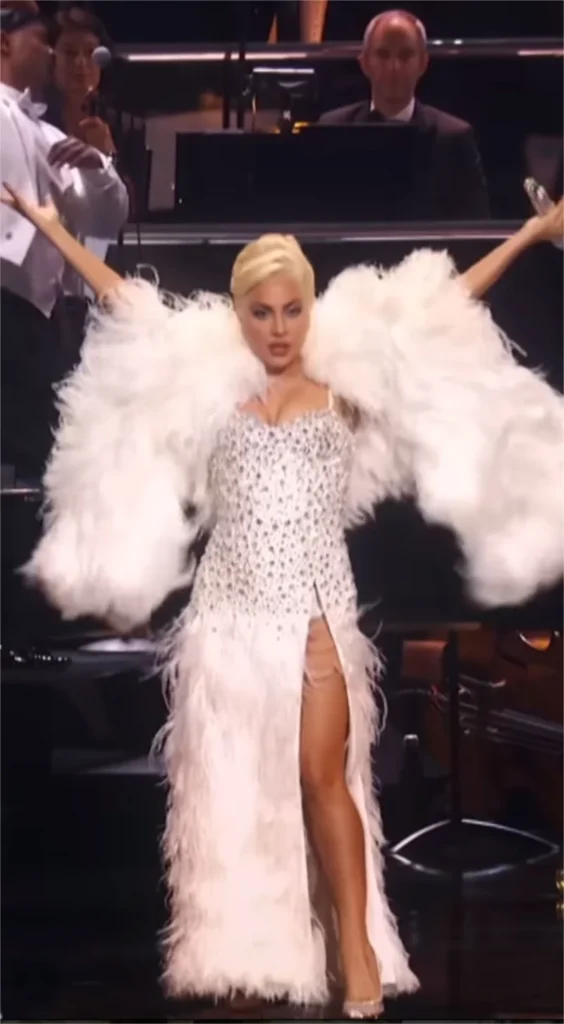 Lady Gaga dressed in an all-white gown by Roberto Cavalli couture.
Michael Jackson Developed a close friendship with Cavalli, who designed jackets with metal studs and buckles for the King of Pop's later tours. Jackson appreciated the designer's ability to balance flashy and sexy.
Rolling Stones: Cavalli created multiple tour looks for the band in the 2000s, including printed shirts and embellished military-style jackets perfect for the stage.
Sophia Loren: As a fellow Italian icon, Loren wore many custom Cavalli gowns in rich velvets and satins. The actress favored Emerald green and crimson colors to match her Mediterranean beauty.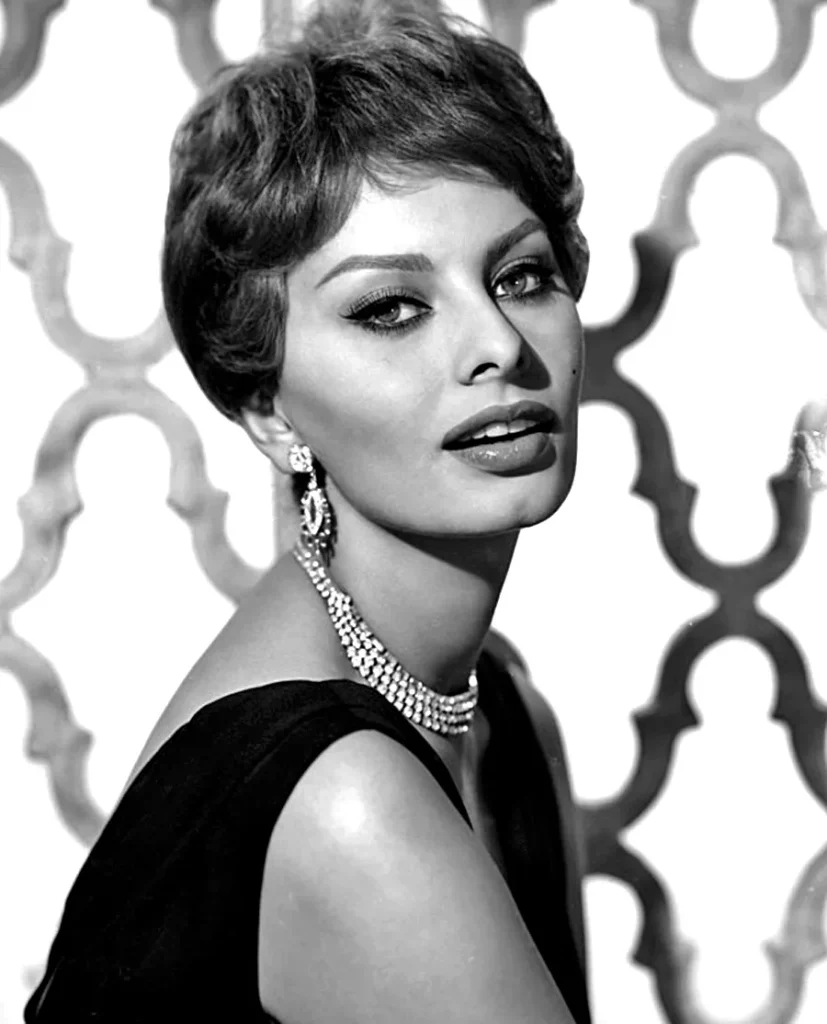 Read the story of when Roberto Cavalli met Sophia Loren.
Cindy Crawford: During her supermodel days, Crawford often walked the runway in Cavalli's plunging printed creations and glossy leather pieces, showing their crossover appeal.
Sharon Stone: Favored sexy, sheer Cavalli dresses in the 1990s and 2000s on and off the red carpet. The designer's sultry looks complemented Stone's star persona.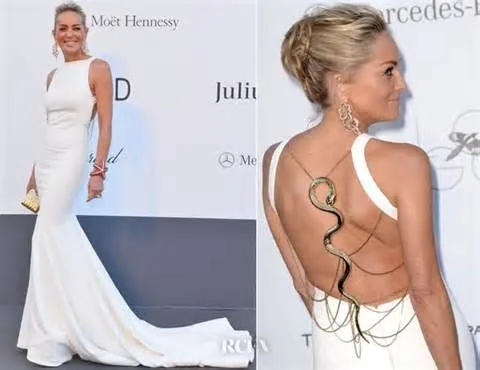 Sharon Stone was wearing a long white dress from Roberto Cavalli.
Cavalli understood how to amplify a woman's sensuality and confidence on the red carpet or a concert stage. His clothes become sexy extensions of the celebrity's persona.
Later Career and Legacy
By the early 2000s, Cavalli was ready to slow down and enjoy the fruits of his success after over 30 years in the industry. In 2002, he sold a 90% stake in his company but remained lead designer until 2015. Though he officially retired at age 74, his vision and trailblazing techniques have cemented his permanent mark on fashion.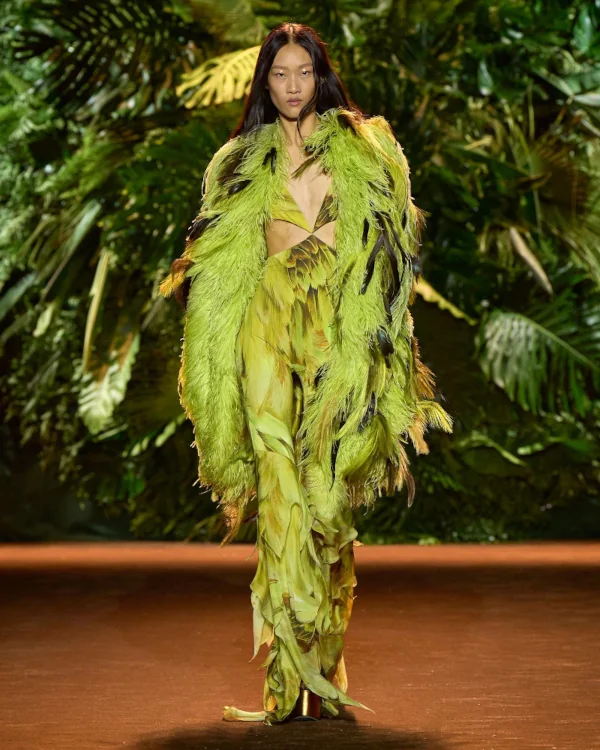 From Roberto Cavalli SS24 collection.
Some critical notes on Roberto Cavalli's lasting impact:
Grew the brand into a global fashion empire with over 50 boutiques and prominent licensing deals
Known for opulent runway shows with exotic jungle themes and elaborate staging
Will be remembered for popularizing animal prints and sexy, body-conscious styles
Technical innovations with textile printing and lightweight leathers were ahead of their time
Inspired younger designers like Peter Dundas, Fausto Puglisi, and Blumarine's Anna Molinari
Shares lifelong partnership with wife Eva Duringer, who helped manage and expand the business
House has continued under creative directors Peter Dundas and Paul Surridge after Cavalli's retirement
Many top models like Naomi Campbell and Eva Herzigova walked his runway shows
Though the Cavalli brand continues without him, its namesake creator secured his place among the great Italian fashion visionaries. Alongside legends like Versace, Armani, and Valentino, Cavalli made his mark with bold sex appeal. His influence will live on for decades through the evocative, hedonistic world his fashions brought to life.
Conclusion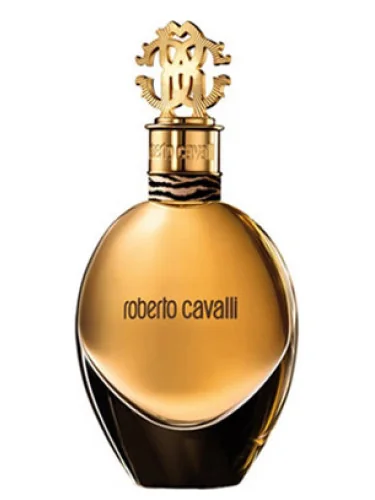 Roberto Cavalli Eau de Parfum.
Roberto Cavalli channeled both sensuality and wildness like no other designer. His clothes embraced the female form while introducing groundbreaking prints and materials. Roberto Cavalli paved the way for fusion fashion by combining Italian craftsmanship with global influences. Though retired, his daring vision and technical mastery will continue inspiring new generations. Without Cavalli, the fashion landscape would be far less exotic, sexy, and glamorous. We have him to thank for introducing a touch of untamed animal magnetism.
Frequently Asked Questions about Roberto Cavalli
What was Roberto Cavalli's birth date and zodiac sign?

Roberto Cavalli was born in Florence, Italy, on November 15, 1940. His zodiac sign is Scorpio, which aligns with his intense, passionate designs.

How did Cavalli first get started in fashion design?

As a student in Florence, Cavalli began by printing designs onto leather jackets and purses, which he sold at local markets. This allowed him to hone his textile printing skills early on.

Where was Cavalli's first-ever fashion show held?

Cavalli's inaugural runway show under his label was held in Paris in 1970. This catapulted him onto the global fashion stage.

What textile innovation is Roberto Cavalli known for?

Cavalli pioneered printing vibrant patterns onto lightweight silks and leathers, allowing for flowing, body-skimming garments in signature animal prints.

How did Cavalli come to dress so many rock stars?

Cavalli's edgy but sensual aesthetic attracted musicians who wanted custom tour looks. His bold prints and hardware details suited the stage.

Where could you find Roberto Cavalli's first boutique?

Cavalli opened his first flagship boutique in Saint Tropez in 1977, cementing his name as a go-to for jet setters and wealthy vacationers.

What is the net worth of the Cavalli company today?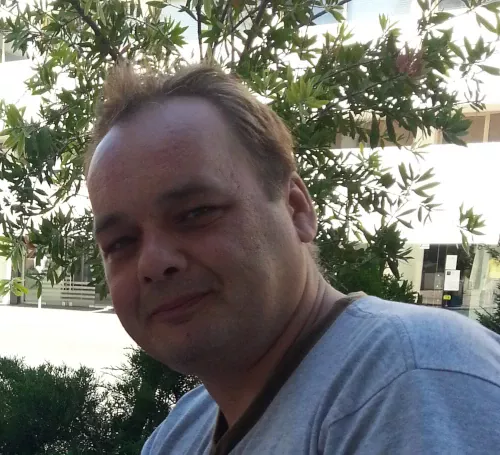 Pashalis Laoutaris
Fashion Blogger
I am a professional writer, fashion blogger, and owner of the site https://laoutaris.com. As a salesperson for more than 20 years, I have experience of 10 years in the fashion industry. I consider myself a true fashionista. I am writing daily blog articles about fashion, tools and converters, and everything you need to know about the current fashion trends.
Share this article
Our Latest Articles
Laoutaris Recommends