If you are looking for designer scarves for women that will make you look luxurious and stylish, then you should consider the list below. Designer scarves are made from high-quality materials and often feature unique designs that set them apart from more mass-produced scarves.
Table of Contents
The average reading time is 11 minutes
As the weather gets colder, scarves become an essential part of staying warm while also looking fashionable. But with so many different styles and materials on the market, it can be hard to know which scarf is right for you.
To help you find the perfect designer scarves for women, we have compiled a list of 19 luxury designer scarves for women. Keep reading to find the perfect scarf for you!
Luxury Designer Scarves for Women.
Givenchy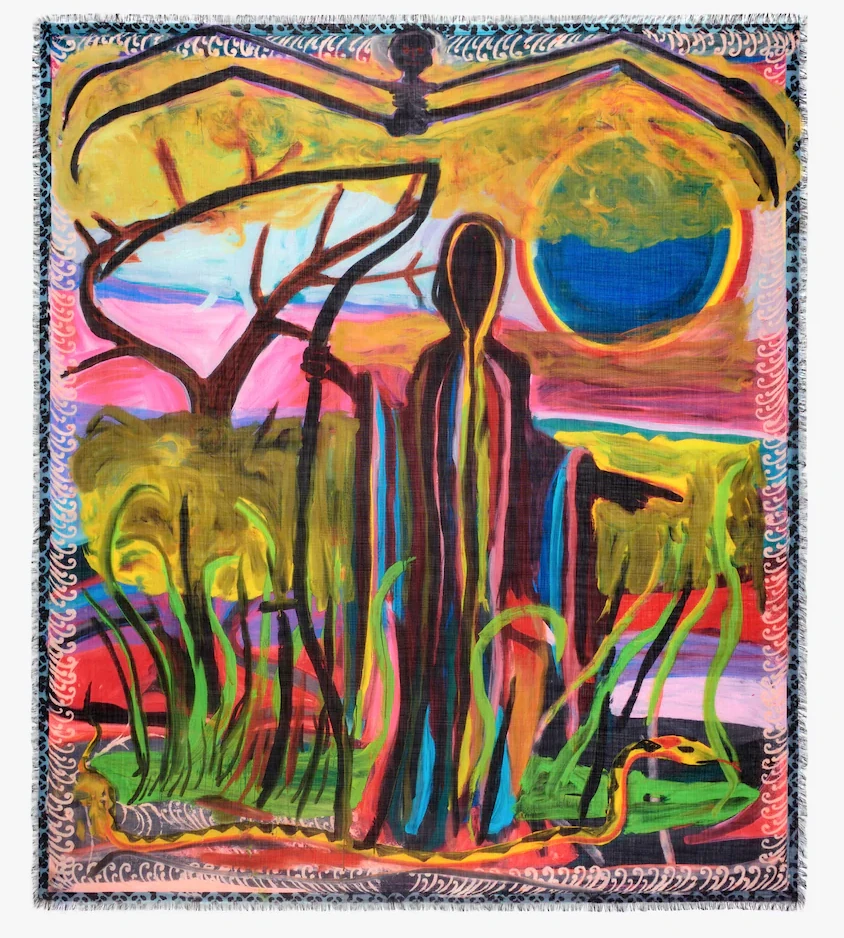 If you're looking for a luxurious scarf that will make a statement, look no further than the GivenchySquaree luxury scarf. Made from a cashmere and silk blend, this brightly colored scarf is adorned with the Reaper print, which was designed by Josh Smith in collaboration with Givenchy. The large dimensions (55.1 in x 55.1 in) make it perfect for wrapping around your neck or head, and the blue color is sure to stand out in a crowd. Givenchy is a top-designer brand, and you can be confident that you're getting quality craftsmanship with this scarf.
Pros
A large scarf almost 1.5 meters on each side
Made from cashmere and silk
A collaboration with Josh Smith and Givenchy
Made in Italy
Cons
Although the Reaper print is fantastic it is kind of a dark symbol

Check it out at givenchy.com
Burberry
For 166 years Burberry has been a luxury fashion house and it is most famous for its trench coats.
Burberry is one of the famous designer scarves for women producers. They have the classic English-Skotish check design called tartar which is presented worldwide with Scottish kilts.
Using a 30-step design process in Scotland they are producing high-quality luxury scarves made from cashmere, wool, silk, and other materials. The process is a combination of skilled artisans and specialized machinery to produce an exceptional item.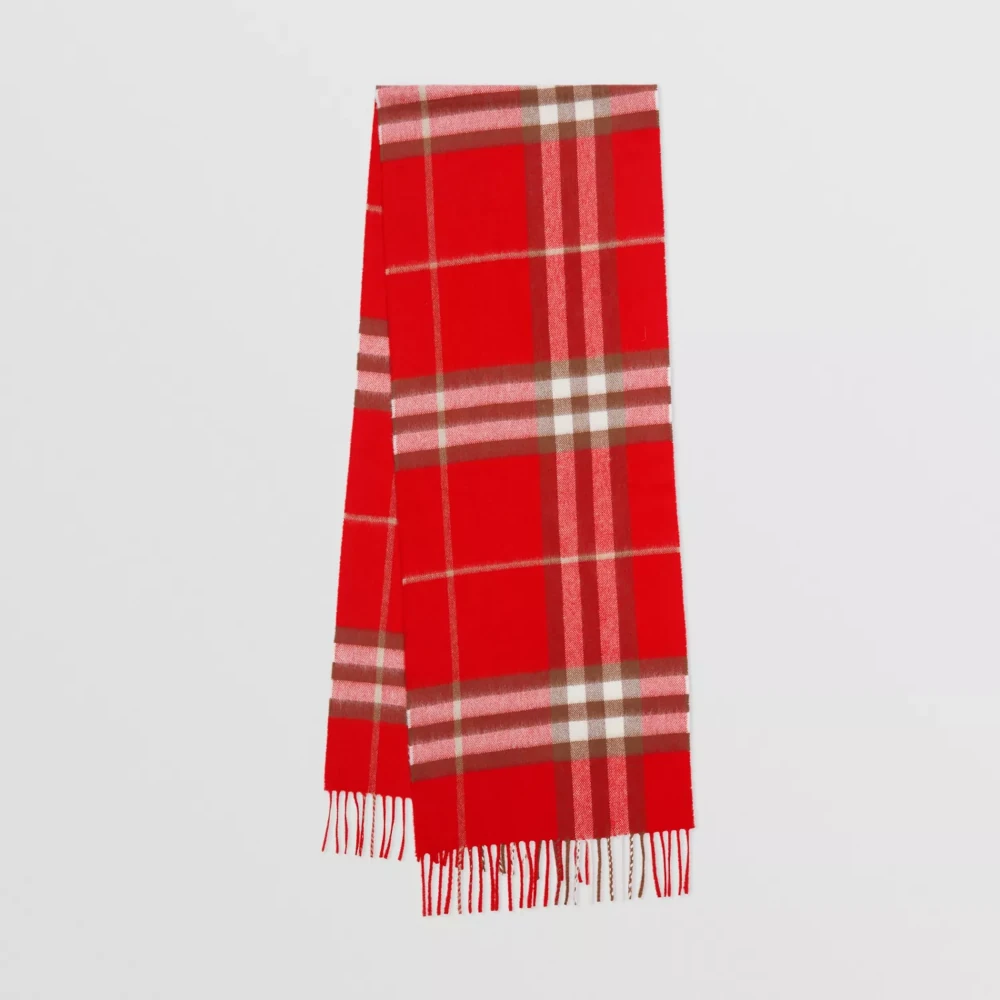 Pros
100% high-quality cashmere
The super soft wool needs dry cleaning only
Dimension: 168 X 30 cm
It comes in 26 different colors
Free personalization option up to 3 initials
Cons
We love everything about this scarf. Absolut recommended.

Check it out at burberry.com
Balenciaga
Cristóbal Balenciaga was the founder of the luxury house Balenciaga which was created in Spain in 1919.
In 2011 a Museum opened in Spain in honor of the 50-year death of Cristóbal Balenciaga.
Many famous people became the face of Balenciaga with the latest being Justin Bieber.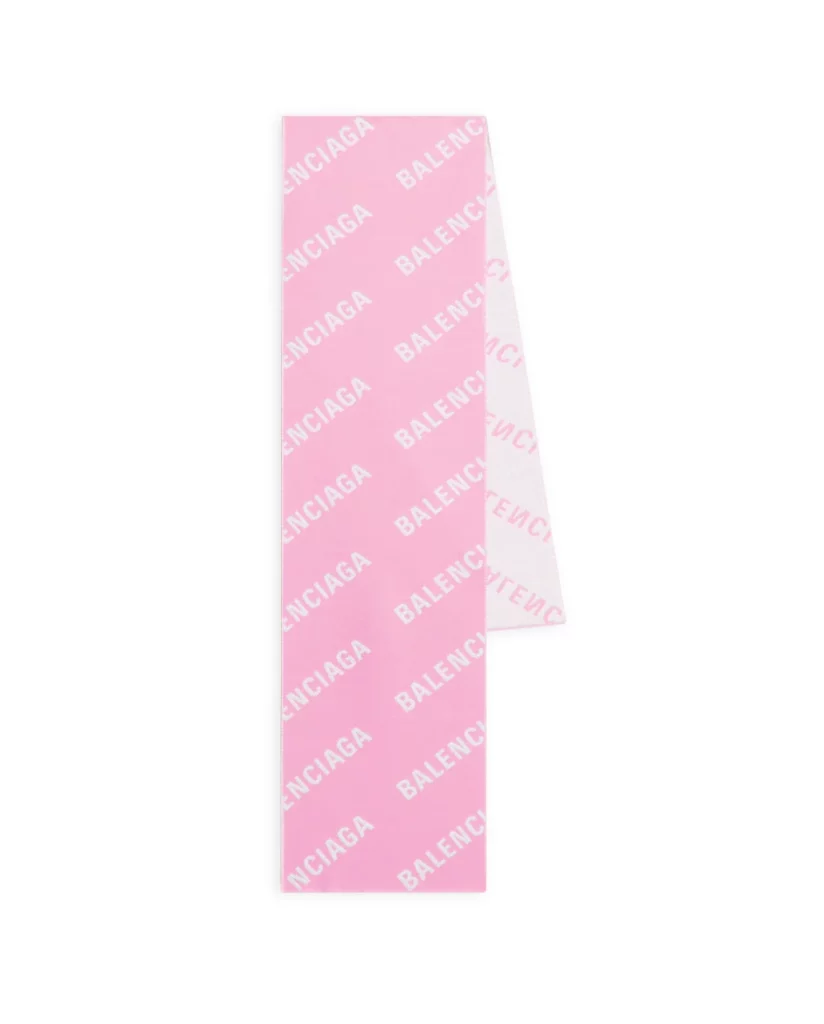 Pros
Made from 100% brushed wool
Jacquard allover Balenciaga logo
Made in Italy with sustainable and ethical management
4 different colors
Some items are eligible to be paid with crypto coins.
Cons
A classic luxury scarf with a logo. Nothing too fancy but good quality.

Check it out at balenciaga.com
Read our article on why you should avoid fast fashion. Why it is bad for you and the environment.
Saint Laurent
Coco Chanel and Yves Saint Laurent are the greatest fashion figures of the 20th century.
After the death of Yves Saint Lorent in 2008, the company changed creative directors to find again its former glamour.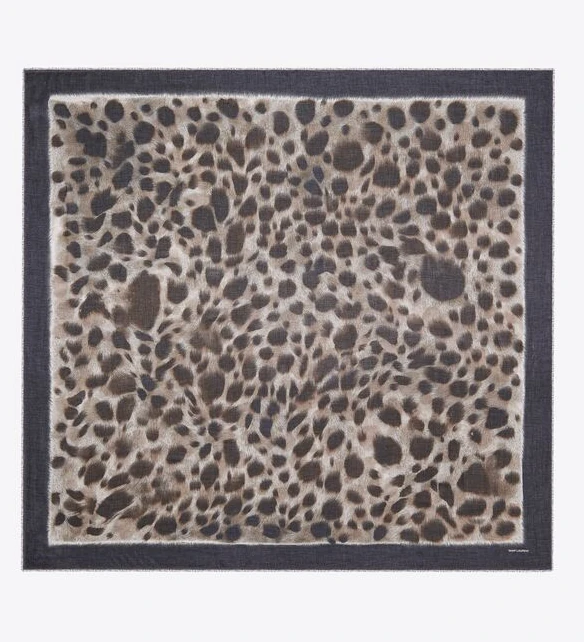 Pros
Made from 90% modal and 10% cashmere
Made from certified sustainably managed forests
Nice leopard snow motif
Made in Italy with a Saint Lorent signature on the corner
Cons
A very nice design but not pure cashmere

Check it out at ysl.com
Fendi
Fendi is an Italian luxury fashion house known for its fur and leather designs.
Many controversies over the last 30 years over counterfeit products. Read more details at reuters.com.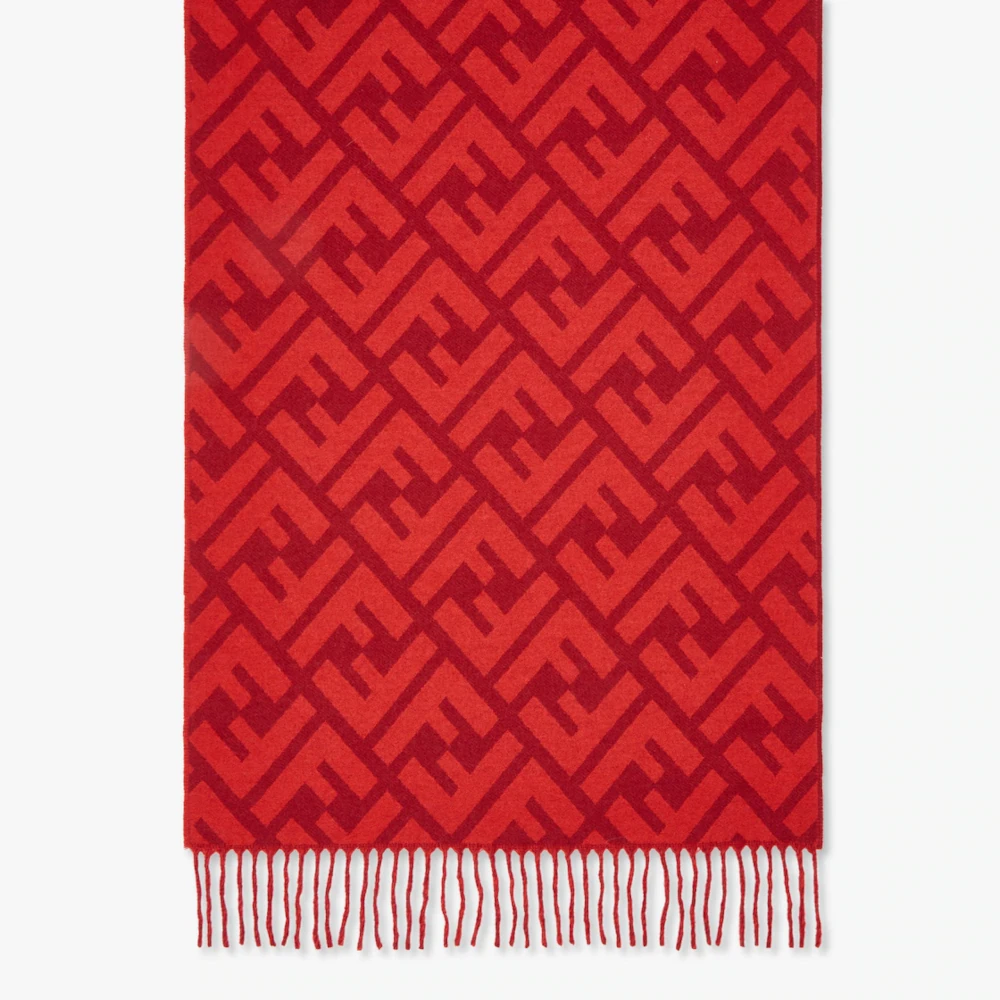 Pros
Made from 100% cashmere
A long scarf of 170cm by 45cm
8 different colors
Made in Italy
Cons
A classic luxury scarf design with the FF motif. Nothing new in terms of designs

Check it out at fendi.com
Bottega Veneta
Based in Milan, Bottega Veneta is a fairly new (from 1966) luxury fashion house.
One of the recent company news is closing all social media accounts and relying only on clients, influencers, collaborators, and fans to spread the news. Check the relative article at forbes.com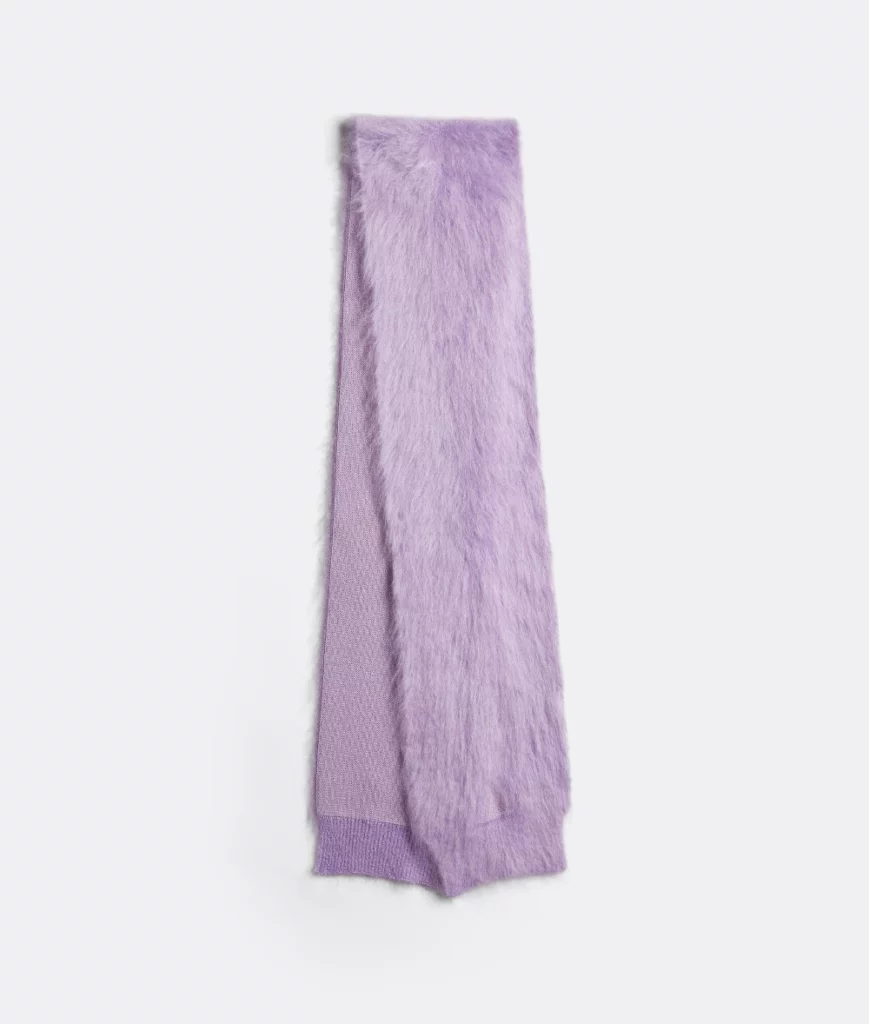 Pros
Made of 60% wool, 23% mohair, 16% polyamide, and 1% elastane
A wisteria color (light violet)
Made in Italy
Cons
While we haven't seen any scarf with mohair this one is quite expensive.

Check it out at bottegaveneta.com
Loewe
Loewe is a Spanish luxury fashion house that was founded in Madrid.
Loewe has many stores worldwide, with the latest addition being the largest store in the world – the Casa Loewe Madrid (in 2016). Loewe Foundation is a private cultural foundation that supports cultural events and exhibitions.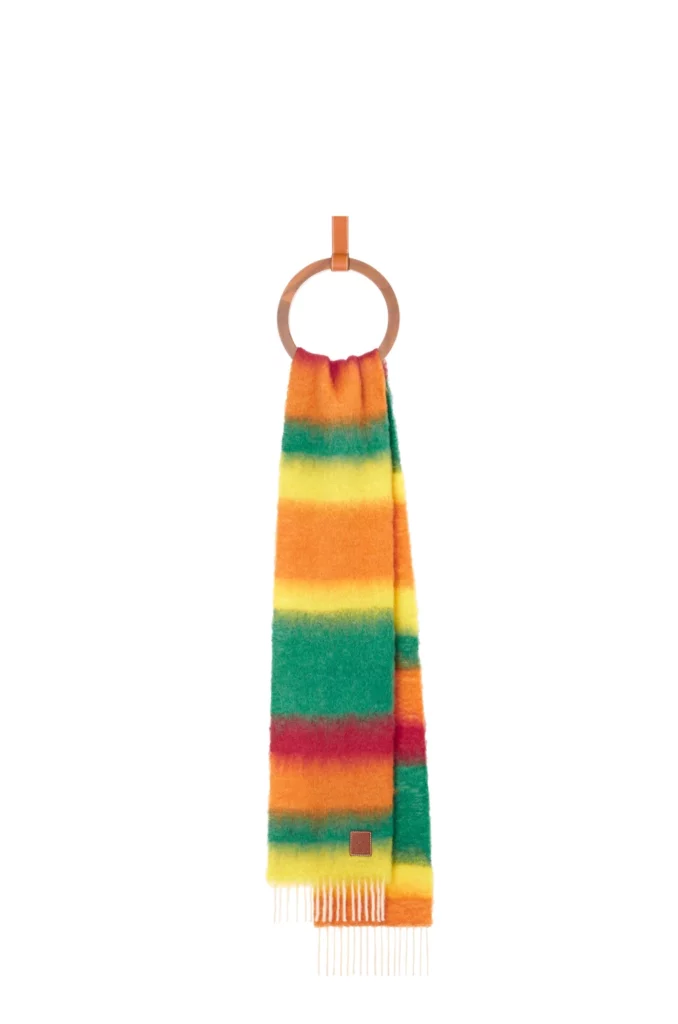 Pros
A multicolor stripe scarf made of wool, mohair, and Polyamide.
With a different set of colors
Made in Spain
Extra lengthy (185cm)
Free delivery
Cons
Very nice colors, quality, and price. Highly recommended.

Check it out at loewe.com
Loro Piana
Loro Piana is an Italian company that is considered the largest cashmere manufacturer, and world leader in producing luxury fibers.
The company has reached the 1 billion euro sales mark in 2019.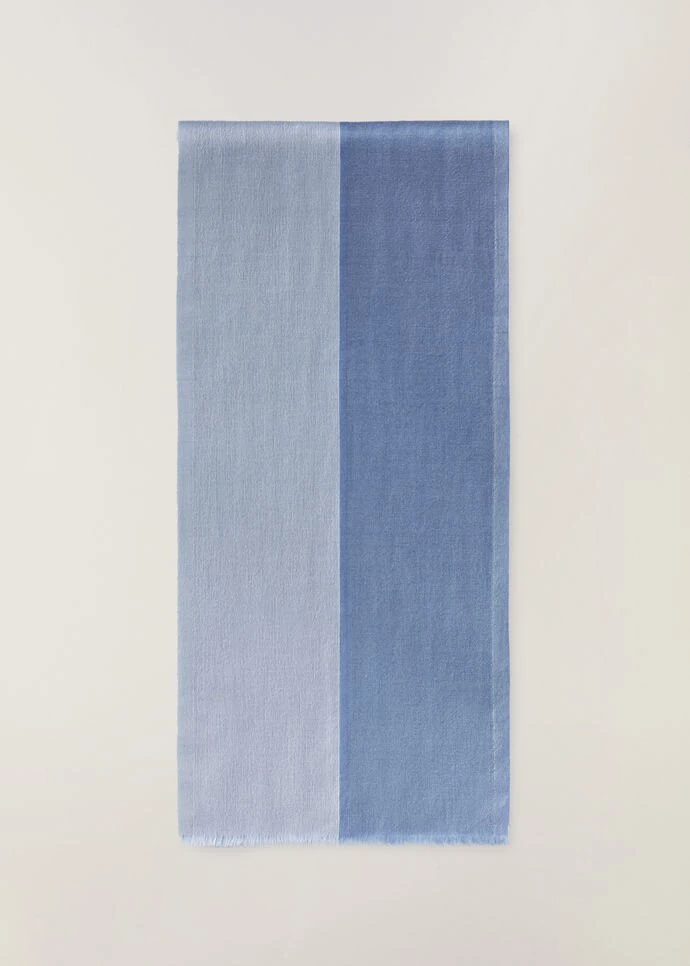 Pros
Made from 70% cashmere and 30% silk
The size is 185cm X 35cm
Nice shades of blue.
Superior quality
Exclusive patent 3-dimensional "Aylit" that means "As you like it"
Cons
One of the best-quality luxury scarves we ever reviewed.

Check it out at loropiana.com
Alexander McQueen
A 30-year-old company created by designer Alexander McQueen is a British luxury fashion house.
He was famous for his unconventional runway shows. Check our article about famous accessories of the world and look for the Armadillo shoes.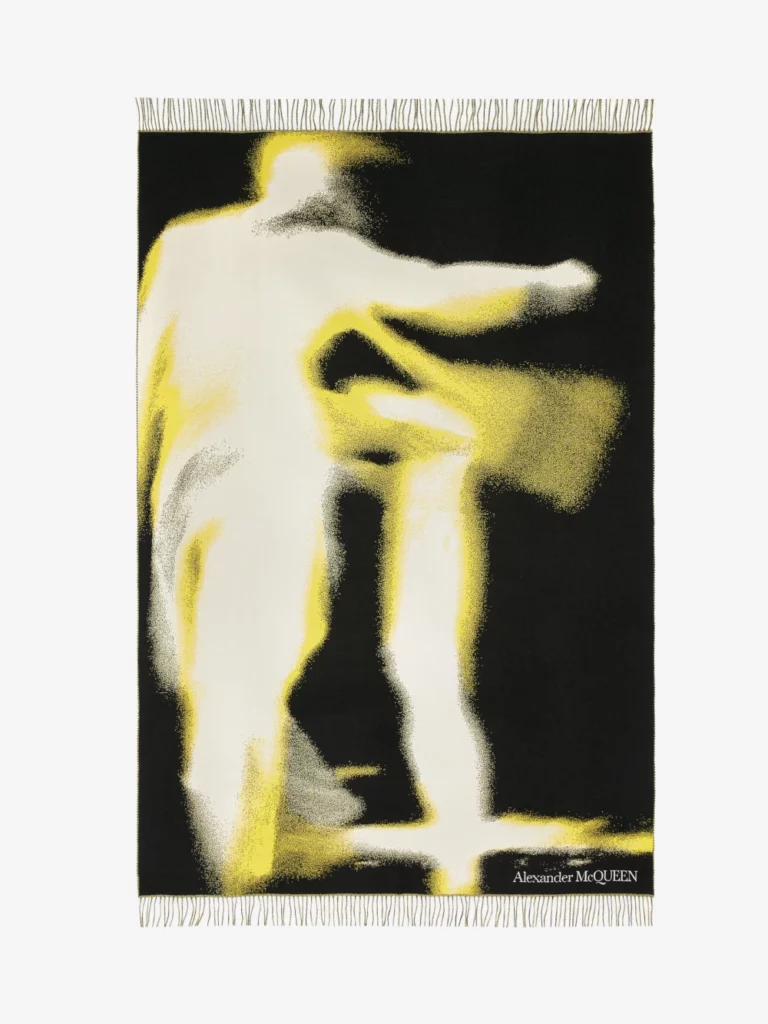 Pros
A new design of black and yellow colors
100% wool
A big signature in the corner
Dimensions 138x220cm
Cons
Unfortunately, all the good old designs are sold out

Check it out at alexandermcqueen.com
Totême
Elin Kling and Karl Lindman are the co-founders of the Swedish label Totême.
Elin Kling started as a fashion blogger (sounds familiar?) then designed clothes for H&M and in 2014 she launched the clothing line Totême.
Totême is not focusing on fashion trends but on a classic design that will last decades. The clothing line comes from Europe (Romania, Italy, Turkey, Portugal, Lithuania) and China.
Pros
Made from 28% mohair, 28% alpaca, 24% wool, and 20% polyamide
Classic check design in camel and black
Dimensions: 250x50cm
Made in Italy
Cons
Not a luxury design house but rather a designer with passion and a business plan.

Check it out at int.toteme-studio.com
Gucci
With almost 10 billion euros in revenues in 2019, Gucci is the biggest luxury brand. Owned by the multinational corporation Kering, Gucci operated more than 540 stores in 2018.
One of the main problems for being Gucci is counterfeits. Only in 2019, Gucci sued a dozen fake websites selling fake products, like handbags, shoes, and apparel.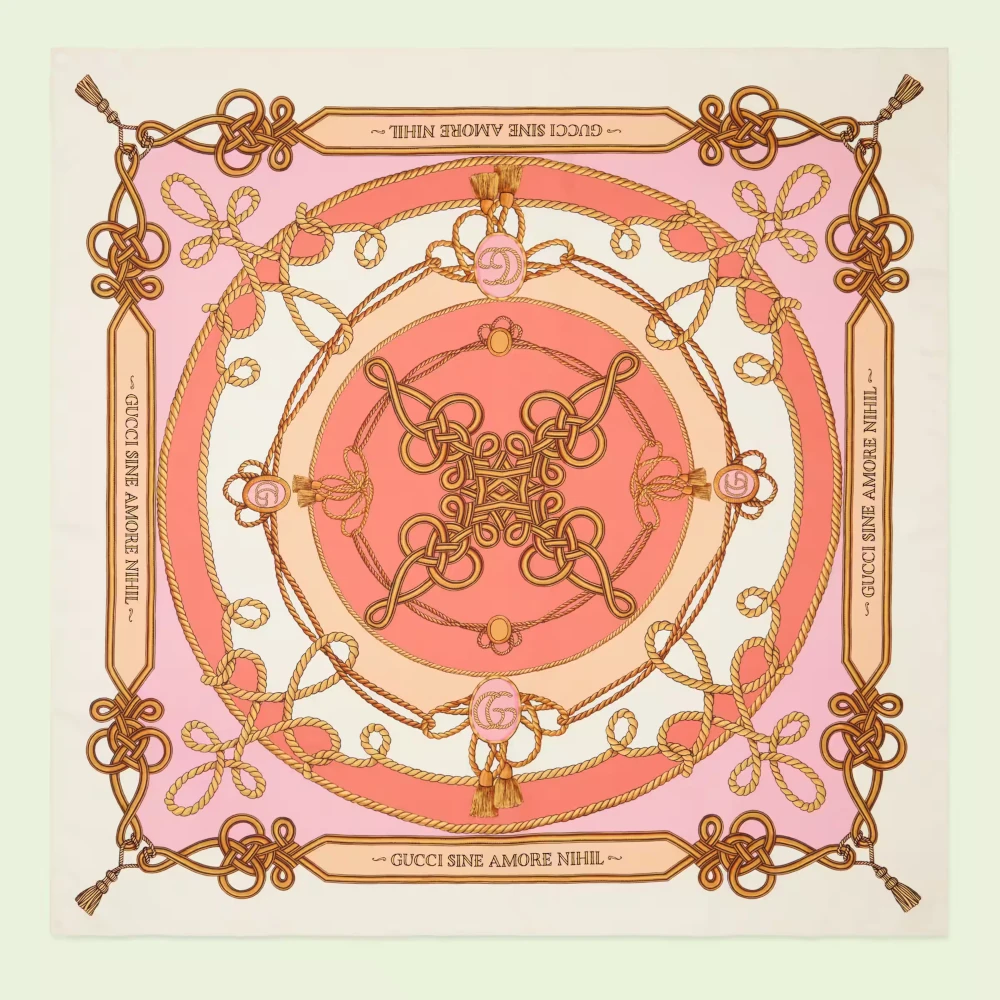 Pros
A Classic and symbolic Gucci design
"Sine Amore Nihil" means: Without love, life is pointless,
Comes in 2 variations, ivory with pink, and light blue
Dimensions of 90cm per side
Silk material made in Italy
Cons
The design is classic Gucci. Feels not so modern anymore. But for us, you want that luxury scarf

Check it out at gucci.com
Rebecca Minkoff
Rebecca Minkoff is a global fashion brand that was founded in New York City in 2005.
The company has no longer been present at New YorkFashion Weekk since 2018 but instead, they have created the RM Superwomen, which is a social space that promotes women around the world to be brave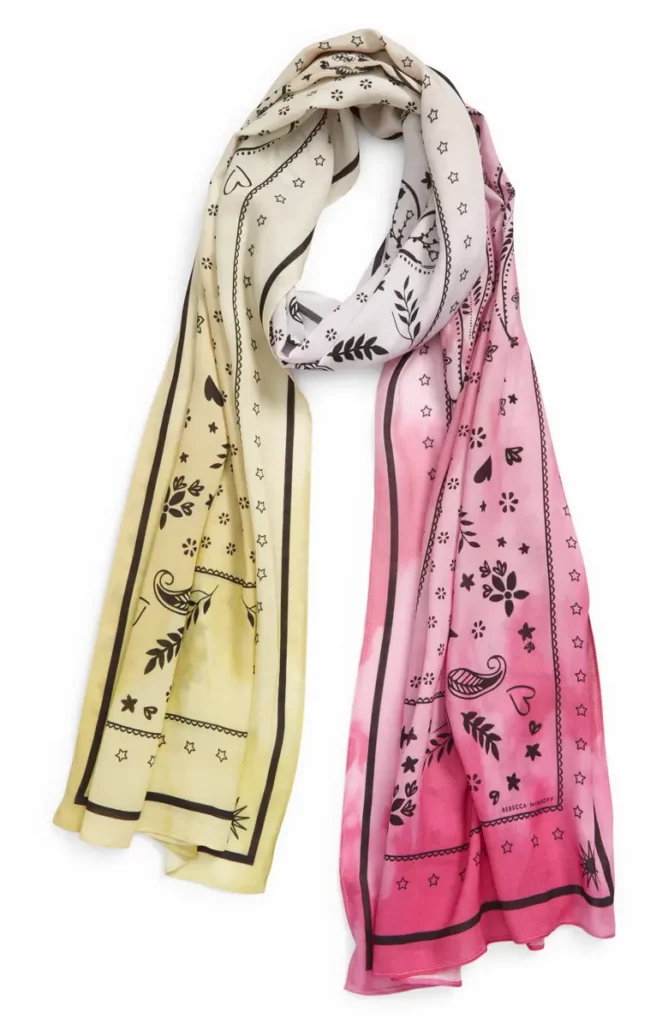 Pros
100% viscose that is light and soft
Dimensions 203 X 68 cm
Fairly cheap due to the fabric
Cons
Imported from an unknown origin
Nice design but the acid-washed colors look weird
No new designs of luxury scarves when writing this article (Fall 2022)

Check it out at nordstrom.com
Valentino
Another top Italian-based luxury fashion house that was loved by Jacqueline Kennedy and Audrey Hepburn.
The company has been sold many times to different vendors with the last being Marzotto Apparel a textile giant in 2002.
Due to economic inflation, they were sold to the Qatari royal family in 2012.
Is this the future of luxury fashion houses? Let us know what you think in the comments.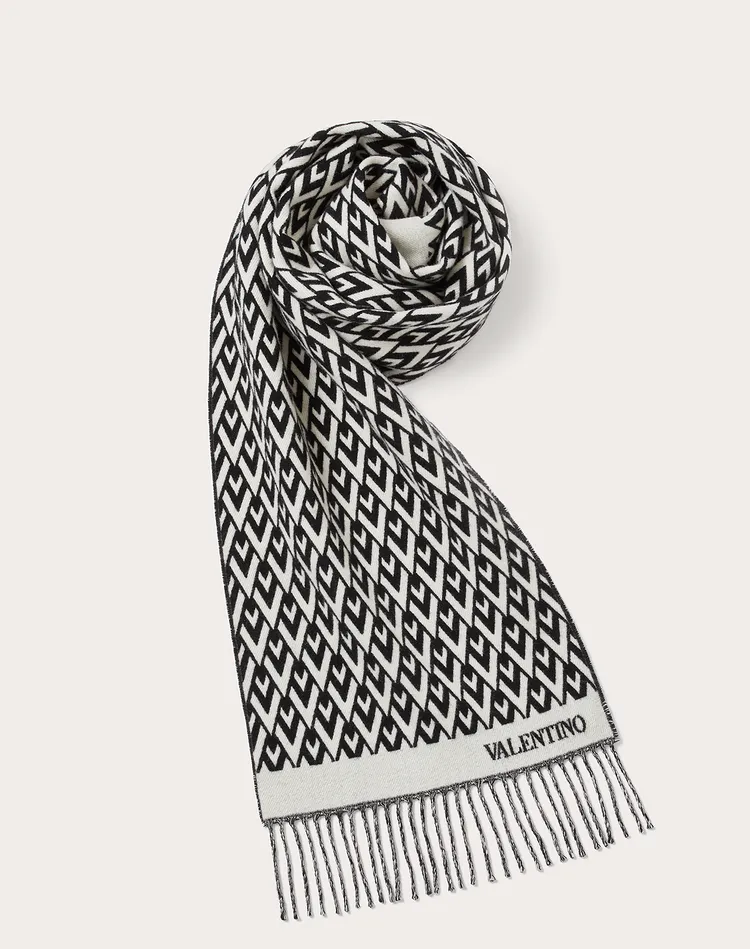 Pros
Made from 95% wool and 5% cashmere
Dimensions 180 x 35 cm
Made in Italy
Cons
We like this black-ivory 'V" design. Quality could be better on this luxury scarf.

Check it out at valentino.com. Currently Sold out.
Versace
Gianni Versace S.r.l is an Italian luxury fashion house founded in 1978. The brand is known for the bright colors and flashy prints in its cloth designs.
Gianni Versace S.r.l. joined Capri Holdings Limited in January 2019, joining Michael Kors and Jimmy Choo to form a new global fashion luxury conglomerate.
Read about the dark secrets of Gianni Versace in our article here.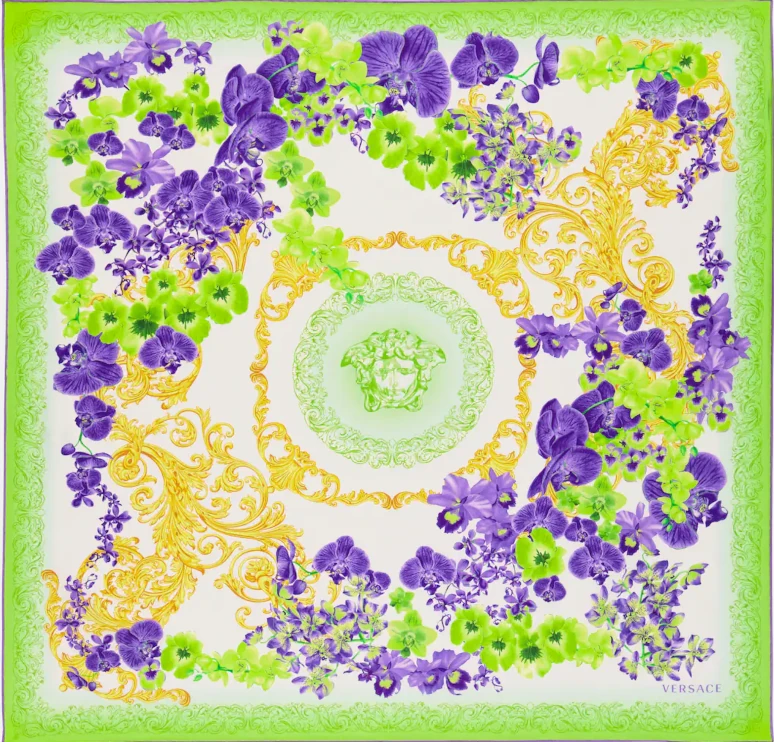 Pros
Made from 100% silk
"Medusa Orchid" print
Dimensions 65x65cm
An excellent design with top-quality silk material
Perfect for a summer afternoon.
Cons
Online order only for this amazing luxury scarf.
As for all silk material, it needs special attention when washing (dry only) and ironing (cool iron)

Check this luxury scarf out at mytheresa.com
Giuliva Heritage
Margherita Cardelli and Gerardo Cavaliere created the Giuliva Heritage, using the finest fabrics and traditional techniques.
Giuliva's motto is "Buy less, wear more". The luxury brand pays tribute to the authentic Italian style and the craftsmanship is their strong point. Attention to detail, finishing touches, everything is about quality and perfection.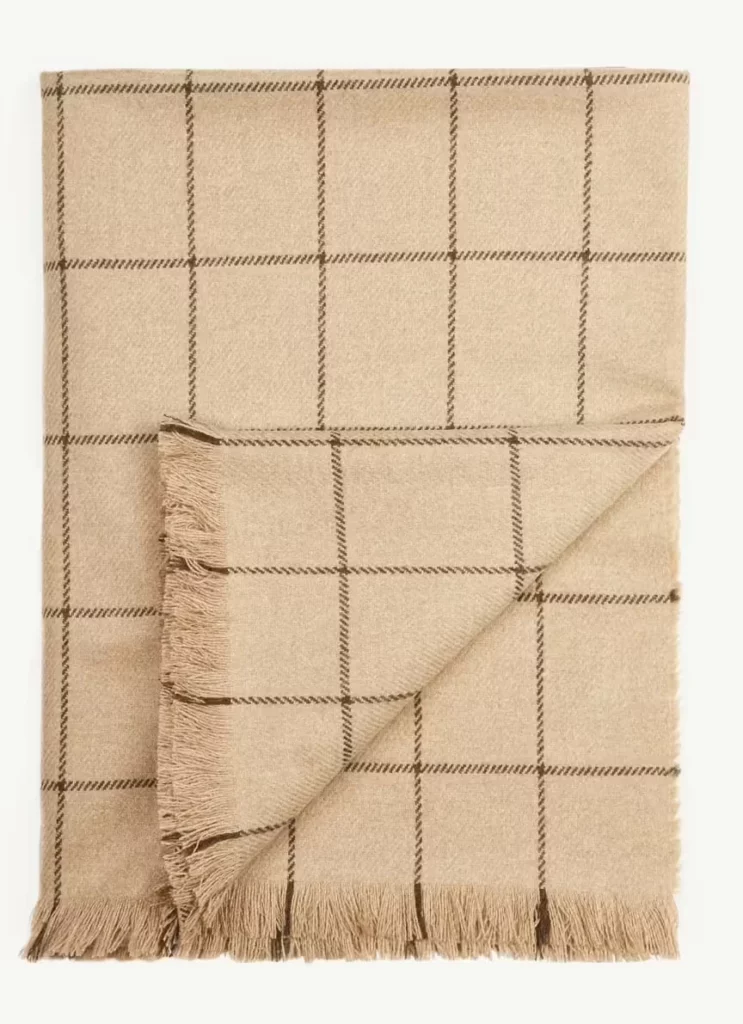 Pros
100% in wool
Hand-made in Italy
Lifetime guarantee
Excellent craftsmanship from professional artisans
Cons
It is a large luxury scarf but the exact dimensions are missing from the description

Check it out at giulivaheritage.com
Off-White
Virgil Abloh was the CEO of the Off-White Italian luxury global fashion brand. He was also the artistic director of Louis Vuitton's menswear collection.
Off-white made many collaborations while Virgil was still alive. The most important were Nike, Levi's, Rimowa, IKEA, and the Museum of Contemporary Art in Chicago to create a unique blue color for the Nike Air Force One.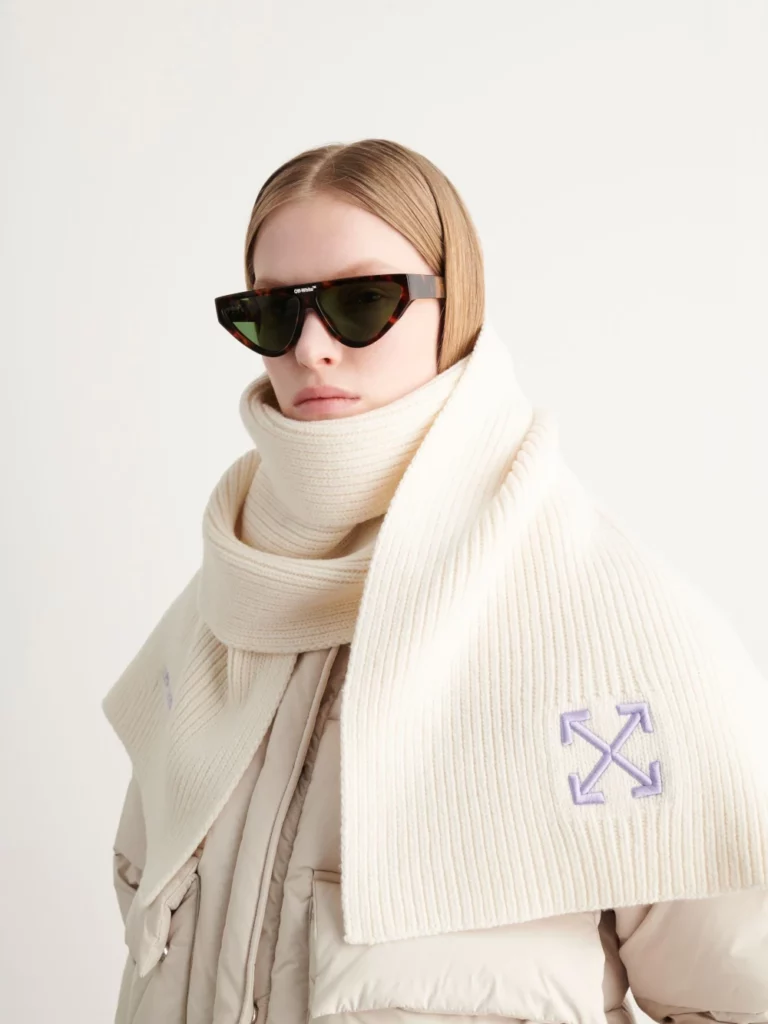 Pros
100% wool scarf
A simple white scarf with an arrow and Off-White logo
Free delivery
Cons
Pre-order only for this luxury scarf
For a simple white wool scarf, the price is higher than expected

Check it out at off–white.com
Isabel Marant
Isabel Marant is a French global fashion brand founded in 1994. She is a natural-born artisan that created designs since 1982. One of the greatest moments was when she collaborated with H&M on a design collection. The H&M website crashed in 45 minutes due to a large number of visitors.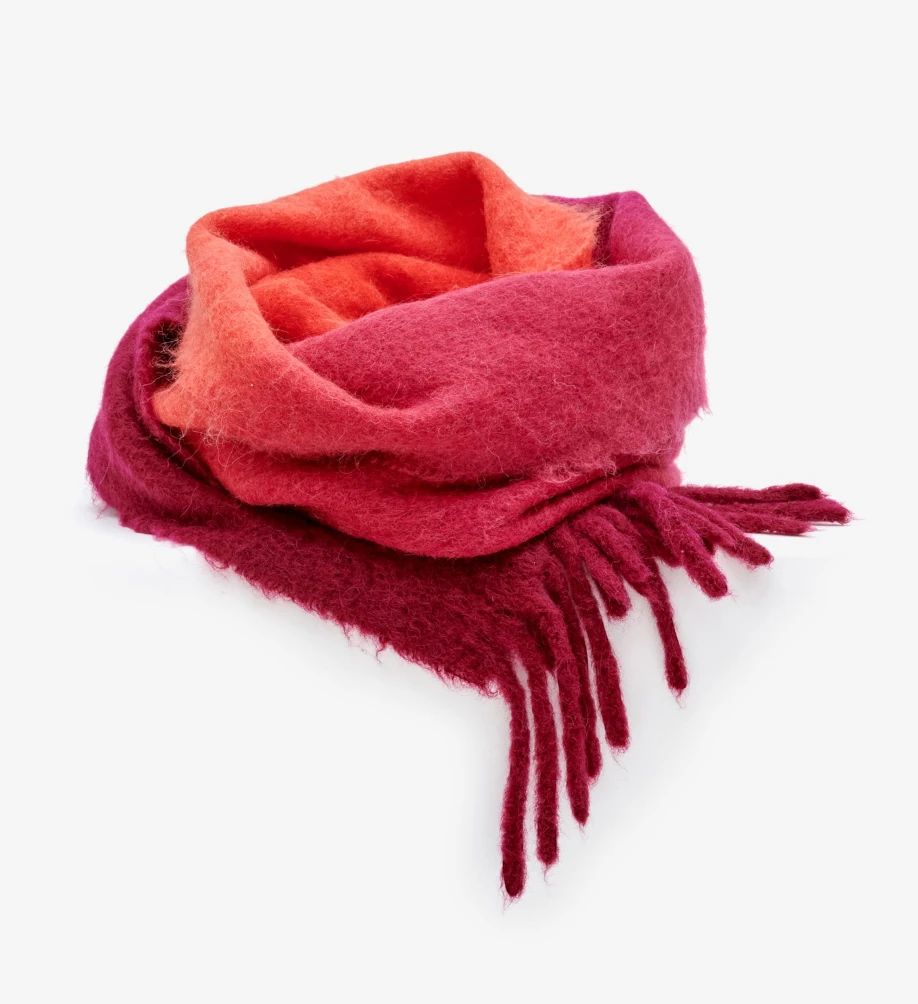 Pros
A very fancy bicolor alpaca scarf
Comes in 3 variations, red, khaki, and blue
Made from 80% alpaca and 20% polyamide
A very long and wide scarf
Cons
It is simple, beautiful, and high-quality. Recommended luxury scarf

Check it out at isabelmarant.com
Max Mara
Max Mara is an Italian global fashion brand with over 2,500 stores in 105 countries. Achille Maramotti established the company in 1951 and until now it remains in the family.
The MaxMara fashion group consists of 41 worldwide companies with more than 1,6 billion euros in annual turnover.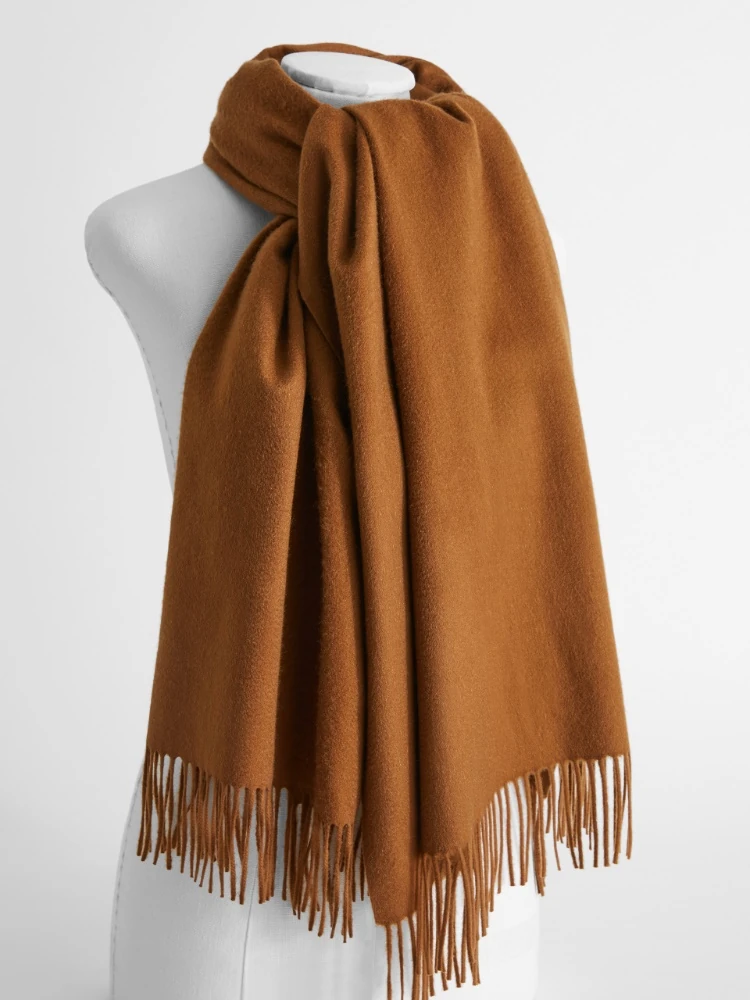 Pros
Made from 100% cashmere
Length 170cm, width 70cm
It comes in 8 different colors
MaxMara embroidered logo
Free shipping and returns
Cons
Because of the material watch instructions about cleaning and ironing.

Check it out at maxmara.com
Conclusion
We reviewed 18 different designer scarves for women to choose from for 2023. Winter is coming and you need to be warm and stylish. What are your opinions of the scarves we presented?
Would you like to add more brands? Did you find any amazing designs that you love?
Let us know below in the comments what is your favorite luxury scarf brand and material.
Check to see our article about different types of scarves for women.
Our Latest Articles
Laoutaris recommends