We analyzed the top 10 fashion Powerhouses winning on social media and killing it on Instagram, Facebook, Twitter, and beyond right now.
Social media offers incredible opportunities for fashion brands to engage with customers, drive trends, and build their influence. But which labels are truly dominating on platforms like Instagram, Facebook, and Twitter?
We analyzed the followers and success strategies of the top brands to identify the ultimate social media powerhouses in fashion right now. Get ready to discover which designers have cultivated huge, highly engaged online communities.
Table of Contents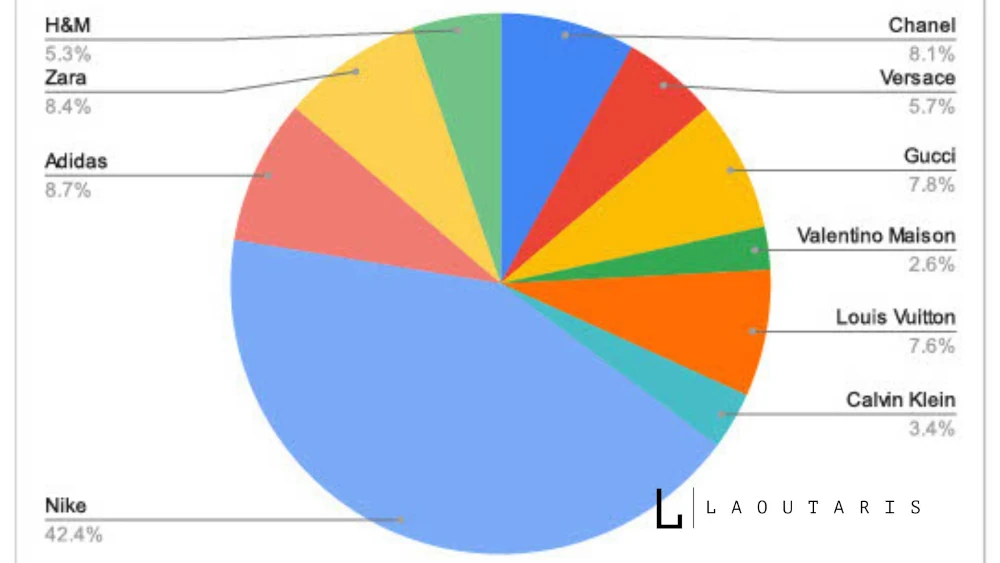 Nike
| | | | | | |
| --- | --- | --- | --- | --- | --- |
| Instagram Followers | Facebook Followers | Twitter Followers | Youtube Subscribers | Pinterest Followers | LinkedIn Followers |
| 304,000,000 | 36,000,000 | 9,800,000 | 1,780,000 | 970,000 | 5,600,000 |
With a jaw-dropping 358 million followers across social platforms, Nike tops our list as the #1 fashion powerhouse winning on social media. The sportswear giant has leveraged partnerships with celebrity athletes and influencers to drive follower growth and engagement. Nike's Instagram feed looks more like a stylish lifestyle magazine, with artsy product shots and inspirational quotes celebrating sport and determination.
The Swoosh understands social is the perfect platform to amplify its motivational branding. Collaborations with Serena Williams, LeBron James, Cristiano Ronaldo, and more elite Nike ambassadors give followers an inside look at new launches and campaigns. Whether it's the viral popularity of the Air Jordan brand or apps like Nike Training Club, Nike continues to connect with fans on social in authentic ways.
Adidas
| | | | | | |
| --- | --- | --- | --- | --- | --- |
| Instagram Followers | Facebook Followers | Twitter Followers | Youtube Subscribers | Pinterest Followers | LinkedIn Followers |
| 62,100,000 | 41,000,000 | 8,400,000 | 1,050,000 | 722,000 | 3,500,000 |
Coming in at #2 with 117 million followers, Adidas has emerged as a social media juggernaut through partnerships with creators like Beyoncé, Kanye West, and Pharrell Williams. The brand's Instagram aesthetic feels youthful and diverse, whether it's designers customizing sneakers or Japanese breakdancers showing off their Adidas apparel.
We have included both Adidas and Adidas originals for the Instagram followers.
Adidas Originals drives hype on social with its retro streetwear collabs, throwback posts, and influencer marketing. The German sportswear brand knows how to tailor its social content to resonate in communities across the globe. From soccer highlights to RUN DMC anniversary posts, Adidas is leaning into its heritage while still feeling fresh. With its fingerprints all over pop culture, it's no wonder Adidas dominates on platforms like Instagram and Twitter.
Chanel
| | | | | | |
| --- | --- | --- | --- | --- | --- |
| Instagram Followers | Facebook Followers | Twitter Followers | Youtube Subscribers | Pinterest Followers | LinkedIn Followers |
| 58,100,000 | 23,000,000 | 13,300,000 | 2,340,000 | 0 | 2,360,000 |
When it comes to luxury fashion leadership on social media, look no further than Chanel and its 99 million strong following. The iconic French house remains devoted to founder Gabrielle "Coco" Chanel's vision of revolutionizing women's fashion. That timeless allure and brand mystique shine through across Chanel's social posts. Fashion show photos take followers behind the scenes, while editorial-style shoots are modern but still deeply Chanel.
The double C logo may date back to the 1920s but it remains immediately recognizable and coveted today. Chanel also understands the power of exclusivity in luxury, using social to offer glimpses into its rarefied world. Whether tweeting about its Paris headquarters or announcing new brand ambassadors like Pharrell Williams, Chanel sustains its elite aura online.
Louis Vuitton
| | | | | | |
| --- | --- | --- | --- | --- | --- |
| Instagram Followers | Facebook Followers | Twitter Followers | Youtube Subscribers | Pinterest Followers | LinkedIn Followers |
| 54,400,000 | 25,000,000 | 9,800,000 | 3,170,000 | 400,000 | 2,440,000 |
Part of LVMH's luxury portfolio, Louis Vuitton sits at #4 on our list with 95 million social media followers. The French fashion house is a trailblazer in using social to merge tradition with cutting-edge creativity. Louis Vuitton's posts highlight specialty lines like LV Trainer sneakers along with 20th-century trunkmaking craft.
Virality moments like the brand's NBA collaboration further extend its cool factor online. Louis Vuitton has also leveraged its celebrity ties for social clout, whether it's ambassadors like Emma Stone and Sophie Turner or the infamous 'LV' print basketball that went viral. From Instagram to Twitter, Louis Vuitton is truly dominating luxury fashion on social with its mix of heritage and hype.
Zara
| | | | | | |
| --- | --- | --- | --- | --- | --- |
| Instagram Followers | Facebook Followers | Twitter Followers | Youtube Subscribers | Pinterest Followers | LinkedIn Followers |
| 60,400,000 | 31,000,000 | 1,300,000 | 113,000 | 1,600,000 | 188,000 |
With nearly 100 million followers of its own, Zara is our #5 fashion leader on social media. The affordable and on-trend ethos of this fast fashion giant makes it a hit on platforms like Instagram and Facebook. Zara stays on the pulse of what's hot right now, using social to instantly translate catwalk inspiration into shoppable looks.
The brand's Instagram feed is a destination for discovering new arrivals and collaborations with influencers. Shoppable posts that directly enable purchases give Zara hardcore buying power online. On Stories, the brand offers a fun behind-the-scenes look at photoshoots and clothing design. With its mix of accessible prices and runway style, Zara is unsurprisingly killing the social media game.
H&M
| | | | | | |
| --- | --- | --- | --- | --- | --- |
| Instagram Followers | Facebook Followers | Twitter Followers | Youtube Subscribers | Pinterest Followers | LinkedIn Followers |
| 38,300,000 | 41,000,000 | 7,700,000 | 436,000 | 1,400,000 | 2,470,000 |
Next up with 91 million followers is the ubiquitous H&M, continuing to drive engagements across demographics. The Swedish retailer has an extremely strong presence on Facebook, where its broad appeal attracts over 41 million brand followers. On Instagram, H&M highlights exclusive collaborations with labels like Moschino along with celebrity partnerships. Stars like Katy Perry, SZA, and Billie Eilish sporting the brand's affordable and sustainable fashion help attract younger audiences.
H&M maintains a friendly, relatable image on social channels even as it evolves for the digital age. Shareable styling tips and recycling initiatives keep the brand top-of-mind while shopping online. For delivering the social experience its diverse customers crave, H&M earns its #6 spot.
Gucci
| | | | | | |
| --- | --- | --- | --- | --- | --- |
| Instagram Followers | Facebook Followers | Twitter Followers | Youtube Subscribers | Pinterest Followers | LinkedIn Followers |
| 56,000,000 | 21,000,000 | 7,100,000 | 1,000,000 | 560,000 | 1,900,000 |
Gucci and its eccentric, eclectic aesthetic has captured the hearts of over 87 million followers – and the #7 spot in our ranking. With its bold and quirky designs, the Italian fashion house has become a trailblazer on Instagram especially. Collaborations with unconventional models and pop surrealist artists like Ignasi Monreal make the brand feel cutting-edge.
At the same time, vintage-inspired collections tug at followers' nostalgia. Meme culture has also embraced Gucci everything from bags and belts to gloves and loafers. Gucci leverages the viral visual nature of platforms like Instagram and Snapchat while retaining its luxury background. As Gucci continues to reinvent its identity and mythos, social media is the perfect place for Alessandro Michele's house codes to thrive.
Versace
| | | | | | |
| --- | --- | --- | --- | --- | --- |
| Instagram Followers | Facebook Followers | Twitter Followers | Youtube Subscribers | Pinterest Followers | LinkedIn Followers |
| 41,000,000 | 6,700,000 | 5,300,000 | 571,000 | 293,000 | 509,000 |
Sitting at #8 with over 54 million followers, Versace has carved out its own over-the-top, opulent aesthetic that pops on social media. The brand's Instagram prioritizes visual impact above all else with loud prints and strong posing. Versace also has mastered the viral collab, whether it's collection capsules with Fendi or singer Dua Lipa as the face of a campaign.
When Lady Gaga wore an iconic green Versace dress to the Grammys, you can bet the brand maximized that moment on social. Followers get a peek at the luxurious Versace lifestyle, with private jets and scenic villas making regular appearances. With Instagram and Twitter helping amplify its provocative vision, Versace secures its place among fashion's social media elite.
Calvin Klein
| | | | | | |
| --- | --- | --- | --- | --- | --- |
| Instagram Followers | Facebook Followers | Twitter Followers | Youtube Subscribers | Pinterest Followers | LinkedIn Followers |
| 24,600,000 | 14,000,000 | 4,100,000 | 445,000 | 175,000 | 511,000 |
Our #9 label Calvin Klein keeps things simple yet striking on social media, just like its fashion ethos. With 44 million global followers, the brand built on sensual minimalism is still reaching new generations. Whether it's the Kardashians in underwear or Euphoria star Jacob Elordi as an ambassador, Calvin Klein is aligned with young culture.
At the same time, CK uses social to nod to its decades-old history, like 90s Kate Moss ads shot by Herb Ritts. Even as the brand evolves, Calvin Klein maintains signature elements across campaigns and social content. The classic black-and-white aesthetic and provocative edge still delivers engagement and sales. For seamlessly blending nostalgia with right-now hype, Calvin Klein rules on Instagram and beyond.
Valentino
| | | | | | |
| --- | --- | --- | --- | --- | --- |
| Instagram Followers | Facebook Followers | Twitter Followers | Youtube Subscribers | Pinterest Followers | LinkedIn Followers |
| 18,400,000 | 3,300,000 | 2,300,000 | 132,000 | 291,000 | 525,000 |
Rounding out the top 10 with 25 million loyal followers is the Italian fashion house Valentino. Though smaller than some peers, Valentino boasts incredible devotion – especially on visually-driven Instagram. The focus is ultra-feminine couture, like voluminous gowns in signature red.
Even Valentino's posts showcasing more everyday bags and shoes feel elegant and refined. There is an intimacy and gentleness to Valentino's social presence versus louder luxury rivals. Fans get to know Garavani's Valentino up close through insider events and archetypal rock stud heels. As vintage designs captivate younger generations, the brand feels distinct yet timeless across social channels.
Valentino's devoted community encapsulates the allure and influence fashion brands can cultivate through social media today. Which other designers do you think are dominating platforms like Instagram now? Let us know in the comments!
What else we noticed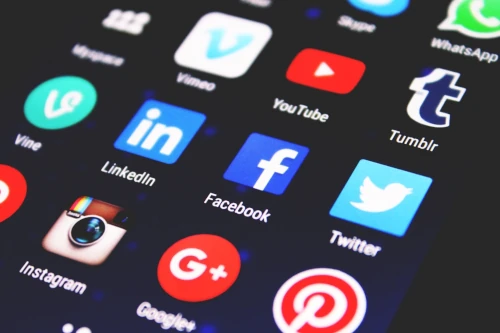 Instagram tends to have the most followers for most brands, often in the millions or tens of millions range. This makes sense as Instagram is hugely popular for visual content like fashion.
Facebook also drives significant followership for the major brands, typically in the millions or tens of millions as well. Facebook has a very broad reach.
Twitter followings are smaller than Instagram/Facebook, but most big brands still have over 1 million Twitter followers. Engagement seems higher on Twitter.
YouTube has varying subscribers – some brands have millions of subscribers, while others have very few. Video marketing is hit or miss in fashion.
Pinterest and LinkedIn numbers are generally much lower than the other platforms, in the thousands or hundreds of thousands range. These platforms seem less core to fashion follower engagement.
Overall, the top brands like Nike, Louis Vuitton, Adidas, etc. have the highest followership numbers on each platform. But Instagram and Facebook seem to drive the most followers at scale across fashion.
The remaining powerhouses with fewer total followers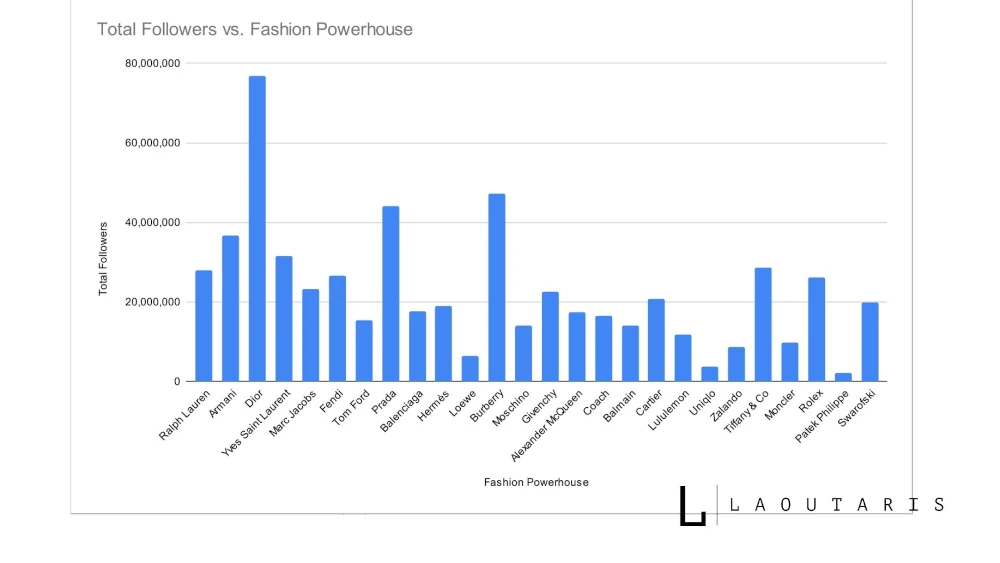 What we have noticed of the remaining fashion powerhouses
Less social media followers – The smaller brands have much lower follower counts, often in the millions or even hundreds of thousands vs. tens or hundreds of millions.
Strength on specific platforms – Smaller brands tend to have an outsized presence on just one or two platforms like Instagram rather than being huge on all social channels.
Cult followings – Smaller or niche brands like Loewe seem to attract smaller but very devoted, engaged social media followings.
Variable influencer usage – Some smaller brands leverage influencers extensively on social but others have minimal influencer/celeb presence.
Stronger regional focus – Many smaller brands target specific regions vs. having global name recognition and follower bases.
Promoting heritage – Smaller legacy brands like Cartier emphasize their history and craftsmanship on social media.
Product specialization – Rather than extensive product catalogs, smaller brands often specialize in one category like shoes or accessories.
Frequently Asked Questions
Which fashion brand has the most Instagram followers?
Currently, Nike has the most Instagram followers at over 304 million. The sportswear giant edges out fast fashion leader H&M, which has over 38 million followers on Instagram.
What makes a fashion brand successful on social media?
Authentic engagement with customers, creative and trendy visual content, using influencers and ambassadors, responding to viral moments, and conveying the brand identity are key factors that help fashion thrive on social media.
Why do people follow fashion brands on social?
People follow fashion brands on social media to stay on top of trends and new styles, get insider access to brands they love, engage with like-minded fashion communities, and shop for products in an inspiring and entertaining way.
How important is TikTok for fashion brands now?
Given its meteoric rise and youthful user base, TikTok has become very significant for fashion labels to showcase personality and trends. Brands like Louis Vuitton have already joined TikTok and found creative ways to leverage the platform. Note: We did not include TikTok followers in our list because the numbers are small compared to the other social media platforms and will not change the overall ratings.
Share this article
Our Latest Articles
Laoutaris Recommends