Rimless sunglasses for men are a hot trend this year. With their lightweight, minimalist design and modern aesthetic, it's easy to see why rimless frames are famous for stylish gents.
Table of Contents
Ditch the chunky frames and go rimless to give your look a futuristic edge.
This comprehensive guide will cover everything you need to know about finding your perfect pair of rimless sunglasses for men. From lens options to styling tips, we'll explore why rimless eyewear should be your new go-to for fashion and function. Go rimless this season and make a bold statement!
What are Rimless Sunglasses?
Rimless sunglasses for men feature lenses connected by a thin wire or tiny screws without the traditional full plastic or metal frame wrapping around the lenses. This creates a very minimal and lightweight feel when wearing rimless shades. The lack of rims provides an unobstructed view and a sleek, contemporary look.
While wireframes have been around for decades, modern rimless sunglasses put a fashion-forward spin on the classic style. Without visible frames, the transparent lenses float on your face. The rimless design showcases the unique shape and coloring of the lenses for a striking focal point.
Rimless sunglasses for men are perfect looking to stand out with their eyewear choices. Their sheer lenses lend a futuristic vibe to any outfit. For guys that want a bright, of-the-moment look, rimless is the way to go.
Benefits of a Rimless Frame
Ditching the rims provides a range of advantages and benefits:
Lightweight – Rimless sunglasses for men weigh much less than regular frames. You'll barely feel them on your face. Great for all-day wear comfort.
Unobstructed View – You'll enjoy an optically clear view without rims impairing your peripheral and upper/lower vision. Ideal for sports and outdoor activities.
Sleek Aesthetic – Rimless sunnies provide a contemporary, cutting-edge look. The transparent lenses make a statement.
Lens Focused – The rimless design showcases the lens color and draws attention to the lens shape. It makes the lenses the star.
Durability – Rimless sunglasses can be pretty sturdy with compression-mounted lenses despite their delicate appearance. Bridge wires and temple arms are flexible for durability.
Rimless frames offer visual and functional benefits for guys wanting to upgrade their eyewear. You'll get an obstructed field of vision with a futuristic vibe.
Lens Options for Rimless Sunglasses For Men
Rimless frames support all the same lens options as traditional sunglasses. You have many ways to customize your rimless shades, from lens material to specialized treatments.
Lens Material
Polycarbonate – Shatter-resistant, lightweight, and affordable option.
Nylon – Another durable, flexible, and budget-friendly choice.
Glass – Heavier but noticeable lenses with scratch resistance.
Plastic – Affordable lenses in a variety of tints and treatments.
Specialized Lenses
Polarized – Reduces sun glare, bouncing off surfaces like water or snow.
Photochromic – Lenses darken when exposed to UV light. Lighten indoors.
It mirrored – Reflective lens coating that blocks glare.
Gradient – Lenses transition from dark at the top to light at the bottom.
UV Protection – Filters 100% of harmful ultraviolet light.
You can choose your preferred lens material, tint color, and functional treatments like polarization with rimless frames. Upgrade to high-end lenses to make your minimalist frames pop.
Finding Your Perfect Fit
A proper fit is crucial when selecting rimless sunglasses for men. Without frames to help balance and secure the lenses, getting accurate measurements and adjusting the nose pads/temple arms is critical to maximizing comfort.
When trying on rimless styles, check that:
Lenses sit close to your face but not so tight they touch your eyelashes.
Nose pads rest comfortably on the bridge of your nose without pinching.
Temple's arms extend straight back without pulling the lenses toward your face.
Overall, the weight should feel evenly distributed, not top or bottom-heavy.
Slight slipping is standard, but shaking your head shouldn't dislodge the glasses.
Measuring pupil distance, bridge width, and temple arm length is significant for ordering rimless frames online. If buying in-store, have an associate properly fit and adjust your rimless shades before purchasing.
Stylish Models and Designs
Rimless sunglasses for men come in a diverse range of stylish frame designs, from timeless classics to of-the-moment trends:
Aviators – Teardrop-shaped lenses and thin double or triple bridge wires give a classic aviator style. Masculine with clean lines.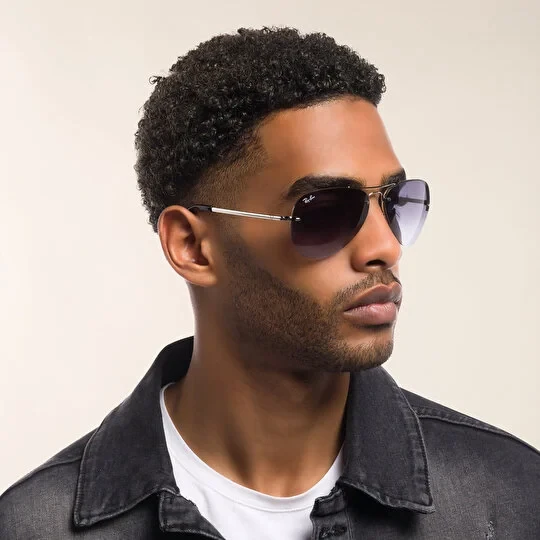 Check out these Ray-Ban Rimless Aviator Sunglasses here.
Geometric – Hexagonal, octagonal, rectangular, and other angular lens shapes provide an edgy feel.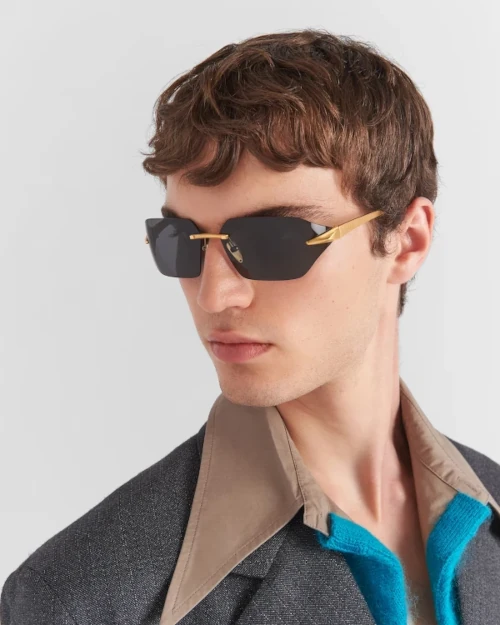 Check out these Prada geometric rimless sunglasses here.
Browline – Features an upper wire brow bar and rimless lower lenses—retro 50s vibe.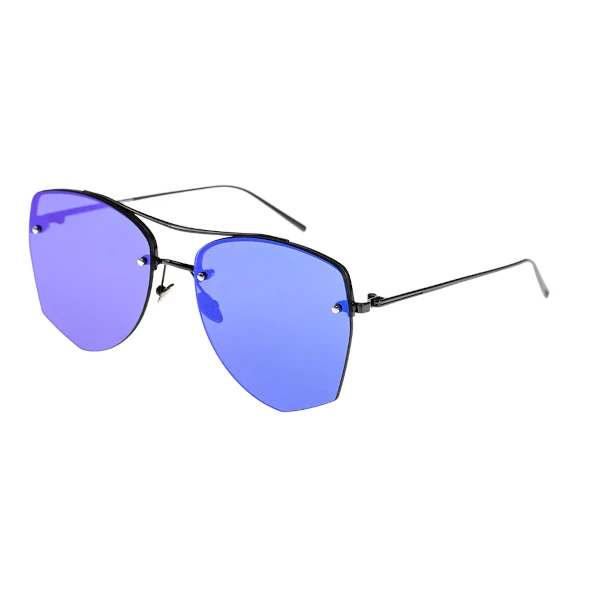 Check out these MYTH OPTICAL DEMETER Rimless Sunglasses here.
Cat Eye – Exaggerated wingtips on the top outer corners combined with rimless lenses.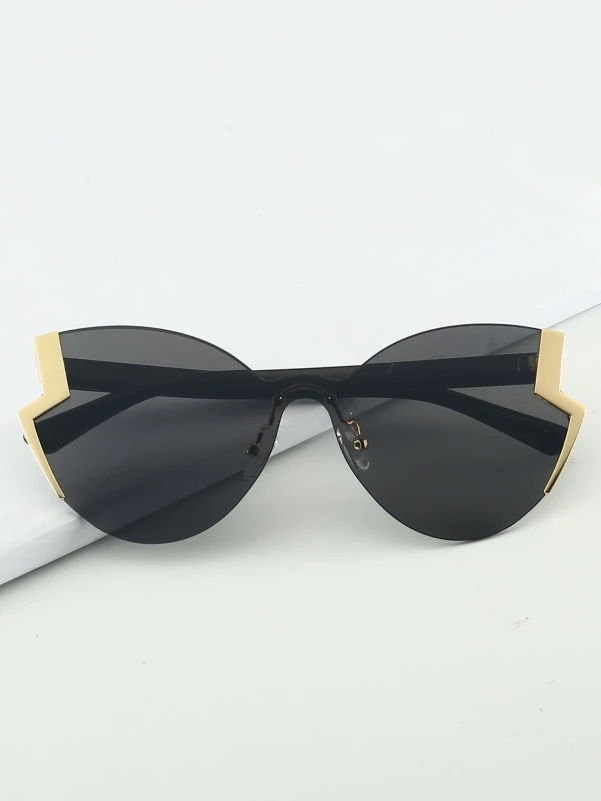 Check out these Cat Eye Rimless Sunglasses here.
Oversized – Larger, wider lenses make a bold fashion statement—great rimless look.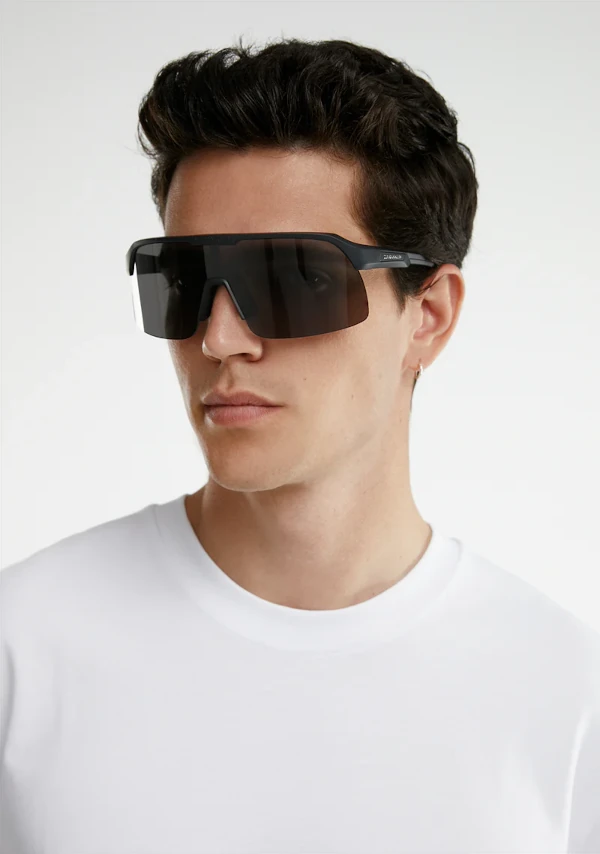 Check out these DFranklin oversized rimless sunglasses here.
Round – Circular rimless lenses with thin wiring for a sophisticated shape.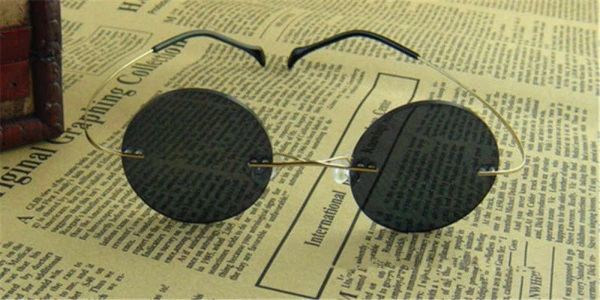 Check out these Round rimless sunglasses for men here.
Square – Boxy lenses lend a stylish, scholarly vibe—another retro option.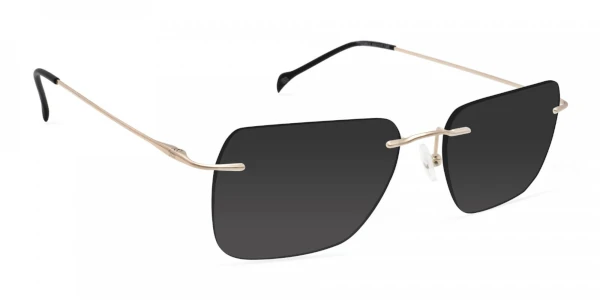 Check out these Square rimless sunglasses for men here.
Wayfarer – Angled top edges on a rectangular shape. A modern rimless twist on the classic wayfarer style.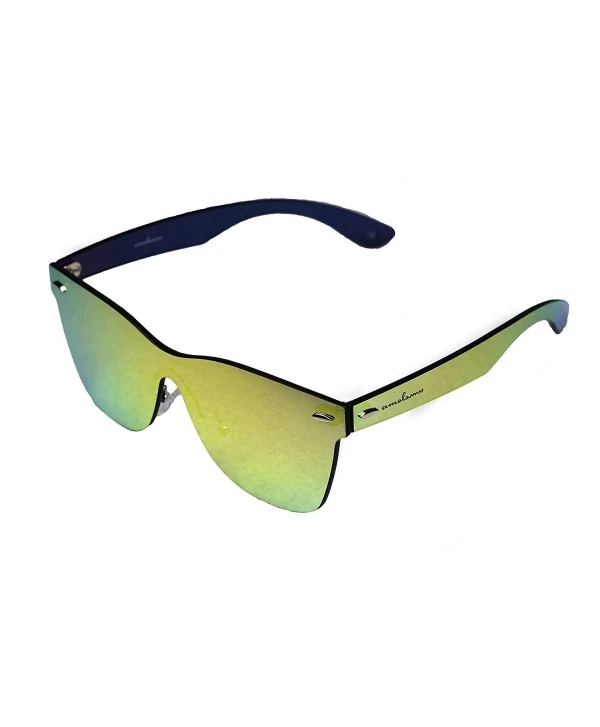 Check out these Frameless Rimless Sunglasses, Wayfarer Style, here.
Double or triple bridge wires provide the most secure lens support and visual balance for bridge types. Single bridge bridges work for rimless designs with plastic nose pads or non-prescription fashion lenses.
With so many possibilities, you can find rimless sunglasses for men to match your style – from professional to adventurous to uber-trendy.
Rimless Sunglasses for Active Lifestyles
Thanks to their lightweight, flexible frames and unobstructed views, rimless sunglasses for men are perfect for active guys with outdoorsy lifestyles.
Rimless sunglasses allow maximum visibility with minimal running, cycling, hiking, and water sports distractions. The open peripheral vision makes it easier to be aware of your surroundings while staying focused straight ahead.
Rimless frames are also optimally suited for outdoor recreation like fishing, hunting, boating, and rock climbing. Their durable, shake-resistant construction stands up well to the elements while giving you a protected point of view.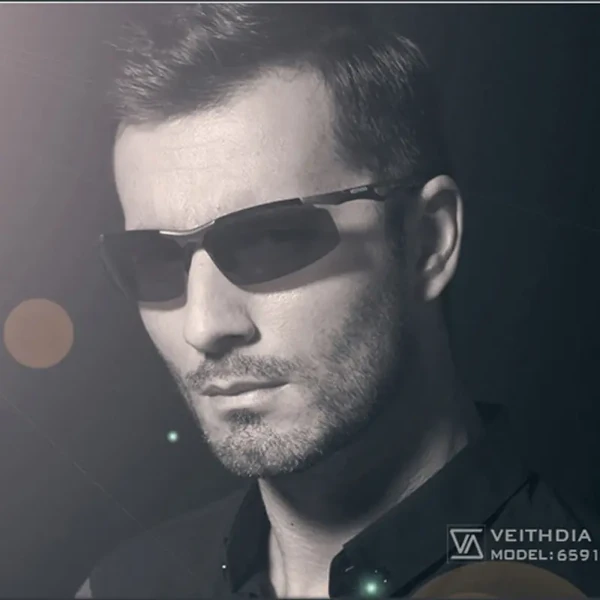 Check out these VEITHDIA Rimless Sunglasses for Men here.
Standard driving sunglasses are almost always rimless because of the uninhibited sight lines they provide—reduced eye fatigue since your vision isn't confined to smaller openings.
For very active guys, pay special attention to the bridge and hinge construction for durability. Opt for adjustable rubber nose pads and bendable temple arms to maintain a secure, custom fit during intense activities.
Caring for Your Rimless Sunglasses
While rimless sunglasses for men are surprisingly sturdy for their delicate appearance, they do require some special care and handling:
Use a protective case – Keep your rimless sunnies in a hard case when not wearing to prevent scratches or bending.
Clean gently – Use a microfiber cloth to wipe down lenses gently. Avoid using liquid cleaners or excessive pressure, which could misalign bridge wiring.
Handle with care – Grip rimless glasses by the lens edges or bridge. Avoid pulling on the arms, which can lead to loosening over time.
Keep away from heat – High temperatures can damage bridge wiring. Don't leave rimless shades in hot cars.
Secure loose parts – If a nose pad comes loose or an arm bends, visit an optician immediately for repairs before it worsens.
Check for wear – Look for stress points like visible metal or loosened nose pads, which indicate a need for replacement parts.
High-quality rimless sunglasses should provide years of stylish wear with proper care and handling. But it's wise to inspect them routinely for potential weak spots.
Personalizing Your Rimless Eyewear
Rimless frames serve as a stylish blank slate for customizing your sunglasses with unique touches:
Tint Colors – Go bold with rose, amber, or blue mirror lenses. Gradient tints look great on oversized rimless shades.
Etching – Add personal etched designs along the temple arms or lenses for subtle detailing.
Interior Lens Prints – Available in geometric patterns, textures, or logos for your eyes only.
Coatings – Besides UV protection, specialized coatings like hydrophobic and oleophobic cut glare.
Precious Metals – Choose bridge wires and hinges made with silver, gold, or other luxe metals.
Leather Arms – Luxe leather-wrapped temple arms provide a sophisticated touch.
Wood Elements – Natural wooden accents and earpieces are an earthy, premium addition.
Crystals/Jewels – Add tiny crystals along the bridge or sparkling ends of the temple tips for serious bling.
Personalized rimless sunglasses for men make for edgy fashion statements. They're also great for corporate branding promotions or specialized sports gear.
Where to Shop for Rimless Sunglasses for Men
Quality rimless sunglasses, prescription or non, can be found at:
Online retailers like EyeBuyDirect, FramesDirect, and Warby Parker for affordable pricing and wide selections.
Optical shops, especially those focused on fashion brands. Try finding independent boutiques for unique styles.
Sporting goods stores offer durable rimless performance shades from brands like Oakley and Nike.
Department stores usually have a sunglasses section with some rimless options. Prices vary significantly by brand.
Designer brands like Prada, Gucci, and Bulgari for very high-end fashion rimless frames.
Auction sites like eBay for discounted pricing on brand names or vintage rimless sunglasses.
Be sure to shop from retailers that provide proper sizing guidance for an accurate fit, especially when purchasing rimless frames online.
Rimless Sunglasses for Men on a Budget
While designer rimless sunglasses can cost well into the hundreds, there are ways to get the rimless look you want on a budget:
Search sale sections online and in stores for discounted rimless shades
Buy generic, unbranded styles that bypass licensing markups.
Shop online-only brands like Zenni Optical with meager overhead costs.
Stick with plastic lenses to avoid high-end glass, polycarbonate, etc. upcharges
Choose single bridge styles instead of more stable double/triple options
Look for less common but still stylish shapes besides classic aviators
Consider non-polarized lenses, which are generally cheaper than polarized ones.
Only add unique treatments/coatings you need versus going all out.
Opt for lower-priced metal alloys instead of titanium frames
Purchase rimless sun clips that attach magnetically to convert regular glasses
With some savvy shopping, you can achieve a rimless look while sticking to a reasonable eyewear budget.
Frequently Asked Questions
Are rimless sunglasses for men more fragile than regular sunglasses?

Despite their delicate look, quality rimless sunglasses are durable with compression mount temple arms and bendable bridge wiring. With proper care, they are comparable in strength to regular frames.

Do I need special lenses for rimless frames?

Rimless frames can accommodate most lens materials, from polycarbonate to glass. You'll want high-index, thinner lenses to maintain the minimalist look. Prescription wearers may prefer smaller frames to allow larger lens sizes.

Can I adjust rimless sunglasses myself if they feel loose?

Some minor tightening can be done at home, but do not over-bend the arms or bridge. For best results, see an optician for adjustments to maintain the proper fit and prevent damage.

Are rimless sunglasses for men suitable for sports and activities?

Absolutely. The lightweight design and unobstructed views make rimless sunglasses ideal for running, hiking, boating, and more active lifestyles. Just take care to protect them when not being worn.

Do rimless frames come in kid sizes?

Rimless sunglasses are available for children, but very young kids are better served with more durable plastic frames. Once in their tweens and teens, rimless offers a lightweight, sporty look.

Can I still get UV protection with rimless sunglasses for men?

Rimless frames support all the same lens treatments as regular sunglasses, including 100% UV protection coatings to filter harmful rays. Just check your lens labeling.

How do I clean fingerprint smudges off my rimless lenses?

Use a microfiber cleaning cloth and gently wipe the lenses. Avoid using liquid cleaners or excessive pressure that could move the bridge out of alignment. Dry wiping is best.

Are rimless frames suitable for progressive or bifocal lenses?

Rimless can accommodate progressives and bifocals, but the frames need precise measurements for proper vision positioning through multifocal lenses. Make sure your eye doctor carefully fits the lenses.

Can I still wear rimless fashion glasses without a prescription?

Absolutely. Many rimless styles are designed as non-prescription fashion sunglasses with plano (zero power) lenses. Just ensure they provide complete UVA/UVB protection.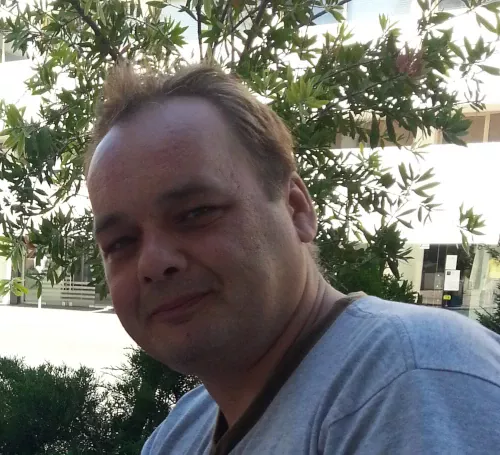 Pashalis Laoutaris
Fashion Blogger
I am a professional writer, fashion blogger, and owner of the site https://laoutaris.com. As a salesperson for more than 20 years, I have experience of 10 years in the fashion industry. I consider myself a true fashionista. I am writing daily blog articles about fashion, tools and converters, and everything you need to know about the current fashion trends.
Share this article
Our Latest Articles
Laoutaris Recommends