Touchscreen gloves for men allow you to use your smartphone, tablet, or other touchscreen device without removing your gloves or mittens.
Table of Contents
In this blog post, we'll explore the different types of touchscreen gloves available, the key benefits they offer, and what to look for when shopping for the best touchscreen gloves for men. We'll also review some top brands and models on the market now. Read on to learn everything you need to know to stay connected and keep your hands toasty warm this winter!
Types of Touchscreen Gloves for Men
Full Finger Touchscreen Gloves
The most popular touchscreen gloves have conductive material on the thumb, index finger, or all fingers. This allows you to use any part of your hand to navigate your touchscreen device. Full-finger conductive gloves come in light fabrics like stretchy spandex for maximum dexterity or warmer wool and leather materials for added insulation.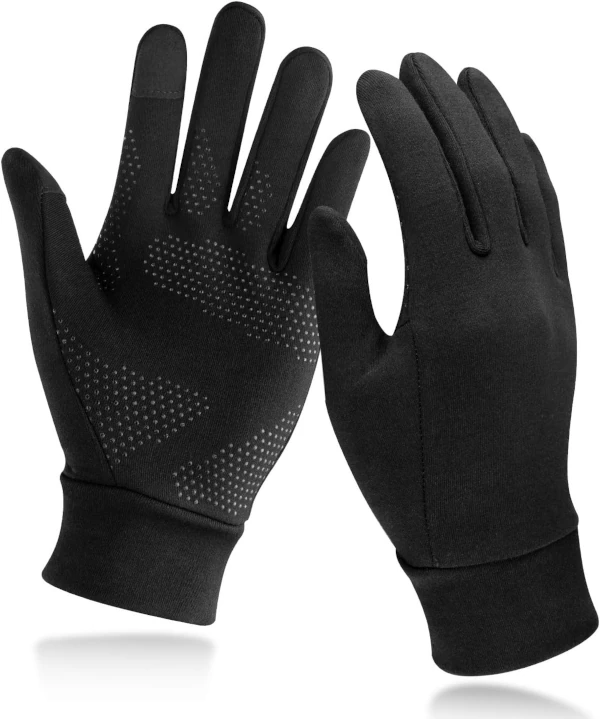 Check them out at amazon.com.
Popular brands of full-finger touchscreen gloves include:
Agloves: Conductive silver fabric, snug fit
Conductive silver fabric full fingers
Bamboo rayon, nylon, spandex blend
Ergonomic stretch fit
Also available for women
Pros – Full finger conductivity, snug fit
Cons – Less heavy-duty than leather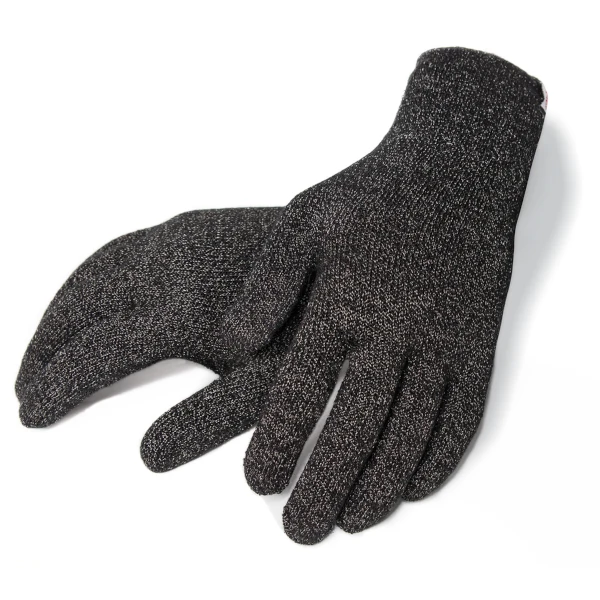 Check the 10-finger touchscreen gloves from Agloves here
Patagonia: Low-profile, touchscreen-compatible gloves built of warm, wicking R1® Daily stretch fabric.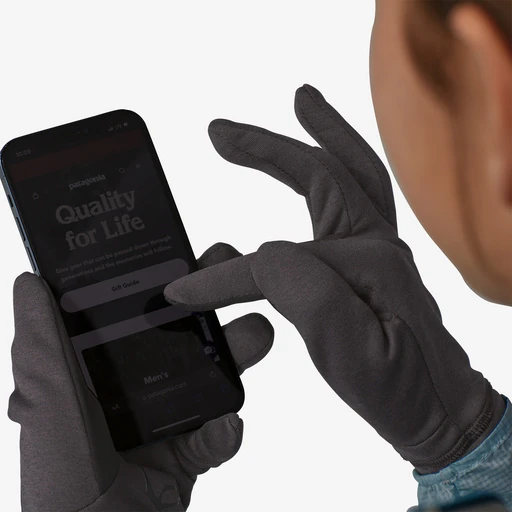 Check them out at patagonia.com
Isotoner: Men's Woven Chevron Gloves 2.0 touchscreen gloves for men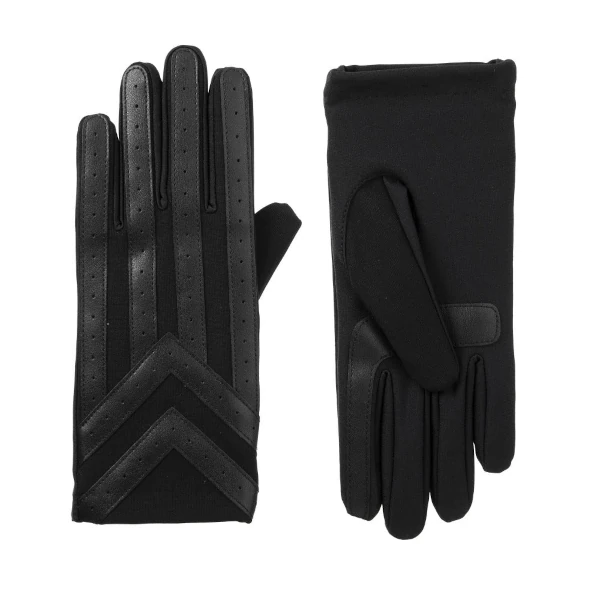 Check them out at isotoner.com
Partial Finger Touchscreen Gloves For Men
For those needing conductivity on the essential fingertips, partial finger touchscreen gloves focus the conductive materials on the index finger and thumb. The remaining fingers will be made of non-conductive material, which can reduce bulk and be more affordable.
Some top partial finger touchscreen glove options:
Icebreaker: Unisex Merino 260 Tech Glove Liners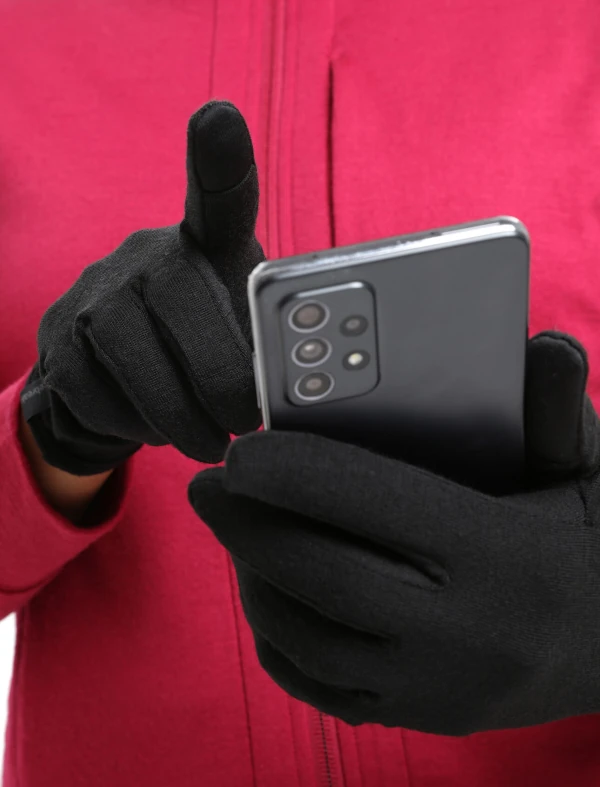 Check them out at icebreaker.com
Glider Gloves: Lightweight with conductive Index/thumb
Thin conductive underside on fingers
Elastic cuff with pull tab adjuster
Acrylic, polyester, spandex blend
Silicone grip dots on the palm
Pros – Lightweight, snug fit, good grip
Cons – Less insulation than leather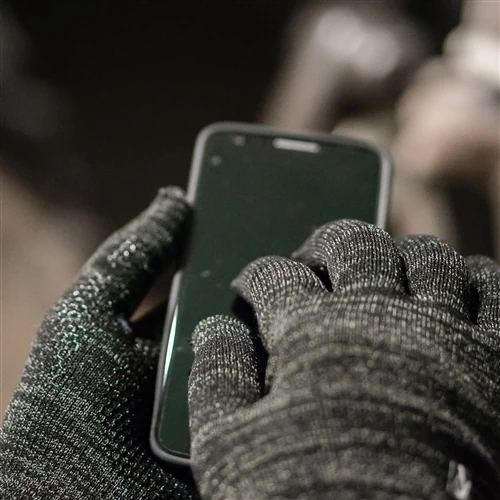 Check them out at glidergloves.com
The North Face: Recycled gloves with Etip touchscreen technology
Conductive silicone nodes on five fingers
Synthetic insulation with fleece lining
Palm overlay for grip
Hook/loop cuff closure
Pros – Full connectivity, quality brand
Cons – Fit can be snug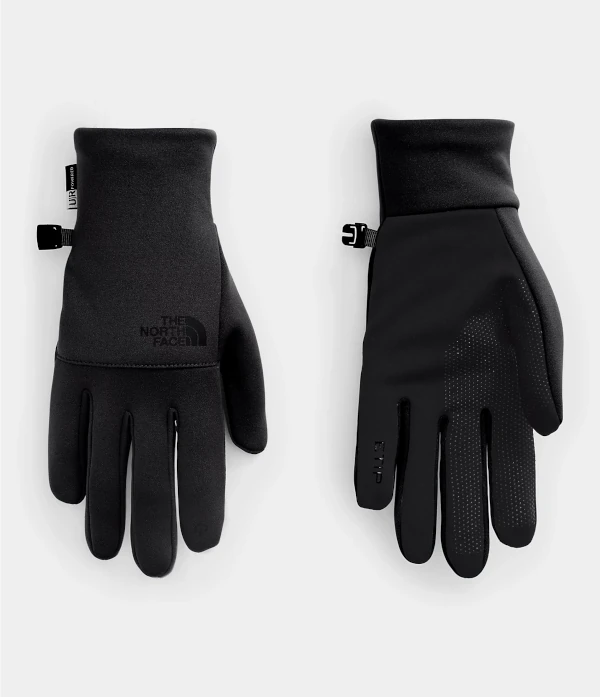 Check them out at thenorthface.com
Burton Touchscreen Screen Grab Gloves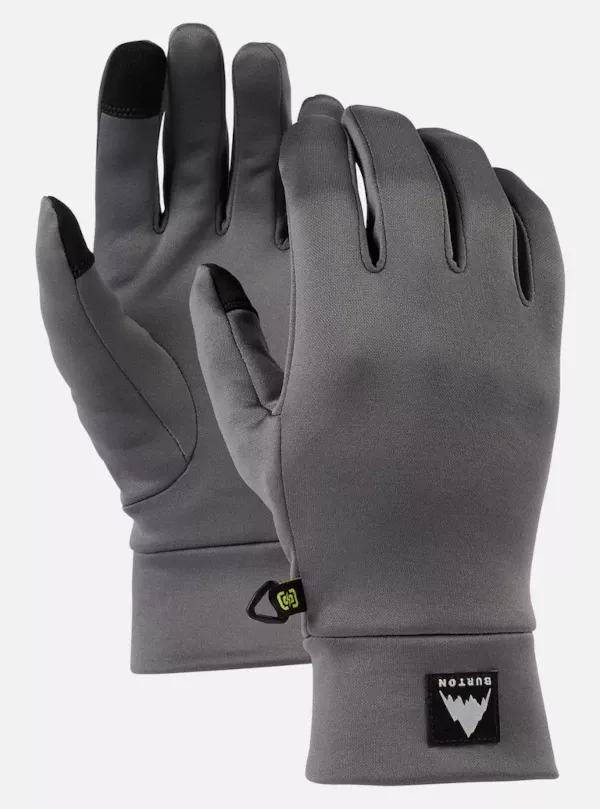 Screen Grab conductive fleece on index, thumb
DRYRIDE Durashell fabric, latex palm
Elastic cuffs, pre-curved fit
Bluesign-approved eco-materials
Pros – Eco-friendly, touchscreen control, Lifetime warranty
Cons – Only partial finger conductivity
Touchscreen Glove Styles and Designs
Beyond deciding on full or partial finger conductivity, men have a lot of options when it comes to style and design elements of touchscreen gloves:
Leather: Quality leather touchscreen gloves are stylish, durable, and wind-resistant.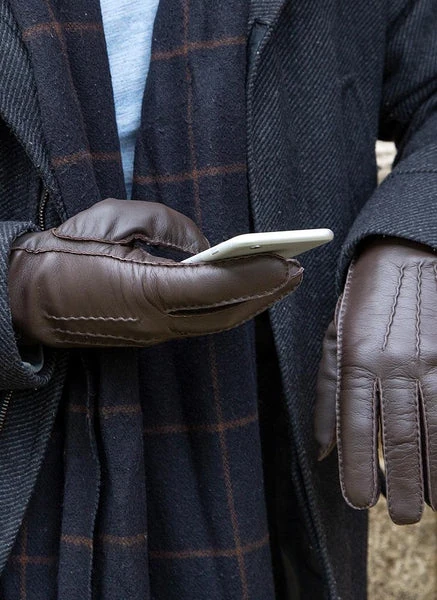 Check them out at dentsgloves.com
Wool: Warm wool fabric like cashmere is moisture-wicking and insulating.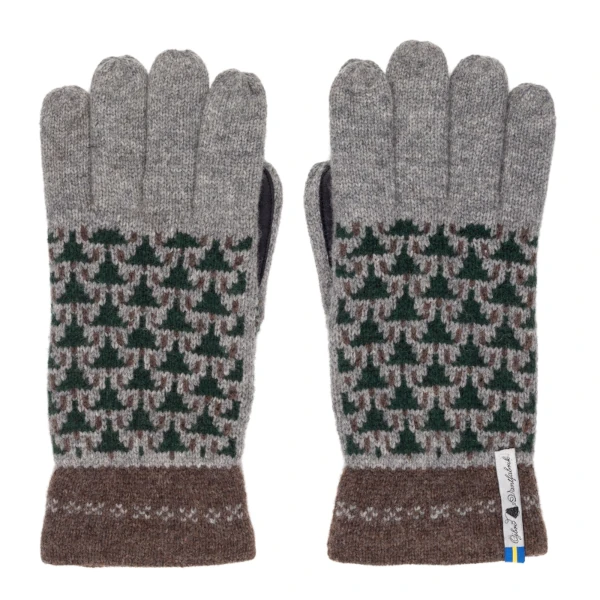 Check out these Merino Wool Touchscreen Gloves here
Cotton: Lightweight cotton and stretch cotton blends allow good dexterity.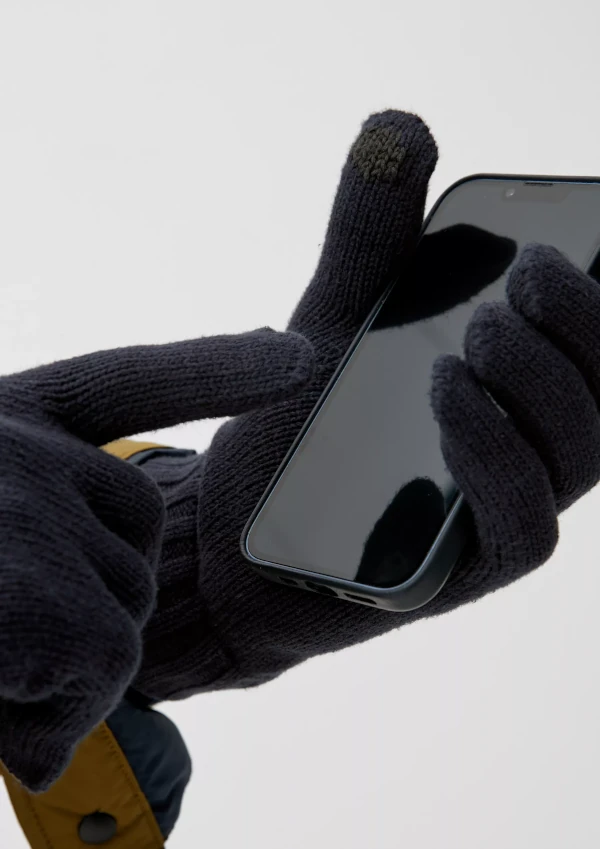 Check them out at soliver.eu
Fleece: Soft fleece fabrics help seal in warmth.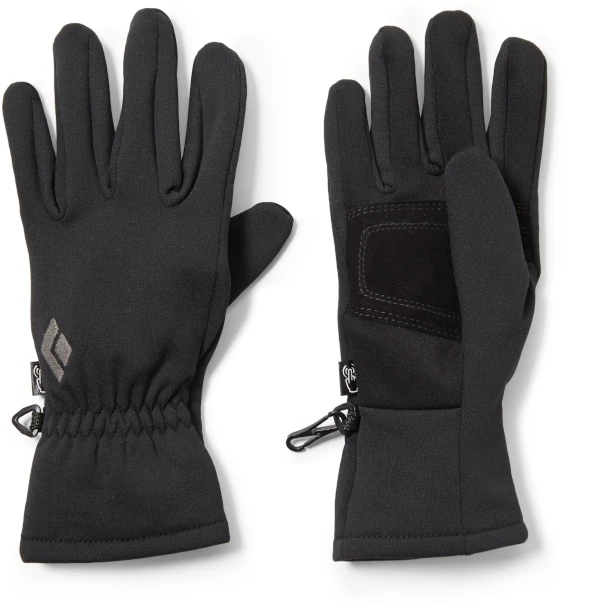 Check them out at rei.com
Synthetics: Spandex, polyester, and acrylic blends are lightweight and stretchy.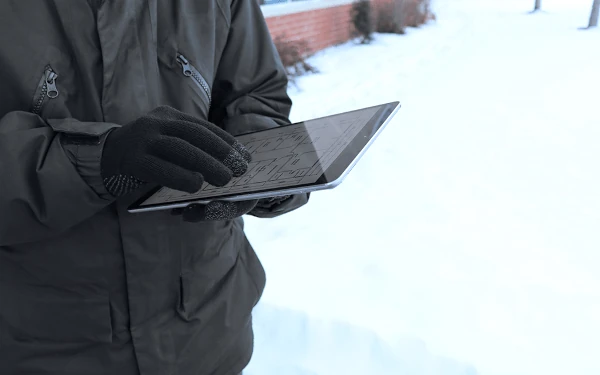 Check them out at globalglove.com
Colors range from classic blacks and browns to brighter hues like red, blue, grey, and camouflage prints. There are also touchscreen gloves in fun patterns and graphics. When selecting the proper pair, look for zipped pockets, Velcro closures, and elastic or adjustable wrists.
Benefits of Touchscreen Gloves for Men
Why should guys invest in high-quality touchscreen gloves this winter? Here are some key advantages:
Use Devices Without Removing Gloves
The first reason to buy touchscreen gloves is to use your smartphone and other touchscreen devices without constantly removing your hand protection. Conductive finger pads allow natural hand and finger motions to activate screens and buttons accurately.
Keep Hands Warm in Cold Weather
Warm gloves are essential during the frigid winter months. Touchscreen gloves allow you to keep your hands insulated while accessing electronic devices.
Conductive Materials Provide Dexterity
Quality touchscreen gloves use thin, tactile materials on the fingertips or finger pads that transfer electrical conductivity from your skin to the screen's surface. This preserves fine motor control.
Durable Materials Withstand Use
Touchscreen gloves are designed with durable palms and finger pads. Materials like leather, tightly knit wool, and rubberized grips allow all-day use outdoors without showing wear and tear.
Fashionable Men's Styles
Touchscreen gloves for men come in fashionable menswear styles, from sophisticated leather to casual knit gloves. Pick classic colors and materials, or go bold with modern, bright colors and patterns.
Snug Fit Improves Agility
A closer fit allows your fingertips to make better touch with the screen, allowing you to type and scroll with greater precision. Elastic, adjustable, and stretchy fabrics ensure your hands move naturally.
What to Look For in Touchscreen Gloves For Men
Not all touchscreen gloves are created equal. When shopping, keep these tips in mind:
Conductive material – Silicone, silver, copper, and steel fabrics transfer electrical conductivity. Make sure it covers all or some finger pads.
Snug fit – Gloves shouldn't be too tight or too loose. Look for stretch fabrics or adjustable closures.
Grip – Rubberized pads on palms and fingers improve your grip on phones and devices.
Quality construction – Seams, stitching, and fabrics should be durable and well-made.
Warmth – Insulating wool, fleece, and leather protect from the cold.
Water resistance – Some gloves have a water-repellent coating to keep hands dry.
Size – Get an accurate measurement of your hand size for the best finger pad sensitivity.
Brand reputation – Stick with reputable outdoor and apparel brands known for high-quality gloves.
Conclusion
With so many great touchscreen gloves available, men don't have to give up fashion, warmth, or connectivity this winter. Look for high-quality materials, clever conductive design, and fit and features for your needs. Brands like Carhartt, Burton, Agloves, and The North Face offer top-notch touchscreen gloves to keep your hands toasty without losing touch.
Invest in a pair of touchscreen gloves for men this season and stay stylish, warm, and connected no matter how cold it gets! Don't forget to grab some handy touchscreen gloves for the influential women in your life, too.
Frequently Asked Questions
What is the best material for touchscreen gloves for men?

Silver, copper, steel textiles, silicone printed pads, and conductive threads are the most conductive and responsive materials. Leather, wool, polyester, cotton, and fleece linings provide insulation.

Should I get a full finger or partial finger conductivity?

Full finger allows the use of any finger but can be less flexible. Partial finger focuses conductivity on the thumb and index fingertips used most.

How do I find the right fit?

Look for size charts based on hand circumference and length. Gloves should fit snugly without restricting movement. Features like stretch fabrics and adjustable closures help get the ideal fit.

Can I wash touchscreen gloves?

Check the care instructions before washing something; some things can go in the machine, while others should only be spot-cleaned. Proper cleaning preserves conductivity and extends glove life.

How durable are conductive pads on touchscreen gloves?

Quality gloves will withstand everyday use for a season or more. Avoid abrasion and contact with rough surfaces that can degrade conductive pads over time.

Are there touchscreen gloves for more heavy-duty use?

Many companies provide thicker leather and synthetic palms, rubberized grips, and fingertip conductivity for trade and construction work.

Can I use touchscreen gloves with tablets and smartwatches?

Yes, touchscreen gloves for men work with most capacitive touchscreen devices beyond smartphones, as long as the conductive pads make secure contact.

Do I need special gloves for different weather conditions?

Look for weatherproof or water-resistant materials like waxed leather for very wet conditions. Insulated and fleece-lined gloves work well for extreme cold.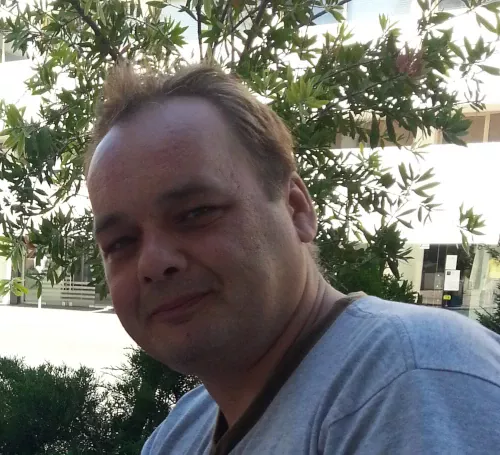 Pashalis Laoutaris
Fashion Blogger
I am a professional writer, fashion blogger, and owner of the site https://laoutaris.com. As a salesperson for more than 20 years, I have experience of 10 years in the fashion industry. I consider myself a true fashionista. I am writing daily blog articles about fashion, tools and converters, and everything you need to know about the current fashion trends.
Share this article
Our Latest Articles
Laoutaris Recommends