Here you can find our free ring size converter that can show you the correct value in the EU, UK, and USA
Table of Contents
How to use our ring size converter
You only need to input the ring size diameter in mm. One easy way to find the diameter is to use a string and count the diameter with a ruler or measuring tape.
Ring Size Converter
How to find the ring diameter
If you can not measure the diameter, you can measure the circumference and use the table below to find the right diameter value.
| | |
| --- | --- |
| Circumefrence mm | Diameter mm |
| 37.8 | 12.04 |
| 39.1 | 12.45 |
| 40.4 | 12.85 |
| 41.7 | 13.26 |
| 42.9 | 13.67 |
| 44.2 | 14.07 |
| 45.5 | 14.48 |
| 46.8 | 14.88 |
| 48 | 15.29 |
| 48.7 | 15.49 |
| 50 | 15.9 |
| 51.2 | 16.31 |
| 52.5 | 16.71 |
| 53.8 | 17.12 |
| 55.1 | 17.53 |
| 56.3 | 17.93 |
| 57.6 | 18.34 |
| 59.9 | 18.75 |
| 60.2 | 19.15 |
| 61.4 | 19.56 |
| 62.7 | 19.96 |
| 64 | 20.37 |
| 65.3 | 20.78 |
| 66.6 | 21.18 |
| 67.8 | 21.59 |
| 68.5 | 21.79 |
Ring size tools
There are many ring-size tools in the market. You can even make your own from paper. But the more professional is made from aluminum and will last forever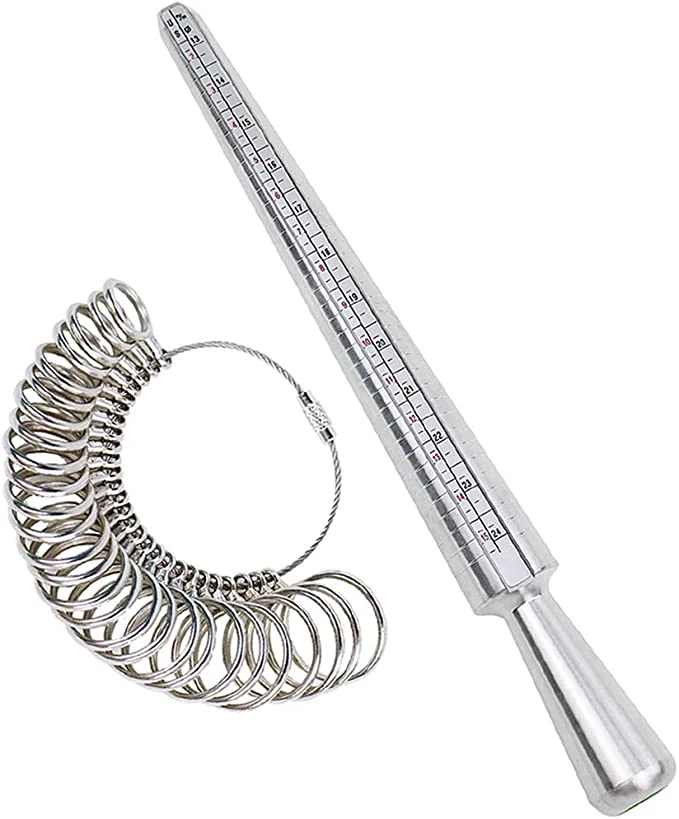 Check the above at amazon.com